Details

This Link Hits: 26046
Office-Vastu, Where to plan all the sections Departments in Our Office :
Office Vastu: Generally many companies must have to maintain office to complete their tasks, Business, Works, transactions etc. Most of the companies are being neglected Vastu shastra principles and forgetting about Vastu effects on properties. Due to communication revolution vastu shastra has reached all corners of the entire parts of the world. In India most of the people know about Vastu Shastra, but in other countries many doesn't known about this science. With your blesses and support we are doing that part of job to spreading this science to all parts of the world. To enable every body to live happily. Looking to make Office vastu is not a challenge, plan every thing as per vastu shastra techniques then most of your tensions will be minimized and you may get new opportunities.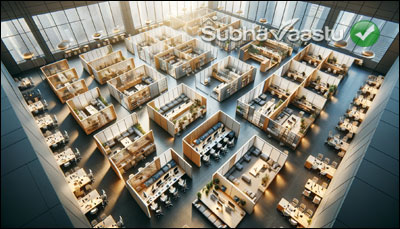 The seating arrangement of CEO, CMD, MD, senior executives, managers, directors should be planned at Southern, Western and Southwestern portions of the office/block. This seating position may manage to increase the standards of the office.
-Northern and Eastern zones would be apt for seating the middle managers. Reserve the Northwest portion for the field staff.
-Location of accounts department should be in the South/Southeast direction.
-The right place for reception counter is Northeast portion of the office, generally it may be planned for East and North facing offices.
-It is suggested that the staff should work facing the North or East directions.
-Central zone of office premises should be kept empty.
-It is advisable to have a rectangular desk for the owner.
-Boring or tube well installation in the southern direction of the office is not recommended.
-The locations perfect for the pantry are southeast and northwest zones.
-Marketing department should be located in the northwest zone of the office.
-Legal Department may be suitable at East or West parts. Please note that this point should be double argued, we are working on all of these departments and updated this vastu shastra website very soon.
-Boss should sit at South-west area facing towards East or North. West is also permissible but it must not face towards South.
-In the office, the temple should not be placed at the back of the owner's seat.
-The owner's desk must always be rectangle.
-There must always be a solid wall behind the owner's seat.
-Computer room should be in South-east.
-Pantry should be in South-east or North-west.
-Marketing departments should be in North-west.
-Cashiers should be in the North, the abode of Kubera, the God of wealth.
-Almirahs and racks should be placed in the Southwest.
-Purchase department and other should be in South or West.
-Reception should be in North-east as per vaastu.
-Telephone, side tables should be in South-west corner.
-Conference room should be in the north west, since that direction is best suited for a flow of ideas, but it should not have wrong doors like, Northwest doors if the room measurements were against to the vaastu principles.
-There should not be any obstacle in front of any door opening.
-Keep your files in your office as given below and it will help you in your business as each and every file in your office plays an important role in the business.
-Account file - in south-east corner shelf.
-Personal file - in south-west shelf of your cabin.
-Purchase file - in South-west shelf made on south wall.
-Sales file - in North-west shelf on wall.
-Estate file - in south-west shelf made on southern wall.
-Shares file - in north-west shelf made on north wall which you want to sell. (This matter is from www.subhavaastu.com) And in south-west shelf made on south wall which you want to retain.
-Raw materials file - in south-west shelf.
-Finished goods file - in north-west corner shelf.
-Income tax file - in south-west corner shelf.
-Sales tax and excise files - in south-west corner shelf.
-Import and Export file - in north-west corner shelf.
-Stores file - Always in south-west corner shelf.
-Cash purchase file - in south-west corner shelf.
-Credit purchase file - in north-west corner shelf.
-Staff and workers file - in north-west corner shelf.
-Litigation file - in north-west corner shelf.
-Pending bill file (receivable) - if it is in Northwest shelf it will help in early recoveries, payment which are due.
---
---
Which is the best place for Staircase?
I want to learn more on Vastu for Health?
Where can I get Vastu Books or e-books?
Can I place my God Idols at northeast corner?
How to find a good vastu property in United States of America?
While cooking food which is the best direction our face has to be?
---
---
Reviews on Vastu Consultant Services Website SubhaVaastu.com
We are Software Professionals in USA, Initially to buy a home we searched internet, sent floor plans to India, then one of my friend suggested subhavaastu.com site, I was very impressed going through the site ,lot of information was provided, I contacted immediately Suresh garu for consultation. Being so busy he always responds to my emails and phone calls, clarified my doubts, He is so expert in giving consultation to USA properties. I feel him like a family member very frank, genuine and most of all patience. He do have immense knowledge in abroad properties, Indian properties by default. Anyone can give guidance, but he gives consultation with practicality not just some text book guidelines. He knows in and out how the structure, layout works and will give simple alterations, genuine Consultation. I have to salute to the tremendous work and efforts he puts in subhavaastu.com site - Sangeetha - New Jersey - USA
The website Subhavaastu.com is very informative.Sureshji, the founder of this website is according to me a great ¨human who has vast knowledge in vastushastra and his kindness to his clients are appreciated. He listens to his clients problems patiently and gives the appropriate remedies. His main motto is good service and he responses as quick as possible. I spoke to Sureshji as a stranger only, but after one phone call itself , I started feeling that he is a caring well wisher for whoever asks his help. He is a genuine person. He doesn't force you to spend money in the name of vasthushastra, he explains clearly where the problem is and tries to give very easy changes to have a peaceful life. Sathya Priya - Switzerland.
We stay in USA, I was initially Searching Google for some vastu help,one of my friend recommended subhavaastu.com website. Very useful information indeed, I found lot of good and valuable information, as got more motivated I contacted Suresh garu through phone. First I would like to mention he is a such a wonderful person, talking to him is like reading different knowledgeable books, he is a mobile Library always with a patience, a kind heart. He being so busy attended my each and every call immediate response to emails and clarified all my doubts. Especially I am amazed with his knowledge in vasthu with USA properties,its easy for some vastu specialist to tell vasthu with standard guides, but Suresh garu tells vasthu according to the place and country. My sincere suggestion for all the people who are wandering for a good Vaastu person or site, www.subhavaastu.com contact Suresh garu take his consultancy - Sarvani - Massachusetts - USA.
Our recent interactions with SubhaVaastu and Sureshji have not only been insightful but also extremely educational. Having a home is a matter of great virtue - having the home Vaastu compliant ensures that the investment and the future of the family in the home is secure and ensures progress. Having gone through the website gave us a tremendous amount of insights on bring about improvements to enhance positive energy and ultimately ring in progress. In the US, most home builders do not consider Vaastu and hence most occupants/ home owners are unaware of the benefits. In my dealings with Sureshji and the website, I have found insights and resources that can be helpful for almost everyone in the US. I highly recommend Subhavaastu and Sureshji to the broader NRI community. I wish SubhaVaastu and Sureshji the very best. Regards - Sneha - Florida - USA.
Announcement
Every body come and go from this world, but one should left a message to the society before leaving this place. Leave love on your body, then you will achieve your targets in your planning time. Sharing the knowledge to society is nothing but doing a great help to our next generations. Come and help us to make this site more informative to browsers without registration and login, would like to stay this site alive for some more years. Your co-operation is highly appreciated. Shortly we are going to publish Vastu Corrections page, your support is highly appreciated.
---
Kollam people faced lots of troubles with fire mishap, here is our free services to Kollam District Kollam Fire Accident
---
120 days FREE services to Chennai People Successfully completed Chennai Rains
Spiritual Wallpapers
Hindu Desktop Wallpapers
Hindu MOBILE Wallpapers
Islam Wallpapers
Christian Wallpapers
Inspirational Quotations
Many of life's failures are experienced by people who did not reaslize how close they were to success when they gave up - Thomas Edison
---
"Great minds discuss ideas. Average minds discuss events. Small minds discuss other people." ― Sherrilyn Kenyon . . . Let you question yourself, "Who You Are"?
Joke Of the Day
Little Johnny asks his father:
Little Johnny: "Where does the wind come from?"
Father: "I don't know."
"Why do dogs bark?"
"I don't know."
"Why is the earth round?"
"I don't know."
"Does it disturb you that I ask so much?"
"No son. Please ask. Otherwise you will never learn anything."