Vaastu Pooja Room or Mandir and Temple
Vaastu Shastra Pooja Room :
Vaastu Shastra Pooja Room : Observe below images.
The dias to place God Idols constructed towards East direction This is not good Position, please note that we should not construct the dais or pails at
East
part of the pooja room, then how to do pooja, without dais its not good to put
God
idols at flooring, so we must have one dais., is there any solution for this, yes, observe the below images.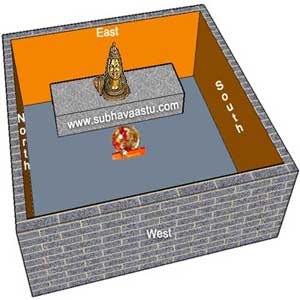 Here the dias constructed towards West direction. Now Lord Shiva, placed towards West side, in the above image dias constructed towards East side, herre the dias constructed towards West direction, so we can happily construct the dais at West facing or west direction at pooja room, here god face is towards East side and our face is towards West direction, good position, its accepted according to vastu shastra.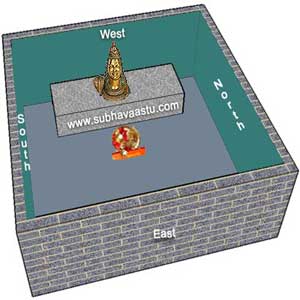 Please observe this image, here the dais is independent, and its touch the East
wall
, observe one keen point here, the dais is being made with wood, not constructed with mud, bricks, cement, it is also acceptable, it does not create weight issues here. Its not a solid one as constructed with mud, cement or bricks. So no weight is coming towards East direction, then it is accepted here.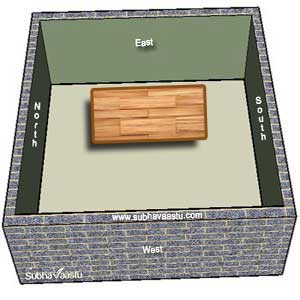 ( Here is a Story on Ganga and Shiva and our mythology : - Gangotri is a town and a Nagar Panchayat in Uttarkashi district in the state of Uttarakhand, India. It is a Hindu pilgrim town on the banks of the river Bhagirathi. It is on the Greater Himalayan Range, at a height of 3,042 m. The picturesque pilgrimage in the hinterlands of the Himalayas is the most sacred spot where Ganga , the stream of life, touched earth for the first time.According to mythology, Goddess Ganga – the daughter of heaven, manifested herself in the form of a river to absolve the sins of King Bhagirath's predecessors, following his severe penance of several centuries. Lord Shiva received her into his matted locks to minimise the immense impact of her fall. She came to be called Bhagirathi at her legendary source.

Mythological Relation

According to Hindu mythology, Goddess Ganga – the daughter of heaven, took the form of a river to absolve the sins of King Bhagirath's predecessors, following his severe penance of several centuries. Lord Shiva received Ganga into his matted locks to minimize the impact of her fall. According to this legend, King Sagar, after slaying the demons on earth decided to stage in Ashwamegh Yagya as a proclamation of his supremacy. The horse which was to be taken on an uninterrupted journey around the earth was to be accompanied by the King's 60,000 sons born to Queen Sumati and one son Asmanjas born of the second queen Kesani. Indra, supreme ruler of the gods feared that he might be deprived of his celestial throne if the 'Yagya' (worship with fire) succeeded and then took away the horse and tied it to the ashram of Sage Kapil, who was then in deep meditation. The sons of the King Sagar searched for the horse and finally found it tied near the meditating sage. Sixty thousand angry sons of King Sagar stormed the ashram of sage Kapil. When he opened his eyes, 60,000 sons had perished by the curse of sage Kapil. Bhagirath, grand son of King Sagar, is believed to have meditated to bring down the Ganga to cleanse the ashes of his ancestors and liberate their souls, granting them salvation or Moksha. The Bhagirathi 'Shila' is located near the temple of Ganga where the holy Ganga first descended on earth from heaven.

Uttarkashi ( 99 km) – An important pilgrimage centre, situated at an elevation of 1,150 mts. above sea level on the bank of river Bhagirathi. Some of the important temples worth visiting are – Vishwanath temple, Ekadash Rudra temple, Gyaneshwar temple and Kuteti Devi Temple. Nearby is the Nehru Institute of Mountaineering. Every year, during the 'Magh Mela' ( January 14 ), people visit Uttarkashi to take a holy dip in Bhagirathi along with the image of their village deity

Kedar Tal ( 18 km) – An enchanting lake, 4425 mts. above sea level against the splendid backdrop of mighty Thalaiyasagar peak. Accessible through a rough mountain trail, it is the base camp for trekking to surrounding peaks. The trek to Kedartal needs a local guide.

Gaumukh ( 18 km)- The snout of the Gangotri Glacier and the source of the Bhagirathi river. Pilgrims trek upto the sacred spot on foot or on ponies to take a holy dip in the ice-cold water.)
---
---
Which direction is best for kids bedroom ?
Constructing the compound wall or constructing the home, which one we have to start first?
Some body says that bee-hive is not good at house, is they correct?
Which link provides Hindu, Islam, Christian God wallpapers download link here?
Like to download Maa Durga wallpapers, which link provides it?
---
---
Back to
Vaastu Pooja Room

Read some more from
Vasthu Pooja Room
---
---
Review on Subha Vaastu.com Website :
Wow, wonderful information, we never thought that we can get this much of information in a website, I appreciate Mr. Suresh for his achievement in doing best and sincere free service to the society. I welcome for this change. I recommend to every one for getting more and easy way of learning information in this website, I am proud that my country person has achieved this sincere efforts in vastu shastra. I informed this website to all of my friends..... Radha Krishan Mohan Vangeti - Miami. USA
Still I never believe that a person has done this much of work in a website, how its possible, i never believe that a vastu consultant can put this much of valuable information in the website that to free of cost, no registrations, no cost, only free services. ... All the best to Mr. Sureshji..Anvekar Manvanth - Boston - USA.
Reviews on Vastu Consultant Services Website SubhaVaastu.com
Just want to narrate my experience with Suresh garu. I had no belief in vaastu at that time and I always used to dismiss my father's emphasis on vaastu. I was always thinking the western way (unfortunately as a result of how we are educated in India) -- my belief was that if there is enough light and ventilation, it should be all good. But reality is different, there are many more things to consider like flow of magnetic energy. I wanted to buy an apartment for my mother in India because I was planning to move abroad. I saw a beautiful apartment in my hometown -- very good location, good ventilation, good design (for the eyes), good facilities, reasonable price etc. etc. I was more than convinced that this was the home I was looking for and was almost ready to pay advance for it. Just before paying advance, I recollected my father's words about vaastu and its importance on happy living and also was wondering why is that only this flat is not bought (on multiple floors) in spite of all good facilities and reasonable price (other flats in the apartment are sold out long back). So, I decided to check on vaastu once before making such huge investment (for most of us -- until it comes to us, we tend to dismiss all good things). What should I do now? How do I find a reliable vaastu expert, being away from hometown? How can I make sure I'm not falling prey to quacks? After doing some research on the Internet, I started realizing the logic and science behind vaastu. I read through many websites and finally landed on subhavaastu.com . It is very evident that this website is the best of class. Each topic is explained very clearly, logically. Free ebooks are a great resource. I learned a lot about vaastu from this website. So, immediately I contacted Suresh garu and sent him the apartment layout. What I was wondering about was confirmed 100% by Suresh garu. The apartment is not following vaastu principles, that is why no one bought it and I was almost buying it. All that glitters is not gold. He explained clearly why it is not good. I checked on that flat after one year of that incident and it's still not sold! Dropped that flat and continued to search. He could have easily asked me to send all properties I visit and pay for them, but he did not. Instead, he educated me about basic things and suggested some pages on his website through which I can eliminate bad houses. I was very impressed by how he takes care of customers -- answers questions patiently, never demands how much I should pay him, always says pay what ever you can afford and feel is correct. Even after initial consultation, I contacted him for small questions and he happily answered them for me. Even when he was busy abroad, he took time to answer my questions. Any one reading articles on this website, I strongly recommend you to consult Suresh garu for your vaastu questions/needs. He is excellent at his job. Do not think that reading whole subhavaastu.com and bunch of books will eliminate the need of an experienced vaastu pandit like him. Knowledge is different from experience and wisdom. There are many things he checks before he recommends a property to you. He does not rush you in to a decision with out complete information. A stitch in time saves nine, you are making a big investment, don't think of few hundreds or thousands you will pay for vaastu consultation. It will definitely pay off in long term and help you live a happy life. From Abdul Kalam's poem 'A message from mother earth': "Beautiful Environment leads to beautiful minds Beautiful minds generate, freshness and creativity" We all need beautiful environment in our homes, offices and cities; only that leads to beautiful minds and thereby other great things in life. Beauty is not only external, but also invisible things that influence the way we live. Start from your home, follow vaastu with out any doubt, live a happy life.Thanks - Satya Ananthu - Seattle - United States.
From past 2 months I am regularly observing your website and daily updations. There is no words to say "THANKS" to you all team members for this social cause. Amazing, astounding, sensational, awesome, breathtaking and remarkable in Indian history. You are GREAT PEOPLE ON THE EARTH. Continuously you are serving our society without any expectations, how great you are. Accidentally happen to see "about us" page in your website, I am extremely happy by reading kalayanasundaram life style, still there is such type of people on our earth?. dear team, i would like to be a part in your services. You have done a marvelous job. Don't hesitate to contact me when ever you require my services. The supreme power almighty be with you always - Hariraj - Singapore.
Suresh Garu, I got Vaastu services from you. Your site is excellent site and the best site in the Internet. I never see such a web site from Internet regarding Vaastu. You are great human being. I learned a lot from you. You have patient with customers. I followed your suggestion and great help for me. I should have contacted before I buy from current house. Any way, now I am thinking move into different house. I need your help. Your analysis on Vaastu is different from other people. You have excellent knowledge and experience in Vaastu. I will tell all my friends to take services from you regarding Vaastu. I admire you have written lot books in Vaastu. Your vision and knowledge on foreign properties excellent. Thank you for your great service. I like your attitude of helping people - Prakash - Virginia - USA.
Hi Suresh Garu, yes I did a mistake that i have thought that this mail is going to me at that moment. I dont know why i access your website but there are some good things and good knowledge that i got it from your website and i shared this website link to my friend and my brother.i felt that lot more things can be learned or experienced by accessing your website irrespective of anybody.Its really amazing awesome and interesting. Thanks aton for maintaining this kind of websites for the sake of human wellbeing - NaniBabu - Johar Bahru - Malaysia
---
Announcements
Visit Vastu Consultant and Vastu Results pages. Many visitors asking when can we get results after corrections done to properties as per vastu shastra. Even expert vastu consultants are also not sure how to say answer to this question. We tried our level best to made an attempt to say the answer. Let us check the vastu results page and vastu consultant page.
---