Vastu Help To Resolve Debts | Loans | Credits - SubhaVaastu
Vastu Shastra Help to solve the Debts :
Vastu Shastra Tips to clear Debts, Loans, Financial Institution Problems, Credits, Loans, Banks, Insolvency and Bankruptcy: With the growing Population, everyone needs, are also increasing. To meet the necessity one should have money. Today, the world has so changed that with money anything can be got. Making money has become the prime concern of every man today. It seems to be the world is ruled by money. 'Dhana Moola Midam Jagat'. But all are not that fortunate to lead a life of luxury or live in the lap of luxury.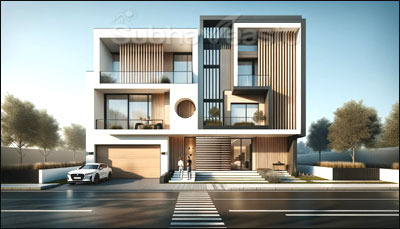 There are many unfortunate ones unable to earn the money which can satisfy all their demands. Hence they once forced to borrow money. Without borrowing debt its unable to live within their means, unable to balance their income and expenditure. Some incur debts one to lacks proper planning. In case of some others, inspite of all their care and frugal expenditure, the situation is such that then have to invariably go for loans. In such a situation People borrow (debts) money from Creditors or money lending institutions. But very few people come out safe from this financial muddle while many get bogged down into this financial crisis, and caught in debt trap.
How bad it is to see this board in front of this beautiful small house. You are intelligent, don't allow the bad powers enter into your property. Take care of your properties.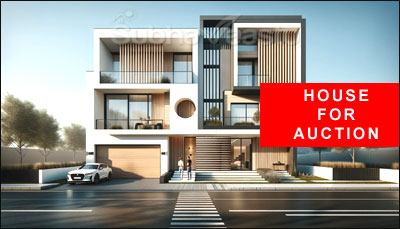 A close study of such people suffering from financial Crisis and the external factors influencing them - it would seem that Vastu Plays a Vital role as a major influencing factor. Some slight modifications or alterations in the house may bring about a great change in all corners of financial Position. Like for example heighten the South it would bring amazing results. Such a house and its residents one bound to enjoy good Prosperity and happiness. Vaastu shastra helps us from relaxing from debts.
There is a symptom of debts, see this image, here the door is towards northwest towards north, this type of passage or way and walks are very attractive for debts, at this stage one cannot come out from Debts. Vastu shastra will helps us in this regard, you can alter the door from Northwest-north to towards Northeast-north side. Most of your problems will solve, any how better to contact one expert vastu consultant then you will get full relax, don't approach quacks in the market. At first their statements will encourage you for consultation later you will loose so much money and very valuable time.
A small debt makes a man your debtor, a large one make him your enemy.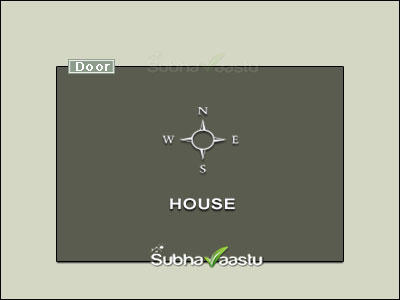 Now check the below image :
You may observe some houses, take like this, if one house is having West road and the house is faces to West side and the same is constructed on East and North boundaries like in this image, the residents become indebted and the house would be put up for auction in due course. This process may be in hurry when there may be sumps towards Southwest corners, this house may be for auction and the residents may suffers with chronic deceases also. To rectify this house issues is not a easy one, generally inhabitants may approach Swamiji's for Yantras and the like. They may not hear the facts of the elders or Best and Expert vastu consultants recommendations.
There are many other reasons for debts and financial loses :
There is another possibility of getting up with debts of inhabitants when there may be wells or water sumps or pits etc. This well may become a main reason for insolvency of the inhabitants. The nature of the defects may be either extension of Northwest-north.
Another reason for Debts :
Just observe this image, this house is having more open space towards South direction, there is a chance for getting losses in businesses, so automatically debts may raise to the inhabitants. There are many other reasons behind for this debts, out of them we attempt to explore only few things here.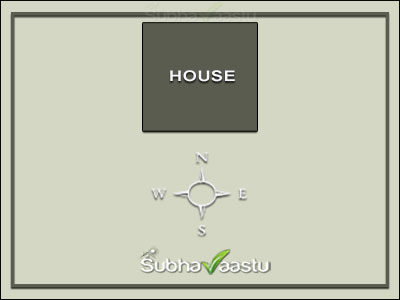 There is another reason for the debts, if pials or dais, located towards North direction and more elevated from the ground level of the inner house, then it causes more expenditures, indebtedness.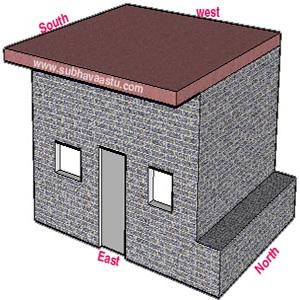 Another reason for debts :
Please look at this image, there is a water well towards West side of the property. This may also a reason for financial losses to the inhabitants, generally financial losses creates debts to the residents. Most of the times the water well may affect on health issues when it was towards West direction.
If there is a firm or finance institution, then this water well may affect on its future, mostly starting degrading the livelihood of the residents. Most of the times this may inconsistently reflects bad effects on the property, also includes financially weaken the entire firm/individual/resident.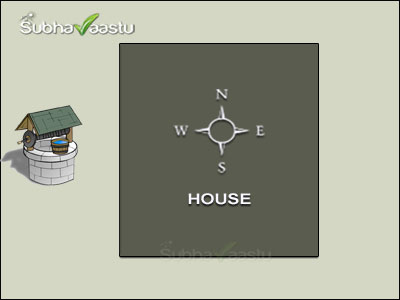 Observe this image :
Don't dump stones, organic waste materials, other storage things depositing towards North direction area, it may create many losses and financial weaken to the residents along with loans. Beware of heap of stones towards North direction, generally South face houses are getting these problems.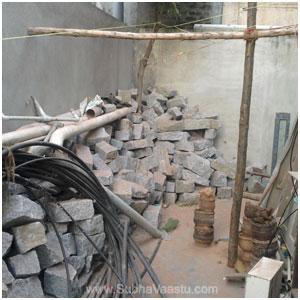 Observe another one :
The house was extended towards Northwest-north, most of the cases this also leads to debts. This may also leads to court litigation, mental worries, if there may be any southeast defects with this same ill effect, then there is a chance for fire accidents, robbery, loss of progeny etc may happens.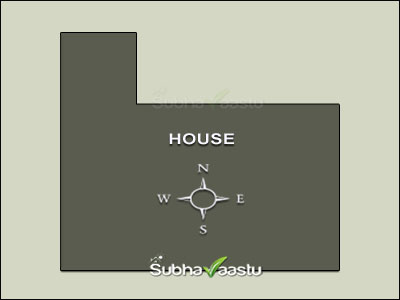 Observe this Image :
If there is any well or water sump or bore well may leads to financial losses and finally leads to debts and some times this may causes for accidents or accidental deaths.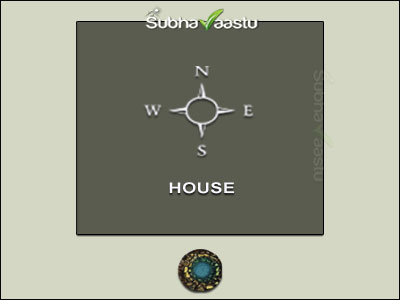 There are many other reasons for the debts. We will shortly enlighten one by one here. Be in touch with us. We are again requesting every body that it is always better to approach one Expert vastu consultant nearby you, he will guide you the good recommendations after visiting that property. Without vasthu expert don't buy any property or don't alter any home. It is our humble request. Don't see the best expert vaasthu experts fee, it may be little bit high, but finally you will be benefited.
Now a days the financial institutions are following a tricky thoughts to earn money from the borrowers and due to this people suffer lot and finally some residents became bankruptcy. In case of emergency, it is better to approach the banks for financial support, instead of approaching the private money lenders. Save each and every dollor, don't go for heavy expenditures, once starts loosing money, it never be with you.
Vastu Shastra Tips to get clear from Debts | How to clear Debts with the help of Vastu Shastra :
1. Northwest-north should not be extended.
2. One should not construct the house.
3. Elevation towards South direction blesses with wealth and financial support.
4. Lumber may be kept towards South side and if the land was elevated then it augurs with wealth and money.
5. The rooms which are constructed towards South direction should be more elevated than the North direction then it supports in the terms of finance and sound increases of status.
6. The Northern doors towards North should face exclusively towards North direction brings good luck.
7. If the rain water flows towards North direction, brings prosperity to the inhabitants.
8. More open space towards North direction brings yields of good finance.
9. Less space towards South and more space towards North supports residents finances.
10. The open land towards North and Northeast should be more depressed than the South and Southwest parts, it yields good finance suports to the inhabitants.
---
---
Is there any chance to earn money in my business with the help of Vastu shastra tips ?
Can we place the solar panels on top floor at Northeast corner ?
My uncle family life was totally disturbed, how to solve the problem ?
Now we are going to install the overhead water tank at terrace, will you inform which place is best ?
My friend daughter got divorced, is there any vastu dosh ?
---
---
Back to
Love Affairs Vastu


Take me to new link
Mental Tension
---
---
Reviews on Vastu Consultant Services Website SubhaVaastu.com
Aditya, who was just came to USA from India working as a software Engineer, he belongs to a traditional family and their forefathers are working in astro services only, I kept first floor bedroom3 is his living room. From starting I kept that 3rd bedroom for guests, any way he came from India and his brother is very close to me and that's the reason I hosted him in my house. He was very simple and honest guy, all of our family members likes him. He is very calm and more interested on education, he is always reading books. Most of the time he was in my library. Once we are searching for best vastu consultant in India, to show our new home in Hyderabad for evaluation, immediately Aditya showed www.subhavaastu.com website and informed me that his father likes this site very much and recommends to many residents who requires genuine vastu consultancy services. I stepped into this site and seen the hard work done by the team, wonderful website, I appreciate the entire team members for making such a beautiful website with useful stuff, specially images attracted me. Shortly I will share this vastu website information with my friends - Narayan Srivastava - Dallas - USA.
The website Subhavaastu.com is very informative.Sureshji, the founder of this website is according to me a great ¨human who has vast knowledge in vastushastra and his kindness to his clients are appreciated. He listens to his clients problems patiently and gives the appropriate remedies. His main motto is good service and he responses as quick as possible. I spoke to Sureshji as a stranger only, but after one phone call itself , I started feeling that he is a caring well wisher for whoever asks his help. He is a genuine person. He doesn't force you to spend money in the name of vasthushastra, he explains clearly where the problem is and tries to give very easy changes to have a peaceful life. Sathya Priya - Switzerland - (Chennai - India ).
Suresh gaaru, Please accept my namaskaarams, I am a software engineer, I am very impressed by your website and the service you are doing for the public. It is commendable that you are giving free vasthu services to armed forces, government offices etc. Nori Venkata Narasimham - Hyderabad - Andhra Pradesh - India.
I would like to share my experience working on our house plan and the expert assistance provided by Suresh garu. About our first house in USA, it is a Vidisha plot / tilted site (houses facing NE / SE/ NW/SW are called Videsha plot ). Most of the plots in the USA are of this kind for which getting the design as per our Vaastu is difficult. I believe the Science in the Vaastu rather than superstitions & believes associated with these. Since land is same, I believed Vaastu will still hold good in USA. I believe that Science in Vaastu tells us the importance of Sunlight and flow of air in the house and design the house such that our daily lives are harmonious & prosperous. A very simple theory, if the house gets good Sunlight in the morning (more Vitamin D) and get good natural air, you would be brighter and healthier, once your health/spirits are high you progress well in the life. Anyway to design a house on the Vidisha house it was a challenge and Suresh garu helped me in picking the land correctly and helped me in designing it to the principles of Science & Vaastu and most importantly adhering to the building codes of my community. Once getting the exterior load bearing walls & foundation correctly done, our biggest challenge was deciding the dimension of rooms in the house especially master bedroom, kids bedrooms & family rooms. I had long discussions with him and he was so patient in explaining the impacts of the changes clearly. I was impressed by his suggestions and truly appreciate his help & guidance. I have been the ardent reader of different Vaastu books from last 7 yrs and it seems Suresh garu has covered most of the points in his book and website (www.subhavaastu.com) with respect to Science in Vaastu. These are a wealth of knowledge and speaking to him is also kind of big help in coming up with a perfect design for our first house. We are going to get our house in next 4-5 months and in 2 years time I will definitely come back and share my life experience being in that house. About Suresh garu, he has a wealth of knowledge in terms of explaining science in Vaastu. I hope his suggestions and guidance will help many more for their better living - Shyam Vaddadi - California - USA.
---
Announcements
---
Good News to all spiritual thought lovers, we started Spiritual Wallpapers section here.
---
Sarvejanaa Sukhinobhavanthu
---
We are trying to publish complete vastu shastra information in our website, without your co-operation nothing will be happen here. Please support us by sending emails like what exactly you are looking here, based on your emails, we will plan to publish accordingly. With your only co-operation we will make this website as one of the best portal in our Indian vastu shastra websites history. In other countries once people get request invitation from any website or news papers people will come voluntarily and supported to make it as one of the best service oriented in their society. Indians are more than good when compare with other country people. Please come and share your thoughts, ideas, reviews, doubts, knowledge, opinions here. Dhanyavaad. Please write us by clicking this link Contact page.
---