Vastu House Structure | Home Construction Tips and Techniques
Vastu Shastra House structure | Vastu shastra for Home Construction:
House Structure is the main and important one in Vastu shastra. Because if the house construction is weak, vaastu Power may also weak, if house construction is strong, strength of vastu may also works strong. We are very lucky by knowing all these facts, but it will be fruitful only when we utilize all these secrets of powerful vastu shastra. If one has a good spacious place for construction then he will construct the house as accordingly. The following are the important points noted while at construction of the house.
Vastu Shastra is the science of house construction. The adherence to Vastu Shastra in the construction of dwelling structures provides prosperity, disease-free and peaceful life all the while. In the case of business structures Vastu Shastra ensures upward prosperity.
Architecture and Vastu Shastra are different but co-related. Vastu Shastra is house-craft with a touch of religious rituals. An architect's job is to build a structure with the facilities suggested by the owner and he cannot ensure prosperity, good health or happiness to the residents. In contrast, Vastu Shastra paves the ways for all these elements. Architecture is a construction act world over, while architecture in India is accompanied by religious thoughts and rituals.
Believers in Vastu assert that constructing a house without incorporating Vastu science is highly dangerous as it may result in various life complications and loss of wealth later. When disasters befall one upon one after living in non-Vastu houses, even disbelievers in Vastu are tended to believe in Vastu and adopt corrective steps.
Lately, Vastu Shastra has been acknowledged as a priceless gift to mankind. Countries like America, UK, Germany, Japan etc are extensively turning to Vastu Shastra now a days. Though Vastu Shastra is an ancient science it did not get the deserving position in the past due to clever suppression by the ancestors to have the knowledge confined to themselves. The ancestors, however, employed the Vastu science for constructing kingly palaces, temples, religious places and the like. Special care was taken to keep the common man's houses at bay from the Vastu. Later, common man got access to the knowledge of Vastu which led to its wide acceptance and utilization. Today, even a small structure is constructed with the concept of Vastu science only.
The principles of Vastu act on every object - living and non-living. If enough positive energy is present in every breath our health will remain sturdy and progress vigorously. And if we fail to follow Vastu principles the negative energy increases and we are doomed to suffer.
An inauspicious house is not always necessary to have demolished. In most cases, if we add few things the overall positive energy increases and ill-effects get tamed.
Vastu Shastra is co-related to horoscope. Astrologers prescribe the type of house depending upon the planetary position. We can change our destiny to a limited extent by following the principles of Vastu Shastra.
Many architects do not accept Vastu Shastra as a science. Their ignorance of this vital branch of science is stemmed from the fact that their study materials find no mention of this science. Lately, many universities have realized the value of Vastu Shastra and have incorporated it in the syllabus. While architecture is a technical knowledge directed towards preparation of plan, construction and decoration, Vastu Shastra is related to the universe and it has broad perspective delivering wealth, health and peace.
Observe this Picture :-At above picture, with in a compound the house constructed at Eshan Place, previously some body of quacks
suggested
to the house owners that construction at
Eshan
place will give all success, and house owners constructed the same as said by the quacks, then the residents of the house will spoil all of their chances to live. Don't construct the house at Eshan Place at Compound wall, it will Evaporate all the success chances, this type of construction will spoils everything, it degrades your prestige, total financial problems, health defects, tensions life, defeats etc may occurs.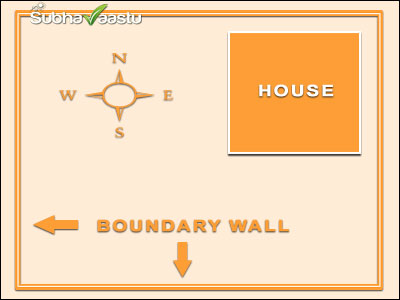 Observe this Picture:-
In above picture no:2, with in a compound premises the house constructed at Agneya Place, it's a wonderful house for devils, not for the human beings, this type of house construction will collapse the entire system the residents of the house will spoil all of their chances to live. Don't construct the house at Agneya Place at Compound wall, it will Evaporate all the success chances, this type of construction will spoils everything, it degrades your prestige, unnecessary quarrels, more tensions life, financial problems, health defects, Court matters etc may occurs.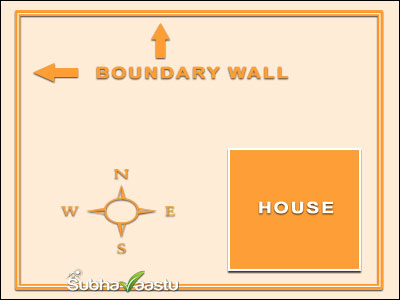 Observe this Picture :-
With in a compound premises the house constructed at Vayavya Place, total mental tortures, heavy losses, pain with entire system, system failure, sage, leaving the house with pain, court matters, unnecessary disputed matter occurs and so many other things happens. Don't construct this type of house, if you construct the same it cannot leave you and you have to suffer entire living period, be careful.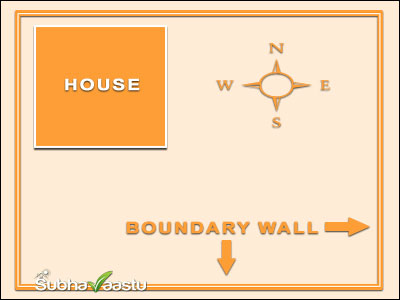 Observe this Picture :-
This type of house construction helps in increasing the positive energies and reduces the negative energies thereby increasing the positive influence of aggregated result of energies and as such the effect of the same can be felt by the people inhabitation the structure where Vaastu principles have been applied, this type of house construction will always gives the residents a chance for good living..and many more benefits received. Its a wonderful house construction system as per vastu shastra. This type will always gives residents peace, entire life satisfaction, victories, money, respectable life, great achievement, development, good name etc.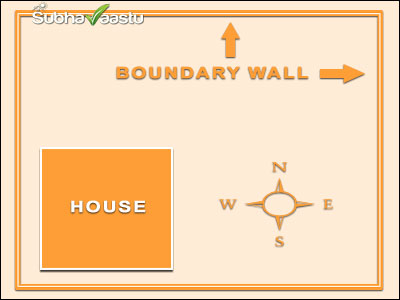 At this picture one house constructed at Nairuthi corner and it has two doors (shown with two arrows), one is at Easteshan side and another one is Northeshan side. Eshan door brings all cheers at house. On the same way the compound wall is also having a entrance door at easteashan (Northeast-east) corner(shown with blue arrow). It is auspicious gate. There is also shown one northeast towards north gate, it brings all money, good health, provide all these minimum requirements and fundamentals while constructing the house, if you buy a house that already built then it is strongly advised that you please consult one experienced vastu consultant and get one good suggestion. Please note that Vastu is definitely works, Vaastu consultants may not work, so don't see the vastu consultant fees, choose one experienced vastu consultant its nothing but your life may be in turning position.
You never build houses again and again so be careful before construction, build the house with good vastu then you lead a satisfied life and days will be more interesting. If you construct many houses then no problem, if one house fails then you can shift to another house, that is a different thing. But in general, now a days people cannot build many more houses, so my suggestion is build the house with good vastu, and always better to consult a good vastu expert for best and happy future.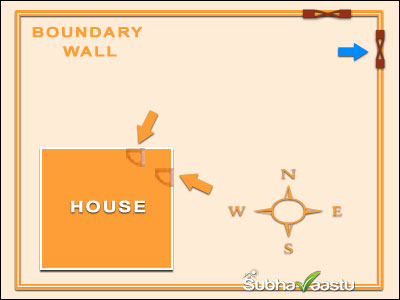 Vaastu means the physical environment and Shastra means the knowledge. The combine of the two is known as Vaastu Shastra? Which means the knowledge of the physical environment.This ancient science is based on the principle of controlling two basic forces-Positive forces and Negative forces. Any architectural design either brings in some good effects or evil effects on the persons inhabiting the structure.Vaastu as a science is in no way related to performing the rituals before buying or renovating the house. Its a stand alone way of looking at various dimensions for getting the people living in house rid of ill effects of negative forces and provides shield against dreadful diseases, disasters, mishaps ,birth of physically and mentally disordered children,untimely death, and other unfortunate happenings.
So for your sake the following points have to be kept in mind while planning the construction of a building, be it a residential structure or industrial structure or any structure. In each case, it would be auspicious and beneficial to keep the following points in mind while purchasing a plot of land or constructing a building.
If a building is hundred feet tall, its foundation must go down upto 40 feet. The first brick of the foundation should be laid in the North or East part of the house. One should never start digging the plot from the south or west or southwest. The first room to be constructed should be at southwestern side.
It is very important to check the direction and shape of the plot. A construction on rectangular or square plot is beneficial and good from all aspects. The best shape for a construction on a plot is to be the square type plot. But if we opt for a rectangular shape, the ratio of the two sides should not be more than 2:1.
Big plots are preferred, as they bring prosperity but they should not have any cracks or cleavage or Bad Street focuses.
The house should be open from all sides, that means it should not be adjacent to any other house, i.e. no two houses should have a common wall. A house should not be sandwiched between any two houses.
The plots having a triangular shape are considered inauspicious for construction of a building.
A small narrow plot between two big plots is not considered good, because the owner of the building of such plots would remain in trouble.
If a plot is rectangular, the length in the East-West direction should be more than that in North-South direction, i.e the East-West axis should be longer than the North-South axis. But this is not a serious problem.
Plots should not have more open space in South than in north, because it will lead to destruction and downfall, whether it is in the house or a industry.
While constructing the house all the heavy and permanent items should be placed in the southwest corner of the building or plot. The construction will be easier if the heavy items are placed in the rooms on the southwest or south and west.
---
---
How to find the exact and good plot or site?
Which is the best place for swimming pool?
Can I place my God Idols at a corner in my pooja room?
Where can I get Maa Lakshmi Mantra to have more money, some says that this mantra attracts wealth?
Which link can provide Maa Laxmi desktop wallpapers?
How to make money in share market through vastu guidance?
---
---
Back to
Vastu for House


Take me to
Vastu Pooja Room
---
---
Reviews on SubhaVaastu.com Website :
"My name is Rama Moorthy Prasad working as a Supervisor in one American corporation situated in Nigeria country, for my vastu shastra requirements I contacted Mr. Suresh Vastu consultancy for my home vastu consultancy., more than 20 months ago when I was making my new home at my native place (Chittoor Dist) and contacted him for best of vaastu suggestion's and guidance , as per my request he came to our place when construction work was going on and given all his recommendations. One of my cousin is practicing as a Civil Engineer, he was also presented on Mr.Sureshji visit and my cousin noted all of his recommendations and we implemented without any second thought, Sureshji observation on all the civil works and surroundings are greatly appreciated, he never compromises on vastu shastra, he never left even a small bit of work and reaching to all corners of the property for verification, he rounded the property twice for double check of any corrections. Now after staying in our new home for nearly 20 months I can say confidently that we are getting all desired results, I was noticed most of the guests when they enter in to our home expressing that they feel calm and pleasant climate and good vibrations. Now again I am contacting him for my second purchase in Tirupati. All of my family members are fully happy and thankful to his services - Rama Moorthy Prasad - Nigeria - Chittoor Dist - India.
Write your review on Vaasthu Shastra Website SubhaVaastu.com :
Write a Review on our website. Or you may write your Opinions or suggestions. If your review is useful for the society we will publish it at our website and your name stands life long here. You may modify your review at any time, for example if you would like to change the city, country of living place etc, along with this, you may ask us for change of your name, if you don't like to publish your original name. We respect your privacy, many visitors wrote their reviews on our website, you may check this link Click this link to read some of the reviews from our website visitors and clients. Thanks in Advance.

Reviews on Vastu Consultant Services Website SubhaVaastu.com
Aditya, who was just came to USA from India working as a software Engineer, he belongs to a traditional family and their forefathers are working in astro services only, I kept first floor bedroom3 is his living room. From starting I kept that 3rd bedroom for guests, any way he came from India and his brother is very close to me and that's the reason I hosted him in my house. He was very simple and honest guy, all of our family members likes him. He is very calm and more interested on education, he is always reading books. Most of the time he was in my library. Once we are searching for best vastu consultant in India, to show our new home in Hyderabad for evaluation, immediately Aditya showed www.subhavaastu.com website and informed me that his father likes this site very much and recommends to many residents who requires genuine vastu consultancy services. I stepped into this site and seen the hard work done by the team, wonderful website, I appreciate the entire team members for making such a beautiful website with useful stuff, specially images attracted me. Shortly I will share this vastu website information with my friends - Narayan Srivastava - Dallas - USA.
The website Subhavaastu.com is very informative.Sureshji, the founder of this website is according to me a great ¨human who has vast knowledge in vastushastra and his kindness to his clients are appreciated. He listens to his clients problems patiently and gives the appropriate remedies. His main motto is good service and he responses as quick as possible. I spoke to Sureshji as a stranger only, but after one phone call itself , I started feeling that he is a caring well wisher for whoever asks his help. He is a genuine person. He doesn't force you to spend money in the name of vasthushastra, he explains clearly where the problem is and tries to give very easy changes to have a peaceful life. Sathya Priya - Switzerland - (Chennai - India ).
Suresh gaaru, Please accept my namaskaarams, I am a software engineer, I am very impressed by your website and the service you are doing for the public. It is commendable that you are giving free vasthu services to armed forces, government offices etc. Nori Venkata Narasimham - Hyderabad - Andhra Pradesh - India.
I would like to share my experience working on our house plan and the expert assistance provided by Suresh garu. About our first house in USA, it is a Vidisha plot / tilted site (houses facing NE / SE/ NW/SW are called Videsha plot ). Most of the plots in the USA are of this kind for which getting the design as per our Vaastu is difficult. I believe the Science in the Vaastu rather than superstitions & believes associated with these. Since land is same, I believed Vaastu will still hold good in USA. I believe that Science in Vaastu tells us the importance of Sunlight and flow of air in the house and design the house such that our daily lives are harmonious & prosperous. A very simple theory, if the house gets good Sunlight in the morning (more Vitamin D) and get good natural air, you would be brighter and healthier, once your health/spirits are high you progress well in the life. Anyway to design a house on the Vidisha house it was a challenge and Suresh garu helped me in picking the land correctly and helped me in designing it to the principles of Science & Vaastu and most importantly adhering to the building codes of my community. Once getting the exterior load bearing walls & foundation correctly done, our biggest challenge was deciding the dimension of rooms in the house especially master bedroom, kids bedrooms & family rooms. I had long discussions with him and he was so patient in explaining the impacts of the changes clearly. I was impressed by his suggestions and truly appreciate his help & guidance. I have been the ardent reader of different Vaastu books from last 7 yrs and it seems Suresh garu has covered most of the points in his book and website (www.subhavaastu.com) with respect to Science in Vaastu. These are a wealth of knowledge and speaking to him is also kind of big help in coming up with a perfect design for our first house. We are going to get our house in next 4-5 months and in 2 years time I will definitely come back and share my life experience being in that house. About Suresh garu, he has a wealth of knowledge in terms of explaining science in Vaastu. I hope his suggestions and guidance will help many more for their better living - Shyam Vaddadi - California - USA.
---
Announcements
---
Sarvejanaa Sukhinobhavanthu
---
We are trying to publish complete vastu shastra information in our website, without your co-operation nothing will be happen here. Please support us by sending emails like what exactly you are looking here, based on your emails, we will plan to publish accordingly. With your only co-operation we will make this website as one of the best portal in our Indian vastu shastra websites history. In other countries once people get request invitation from any website or news papers people will come voluntarily and supported to make it as one of the best service oriented in their society. Indians are more than good when compare with other country people. Please come and share your thoughts, ideas, reviews, doubts, knowledge, opinions here. Dhanyavaad. Please write us by clicking this link Contact page.
---