Vastu House Structure | Home Construction Tips and Techniques
Vastu Shastra House structure | Vastu shastra for Home Construction:
House Structure is the main and important one in Vastu shastra. Because if the house construction is weak, vaastu Power may also weak, if house construction is strong, strength of vastu may also works strong. We are very lucky by knowing all these facts, but it will be fruitful only when we utilize all these secrets of powerful vastu shastra. If one has a good spacious place for construction then he will construct the house as accordingly. The following are the important points noted while at construction of the house.
Vastu Shastra is the science of house construction. The adherence to Vastu Shastra in the construction of dwelling structures provides prosperity, disease-free and peaceful life all the while. In the case of business structures Vastu Shastra ensures upward prosperity.
Architecture and Vastu Shastra are different but co-related. Vastu Shastra is house-craft with a touch of religious rituals. An architect's job is to build a structure with the facilities suggested by the owner and he cannot ensure prosperity, good health or happiness to the residents. In contrast, Vastu Shastra paves the ways for all these elements. Architecture is a construction act world over, while architecture in India is accompanied by religious thoughts and rituals.
Believers in Vastu assert that constructing a house without incorporating Vastu science is highly dangerous as it may result in various life complications and loss of wealth later. When disasters befall one upon one after living in non-Vastu houses, even disbelievers in Vastu are tended to believe in Vastu and adopt corrective steps.
Lately, Vastu Shastra has been acknowledged as a priceless gift to mankind. Countries like America, UK, Germany, Japan etc are extensively turning to Vastu Shastra now a days. Though Vastu Shastra is an ancient science it did not get the deserving position in the past due to clever suppression by the ancestors to have the knowledge confined to themselves. The ancestors, however, employed the Vastu science for constructing kingly palaces, temples, religious places and the like. Special care was taken to keep the common man's houses at bay from the Vastu. Later, common man got access to the knowledge of Vastu which led to its wide acceptance and utilization. Today, even a small structure is constructed with the concept of Vastu science only.
The principles of Vastu act on every object - living and non-living. If enough positive energy is present in every breath our health will remain sturdy and progress vigorously. And if we fail to follow Vastu principles the negative energy increases and we are doomed to suffer.
An inauspicious house is not always necessary to have demolished. In most cases, if we add few things the overall positive energy increases and ill-effects get tamed.
Vastu Shastra is co-related to horoscope. Astrologers prescribe the type of house depending upon the planetary position. We can change our destiny to a limited extent by following the principles of Vastu Shastra.
Many architects do not accept Vastu Shastra as a science. Their ignorance of this vital branch of science is stemmed from the fact that their study materials find no mention of this science. Lately, many universities have realized the value of Vastu Shastra and have incorporated it in the syllabus. While architecture is a technical knowledge directed towards preparation of plan, construction and decoration, Vastu Shastra is related to the universe and it has broad perspective delivering wealth, health and peace.
Observe this Picture :-At above picture, with in a compound the house constructed at Eshan Place, previously some body of quacks
suggested
to the house owners that construction at
Eshan
place will give all success, and house owners constructed the same as said by the quacks, then the residents of the house will spoil all of their chances to live. Don't construct the house at Eshan Place at Compound wall, it will Evaporate all the success chances, this type of construction will spoils everything, it degrades your prestige, total financial problems, health defects, tensions life, defeats etc may occurs.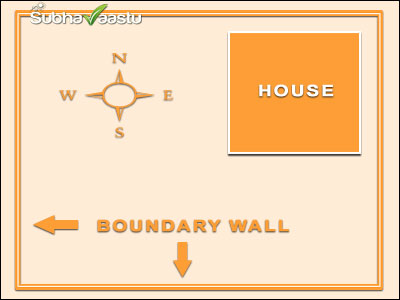 Observe this Picture:-
In above picture no:2, with in a compound premises the house constructed at Agneya Place, it's a wonderful house for devils, not for the human beings, this type of house construction will collapse the entire system the residents of the house will spoil all of their chances to live. Don't construct the house at Agneya Place at Compound wall, it will Evaporate all the success chances, this type of construction will spoils everything, it degrades your prestige, unnecessary quarrels, more tensions life, financial problems, health defects, Court matters etc may occurs.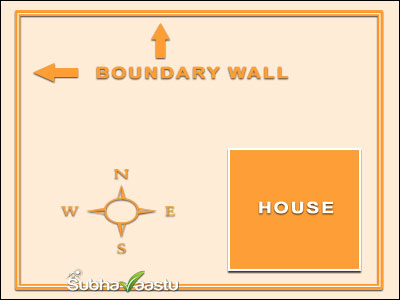 Observe this Picture :-
With in a compound premises the house constructed at Vayavya Place, total mental tortures, heavy losses, pain with entire system, system failure, sage, leaving the house with pain, court matters, unnecessary disputed matter occurs and so many other things happens. Don't construct this type of house, if you construct the same it cannot leave you and you have to suffer entire living period, be careful.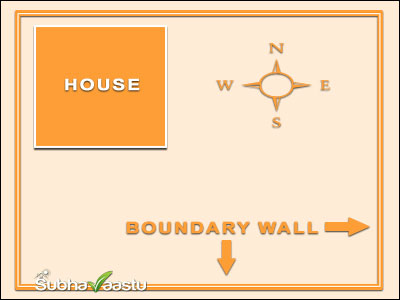 Observe this Picture :-
This type of house construction helps in increasing the positive energies and reduces the negative energies thereby increasing the positive influence of aggregated result of energies and as such the effect of the same can be felt by the people inhabitation the structure where Vaastu principles have been applied, this type of house construction will always gives the residents a chance for good living..and many more benefits received. Its a wonderful house construction system as per vastu shastra. This type will always gives residents peace, entire life satisfaction, victories, money, respectable life, great achievement, development, good name etc.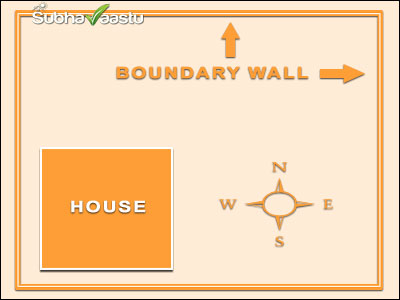 At this picture one house constructed at Nairuthi corner and it has two doors (shown with two arrows), one is at Easteshan side and another one is Northeshan side. Eshan door brings all cheers at house. On the same way the compound wall is also having a entrance door at easteashan (Northeast-east) corner(shown with blue arrow). It is auspicious gate. There is also shown one northeast towards north gate, it brings all money, good health, provide all these minimum requirements and fundamentals while constructing the house, if you buy a house that already built then it is strongly advised that you please consult one experienced vastu consultant and get one good suggestion. Please note that Vastu is definitely works, Vaastu consultants may not work, so don't see the vastu consultant fees, choose one experienced vastu consultant its nothing but your life may be in turning position.
You never build houses again and again so be careful before construction, build the house with good vastu then you lead a satisfied life and days will be more interesting. If you construct many houses then no problem, if one house fails then you can shift to another house, that is a different thing. But in general, now a days people cannot build many more houses, so my suggestion is build the house with good vastu, and always better to consult a good vastu expert for best and happy future.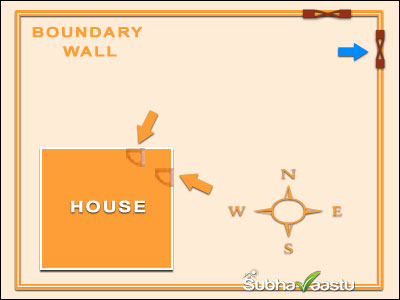 Vaastu means the physical environment and Shastra means the knowledge. The combine of the two is known as Vaastu Shastra? Which means the knowledge of the physical environment.This ancient science is based on the principle of controlling two basic forces-Positive forces and Negative forces. Any architectural design either brings in some good effects or evil effects on the persons inhabiting the structure.Vaastu as a science is in no way related to performing the rituals before buying or renovating the house. Its a stand alone way of looking at various dimensions for getting the people living in house rid of ill effects of negative forces and provides shield against dreadful diseases, disasters, mishaps ,birth of physically and mentally disordered children,untimely death, and other unfortunate happenings.
So for your sake the following points have to be kept in mind while planning the construction of a building, be it a residential structure or industrial structure or any structure. In each case, it would be auspicious and beneficial to keep the following points in mind while purchasing a plot of land or constructing a building.
If a building is hundred feet tall, its foundation must go down upto 40 feet. The first brick of the foundation should be laid in the North or East part of the house. One should never start digging the plot from the south or west or southwest. The first room to be constructed should be at southwestern side.
It is very important to check the direction and shape of the plot. A construction on rectangular or square plot is beneficial and good from all aspects. The best shape for a construction on a plot is to be the square type plot. But if we opt for a rectangular shape, the ratio of the two sides should not be more than 2:1.
Big plots are preferred, as they bring prosperity but they should not have any cracks or cleavage or Bad Street focuses.
The house should be open from all sides, that means it should not be adjacent to any other house, i.e. no two houses should have a common wall. A house should not be sandwiched between any two houses.
The plots having a triangular shape are considered inauspicious for construction of a building.
A small narrow plot between two big plots is not considered good, because the owner of the building of such plots would remain in trouble.
If a plot is rectangular, the length in the East-West direction should be more than that in North-South direction, i.e the East-West axis should be longer than the North-South axis. But this is not a serious problem.
Plots should not have more open space in South than in north, because it will lead to destruction and downfall, whether it is in the house or a industry.
While constructing the house all the heavy and permanent items should be placed in the southwest corner of the building or plot. The construction will be easier if the heavy items are placed in the rooms on the southwest or south and west.
---
---
How to find the exact and good plot or site?
Which is the best place for swimming pool?
Can I place my God Idols at a corner in my pooja room?
Where can I get Maa Lakshmi Mantra to have more money, some says that this mantra attracts wealth?
Which link can provide Maa Laxmi desktop wallpapers?
How to make money in share market through vastu guidance?
---
---
Back to
Vastu for House


Take me to
Vastu Pooja Room
---
---
Reviews on SubhaVaastu.com Website :
"My name is Rama Moorthy Prasad working as a Supervisor in one American corporation situated in Nigeria country, for my vastu shastra requirements I contacted Mr. Suresh Vastu consultancy for my home vastu consultancy., more than 20 months ago when I was making my new home at my native place (Chittoor Dist) and contacted him for best of vaastu suggestion's and guidance , as per my request he came to our place when construction work was going on and given all his recommendations. One of my cousin is practicing as a Civil Engineer, he was also presented on Mr.Sureshji visit and my cousin noted all of his recommendations and we implemented without any second thought, Sureshji observation on all the civil works and surroundings are greatly appreciated, he never compromises on vastu shastra, he never left even a small bit of work and reaching to all corners of the property for verification, he rounded the property twice for double check of any corrections. Now after staying in our new home for nearly 20 months I can say confidently that we are getting all desired results, I was noticed most of the guests when they enter in to our home expressing that they feel calm and pleasant climate and good vibrations. Now again I am contacting him for my second purchase in Tirupati. All of my family members are fully happy and thankful to his services - Rama Moorthy Prasad - Nigeria - Chittoor Dist - India.
Write your review on Vaasthu Shastra Website SubhaVaastu.com :
Write a Review on our website. Or you may write your Opinions or suggestions. If your review is useful for the society we will publish it at our website and your name stands life long here. You may modify your review at any time, for example if you would like to change the city, country of living place etc, along with this, you may ask us for change of your name, if you don't like to publish your original name. We respect your privacy, many visitors wrote their reviews on our website, you may check this link Click this link to read some of the reviews from our website visitors and clients. Thanks in Advance.

Reviews on Vastu Consultant Services Website SubhaVaastu.com
We are Software Professionals in USA, Initially to buy a home we searched internet, sent floor plans to India, then one of my friend suggested subhavaastu.com site, I was very impressed going through the site ,lot of information was provided, I contacted immediately Suresh garu for consultation. Being so busy he always responds to my emails and phone calls, clarified my doubts, He is so expert in giving consultation to USA properties. I feel him like a family member very frank, genuine and most of all patience. He do have immense knowledge in abroad properties, Indian properties by default. Anyone can give guidance, but he gives consultation with practicality not just some text book guidelines. He knows in and out how the structure, layout works and will give simple alterations, genuine Consultation. I have to salute to the tremendous work and efforts he puts in subhavaastu.com site - Sangeetha - New Jersey - USA
The website Subhavaastu.com is very informative.Sureshji, the founder of this website is according to me a great ¨human who has vast knowledge in vastushastra and his kindness to his clients are appreciated. He listens to his clients problems patiently and gives the appropriate remedies. His main motto is good service and he responses as quick as possible. I spoke to Sureshji as a stranger only, but after one phone call itself , I started feeling that he is a caring well wisher for whoever asks his help. He is a genuine person. He doesn't force you to spend money in the name of vasthushastra, he explains clearly where the problem is and tries to give very easy changes to have a peaceful life. Sathya Priya - Switzerland.
We stay in USA, I was initially Searching Google for some vastu help,one of my friend recommended subhavaastu.com website. Very useful information indeed, I found lot of good and valuable information, as got more motivated I contacted Suresh garu through phone. First I would like to mention he is a such a wonderful person, talking to him is like reading different knowledgeable books, he is a mobile Library always with a patience, a kind heart. He being so busy attended my each and every call immediate response to emails and clarified all my doubts. Especially I am amazed with his knowledge in vasthu with USA properties,its easy for some vastu specialist to tell vasthu with standard guides, but Suresh garu tells vasthu according to the place and country. My sincere suggestion for all the people who are wandering for a good Vaastu person or site, www.subhavaastu.com contact Suresh garu take his consultancy - Sarvani - Massachusetts - USA.
Our recent interactions with SubhaVaastu and Sureshji have not only been insightful but also extremely educational. Having a home is a matter of great virtue - having the home Vaastu compliant ensures that the investment and the future of the family in the home is secure and ensures progress. Having gone through the website gave us a tremendous amount of insights on bring about improvements to enhance positive energy and ultimately ring in progress. In the US, most home builders do not consider Vaastu and hence most occupants/ home owners are unaware of the benefits. In my dealings with Sureshji and the website, I have found insights and resources that can be helpful for almost everyone in the US. I highly recommend Subhavaastu and Sureshji to the broader NRI community. I wish SubhaVaastu and Sureshji the very best. Regards - Sneha - Florida - USA.
Announcement
( Free offer is ACTIVE now ) Kollam District Puttingal Devi mandir, hope you heard about mishap happend on 10th April 2016, we lost 113 people in fireworks blasts, many families lost their bread winners, many families lost their loved ones. By seeing this unfortunate incident we thought to serve to Kollam district residents. Upto 113 days we would like to do free online vastu consultation to Kollam District homes / plots / flats / factories / shops / hotels etc. For some more information click Free vastu services to Kollam District
---
(FREE Offers to Chennai Properties Successfully Completed - almost 120 days we provided free services to Chennai properties) 120 Days Free Online Vastu Consultancy Services in Chennai: People who have properties in Chennai faced lots of troubles by nature disturbances, they seen nightmare almost for one week. After seeing all the natural disastrous situations we thought to do some thing to Chennai property owners as a humanitarian grounds. Total online vastu consultation is free to properties which are situated in Chennai. Click this link for Free Online Vastu Services in Chennai From today onwards (Vaikunta Ekadasi) upto April 16th, almost 116 days this facilitation is on live. If your properties belongs to Chennai, then you may utilise this opportunity - Dhanyavaad.
---
Devotional Wallpapers
---
Good News to all religious minded and holy thought lovers, we started Spiritual Wallpapers website here. Download desktop wallpapers and Mobile Wallpapers of all Hindu God Wallpapers, Islam God Wallpapers, Christian God Wallpapers.
Inspirational Quotations
Quality is never an accident; it is always the result of intelligent effort - John Ruskin
---
"Great minds discuss ideas. Average minds discuss events. Small minds discuss other people. Life's too short to worry about what other people do or don't do. Tend your own backyard, not theirs, because yours is the one you have to live in." ― Sherrilyn Kenyon . . . Let you question yourself, "Who You Are"?
Joke Of the Day
Rajesh: "Good morning Somesh, why you are doing garden work at morning only on Sundays"
Somesh: "When my wife starts to sing I always go out and do some garden work so our neighbors can see there's no domestic violence going on."