Vastu Street Focus Southern Southeast | Agneya | Road thrust
Vastu Shastra Southern Southeast (Dakshinagneya) Street Focus :-
A street that hits to a house from Southeast-south side then that house is called as Southeast-south hit property or that street is called as Southern southeast street. If a street strikes a factory or plot on the SSE side such thrust is called SSE street thrust, this is beneficial. In some areas this street focus is called as Dristi or drusti.
Here observe the below three images, seems to be all are the same.
Observe this image. A street is hitting the house from Southeast-south, this is Southern Southeast street focus or the house may be called as Southern Southeast street focus house.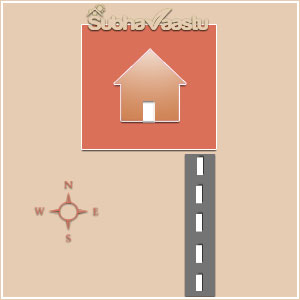 Check this below image :
What is the difference in this image and the above image.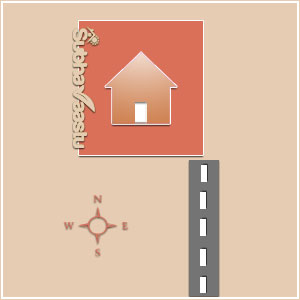 Check this below image :
What is the difference in this image and the above two images. Color, drawing and directions are all same except one change, what is that change.
Just observe double time or three times, if you did not find the change in these above images, then read the below content.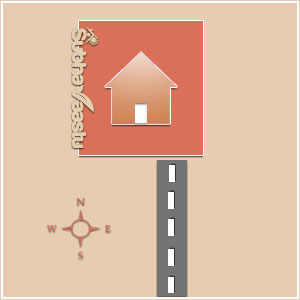 All the 3 street thrusts are indeed benevolent and these are SSE street thrusts only, they bestow financial benefits to the residents. For getting the best in such situations it will be good to leave open space towards East side of the house. More space towards East and North are most beneficial to the inhabitants.
In the absence of such a situation (Not leaving open space towards North direction) there would be dominance of ladies in the house, it is also best to have open space towards North or else female folk may suffer mental tension, mental ailments, skin ailments etc, further residents may suffer competitive business environment or themselves indulge in competition and get ruined. Please note that if the property will have more open space towards North and East for these kind of properties, the residents will enjoy the real fruits of life, also we should not forget about the surroundings influence on the property. For all these, one should not take his own decision when needs to buy a property, it is a strong recommendation that always approach one expert vastu consultant to have peaceful life.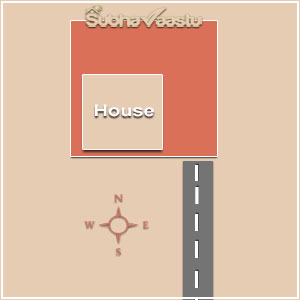 There are many more street focus, general look is like to be the Southeast-south street focus only. But lots of difference in results.
This street focus is generally called as Southern Southeast street focus only. But results are vary when compare with Southeast-south street thrust, please note this point before going to buy the properties. Find one Vastu expert and call him to visit your interested property and then only decide to buy it or not.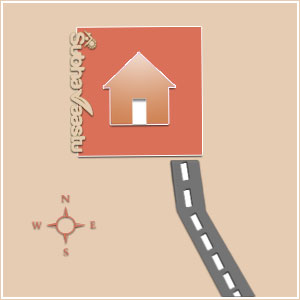 Another property :
Some body may thought that this is also Southern Southeast street focus to the property. Generally Southeast-south street focus is good, if any thing wrong in its formation then the results may be vary. Shakthi may be originated when the streets are exactly hitting the properties. Some times residents may not interested to call the vaastu experts to their properties, because of their payments, to save the consultancy payments, residents dare to take the decision that they are approaching quacks or half knowledge vastu pandits and getting the wrong decisions, for example in this image, please note that the measurement of the Southeast-south street should be calculated and also requires to calculate the bend, where it starts from the house, that we have to check, if the bend is too far from the house as per veda, then after checking the remaining all surroundings and may go for buy this one, but it should done only before one competent vaastu scholar only.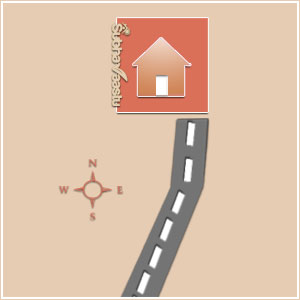 Another Street focus :
Many may thought that this is also a Southeast-south street focus and may be ready for consideration, if the property is 90 degrees then we should be very careful on this street focus. If the property is 60 or 120 degrees then the results may vary. If the property is skewed then without vastu consultant advise one should not buy this type of properties.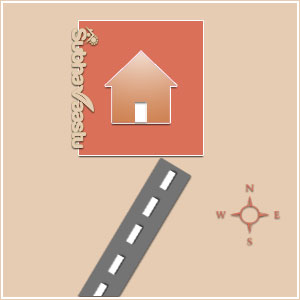 Another Street Focus Property :
If the property is 90 degrees as per compass, then this street focus may not said to be the good one. In this figure the street thrust is indeed on SSE side, however the house would be bestowed with partly SSE and partly SE street thrust. If however the street extends beyond (thus making the street starting from SW) it bodes ill to the residents, see the above image.
In such a situation the street thrust may be divided into two parts comprising of southeast street thrust and SSE street thrust. By observing the basic principles of avoiding the ill effects of SE street thrust, during construction we will be left with only the good effects of SSE.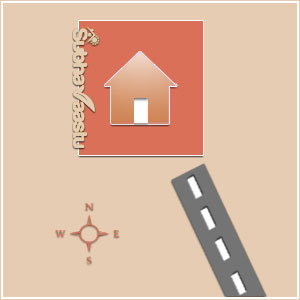 Another image :
This is south facing property and is having Southeast-south road focus. Becareful when you requires to buy this, if there is no properties towards South then adverse results may applies to this property, if this property is having any kind of Northeast extension then the residents will enjoy more good life.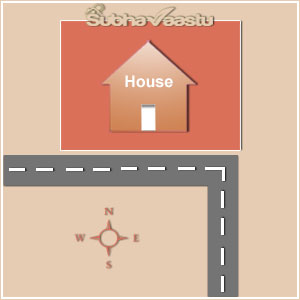 Another Image :
This house is having same Southern Southeast street focus, and the same road passing through East before this house. The residents should use only this SSE road.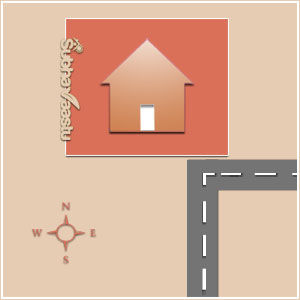 Another Image :
This house is having SSE street focus and its having a street towards North, this is auspicious one, though its good one but residens should take the right recommendations from the vasthu scholars before selecting to buy the properties.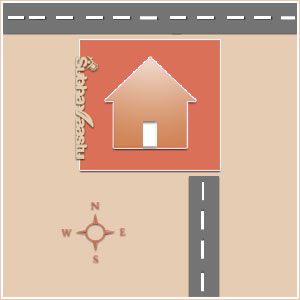 After seeing many types of street thrusts what do you feel, that is why many best vasthu experts never give the answer to the residents who called and asking questions on vaasthu shastra road hit properties. There are many more types of shula, every thing cannot be described by any body, we should not forget about the surroundings information.
Benefits of Southeast-south (Dakshinagneya) Street thrust :
1. increased income to the residents
2. good progress in their educational fields and hence greater earnings.
3. residents may become arrogant always trying to win in argument
4. earnings due to legal means
5. respect from society, exalted position in the society
6. doing such acts as earning praise from society
7. sound health (if there be no SW defects)
8. the girls in the home may be married earlier. This is a special feature in such houses
9. If families with female issues due for marriage but getting delayed live in such houses, it is very likely that they would get good alliances and early marriage too.
10. in such houses generally female folk will have lively disposition.
11. This site matter is from www.SubhaVaastu.com
11. if in such houses eastern portion is kept vacant, men folk may enjoy name and fame.
12. if adequate open space is left on north side, female folk would have happy life and family would have good name
13. Generally society will be favorable disposed towards the residents. Residents may even enjoy leadership in the society.
14. In such houses if ever there be open space towards Southwest and either street thrust or frequent walking movements in ESE area of the house, the head of the family may suffer heart ailments or loose one's self esteem due to sudden developments. Earnings will disappear too soon to grasp the event.
15. unnecessary tensions, unable to hold on to the promises made, usually large expenses, ill health leading to frequent visits to doctors could be the results. Possibility of murders or committing the same may not be ruled out. Since evil things will be compounding what ever be mental strength depression will surely the result.
The above is the flash file, which is visible in desktop computers only. To safe guard our website visitors we hide some of the important information on Parihara for soolas here. The elders or experienced people knows why we hide the facts here.
---
---
How vastu helps to get good occupancy in Hotels. ?
Is there any simple way to find the directions of a property ?
Some are always having debts, what are the reasons for debts ?
Is doors played a vital role in Vastu Shastra ?
How to fix the Western Commode in our toilet as per vastu shastra rules ?
I would like to learn some thing on Back yard vastu, where can I get info ?
---
---
Back to
Southeast Street Focus


Take me to
South Street Focus
---
---
Reviews on our Vasthu Shastra Website :
Dear Suresh Sir,  there is tremendous knowledge you have expressed for the world to share and attract interest in this Subject of vasthu. In an interest to understand better wanted to enquire with you on one of the topic where you have stated with 1200 pages is it like a bible covering all the multiple book prints - Guruvayurappan Ramakrishnan - Chennai - Tamilnadu - India.
Reviews on Vastu Consultant Services Website SubhaVaastu.com
I am Chen running business 3 firms in USA For last few years I was losing lot of money in the name of investment. I started getting down that something is there (other than intelligence planning and financial backups). I came across feng shui (chines vastu) got help from them paying couple of thousand dollars nothing happened and continued passing time and losing money as well. I did come to know about Indian vastu through few of my friends same thing happened as above. Finally one of Indian friends ask me to try with www.subhvaastu.com so contacted Sureshji, gave him information and he himself started telliing facts(which even my friends don't know) about my problems and it surprised me considering it is end of problems. - Chen (Chengalraya Shetty), New York, USA.
The website Subhavaastu.com is very informative.Sureshji, the founder of this website is according to me a great ¨human who has vast knowledge in vastushastra and his kindness to his clients are appreciated. He listens to his clients problems patiently and gives the appropriate remedies. His main motto is good service and he responses as quick as possible. I spoke to Sureshji as a stranger only, but after one phone call itself , I started feeling that he is a caring well wisher for whoever asks his help. He is a genuine person. He doesn't force you to spend money in the name of vasthushastra, he explains clearly where the problem is and tries to give very easy changes to have a peaceful life. Sathya Priya - Switzerland - (Chennai - India ).
Aditya, who was just came to USA from India working as a software Engineer, he belongs to a traditional family and their forefathers are working in astro services only, I kept first floor bedroom3 is his living room. From starting I kept that 3rd bedroom for guests, any way he came from India and his brother is very close to me and that's the reason I hosted him in my house. He was very simple and honest guy, all of our family members likes him. He is very calm and more interested on education, he is always reading books. Most of the time he was in my library. Once we are searching for best vastu consultant in India, to show our new home in Hyderabad for evaluation, immediately Aditya showed www.subhavaastu.com website and informed me that his father likes this site very much and recommends to many residents who requires genuine vastu consultancy services. I stepped into this site and seen the hard work done by the team, wonderful website, I appreciate the entire team members for making such a beautiful website with useful stuff, specially images attracted me. Shortly I will share this vastu website information with my friends - Narayan Srivastava - Dallas - USA.
I would like to share my experience working on our house plan and the expert assistance provided by Suresh garu. About our first house in USA, it is a Vidisha plot / tilted site (houses facing NE / SE/ NW/SW are called Videsha plot ). Most of the plots in the USA are of this kind for which getting the design as per our Vaastu is difficult. I believe the Science in the Vaastu rather than superstitions & believes associated with these. Since land is same, I believed Vaastu will still hold good in USA. I believe that Science in Vaastu tells us the importance of Sunlight and flow of air in the house and design the house such that our daily lives are harmonious & prosperous. A very simple theory, if the house gets good Sunlight in the morning (more Vitamin D) and get good natural air, you would be brighter and healthier, once your health/spirits are high you progress well in the life. Anyway to design a house on the Vidisha house it was a challenge and Suresh garu helped me in picking the land correctly and helped me in designing it to the principles of Science & Vaastu and most importantly adhering to the building codes of my community. Once getting the exterior load bearing walls & foundation correctly done, our biggest challenge was deciding the dimension of rooms in the house especially master bedroom, kids bedrooms & family rooms. I had long discussions with him and he was so patient in explaining the impacts of the changes clearly. I was impressed by his suggestions and truly appreciate his help & guidance. I have been the ardent reader of different Vaastu books from last 7 yrs and it seems Suresh garu has covered most of the points in his book and website (www.subhavaastu.com) with respect to Science in Vaastu. These are a wealth of knowledge and speaking to him is also kind of big help in coming up with a perfect design for our first house. We are going to get our house in next 4-5 months and in 2 years time I will definitely come back and share my life experience being in that house. About Suresh garu, he has a wealth of knowledge in terms of explaining science in Vaastu. I hope his suggestions and guidance will help many more for their better living - Shyam Vaddadi - California - USA.
---
Announcements
We are trying to publish complete vastu shastra information in our website, without your co-operation nothing will be happen here. Please support us by sending emails like what exactly you are looking here based on your emails we will plan to publish accordingly. With your only co-operation we will make this website as one of the best one in our Indian vastu shastra websites history. In other countries once people get request invitation from any website or news papers, then they will come voluntarily and supports them to make it as one of the best service oriented in their society. Indians are more than good when compare with other country people. Please come and share your thoughts, ideas, reviews, doubts, knowledge, opinions here. Dhanyavaad.
---