Details

This Link Hits: 14802
Vastu Shastra Southwest-west street Focus | Paschima Nairuthi :
If a street strikes on the Western Southwest of the house it is called Western Southwest street thrust or dristi or drusti or soola etc. Some are natural Street focuses and some are created street focuses by the residents. That is why elders says that South and West extensions are not safe.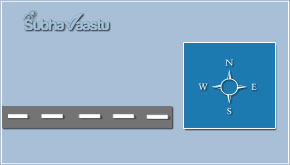 Paschim Nairuthi Drusti Ghar :
A street is hitting from Southwest-west to a property is called Southwest-west street focus or that house is called as Southwest-west street focus house.
Please make sure the property is having the natural West-southwest street focus or created street focus. In created street focus there is a chance to make alterations easily, where as in natural it is little tough to do the alterations. Anyway without proper vastu shastra consultant recommendation don't do any practicals.
This street thrust may lead to suicidal tendency or suicide deaths if there is any well or water sump towards Southwest or western Southwest parts.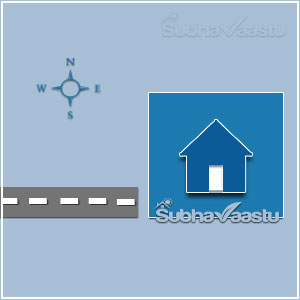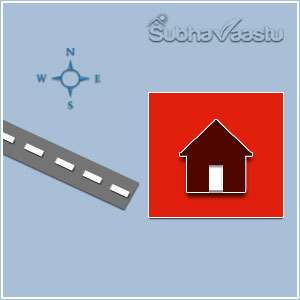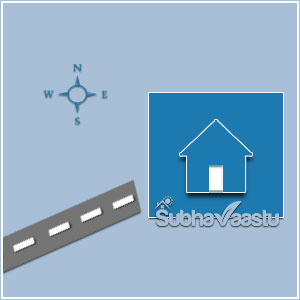 For your best understand purpose here is one flash file, which may not shown in Tablet pcs or cellphones.
Just as SSW street thrust shows its evil influence on female folks and finances of the home in a similar manner WSW street thrust shows its evil influence on men folk and finances. Its influence is felt on the head of the home and elder children of the family.
Even a king living in such a home would have to face ruination at an early stage. The ill effects of WSW street thrust are
1. the head of the family even when otherwise healthy and active, suddenly falling a victim of paralysis or other incurable diseases.
2. playing second fiddle to the lady of the house, becoming incompetent, succumbing to all ills that be fall, loosing one's thinking faculties, and hence depending on others, and non bothering about the problems and losses faced by such people, loosing one's own identity, insecurity feeling, confused life, worrying even for very small things in life, unable to face daily chores of life and the like
3. financial losses, loosing every thing.
4. bad habits, lust for spicy foods, excessive desire for non Vegetarian foods, getting addicted to intoxicants
5. Doing unpleasant acts and to getting caught by the ladies of the house, falling ill thus becoming incapable and dependent on the ladies of the house for every thing, facing sharp criticism.
6. disputes, fights etc.
6. Matter is from www.subhavaastu.com website.
7. always getting involved in minor or irrelevant disputes, doing some or other wrong things and thus being accused and loosing status
8. some times desiring to stay alone and lead a sacred life, becoming timid to show one's face in society, unexplainable helplessness, feeling depressed as if he has not achieved any thing in the life, trying to avoid main roads and thus avoid public gaze.
9. Even when people residing in such houses, desire to leave them, circumstances so conspire as to prevent any move in this regard. It may even prevent them consulting a competent vastu scholar.
It is in deed hell with no outlet. If you would like to buy any Southwest-west street focus property it is better to show that property with one expert and best vastu consultant nearby you, he will guide you further.
We are looking for public interest on this subject, if we got good enquiries on this specific subject then we will go for add additional information on this subject.

---
---
I want to learn some thing about my kids bedroom Vaastu Shastra Tips ?
I want to learn Vaastu importance and its links ?
Where can I get more information on Vastu Shastra ?
Accidents are common to my neighbor, what is the reason ?
Towards which direction the head should be placed while sleeping ?
---
---
Reviews on Vastu Consultant Services Website SubhaVaastu.com
We are Software Professionals in USA, Initially to buy a home we searched internet, sent floor plans to India, then one of my friend suggested subhavaastu.com site, I was very impressed going through the site ,lot of information was provided, I contacted immediately Suresh garu for consultation. Being so busy he always responds to my emails and phone calls, clarified my doubts, He is so expert in giving consultation to USA properties. I feel him like a family member very frank, genuine and most of all patience. He do have immense knowledge in abroad properties, Indian properties by default. Anyone can give guidance, but he gives consultation with practicality not just some text book guidelines. He knows in and out how the structure, layout works and will give simple alterations, genuine Consultation. I have to salute to the tremendous work and efforts he puts in subhavaastu.com site - Sangeetha - New Jersey - USA
The website Subhavaastu.com is very informative.Sureshji, the founder of this website is according to me a great ¨human who has vast knowledge in vastushastra and his kindness to his clients are appreciated. He listens to his clients problems patiently and gives the appropriate remedies. His main motto is good service and he responses as quick as possible. I spoke to Sureshji as a stranger only, but after one phone call itself , I started feeling that he is a caring well wisher for whoever asks his help. He is a genuine person. He doesn't force you to spend money in the name of vasthushastra, he explains clearly where the problem is and tries to give very easy changes to have a peaceful life. Sathya Priya - Switzerland.
We stay in USA, I was initially Searching Google for some vastu help,one of my friend recommended subhavaastu.com website. Very useful information indeed, I found lot of good and valuable information, as got more motivated I contacted Suresh garu through phone. First I would like to mention he is a such a wonderful person, talking to him is like reading different knowledgeable books, he is a mobile Library always with a patience, a kind heart. He being so busy attended my each and every call immediate response to emails and clarified all my doubts. Especially I am amazed with his knowledge in vasthu with USA properties,its easy for some vastu specialist to tell vasthu with standard guides, but Suresh garu tells vasthu according to the place and country. My sincere suggestion for all the people who are wandering for a good Vaastu person or site, www.subhavaastu.com contact Suresh garu take his consultancy - Sarvani - Massachusetts - USA.
Our recent interactions with SubhaVaastu and Sureshji have not only been insightful but also extremely educational. Having a home is a matter of great virtue - having the home Vaastu compliant ensures that the investment and the future of the family in the home is secure and ensures progress. Having gone through the website gave us a tremendous amount of insights on bring about improvements to enhance positive energy and ultimately ring in progress. In the US, most home builders do not consider Vaastu and hence most occupants/ home owners are unaware of the benefits. In my dealings with Sureshji and the website, I have found insights and resources that can be helpful for almost everyone in the US. I highly recommend Subhavaastu and Sureshji to the broader NRI community. I wish SubhaVaastu and Sureshji the very best. Regards - Sneha - Florida - USA.
Announcement
This is the right time for us to spread the knowledge to our sweet society, come and share your thoughts to serve better for our next generations. Your services are highly required to make our society more stronger. Let us know what you are looking here, we will do our best to respond immediately
---
Kollam people faced many troubles with fire mishap, here is our free services to Kollam District Kollam Fire Accident
---
120 days FREE services to Chennai People Successfully completedChennai Rains
---
Spiritual Wallpapers
---
Hindu Desktop Wallpapers
Hindu MOBILE Wallpapers
Islam Wallpapers
Christian Wallpapers
Inspirational Quotations
In any situation, the best thing you can do is the right thing; the next best thing you can do is worst thing; the most worst thing you can do is nothing; don't sleep, always try for the best to acheive targets - Theordore Roosevelt.
---
"Great minds discuss ideas. Average minds discuss events. Small minds discuss other people." ― Sherrilyn Kenyon . . . Let you question yourself, "Who You Are"?
Joke Of the Day
Three guys are stranded in a desert. By a stroke of luck, they find a magic genie lamp. The genie grants each of them ONLY one wish. The first guy wishes to be back to home. Genie granted his Wish. The second guy wishes the same to go home, his wish also granted. The third guy says, "It feels very lonely here now, I wish my two friends were with me…" genie granted his wish also.