Vastu Tips Living Room | Sofa Sets | TV Placements | Floor
Vastu Tips for Living Room | Drawing Room | Hall | Main Room | Family Room | Sitting Room :
Vasthu Shastra for Living |Drawing | Hall | Family Room | Guests Sitting Area : Living room is also known as hall, sitting room, main room, drawing room etc some says it as family room also, but it may not be correct. This living room plays a significant role in vastu shastra when residents uses more of it, because now a days we are making this room as T.V watching room., previously most of taking food by sitting in dining room only, but many residents now taking food only in living room by watching Television programmes. We are now accustomed for it, we are shouting our children not to watch the TV programmes while taking food, but we are not following.
Elders has to follow the principles, then automatically children will follow. This website author Suresh house he was given permission to his kids to watch Television only for 2 hours that to only on Sunday. He never accepts his kids to watch TV regularly. While in holidays he accepts to watch TV for 3 to 4 hours that to discovery channel or information channels etc. He don't permit them to watch the entertainment (matter came from www.SubhaVaastu.com) channels. No body likes to watch Television in his home. Maintaining standards only for the sake of utilizing the time for real purposes and maintaining good relations in between family members. If goes on watching television how our relation with our family members increases, concentration on television channels then relations became poor. Most of the houses the residents are gathered only in living room. In other countries living room means its only for outside people sitting area. Most of the western countries there should be family rooms where all the family members are gathered and seated and discussed on their regular activities.
Always better to place the sitting or living room only at Northeast corner of the house, some times when the house is west facing or South facing then the living room construction at Northeast corner may not be possible, in those cases follow some tricks to get good results as shown below.
1. At our residence the maximum time has to be spent only in our "bed room" the next high time spent at "living room". We should take care of this living room in our home. We should not neglect on this living room.
2. The living room is particularly used for discussions with family members and with outsiders, most of our pecuniary matters, financial, entertaining other things are also settled at living room, so it has specific interest and importance as per vastu shastra.
3. The owner of the house has to sit at Southwest part of this living room and has to face towards East or North directions only. The other family members has to sit facing towards East or West, the outsiders has to sit in front of the owner, their faces may be towards West or South. This is the ideal place of sitting in living room. No need to worry regarding South or West facing homes, there is also a great opportunity to have living room towards Northeast, if you wish then it became true, if you are not taken care of your property no body can take care of it. If you have more interest then automatically every body can gathered and amend many things there, finally it became luck to your family.
4. At East face house or North face house, there is one good quality point in this living room as the members of the house or owner of the house has to sit at living room (here the living room should placed at Northeast / Eshan / Ishan corner of the house only), then the good vibrations from Eshan (Northeast) corner has spread and will get the same vibrations from East side and (matter came from www.SubhaVaastu.com) North sides, these vibrations are more effective to the family members of the house. Many inhabitants are doing a great mistake that they them self doing the corrections by reading some vastu books or vastu websites and start doing corrections to their property, this is not at all recommended, its best to approach only one expert vastu specialist to get right suggestions.
5. The owner of the house has to sit towards Nairuthi (Southwest-west) facing towards East, if fails the next best option is Southwest-south facing towards North, you may put this lengthy sofa towards West side, and transfer the sofa chairs towards South side, the owner has to occupy at the Nairuthi (southwest) corner placement always. The guests occupies the remaining chairs. Or bread winner has to occupy the chair which was at Southwest and others may sits at South etc. If an expert vastu consultant has visited your property then you will get most (matter came from www.SubhaVaastu.com) important alteration suggestions by him. Unfortunately some residents never call vastu experts to their homes and them self start doing corrections an losing money and valuable time. Its only because of bad vastu in their homes.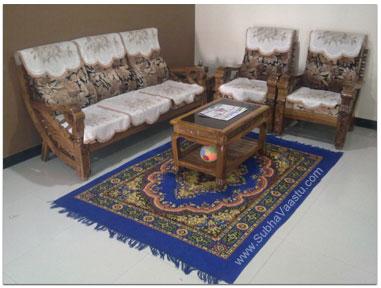 6. You can put telephone at South or at West side walls so that you can easily handle the phone, pity is now many houses does not have telephones, many has only cellphones or mobile phones in their hands. Previous days if we call to other town or village we have to go telephone exchange and order for the trunk booking, we have to wait for one hour or some times it may takes 3 hours also, the lines are too disturbance and speak loudly to reach our voice to other parties. Now we may call even to foreign countries within seconds. Thanks to Late. Sri. P V Narasimha Rao, technicians, Engineers, technology etc. You may keep your cellphone where ever is possible in your living room. No need to check vastu to keep cellphones in our home. Only in some houses some vastu specialists are providing some recommendations after observing the property, but these are not applicable to all homes.
7. If the living room is at Eshan (northeast corner) the flooring of the living room is lower than the entire house, it may provides very good effects to the entire family.
8. Most of the houses the front room may be the living room, and most of the living rooms are wide and larger than all the rooms at house, well here vastu works in a hidden method, if at one East facing house there might be living room is the front room, its correct method and giving good results to the residents. In some homes the starting room may be keeping waste materials and after that only living room came. This may not be the wrong, but we should not keep waste materials at first room, this is purely a mistake. Instead of keeping the waste materials in the first room you may plan a store room and keep them all in that store room, this is ideal thought.
9. North facing house residents also receives good results by putting living room at front side i.e., living room is at Northeast part. But where as it should not happen at West side facing houses and South side facing houses. Here the residents must take most precautionary (matter came from www.SubhaVaastu.com) methods by setting the living room as the first room where is at before the entrance. Don't construct the living room as front room at west side houses and South side houses, if you want to construct the living room at front side then consult a good vastu practitioner for best suggestions. What our meaning is if you are planning to make the first room as a living room for South and West facing homes, then the Southwest part may be the living room and after that the other rooms are occupying, if so what about your bedrooms, you are well known that Southwest is the best part for the Bedroom. If you have two storey building then you may happily plan living room at starting of the house. No need to worry at all then.
10. You can keep number of doors to the living room, but all the doors should be at correct places as per vastu shastra principles. You are aware that "doors" plays an very important role at house as per vastu shastra. Once again remember living room got 2nd rank at house after Bedroom as per vastu, in general, living room got 1st rank as per our living style.
11. Decorate as much as you can, but importance may be given to vastu, then only you enjoy the life with your family members, otherwise you are striving for your livelihood that will be the entertainment to your neighbors and your enemies.
12. Becareful while you sitting at the living room for discussions about different category business deals. As you are owner of the house, you have to sit at the chair or sofa set, your face should be towards East or North, and guests, panchayatdhars, litigants, partners should sit and their face should be towards South or West, this type of sitting may leads victory on your discussions, finally you will get success on Panchayats (Litigation). If we require success we have to search all ways to get victory.
13. In case the house is West facing or South facing, here the living room may be at eshan (Northeast) corner but we cannot entertain every body to welcome them to sit at living room, because it may be disturbance to our family members, then consult one vastu expert, get advise from him and enjoy.

14. Finally the most important and repeated point is that you have to build the living room according to vastu shastra to lead a joyful, successful life, don't give importance to the vastu consultant fees, but better to consult only an experienced vastu consultant, otherwise you may be the victim of quacks. Usually the quacks are searching for the people, who are in need of or searching support from an vastu adviser (vastu consultant). Try to find out an expert vastu specialist and show all of your properties and live peacefully.
15. Play music continuously at this room, this is also one of the good idea. Negative powers don't like instrumental music. So switch on instrumental music. Loop music is recommended.
16. Floor levels also plays a vital role in vastu shastra. Only the best expert vastu pandit can explain this system, he can guide you the best methods.
---
---
Is Flats in Apartments are also come under vastu shastra view?
Reviews on Vastu Consultant Services Website SubhaVaastu.com
Aditya, who was just came to USA from India working as a software Engineer, he belongs to a traditional family and their forefathers are working in astro services only, I kept first floor bedroom3 is his living room. From starting I kept that 3rd bedroom for guests, any way he came from India and his brother is very close to me and that's the reason I hosted him in my house. He was very simple and honest guy, all of our family members likes him. He is very calm and more interested on education, he is always reading books. Most of the time he was in my library. Once we are searching for best vastu consultant in India, to show our new home in Hyderabad for evaluation, immediately Aditya showed www.subhavaastu.com website and informed me that his father likes this site very much and recommends to many residents who requires genuine vastu consultancy services. I stepped into this site and seen the hard work done by the team, wonderful website, I appreciate the entire team members for making such a beautiful website with useful stuff, specially images attracted me. Shortly I will share this vastu website information with my friends - Narayan Srivastava - Dallas - USA.
The website Subhavaastu.com is very informative.Sureshji, the founder of this website is according to me a great ¨human who has vast knowledge in vastushastra and his kindness to his clients are appreciated. He listens to his clients problems patiently and gives the appropriate remedies. His main motto is good service and he responses as quick as possible. I spoke to Sureshji as a stranger only, but after one phone call itself , I started feeling that he is a caring well wisher for whoever asks his help. He is a genuine person. He doesn't force you to spend money in the name of vasthushastra, he explains clearly where the problem is and tries to give very easy changes to have a peaceful life. Sathya Priya - Switzerland - (Chennai - India ).
Suresh gaaru, Please accept my namaskaarams, I am a software engineer, I am very impressed by your website and the service you are doing for the public. It is commendable that you are giving free vasthu services to armed forces, government offices etc. Nori Venkata Narasimham - Hyderabad - Andhra Pradesh - India.
I would like to share my experience working on our house plan and the expert assistance provided by Suresh garu. About our first house in USA, it is a Vidisha plot / tilted site (houses facing NE / SE/ NW/SW are called Videsha plot ). Most of the plots in the USA are of this kind for which getting the design as per our Vaastu is difficult. I believe the Science in the Vaastu rather than superstitions & believes associated with these. Since land is same, I believed Vaastu will still hold good in USA. I believe that Science in Vaastu tells us the importance of Sunlight and flow of air in the house and design the house such that our daily lives are harmonious & prosperous. A very simple theory, if the house gets good Sunlight in the morning (more Vitamin D) and get good natural air, you would be brighter and healthier, once your health/spirits are high you progress well in the life. Anyway to design a house on the Vidisha house it was a challenge and Suresh garu helped me in picking the land correctly and helped me in designing it to the principles of Science & Vaastu and most importantly adhering to the building codes of my community. Once getting the exterior load bearing walls & foundation correctly done, our biggest challenge was deciding the dimension of rooms in the house especially master bedroom, kids bedrooms & family rooms. I had long discussions with him and he was so patient in explaining the impacts of the changes clearly. I was impressed by his suggestions and truly appreciate his help & guidance. I have been the ardent reader of different Vaastu books from last 7 yrs and it seems Suresh garu has covered most of the points in his book and website (www.subhavaastu.com) with respect to Science in Vaastu. These are a wealth of knowledge and speaking to him is also kind of big help in coming up with a perfect design for our first house. We are going to get our house in next 4-5 months and in 2 years time I will definitely come back and share my life experience being in that house. About Suresh garu, he has a wealth of knowledge in terms of explaining science in Vaastu. I hope his suggestions and guidance will help many more for their better living - Shyam Vaddadi - California - USA.
---
Announcements
---
Good News to all spiritual thought lovers, we started Spiritual Wallpapers section here.
---
Sarvejanaa Sukhinobhavanthu
---
We are trying to publish complete vastu shastra information in our website, without your co-operation nothing will be happen here. Please support us by sending emails like what exactly you are looking here, based on your emails, we will plan to publish accordingly. With your only co-operation we will make this website as one of the best portal in our Indian vastu shastra websites history. In other countries once people get request invitation from any website or news papers people will come voluntarily and supported to make it as one of the best service oriented in their society. Indians are more than good when compare with other country people. Please come and share your thoughts, ideas, reviews, doubts, knowledge, opinions here. Dhanyavaad. Please write us by clicking this link Contact page.
---