Southwest House Vastu Plan | Vastu Consultation - SubhaVaastu.com
Southwest House Vastu Plan :
You are well aware that we have released some vastu home plans, from starting we are requesting our website visitors to get vastu consultation before doing any alterations to your properties or buying properties or buying plots for house construction.
Regarding this plan, this is the Southwest plot house vastu plan. It means there is a West road and South road. Corner plot. We have provided Southeast entrance to this house. There is Southeast door to the house and one Northeast-east door and Northeast-north door to the house. Sump is towards Northeast. Kitchen is towards Northwest. Staircase is towards Southeast. Balcony is towards South, East and North directions. North balcony is more bigger than the South direction balcony. Drawing room is towards Southeast, this may called as a private room or office room in a house. If you close the door towards Northeast-north door of this Southeast room, then it may be called as office room.
Please note that you may select Northwest-north gate to the house instead of Southeast-south gate, then the kitchen will be came into Southeast and the office room came towards Northwest corner. Many things will be changed. Later we will prepare such plans and publish here.
Here we published one Southwest Home vastu plan :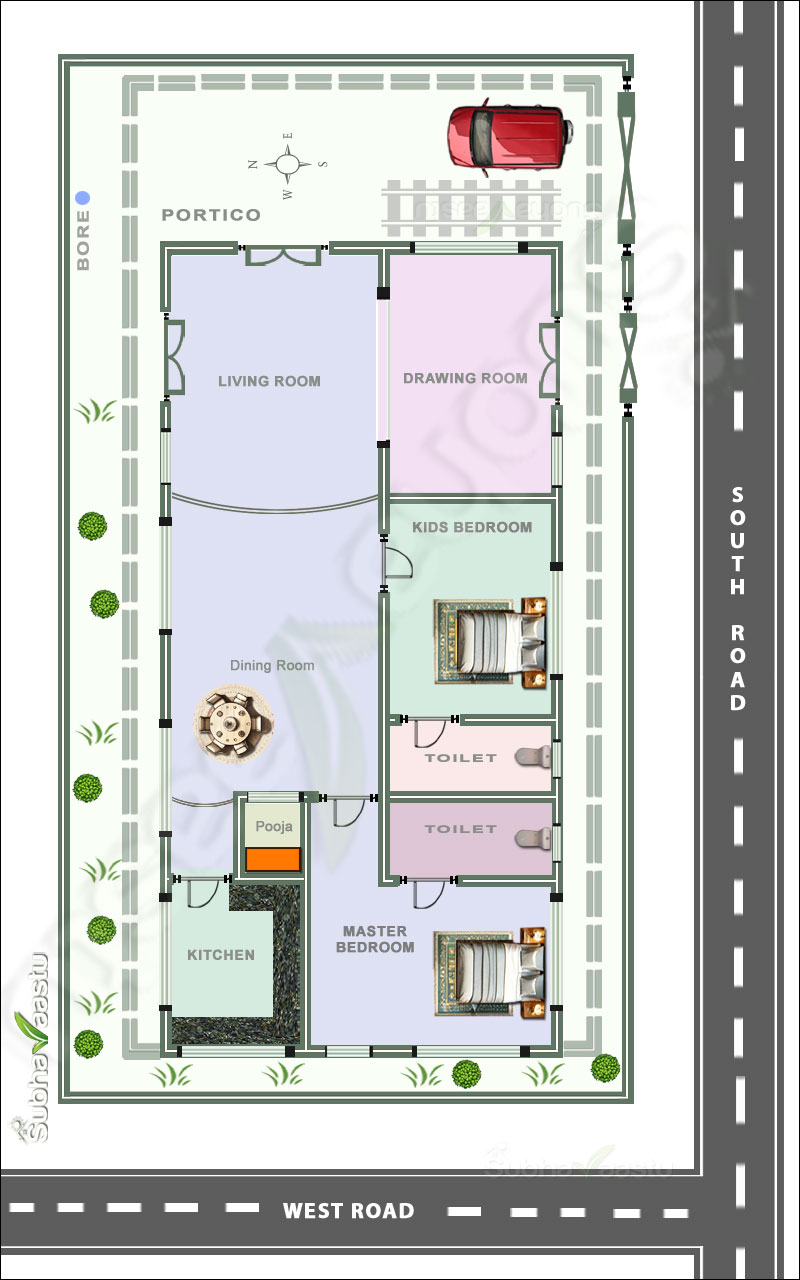 Please note that there may be mistakes in the plan, we are requesting you kindly approach one best expert vastu consultant consultation before constructing your house. This plan is only for your kind information.
---
---
Can I get Vastu shastra information in Telugu Language ?
Is Vastu Shastra information available in Kannada language in this website ?
Is Vastu Shastra in Tamil Language available here ?
My friend told me there is one English Vastu Flash website is with this website, show that link ?
We are interested to read Hindi language Vastu Shastra ?
---
---
---
---
Write your review on Vaasthu Shastra Website SubhaVaastu.com :
Write a Review on our website. Or you may write your Opinions or suggestions . If your review is useful for the society we will publish it at our website and your name stands life long here. You may modify your review at any time, for example if you would like to change the city, country of living etc, along with this, you may ask us for change of your name, if you don't like to publish your original name. We respect your privacy, many wrote their reviews on our website, you may check this link  Click this linkto read some reviews from our website visitors and clients. Thanks in Advance.
Reviews on Vastu Shastra Consultant Services Website SubhaVaastu.com
This is Saritha from North Carolina. I got your reference from the subhavaastu.com , thank you for providing such basic vaastu information it really educated us briefly about vaastu concepts. I would like to inform this website to all of my known Indian contacts in USA. After browsing this website I feel that this is the best vastu consultancy website and seen uncountable links which have strategic and enormous information. Dhanyavad Sureshji.
We are Software Professionals in USA, Initially to buy a home we searched internet, sent floor plans to India, then one of my friend suggested subhavaastu.com site, I was very impressed going through the site, lot of information was provided, I contacted immediately Suresh garu for consultation. Being so busy he always responds to my emails and phone calls, clarified my doubts, He is so expert in giving consultation to USA properties. I feel him like a family member very frank, genuine and most of all patience. He do have immense knowledge in abroad properties, Indian properties by default. Anyone can give guidance, but he gives consultation with practicality not just some text book guidelines. He knows in and out how the structure, layout works and will give simple alterations, genuine Consultation. I have to salute to the tremendous work and efforts he puts in subhavaastu.com site.
- Sangeetha - New Jersey - USA.
It's very generous of you Mr. Suresh that you have placed all the books about vastu on your web page totally free. But they are in Indian Language? Is there possibility that these books will be written in English. Your web site is great. Thank you - Sasa - Zagreb - Croatia.
Thank you very much for your response. I have gone through your website. Honestly , not seen a website like this one. Amazingly informational. The one who shares such great deal of information is the one who is the guru and with this hope I am wanting to seek advise from you. Hoping to get in touch with you on your return from Oman Country - Stuti - USA.
Thank you very much for your response. I have gone through your website. Honestly , not seen a website like this one. Amazingly informational. The one who shares such great deal of information is the one who is the guru and with this hope I am wanting to seek advise from you. Hoping to get in touch with you on your return from Oman Country - Stuti - USA.
Dear Mr Suresh, I have been reading articles from your Website this evening (16th July 2010) and Sir you are a Legend !! What you have disclosed in your Website is nothing short of amazing and it shows what a powerful human being you are to share your knowledge of Vaastu Shastra so openly with the people of this world. God bless you Sir - unfortunately we do not have enough people like you in this world. Best wishes, always - Raveen Bhairo - Australia.
I had gone through several books written by Shri Sureshji on Vastu shastra. I saw the utilitarian information contained in the books. Though not being a computer buff one day I chanced upon the Subhavaastu.com website containing so much information that I was afraid to open and browse even. When I had nothing else to do I opened this website and gone through. From being a vaastu shastra consultant I became an admirer after browsing this website. The information contained is so very exhaustive that I felt that I knew nothing till I surfed this website. I was amazed at the details of such small things as nails and hinges even. I was equally amazed that in the zeal to be exhaustive he might have missed the comprehensiveness of the subject itself. This compelled me to go through further more. The more I read the more I got fascinated. The website has not ignored any detail in vastu. At the same time it has not omitted any topic either. It is both expansive and comprehensive too. I also find that the website is constantly updated. A thing I am not used to. I chanced upon meeting Sureshji once in Bangalore city. I saw him busy updating website. The contents of website were those that we had been discussing the morning before. His logic was that he found the discussion interesting and educative and this should not go away with him, if the same is available in the website many people would benefit by it. Truly admirable way of living. I felt thrilled that our discussions did not degenerate into coffee shop gossip. I was glad to know the discipline to which he had submitted himself. Perhaps I felt this was his tribute to the vasthu science itself.Shorn off commercial interest the website purely deals with vastu subject. A person with elementary knowledge and an interest to know more can easily get what he needs to do or not do in his design/construction venture, so as to derive maximum advantage. A person with average intelligence can come to reasonably sensible conclusions and firm up his mind to the problems facing him with reference to his own house, office etc. While this is true one cannot ignore the knowledge that may be available with him beyond what could be contained in the website upto that point. It is for this reason that every time he advocates consulting a competent vaasthu scholar, even when the answer is simple and apparently visible too. I believe this website makes one a knowledgeable student so that he has got an opportunity to learn more. I have no hesitation in recommending this website to one and all even though I am also practicing vasthu consultant for I believe that spread of knowledge is the foremost duty of any person and that this website does this job admirably. My job would be easier when a knowledgeable person comes to me for solutions - Ram K Chetluru - Vaasthu Consultant - New Delhi.
I am really very much impressed with Suresh garu for his valuable vastu guidance. Generally I never believe any vastu consultant, there are many vastu consultants but most of them are all commercial vaastu consultants. But Suresh garu really a nice person who doesn't think in commercial angle. Also he answers all your questions with patience. Subject wise, he is having very good knowledge on vastu and he doesn't treat it as the religious, he says it is a science, which is true as per my knowledge and experience. To say there are lot of things about the site and Suresh garu. I know no body reads my feedback if it is lengthy. In short he is superb and one stop solution for all your vastu related questions and inquiries - Mannem Janardhan - New York - United States of America.
---
Announcements
From past 4 days are doing all corrections work at website. You are requested to kindly inform us any mistakes found in our website. Thanks in Advance.
---
Latest updations
---