Details

This Link Hits: 87197
Vastu Shastra for Living Room | Drawing Room | Family Room | Hall | Main Room:
Vastu Shastra for Living Room (Family Room) : A living room, also known as sitting room / Drawing room (especially in the UK), lounge room or lounge (in the United Kingdom and Australia), Hall (especially in India)is a room for entertaining guests, reading the books, watching TV or other activities. The word Lounge is from the Latin, it was brought over later on by the French. In modern homes and apartments the living room has replaced the old fashioned parlor. In the 19th century, the parlor was the room in the house where the recently deceased were laid out before their funeral. This became the more affirmative term "living room" in the 20th century. The term marks the twentieth-century effort of architects and builders to strip the parlor of its burial and mourning associations. A typical western living room will be furnished with a sofa, chairs, occasional tables, a television or stereo equipment, bookshelves, as well as other pieces of furniture. Traditionally a sitting room in the United Kingdom would have a fireplace. In Japan people traditionally sat on tatami instead of chairs but western style decor is also common these days. In the United States, sometimes the living room is reserved for more formal and quiet entertaining while a separate recreation room or family room is used for more casual activities. In Australia, the living room is more often referred to as "the lounge" and is used for both formal and casual entertaining, although casual entertaining also takes place in the backyard. The term front room can also used to describe a living room, because in many homes the front door opens into the living room.
After Bedroom we spare our most time at our residence is only at "living room". Here living room plays a vital role according to vastu shastra, if living room is not constructed or setting according to vastu shastra the residents of the house may be suffers with so many troubles, because vastu works on the basis of sparing time at a particular place. At some houses someone is constructing living room as per their tastes and interests. Well let it be continuing but before constructing the same why not follow vastu, what is wrong by following vastu, its nothing. Better to follow vastu and construct all of your properties, assets according to vastu shastra.

Most of the houses the front room is the living room, and most of the living rooms are wide and larger than all the rooms at house, well here vaastu works in a hidden method, if at one East facing house there might be living room is the front room, its correct and giving good results to the residents. Likewise North facing house residents also receives good results by putting living room at front side i.e., living room is front side. But where as it should not happen at west side facing houses and south side facing houses. Here the residents must take most precautionary methods by setting the living room as the first room where is in before the entrance. Don't construct the living room as front room at west side houses and south side houses.
You can keep number of doors to the living room, but all the doors should be at correct places as per the vastu shastra. You are aware that "doors" plays an very important role at house as per vastu shastra. Once again remember living room got 2nd rank at house after Bed room as per vastu, in general living room got 1st rank as per our living style. Decorate as much as you can, but importance may be given to vastu, then only you enjoy the life with your family members, otherwise you are striving for your livelihood that will be the entertainment to your neighbors and your enemies.
Becareful while you sitting at the living room for discussions about different category business deals. As you are owner of the house, you have to sit at the chair or sofa-set, your face should be towards East or North, and guests, panchayatdhars, litigants, partners should sit and their face should be towards south or west, this type of sitting will leads victory on your discussions, finally you will get success on Panchayats (Litigation). Before doing any alterations to the house or buying the properties it is better to consult one expert vastu consultant.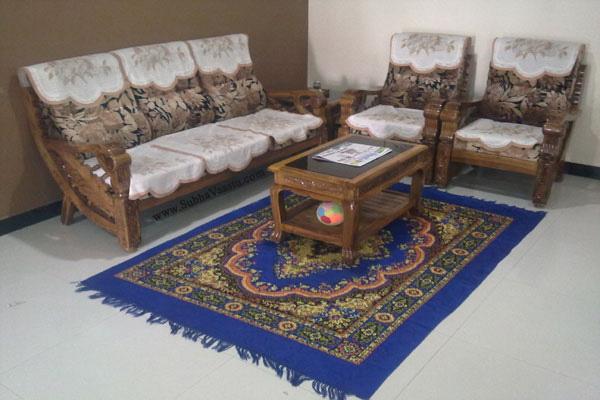 In this image the two chairs are towards
Southwest
-west direction and the sofa is towards Southwest-south area. Owner has to occupy the Southwest-west chair or Southwest-south sofa and placement is towards
West
side. In this image there is no any chairs or sofa-sets towards West facing i.e., East direction and South facing i.e., North direction.
Heavy sofa sets i.e., heavy gauge or heavy weight sofa sets are to be placed towards Southwest, West or South direction rooms. Please note that this system may not suitable for North or East facing houses, which the living rooms are towards Northeast corners.
Observe the living room placements here, it is better to ask your nearest vastu expert consultant and then only construct the living rooms at Northwest or Southeast parts.
First observe which direction house is yours and where is the main entrance and where is the living room located.
If there is a living room at Northwest area, then the Northeast-east door is more beneficial.
If there is a living room towards Southeast area, then the door is towards Northeast-north is more beneficial.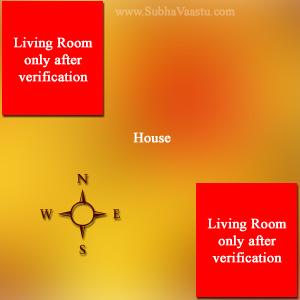 Now the living room is towards Northeast part of the property.
Living room is best suitable at Northeast area, Northeast includes with North and East. Or plan living room at North direction or East direction. In such
case
don't use the heavy or over weight furniture. For any facing houses or direction houses, the living room towards Northeast is good. East and North living rooms are good as said earlier and these placements are beneficial for the residents. Please note that in the name of living room the Northwest and Southeast should not be club. The Expert vastu consultant will definitely provides you the best recommendations.
The floor level slope of the living room should be towards Northeast. The internal furniture and showcases and may be some heavy weight furniture or articles should be placed towards Southwest parts or South or West directions. The head of the family may sits facing towards East is best second best is North direction. Shortly we will update latest information here. Be in touch with our website.
Maintain good colour to the living room. Light colors mix with dark colors looks great, see the above room with furniture. There is two color mixing. Dark color to South direction wall and light color to West direction wall, in this small photo every thing may not visible, but practical vision is really nice looking.
Observe the TV positions in the living room, many residents placed the Television towards South or West walls. Some arranged the great show cases and in that there is availability of TV placement, looks very nice, but for vastu purpose this is not good system. TV may be best suitable towards North or East directions.
Please note that TV is good for retired or old aged people, it is not advised for the children or young age people, it is a waste box. The exact placement of TV may be in the store room, not in the living room. With or without our knowledge it steals our valuable time. Beware of this time thief.
Recliners are good to place in living rooms.
Keeping Music System in our Living Room:
Keeping the TV is towards North, East or Northeast is always good. Generally we sit at sofasets and watching the Television, this is natural in almost all homes, so we will take rest by seating towards South, West or Southwest to watch TV shows, if the Television is towards East, North or Northeast. But regarding music system, there is no need to watch any thing, its only listening. So you may place it very near to your seat which you are generally take rest, i.e., Southwest, South or West. So you may keep the Sound Music box towards South, West or Southwest. All these directions are not convenient for you to keep music system then you may place at any where in the room except Northeast part of the room.
Placements Of Exercise Item:
The elliptical machines and other exercise machines are best suitable towards Southeast, Northwest etc. If these are heavy in weight then place them towards Southwest parts of the house. Some are heavy gauge and weight they are best to place towards Southwest or West or South of any room. All exercise items are good to keep towards Southwest parts.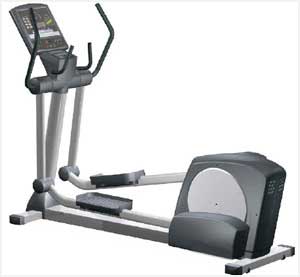 ---
---
How to found directions of a home, through a compass?
Which is right place for Husband and Wife while sleeping on bed?
My name is Narasimhan Jain, which facing home suits as per my name?
My name is Kasinath Kumar Gouru, is South facing house is good for me?
Some people told me that we should not use 3 stove burner at house, is it correct?
Some says that in Southwest master bedroom keeping the Almira with mirror is wrong?
My neighbor inform me that Southeast godown is good to keep all materials, can I trust him?
While there is compulsory requirement to fix Elevator towards Northeast, is any issues arises in future?
I am from Thirupathi my name is Nagi Reddy, local Vastu Consultant told me, West facing house is good ?
---
---
---
Review on Vasthu Shastra Website SubhaVaastu.com :
You have created a wonderful website and maintaining this must be with lot of time and effort. People like me with no knowledge about all these things are benefiting a lot with the information you've provided. Thank you very much. This is very much appreciated - Archana - Dallas- Texas - USA.
Reviews on Vastu Consultant Services Website SubhaVaastu.com
We are Software Professionals in USA, Initially to buy a home we searched internet, sent floor plans to India, then one of my friend suggested subhavaastu.com site, I was very impressed going through the site ,lot of information was provided, I contacted immediately Suresh garu for consultation. Being so busy he always responds to my emails and phone calls, clarified my doubts, He is so expert in giving consultation to USA properties. I feel him like a family member very frank, genuine and most of all patience. He do have immense knowledge in abroad properties, Indian properties by default. Anyone can give guidance, but he gives consultation with practicality not just some text book guidelines. He knows in and out how the structure, layout works and will give simple alterations, genuine Consultation. I have to salute to the tremendous work and efforts he puts in subhavaastu.com site - Sangeetha - New Jersey - USA
The website Subhavaastu.com is very informative.Sureshji, the founder of this website is according to me a great ¨human who has vast knowledge in vastushastra and his kindness to his clients are appreciated. He listens to his clients problems patiently and gives the appropriate remedies. His main motto is good service and he responses as quick as possible. I spoke to Sureshji as a stranger only, but after one phone call itself , I started feeling that he is a caring well wisher for whoever asks his help. He is a genuine person. He doesn't force you to spend money in the name of vasthushastra, he explains clearly where the problem is and tries to give very easy changes to have a peaceful life. Sathya Priya - Switzerland.
We stay in USA, I was initially Searching Google for some vastu help,one of my friend recommended subhavaastu.com website. Very useful information indeed, I found lot of good and valuable information, as got more motivated I contacted Suresh garu through phone. First I would like to mention he is a such a wonderful person, talking to him is like reading different knowledgeable books, he is a mobile Library always with a patience, a kind heart. He being so busy attended my each and every call immediate response to emails and clarified all my doubts. Especially I am amazed with his knowledge in vasthu with USA properties,its easy for some vastu specialist to tell vasthu with standard guides, but Suresh garu tells vasthu according to the place and country. My sincere suggestion for all the people who are wandering for a good Vaastu person or site, www.subhavaastu.com contact Suresh garu take his consultancy - Sarvani - Massachusetts - USA.
Our recent interactions with SubhaVaastu and Sureshji have not only been insightful but also extremely educational. Having a home is a matter of great virtue - having the home Vaastu compliant ensures that the investment and the future of the family in the home is secure and ensures progress. Having gone through the website gave us a tremendous amount of insights on bring about improvements to enhance positive energy and ultimately ring in progress. In the US, most home builders do not consider Vaastu and hence most occupants/ home owners are unaware of the benefits. In my dealings with Sureshji and the website, I have found insights and resources that can be helpful for almost everyone in the US. I highly recommend Subhavaastu and Sureshji to the broader NRI community. I wish SubhaVaastu and Sureshji the very best. Regards - Sneha - Florida - USA.
Announcement
Every body come and go from this world, but one should left a message to the society before leaving this place. Leave love on your body, then you will achieve your targets in your planning time. Sharing the knowledge to society is nothing but doing a great help to our next generations. Come and help us to make this site more informative to browsers without registration and login, would like to stay this site alive for some more years. Your co-operation is highly appreciated. Shortly we are going to publish Vastu Corrections page, your support is highly appreciated.
---
Kollam people faced lots of troubles with fire mishap, here is our free services to Kollam District Kollam Fire Accident
---
120 days FREE services to Chennai People Successfully completed Chennai Rains
Spiritual Wallpapers
Hindu Desktop Wallpapers
Hindu MOBILE Wallpapers
Islam Wallpapers
Christian Wallpapers
Inspirational Quotations
Many of life's failures are experienced by people who did not reaslize how close they were to success when they gave up - Thomas Edison
---
"Great minds discuss ideas. Average minds discuss events. Small minds discuss other people." ― Sherrilyn Kenyon . . . Let you question yourself, "Who You Are"?
Joke Of the Day
Little Johnny asks his father:
Little Johnny: "Where does the wind come from?"
Father: "I don't know."
"Why do dogs bark?"
"I don't know."
"Why is the earth round?"
"I don't know."
"Does it disturb you that I ask so much?"
"No son. Please ask. Otherwise you will never learn anything."