Warehouse | Store Room | Godowns | Stocks - SubhaVaastu.com
Vastu Shastra simple tips for Store Room or Ware House :
Ware House, Store Room, Godown, Stock Room, Stock point : In India generally people are calling ware houses as godowns or store room, stock point etc. In olden days many of our houses have the store room, on those days our houses are very bigger and accommodate to many rooms and many guests. Now any guest came to us, we may hide from him, or try to lock the doors if we know that the guest is coming to us, its only because of no time and busy in our regular works. Otherwise we never do like this. If you go to villages, the people will affectionately come to us and invite us for lunch or some coffee or Tea. But we are not following that tradition., Why ? In vastu shastra Store room plays a vital role. Grains and provisions are stored in the house for their ready availability and use in emergency. Northwest is the best direction for storing grains. There will never be any shortage of grains or provisions, if stored in the northwest, here the house must have the Northeast-north door or Northeast-east door. For storing grains, mezzanine floor can be constructed in south or west or southwest of the storeroom. Cupboards or racks should be placed in the heavy directions. Sacks containing annual provisions should be stored in the Southwest direction while sacks containing provisions of daily use should be stored in the Northwest. Always leave eastern side vacant in the store room.
At Northeast always try to keep a pitcher or vessel filled with drinking water. Water vessels should always be with water, it should not be empty. Store the flammable materials like kerosene, cooking gas cylinder, and other fuel used for cooking purposes in the Southeast. Oil, butter and ghee should be stored in between the south and southeast. Sunlight and solar heat will keep them pure. Store milk and curd in between the North and northeast. (This matter is from www.subhavaastu.com) Your door should preferably be in the north or east direction. Please note that for Southeast direction kitchens , There should be no door in the southwest direction. Place a window in the north, east or west direction. White, blue or yellow are the desirable colours of the tiles and the walls. He is the lord deity of survival. Food is essential for our survival. East is the direction of new life. Food bestows new life to all living beings. Empty containers are not auspicious in the store room. Dispose off empty containers or fill up them with some grains or other material. Remove all the cobwebs from the granary. Avoid taking out any provisions from the granary. Avoid taking out any provisions from the granary in the twilight period. Sleeping in the granary at night is never recommended. Your can't enjoy a sound sleep here. Different thoughts will start haunting your mind.
Storage Room for waste materials :
Keep on your eye on waste material in the house. The waste materials or articles may create tamas and make the inhabitants inactive and lethargic. Whenever necessary, lumber room (if you have any kind of waste wood storage) should be built in the Southwest corner of the open space around the main building, it is also called as "Upagruha". It may have support of the south and west walls of the paishacha or Pisacha area or zone. If space in the paishacha zone is not feasible, lumber room should be placed in the southwest zone of the building.
The space for storage of waste should have minimum floor area. It should remain as heavy as possible. It is the ideal place for storing heavy material. The door of the lumber room should be in the north or east direction. It should be made of one shutter or door. Lumber room door can be of lesser height than other doors of the building. Windows in the lumber room are required, otherwise bad smells may form and it may harm when some body enters into the room so atleast one window will be better to have in the East or North direction, west direction window is also not bad. Use dark grey or blue color as wall paint. Grey color represents earth element. Avoid white and yellow color. (This matter is from www.subhavaastu.com)These colors energize the room. Lumber is the place full of tamas energy. Avoid storing any watery element in this area. There should not be any dampness or cracks in the walls. The flooring should be even throughout. uneven flooring is inauspicious. The Southwest room or store room floor height should always be height or elevated from all other floor levels in the entire compound wall. Any construction defect should be immediately repaired, late action may damage further structure. Lumber room is meant for storing dead articles. It is not a place for living, sleeping or such like other activities. Lumber rooms in the Southwest accumulate negative energies of solar rays. People occupying this place during the daytime become quarrelsome, demonic and troublesome in the long run. Ultimately, benefits are lesser than the problems created. If sick persons are kept in this room death draws nearer. This area is full of tamas energy of Rahu, the sarpa. Avoid visiting lumber room in the afternoon, evening or night. (This matter is from www.subhavaastu.com) Heavy breathing in the lumber room may cause heaviness in the chest and uncomfortable feeling. Don't keep your important documents, cash or jewellery in this room. No photographs or idols of gods are recommended here. Don't burn any incense here. This is not the place for doing any auspicious work. Gossiping, laughing or talking loudly while standing in this room should be avoided. Such acts will curtail your happiness in life. There should not be any basement in this portion. Basement may damage entire infrastructure.
Please observe this image, the store
room
is at Nairuthi Block, this place is very best for Store all the things.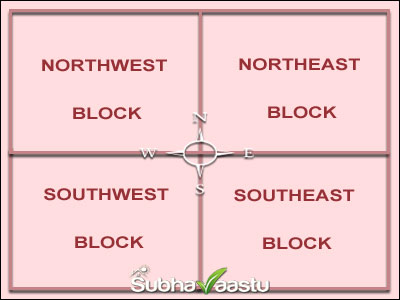 Observe the
Southwest
area Store room. This area is perfectly suitable for Store room, we cannot spare the entire area for store
room
, but provide as much as possible for store room based on your requirement.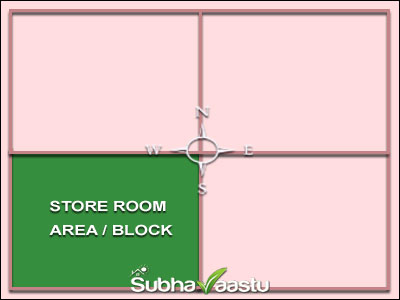 Here the image is changing into different positions for your understanding. In every house or plot there must be 4 parts one is 1.Ishan (Northeast), 2. Agneya (Southeast), 3. Nairuthi (Southwest), 4. Vayavya (Northwest) blocks or portions, at Nairuthi corner or block or portion we have to plan for store room. In the above images you seen that the entire Nairuthi part has been provided for store room, you can also do like this or observe this image, here one black colored mark is covering Southwest, South and west areas, you can plan to construct or keep the store room in that area. Store room means is contains several old or new materials, waste or unused materials so its better to have one good idea with one expert vastu consultant
PLEASE WAIT 10 "SECONDS" HERE.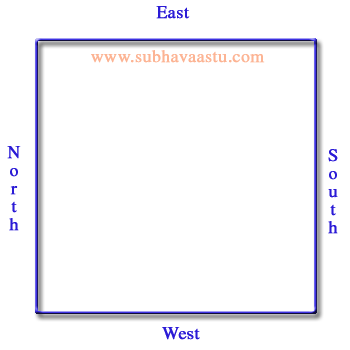 One of the dangerous
step
in the name of Vastu shastra in the
house
is
constructing
the store room towards Northeast direction or corner of the house, it creates lots of problems. It is strongly recommends that to remove the store
room
immediately without any consulting the expert
vastu
consultant.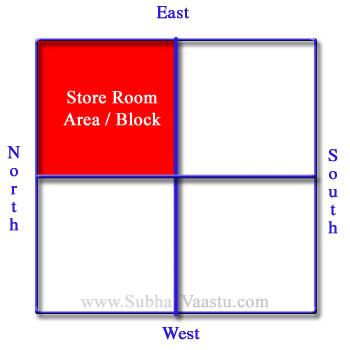 Store room towards
Southeast
is not recommended, if you don't have any other place or space in the
house
, then there is no other way expect this Southeast corner, then its OK. But strong recommendation is store room towards
Southwest
is excellent. If you have any store room towards Southeast corner, then open one
door
towards Northeast-north. If you approached one best vastu consultant, after visiting the
property
he guides you the good thought, there after you will get more good enough things from that
house
.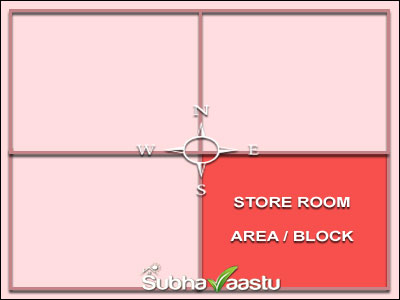 Store room towards Northwest is not recommended, if you don't have any other place or space in the
home
, then there is no other way expect this
Northwest
corner, then its ok. But strong recommendation is store
room
should always be towards Southwest and it is best idea. If you have any store room towards Northwest corner, then open one door towards
Northeast
-east. If you approached one good vaastu consultant
,
if he visited the
property
he may recommends you the best thought, those ideas may turn your life, who knows it.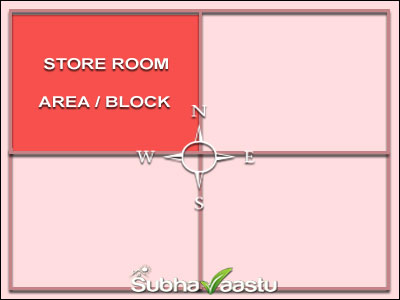 Observe the store room towards
Southwest
corner, we have shown some numbers here. "1" is superior quality for the store room in the
compound
premises. Like wise 4 is least preference placement for the store
room
.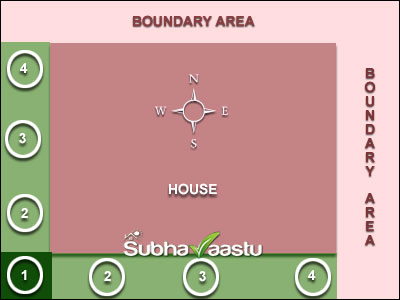 Now Observe the opposite qualities :
Here the Store room is towards Northeast corner and the red shade is shown. Northeast is the full red and while it moving towards Southeast and Northwest the shade is light in red colour, that means Northeast Store room is too dangerous. But we never recommends you for the Northwest or North and Southeast or East store rooms. Please don't forget the same.
Your suggestions are highly appreciated here.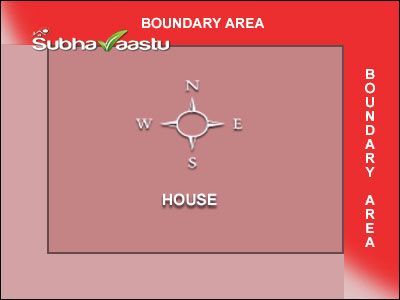 Keeping an eye on your entire property structural system and there after decide whether store room is needed for your requirements or not, you may go for mezzanine instead of store room. If store room is compulsory, then you may approach one vastu expert and show your property and get his recommendation and there after only you may start the work, without having any experts advise don't do any practicals, it may harm you. If you have basements, then it is better to stop the store room work and wait for one good suggestion from experts.
---
---
Is Southwest is good to have dining room and dining table?
In my brother home we found one toll-stone what should we do?
Which place is the best to keep the car/vehicle/garage at my home?
We are planning to keep the overhead water tank, which is the best suitable place?
My friend told me that we can download  leaders wallpapers from this website, can we have them?
When doing pooja which direction is best to perform prayer?
---
---
Back to
Vasthu for Dining Room


Take me to
Vaastu Shastra for Master Bedroom
---
---
Reviews on our Vasthu Shastra Website :
Dear Suresh Garu, I was wonder by having your guidance at our home, I never believe that yourself came to our home premises and suggesting us the modifications. We thought that you may be sending your staff to observe our home, anyway thank you so much for coming. We done all the alterations and as per your guidance we have created south road, several people here said that we are doing wrong step, but, we have a great faith on you and done the changes as per your suggestions. Now all of our problems solved and running all concerns peacefully, now we don't have any litigation from the departments and other disputes are also solved. Its only because of your suggestions. We are recommending your name to our friends who are in need of vastu shastra. Thanks a lot sir. Ravi Kumar - Shamshabad - Hyderabad - India.
I first came to know about this website in 2009 while I was casually searching about bastu consultants in Google search engine. Since then I have very good relation with Suresh garu not only on vaastu matters and in personal as well. For the first time when I asked about consultation fee I thought it will be high. But to my surprise the charges were very less and the services are of class in nature. I realized many vaastu consultants who give solution but hesitant to answer in detail for questions and or clarify the doubts on the discussed plan/house. But Suresh garu was kind enough to answer all my queries in detail and patiently. I amazed about his clarity & command on the subject. I also realized that the major portion of his service charges is reinvested in developing the website (subhavaastu) which is useful for the persons like me. After going through this web site in detail, it gives me a confidence that the other vaastu sites neither this exhaustive nor the consultant is co-operative as I noticed there will be only contact details. Suresh garu gives free services to government offices and Army personnel. This approach from him impressed me a lot. Occasionally we feel to get the services in cheaper rates, but it could be catastrophic if the changes made (to the plan/house) could be wrong as we do not have the right information/clarification. Based on my experience with Suresh garu, his services are excellent and the prices are affordable. It is always better to approach a professional doctor when we are in need of a treatment for disease. As mentioned earlier his service charges are very less, for comparison I can say we pay $1 USD for $10 USD worth of services. I do not have any hesitation in recommending him for (y)our needs based on my experience - T. Bharath Kumar Reddy - Rayachoti - Kadapa Dist - Andhra Pradesh - India.
Reviews on Vastu Consultant Services Website SubhaVaastu.com
Just want to narrate my experience with Suresh garu. I had no belief in vaastu at that time and I always used to dismiss my father's emphasis on vaastu. I was always thinking the western way (unfortunately as a result of how we are educated in India) -- my belief was that if there is enough light and ventilation, it should be all good. But reality is different, there are many more things to consider like flow of magnetic energy. I wanted to buy an apartment for my mother in India because I was planning to move abroad. I saw a beautiful apartment in my hometown -- very good location, good ventilation, good design (for the eyes), good facilities, reasonable price etc. etc. I was more than convinced that this was the home I was looking for and was almost ready to pay advance for it. Just before paying advance, I recollected my father's words about vaastu and its importance on happy living and also was wondering why is that only this flat is not bought (on multiple floors) in spite of all good facilities and reasonable price (other flats in the apartment are sold out long back). So, I decided to check on vaastu once before making such huge investment (for most of us -- until it comes to us, we tend to dismiss all good things). What should I do now? How do I find a reliable vaastu expert, being away from hometown? How can I make sure I'm not falling prey to quacks? After doing some research on the Internet, I started realizing the logic and science behind vaastu. I read through many websites and finally landed on subhavaastu.com . It is very evident that this website is the best of class. Each topic is explained very clearly, logically. Free ebooks are a great resource. I learned a lot about vaastu from this website. So, immediately I contacted Suresh garu and sent him the apartment layout. What I was wondering about was confirmed 100% by Suresh garu. The apartment is not following vaastu principles, that is why no one bought it and I was almost buying it. All that glitters is not gold. He explained clearly why it is not good. I checked on that flat after one year of that incident and it's still not sold! Dropped that flat and continued to search. He could have easily asked me to send all properties I visit and pay for them, but he did not. Instead, he educated me about basic things and suggested some pages on his website through which I can eliminate bad houses. I was very impressed by how he takes care of customers -- answers questions patiently, never demands how much I should pay him, always says pay what ever you can afford and feel is correct. Even after initial consultation, I contacted him for small questions and he happily answered them for me. Even when he was busy abroad, he took time to answer my questions. Any one reading articles on this website, I strongly recommend you to consult Suresh garu for your vaastu questions/needs. He is excellent at his job. Do not think that reading whole subhavaastu.com and bunch of books will eliminate the need of an experienced vaastu pandit like him. Knowledge is different from experience and wisdom. There are many things he checks before he recommends a property to you. He does not rush you in to a decision with out complete information. A stitch in time saves nine, you are making a big investment, don't think of few hundreds or thousands you will pay for vaastu consultation. It will definitely pay off in long term and help you live a happy life. From Abdul Kalam's poem 'A message from mother earth': "Beautiful Environment leads to beautiful minds Beautiful minds generate, freshness and creativity" We all need beautiful environment in our homes, offices and cities; only that leads to beautiful minds and thereby other great things in life. Beauty is not only external, but also invisible things that influence the way we live. Start from your home, follow vaastu with out any doubt, live a happy life.Thanks - Satya Ananthu - Seattle - United States.
From past 2 months I am regularly observing your website and daily updations. There is no words to say "THANKS" to you all team members for this social cause. Amazing, astounding, sensational, awesome, breathtaking and remarkable in Indian history. You are GREAT PEOPLE ON THE EARTH. Continuously you are serving our society without any expectations, how great you are. Accidentally happen to see "about us" page in your website, I am extremely happy by reading kalayanasundaram life style, still there is such type of people on our earth?. dear team, i would like to be a part in your services. You have done a marvelous job. Don't hesitate to contact me when ever you require my services. The supreme power almighty be with you always - Hariraj - Singapore.
Suresh Garu, I got Vaastu services from you. Your site is excellent site and the best site in the Internet. I never see such a web site from Internet regarding Vaastu. You are great human being. I learned a lot from you. You have patient with customers. I followed your suggestion and great help for me. I should have contacted before I buy from current house. Any way, now I am thinking move into different house. I need your help. Your analysis on Vaastu is different from other people. You have excellent knowledge and experience in Vaastu. I will tell all my friends to take services from you regarding Vaastu. I admire you have written lot books in Vaastu. Your vision and knowledge on foreign properties excellent. Thank you for your great service. I like your attitude of helping people - Prakash - Virginia - USA.
Hi Suresh Garu, yes I did a mistake that i have thought that this mail is going to me at that moment. I dont know why i access your website but there are some good things and good knowledge that i got it from your website and i shared this website link to my friend and my brother.i felt that lot more things can be learned or experienced by accessing your website irrespective of anybody.Its really amazing awesome and interesting. Thanks aton for maintaining this kind of websites for the sake of human wellbeing - NaniBabu - Johar Bahru - Malaysia
---
Announcements
Visit Vastu Consultant and Vastu Results pages. Many visitors asking when can we get results after corrections done to properties as per vastu shastra. Even expert vastu consultants are also not sure how to say answer to this question. We tried our level best to made an attempt to say the answer. Let us check the vastu results page and vastu consultant page.
---