Vastu for Septic Tank | Cesspool | Cellpit:
Septic tank has to be constructed or located as per vastu shastra, it is also called as Cesspool or Cesspit an underground reservoir of wastage and an underground constructed container for the temporary storage of liquid sewares or waste a pit conservancy tank or covered cistern which can be used to dispose of urine and feces or poop and more generally of all sewage, discharges and refuse. It is a more antiquated solution that a sewer system. Traditionally, it was a deep cylindrical chamber dug into the earth, having approximate dimensions of 1 meter and 2-3 meters depth. Their appearance was similar to that of a hand-dug water well.many residents in previous days has constructed the septic tank at South, West , Southwest, Vayavya (Northwest) corners, and the septic tank should be constructed in the paishacha area; the open area all around the building. It should not be exactly in the Northeast, Southeast, Southwest, Northwest and Brahamsthana. Any faulty construction of septic tank in the northeast may spoil the ground water sources. Its foul smell, mixed with benefit solar and magnetic radiations, will enter the house. In the Southeast, kitchen is considered best. The activities of creation in the kitchen don't match with the activities of destruction in the septic tank.
In olden days there was no septic tank for toilets. Today they have become necessary. For modern septic tanks a pit has to be dug. Location is to be in the North or East. In no other direction should it be sunk. If latrine is planned for in the east, away from eastern compound wall in line with the house, without touching its wall. The pit has to be sunk in the east measuring half the area. South west is the most suitable place for toilets. This is the recorded in our ancient texts. Modern writers have transported the same in their book, because they lack experience. Septic tank should be arranged in the north without touching compound or house, in the middle of the open area. Similarly in the East also. Latrines without pits can be there in the south west. No harm, but they should be in height position than the ground level of the house flooring. First preference has to be placed to constructed the septic tank is middle East or middle north only. The remaining parts are not yet suggested.
But today a pit is required for septic tanks, but then a pit in the south west is wrong as per vaastu. Not only wrong but very harmful. If latrine is planned in the south west it should be on a higher level without pit and pit can be arranged in one half of the north. Or in one half of the east. If latrine is planned for north west it should not touch north wall and compound wall. A room should be built alongside the house and also septic tank can be in one half of the north. Toilets can be arranged as shown in the models here. The latrine can face any direction but W.C. should be invariably to north and south. It is the best direction. It should never be towards east. It is not proper nor it is auspicious. Perfection vastu for home is always advisable
There is a legend in the Ramayana which is worth mentioning here. Rama went in exile into forests along with Sita and Laxmana at the command of Dasaratha. Bharata returns from his grandfather's place. He was pained to know that people suspected him for the exile of Rama. Then he swore "I"d fall into the worst place where people relieve themselves against the sun defiling the Lord, go". So east is sacred. Evidence in Ayurveda also supports this. Latrines (WC or Western Commode) and bathrooms can be arranged inside the house as shown in this diagram.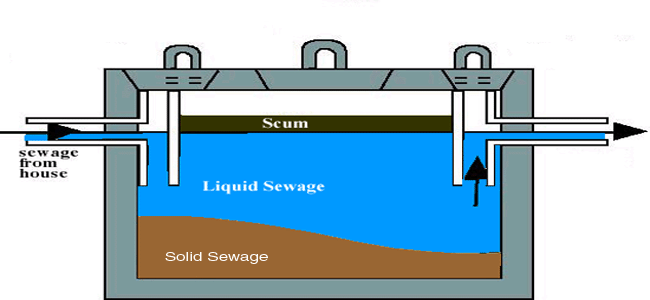 Now let us see where the toilet septic tanks has to be placed in our house.
Once we visited one Collector Bungalow, there we found that the septic tank has placed at southwest part of the compound. The effect of this septic tank at that place turned to instability to the Officer, that is why no one has completed at least 2 years in that Collector Bungalow. If the same septic tank has came at southwest part of general public property, what happens ? ..
There are several secrets in placement of the Septic Tank in the properties, before constructing the ST, we must calculate the dimensions of the property, in some properties the dimensions may be 100 meters or 200 meters at north direction and 100 or 200 meters at East direction, at that moment or in those cases how to construct the ST, shall we consider the entire site dimension or only house dimensions, so it is better to consult one expert before taking the decision. Vastu shastra provides several house construction tips if we follow them we enjoy security and happiness. The exact Septic Tank position or location is too important and it will be managed by an Expert or very well known mason (Mestri). A small Vasthu Shastra Tip may change your life.
Toilet/bathroom construction on top of the Septic Tank :
Why we should not construct the toilet on top of the Septic tank, any construction either it may be septic tank or any other structure should not construct on sump or septic tank, because the structure may damage in the future and the gases farmed in the septic tank will reach easily to the structure if there is any holes etc. If the structure is good, like the structure is constructed with RCC, then there is no need of worry on this issue, we should remind one thing here, that the structure should be strong and there should not be any leakage and it should not be damaged at any cost, then no issues at all. You may construct the structure on septic tank. Please note that this structure should only be toilet, it should not be any other room. If there is any other rooms, what shall we do then, same principles applies, that there should not be any leakage and recommending for only strong structures. Thanks to Saravanan - Tiruvallur - Tamilnadu - India.
---
---
Which link provides me a comprehensive information on this website?
My uncle Ramesh is contesting as a Member of Parliament, is vastu helps to win?
Where to construct the farm house, gates, bore point cow shed?
Now a days the word Surroundings Vastu is hearing, what is it mean?
How to contact this SubhaVaastu Vastu Shastra website vastu consultant?
Which property is good to buy and which property is not good to buy?
We are planning to start a North facing Jewellery showroom, any tips are available here?
Some says that South facing shops are very good for excellent business, is it true?
My friend who is working in Military at Kashmir told me that this site provides free services, is it true?
Is this website conducting Palmistry services also?
How vastu helps for Kings and their kingdom?
I am more interested to do corrections for my vastu problems, which link provides some info on it?
I am also interested to participate in developing this vastu shastra website, how to proceed further?
---
---
Reviews on Vastu Consultant Services Website SubhaVaastu.com
We are Software Professionals in USA, Initially to buy a home we searched internet, sent floor plans to India, then one of my friend suggested subhavaastu.com site, I was very impressed going through the site ,lot of information was provided, I contacted immediately Suresh garu for consultation. Being so busy he always responds to my emails and phone calls, clarified my doubts, He is so expert in giving consultation to USA properties. I feel him like a family member very frank, genuine and most of all patience. He do have immense knowledge in abroad properties, Indian properties by default. Anyone can give guidance, but he gives consultation with practicality not just some text book guidelines. He knows in and out how the structure, layout works and will give simple alterations, genuine Consultation. I have to salute to the tremendous work and efforts he puts in subhavaastu.com site - Sangeetha - New Jersey - USA
The website Subhavaastu.com is very informative.Sureshji, the founder of this website is according to me a great ¨human who has vast knowledge in vastushastra and his kindness to his clients are appreciated. He listens to his clients problems patiently and gives the appropriate remedies. His main motto is good service and he responses as quick as possible. I spoke to Sureshji as a stranger only, but after one phone call itself , I started feeling that he is a caring well wisher for whoever asks his help. He is a genuine person. He doesn't force you to spend money in the name of vasthushastra, he explains clearly where the problem is and tries to give very easy changes to have a peaceful life. Sathya Priya - Switzerland.
We stay in USA, I was initially Searching Google for some vastu help,one of my friend recommended subhavaastu.com website. Very useful information indeed, I found lot of good and valuable information, as got more motivated I contacted Suresh garu through phone. First I would like to mention he is a such a wonderful person, talking to him is like reading different knowledgeable books, he is a mobile Library always with a patience, a kind heart. He being so busy attended my each and every call immediate response to emails and clarified all my doubts. Especially I am amazed with his knowledge in vasthu with USA properties,its easy for some vastu specialist to tell vasthu with standard guides, but Suresh garu tells vasthu according to the place and country. My sincere suggestion for all the people who are wandering for a good Vaastu person or site, www.subhavaastu.com contact Suresh garu take his consultancy - Sarvani - Massachusetts - USA.
Our recent interactions with SubhaVaastu and Sureshji have not only been insightful but also extremely educational. Having a home is a matter of great virtue - having the home Vaastu compliant ensures that the investment and the future of the family in the home is secure and ensures progress. Having gone through the website gave us a tremendous amount of insights on bring about improvements to enhance positive energy and ultimately ring in progress. In the US, most home builders do not consider Vaastu and hence most occupants/ home owners are unaware of the benefits. In my dealings with Sureshji and the website, I have found insights and resources that can be helpful for almost everyone in the US. I highly recommend Subhavaastu and Sureshji to the broader NRI community. I wish SubhaVaastu and Sureshji the very best. Regards - Sneha - Florida - USA.
Announcement
This is the right time for us to spread the knowledge to our sweet society, come and share your thoughts to serve better for our next generations. Your services are highly required to make our society more stronger. Let us know what you are looking here, we will do our best to respond immediately
---
Kollam people faced many troubles with fire mishap, here is our free services to Kollam District Kollam Fire Accident
---
120 days FREE services to Chennai People Successfully completedChennai Rains
---
Spiritual Wallpapers
---
Hindu Desktop Wallpapers
Hindu MOBILE Wallpapers
Islam Wallpapers
Christian Wallpapers
Inspirational Quotations
In any situation, the best thing you can do is the right thing; the next best thing you can do is worst thing; the most worst thing you can do is nothing; don't sleep, always try for the best to acheive targets - Theordore Roosevelt.
---
"Great minds discuss ideas. Average minds discuss events. Small minds discuss other people." ― Sherrilyn Kenyon . . . Let you question yourself, "Who You Are"?
Joke Of the Day
Three guys are stranded in a desert. By a stroke of luck, they find a magic genie lamp. The genie grants each of them ONLY one wish. The first guy wishes to be back to home. Genie granted his Wish. The second guy wishes the same to go home, his wish also granted. The third guy says, "It feels very lonely here now, I wish my two friends were with me…" genie granted his wish also.