Details

This Page Hits:454773
59 Ways to Boost Positive Energies To Office Vastu
When entrepreneurs starting a new life to show their caliber and looking something from nature, then this Office Vastu link surely assist you to achieve your goals.
Applying Vastu Techniques To Office Building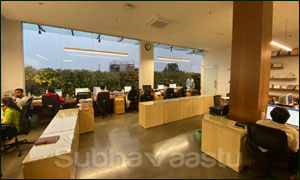 Office Vastu: It will not be enough if the residence alone is constructed according to Vastu. Vastu for office which is also equally important, should not only be scientifically suitable but also the furniture arrangement, the direction that boss or employees facing while sitting are also equally significant.
What is wrong with the sitting posture? what if things are placed in any direction are questions posed by inexperienced people. We have to ignore them. One should be very careful about vastu for office.
Most of the CEO/Chairman/MD/CMD/Directors were highly educated and some of them may don't like to follow Vasthu for their office premises. But this is a science, it works and provides us peace.
When we are peaceful then we reach our goals, easily. Vastu for Office helps to reach targets, what else we are looking for?
Important Links to Visit
One must take into account about neighborhood Vastu influence to the office premises even those outside to this office perimeter. We have to check the influence of other properties such as water bodies, tall constructions, etc.
Even the approach road or passage to the office (in a large hall) is equally important. It is very difficult to explain in detail every aspect here. Discuss this with a true-blue Vastu expert to help you in this regard. Approach only the unwaveringly loyal or faithful staunch Vastu expert.
Irrespective of the facing of the office certain basic ingredients have to be observed. The flooring of the office should gradually slope towards East or North. It should be so gradual that it is not normally observable.
The head of the department should preferably sit in the West or South facing East or North as the case may be. There should be as little open space behind the head of the department as his convenience.
A larger space should be towards East or North. If possible entry to the office should be from the Northeast
Visitors should sit towards East or North. If there is a pantry it should be best towards the Southeast of the office. If there is a toilet it may be towards the Northwest.
If it's an accounts office while seating remains as already told his Cash box almirah should be kept on his Southern or Western side such that it faces North or East. If the office contains a large number of files kept in almirah or cupboards such racks should be kept on the Southern or Western sides of the office again they face East or North as the case may be.
If there are passages in the office for the regular moment of personnel at the end of the passage there are cabins for the offices to ensure that such passages are ending on the exalted sides of the cabins. The cabin doors should also be appropriately placed on the exalted sides only.
Failure to observe all these things would only mean a disjointed office where people start quarreling on irrelevant details and there is no synergy.
Some important points other than Vaastu is a good-looking decorated entrance brings a pleasant fragrance and another thing regarding soft music will attract more customers. (This matter is from www.subhavaastu.com) Nowadays so many banks and offices are following these techniques.
Broad entrance is important, remove the dirty furniture, well ventilated and good lighting brings luck to the premises. Bad odors, stink, dirty walls may keep away the clients, customers, friends, profits, and needed persons.
A well finished old door looks mature and respectable, and indicates stability, and promises better business. An old and shabby door that does not open freely has a missing doorknob that should be repaired immediately.
Hanging a wind chime in the entrance and installing a statue of Lord Ganesha promotes positive energy, reduces work-related tension, helps to keep away obstacles and intruders, and customers who have visited once are likely to visit again.
Creaking doors and windows should be strictly avoided. When you observe doors are giving sounds when opening them, please oil them, noisy doors are not auspicious in the property.
If there are permanent shelvings on the walls where files or articles or kept away that are not frequently used such shelving should only be towards South or West never towards North or East.
Nowadays we observe many corporate companies started their transactions and set up their firms in many cities, due to their active role, real estate business also largely developed and prices also hike and not possible for a common man to buy a plot, house, flat easily.
Small Office - Home Office (SOHO)
Small Office/Home Office is a different concept, many residents run their small office from their home only, in this case, they keep one room as an office and remaining entire part used for residence purpose, in this case, the office room should have interconnected if it was Northeast, there should not be interconnected door if the room was Northwest, for West and South facing houses, it has to be decided only after verifying the house plan.
Best Placements to Sit at Home Office at This Corona Time
No one expects that Coronavirus creating such a huge loss worldwide. 99% of people suffer from this Covid-19. Due to several limitations, many offices decided to work from home. The staff starting to work from home from March 2020. This Corona virus affects worldwide. Below is the step by step guidelines to work from home.
Apart from what we told above one more factor has to be considered. If one is predominantly working from home (predominantly means as a means of livelihood even for short durations as we are encountering in today's pandemic scenario) the best place to execute this work is the Southwest portion of the residence, because the stimulus for the activity is highest at this quadrant.
Working in other areas may not be as productive as it ought to be. Many residents today have come to grief by not realizing this aspect, please don't be one of them.
This being the case where you are forced to abundance the earlier office space where you are working and execute the same activity from home kindly be cautious. So that the disaster may be avoided.
This may even mean slight changes in the alignment of the utility place in the house.
When you are doing full-time office work from home, best to avoid the Southeast room.
Avoid using the Northwest room.
South direction room is acceptable at this moment to sit and work.
West direction room is also suitable to work.
Importance of Arranging Flower Sause Pan in the Office Premises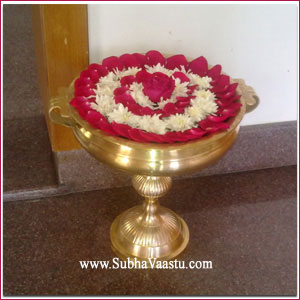 In these days of corona curfew our lives are greatly disturbed and the atmosphere of the workplace is disgusting to say the least. This can be greatly moderated by placing a clean saucepan with water and flowers on the Northeast side of the premises. Ensure daily change of water and flowers. The positive state thus formed is enhanced if we burn dhoop (incense) at least once a week in the said premises. This will dispel all bad vibes.
Different Office Directions and Where to Sit
In this subject we are discussing all about different directional offices.
East Facing Office Vastu Ideas
1. Please note that all East facing offices are considered to be good. If vastu of the office is not good then things may be adverse. Anyway here is some ideas.
2. The entrance should be either towards East or Northeast of east direction.
3. Avoid the eastern Southeast entrance door for the east facing office.
4. Head of the office should occupy the Southwest quadrant room.
West Facing Office Vastu Thoughts
1. Many thought that West facing offices are inauspicious and not interested to buy or rent.
2. If West facing office Vastu is good then things go superb.
3. The entrance door should be towards West direction, if the office is small size then Western Northwest direction entrance is also perfectly matched.
4. Try to arrange one door at East direction.
5. If the east door is not possible to place then arrange one huge window.
6. Don't construct toilets at Northeast corner.
7. The pantry can be arranged at the Southeast corner.
8. The Head of the office or CEO or manager should occupy the Southwest room only.
North Facing Office Vastu Hints
1. Most of the users believed that every North facing office achieve wonderful benefits. In several cases, it was failed. If Vastu of the North facing office is not arranged properly then things may be disastrous.
2. The entrance door should be either North direction or Northern Northeast direction.
3. The Chairman or head of the office should occupy the Southwest room. Sitting Southwest quadrant facing towards North or east is highly recommended.
4. The kitchen can be arranged at Southeast or Northwest.
5. The reception counter can be arranged at Northeast, next to the main entrance door facing towards East direction.
6. Arrange huge windows to the Northeast room.
7. Southwest elevated floor helps the management to achieve their goals undoubtedly.
South Facing Office Vastu Techniques
1. Just by hearing the Sound like "South facing office" people maintain distance, scare to rent South facing offices. Don't believe it but it is true that, when we check several successful offices, most of them are South facing offices. Incredible, but it is true.
2. It's the reason, we are informing every user that if we followed exact Vastu principles to their properties, then every activity successfully completed and can able to reach the target. The kitchen can be arranged at Northwest.
3. The main entrance door can be arranged at South direction.
4. If the office is small then the entrance door can be arranged at Southern Southeast.
5. Best to arrange one waterbody at Northeast corner.
NorthEast Facing Office Vastu Advantages
1. When a land or property is inclined then we can find the skewed properties. In such case today we can find Northeast facing offices in many cities.
2. Rarely we are getting exact Northeast entrances for the properties, fortunately, this Northeast facing office will have an accurate Northeast entrance door. Arrange the Northeast entrance door or Eastern Northeast entrance door.
3. The Northern Northeast entrance door is weaker than the Eastern Northeast entrance door. Hence, avoid Northern Northeast entrance for Northeast facing offices.
4. CEO or Boss should sit in the Southwest quadrant room.
5. Boss or CEO best suitable sitting place is Western Southwest room.
6. Next level officer should occupy the Southern Southwest room.
Northwest Facing Office Vastu Notion
1. Without Vastu expert personal visit don't buy the Northwest facing offices or even rent too. Generally, the northwest facing offices compass degrees are from 285° to 345°. The exact Northwest compass degree is 315°.
2. Critical to finalize everything in this Northwest facing office. This could turn destitute results to many users.
3. Some thought that Northwest facing office is North facing office or West facing offices. By assuming the wrong conception, enter into spider net and losing their hard-earned money.
4. Due to diverse limitations, we don't like to recommend what is what to be arranged in this Northwest facing office.
5. If no way to get proper guidance from vastu expert and one should take Northwest facing office then, boss should sit only at Southwest quadrant.
6. Measurements play a vital role in northwest facing offices. If measurements are as per skewed principles, then these Northwest facing offices also supporting the enterprise.
Southeast Facing Office Vastu Tips
Negligence spoils virtual dreams and real life too. A small mistake in life ruins the entire investment and life too. It may hunt the generations. When the entrepreneur looking to start an office in a Southeast facing office building, please note that first search for an expert Vastu consultant, and request him to visit this Southeast facing office and finalize everything after his approval. Otherwise, just leave the office premises and search for new.
1. Again repeating, without experts opinion don't sign the contract for Southeast facing office.
2. Please note that measurements play a momentous role for the Southeast facing office. The expert Vastu consultant can identify whether it is good or bad after knowing the measurements.
3. For the Southeast facing office, the backyard will be Northwest, hence entrepreneurs should be careful and take appropriate action to waive off the negative impacts.
4. Placement of CEO chamber is tricky here. Sometimes we may not find the exact Southwest rooms for these Southeast facing offices.
5. If the next property i.e., towards the Northeast is for sale then buy it. This action may terminate negative impacts.
Southwest Facing Office Vastu Ideas
Somewhat appall to hear the word Southwest facing office. But if we do some changes to the Southwest facing offices they may grow mountain heights. For some properties, there is a way to do corrections for some there is NO way. Hence, without experts, personal visit don't take Southwest facing offices.
1. Plant heavy trees in front of the office.
2. Water storage sump at backyard e.g., Northeast is highly recommended.
3. Basement is extremely helpful for these Southwest facing offices.
4. The basement should only be planned to have only at the backyard (inside office premises), not in the front yard.
5. CEO or Boss should occupy the appropriate Southwest quadrant.
6. Can have pooja room at the Northeast room.
Exclusive Key Points For Office Vastu Premises
1. Create a pleasing atmosphere which would attract the customers. This is the primary condition. Use balanced lighting, fresh flowers, soothing colors, aesthetic interior decoration, sound-absorbent flooring and piped music to create the desired atmosphere.
2. Display your company's products, their photographs, or brochures about your services in the lobby or reception area. The products or the literature should be well lit by focused lights. (This matter is from www.subhavaastu.com) Customer / visitor must be attracted towards them when he enters the reception counter / bar / bench area.
3. Design the Reception in the North-Eastern direction. But earmark the actual North-Eastern corner of the property for the image of a deity, or if nothing else, then decorate it well with light and flowers.
4. Avoid having rest rooms in Eshan (Northeast) corner. This always proves disastrous results and blocks off growth and happiness in career and personal life.
5. Chairman or the General Manager chamber can be located in South-West (Nairuthi) or Southern or Western parts of the structure.
6. It is desirable that he should sit in the South-West corner of his chamber in such a way that he faces East or North. If its multi-storied office complex his chamber should be at the lowest floor.
7. Usually Keep/place a heavy safe in the Southwestern corner of the room, in which important documents, papers about the company's assets, files of important projects, cash etc are stored. (This matter is from www.subhavaastu.com) Embedding it in the wall is also a good idea or it has exposed openly at Southwest part on a high dais / platform / solid rock bench.
8. Similarly, earmark a place in the North-West area of his room where files which need to be attended by other officers.
9. The middle management cadre staff should be placed in North & East zones. Effort should be made to keep the center of the premises to be always clean.
10. Usually, cordon it off and place a floral motif on the floor, a piece of art, or the image of a deity to keep it tidy. Southeast is the corner for Fire, or appliances which generate heat. Earmark the South-Eastern or Agneya area for placement of Generators, Inverter, Electric Meter, main Power Switch, Computer servers, even the pantry.
11. It is important to ensure that no one should be sitting directly under a beam. If it is so, then the work desk needs to be shifted. This also applies to computers and other equipment. (This matter is from www.subhavaastu.com) In like manner, there are specific directions for parking, toilets, warehouse, customer waiting area, stairs, elevators, external surroundings, direction of the main entrance of the building and so on.
Important Guidelines For Office Vastu
The seating arrangement of CEO, CMD, MD, senior executives, managers, directors should be planned at Southern, Western and Southwestern portions of the office/block. This seating position may manage to increase the standards of the office.
-Northern and Eastern zones would be apt for seating the middle managers. Reserve the Northwest portion for the field staff.
-Location of accounts department should be in the South/Southeast direction.
-The right place for reception counter is Northeast portion of the office, generally it may be planned for East and North facing offices.
-It is suggested that the staff should work facing the North or East directions.
-Central zone of office premises should be kept empty.
-It is advisable to have a rectangular desk for the owner.
-Boring or tube well installation in the southern direction of the office is not recommended.
-The locations perfect for the pantry are southeast and northwest zones.
-Marketing department should be located in the northwest zone of the office.
-Legal Department may be suitable at East or West parts. Please note that this point should be double argued, we are working on all of these departments and updated this Vastu website very soon.
-Boss should sit at South-west area facing towards East or North. West is also permissible but it must not face towards South.
-In the office, the temple should not be placed at the back of the owner's seat.
-The owner's desk must always be rectangle.
-There must always be a solid wall behind the owner's seat.
-Computer room should be in South-east.
-Pantry should be in South-east or North-west.
-Marketing departments should be in North-west.
-Cashiers should be in the North, the abode of Kubera, the God of wealth.
-Almirahs and racks should be placed in the Southwest.
-Purchase department and others should be in South or West.
-Reception should be in Northeast as per vastu.
-Telephone, side tables should be in South-west corner.
-Conference room should be in the Northwest, since that direction is best suited for a flow of ideas, but it should not have wrong doors like, Northwest doors if the room measurements were against to the vastu principles.
-There should not be any obstacle in front of any door opening.
-Keep your files in your office as given below and it will help you in your business as each and every file in your office plays an important role in the business.
-Account file - in south-east corner shelf.
-Personal file - in Southwest shelf of your cabin.
-Purchase file - in South-west shelf made on South wall.
-Sales file - in North-west shelf on wall.
-Estate file - in south-west shelf made on Southern wall.
-Shares file - in north-west shelf made on North wall which you want to sell. (This matter is from www.subhavaastu.com) And in south-west shelf made on the south wall which you want to retain.
-Raw materials file - in the south-west shelf.
-Finished goods file - in north-west corner shelf.
-Income tax file - in south-west corner shelf.
-Sales tax and excise files - in south-west corner shelf.
-Import and Export file - in north-west corner shelf.
-Stores file - Always in south-west corner shelf.
-Cash purchase file - in south-west corner shelf.
-Credit purchase file - in north-west corner shelf.
-Staff and workers file - in north-west corner shelf.
-Litigation file - in north-west corner shelf.
-Pending bill file (receivable) - if it is in Northwest shelf it will help in early recoveries, payment which is due.
Should Follow Ideas While Shifting Office to Other Location
When planning to shift the current office to a new premises then identify a good Vaasthu location where to shift. The energy of the new location should support the growth and financial success of your business.
There are several cases where the business has not done well after shifting its premises. (This matter is from www.subhavaastu.com) Offices should be designed keeping in mind the balance in the movement of work and the hierarchy of authority.
If offices are not made according to these principles, the absence of balance would lead to loss in efficiency, and lack of control in running the organization. Start with noting the directions using a compass from the center of the office, and mark all the eight directions.
Vastu considers South to be the best direction. The ancient texts emphasize on the synergy between South direction and the tenth house of one's horoscope.
Hence the managing director, chief executive or the officer in charge in their absence should occupy this direction. For better results they should face towards North but if not possible it could be East direction.
If the subordinates are placed in the south and the officer in the Agni corner i.e. South East then they would soon witness ego clashes and the subordinate would be in a strong position to disobey his officer and dominate the scene.
The South East corner is meant for those who are indulged in research work or involved in innovative and pragmatic projects. Ideally, laboratories, computers or control panels should be located in this corner.
A drawback of this corner is that it brings aggressiveness in the temperament, which is fatal not only for the subordinates but also for the organization.
The public relation officers should never sit in this corner. (This matter is from www.subhavaastu.com) Such officers should also not sit in basement or under beams. 'South-West' has not been given importance and was meant for weaponry. If the higher officials sit in Eshan i.e., Northeast it would not be as beneficial as it would leave the other more important Vastu positions for the subordinates. Position facing North should be followed but if not possible, it can be East.
Almirahs and racks should be placed in Nairuthi i.e. Southwest. Heavy furniture and things should not be in north or (Northeast) Eshan. Officer Desk has to be placed in Southwest part.
For the purpose of office it helps the office run smoothly. Officer cabin has to be placed at southwest or west or south parts of the office. No permanent construction should be done in 'Brahmasthan', or the central point. It is often said that water should be in North-east direction but this rule is applicable only with underground water tanks. So, water can be kept as per convenience.
The canteen or pantry, however, should be in the southeast direction or the second best is Northwest. The sitting arrangement of the cashier should be aloof from other employees.
His sitting arrangement should not be in South or South-west as this may make them lethargic and exhausted, creating problems for the employer. The best place for the cashier is North, which is also the abode of Kubera, the God of Wealth. Employees occupying the West corner of the office are often found more talkative and may leak confidential matters.
Instead, the West direction is best for training purposes. The conference hall is best in the north-west direction. (This matter is from www.subhavaastu.com) The flow of ideas is best in this corner. The Office desk has to be placed at the southwest corner and the boss or head of the office has to occupy this seat. He will have regular Northeast access, it leads to success in all works, domination on entire premises.
This corner is also suitable for waiting for the lounge. Employees with high temperament should be given North-east corner. Less talented people should initially be given west direction and then should be shifted to South-east direction.
Northeast door is very important for the growth of the office. The higher officials should be in the Southwest, next to them in the West or South directions, and those related to the reception or display activity should be in the Northeast.
Regarding Vastu for Office cubicle, we have to follow some principles, check the cubicles link. Now corporate companies also interested to check their properties with Vastu consultants for a bright future. They are also facing several issues, like payments, lack of experienced staff, unbearable expenditure, heavy competition, payments, rents, salaries, maintenance, loans, pressures, etc.
Successful CEO Walks In the Office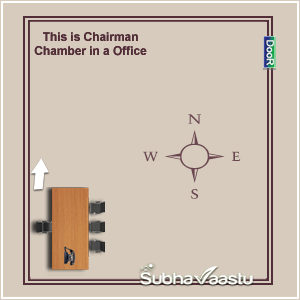 In this image the walks shown with arrows. Like this Boss has to follow to minimize the pressures of various worries. Starts from Southwest to Northeast which would mean he starts from authority to compassion. Boss table located at Southwest. Coming to the table and going to outside only through Northeast, this process clearly showing with animated arrows.
Northeast walks blesses no tension in the work and has enjoyed job with relax activities, tension-free life, easy success, secure feeling, staff co-operation, good name and fame, staff will obey boss orders, easy go, getting chances for more profitable ventures, new projects, good income, relaxed life, more interest on life due to fresh work orders, boss 'can' manage anything if the entire premises was built according to the vastu principles.
Once followed basic principles it is possible to observe changes in all efforts. Can possible to experience a colorful life.
Please note that this is an attempt to spread the techniques of good life to everybody here through this Vastu website. One should be careful when wanted to follow techniques here.
One should not operate operation by reading books, better to approach one specialist doctor to solve their health problems instead of doing their own practical attempts, like wise in vastu also we request everybody not to follow any thing without vastu experts suggestions.
What we are planning here
Where to place Chairman (Owner, Boss, CMD, MD, Director, Manager ) room :
In which direction Chairman (Owner, Boss, CMD, MD, Director, Manager ) has to sit :
Through which way he has to go outside or from which door has to access the office and Car shed :
Best direction for Office Desk
Office Cubicle arrangements for easy access to the Management with good vastu principles :
Staff sitting positions :
Stocks Maintenance placements :
Purchase Department Placement :
Sales Department Placements :
Discussion on Sitting under Beam :
PA to Chairman Placement : ( PA may be in the same room or separate room )
Office main door placement and its importance :
Windows and their placements :
Which direction the staff has to sit :
Best place for Dining room :
Place provision for exercise instruments :
Along with above placements we are also planning good vastu consultancy guidance for Real Estate Offices in different cities like Mumbai (Bombay), New Delhi, Kolkata, Chennai, Hyderabad, Bangalore (Bengaluru).
When work finishes for Real Estate offices, then they will also grow in their businesses.
Here we will provide many suggestions to the limited companies/company. Work is going on, at any time we will upload those files to this page.
Before going below, please note that " this science of Vastu only works on Time", it means if one enter into the lease contract for any office premises on rent for only 2 months, then he may not get all qualities of such property within 2 months, either good or bad results and further, no need to check any vastu compliance for this tiny period.
Atleast he has to stay there from 6 months to one year+, after that only understand the effects of the property. For short periods, no need to check vastu for category 1 and category 2 people. For Category 3 people it should require compulsory property verification/evaluation before taking rent or constructing office.
Vastu for Office in Dubai: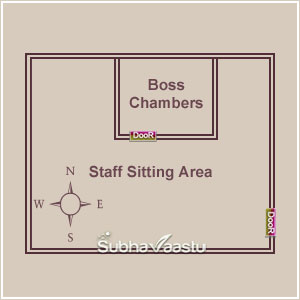 We visited one Office for vastu consultancy in Dubai. There Owner/Chairman/Boss occupies North/Northeast part of the office, entire office staff was approximately 25 in number and all are occupied the other directions/parts of the office, here this image is not as per scale. The office main entrance door was towards Southeast and Boss chambers was came to North/Northeast parts, its not exactly Northeast but it touches the Northeast quadrant.
The entrance door to the boss chamber is also towards Southwest-south, all these setting spoiled them and getting heavy losses in their concern. Factotum may sit at any place but the chairman or owner should occupy the Southwest parts of the premises.
Northeast-east door is recommended. Boss chamber should be located at Southwest part, the entrance door may be fixed to Northeast-east if the chamber was crossed the North center line, if not the door may be set Northeast-north.
Vastu Office in Abu Dhabi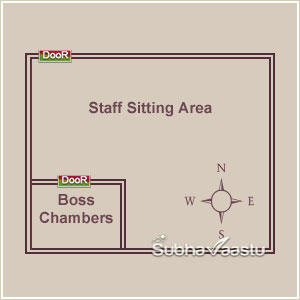 One Office at Abu Dhabi, it has Northwest-north door and the Boss chamber was towards Southwest, you are well aware that setting boss chambers towards Southwest brings augurs to the concern, but the location of the main entrance door is important, that we should not forget it. Here the main entrance door was placed towards Northwest-north and boss chambers entrance door placed towards North.
After getting huge loss and creating many debts and more disturbances to their transactions they looked for Vastu consultancy. They spent almost 7,50,000 Dirhams on that property only for decoration and maintenance. It's the biggest office, having 70+ staff.
Northwest-north door may not bring luck to the property. It has to be modified, we done the changes as per the provisions supported there. Tough to explain them, because the outside structure was very rare.
Vastu for Office in Sharjah: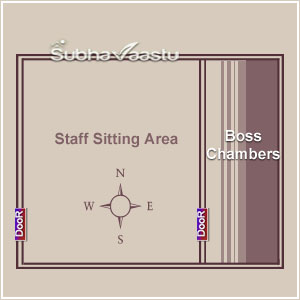 This Sharjah office was very difficult to run. The Boss chambers placed towards the entire East portion and the door was towards Southwest-west, the main property door was also fixed towards Southwest-west. Boss floor was elevated 18 inches in height. After operating their works from here, they lost reputation and non-co-operation of clients, dramatic issues came to face. They lost their entire stamina to face only the issues arise there. They lost control over the entire system due to one after another critical issue. By seeing all the problems owner got heavy health disorders.
Following vastu principles may make the distance to cardiac arrests, high blood pressure and digestive disorders. That is why our site exhausts harmony, high productivity with peaceful nature.
After reading the articles in our site, you may design a nature-friendly property and achieving a sense of rhythm in the work atmosphere.
Owner always occupies Southwest, South, or West parts only. Entrance doors should not be placed towards Southwest parts. Elevation towards the East spoils the control. It should not be elevated at any cost.
Is East facing main entrance door is good, Ras Al Khaimah, UAE property discussion?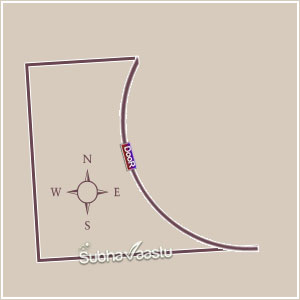 Generally many people says that East facing main entrance door is excellent for any consent including residence also. We are also accepting the same rule, but, where is that East facing door and in which part of the property, how is the property, location of the property, the shape of the property, nature of the property everything we should check, without knowing more information, we should not say any dialogue.
Worth on the word is important before pronouncing. Check this property, we have argued with client, later we got good information on this property and later we found that the property is like this way.
Is this a good one for happy running of a concern? Vastu friendly properties emphasize great features and orientations those promote excellent interpersonal relationships.
Nowadays entire world is facing horrible competition. An intelligent entrepreneur always search all the ways how to bring more revenue to his organization. He won't leave even a small opportunity. So care has to be taken when deal with any property in the name of vastu. Following vastu is not a evil.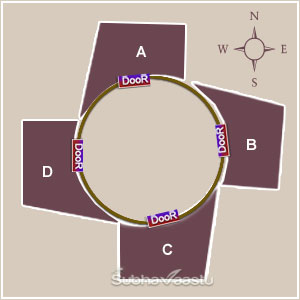 Just observe the above image and this image, odd shaped structures, the above image is part "D" here. If you likes to buy or rent this kind, then without approaching an Expert Vastu Consultant, don't decide, keep pending until expert is available. If your position is conditionally taken one here, then select "C". Though it has some objections but no options, do or die, then go with "C". Some clients / visitors / customers / property owners are simply sticking to a theory that all East facing door properties are good ? for peaceful life generally a vastu pandit asks many questions on a property, please co-operate with them.
Only brilliant people co-operate with vastu experts, Looser never, because of their bad period. Hope you are coming under smart rational inventive bay.
Utilize the ideas and step into new ventures. There is approximately 7.4 billion + population in the world, everyone has two legs, two hands, one mouth, two eyes, etc, but all are not coming into same personality, color, knowledge, luck, height, weight etc. The same also applies to all directional properties.
In other countries style and shape in construction is different and in India its different, now a days in India also many properties are constructing the properties by applying foreign country models. Latest competitive world, everybody is striving for profits and success.
Stress at work, Increased working hours, cut-throat competition makes all imperative to create the right ambiance at the workplace. Please note that the principles of Vastu apply in selecting and designing a house / plot / site or any commercial space also applies to offices.
If you followed vastu principles to an establishment leads to maximization in profits, growth in future and prosperity, developing brand image, stress - free work climate, amicable atmosphere, career development, productivity levels.
Keep it in mind before selecting the land for any structure. If you are going to start your dream work place, then some points should be kept in mind before start the work.
Planning to Construct the Office Building?
1. Land selection with good surroundings support. General topography around your office building should be atleast meet the basic vastu principles.
2. Constructing the work place building with nature principles.
3. Concentrate on the bright light and balanced air flow into the structure.
4. Elevations and depressions in structures at various parts of the building.
5. Requires more concentration in selecting the exact portion for the Chairman chambers.
6. Staff placement should be in ideal places.
7. Files section has to be pointed.
8. Research team chambers has to be carefully planned.
9. Visitors lounge should be pointed at some areas which should not be disturb the general activities.
10. Packaging sections has to be pointed at exact placements.
11. Toilets / restrooms / bathrooms has to be carefully planned.
12. Guest rooms has to be placed at an exact places where it should not disturb the other activities.
13. The structures which are unfriendly orientations should not be planned, if so it requires demolition at any point of time.
14. Chairs should not be placed under the exposed beams. Generally beams magnified the power on the ground, so we should not plan the chairs to be arranged under the beams.
15. There should not be any structure which has sharp edge or angle opposite to the Chairman/Managing Director chambers or chairs, otherwise one has to face many threats.
16. Plan for the lawns, greenery brings good energies to the company.
17. Using carpet at premises attracts clients.
Planning to Renting the Office Premises?
1. Selection of the space within an existing property.
2. Placement of the chambers, toilets should be friendly as per vastu.
3. Interior planning may be carefully planned.
4. The cabins or cubicles or work stations should not disturb each other, the passage/corridors/roads leads to the cubicles should be more friendly other cubicles.
5. If there is only a bigger hall and one is planning for the cubicles or chambers or rooms, then it is a wise idea to get an experts opinion at this starting stage.
6. Interior layout and design should be more accommodate, comfort, look and feel. More colors attract more clients. Nowadays, attraction is too important and huge effect on balance of harmony and money. Spent some thing on interior design and excellent style work.
7. Proper orientation and selecting the placement of cubicles and cabins in prescribed areas/zones deposits flow of positive energies entire the premises.
8. All departments in the premises plays an important role, make sure that every thing should be planned accordingly. For example sales department should not be planned at Southwest or South parts.
9. The property should be square or rectangular in shape. Beware of ODD shaped properties, L-shaped properties, protruding corners. All "L" shaped properties are not good. Some may create sharp angles or curve which may lead to ill health.
10. At any cost don't take the Northeast loss property or Northeast curved property.
10. The atmosphere should be more comfortable and reflect something about of your honesty, reliability, and transparency in work.
The success came only through the qualities which we strictly follow, there is no short cuts or short passages. Hard work never fails. God only supports, who work hard in their field.
Planning to start the office construction then here is some guidelines on Office doors.
Guidelines For Office Doors Placement As per Vastu.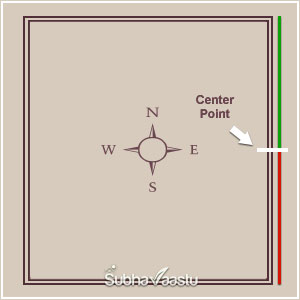 This is East facing property, observe the door for this office. The green mark area is the auspicious location for setting the door for the office premises, the red mark location is inauspicious. Generally, East entrance doors ensure for inflow of generating new thoughts, good ideas, name and fame and success.
Here some entrepreneurs may ask one question, what about West, for all West facing properties there may not be possible to arrange the East door, but West main entrance for office building is also supportive and further, there are some exclusive balancing techniques and tips that the Vastu Pandit recommends and guide you with Vastu tips.
Plan everything as per Vastu and run your work at the concerned premises, it blesses with strong security and attractive benefits, and peace.
West Entrance Office Door
Observe the green and red marked areas of West direction and center line marked with one arrow and text. A green marked area is auspicious location for placing the main door, the red marked area is inauspicious. Avoid the red marked area for the principal door. Generally, untidiness/slovenly/disordered entrances are inauspicious. Front door attraction is too important for any concern. Ensure that it was made with good quality wood. Double check the doors, they should not create noise, creak while opening and closing them. The main entrance or front door should be more attractive and bigger one.
They should not be slanting and crooked ones. One should not stand on the door center part when discussing with others, instruct your serving boys, not to stand on center of the doors. For this property Northeast-east or atleast one window is suggested.
South Entrance Door To The Office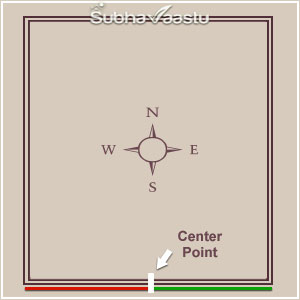 As usual the center point was same as shown above. It was pointed with one arrow and text. Green part is the good part for placing main entrance door and red portion is not auspicious. When you are planning for South or West direction properties, you have to observe many more things for equality of natural forces enter into property, it is possible when the surroundings supports the property and our efforts to optimize structure with nature / five elements. Our sincere recommendation is its good idea, if you approach one best vastu specialist in executing your dreams.
He drag all the resources and sources make the property as a successful work place. Northeast-north door or atleast one window is also recommended.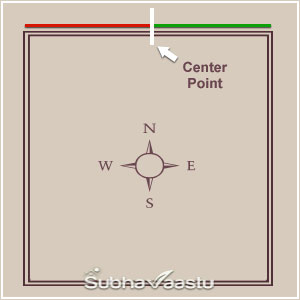 Generally North doors brings luck to the business concerns, this is general idea in between folks and some vastu pandits, if we planned carefully on South facing doors property we may get more profits than the North one's, it may not be possible if its the rented property. Owner's property we may do experiments. Red part is not good for main entrance door and green part is the best suitable place for door. This door should be very bigger one than all other inside doors. There should not be any obstructions opposite to the door, avoid them. Avoid Northwest cross passages jutting into your doors. The nearby areas and all surroundings of the main entrance door should be very clean and clear.
Generally, the shoe racks are a biggest issue for most of the properties, you may observe the below photos
Shoe Racks :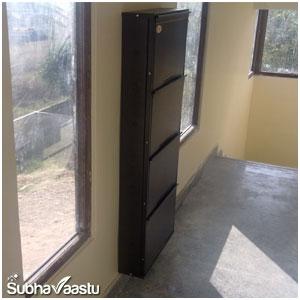 What is this, it's a file rack, or keeping clothes here, no its a shoe rack, its very simple to use and easy to access and stand on a wall silently, it does not occupies more space. Some properties, may not have more space, for them, these shoe racks are the highly recommended. Observe this shoe rack image. It was hanged to one wall and it never disturbs anybody, look wise also very good and seen that a wise item was bought to our property. In western countries users may enter into any office with their shoes, chappals etc, but in India some offices/people won't allow with shoes or chappals, the difference is in some countries there is no dust, but in India, most of the places may has dust and our elders says that one should not enter the home with shoes as dust/bacteria may enter into home with this shoes.
Their words are always correct. Keeping shoe rack at the entrance of the office is unfavorable to many owners/bosses, then this would be the best choice.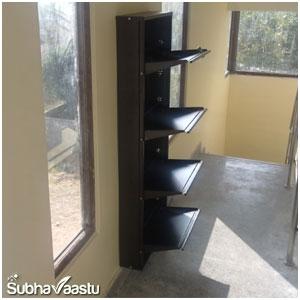 Now it is in open mode and the platform was lengthy for keeping shoes / boots or footwear, this may accommodate high heals or flat ones, sandals may easily occupy the area. The cost of this shoe rack is also not much, its price is almost equal when compare with other racks, but look wise and pleasant wise we never get crummy mood. Our premises should always maintain with rich atmosphere, class in ambiance, one's impression wise and expectation wise should not fail, your only one hour or two hours concentration on this minor things may improve your business or opportunities, if you are healthy in money wise your surroundings will also healthy and rich.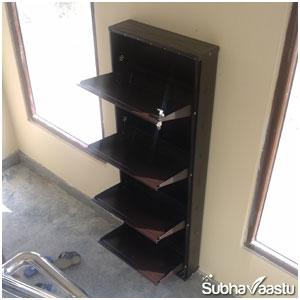 This photo was taken from another direction or angle, now the entire box is clearly visible. After keeping shoes, we may close it, so shoes and sandals were not publicly visible and may not irritate your office visitors. Each and every thing should be properly arranged and visitor should feel pure of convenient in your office premises, they should feel total relax with the atmosphere that you were created. Once he was relaxed and sit back the orders will be confirmed and you may earn more money. Your institution may get improved in getting good name in market and called as successful organization.
With the help of very small things also we may get changes in our business. This is the only reason the western country people were strictly followed and maintaining clearing in their homes and offices. Once we reach their offices we feel relax and observe a systematic way of arranging items and furniture.
A Basic setting plan: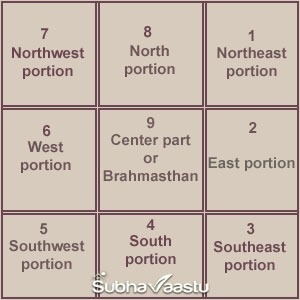 We have divided the block into total 9 portions and each portion has its own name. We published numbers for your kind information.

1. Northeast Portion
2. East Portion
3. Southeast Portion
4. South Portion
5. Southwest portion
6. West Portion
7. Northwest Portion
8. North Portion
9. Center Part or Brahmasthan.

Below it was divided into proper portions.
Below is the areas/zones for prescribed departments or sections to be fixed as per the direction representations. Please note that interior decoration is the most important and it should be more colorful and attractive. Once attraction generates then automatically positive power percentage increases. Playing of mild music is also too important. Particularly in Brahmasthan avoid pillar, particularly rounded pillar. Before starting the construction make sure that no round pillar is arranged there.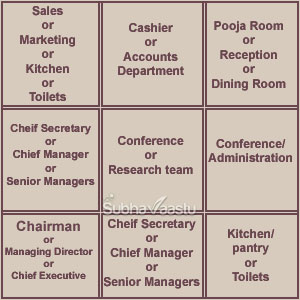 Some may success and some may not?. Few properties may have Neighborhood support, some may not have such support. Here we have mentioned the right zones in an organization that may lead to leading in success levels. At any cost Chairman should not be occupied the Northeast corner. He should occupy only the Southwest parts of the premises. South indicates security of wealth, so it should not be disturbed and not depressed. The pantry or kitchen may be planned at Southeast corners/parts of the premises.
Southeast corner is the ideal place and you may plan for the transformers, inverters and generators, electrical main switch etc as this represents fire.
Toilets best placement is the Northwest, and this Northwest part is the best ideal place for the sales and marketing departments. Northeast is strictly prohibited for Toilets and transformers, otherwise, it may pollute the entire positive power situated in the office.

When one enters into office, he should visit again, that atmosphere has to create at the premises, the reception area is the most key post in getting information of the nature of the business.
This reception may offers guests to be wait for their turn, it may be better to show all of your products in the reception area, all may be well designed, if so it may overall impressive feedback to the visitors. This reception area may be planned as per the main entrance of the office.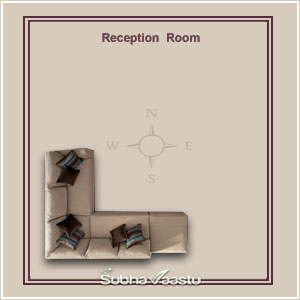 Now you are observing the reception room, all the visitors may have seated at these places. Sofa's are placed towards South and West walls only. Visitors face towards North or East directions only. The entrance for this room may be Northeast-north or Northeast-east is preferable if this reception room is at Northeast for the entire building, then you may place the door at any part towards North or East, yes you are correct, any place towards North and East directions. Because this reception room occupied Northeast then why should we worry about Northeast-north or Northeast-east etc.
Even North and East also preferable. You may happily place the entrance door at North or East.
If the entire office North to South is more than this room length then you may place the door even towards Southeast, yes you read correctly. Here its not giving any bad results. Let us check the same below.
>Almost all vastu consultants not accepted for the Southeast doors, but we have proved that even Southeast doors also giving good results, how its possible, just check the below image, the reception room is having Southeast door, if we calculate the entire property from North to South then the door came only towards Northeast only, then for the reception room it was coming towards Southeast.
Logic is important here. This Southeast door never gives any bad results to the property, please note that below we have shown only an example image.
Is Southeast-east door is good?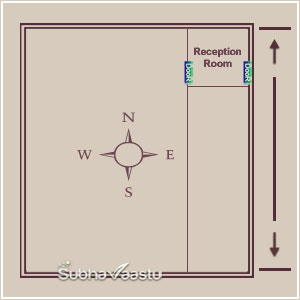 Hope you have observed this image carefully. check the white line at East side, there is no need to provide any measurements here, its very very clear that the remaining part of the South side for the reception area is too big, double check every thing, then you may observe complete information here. Please note that we have shown only examples here, again we wrote that this is the examples of logic in Vastu. We have not shown any furniture as shown in above, because our concept is whether the Southeast doors are good or bad.
Anyway by seeing the website content and reading the books and taking suggestions is totally wrong method. Please understand the concept of this science.
Its a weapon in our hand to get success in our life. Make use of the secrets of this science and get success and peace.

The reception area creates first impression to the visitors, so it should be having flowers or potted plants well-lit, aesthetic, loop music that has to create pleasant feeling warm welcome the visitors, make sure that this portion should be filled with bright colors with attracted designs.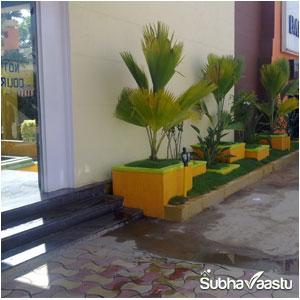 Proper maintenance and cleaning the outside area with water is recommended, observe the small garden in this premises, appearance sticks to this part while entering into inside. There are lots of bigger gardens are there at many properties. Its an example which we are published here for your kind understanding purpose, this very small garden area locks the visitor's eyesight, their eyeball will broaden when once they come up with this nature ambiance of attraction, very small techniques may changes in your transactions and contracts.
When compare with other expenditures in your office, you may not loose lots of money on this maintenance and attractions to the premises. Its very easier to follow, only thing is one should have patience in concentrating to develop of such ideas.
You are wise and intelligent, so start following of such thoughts by today only, sorry by right now only. Commence now and enjoy the overall benefits to your organization.
Some pictures was taken in an office and observe the cleaning and maintenance in their premises.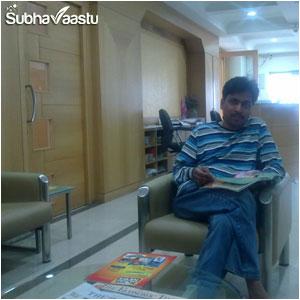 This is an office reception area, already a visitor was waiting for the Chairman appointment. Go through the below images, how they are maintaining their premises with high quality, standards, information and look. As per our internal rule, we don't want to express or publish this office name at our website. Their yearly business crossed 250 crores of rupees. The chairman always looking, observing, vigilance the entire premises and amending new systems of maintenance and cleaning. Once the visitor enters here, they never go back without contract, such atmosphere was created here.
A boy was deputed to serve to the visitors with water, coffee, tea, cool drinks or other requirements. This office boy was not doing any other internal works, he is kept only for visitors needs to be fulfilled.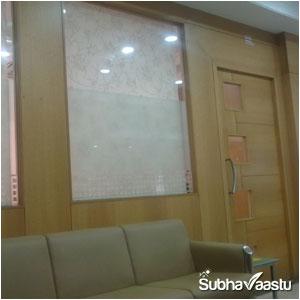 Observe the chairman door, windows and waiting sofa set here. These images are very smaller and we cannot show you the full images. Particularly observe the cleaning and color effects of this office area. If one has visited this office premises area their feel is different and getting that feel is not possible by just observing images here.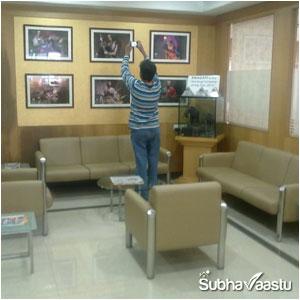 The visitor is tempted and taking the photos at this office premises. Observe the sofa set setting and a medal which was placed at corner. Honestly speaking we cannot show you the pleasant atmosphere in a photo here.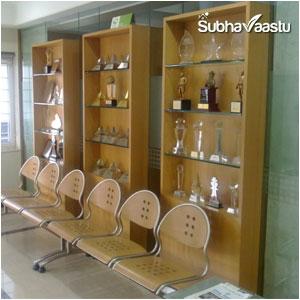 Check the display of awards which the company got for their best performance. Like wise you may set the entire awards in a good manner and proper cleaning is also needed and which was so important. Dust should not be form, regular maintenance is highly appreciate. Without your hard work you may not get success in your life, if you thought of getting rest in your works, your competitor time/luck starts then. If you work continuously then your competitor luck fallen and finally your clients may recommend your name to their other friends. Interior decoration is a very good idea to follow in the office.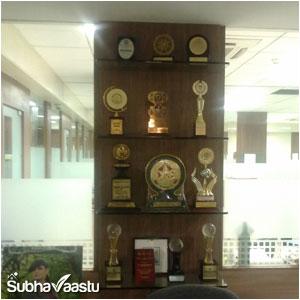 Observe the awards. Reception area is the suitable place to keep maximum awards. If there is any remaining you may place same at chairman chambers in a showcase. But the best placement of keeping awards is reception area. Start work from today and your goal is not too longer to reach, when you work hard, your goal is very near to you, when you take rest continuously and enjoying other things, your goal will more very far from you. Hard work, hard work, this is the only a best suitable mantra for your victory. Take the leaders, icons of the society, successful businessmen.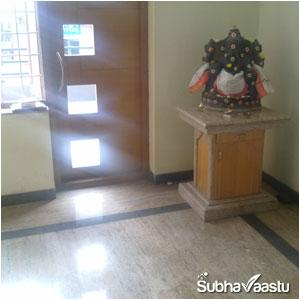 Ganesha placement at an office brings luck. Lord Ganesha also called as God Of Beginning, has honored at the time of start of all ceremonies and rituals. He is also invoked as patron of learning during writing sessions. Many biggest concerns also starts every thing only with Ganapathi / Vinayaka / Ganesh Maharaj. Do regular poojas to bhagawan, his blessings always be with you. Once you got his blessings + your hard work + maintenance + proper cleaning + arranging amenities in the office premises all these will helps you to get success in your carrier. You may also plan for mild loop music in the office premises, it reduces the tension and entire body will be relaxed and works will go smooth.
Daily arrange one Joke at notice board, staff enjoys the fresh jokes and it improves their abilities to work more, surprise gifts also makes a difference in your business. Think different and welcome luck in your life.
What are the Best Location for Kitchen In the Office?
Kitchen has to be best suitable towards Southeast at the office. If this place is not accommodated then plan towards Northwest part. Check the below images for kitchen locations.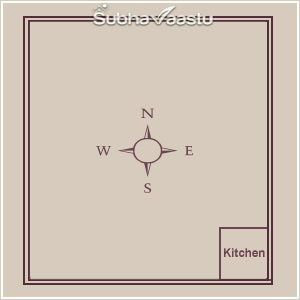 This is the best suitable place for Kitchen. There is a measurement method, that most of the expert vastu consultants knows about it. Please visit Kitchen link when you planned to fix up at this place. This is the best suitable place out of all other places in the premises. Don't provide any door at East or Northeast door from this room to outside. Generally Northeast doors are very good, but here that rule is not at all applicable.
Don't plan cooking section at Northeast corner. Hearth is auspicious once it was fixed at Southeast corner.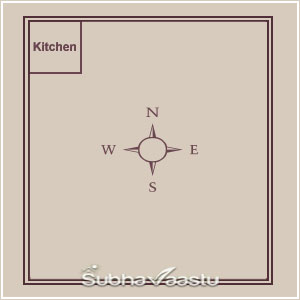 Northwest kitchen, this is next best placement. The vastu specialists can easily provides the measurements for this room at this location. Don't plan any door at North or Northeast-north from this room to outside. That is totally wrong method. Some firms ruined when they have given door to outside from this room at Northeast-north.
Please don't place at Northeast, where it was shown in the below image.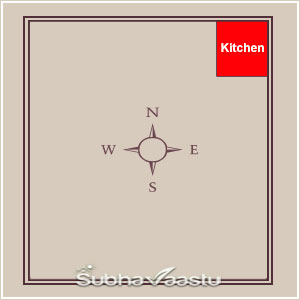 Here is the hearth was constructed towards Northeast, this is one of the most negative placement for Kitchen as it represents water. If you have already Kitchen at this place, first check whether that would be open one or closed one, there is some different rules are there for Indian properties and other country properties like Western countries etc. Most of the things which here was published only to the Indian properties.
Some properties may be good to leave or not to buy :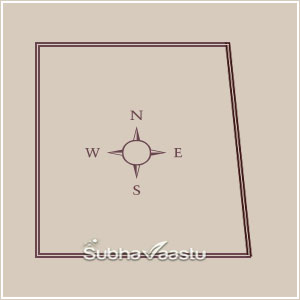 This is Northeast truncated / cross depression property, it may not be good to have healthy transactions. Should be most alert when searching for properties.
Truncated property :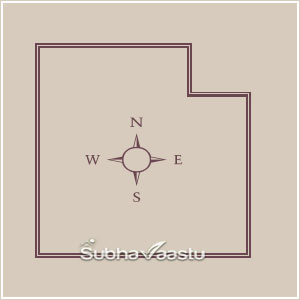 This property may also be ruin the concern in long run or short run. One should be buy or taking rent this property. But in some cases these properties may also high light when they has street focus effects etc. If your property is already like this, then please approach one vasth specialist and take his recommendations, we have done experiments and got results when the properties are like this, but before doing the corrections we should carefully taken the measurements and has to observe all the surroundings etc.
Three roads office in Bahrain: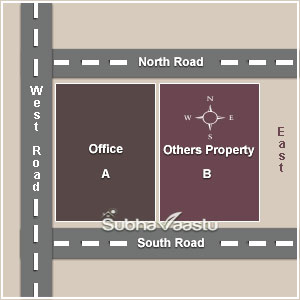 This "A" property may be weak, when compare with "B" property. If your searching for the Offices and it has three roads like West, North and South roads, then it may not be auspicious one. East open is more important for fame and name, if one property is having good East, particularly Offices, then it will brings them luck and healthy transactions. This science can help ease the situation as well as consolidate your position. It suffers when there is no East for your property, it augurs ill effects when there is no North also.
There are many more things has to observe before buying or an agreement for payment of temporary use. Please note that short term hiring, rental, agreement is different when compare with long term rentals. If your requirement may be long term then its always better to approach one expert in this field, or if your requirement may be short period and spending more money on the property for good and lavish look, then also you have to approach one expert in this field.
Some instructions to Boss: Sitting under a beam is not good and never sit keeps your back to the door. Your Southwest part should be occupied with some thing looks great.
Stick or hang the images which feels heavier like mountains or sky scrappers towards South, West and Southwest of your sitting areas. A think/strong wall is proposed to have to your back when you are facing towards East or North.
Many are interested to have a window to their back, if you are sitting at Southwest room and there is a window behind your seat and you are facing towards East then the backyard SHOULD be cover with one strong wall, otherwise that window will damage your routine job work. In between the window and backyard wall, you may plant heavy trees or creepers or crotons, it yields great results.
Color / paints to the boss chamber:
The West and South walls may be thick paint and East and North walls may be light in colors, for example if you likes blue then think blue color may be suggested to your South and West walls and very light or sky blue may be suggested for North and East walls. Innovation is important for more attraction. Here is a sample for your best understanding. A small difference in colour theme may change entire atmosphere.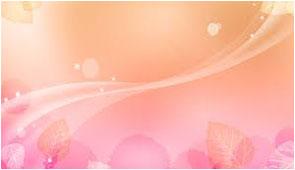 Human brain is more attracted with colors, designs, light, sounds. Then encash it by doing small modifications of your ideas. Gloomy premises never attracts any body.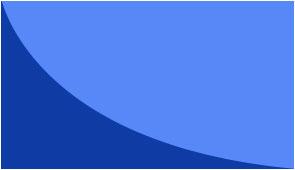 The above are only for samples, you may choose any colors, any theme, any design, but it should be pleasant.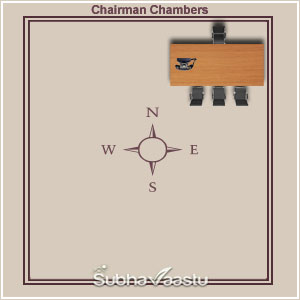 Table placement locations :

Here table at chambers was placed towards Northeast part, this is wrong location. Table towards Northeast quadrant is also not recommended. Boss faces towards South direction.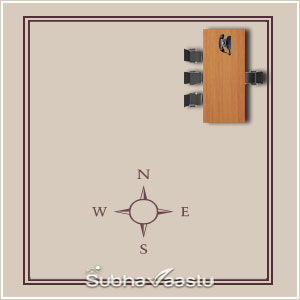 Here the chairman or Boss is facing towards West side and the table was placed at Northeast quadrant in the same chambers. This is also wrong method.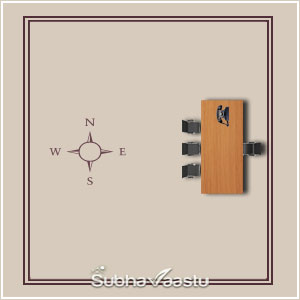 One should not place the table towards East part and facing towards West, fame loss and loosing name or forcibly the office may works for some period based on the surroundings support.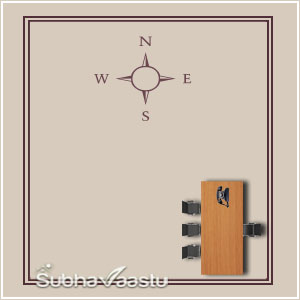 Now table came towards Southeast, which was always creates tensions. Don't plan like this. The results may be become different in some particular way based on the neighborhood vastu reflection.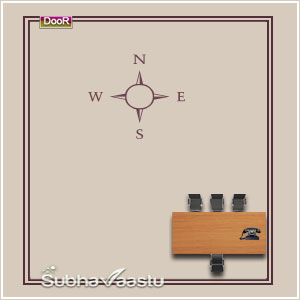 Now table was fixed at same place, but owner faces towards North which was little good than the above one. But no vasth specialist recommend this system to sit at this place. This may be the suitable place for the typist or secretary, if he/she compulsory requires to stay them at his own chambers, otherwise no body may be appointed at this corner.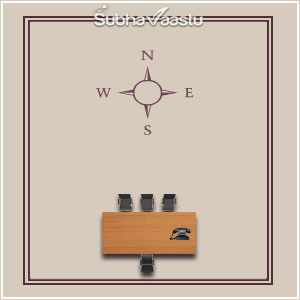 This is good place for chairman occupied place. But there should be some thing filled at Southwest, then this may be good place. This arrangement may be good if the room is having more measure towards North to South. If this room is having more place at East to West than North to South, then this may not be the suitable position.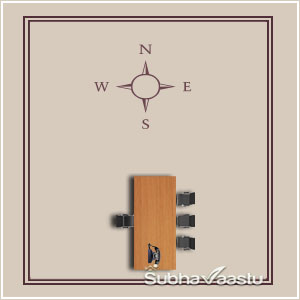 Here the table was at same position as stated at above. Only difference is owner is facing towards East direction. This method is good if the East to West measurement is more than the North and South measurements. Make sure that the back yard i.e., Southwest there should be some thing material or Iron safe is most recommended.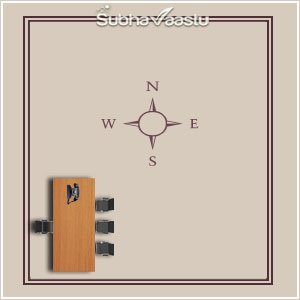 This is one of the excellent position at boss / Chairman chamber. If this room is having more space towards East to West than the North to South then this system of sitting is perfect. If North to South is greater than the East to West measurement, this sitting (East facing while sitting) not at all wrong.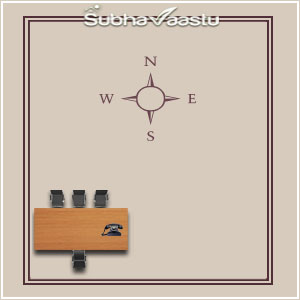 This is also one of the best sitting position in the Office, this main seat (Chairman or Managing Director) is facing towards North. This is more good when this room is having more space at North to South than the East to West directions, it enriches with more benefits. Many people are now looking only simple things in the office, but please note that the neighborhood plays an important and vital role in Vastu. Only expert Vastu specialist can find out the problems and can recommend the right suggestions.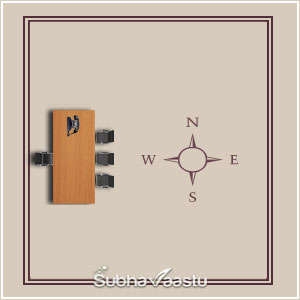 This is also one of the recommended sitting place. It will have more East space, it blesses with easy works, good name and fame, when compare with Southwest sitting place this may not fulfill that much of strengthen results and peace.
This is Northwest sitting placement, its not at all recommended for the speculations business people and shares offices etc. This is not suitable for the people who are mentally weak. It always creates financial losses or financial tensions. But it can provide good loans, creditors will come and provide attractive amounts. If the neighborhood supports then results may be vary.
Can A Head Of The Office Sits At Northwest Location?
Head of the Office, should not take position at Northwest location. In this image, officer sits at Northwest by facing towards South direction, this is not recommended placement of the boss in the office.
Which Area Is Best For Secretary To Be Seated In The Office?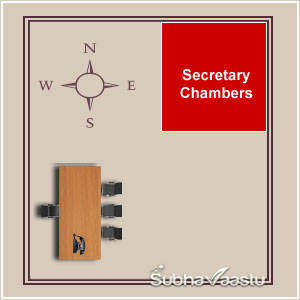 Many enterprenuers enquiring about placement of a seat for their secretary or PA (Personal Assistant). Secretary or PA can be arranged any place except Southwest part. The recommended part for them is Northwest or Southeast. Or finally they may sit at Northeast corner side also , but at any cost it should not be closed with any plank or sheet or cubicle etc. In this image it is clearly shown with red mark. Northeast should not be blocked.
Is arranging cross tables at Office is good?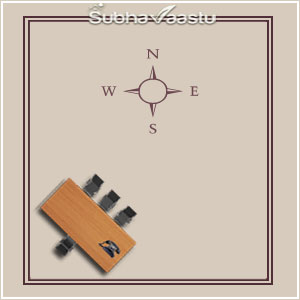 Some vastu consultants are advising some office people to arrange the table with cross placements to get more positive powers enter into the chambers and success ratio will be hike. Now we will discuss on this issue here.

Have you found in some offices, chairman or boss or head of the department is placing the table like this way. Is they get more benefits by arranging the table like this way. We have collected reviews on this system, we did not get any high percentage of "YES" for this arrangements. Many have changed again to the normal position where previously it was arranged. What exactly happens if the table was placed tilted. Check the below image, how the walks are damaging the entire system.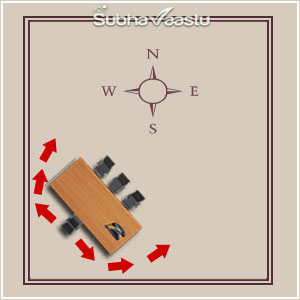 Observe the wrong walks when come out from the table. As we discuss earlier with many clients who are using this tilt table positions, many told us after putting the tilt they did not observe high changes but their visitors laugh on them by putting the skewed table. It is more inconvenient what they felt. After some days many were again changed to back, Why?

Placing the table as per room walls is the correct system. If we changed it may look ugly to some body, may be it affects on your business, Be careful. if you feel it's good then you may continue. We don't have any objection, but we are not at all recommending this system.

Now you are observing the cross tables located at Southwest part of the room, now observe same at different directions.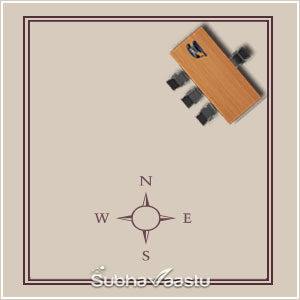 Here table was placed towards Northeast, which may not provide any good results, it may harm the entire system which falls negative to the organization.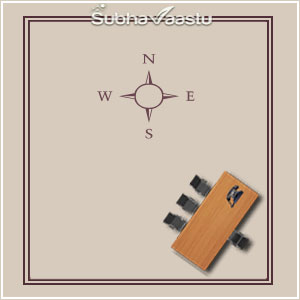 Now faces towards Northwest and placing towards Southeast, this is wrong method. Don't plan like this.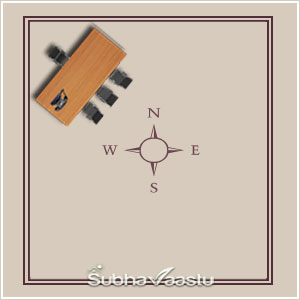 Facing towards Southeast and siting at Northwest, this is not the good way of placement. Don't plan like this.

By seeing the above five images, we came to understand that only the one which faces towards Northeast may be the convenient when compare with the other directions. Now you may decide which one is better to have the right place for permanent sitting.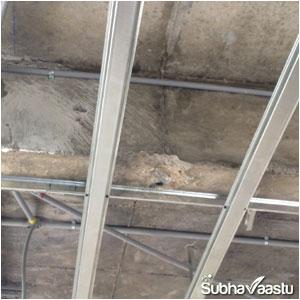 Sitting under beam may only brings bad luck. Don't sit or sleep under the beam, now what to do, if compulsory to occupy the premises for your business or house hold, its simple, arrange one complete POP, then the problem will solves. This is the only system we have to arrange with very less cost.
Is Southwest part is safe for the chairman?Certainly, Yes. This is the safe part for the chairman, then why in some places the business concerns are failed, though chairman / Managing director selected the Southwest parts. Observe below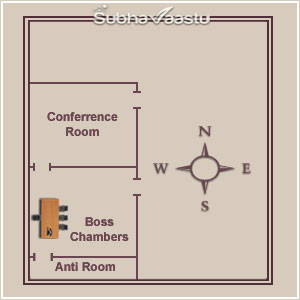 Just 4 days back (23.01.2014) we found one multinational company chairman office at New Delhi (place changed), and found some mistakes. Approximately 2000 employees are working with the company. Previously this company is having a great reputation and possessed lots of awards for their excellency in completing the projects. This company run by the well mannered people and later changed to a new office, chairman occupies the Southwest part (which is right place), within 2 years, the company lost many projects, now facing a crucial period and fails to pay even salaries to its employees.
After visiting the office we found that the anti room was located towards Southwest and Conference room was located towards North side, due to the doors, both Northwest and Southeast were extended here, this came under secret vastu.

Some people may take decisions in hurry moments or guided by wrong persons, due to some untold situations considering the opinions and entering into wrong positions.
Some intelligent people never do mistakes, they will call the expert vastu pandits and availing their recommendations and succeeded in their businesses.
If you are looking for an office, then first check the main entrance door. Where exactly it was positioned and what about the structure and any loss of Northeast etc has to find.
See this office at a complex. Elevator and its consequences. You are well aware that Northeast entrance properties are excellent to have good business, in continuation of this same statement, we should not take some Northeast entrance door properties, why? check below.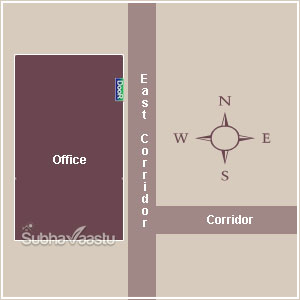 Its an office, it has Northeast entrance door and 45 employees accommodate property. CMD chamber located at Southwest area and it was almost constructed with the latest vastu techniques. Before taking this property, Chairman read some Vastu books and discussed with his friends who has some vastu knowledge and enter into contract for a long period.
Next year, he found a gradual decrease in business and many litigations arises. One false case was imposed and faced troubles with the investigation team. This office was located in Singapore. What is the problem here, its very simple, it has Southeast corridor focus and creates many issues.
If he was taken consultation before entering into an agreement, he may never fall into spider net. He is genuine and always looking only experts advice in all kinds of works. He told us it was a great mistake in his life, and wrongly guided by his friends.
Within 19 months his entire total loss and expenditure were crossed 2 lac Sing dollars, SGD. He is a nice person and always maintaining quality in all of his activities / selection. .
Elevator Towards Northeast Is Good or Bad in the Office?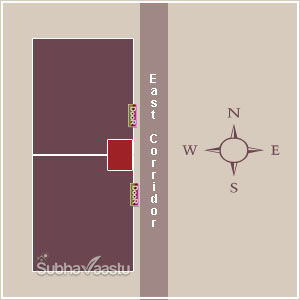 Elevator or lift may be placed in between two portions as shown in this image. The South portion is having a Northeast main entrance door and the northern portion is having a Southeast main entrance. This property is in Abu Dhabi (United Arab Emirates). Before taking this property, he read somewhere that the Northeast main door is excellent, by knowing this fact, he took this South portion but did not observe Northeast cut in the name of Lift. If everything went well, then why he requires Vastu consultation.
He is well mannered and handles everything with policies and always looking for quality in everything.
He said that he contacted one Vastu consultant from New Delhi and respected consultant is busy in his Singapore visit. Further, he stated that he has some other options to choose properties before entering into a contract with this property.
Blind Office Extension spoils the successful organization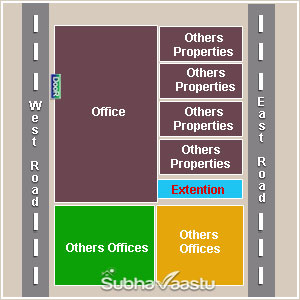 Some times why the life was suddenly changed we may not expect, but it happens in many life. A fancy income-growing company suddenly collapsed with partners fight. Up to 8 years of nonstop journey, they saw such drastic situations. Suddenly an offer came and they blindly accepted and extended the backyard. You may check it with red letters "Extension".
Actually this firm requires another entrance, it was their bad time and entered with the wrong agreement and extended the main office towards Southeast. After correcting this defect and many hurdles and compromise talks, only two were joined together and started transactions.

Lesson for us is, if our firm is running smooth, and any extensions if we require, what we have to do first ?, yes you are correct, we should take experts advise.
Is corner Doors are good?Hope you may observe some corner doors for some properties, is these corner doors are good?.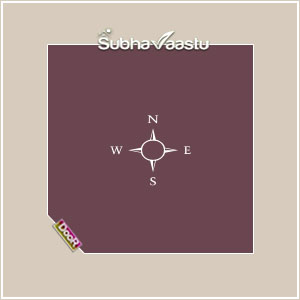 Have you observe the corner doors here. We found many like this type of door, particularly in foreign countries. This may be common in foreign lands, but in India, this is not a common style.

We invented many systems after many researches in Vastu, one of them is "SubhaVaastu Spreading Rule", based on this new system "SubhaVaastu spreading rule" applies in all lands. We will discuss largely this rule on other pages. The force may be very high or may be low in some areas with the same structure and style, why?, it will elaborately discuss under researches page.

Anyway this system of placing door is not giving good results to the concern, but note that, short time results are unbelievable, highest returns may also expect due to this door. Not at all recommended for the long run.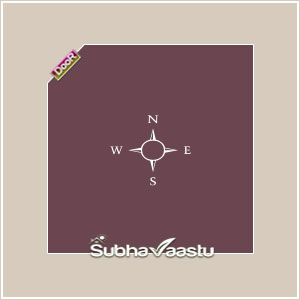 Now this property is having Northwest main entrance door, which creates many disturbances in financial terms. For some period, this may enhance new offers, new hopes, and new contracts to the company, but one day they know what effects it was created and what loss they got.
Please note that this structure may be general in foreign lands, but may not be natural and general in Indian lands, so the force will be very high in India and lesser in other lands which these structures are common, already we have discussed new system "SubhaVaastu Spreading Rule" in the above para. Better you may search for other properties, if it is compulsory to sign the contract due to your requirements, then there is a way to rectify it, find one expert in this field and show the property, he can handle it.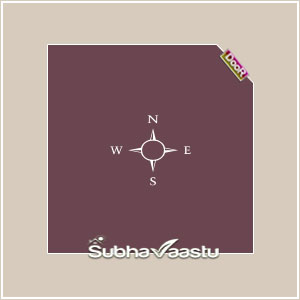 This is Northeast facing corner door. Due to this system, there is Northeast truncation was appeared here. Loss of Northeast is not recommended for any property. Be careful.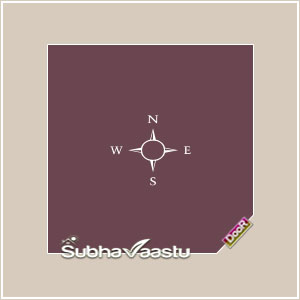 This structure is having Southeast facing main entrance door, for certain period fame increases here, and on the same way damage also observed to name and fame. Clashes, struggle, failure of contracts, disputes in between partners etc are observed here, closure of the firm may be happen in long run.

Please remember about "SubhaVaastu Spreading Rule", it is also applied to this property. Short period it may not affect on the organization, but in long run it may evaporates the sources of organization standards.
Below is the entire blocks and corner doors.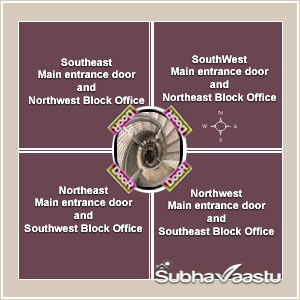 You may find all four blocks and corner doors in this image. Now you may understand the above four corner doors. Service to the human is service to God. Following Dharma (justice) always protects us. Our main goal is to spread this science to the entire world without any expectations for happy and peaceful living. We are not expecting anything from you here, just inform this website information to your friends, they may be in need of such instructions or tips. Thanks in Advance for your kind support to our free information website.
We visited below countries for Vastu Consultation
1. The United Arab Emirates. (Dubai, Sharjah, Abu Dhabi, Ras Al-Khaimah).
2. Bahrain.
3. South Africa
4. Botswana
5. Sri Lanka
6. Oman
7. Singapore
8. Malaysia
9. Nepal.
Fish Aquarium Vastu Direction In Office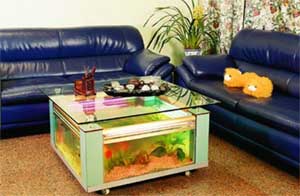 A well-placed aquarium or a fountain will have a soothing effect on the customers and guests. If the fish aquarium is small in size when compared with office premises Northeast room is the best location, this is possible only when the entrance is in the Northeast. If the aquarium is large in size then keep locate it in South or West or even Southwest. Generally keeping the fish aquarium at entrance locations is also a good thought, but has to check whether it is suitable according to Vastu Shastra or not.
If a property has Northeast entrance then keeping the heavy fish aquarium in that area is not advisable, if it's mandatory to keep the fish aquarium in Northeast area then keep only the small size fish aquarium in the wall.
Don't keep a fish aquarium on a big table in the northeast area. Again locating the fish aquarium at NE is mandatory on the table, then keep it very near to the South wall or West wall. Don't keep it at East or North wall.
NE is abolished areas to keep a fish aquarium. We should not make the Northeast areas more weight, instead of keeping the fish aquarium on the table at the Northeast corner, one may keep it in the wall. So the aquarium will be within the wall, in such case, Northeast will be suitable. Vastu fish
Unbelievable But Most Of Us Experienced Many Times
Some of the funny or believable or unbelievable things which happens in our life, we cannot express with others with the smile or wept on these situations, read those small things happen in our life, these may call as the law of nature. May not having relation with Vastu. Take it as a fun.
1. LAW OF QUEUE: If you change queues, the one you have left will start to move faster than the one you are in now.2. LAW OF TELEPHONE: When you dial a wrong number, you may never get an engaged Sound.
3. LAW OF MECHANICAL REPAIR: After your hands become coated with grease, your nose will begin to itch.
4. LAW OF THE WORKSHOP: Any tool, when dropped, will roll to the least accessible corner.
5. LAW OF THE ALIBI: If you tell the boss you were late for work because you had a flat (Puncture) tire, the next morning you will have a flat tire.
6. BATH THEOREM: When the body is immersed in water, then your telephone rings.
7. LAW OF ENCOUNTERS: The probability of meeting someone you know increases when you are with someone you don't want to be seen with.
8. LAW OF THE RESULT: When you try to prove to someone that a machine won't work, at that moment it will definitely works!
9. LAW OF BIOMECHANICS: The severity of the itch is inversely proportional to the reach.10. LAW OF COFFEE: As soon as you sit down for a cup of hot coffee, your boss will ask you to do something which will last until the coffee become cold.
Vastu Testimonials Delivered By Respected Residents
Dear Suresh, I am pleased to inform you that like the way you provided consultation for my home and explained to me all the changes required inside and outside home. I really appreciate the diagrams that you prepared for my home with pictures and arrows showing the changes need to be done. Above all, you explained very well the reasons behind changes you recommended for my home with great clarity and sense of humor. No doubt in my mind, you are the best Vastu expert, I really appreciate your dedication by building and maintaining a very informative website that is helping thousands of people across the globe. Also, I sensed when I talk to you and when I was dealing with you, you follow honesty and integrity and you have a sincere desire to help others - Kotesware Rao - Dallas - USA
We are tech professionals and working in USA. After a year long search we brought the house. After buying the house I started looking for consultant who can help me evaluating the house. I came across Subhavaastu website which has lot of information. I contacted Mr.Suresh and requested him to help with our house vastu. It has been an incredible delight working with him.. He is very detailed oriented person and never compromises with his work. I am typically not interested to deliver the reviews. But after working with Mr. Suresh I decided to share my experience. Mr. Suresh has great expertise in providing vastu consultation to USA property. He is always available through email and phone l to answer questions. I am writing this review hoping it will help other people like me who lives in abroad. Please take advise before buying the house. I highly recommend Mr. Suresh as he has great experience with structure of USA properties and also he provides genuine consultation. I really appreciate Mr. Suresh's help in evaluating our house - Padma - Boston - USA
"I contacted Sureshji to consult on our current home. He was spot on in identifying vastu dosha in regards to the problems we were having. He suggested remedies but we are still looking for a new house. Since then I have been in touch with him for finding a right home for us. He is very sincere and truly wishes better lives for everyone. He doesn't compromise with quality and is always responsive to queries. He recommends solutions as per location as Vastu rules differ for each country. He is greatly contributing to the society with his knowledge of Vastu and dedication towards his work. Keep up the good work Sureshji and wish you success and happiness!" - Megha - Virginia - USA
I have consulted Suresh Garu during December 2014 during the process of buying a house in Texas, USA. I have occupied the house for one year now, and feel like dropping a review regarding my experience during the entire process. I am very much satisfied with the kind of service I received from him. He is very knowledgeable and I was often stunned by his detailed analysis during the course of my interaction with him. He was very much accessible over phone (perhaps more than 10 times for one house plan!) and the price is very much reasonable especially compared with the cost of the house. I noticed his burning desire to help me in making informed decisions on certain things. I have seen some people pretending to know this subject and misguiding those who come for help by saying only what we want to hear. SubhaVaastu is definitely not that one. Finally, I am strong believer of leaving certain things to experts in those subjects. I have been in US for more than 13 years and have seen people doing their own corrections (by reading website articles) trying to save few dollars. Please don't do that. You would end up in causing more damage. I highly recommend you to engage SubhaVaastu in your next project - Satish - Dallas - TX - USA
Inspirational Quotations
"There are three things in the make-up of man. There is a Body, there is the mind and there is the soul." - Swami Vivekananda.
---
---
"Great Personalities speak about thoughts. 'Average Person' talk about occassions. 'Narrow Minded' gossip about others." ― Eleanor Roosevelt . . . Let you question yourself, "Who You Are, either 'Great Personality', 'Average Person' or 'Narrow Minded' ?
Joke Of the Day
"A book was released and the cover name is "How to change your WIFE", and within ONE week, "25 MILLION" copies were sold. The publishers found a mistake in the title, actually, it should be "How to change your LIFE", when publishers corrected and released the new book into the market. The first month's sales were 3 copies".
Follow us on Social Media