Details

This Page Hits:96090
Vastu For Swimming Pool | Pool Wrong Placement Remedies | Pool Tips | Swimming Pool Guidelines | Indoor Swimming Pool | SubhaVaastu.com:
Vastu Shastra for Swimming pool: Swimming pool, underground water storage tank, wells, bore-wells, Water Sump etc are all best suitable when constructed at Northeast direction
Best Direction For Swimming Pool As Per Vastu Shastra:
Northeast direction is the best location for the Swimming pool. NE is a cozy placement for pools. Reminding another time, Northeast is the best ideal location for the swimming pool.
East direction is the second best place for the Swimming pool after Northeast direction.
North direction also the second best place for swimming pool after NE direction.
Don't plan swimming pool at Southwest direction, it's most dangerous.
Some points were not relatively connected to USA homes, particularly homes in Arizona state.
Think twice before planning the pool placement in your home. We are repeating here, the good idea is plan swimming pool construction only at Northeast direction if it's not possible then try to plan towards North direction or East direction areas, North or east pools should be more near to the Northeast point as this direction is perfectly suitable and most auspicious.
The swimming pool is placed like the Northern East direction or Northern North direction, then residents of that house will have all good fortunes, (this matter is from www.subhavaastu.com) luck, full of money, raising their position in their fields, name, and fame, lifelong cash flows, bank balances, having reputation in the society, etc.
Somebody says that "Swimming pool orientation in India and constructing a swimming pool is very difficult at houses as per Vastu Shastra". But there are very good options for constructing the swimming pool at house.
Natatorium homes, if plan everything according to vastu principles then it brings uncountable cheers to the family members. Planning Natatoria is not a challenge, but need high alert in fixing the pool placement in the home.
Rooftop Swimming Pool Vaastu
Some residents interested to construct Pool on rooftop or terrace etc. Beware of constructing the swimming pools at upstairs or top floor or terrace, because it requires a lot of high alerts and attention to fixing the place either as per vastu and constructional through engineering wise.
If the construction is new, then your engineer can plan the pool as per the weight management. He can handle it. Vastu is secondary here.
Once your architect planned everything perfectly as per weight management then start check pool placement with vastu principles, if all is OK, then you may happily construct the pool.
If the construction is old and the resident is wishing to construct the pool at the rooftop, then the high alert is required, better to take two engineers opinion on the weight management.
Later think on vastu. One should not lazy on this aspect. Don't delay the process. Once fix things with civil engineers, later take the vastu consultation. This is a good procedure.
Some residents planning for rooftop wind turbines, to hear this word, it may be surreal or unreal or bizarre to someone, but recently there are new inventions for these rooftop wind turbines which came mini and suitable for our homes.
If you are planning for rooftop wind turbines then plan to place them at Southwest corners or West directions or South directions.
Swimming Pool on Terrace Vastu
Where the swimming pool is constructed on top of the building other factors such as weight and stability have to be considered. Merely for this sake putting the swimming pool on the southwest could be treated as appropriate.
Whereas the swimming pool in the ground floor is not desirable in the Southwest, the same is acceptable in the Southwest direction even on the ground floor provided the swimming pool is above the ground level.
Is East direction swimming pool is bad? what is that, read the below narration, with a real happening:
We found serious issues when some residents constructed the pool on the terrace. We found one home which has east swimming pool on the terrace.
The Natatoria is in Bangalore. They spent almost 6 crore rupees in the year 2007 for the house construction. Before starting this construction, they spent more than 1000 rupees for the vastu consultation services.
They really feel very bad by paying 500 rupees that to 2 times for getting vastu consultancy. Actually, they searched for 300 rupees (Yes, its 300 INR) for entire house vastu consultation.
House construction completed and later home is ready, they again searched for the broker to sell that home. What happens, why residents so hurry in selling the home, though the house is constructed as per their wish and taken two times vastu consultation. They spent 6 crore rupees on that home.
They need vastu guidance, that's all, they never care for the quality vastu specialist services. They know about vastu power and how it working caliber, but they need to save the consultation charges. Now let's check what exactly happened?
East terrace swimming pool, already it was approved by two vastu pandits there. Please note that pool construction on the ground is different and on the top floor is different.
Interior or inner side pool construction method is purely distinct and outside ground construction system is different. This terrace east pool is the heavyweight for this floor below Southwest, West, Northwest, South bedrooms, they never thought about this calculation.
Usually, the expert Vastu consultant can easily catch this mistake. But they choose charlatans. Finally, they sold the home with a loss of about 1.4 crores.
If an experienced vastu consultant can visit this place before, he will definitely obstruct this system of construction. But these residents never wish to pay more than 500 rupees for the vastu consultation. Simply they lost 1.4 crores.
We don't want to publish some facts which we experienced in the physical consultations, but for the other residents healthy future, we decided to publish the minimum information on this property, which the resident made mistakes, so others cannot do such blunders in future.
In our lengthy discussions the landlord told first they consulted one vastu specialist in Karnataka who demanded them a sum of Rs.45,000/- and later they approached one vastu consultant in Gujarat who demands Rs.60,000/- and flight charges from Ahmedabad to Bangalore and later they approached one vastu pandit in Delhi who asked to visit Bangalore city for an amount of Rs.1,25,000/- as a consultancy charges excluding flight tickets, after contacted one vastu consultant in Goa who demanded Rs.75,000/- excluding flight charges and later they contacted one Vastu consultant in Mumbai who wishes to take one lac rupees including flight and hotel accommodation, later he contacted one vastu consultant in Trivandrum this person demanded 75000 rupees including flight and hotel.
As a final attempt they contacted one Vastu Consultant USA for online consultation, he demanded 999 USD for the online service charges. By seeing all these charges they taken consultation from two charlatans and lost 1.4 crores.
Is that resident thought of saving expert vastu consultant fee is correct? Ruthless relatives laughed on them by losing the grand home. They never impart a good idea. His loss is their binge. In the year 2007, the cost of that home is 6 crore INR.
Ultimately, who is the loser here?. Some decisions may not be lingering. We requested the residents to take photos on that day, but the owner not interested to publish at this website, if we got the photos of that mistake, it would save many residents hard earned money.
We requested and promised him not to mention his name, city and even country too. By repeated requests also, he never accepted. No doubt, we should respect his privacy. We are not commenting on his idea. It's his discretion.
Beware of planning a swimming pool on the terrace. It should be properly and perfectly planned. Otherwise, residents have to face unsolved problems in the future.
It is a remarkably public practice nowadays generally in most modernized homes to construct the pool on top floors or at the terrace.
However, from the Vastu concepts viewpoint and also remember the architecture design, it isn't considered a good positioning at all, if it was wrongly placed. When residents looking for a terrace pool, they should first approach one expert vastu consultant and then only they have to start the work.
As we discussed above, the terrace pool should be properly planned. Further, the rooftop pool should be conditionally and thoroughly checked by the vastu master. He should visit the premises. If there is no chance to show that property with an expert then take online vastu consultation, if the property is in other countries.
Whatever we suggest here for the rooftop pool placement, it may not be suitable at Northeast, East and North directions. Don't do mistakes in this pool construction.
We, everybody, understand one thing that, only "rich" can construct the pool in their homes, they should not compromise on their beautiful future. Most probably they never compromise on the quality too, only some greedy people do such above experiments and lost everything.
There are some remedies for wrong directional swimming pools. Like swimming pool construction towards Southwest, constructing towards West, constructing towards South etc. Before going for the remedy it should carefully check personally.
If the property is in other countries, not in India, then approaching online is a good idea, but the information should be comparatively solid. Some are following feng shui techniques for the pool wrong placements. We are welcoming people who were benefited from feng shui tips. We will publish feng shui techniques here if they work solid.
Where do you plan for the Cabana? If the swimming pool is planned towards Northeast then residents should check the cabana structure with thatched roof or a hut or recreational planned structure with at least a wall and its opening towards Swimming poolside, if the pool is towards Northeast then don't plan the cabana having 4 walls or even don't plan for hut too. Care has to be taken if planning to construct the SPA at the pool area if the pool is planned towards Northeast corner.
Commonly, residents who planned swimming pool at their homes never check vastu consultation fee, they require only honest consultation and looking for the placement information from a vastu expert. It's appreciated.
Only a few people doing wrong judgment by taking decisions over a phone call, that is why usually most of the expert vastu specialists never encouraged the phone consultation. Because the phone call consultant may not understand everything. Even observing the plan with the placement of pool is also sometimes giving trouble to alter the placements. Without observing the information of the surrounding it's not acceptable to continue consultation.
Leaving the border for pool at Northeast corner:
Know about leaving a border for the pools. The North-east corner is the best place for swimming pool (though this is exactly fit at Northeast corner, but should provide some border area for walking in between pool and exact Northeast corner within the compound premises) in some cases the Northeast corner may not be possible for the swimming pool, then they are searching for the other areas/portion at their residence, for them here is the answer.
If there is no space or provision towards Northeast then construct the S Pool at East side or otherwise towards Northside. Here also border has to be maintained properly in between the pool and the East compound wall.
Slopy position in the Swimming pool:
The slope inside a swimming pool should be starts from West to East if the swimming pool is located at Northside and South to North if the pool located at Eastside finally Southwest (Nairuthi) to Northeast (Ishan) corners if the pool located at Northeast (Eshan) corner of the site. Finally, the sloppy should be from West to East. South to North. Southwest to Northeast. Very simple process.
In future we are planning to develop this link with full stuff and content with images, many NRI's requesting us to know more info on this subject. Please note NRI's, we will develop this link, no doubt, but it took time with complete details. In western countries swimming pool is common, but in India, very few residents will plan for the construction of swimming pool.
Swimming pool in Southeast Corner place of the home
This SP is in one western country and constructed towards Southeast corner. This is wrong method. This property owner showed this property to one so-called vastu pandit, he expressed that the swimming pool construction placement is good and no need to worry on its placement, after passing one year, the resident searching for the vastu expert for obtaining the opinion on this swimming pool, he suffered in that home and looking for the remedies. Southeast SP may not be giving good results. It may disturb the pleasantness of the residents. Pool at upper floor is different and ground floor is different. So first confirm the orientation of the pool placement.
Swimming pool in Northeast corner
This swimming pool is constructed towards Northeast corner. This placement orientation is auspicious. No need to worry on this swimming pool, one Vaastu Shastra Consultant from India accepted to buy this home, the resident is intelligent, that is why before going to bought the home with swimming pool, he took all precautions.
The resident knows something about vaasthu shastra, but he did not played with his life, he knows that vastu consultancy is different and vastu knowledge is different. Please note that in India vastu plannings are different, but in other countries it is almost not possible to follow all Indian Vastu Shastra principles.
Pool at Southwest of South corner
This image shows that the swimming pool is towards Southern Southwest part of the property. One's fate will be changed by this erratic planning. One by name Mithra (Name changed) from Uttar Pradesh settled in USA has decided to buy one property having swimming Pool at Southwest direction.
He showed the property to his friend and after all discussions, they completed the consideration processes. Later things have changed surprisingly, Mithra experienced many negative changes and disturbances happening in his regular activities.
One day suddenly he met with one accident type issue. Overall it turns to one week no sleep nights. He thought he never faced such situations in his past life, at last, he came to know that the house itself creating problems. Finally, he approaches an expert vastu consultant in India and found what the mistake he was done.
Mithra Grand mother clearly insisted him to show the property to one Vastu Siddanthi before register the property. He never thought that this will creates untold huge headaches. It may not said to be negligence, wrong guidance from his friend. Don't buy the house having swimming Pool at Southwest direction of your property. There is no if's and but's. Fate is always strong.
Please note that there are some remedies for the Southwest swimming pool, but it needs to check the premises either personally if it is in India or online if is it in foreign country.
We are planning to provide some remedies for the below points:
Constructing swimming pool in Northwest direction
Swimming pool in center of the property
Swimming pool in South direction or South side
Swimming pool in West direction or South side
Swimming pool in North direction or South side
Swimming pool in East direction or South side
Which shape is good ?
Jacuzzi Placements in home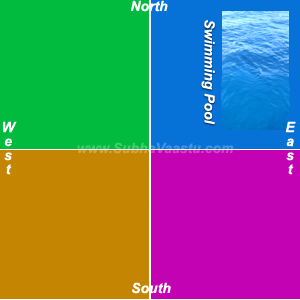 In this image, we shown the moment in the water at pool, this is only for your understanding purpose. South is elevated and North is depressed (North sloppy). Now observe the water moving towards North direction. The next point is West is elevated and East is depressed (East sloppy).
"Wait for 5 seconds" for an animation of water effect from South direction to North direction in that swimming pool area only. Work is going on this page, later you will find which direction is good for the swimming pool, which direction is wrong for the swimming pool etc on this page. Be in touch with this link or you may bookmark this page www.SubhaVaastu.com. Have a Pleasant Day.
The swimming pool is coming into "ups and downs" vastu principle, please take a decision in a pleasant climate with patience. Otherwise, it will affect a lot on residents on their financial and health-wise.
Finally, summing up all the above we suggest the following:
Sighting of a location of various utilities such as kitchen, meeting rooms, prayer halls, swimming pools, bedroom, etc, is an important thing to be considered while constructing the home.
Proper sighting would offset many of the vastu defects associated with the environment to which your plot is subjected to and you are unable to take any remedial measures.
In the same way, improper sighting would compound the miseries of the residents.
You are aware that the presiding deities and ruling planets of the various directions. The attributed values of these deities and governing planets must be made use of for getting maximum advantage from the principles of vastu.
Generally, exposed water bodies on the Northeast, North, and East are preferable. The slopes in the water bodies should be such that the deepest point of the same should be towards these directions only.
Why should inhabitants bend the chance for losses and damages? Nowadays Vaasthu is more developed (This matter is from www.subhavaastu.com) so utilize its services, don't contact quacks for gaining same day tiny profit, always look for future standard life, if you need Vaastu consultant please enquire for expert only. If you like to contact us then click this Contact SubhaVaastu link. Remaining is your discretion, All the best, God Bless You.
---
Guruji, We are in USA and going to rent an apartment. The entrance door is brown color but in Northwest direction. Also, there is a swimming pool in front of this apartment.
My entrance than narrow cement road than the metal railing and then below ground level community swimming pool. Its the side of swimming pool, not the entrance. I am very scared to move in this apartment but we don't have any choice.
Also, there is no road on the west side, it's our patio and some grass and big trees. Please help me, if it's not good what I can do? I live in quite a small city and hard to find any vastu expert. Please reply ASAP? - Swathi - Virginia.
Vastu Testimonials Delivered By Respected Residents
Dear Suresh, I am pleased to inform you that like the way you provided consultation for my home and explained to me all the changes required inside and outside home. I really appreciate the diagrams that you prepared for my home with pictures and arrows showing the changes need to be done. Above all, you explained very well the reasons behind changes you recommended for my home with great clarity and sense of humor. No doubt in my mind, you are the best Vastu expert, I really appreciate your dedication by building and maintaining a very informative website that is helping thousands of people across the globe. Also, I sensed when I talk to you and when I was dealing with you, you follow honesty and integrity and you have a sincere desire to help others - Kotesware Rao - Dallas - USA
We are tech professionals and working in USA. After a year long search we brought the house. After buying the house I started looking for consultant who can help me evaluating the house. I came across Subhavaastu website which has lot of information. I contacted Mr.Suresh and requested him to help with our house vastu. It has been a great pleasure working with him. He is very detailed oriented person and never compromises with his work. I am typically not interested to deliver the reviews. But after working with Mr. Suresh I decided to share my experience. Mr. Suresh has great expertise in providing vastu consultation to USA property. He is always available through email and phone l to answer questions. I am writing this review hoping it will help other people like me who lives in abroad. Please take advise before buying the house. I highly recommend Mr. Suresh as he has great experience with structure of USA properties and also he provides genuine consultation. I really appreciate Mr. Suresh's help in evaluating our house - Padma - Boston - USA
Hello Sir, My name is Bharathi. Me and my husband have been reading your articles closely. We really appreciate the effort put by you to share your knowledge about vastu and it's effects - Bharathi - USA.
I have consulted Suresh Garu during December 2014 during the process of buying a house in Texas, USA. I have occupied the house for one year now, and feel like dropping a review regarding my experience during the entire process. I am very much satisfied with the kind of service I received from him. He is very knowledgeable and I was often stunned by his detailed analysis during the course of my interaction with him. He was very much accessible over phone (perhaps more than 10 times for one house plan!) and the price is very much reasonable especially compared with the cost of the house. I noticed his burning desire to help me in making informed decisions on certain things. I have seen some people pretending to know this subject and misguiding those who come for help by saying only what we want to hear. SubhaVaastu is definitely not that one. Finally, I am strong believer of leaving certain things to experts in those subjects. I have been in US for more than 13 years and have seen people doing their own corrections (by reading website articles) trying to save few dollars. Please don't do that. You would end up in causing more damage. I highly recommend you to engage SubhaVaastu in your next project - Satish - Dallas - TX - USA
Announcement
Excessive Drinking
We are seeing families becoming victims of excessive drinking habits of the males/head of the family. Basically, starting with social habits drinking has taken proportions beyond the social mandate. This is because of weakness of mind. People become slaves of such habits very often. Mental weaknesses . . . . For more details Free Vastu Services page.
Inspirational Quotations
"Great Thoughts speak only to the thoughtful mind, but great actions speak to all mankind" - "Theodore Roosevelt".
---
---
"Great minds discuss ideas. Average minds discuss events. Small minds discuss other people." ― Eleanor Roosevelt . . . Let you question yourself, "Who You Are"?
Joke Of the Day
"An old grandma brings a bus driver a bag of peanuts every day."
At beginning the bus driver enjoyed the peanuts but after a week of eating them he asked: "Please granny, don't bring me peanuts anymore. Have them yourself."
"The granny answers: "You know, I don't have teeth anymore. I just prefer to suck the chocolate around them".
Follow us on Social Media