Details

This Page Hits:216156
Which Place Is Best Suitable For Bathroom As Per Vastu?
As per vastu the preferred location for toilet is the Northwest direction. In olden days our elders used to arrange the toilets in the Northwest direction.
Is Northeast Toilet is Good as Per Vastu?
In general, having a bathroom in the Northeast corner of a home may not yield favorable results and could disrupt the peaceful atmosphere of the household. This can lead to various issues within the home. However, it's important to note that not all bathrooms located in the Northeast corner are detrimental to the well-being of the household. It is specifically bathrooms that block the Northeast corner that are known to generate negative effects, browse below for more details.
What are the disadvantages of Northeast Toilet?
Normally, three distinct types of Northeast toilets found.
1. The first type pertains to toilets located in the extended Northeast room of a home, which generally do not have a significant negative impact on the residents.
2. The second type refers to Northeast toilets that are not physically separated from other rooms and do not truncate the Northeast portion of the home; these toilets are also considered relatively not dangerous.
3. The third type of Northeast toilet, however, is hazardous. This type of toilet cuts off the Northeast portion of the home, leading to a range of negative consequences such as missed opportunities, health problems, financial losses, conflicts, damage to reputation, and issues related to childbearing.
We used images to illustrate and communicate the information
Is It Acceptable to Have a Toilet at Extended Northeast?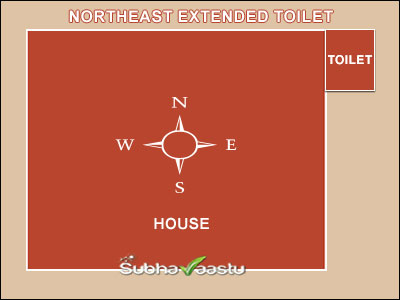 With intension or without having any knowledge some residents construct this kind of homes with Northeast extended toilets. In this regard we like to discuss one home located in Rayalaseema in AP. They have two sons, both are working in private companies and do not have a reputation in society. Both sons are always suffering from job loss. It is not recommended to have such a Northeast extended toilet. But this toilet placement is not dangerous.
Northeast Toilet That Connects With Other Rooms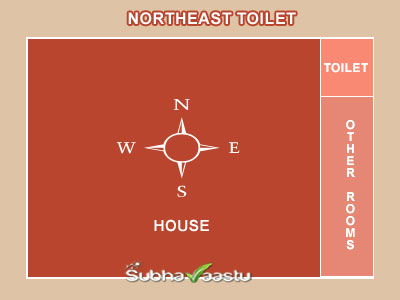 We may notice this kind of toilets in many homes. This Northeast toilet is connected with either East rooms or Northern rooms. This NE toilet is unsafe and not highly dangerous but surely not recommended. Get a word from an expert to waive of the negative energies originated from this NE toilet. However, it is important to note that while this toilet may not pose an immediate danger, it is still considered unsafe and not recommended.
Is It Good to Have a Toilet That Cuts the Northeast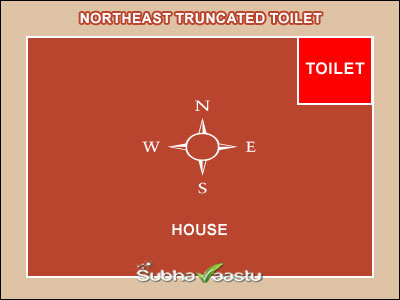 This kind of Northeast toilets are absolutely unsafe and dangerous. It ruins peace in the home, it may cut the opportunities, it may create health disorders, money loss, cause for disputes, defame, not living in reality, education failures, uneasy life, residents are restless, affecting kids and some times pregnancy failures, etc.
Northeast Toilet Experience by Ramesh From Bangalore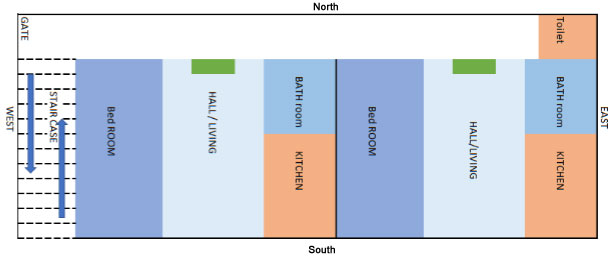 Dear Suresh Sir, Myself Ramesha as discussed over the phone today morning, am hereby sharing my experience of staying in a rented house WEST facing for 2 years. (Year 2003 to 2005) This house was a small house having 15 feet x 40 feet; 15 feet towards west facing and depth of 40 feet This house had 2 houses in ground floor, 2 in first floor and 1 single room in 2nd floor. 2 houses in first floor had common toilet The toilet was constructed in the NORTH-EAST in the corridor space abutting to NORTH and EAST Picture provided below me and my wife stayed in first floor house for about 2 years and during full duration of our stay in this house Multiple deals for site/house/property purchase went in vain we had 2 litigations on property we tried to deal and even today its running court after 20 years. I was hospitalized 3 times for various health issues My wife had about 3 miscarriages/abortions, I was looking for job change that also did not happen One fine day after about 2 years, due to the small exchange of words between my wife and land lady we vacated the house in a hurry within 7 days. During that time the person who came to re-paint the house asked how did you manage to live in this house with toilet in North-East? Then I co-related all my experience and realized it was all due to bad Vastu. Later started studying and understood some basics of Vaastu and impacts of Bad Vaastu. After moving out from that house within 6 months I changed jobs, bought a small car and within 1 year I was able to buy a house
As Per Vastu What Are Best Toilet Locations in Our Home?
Typically, toilets are recommended to be located in the Northwest direction of a home. It is advisable to arrange toilets in this area, but if that is not feasible, then the Southeast direction is also a suitable option. These two areas should be utilized first, as long as they are not already occupied by other rooms. If no suitable location is available in the Northwest or Southeast, then the East, North, South, or West directions can be considered. However, it is recommended to seek the advice of an expert before making any final decisions.
Which Areas Should be Avoided for Toilets in Our Home?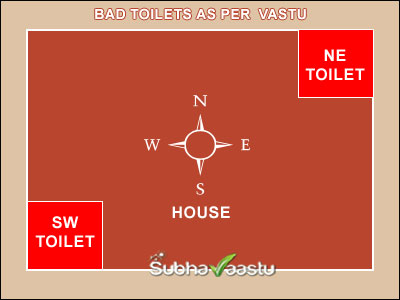 Normally, the Northeast corner toilet and the Southwest corner toilets are not giving the good results. In some exceptional cases, these may not harm the residents based on several factors, otherwise, generally, the NE and SW toilets may not deliver foreseen standard results. In this attached image it is mentioned about the NE and SW toilet placements, these are said to be unpleasant bathrooms.
How Does an Elevated Bathroom Floor Affect the Overall Vastu of a House?
Several homeowners inquiring about the ideal elevation of bathroom floors in comparison to other floors in the house. It is a matter of concern whether the bathroom floor should be raised or lowered in relation to the rest of the room floors. If the bathroom floor is elevated by less than 6 inches, it is unlikely to cause any issues for the residents. However, if the elevation is greater than 7 inches, factors such as the location of the bathroom and its potential impact on users need to be taken into consideration.
How Does an Depressed Bathroom Floor Affect the Overall Vastu of a Home?
A number of residents have raised concerns regarding the discrepancy in floor levels between their bathroom and other remaining room floors in the house. The main query pertains to whether the bathroom floor should be elevated or lowered in relation to the surrounding floors. In cases where the depression in the bathroom floor is less than 6 inches, it is unlikely to pose any significant problems for the occupants. However, if the depression exceeds 7 inches, various factors such as the bathroom's location and its impact on users must be carefully evaluated..
Notes on Toilet Vastu
Vastu for Bathrooms | Toilets | Loo | Sophisticated Washroom / Rest Rooms / Wash Rooms has come a long way from the tiny, dingy little cubicles that our ancestors rushed in and out of as fast as they could. Spending any thought or money (learn more about Vastu ideas for getting money) on doing up these rooms was considered a sheer waste until very recently. The bathroom (bathroom Vastu tips) of today is different in quality and style-ranging from practical to luxurious.
In some areas, the bathroom is equipped with a toilet, washbasin, bathtub, bidet, toilette, and shower. In some areas, the bathroom may not contain toilet facilities.
In some orthodox families, they may not like to have toilets in their houses, so they may plan toilets out of their house plinth areas. It may be outside of the home but within compound premises. Actually, this is a good idea.
But due to the spacious place problem now we may not dream for such format constructions, particularly in cities it may not be possible for every resident.
Every individual's idea of luxury differs as do the features they would like to include in their bathrooms. The possibilities are endless: His and Hers wash-basins, bidets, Jacuzzi with underwater lighting and adjustable slide jets with an option of water heated air or both, sauna, steam bath, whirlpool, or a reading nook with bookshelves and two comfy chairs! Then there are bathrooms located in a secluded corner of the house beside a glass wall that brings the outdoors within. Visit vastu tips for compound wall.
Whereas earlier the sink, WC and bathing area were placed just where they fitted at conveniently, often resulting in the users having to traipse the length of the room to wash their hands, today a lot of thought is given to the placement of each fixture in the bathroom.
Dressing walls in the bathroom is easier, as much material can be used. A simple look requires just a coat of paint or ceramic tiles. However, water (read complete details of water sumps as per Vastu), as well as soap suds, are bound to splash on the walls in the bathing area and if the material is not well-selected, it will leave ugly stains with the passage of the time. Lighting in the bathrooms gives the whole space a well-lit look. Fluorescent tube lights are accepted as a rule, but a couple of bulbs fitted near the mirror would produce a clearer image.
The minimum fixtures in any bathroom are WC or western commode, washbasin and shower/tap. But the tempting variety available today both in design and color offers different combinations. Bathrooms are been given much more attention, particularly in size The budget allocated for the decoration of bathrooms has also increased substantially.
New and popular flooring options available today are more in terms of color than any change in material used. Italian marble and ceramic tiles still hold the market, but the changes seen are in the colors and the ways of laying them. Basic earth shades are being mixed and contrasted with bolder shades to draw attention to the floor. Walls can also sport the new look of plain, patterned, embossed or marbled ceramic tiles which are offset by printed borders.
A variety of WC's (Western Commode) are now available in different shapes, and flushing styles, and the capacity of the flush-which ranges from 5 to 7.5 liters. Wall-mounted WCs Re available in two options: standard and concealed flushing apparatus.
Wash basins, with pedestals or fitted into a counter, come in a host of shapes- be it the standard one or the triangular shape that fits perfectly into a corner of the bathroom and avoids wastage of space.
Bathroom fixtures available in the market today have sleeker designs and come in a variety of powder-coated colors of deep blue and vibrant red versus chrome, black, and ivory which were popular years ago. The designer taps may vary from a single tap to options like three-tap hole basin mixers with pop-up systems and swivel spout mixers.
Acrylic bathtubs are now available in many shapes- from standard rectangular to the more unusual triangular, D-shape, and rounded variety. Ready-made acrylic bath trays, another new entrant, come in the standard size of 3'X 3' or 4'x 2.3' in a square or rectangular shape.
Luxury options like Jacuzzi (in some areas the Jacuzzi may also say like spa, whirlpool - your opinion requested to correct this words ) are popular with those who can afford the steep rise, while shower cabinets find very few takers in the market today. Jacuzzi made of acrylic and reinforced with fiberglass is available in designs. Saunas are popular because they help the excess fat in the body to melt away.
Bathroom accessories are color coordinated with the rest of the like the soap trays, bathroom shelves, towel rails, toilet paper holders, hooks, and toothbrush holders. Walk-in wardrobes adjacent to the bathroom are also a common feature.
A lot of stress is also laid on the exhaust and fresh air fans. Soap dispensers may be in all directions but very very near to bath areas and another one may be near towards washbasin. Hand dryers may be very near to the door which was planned at a benevolent position.
The color schemes popular today are contrasts between a basic earthy shade like a fawn, beige or black, with a bolder color like a deep maroon or forest green. If bathroom space permits, Jacuzzi and bathtubs find their way in.
Current lifestyles often demand that bathrooms offer extra facilities beyond the purely functional. Not only these some are mandatory in bathrooms like a reading table, or a table very near to the WC, many residents read newspapers in toilets and keep them on the table. Many homes in USA have a Walking closet / WIC next to the bathroom.
Due to the demand of residents, the architects are now modifying many things for the toilets. Some residents are requesting for storage items in the toilet, make-up table-cum-dresser, attire placements, washing machine or even a little nook used as a dressing space. This link Bedroom Vastu Tips has some more ideas on bathrooms.
Vaasthu is very prevalent here, and bathrooms are carefully planned as pvastu- From where the WC is placed to the wall on which the mirror is hung (Know more about right placements of mirrors as per Vastu). As many experiences said that the bigger and better planned the bathroom, the more prosperous residents will be.
The East direction portion of the house is best for constructing a bathroom. The morning rays of the Sun are believed to be extremely beneficial for health, hence proper windows (of course with due provision for privacy) should be provided in the bathroom.
The slope of the bathroom floor should be towards North direction and east so water drains to the north-east side of the bathroom. Washing area can also be used at bathrooms (toilets/Loo/Washroom/Restroom), in some areas toilet is being called as latrines.
Exact Placements of Bathroom Usage Items As Per Vastu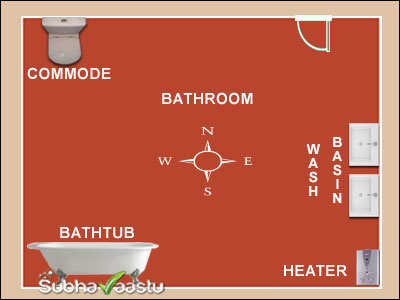 Generally, more weight items should be kept at Southwest which is normally auspicious. In this image, the bathtub fixed at Southwest direction. The toilet western commode placed at northwest and gas geyser installed at Southeast corner and finally, the washbasin fixed at East direction. These usage items setting in a bathroom is more than enough as per vastu. The exhaust fan is most important in this toilet, that can be fixed as per the convenience placement.
Where Should We Install Exhaust Fan in Bathroom?
Exhaust fan best placement at the bathroom is Western Northwest or Southern Southeast. If there is any provision then the resident can place an exhaust fan at either Northern Northeast or Eastern Northeast. Anyway, using an exhaust fan in the toilet is highly recommended.
What are all Avoidable Toilet Locations in the Home?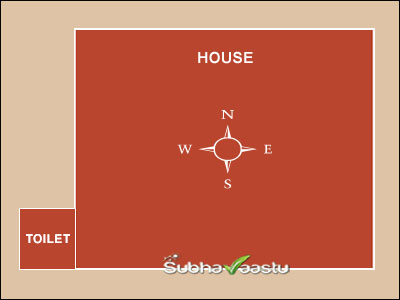 Southwest is not the correct place for bathroom/toilet. So maximum avoid constructing the toilet at Southwest corner of your house. But generally the bedrooms came towards Southwest and recommended to construct the bedrooms towards Southwest, it is must to have the toilet. At that moment what we have to do. In that bedroom, don't plan the bathroom at Southwest corner. Hope you understood, anyway, we are elaborating the deep levels for your kind information.
Southwest Toilet at Southwest Master Bedroom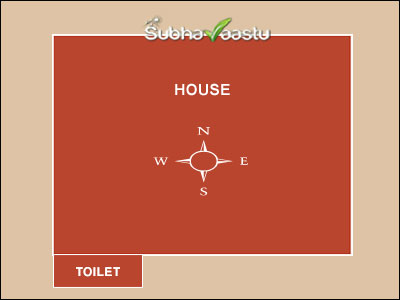 Have you observed that the bedroom came into the southwest portion of the house and toilet is towards Southwest part of the bedroom, this is bad. It should not be placed like that. Except Southwest and Northeast corners you may plan the bathroom/ toilet at any other corner or place. But plan everything accordingly as per expert vastu pandit recommendations.
Now the bathroom/toilet is at Northeast corner, is it right ?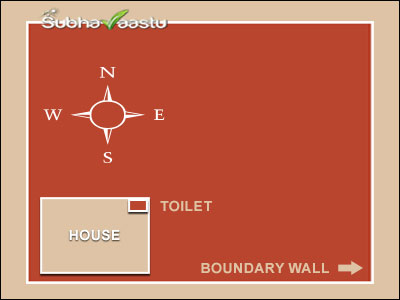 Now the toilet is towards Northeast corner of the bedroom, which is not auspicious. Better to approach one expert and thereafter plan accordingly as per his recommendations to have peaceful life.
Constructing Toilet at Northeast Corner Is Good?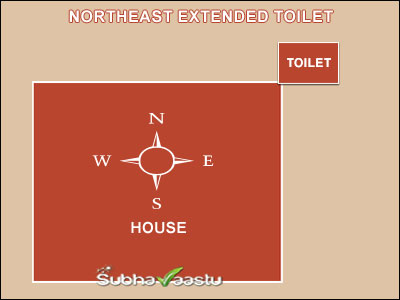 In this image the toilet constructed at Northeast corner, this is not auspicious featrue. Don't plan the toilet to be placed at this location in your home. Generally, Northeast toilets are reflecting with negative results only. Very rare of the rarest cases only they may be slightly providing the good results, based on extraordinary surroundings support, otherwise, NE toilets won't bless luck to the residents.
FYI, here observe about NE toilet which a resident faces lots of troubles.
Taps and shower can be in the North so the water drains to the North-east.
A bathtub can be on the west side with head towards South direction.
Avoid a door on the south-west of the bathroom.
A washing machine can be placed in the northwest or southeast portion of the bathroom.
Which Is the Best Placement to Fix a Geyser in the Bathroom
A geyser can be installed in South-east of the bathroom.
Ideal Placement of Bathroom/Toilet
The ideal bathroom is such which provides the essentials where we need it when we need them.
The ideal position of the bathing area would be one that allows you to step out of your bath onto dry ground.
Family size has an important role to play in the design and layout of bathrooms. The larger the family, the larger the bathroom in terms of square footage and storage space.
Plumbing fixtures should be comfortably spaced, with storage facilities and furnishings well arranged so that there is plenty of free space left for maneuvering.
Tailoring the bathroom to suit the age requirements of all its users is sensible. If toddlers use the same bathroom as the adults, the towel stand could be fixed a little lower so that a child has easy access.
In situations where one bathroom has to be shared by four or more people, separating the WC and the washbasin from the bathing area will allow two people to use different areas of the bathroom at the same time.
A WC should be placed near a window or an outer wall so that an exhaust fan can be fitted alongside.
The bathing area should be kept away from the windows to protect it from drought.
A dry and free area (unencumbered by fixtures) is needed to allow an adult to dry off and dress after bathing.
Floor should always be skid-resistant variety.
A Jacuzzi should ideally be fitted with its access panel and electric points under the flooring, directly below the tub.
Colour or color scheme should be according to the age factor. Women prefer soft colors and designs, while children's bathroom sport cartoon characters. The middle-income group there is a marked preference for pastel shades. The trend should be sober and not flashy.
Vastu Tips for Bathroom/Toilet:
1. Adjacent to the bathrooms and near the kitchen a small washing room for washing utensils is very convenient.
2. Bathrooms adjacent to the South-east corner in the east direction is very useful.
3. The morning sun rays coming from the East side falls on our body after the bath, which is very useful.
4. The wash basin and shower should be in the North-east, North or the East directions.
5. Heater, switchboard, all other electrical appliances should be in the South-east direction.
6. If a change room is to be built in the bathroom, it should be in the West or the south direction.
7. Tub baths in the bathrooms should be either in the East, the west or the north-east.
8. The slope of the flooring in the bathrooms should be in the east or the North direction.
9. The mirrors & the doors of the bathroom should be in the east or the north, but not in the south direction.
10. There should be windows or ventilators in the east or the north. The bath should be taken in the east or the north side.
11. Clothes to be washed should be kept in the north-west corner, please note that immediately remove the used clothes from bathroom if it is connected to your master bedroom. Wash those clothes regularly. Don't keep dirty clothes or used clothes in our home. Our home is just like a Temple (Gruhalaya), respect it, this will respect your efforts and bless you well.
12. The color of walls and tiles of the bathrooms should be white, light blue, sky blue or any other pleasing light color. As far as possible dark red or black color should be avoided. As of today, there are a lot of multiple color tiles are available in market, use one super template and apply to your toilets or bathrooms, lookwise it will be superb.
13. A toilet in the bathroom is not advisable. However, if it is, it should be in the west or the northwest.
14. Toilet should never be in the east or the northeast corner.
15. If you want to construct the Bathroom or Toilet in Bedroom, the right places are Southeast or Northwest. Please note that extension is not good towards Southeast or Northwest.
Is It Good to Keep Mirrors in the Toilets?
The impact of Vastu principles can differ depending on the duration of time spent in a particular room. Typically, an individual spends at least 10 to 20 minutes in the bathroom. Therefore, while the following points may be informative, they need not be taken too seriously. We have provided this information for general knowledge and educational purposes.
Avoid Reflection of Toilet: The mirror should not reflect the toilet seat, as it is considered inauspicious and can cause disharmony and tension in personal relationships.
Cleanliness and Hygiene: The mirror should be kept clean and hygienic at all times. A dirty or foggy mirror can create a negative impact on the energy flow of the bathroom.
Placement: The mirror should be placed on the North or East wall of the bathroom. This placement helps to bring positive energy and enhances the natural light in the bathroom.
Cover the Mirror: It is recommended to cover the mirror with a cloth or curtain when it is in the Southwest . This helps to reduce the reflection of negative energy and promotes positive energy flow.
Shape and Size: Round or oval-shaped mirrors are considered auspicious as they represent completeness and wholeness. Large mirrors are also recommended as they create a sense of spaciousness and enhance the flow of energy.
By following these guidelines, one can ensure that the placement of the mirror in the bathroom is in harmony with Vastu principles and promotes positivity and well-being.
As Per Vastu, Is It Ok to Construct Bathroom on Top of the Kitchen?
Many residents asking about this question, Kitchen is for cooking purposes, the toilet is for discharging purposes, is it acceptable to plan a bathroom/toilet on top of the kitchen. Look at the answer with logic. This ancient science formed thousands of years back, it was not invented 10 years or 50 years back, as per our literature it was said to be invented prior 5000 years back.
Clearly, it does not have any such authenticated records. In those days the constructions are not such standards and do not have any system to protect water not to leak from the floors. Our elders suffer a lot with rains as the water was dropped from the upper floors. Regarding this suffering, many villagers know about this point.
They do not have such technology on those days. After having such experiences ancient respectable Rushis clearly informed us not to construct the toilets or bathrooms on top of the kitchen.
Let us argue on this point.
If a toilet was constructed on top of the kitchen, the used water or toilet water was dropped into the kitchen utensils or some other cookery items, how ugly it was, we cannot dare to imagine of such thoughts, our body may get shake with horripilation after hearing of such words even.
Now the system of construction was changed, everything is almost secured not to leak the water, etc. If there is no leakage then there is no objection to have them. If doubt arises about the leakage then we should not plan a toilet to be constructed on top of the kitchen. Total high caution should be taken when planning the bathroom on top of the kitchen. We have seen some incidents where there is a leakage in the kitchen at apartment flats. Horrible, they are unable to do any correction for that, who are ready to hear their cries, somebody may enjoy. They cannot get justification.
When residents approach the toilet floor level owner they may not accept the expenditure incurred for the costs. The sufferer has to do the work, how can he bare the expenditure, these are all the bad experiences of the inhabitants. Its nothing but bad luck. It may not be applicable when residents deal with independent homes, they have to plan perfectly then nothing problem will arise.
Our conclusion for this point is better to search for another place for the toilet, if there is no other option then the resident has to take complete investigation and inquiry, and thereafter only they may plan for the toilet on top of the kitchen.
We thought this link is helpful to understand how the sites are. Visit this site vastu link to know more about all site names and shapes of sites.
Is It Safe if We Reside in a House Consisting Lavatories in the Southwest Direction?
Dear Sir, my house has lavatory in the Southwest area, we are facing several financial and health issues. Not only that, anyway, whatever we do finally we were getting insulting in the society. Our elder son associating with bad people, he also starts doing things which are absolutely loss of reputation. Things are totally against to us, what is the best remedy for this Southwest toilet? - Naragaj - Hosur - Tamilnadu.
>>> Namaste, normally the Southwest toilet may spread the negative energies. If you have an additional toilet in your home and if possible you can make this Southwest toilet as a storeroom. Please note that before doing any correction, it is strictly advisable to verify that property with one expert, he will guide you the rest.
Sudarshan Experience with Northeast Toilet
Let's explore the home of a man named Sudarshan from Koramangala - Bengaluru (name and location changed for privacy reasons), who had a Northeast toilet that caused him trouble. Sudarshan was unable to make any physical or structural changes to the toilet, so he decided to experiment with some alternative ideas. Here is a look into his experience.
Sudarshan was thrilled about his recent purchase of a new house and eagerly anticipated moving in. After move in, however, he quickly noticed that the Northeast corner toilet was causing him discomfort. He often felt drained his energies and struggled to concentrate on his work.
Alarmed by his situation, Sudarshan sought Vastu advice. As per Vastu principles, the Northeast corner of a home is considered a sacred space that promotes prosperity, health, and positive energy. The presence of a toilet in this corner can disrupt the flow of energy, resulting in negative effects.
Further recommendations are that Sudarshan move the toilet to a different location if possible. Otherwise, the toilet required modifications to be more Vastu-compliant. Sudarshan followed advices and made the following changes as suggested.
Installed a big window in the Northeast corner of the toilet to allow natural light and fresh air to circulate.
Painted the walls with light colors and placed indoor plants to create a positive atmosphere and improve calming.
Mounted a mirror on the East wall to reflect natural light and create a spacious feel towards East direction.
Ensured the toilet seat faced either North or South as per Vastu guidelines. This was not yet done, because of apartment association permissions and lower floor owner objection.
After implementing these changes, Sudarshan observed a significant improvement in his energy levels and overall well-being. He felt more focused and productive, and his personal and professional life began to flourish.
Sudarshan's experience illustrates that by adhering to Vastu principles, even a Northeast toilet can be designed to promote positive energy and enhance well-being. Kindly note that these changes should be done when there is no way to go for physical correction like removing the toilet from Northeast etc.
Aman A Resident of Australia Experience
Sir, I have a Northeast house with roads on east and north both the sides. Unfortunately, on this side, we have toilets and bathroom and water storage tank. We are facing many problems in our house and family members as well. We are under lakhs of debt from the bank and facing rejections in every field of work. Please advise and help us to get rid of all these obstacles in our life - Aman - Australia.
---
Dear Suresh Ji, the evolution of bathroom designs from tiny, basic cubicles to luxurious spaces with a range of features has led to an increased focus on Vastu for bathrooms. While some traditional families may choose to locate toilets outside the home, this is not always feasible, especially in urban areas. Bathrooms today can include a range of features, including his and hers washbasins, Jacuzzis, saunas, and steam baths. Placement of each fixture is carefully considered, and materials that are resistant to water and soap suds are preferred. Lighting is also important, with fluorescent tube lights being a popular option. The minimum fixtures for any bathroom are a western commode, washbasin, and shower/tap, but there are many options available in terms of design, color, and combination. Flooring and wall tiles come in a variety of shades and styles. Bathroom fixtures have sleeker designs and are available in a range of colors, while accessories such as soap trays, towel rails, and toothbrush holders are color coordinated. Jacuzzis and bathtubs are popular if there is enough space, and hand dryers and exhaust fans are essential. Overall, bathrooms today are not just functional spaces, but also offer additional facilities to suit modern lifestyles. Looking forward to hear from you about arrangement of every item in the bathroom as per Vastu, please cover every point in this article to factilitate us to find a way to set every item as per principles. Thank you so much. - Narendra - Sacramento.
Vastu Testimonials Delivered By Respected Residents
Dear Suresh, I am pleased to inform you that like the way you provided consultation for my home and explained to me all the changes required inside and outside home. I really appreciate the diagrams that you prepared for my home with pictures and arrows showing the changes need to be done. Above all, you explained very well the reasons behind changes you recommended for my home with great clarity and sense of humor. No doubt in my mind, you are the best Vastu expert, I really appreciate your dedication by building and maintaining a very informative website that is helping thousands of people across the globe. Also, I sensed when I talk to you and when I was dealing with you, you follow honesty and integrity and you have a sincere desire to help others - Kotesware Rao - Dallas - USA
We are tech professionals and working in USA. After a year long search we brought the house. After buying the house I started looking for consultant who can help me evaluating the house. I came across Subhavaastu website which has lot of information. I contacted Mr.Suresh and requested him to help with our house vastu. It has been an incredible delight working with him.. He is very detailed oriented person and never compromises with his work. I am typically not interested to deliver the reviews. But after working with Mr. Suresh I decided to share my experience. Mr. Suresh has great expertise in providing vastu consultation to USA property. He is always available through email and phone l to answer questions. I am writing this review hoping it will help other people like me who lives in abroad. Please take advise before buying the house. I highly recommend Mr. Suresh as he has great experience with structure of USA properties and also he provides genuine consultation. I really appreciate Mr. Suresh's help in evaluating our house - Padma - Boston - USA
"I contacted Sureshji to consult on our current home. He was spot on in identifying vastu dosha in regards to the problems we were having. He suggested remedies but we are still looking for a new house. Since then I have been in touch with him for finding a right home for us. He is very sincere and truly wishes better lives for everyone. He doesn't compromise with quality and is always responsive to queries. He recommends solutions as per location as Vastu rules differ for each country. He is greatly contributing to the society with his knowledge of Vastu and dedication towards his work. Keep up the good work Sureshji and wish you success and happiness!" - Megha - Virginia - USA
I have consulted Suresh Garu during December 2014 during the process of buying a house in Texas, USA. I have occupied the house for one year now, and feel like dropping a review regarding my experience during the entire process. I am very much satisfied with the kind of service I received from him. He is very knowledgeable and I was often stunned by his detailed analysis during the course of my interaction with him. He was very much accessible over phone (perhaps more than 10 times for one house plan!) and the price is very much reasonable especially compared with the cost of the house. I noticed his burning desire to help me in making informed decisions on certain things. I have seen some people pretending to know this subject and misguiding those who come for help by saying only what we want to hear. SubhaVaastu is definitely not that one. Finally, I am strong believer of leaving certain things to experts in those subjects. I have been in US for more than 13 years and have seen people doing their own corrections (by reading website articles) trying to save few dollars. Please don't do that. You would end up in causing more damage. I highly recommend you to engage SubhaVaastu in your next project - Satish - Dallas - TX - USA
Inspirational Quotations
"There are three things in the make-up of man. There is a Body, there is the mind and there is the soul." - Swami Vivekananda.
---
---
"Great Personalities speak about thoughts. 'Average Person' talk about occassions. 'Narrow Minded' gossip about others." ― Eleanor Roosevelt . . . Let you question yourself, "Who You Are, either 'Great Personality', 'Average Person' or 'Narrow Minded' ?
Joke Of the Day
"A book was released and the cover name is "How to change your WIFE", and within ONE week, "25 MILLION" copies were sold. The publishers found a mistake in the title, actually, it should be "How to change your LIFE", when publishers corrected and released the new book into the market. The first month's sales were 3 copies".
Follow us on Social Media