Details

This Page Hits:19867
Vastu Consultancy Services in Bangalore - Karnataka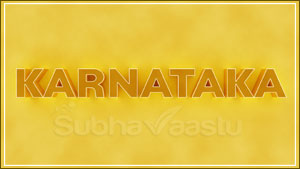 We were wondering, as Vastu Consultants, as to what is the pull of Karnataka State in general and Bangalore, in particular, that is attracting people from all over the country. We naturally tried to explore from the point of compatibility with regards to Vastu principles.
Worth visiting Links
Famous Restaurants in Bangalore
MTR - Mavalli Tiffin Room: MTR is a legendary restaurant in Bangalore that has been serving authentic South Indian vegetarian food since 1924. Their idlis, dosas, and chutneys are a must-try for anyone visiting Bangalore.
Koshy's: Koshy's is an iconic restaurant located in the heart of Bangalore that has been serving traditional Indian and European cuisine for over 60 years. It's a great place to experience the city's colonial history and enjoy a delicious meal.
Nagarjuna: Nagarjuna is a popular restaurant chain in Bangalore known for its spicy Andhra-style food. They are famous for their biryanis, tandoori chicken, and other non-vegetarian dishes.
Karavalli: Karavalli is a fine-dining restaurant in Bangalore that offers a wide range of coastal Indian cuisine. Their seafood dishes are particularly famous and are prepared using traditional cooking techniques and local ingredients.
Taaza Thindi: Taaza Thindi is a small restaurant in Bangalore that is famous for its street food. They offer a variety of dosas, chaats, and other snacks that are both delicious and affordable.
Caperberry: Caperberry is a contemporary restaurant in Bangalore that offers modern European cuisine with an Indian twist. Their tasting menus are a must-try for anyone looking to experience innovative and flavorful food.
Vidyarthi Bhavan: Vidyarthi Bhavan is a popular restaurant in Bangalore that has been serving delicious South Indian food since 1943. Their masala dosas and filter coffee are highly recommended.
Toit: Toit is a trendy brewpub in Bangalore that offers a variety of craft beers and delicious pub food. Their pizzas and burgers are particularly famous, and the lively atmosphere makes it a great place to hang out with friends.
The Only Place: The Only Place is a steakhouse in Bangalore that offers high-quality meat dishes at reasonable prices. Their steaks are cooked to perfection and are served with a variety of sides and sauces.
MTR 1924: MTR 1924 is a newer branch of the legendary MTR restaurant, located in Whitefield, Bangalore. They offer the same delicious South Indian vegetarian food as the original MTR, but in a modern and spacious setting.
Karnataka Information
It is difficult to estimate precisely the central point of any city from which we may start. The growth of the city is in all the Directions and it is not uniform. Hence the central region of any city shifts accordingly. Bangalore is no exception.
We studied several living apartments from all parts of the city most of the middle class and lower middle class. Mostly the houses (click this link for more info on Houses Vastu) are very functional.
What with the meager disposable resources at their command over 90% of the houses do not comply with the basic requirements of Vaastu. The balance are victims of natural Surroundings and land sharks.
In fact no Plots per se, can be considered as auspicious or otherwise. The construction of the premises should be compliant with Vastu principles so that the good features of the plot could be effectively utilized and the adverse features are effectively minimized, it is here many people fail for lack of appropriate knowledge/wisdom.
Please understand having millions of rupees in the bank is not adequate to make one a millionaire. He should have the ability and wisdom to display intelligently the assets he posses. If they cannot enjoy the money what is the use of earning then.
We later studied some of the more affluent residences.
It is pathetic to note that few of them claim Vasthu compliant. So residents tried to consult a Vastu consultant in Delhi as he was in USA, they couldn't consult him and again thought of contacting Vastu consultant in Chennai, and tried to contact Vastu Consultant in Mumbai, where both of them was preoccupied with major projects were unable to assist the residents.
Some residents started reading Books and end up losing faith in vastu science itself due to the complexity of the subject. This is akin to consulting a general medical practitioner whereas the case refers to an acute specialist.
Few residents simply read in books that a Northeast, North or East plot is good enough to take care of Vastu principles. This is similar to complying with the hygienic part of a patient and ignoring medication and food regime.
Some other residents abandon South and West facing plots as they think they are not good for residences. Even some residents thought that South facing house vastu and some other residents are thought that West facing house vastu are considered to be inauspicious, in all cases this statement may not be applicable.
We have given clear acceptance for many West and South facing homes. Further, you may believe it or not, we had given a recommendation for Southwest facing house vastu too. They are very rich now and living happily. How it's possible, it's only because of logic and observation.
Infact the best Vastu pandit knows exactly how to use the natural topography of the plot and surroundings and design the residence accordingly. Fortunately, now residents looking only for the top and famous expert Vastu consultants in Bangalore city. Great to know this information.
As against this we had visited some of the houses which were constructed purely on Vastu Shastra principles. We studied them to update our knowledge and also improve and correct our own understanding so as to upgrade the science.
We were pleasantly surprised to see that those that followed correct Vastu advice had indeed prospered and had shown a happy disposition in life. Those who deviated from the advice have suffered a bit as those deviations were fortunately of minor nature.
Yet Karnataka in general and Bangalore in particular prospered. After seeing the unexpected growth of Bangalore city, many Vastu people came and settled in the city. One famous Vastu consultant in Hyderabad left Hyderabad and settled in Bangalore. Such a huge development is seen in this pleasant city.
Planning to buy Apartment flat in Bangalore city. First, fill the bag with money and start the search. Unbelievable price hikes which are very common in apartment flats.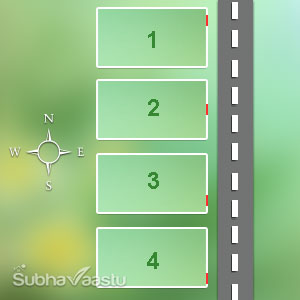 When buying a villa in Bengaluru city or buying a plot or a house, then don't be rush to buy the East facing home. Slow and study the main gates and main doors.
Here in this image there are total of 4 homes clearly visible. 1 and 2 are safe homes because the door (shown with a small red mark) is in good positions, the remaining 3 and 4 are not good. This is a very small example.
Get the best Vastu expert in Bangalore suggestion before buying the property. Be cautious while purchasing properties. Don't approach any quacks, their initial payments are very cheap and don't fall into their trap, and don't lose your hard-earned money.
One of the more modern states in India is Karnataka. Formed as a composite state in Nov. 1956 by an amalgamation of Kannada speaking areas, it had to its fortune benevolent and progressive rulers- of the then "Mysore State".
In addition, it boasted of a talented and forward-looking visionary like M Vishweshwaraiah, who is credited with forward-looking policies.
It was while he was the Prime Minister of the then Mysore state that Bhadravati iron and steelworks, Sharavati hydroelectric project, etc. was conceived and commissioned too.
Even the full harnessing of the river waters of Kaveri was executed during that period though Mysore was the capital, Bangalore was its elder cousin and rode to prominence.
This is unlike other states such as Hyderabad where the city of Hyderabad was the capital and the head of the state namely the Nizam of Hyderabad also resided there itself.
During the second world war, Bangalore was Home to a military aircraft repair center for allied forces (later the same became a Factory to produce military aircraft for Indian armed forces).
Because of the availability of infrastructure other companies such as Bharat Electronics Ltd., Indian Telephone Industries Ltd., and Bharat Earth Movers Ltd., also came up in Bangalore. Soon Bangalore came to be known as the Home of industries what with Mico Industries (a unit of Bosch of Germany) also saw it coming up at the same place.
Often it is said that the whole city of Bangalore is air-conditioned, with acceptable levels of temperature, it became the talk of the country with one and all.
This cool climate and trees have become enemies to this Bangalore city. How?, this natural beauty attracts many other Indians and most of them start coming and settling in Bangalore city in 1990 and particularly in 2004, the shape of the city changed as the software field developed here.
The unbelievable thing is that an uncountable number of people came and settled in the city. Once upon a time, the Bangalore city population maybe before one lac, and it crossed, how much? 1.23 crore population, as per 2017 (This might be an approximation, we considered, that it may be crossed 1.60 crores)
The state of Karnataka perhaps came up for the first time where Kannada is the predominant native language became under one administrative control. Earlier parts of the state were administered by (the then) Madras state, Hyderabad state, Bombay Presidency, and Mysore states.
Today thanks to various situations and entrepreneur talents of the local people it is truly called the silicon valley of India.
Its growth in the electronic and allied fields is truly astronomical to this extent that many US companies depend on Bangalore for their domestic survival only because of lower levels of cost of operation, thus causing huge job losses in their own country.
Bangalore came to be known as responsible for pink slips (given to employees on termination) and the people were called bangalored.
Geographically, Bangalore is beautifully placed vis-à-vis Chennai as well as the state of Tamilnadu. Since Bangalore is on the North East corner of Karnataka, and Tamilnadu is hardly about 30 km. from the city railway station, Tamilnadu craftily developed lots of industries around Bangalore.
Thus people live in Bangalore and work in a neighboring state resembling the people working in Norway and living in Sweden or Denmark and Vice Versa.
In 1955, when Andhra Pradesh state was formed, Bellary, a district in the then Madras presidency (from which Andhra state was carved) was transferred to the then Mysore state.
When the reorganization of the state took place in 1956 the adjoining districts with predominant Kannada population from the then Bombay presidency- such as Hubli, Belgaum, Bagalkot, etc., Raichur, Gulbarga (Kalaburagi), and Bidar from the Hyderabad state was merged with the then Mysore state and formed Karnataka.
In Karnataka state, while Kannada is the official language of Tamil and Telugu apart from Urdu is widely spoken especially in the Southern districts.
Culture and Heritage Of Karnataka State
The state had promoted various cultural activities as part of Government work. Mysore Dasara (Dusserah / Dashara) festival was famous in the country even before Independence where the Maharaja used to ride a caparisoned Elephant to the temple in Mysore city. This tradition was maintained minus the Maharaja even after Independence when the state became part of India.
Today one will see the festival of Ramnavami being celebrated by citizens in various corners of streets all over Bangalore. Classical songs are rendered under by renowned artists of the country. In Bangalore, this is very popular for the full 9 days. Both Karnataka and Hindustani classical music is encouraged in the state.
The state has a rich heritage and some of them are awe-inspiring. Every corner in Mysore, Mangalore, Belgaum, Bellary, Hubli, etc., display their kaleidoscopic beauty. The Hampi ruins in Bellary district is a heritage site recognized by UNESCO.
The Virupaksha temple and other temples in Hampi are indeed breathed taking. They defy human imagination. The whispering gallery in Bijapur, one of the medieval kingdoms of India is a treat to the visitors to see and admire. The cave temples of Badami, the Agasthya lake are worth a visit.
Halebid temple architecture of Chalukyas and the famous Gomateshwar statue in Sravan Belagola humbles any visitors.
Bandipur forests in the Sadan Karnataka are home to a variety of wild animals starting with tigers. In fact, till about 50 years ago tiger hunting was an accepted phenomenon here when dignitaries used to visit India. This place is home to sandalwood trees from which aromatic oils are extracted. The dacoit bandit Veerappan made his fortunes here.
Some of the top medical and engineering schools are situated in Karnataka state. People from all over the country flock to these places for higher graduate and Post Graduate studies.
The Indian Institute of science- established in the early part of the 20th century- is a premier center of education and research in several fields of sciences.
The Indian space research organization (ISRO) is headquartered in Bangalore. Bangalore was also the home of Sir C.V. Raman a Nobel laureate as also R.K Narayan of Malgudi days. R.K Laxman the famous cartoonist is a resident of Bangalore.
Key Points of Karnataka State
Karnataka State Capital City: Bangalore
Area 191,791 sq.km
Districts 30
Population 61,130,704
Literacy 75.60%
Language Kannada
Main Crops Coconut, Cashews, Cardamom, Arecanut, Chillies, Cotton, Sugarcane and Tobacco
State Bird Indian Roller
State Animal Elephant
State Flower Lotus
State Tree Sandalwood
Popular Rivers Kaveri, Tungabhadra, Penner, Kali, Palar, Arkavati, Bhadra, Chakra, Gangavalli, Malaprabha, Kumaradhara, Mandovi, Netravati, Ponnaiyar, Sharavathi, Shimsha, Tunga, Varada
Spiritual Places Gokarna, Murdeshwar, Hampi, Madikeri, Dharmasthala, Talakadu, Mudukutore, Basava Kalyana, Gadag, Badami, Koppal, Hubli-Dharwad, Karwar, Raichur , Virupaksha Temple, Hampi, Omkareshwara Temple, Madikeri, Shrikantheshwara Temple, Mysore Virupaksha and the Mallikarjuna Temples, Pattadakal Shri Kadri Manjunatha Temple, Mangaluru Shri Kadri Manjunatha Temple, Mangaluru Marikamba Temple, Sagar Shri Kadri Manjunatha Temple, Mangaluru Someshwara Temple, Someshwara Ranganatha Swamy Temple, Magadi Kukke Subrahmanya Temple Near Mangalore Kollur Mookambika Temple Near Murudeshwar
Important Cities: Bangalore, Mysore, Coorg, Hampi, Mangalore, Badami, Shimoga, Hassan, Bijapur, Jog Falls, Chitradurga, Manipal, Hospet, Aihole, Bellary, Bidar, Chikmagalur, Davangere, Gulbarga (Kalaburagi), Halebid, Hubli, Karwar, Kudremukh, Madikeri, Mercara, Pattadakal, Raichur, Shravanabelagola, Sringeri, Srirangapatna, Tumkur, Udupi
Border States Goa to the northwest, Maharashtra to the North, Telangana to the Northeast, Andhra Pradesh to the East, Tamilnadu to the Southeast, and Kerala to the south.
Tourist Attractions Bangalore Palace, Coorg Hill Station, Lal Bagh Botanical Garden, Temples in Hampi, Mysore Palace, Gokarna Beach, Nandi Hills, Bannerghatta National Park, Jog Falls, Mysore Zoo, Brindavan Gardens, Bandipur National Park, Bidar Fort, Virupaksha Temple, Nagarhole National Park, Cave Four of Cave Temples Badami, Vittala Temple Complex, Vidhan Soudha, Statue of Gomateshwara, Abbey Falls, Chamundi Hill Temple, Srirangapatna Fort, Hoysaleshwar Temple, Mallikarjuna Temple, Ugra Narasimha Statue, Ibrahim Rouza, Indira Gandhi Manav Sangrahalaya
Karnataka Location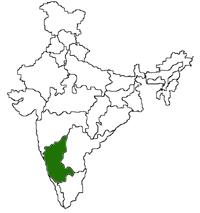 Karnataka Map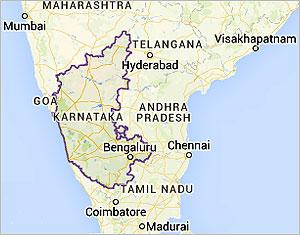 Desktop Wallpaper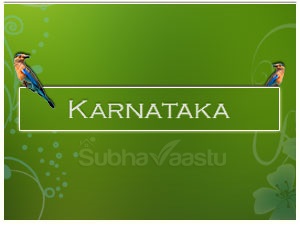 Mobile Wallpaper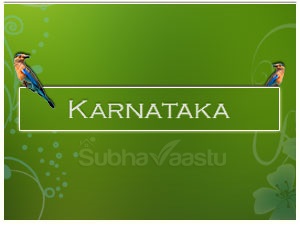 List of Karnataka Districts
Bagalkot Chikamagalur Hassan Ramanagara
Bangalore Rural Chikkaballapur Haveri Shimoga
Bangalore Urban Chitradurga kodagu / Coorg Tumakuru/Tumkur
Belgaum Dakshina Kannada Kolar Udupi
Bellary Davanagere Koppal Uttara Kannada
Bidar Dharwad Mandya Yadgir
Bijapur Gadag Mysuru
Chamarajanagar Gulbarga Raichur
IMPORTANT LOCATIONS IN BANGALORE CITY
Sarjapur Road Whitefield Bannerghatta Road Electronic City
HSR Layout Jayanagar JP Nagar Hosur Road
Indira Nagar Koramangala Yelahanka Hesaraghatta Main Road
Devanahalli Marathahalli Hebbal Kanakapura Road
Anekal Hennur Road C V Raman Nagar Kalyan Nagar
RT Nagar Jalahalli HRBR Layout BTM Layout
Ramamurthy Nagar Brooke Field Jakkur Dollars Colony
Abbigere Rajanukunte G M Palya Kundalahalli
Madiwala Fraser Town Chandapur Gottigere
Basavanagar Nagarbhavi Belandur Hoskote
Chamarajpet Richards Town Lavelle Road Kodigehalli
Chikkajala Hanumanth Nagar Akshaya Nagar Thanisandra
Sarjapur Hegde Nagar Jigani Industrial Area Mathikere
Rest House Road Begur Road Rajajinagar MG Road
HBR Layout Banaswadi Uttarahalli Airport Road
Thippasandra Banashankari Bagalur Horamavu
KR Puram Bommanahalli OMBR Layout Mysore Road
Silkboard RMV Extension Stage Old Madras Road Kasturi Nagar
Tumkur Road Richmond Road Vidyaranyapura Mahadevapura
Rajarajeshwari Nagar Malleshwaram AECS Layout Chikkaballapur
Defence Colony Kanaka Nagar Hulimavu Thyagaraj Nagar
Basaveshwaranagar Airport Area Kumaraswamy Layout Sanjay Nagar
Hoskote Kudlu Gate RBI Layout Palace Road
Hoodi Village Millers Road Huskur Vijaya Bank Layout
Shanti Nagar Hebbal Kempapura Tippasandra Naganathapura
Yeshwantpur Jeevan Bima Nagar Cox Town Ulsoor
Benson Town ITPL Doddaballapur Kaggadaspura
Nagwar Attibele Padmanabhanagar Vijayanagar
Kengeri Peenya Magadi Road NelaMangala
Sahakar Nagar Dodballapur Road Outer Ring Road Vigyan Nagar
Basavanagudi Mallesh Palaya Domlur Cookes Town
Old Airport Road Bellary Road Sadaramangala Anjanapura
Majestic Vasanth Nagar Wilson Garden ISRO Layout
HMT Layout Nagawara Doddaballapur Road Central Silk Board
Nandi Hills Ganganagar Bommasandra Pai Layout
Sadaramangala Prashanth Nagar Hennur Raj Bhavan
Vidyanagar Bilekahalli Manek Chowk Chambal River
Indraprastha
How Bengaluru City Looks On Those Days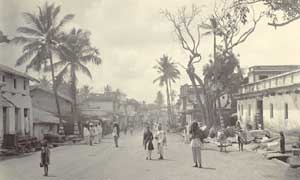 Great Memories. This photo was taken in 1890 and this city area was called "Pete" or "Bangalore Pete". How the city is seen on those days. We may not be seen even cycle there. Now also there are no cycles, only cars, bikes, scooters, etc.
Unimaginably city developed. What about the future of Bangalore in 2050. We can't dare to imagine our Bangalore in the year of 2050. What about the fate of our next generations.
One may understand what about the pollution and traffic which are all suffering daily in Bangalore city. We urge the Government of India, need to wake up at this moment at least. Otherwise, the people/government hugely suffered in the future.
Queens Circle, Bengaluru City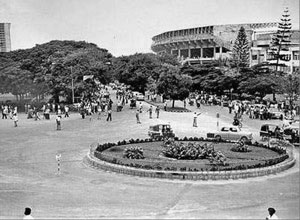 Hope you find this place. Yes, you are correct, this is Queen's circle in Bangalore city. Please observe the traffic on those days and the present day. This photo was taken in the year 1979. Within 40 years, how this city was developed. Unimaginable development, one cannot digest by seeing this photo. Ourself making this earth full of humans, within 100 years, there are only humans, other than humans there is nothing on this earth. We are the only one, cause for this devastation. What about the pollution on those days and today, it is TERRIBLE.
Vidhana Soudha In Bengalore City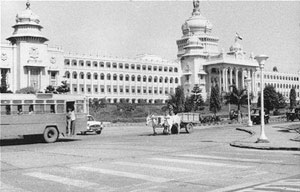 Unbelievable, but this is true. This is our city Bangalore. God only has to save us for our future or for our next generations. This is Vidhana Soudha, photo taken in the year 1980. Doubt on this image and year, then please see Pushpak Vimana movie, this movie released in the year 1987, concentrate on observing the roads, nothing traffic found in the year 1987. How we are producing population in India within 30 years. Bursting production of population in India.
Prasanna Veeranjaneya Swamy Temple In Bangalore City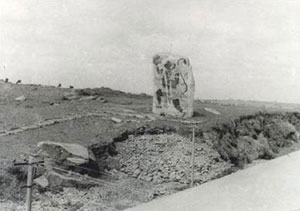 Where is this Hanuman statue. Did you get any idea. Prasanna Veeranjaneya Swamy temple, photo taken in the year 1973. (exact year is not yet confirmed, as per our information, this photo was taken in the year 1973 only).
Town Hall in Bengaluru City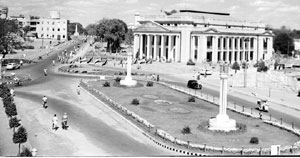 Still not believed, yes, this is town hall in Bengaluru city, photo taken in the year 1956. How beautiful days they are, no traffic, very less population, almost everybody has jobs and sufficient work, particularly they enjoyed peace.
Request from Vastu Shastra Consultant Website SubhaVaastu.com:
If you belong to Karnataka State or you have more knowledge on Karnataka State, please help us to improve visitors' experience with more good information, with your proper accurate detailed facts of the territory many visitors visit Karnataka State and local people may earn more income through tourists. With this contribution you never lose anything, just inform the most accurate real information of our Karnataka State. Contact Us
Now Bangalore city was unbelievably expanded, fully developed, beyond expectations. Many North Indians settled in Karnataka state, particularly in Bengaluru. After leaving Bengaluru city, many were selected to settle at Mysuru city, Coorg, Hubli, Dharwad, Udupi, etc.
Small Gift To Karnataka State Lovers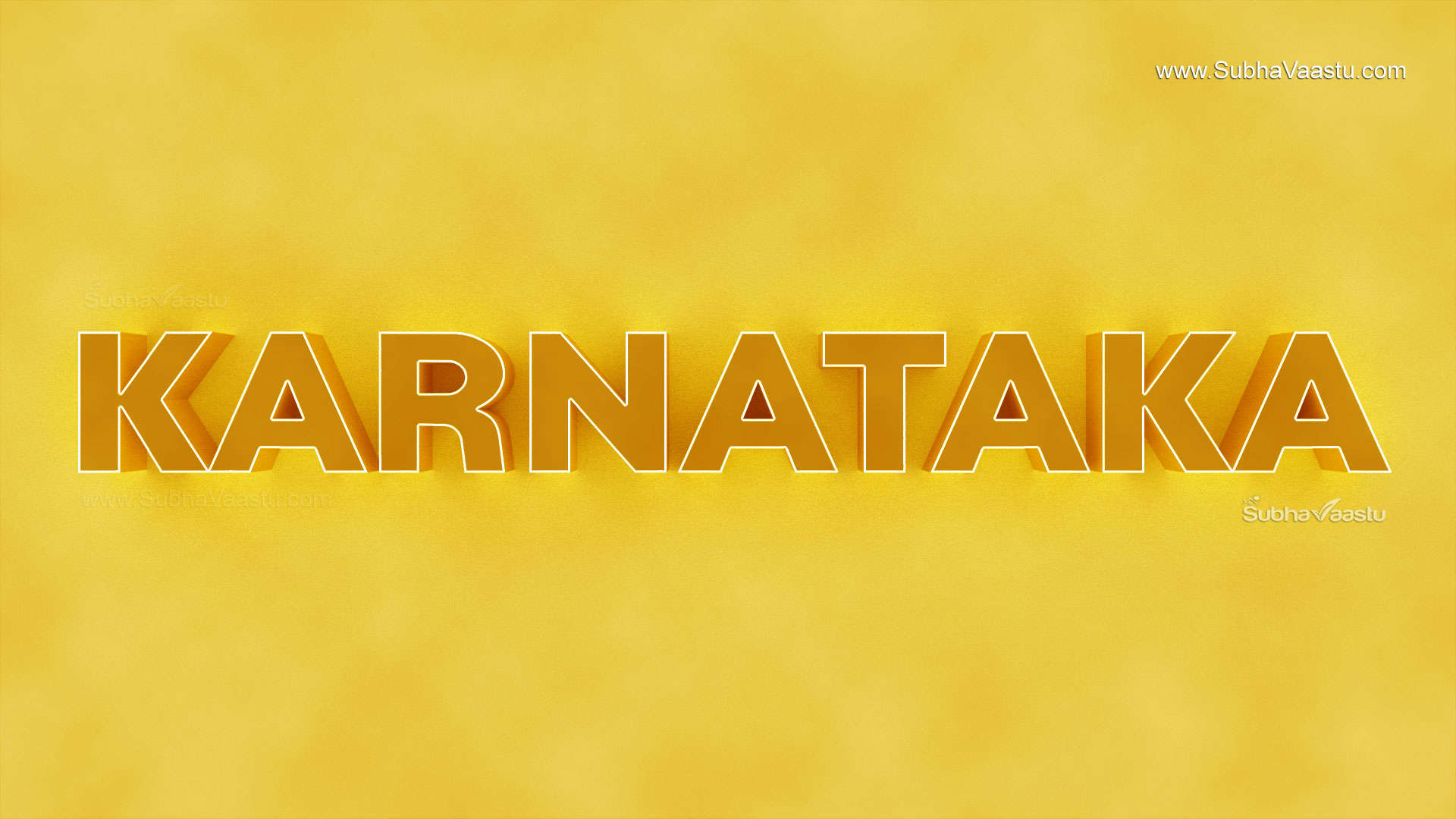 Download this high resolution Karnataka wallpaper. This image prepared in 3D view. Beautiful appearance to your desktop. Thank you so much for 8929 residents sharing this wallpaper to their friends.
Vastu Testimonials Delivered By Respected Residents
Dear Suresh, I am pleased to inform you that like the way you provided consultation for my home and explained to me all the changes required inside and outside home. I really appreciate the diagrams that you prepared for my home with pictures and arrows showing the changes need to be done. Above all, you explained very well the reasons behind changes you recommended for my home with great clarity and sense of humor. No doubt in my mind, you are the best Vastu expert, I really appreciate your dedication by building and maintaining a very informative website that is helping thousands of people across the globe. Also, I sensed when I talk to you and when I was dealing with you, you follow honesty and integrity and you have a sincere desire to help others - Kotesware Rao - Dallas - USA
We are tech professionals and working in USA. After a year long search we brought the house. After buying the house I started looking for consultant who can help me evaluating the house. I came across Subhavaastu website which has lot of information. I contacted Mr.Suresh and requested him to help with our house vastu. It has been an incredible delight working with him.. He is very detailed oriented person and never compromises with his work. I am typically not interested to deliver the reviews. But after working with Mr. Suresh I decided to share my experience. Mr. Suresh has great expertise in providing vastu consultation to USA property. He is always available through email and phone l to answer questions. I am writing this review hoping it will help other people like me who lives in abroad. Please take advise before buying the house. I highly recommend Mr. Suresh as he has great experience with structure of USA properties and also he provides genuine consultation. I really appreciate Mr. Suresh's help in evaluating our house - Padma - Boston - USA
"I contacted Sureshji to consult on our current home. He was spot on in identifying vastu dosha in regards to the problems we were having. He suggested remedies but we are still looking for a new house. Since then I have been in touch with him for finding a right home for us. He is very sincere and truly wishes better lives for everyone. He doesn't compromise with quality and is always responsive to queries. He recommends solutions as per location as Vastu rules differ for each country. He is greatly contributing to the society with his knowledge of Vastu and dedication towards his work. Keep up the good work Sureshji and wish you success and happiness!" - Megha - Virginia - USA
I have consulted Suresh Garu during December 2014 during the process of buying a house in Texas, USA. I have occupied the house for one year now, and feel like dropping a review regarding my experience during the entire process. I am very much satisfied with the kind of service I received from him. He is very knowledgeable and I was often stunned by his detailed analysis during the course of my interaction with him. He was very much accessible over phone (perhaps more than 10 times for one house plan!) and the price is very much reasonable especially compared with the cost of the house. I noticed his burning desire to help me in making informed decisions on certain things. I have seen some people pretending to know this subject and misguiding those who come for help by saying only what we want to hear. SubhaVaastu is definitely not that one. Finally, I am strong believer of leaving certain things to experts in those subjects. I have been in US for more than 13 years and have seen people doing their own corrections (by reading website articles) trying to save few dollars. Please don't do that. You would end up in causing more damage. I highly recommend you to engage SubhaVaastu in your next project - Satish - Dallas - TX - USA
Inspirational Quotations
"There are three things in the make-up of man. There is a Body, there is the mind and there is the soul." - Swami Vivekananda.
---
---
"Great Personalities speak about thoughts. 'Average Person' talk about occassions. 'Narrow Minded' gossip about others." ― Eleanor Roosevelt . . . Let you question yourself, "Who You Are, either 'Great Personality', 'Average Person' or 'Narrow Minded' ?
Joke Of the Day
"A book was released and the cover name is "How to change your WIFE", and within ONE week, "25 MILLION" copies were sold. The publishers found a mistake in the title, actually, it should be "How to change your LIFE", when publishers corrected and released the new book into the market. The first month's sales were 3 copies".
Follow us on Social Media