Details

This Page Hits:16347
Vastu Consultant in Germany | Berlin | Essen
Vastu in Germany: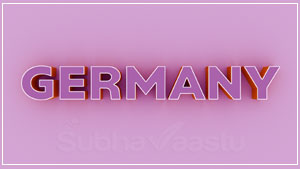 As per present information, Indians in Germany crossed to 1,10,000. Many Indians were settled in Berlin, Bavaria, and Hamburg areas, great to know this information.
Whereever the Indian Vastu Shastra located, there we can clearly observe the development, peace, honesty, ideas. Normally, Indians following the local rules without compromising, Indians are law-abiding citizens. It's the reason, German local people like Indians.
We are very thankful to Germans on hosting Indians. Honestly speaking Germans are hard-working people, producing world-class standard products.
Whatever the product from Germany, they stand as number one is the market. Thanks to Mother Germany's land. Great country, great people.
Coming to Vastu subject, Vastu is a science of energy spheres. There is something which is controlling everything in the universe, we call it God, supernatural power, unknown influential command, natural forces, hidden authority, etc.
All activities in the universe driven by a powerful energy that most of the residents do not have any knowledge. Technology, science, and other sources are working according to this invisible potential and controlling the science of doctrine. This natural force is the base of many creations. Vastu is also works based on the Natural Panchaboothas.
There are many alternatives to do corrections to our properties like Office (Vastu for Office Premises), factories (Is vastu works for Factories), hotels, home like kitchen (Vastu rules to home kitchen), Master Bed Room, Dining Room (vastu setting for Dining room), Front Yard, Back Yard, Car Garage (vastu rules for Car Parking positions), Living room, Portico etc according to ancient traditional Indian Vastu Shastra.
Once residents approached genuine vastu consultant in Germany or take online vastu consultation then residents can resolve critical problems by doing with minor modifications to the existing premises for better results.
Don't buy the home without vastu experts advice. Getting vastu consultation services after buying the plot is not a wise decision.
The plot should not have the entrance from the Southwest corner.
The site should not have the entrance from the Southeast corner.
Northwest corner entrance to the plot is not recommended.
The same rules apply to the factories too.
Generally, Northeast entrance brings cheers and multiplies peace in the home. Please note that when there is no access to the East for the North house and North for the East home, then this Northeast entrance may not be giving good results. In such case, the North door or East door is giving good results.
Before going to buy the property if there is any water flow at West side then ignore this property.
Once a resident decided to buy a home, if there is any water channel at South direction, then disregard this home.
Some thought, South entrance is bad, but most of the homes which we recommended are South and West homes in the USA. We never get any complaint so far. We have to finalize the home based on many observations. Without vastu consultant guidance one may not be successful. The best possible way is to obtain vastu pandit help to find out a good house. It brings peace.
A lot of sonorous vastu tips published on our website. Frequently we are updating our website with the latest vastu information which is most useful for the residents.
Mr. Suresh already visited and provided vastu consultancy services in many countries like United Arab Emirates (Dubai, Sharjah, Abu Dhabi, Ras Al-Khaimah), Bahrain, Oman, Botswana, South Africa, Sri Lanka, Malaysia, Singapore, Nepal, Indonesia, and almost all States in India.
States in Germany and Their Capital Cities
State Name Capital City

Berlin

Berlin

Brandenburg

Brandenburg

Bremen

Bremen

Hamburg

Hamburg

North Rhine-Westphalia

Düsseldorf

Saxony

Dresden
House Styles in Germany
Germany is a country in central-west Europe. It is bordered in the north by Denmark, in the east by Poland and the Czech Republic, in the south by Austria and Switzerland, in the west by Luxembourg, Belgium, France, and the Netherlands.
Germany is a country with the second-largest population in Europe and it is the third-largest importer and exporter of goods. It is an economically strong country with the largest economy in Europe. Germany is a highly developed nation with a high standard of living. Germany is a country of immense historic importance, politically and culturally.
If you are looking to buy or rent a property in this historically rich and economically developed country, the following are the various options of architectural styles you can choose from:
Apartment complexes (Wohnung)
Apartment-style houses in Germany are similar to any other apartment housing in any other country. It is a flat that can be rented or bought in a building with multiple floors where there is a sharing of walls, a staircase, and the main entrance.
In Germany, there are multiple apartment complexes situated in the same area. They can be furnished or unfurnished. Usually, the apartments are unfurnished; it is very difficult and expensive to find a fully furnished apartment in Germany.
The unfurnished apartment can be semi-furnished or completely unfurnished. You might have to buy amenities like stoves, kitchen sink, refrigerators, cabinets, tables, chairs, sofas, curtains, wardrobe, and even lights yourself.
There are landlord-tenet agreements that have to be accepted before renting an apartment, which could vary from place to place. Apartments are usually semi-affordable accommodation types. The architecture of these complexes is usually simple and modern but it could also be a loft-style refurbished old building.
Houseboats (Hausboot)
A houseboat style of residence is usually used for a short term stay rather than long-term living. Houseboats can be bought or rented; mostly the houseboats are rented for experiential adventurous living.
People usually prefer to stay in houseboats during a break, vacation, or a holiday. Many tourists also prefer renting houseboats as their accommodation and to experience living in between the canals.
The price range for renting a houseboat can depend upon the demand for it. Houseboats are located in areas with canals and other water bodies along with popular tourist destinations.
Cottages, Bungalows and Villa Style (Einfamilienhaus)
The cottages or bungalows or villa-style houses in Germany are very common. They can be rented or owned. They have a typical house structure with modern and classic architecture.
These types of houses can be huge or small. These types of houses have multiple rooms on different floors and a unique rooftop attic setting.
These styles of houses in Germany often include a garden, a swimming pool, a porch, a fence, and a courtyard. The price range of these types of bungalows and villas depends upon the size and the facilities provided in the house.
These structures are found and located usually in the quiet outskirts of the city regions and noisy urban areas. These houses are also available in the mid-city locations.
Traditional German-style houses
A traditional German house is made with bricks, stones, clay, and timber. These types of houses are very old and strong. They are naturally heated with a classic fireplace setting. They have inverted rooftop architecture. The materials used in the house are mostly natural.
There may be extra costs related to water heating, sewage, restoration, and other maintenance expenses as these houses are very old structures.
These houses can be detached or semi-detached (Doppelhaus) structures. These houses are popular for renting as well as buying. But renting is more affordable because you may not have to pay for the upkeep costs.
The bungalows, cottages, or villas can also have a similar architecture to that of a traditional German house. These houses are found in the old cities, villages, and other lesser modern regions.
Caravan (Wohnwagen)
A caravan house, also known as a motor home or trailer house, is very popular to live on the go in Germany. It can either be a mobile unit in itself like a truck or it can be a camper that is towed behind a truck or a car.
They can be used as semi-permanent homes or used as holiday accommodation. It is relatively cheaper to live in a caravan style house.
The space is minimal and only the necessary amenities and facilities can be carried inside the trailer. There are also certain laws and regulations to be followed when living in the caravan house for an extended period of time.
Farmhouses (Bauernhof)
A farmhouse is typically a residence in the rural and agricultural setting. They include barns, cattle stalls, a farmyard, a spacious hall, a living quarter or residence, and a courtyard. They are built for the farmers and brewers.
In current times, these types of farmhouses are also used as holiday homes for urban families who are looking for a rural and medieval getaway. These types of farmhouses are found in the rural and agricultural areas or the outskirts of villages in Germany.
Terraced house (Reihenhaus)
Terraced houses are houses in continuous rows, with multiple floors and multiple buildings with shared rooftop and walls. The terraced house has originated in Europe and is typically found in countries with historic architectures like the Netherlands and Germany.
The architecture of the outer adjoined buildings is uniform and equally distributed from all sides. These types of houses were built considering the town-planning perspective. They are also known as rowhouses in certain regions.
Terraced houses are affordable but they are preferred less due to privacy, adjustment, and noise issues. These houses are found all over the cities and populated regions in the country.
Important Details of Germany Country
Country Germany
Capital City Berlin
Area: 357,168 km2 / (137,903 sq mi)
Population: 82.67 million (2016)
Currency: Euro (€) (EUR)
Official languages: German
Demonym: German
Legislature Parliament Upper house: Bundesrat Lower house: Bundestag
Religions: 59.3% Christianity
34.4% Non-religious
5.5% Islam
0.8% Other Religions
Time Zone: CET (UTC+1)
Summer (DST) CEST (UTC+2)
Drives on the Right
Dialing / Calling Code: +49
Internet TLD .de
Important Cities: Berlin, Hamburg, Munich, Cologne, Frankfurt, Essen, Stuttgart, Dortmund, Dusseldorf, Bremen
Famous Rivers Rhine, Elbe, Danube, Oder, Moselle, Weser
National Bird Golden eagle
National Flower Knapweed
Spiritual Places Hindu Shankara Sri Kamakchi Ambal Temple, Frankfurt Germany Temple, Murugan Temple, Sri Sithivinayagar Temple Nürnberg, Ganesha Temple Munich
Border Countries Denmark, Czech Republic, Poland, Switzerland, Austria, Belgium, France, Luxembourg, Netherlands
Tourist Attractions: Neuschwanstein Castle, Europa-Park, Lake Constance, Brandenburg Gate, Reichstag building, Berlin Wall
Germany Flag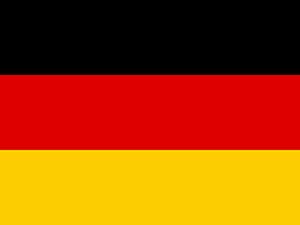 Germany Location
Germany Desktop Wallpaper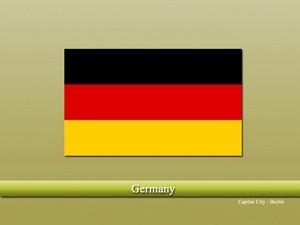 Germany Mobile Wallpaper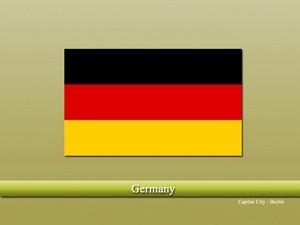 Germany Information:
Germany, officially the Federal Republic of Germany is located in the west of Continent Europe. The word Germany is derived from the Latin word Germania, which was used by Julius Caesar for the people of Rhine, a river in Europe. It is also known as Deutschland.
Germany is the second largest country in Europe. It shares its border with Austria in South, with Denmark in North, Poland in the east and Netherlands in the west. Hamburg is the largest seaport of Germany.
Germany is a federal parliamentary republic. The Chancellor (Reichskanzler) is the head of government, while The President works as the head of the state. It is the world's second country with large-scale immigration from many other countries.
It's advanced economy is the fourth largest in the world. The main exports of the country are Cars, Vehicle parts, Planes, Helicopters, and Crude petroleum. The trading partner countries of Germany are USA, France, United Kingdom, China, Netherlands, Italy and Austria
Germany is the second largest country in Europe continent by population. Germany is as strong as the Russia. Its population is 82.67 million. The percentage of the urban population is 75.5% while rest of the 24.5% population were in rural. The literacy rate in Germany is 99%. Wow, incredible.
Berlin Overview:
Berlin is the largest city of Germany which serves as German capital and is one of the 16 German states. Berlin is a world-class city having a unique and historical architect, landmarks, high-rise buildings, centuries-old museums and art pieces, historical buildings, and eccentric lifestyle.
Having population of 3,711,930, Berlin is the most populous German city and second most populous in the European Union having behind only of London.
The city is leading in every sector either it is related to lifestyle, advancements, healthcare, IT, education and human development. Furthermore, the city is known for its nightlife, festivals, and ethics.
Although Berlin is a well-developed city today, it has a devasting history which can shock us if we read it thoroughly. Today, we can't see the horrors and destruction which happened in the city and its suburbs nor we can hear the screams of the people as everything is buried or replaced. The settlements in the regions of Berlin started as early as the 11th century.
The city was founded in the mid-12th century and development started. During the "Thirty Years War" much of the city was destroyed and the majority of its population got killed.
By the start of the 19th century, the Industrial Revolution started in Berlin leading to the modernization of city and immigration of people from the other areas. Soon Berlin became a center of German politics, art science. In 1871, Berlin became the capital of the "German Empire".
During World War 2, Berlin was constantly bombed initially by the air and later by massive artillery and became the most bombed city in history. The Allied forces regular bombed the city throughout the war leaving the city in the ruins.
By 1945, the Russian forces reached the suburbs of Berlin and barricaded the city with massive artillery and rockets for days. This resulted in the deaths of countless civilians and raising the city to the ground. Hundreds of years old buildings, museums, etc. which reflected the beauty of the city and German culture got vanished.
After the War ended, the city was divided by the Allies and Eastern Berlin was administrated by the USSR while West Berlin was jointly administrated by the US, British, and France. Soon a wall, known as the "Berlin Wall" was constructed between the East and West Berlin as the tensions rose and the situation got worse.
Many East Berlin residents tried to cross the wall but were shot. This was one of the worse situations any human can face. The situation remained until 1990 when Germany got reunified and the wall was destructed by the people themselves as an event of happiness and reunification.
The city of Berlin is highly populated and developed but its surrounding areas feature beautiful lakes and forests. The city lies in the plains region and that is the reason hills or mountains can't be seen nearby.
The architect, design and the uniqueness of the city can't be found elsewhere in the world even not in Europe. Some of the architectural marvels include the "Reichstag Building", "Bode Museum", "Brandenburg Gate" (a symbol of Germany and Berlin), "Charlottenburg Palace", and the "Oberbaum Bridge".
Today when we visit the city, we will notice that the city is modernized having many new buildings but we can still see its old heritage and beauty within the new city.
German is the primary and most commonly spoke language of the city. Majority of the population is non-religious, but some percentage of EKD Protestants and Roman Catholics are also present.
Muslims are also present in large amount due to huge immigration from Muslim countries, especially from Turkey. There are around 80 Mosques in the city. Other religions include Jews, Buddhists, etc.
Berlin has a long-term history of modernization and industrialization. Although the Second World War had devasted these activities, the city recovered slowly and swiftly, especially after the reunification.
Today, the city is a technological, industrial and business hub for all over the world. Many renowned German and foreign companies are located in the city.
Many of the largest German campiness including Lufthansa (a leading German airline), Deutsche Bank, Allianz, Osram, and Edeka were found in the city. Tourism is also one of the leading economic sectors and its scope can be predicted by the described features above.
Vastu Testimonials Delivered By Respected Residents
Dear Suresh, I am pleased to inform you that like the way you provided consultation for my home and explained to me all the changes required inside and outside home. I really appreciate the diagrams that you prepared for my home with pictures and arrows showing the changes need to be done. Above all, you explained very well the reasons behind changes you recommended for my home with great clarity and sense of humor. No doubt in my mind, you are the best Vastu expert, I really appreciate your dedication by building and maintaining a very informative website that is helping thousands of people across the globe. Also, I sensed when I talk to you and when I was dealing with you, you follow honesty and integrity and you have a sincere desire to help others - Kotesware Rao - Dallas - USA
We are tech professionals and working in USA. After a year long search we brought the house. After buying the house I started looking for consultant who can help me evaluating the house. I came across Subhavaastu website which has lot of information. I contacted Mr.Suresh and requested him to help with our house vastu. It has been an incredible delight working with him.. He is very detailed oriented person and never compromises with his work. I am typically not interested to deliver the reviews. But after working with Mr. Suresh I decided to share my experience. Mr. Suresh has great expertise in providing vastu consultation to USA property. He is always available through email and phone l to answer questions. I am writing this review hoping it will help other people like me who lives in abroad. Please take advise before buying the house. I highly recommend Mr. Suresh as he has great experience with structure of USA properties and also he provides genuine consultation. I really appreciate Mr. Suresh's help in evaluating our house - Padma - Boston - USA
"I contacted Sureshji to consult on our current home. He was spot on in identifying vastu dosha in regards to the problems we were having. He suggested remedies but we are still looking for a new house. Since then I have been in touch with him for finding a right home for us. He is very sincere and truly wishes better lives for everyone. He doesn't compromise with quality and is always responsive to queries. He recommends solutions as per location as Vastu rules differ for each country. He is greatly contributing to the society with his knowledge of Vastu and dedication towards his work. Keep up the good work Sureshji and wish you success and happiness!" - Megha - Virginia - USA
I have consulted Suresh Garu during December 2014 during the process of buying a house in Texas, USA. I have occupied the house for one year now, and feel like dropping a review regarding my experience during the entire process. I am very much satisfied with the kind of service I received from him. He is very knowledgeable and I was often stunned by his detailed analysis during the course of my interaction with him. He was very much accessible over phone (perhaps more than 10 times for one house plan!) and the price is very much reasonable especially compared with the cost of the house. I noticed his burning desire to help me in making informed decisions on certain things. I have seen some people pretending to know this subject and misguiding those who come for help by saying only what we want to hear. SubhaVaastu is definitely not that one. Finally, I am strong believer of leaving certain things to experts in those subjects. I have been in US for more than 13 years and have seen people doing their own corrections (by reading website articles) trying to save few dollars. Please don't do that. You would end up in causing more damage. I highly recommend you to engage SubhaVaastu in your next project - Satish - Dallas - TX - USA
Inspirational Quotations
"There are three things in the make-up of man. There is a Body, there is the mind and there is the soul." - Swami Vivekananda.
---
---
"Great Personalities speak about thoughts. 'Average Person' talk about occassions. 'Narrow Minded' gossip about others." ― Eleanor Roosevelt . . . Let you question yourself, "Who You Are, either 'Great Personality', 'Average Person' or 'Narrow Minded' ?
Joke Of the Day
"A book was released and the cover name is "How to change your WIFE", and within ONE week, "25 MILLION" copies were sold. The publishers found a mistake in the title, actually, it should be "How to change your LIFE", when publishers corrected and released the new book into the market. The first month's sales were 3 copies".
Follow us on Social Media