Details

This Page Hits:3313
France | Paris | Nice | Lyon
Vastu in France: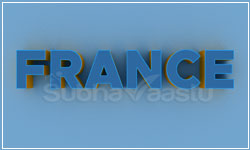 Finding exact vastu house is not easy in France country. But need to check the minimum requirements as per Indian Vastu Shastra. If the house is severe vastu defects then avoid buying the same and need to check the other home for Vastu evaluation.
In this home search, the genuine vastu consultant can recommend a right vastu home to the residents.
Without vastu pandits reference don't buy the home in France.
Please search for only the vastu expert who has great knowledge in foreign properties vastu.
When coming with vastu in France, need to observe many things and has to consider the neighborhood vastu support to the house and then only buy the home.
Without observing many internal secrets of vastu, better resident postpone buying the home or any other property, like restaurant, hotel, factory, shop, school, gym, saloon, clinic, etc.
Please verify what is the direction of the house.
Where is the garage in the house?
Where is the master bedroom located?
Where is the staircase?
Is the home has any street focus, this could be the important point.
Is the home has any water bodies near and there, observe carefully.
If the water body is at South, West and Southwest then best to search for other homes, instead of buying this home.
Further, resident has to confirm at what distance the water body (water body according to vastu) to the home.
If water body's location is very far then no need to worry on that waterbody, this point is applicable if there are other houses in between the water body and the house.
France Overview:
France, authentically the "French Republic" is an independent country located in Western Europe.
The country is one of the most powerful, developed and stable country not only in Europe but also worldwide.
The territory of France consists of the mainland and several other territories and islands worldwide.
The country has a long-term history of development and has contributed to several educational and experimental fields.
The country has also deep influence in terms of military, power, and politics and is known for its green landscapes, the capital city "Paris", which is a symbol of love, old iconic café's, French food, old medieval towns, wine, middle age castles, ancient remains, and farmhouses.
These features make the country unique and today, France is one of the most visited countries in the world.
The country has achieved milestones in every modern field either it is related to human development, economy, technology, arts, literature, philosophy, education, healthcare, or science.
In addition, France is a primary member of the European Union, NATO, World Trade Organization and the European Union.
France Information:
Country France
Capital City Paris
Area: 643,801 km²
Population: 66.9 million (2016)
Currency: Euro & CFP franc
Official language: French
Demonym: French
Government Unitary semi-presidential republic legislature Parliament
Religions: Christians, Muslims, other
Time Zone: Central European Time (UTC+1)
Drives on the right
Dialing / Calling Code: +33
Internet TLD .fr
Dominican National Bird Gallic rooster
Dominican National Flower Iris
Important Cities: Paris, Marseille, Lyon, Toulouse, Nice, Nantes, Strasbourg, Montpellier
Famous Rivers Seine, Rhone, Rhine, Saone, Loire, Garonne, Moselle, Dordogne, Marne, Oise, Meuse, Adour, Sarthe, Durance, Somme, Lot
Border Countries Belgium, Luxembourg, Germany, Switzerland, Italy, Monaco, Spain and Andorra
Spiritual Places Eglise Saint Thomas, Lucon Cathedral, St Peter's Church, St. Eustatius Church, Trinity International Church of Strasbourg, Eglise Saint-Maclou, Saint-Trophime Church, Eglise Saint-Gervais, Grand Mosque of Paris, Great Mosque of Lyon, Nantes Central Mosque, Grand Mosque of Evry
Tourist Attractions: Eiffel Tower, Louvre Museum, Notre-Dame de Paris, Arc de Triomphe, Palace of Versailles, French Riviera, Champs-Elysees, Disneyland Paris, Mont-Saint-Michel, Montmarte, Place de le Concorde, Le Marais, Moulin Rouge, Les Invalides, Verdon Gorge, Saint-Chapelle, Champ de Mars, Pont du Gard, Canal du Midi, Luberon, Canal Saint-Martin, Palais des Papes, Mont Ventoux, Old Port of Marseille, Place des Vosges, Palais Garnier, Lake Annecy, Conciergerie, La Defence,
France Flag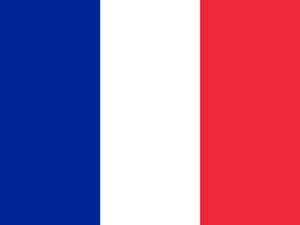 France Location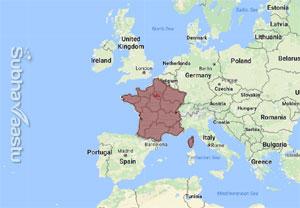 Desktop Wallpaper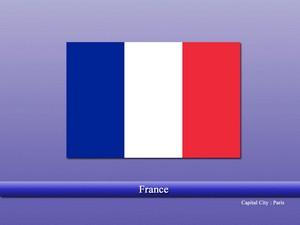 Mobile Wallpaper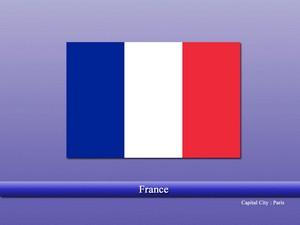 France has a long and complex history of development, colonialism, wars, and freedom.
Human activities in the region date back to approx. 1.8 million years ago. At that the conditions were different; the climate was really harsh and bitter.
The people of that time only relied on hunting. Evidence like tools, paintings, and remains also help the scientists to predict about the ancient people precisely.
Around 600 BC, the region was occupied by the Greeks and afterward the mighty "Roman Empire".
The Roman Empire made the region as one of their provinces. Some of their marvels can still be seen today such as Nimes, Pont du Gard, Arles, etc.
The middle-ages of France were marked by several conflicts and reign of different Kings. Also, it remained in conflict with the British empire throughout the history and occupied or tried to occupied each other countless times.
The French people also participated in the famous "Crusades" along with the British and other empires.
During the 19th century, "First French Empire" under the one of the famous French General, "Napoleon Bonaparte" became one of the most powerful, and largest empires in the world.
Also, from 16th to the mid-20th century, France maintained colonies all over the world spanning from North America, Central America, South America to the Subcontinent, East Asia, and Africa.
During the First World War, France faced a major setback as 1.4 million French soldiers died and loss of infrastructure and military equipment was destroyed.
Similarly, by the start of World War 2, France was instantly occupied by the German Army and the French forces surrendered or retreated towards England.
This event is still remembered as one of the most humiliating in the French warfare history.
The German occupation remained till 1944 until it was liberated by the Allied and French forces.
After the War ended, France still maintained numerous colonies in different parts of the world but as the colonial era was ending, all of the colonies were given freedom.
Today, France has one of the most sophisticated armies in the world and is operational in Africa, operated in Iraq and Afghanistan.
It is also one of the most crucial contributors towards the NATO.
The country of France consists of the mainland, which is called "Metropolitan France" and several other overseas territories that are situated in the Indian Ocean, Pacific Ocean, Atlantic Ocean, and South America. These territories were once French colonies similar the else ones all over the world.
The mainland France borders Andorra and Spain towards the South and Southwest, Belgium and Luxembourg towards the northeast, Germany, and Switzerland towards the East, while Italy and Monaco lie towards its Southeast.
Also, the mainland France has diverse geographic features consisting of the famous "Alps", mountains, Green valleys, landscapes, and forests. The country although, has the comparatively high population, but is one of the least polluted countries.
The government has taken effective steps and non-polluted ways the generate power. Another interesting fact is, France produces 75% of its electricity through the Nuclear Power which is cheaper and pollution free.
France has a 6th largest economy in the world. Also, the economy is stable and diversified based on several sectors. Some of the main economic sectors are Industries, agriculture, tourism, technology, medical services, military equipment, energy, and services.
The industrial sector includes chemicals, manufacturing, textiles, IT equipment, military hardware and technology, textiles, shipbuilding, aerospace, and research. Agriculture is thriving in the country form the ancient times due to suitable soil and favorable conditions.
The agricultural products of France are renowned worldwide and are known for their quality and uniqueness. Also, France exports its military equipment to various countries. Tourism is also regarded as one of the major contributing sectors towards the economy. 83.7 million tourists visited France in 2014 alone.
French is the primary and official language of the country. Also, due to French colonies worldwide, today French is being spoken in several countries like Canada, North Africa, and Central Africa.
Christianity is the dominant religion of the country accounting for approx. 51% of the total population while non-religious people account for 40% of the total population.
Islam is the second largest or minority religion accounting for 5.6% of the total population. Several other religions also do exist in the country. Also, the modern French people are decedents of the following ethnic people; Celtic, Roman, and Germanic. Mass immigration, especially from the African countries have also changed the shape of the French demographics to some extent.
Vastu in France: Trouver le "Vastu" exacte n'est pas facile dans la France, mais il faut tout de même regarder les exigences minimales données par le « Vastu Shastra » Indien. Si la maison a des défauts de Vastu sévère évitez de l'acheter et recherchez d'autres maisons pour l'éxamination Vastu.
Dans cette page d'accueil, le sincère Consultant de Vastu peut vous recommander une maison avec un bon Vastu. N'achetez pas la maison en France si vous n'avez pas de références d'un expert en Vastu.
Veuillez seulement chercher un expert en Vastu ayant une grande connaissance dans les terrains étrangers. Le plus grand expert de l'Inde peut ne pas connaître les bons Vastu pour une maison française.
Lorsque vous venez en France, vous devez observer plusieurs choses mais vous allez aussi devoir prendre en compte l'entourage et le support de votre maison avant d'enfin pouvoir l'acheter. Veuillez ne pas acheter de maison ou d'autres propriétés telles que des restaurants, hôtels, entreprises, magasins, écoles, gym, salons ou cliniques sans avoir observé plusieurs affaires en Vastu.
Avant d'acheter la maison, vous devez connaître la direction de la maison.
Dans quel endroit se trouve le garage?
Où est située la chambre principale?
Où est installé l'escalier?
Cette maison a-t-elle un foyer de rue? Ceci peut être très important.
Si la maison a dans la proximité des plans d'eaux et que l'eau se trouve dans le Sud, l'Ouest ou le Sud-Ouest, veuillez ne pas acheter cette maison. Par contre, si le plan d'eau se trouve à une assez grande distance de la maison, vous n'avez pas besoin de vous inquiéter de cette eau et vous pouvez acheter la maison. Ceci est aussi valable si d'autres maisons sont situées entre le plan d'eau et votre maison.
The Hundred Years War in between England and French was a continuing series of fights from 1337 to 1453. An unbelievable loss for both countries with these conflicts. Normally, war always creating a financial loss to both participants.
France Information sur le pays
La France aussi connue comme: « La République Française » est un pays indépendant situé à l'Ouest de l'Europe. Ce pays est l'un des plus puissants, développés et stables dans le monde.
Le territoire Français consiste de l'hexagone et d'autres territoires et îles à travers le monde. Ce pays a non seulement une grande histoire sur le développement mais il a aussi contribué dans plusieurs domaines éducationnelle et expérimentale.
La France a aussi une grande influence militaire et politique et elle est connue pour ses paysages verts et sa capitale : Paris. Cette ville est un symbole de l'amour mais elle est aussi connue pour ses cafés iconiques, la nourriture française, les villages médiévaux, le vin, les châteaux du moyen âge, les vestiges antiques et les fermes.
Ces fonctionnalités rendent ce pays unique aujourd'hui, la France est un des pays les plus visités du monde. Ce pays a atteint plusieurs étapes importantes sur tous les domaines ayant rapport avec l'économie, la technologie, l'art, la littérature, la philosophie, l'éducation et la science. De plus, la France est un membre principal de l'Union Européenne, l'OTAN et le World Trade Organisation.
La France a une longue histoire complexe sur le développement, le colonialisme et la liberté. Les activités humaines dans la région datent d'1.8 million d'années, durant cette époque les conditions étaient différentes et le climat fut terrible.
La population de cette époque trouvait leur nourriture seulement en chassant. Des évidences telles que des outils, peintures et des restes permettent aux scientifiques d'avoir des informations précises sur la population de cette ère. Vers 600 ans avant Jésus Christ, la région était occupée par les Grecques et après par l'Empire Romaine. L'Empire Romaine a transformé la région en une de ses provinces.
Certains de ses merveilles peuvent encore être vues aujourd'hui comme : les Nimes, le Pont du Gard et l'Arles. Le moyen-âge dans la France était marqué par plusieurs conflits et règnes de différents Rois. La France était aussi en conflit avec l'Empire Britannique à travers l'Histoire et ils essayèrent de s'occuper plusieurs fois. Ils arrivèrent parfois à s'occuper pendant des périodes assez brèves.
La population française a aussi participé dans plusieurs croisades connues avec la Grande Bretagne et d'autres Empires. Durant le 19ème siècle, le « Premier Empire Français » fut formé par le général Napoléon Bonaparte. L'Empire Français devint un des Empires les plus puissants et larges dans le monde. Entre le 16ème et le 20ème siècle, la France a maintenu des colonies à travers le monde ceci inclus une partie de l'Amérique du Nord, l'Amérique centrale, l'Amérique du Sud, l'Est de l'Asie et l'Afrique.
Durant la Première Guerre Mondiale, la France a fait face à un grand retour en arrière, la France a perdu 1.4 million de soldats français ; une grande partie de son infrastructure et l'équipement militaire furent détruits. Au début de la Seconde Guerre Mondiale, la France fut occupée par l'armée Allemande et les forces françaises se sont soient rendues, soit ils ont pris la retraite en Angleterre.
Cet événement est encore souvenu comme un des moments les plus humiliants de l'Histoire Française. L'occupation Allemande fut de 1940 à 1944 jusqu'au jour où la France fut libérée par les Alliés et la résistance française. Après la fin de la Seconde Guerre la France a continué de maintenir plusieurs colonies mais avec la fin l'ère coloniale toutes les colonies fut libérées.
Aujourd'hui, la France à une des armées les plus sophistiquées du monde, cette armée est opérationnelle dans l'Afrique, et elle est présente dans l'Iraq et l'Afghanistan. C'est aussi une des contributeurs les plus cruciales dans l'OTAN.
Ce pays consiste du terrain principale nommé « la France métropolitaine » et plusieurs territoires situées dans l'Océan Indien, l'Océan Pacifique, l'Océan Atlantique et l'Amérique du Sud. Ces territoires furent une fois des colonies françaises. L'hexagone est en bordure avec l'Andorre, et l'Espagne vers le Sud et le Sud-Ouest ; la France est aussi en bordure avec la Belgique et le Luxembourg vers le Nord-Est et l'Allemagne et la Suisse vers l'Est. Enfin, vers le Sud-Est la France est en contact avec l'Italie et le Monaco.
Le territoire principale a plusieurs fonctionnalités géographiques diverses consistants des Alpes, montagnes, vallées vertes, paysages et forêts. Ce pays a une population assez élevée mais c'est aussi un des pays les moins pollué. Le gouvernement a pris des actions non-polluantes pour générer de l'énergie. La France produit 75% de son électricité à travers son pouvoir nucléaire ce qui est moins cher et non-polluant.
La France a la sixième plus grande économie dans le monde. Cette économie est aussi stable et diverse ; elle est basée sur plusieurs secteurs. Des secteurs principaux de l'économie sont : les Industries, l'agriculture, le tourisme, la technologie, les services médicaux, les équipements militaires, l'énergie et les services.
Le secteur industriel inclue des produits chimiques, de la fabrication, des textiles, des équipements informatiques, des matériels militaires, de la construction navale, de l'aérospatial et des recherches. L'Agriculture prospère dans le pays dû à la terre convenable et des conditions favorables.
Les produits agricoles de la France sont mondialement connus pour leur qualité unique. La France exporte aussi des équipements militaires à plusieurs pays. Le tourisme est aussi vu comme un des secteurs principal dans l'économie, plus de 83.7 millions de touristes ont visité la France en 2014.
Le français est la langue officielle du pays. Dû à la colonisation dans le passé, le français est aujourd'hui parlé dans plusieurs pays tels que le Canada, l'Afrique du Nord et l'Amérique Central. Le christianisme est la religion dominante dans le pays avec approximativement 51% croyants dans la population. 40% de la population ne sont pas croyants.
L'islam est une religion minoritaire comptant environ 5.6% de la population totale. Les français d'aujourd'hui ont des origines Romaines, Germaniques et Celtiques. L'émigration venant principalement des pays Africains vers la France a aussi changé à un certain degré les démographiques françaises.
Vastu Shastra Questions:
Vastu Testimonials Delivered By Respected Residents
Dear Suresh, I am pleased to inform you that like the way you provided consultation for my home and explained to me all the changes required inside and outside home. I really appreciate the diagrams that you prepared for my home with pictures and arrows showing the changes need to be done. Above all, you explained very well the reasons behind changes you recommended for my home with great clarity and sense of humor. No doubt in my mind, you are the best Vastu expert, I really appreciate your dedication by building and maintaining a very informative website that is helping thousands of people across the globe. Also, I sensed when I talk to you and when I was dealing with you, you follow honesty and integrity and you have a sincere desire to help others - Kotesware Rao - Dallas - USA
We are tech professionals and working in USA. After a year long search we brought the house. After buying the house I started looking for consultant who can help me evaluating the house. I came across Subhavaastu website which has lot of information. I contacted Mr.Suresh and requested him to help with our house vastu. It has been an incredible delight working with him.. He is very detailed oriented person and never compromises with his work. I am typically not interested to deliver the reviews. But after working with Mr. Suresh I decided to share my experience. Mr. Suresh has great expertise in providing vastu consultation to USA property. He is always available through email and phone l to answer questions. I am writing this review hoping it will help other people like me who lives in abroad. Please take advise before buying the house. I highly recommend Mr. Suresh as he has great experience with structure of USA properties and also he provides genuine consultation. I really appreciate Mr. Suresh's help in evaluating our house - Padma - Boston - USA
"I contacted Sureshji to consult on our current home. He was spot on in identifying vastu dosha in regards to the problems we were having. He suggested remedies but we are still looking for a new house. Since then I have been in touch with him for finding a right home for us. He is very sincere and truly wishes better lives for everyone. He doesn't compromise with quality and is always responsive to queries. He recommends solutions as per location as vaastu rules differ for each country. He is greatly contributing to the society with his knowledge of Vaastu Shastra and dedication towards his work. Keep up the good work Sureshji and wish you success and happiness!" - Megha - Virginia - USA
I have consulted Suresh Garu during December 2014 during the process of buying a house in Texas, USA. I have occupied the house for one year now, and feel like dropping a review regarding my experience during the entire process. I am very much satisfied with the kind of service I received from him. He is very knowledgeable and I was often stunned by his detailed analysis during the course of my interaction with him. He was very much accessible over phone (perhaps more than 10 times for one house plan!) and the price is very much reasonable especially compared with the cost of the house. I noticed his burning desire to help me in making informed decisions on certain things. I have seen some people pretending to know this subject and misguiding those who come for help by saying only what we want to hear. SubhaVaastu is definitely not that one. Finally, I am strong believer of leaving certain things to experts in those subjects. I have been in US for more than 13 years and have seen people doing their own corrections (by reading website articles) trying to save few dollars. Please don't do that. You would end up in causing more damage. I highly recommend you to engage SubhaVaastu in your next project - Satish - Dallas - TX - USA
Inspirational Quotations
"Whatever you think, that you will be. If you think yourselves weak, you will be weak. If you think yourselves STRONG, you will be STRONG." - "Swami Vivekananda"
---
---
"Great Personalities speak about thoughts. Normal minds talk about occassions. Narrow minded gossip about others." ― Eleanor Roosevelt . . . Let you question yourself, "Who You Are"?
Joke Of the Day
Teacher & Student in School
"The teacher to a student: Conjugate the verb "to walk" in simple present."
"The student: I walk. You walk . . . ."
"The Teacher interrupts him: Quicker please."
"The student: I run. You run . . ."
Follow us on Social Media