Details

This Page Hits:167301
Vastu Shastra Tips for Planting Trees - SubhaVaastu.com: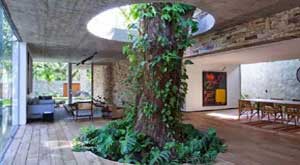 Vastu for Trees here the meaning is supporting the heavenly Element creations. Don't cut trees in the name of Vastu Shastra. Trees bless us with all power related to our peaceful living. Who plant trees are said to be assistants to Almighty. God Love Trees. For happy future, continue on this planet human beings and other all creatures hugely require trees. The home with full of trees will enjoy peace of mind. There should some attraction which may attracts positive forces and further land will become cool. If the respected climate is cool, the negative power strength decreases. If the atmosphere (land, area, place) is hot the bad power (negative) increases its power.
Now a days Vastu is the most powerful and that spreads all over the country. Some vastu slyboots also recommending residents to "cut the trees" and further stated that "trees should not be in the homes", "Trees shadow should not fall on the house". In the name of vastu shastra many residents blindly lacerating trees and in some parts of the areas trees were almost vanished, unpleasant things were happens in this world and having passed out of existence of many creatures. We have to take care of this unlawful mad nature of some bad humans decisions or evil thoughts. The vastu consultants who don't have much knowledge on vastu shastra says that "trees shadow should not fall on homes". Actually Trees blesses home with attraction, eye lash spreads when huge trees occupied and further they makes the land cooling, good looking, smart in that area, royal touch, peace, cool shadows, particularly security feeling, education, good relations, life satisfaction, money, good name with smart fame, leadership or leadership qualities. To be frank if there is no trees, house lost its fancy looking. It may be clear that if a home has more trees resale value hugely extends.
What is the reason behind that the trees shadows should not fall on houses:
In olden days the houses are too big and they have proper space for planting trees. In those days our elders planted trees at available space in their premises compound open areas. Those houses are constructed with mud and related materials, they don't have knowledge on Cement, (Cement is invented only in the year 1824), if we construct the house with mud, then structure may not have more strength and may not be stronger. If we plant trees near to the houses, then the roots may damage the house structure. If the house structure disturbs then life become miserable. Construction/walls disturbance means the entire property is in a way to fail. So our elders feel that if the trees are near to the properties this may lead damage homes construction, this may be the reason that they created one point that "Trees shadow should not fall on house". Now cement came into existence, due to this cement pillar construction methods our constructions are very strong, and there is no need to worry about the structures and cracks. Anyway we must maintain some distance in between trees from house construction. There are many trees which spreads its roots to more distance and less distance, ask with your forest department people which tree is good for your home and not damaging the foundations or roots more spreader areas. We are also collecting wide information to publish here about which trees are recommended to plant in our homes. Trees are heavy weight, so many vastu consultants may inform you that Trees should plant only towards West, South, Southwest parts of the property. Please read the below narration.
Generally more open space towards North and East and lesser open space towards South and West directions is good. While it is so, the trees needs some spacious space to grow and they cover some area. If we don't have certain space at West and South directions, then how it is possible to plant trees at West and South directions. Its absolutely impossible. Again these people say that we should not plant trees at North and East directions. Well, then where we have to plant trees at our house premises. If the argument is such a way then where have to plant trees in our boundary premises. Its almost tough to plant trees and residents has to forget about trees. Humans vanished the forests, no trees were planted and secured at outside of the towns, or cities. Some vastu people says we should not plant trees at homes, then where is the place for trees. And further home should be built towards Southwest. If in such case there is no way to plant trees in the home premises. We find solutions here to have the home to be planned towards Southwest and place for trees too. Finally some vastu people drag one point that there is no space for planting trees and trees shadow should not be fallen on house. So vastu is the main cause for vanishing trees, most of the residents has interest to plant trees in their boundary, due to some vastu people most of the residents unable to plant trees or fear to planting trees. Vastu Shastra curses on Trees. Here we should brake these principles and maintain feasibility and plantation and on the same way respect vastu shastra principles. Let us come to one amicable solution.
In Matsyapurana it is said that :
Ten Water wells are equal to one water tank
Ten water tanks are equal to one lake
Ten lakes are equal to one Son
Ten Sons are equal to one Tree.
The day was came, it has to be understood the importance of the trees on our planet, if humans goes on cutting trees then the day will come which has more worse in our life with natural calamities, Hud Hud like disastrous incidents, floods, famine, no rains etc, already we are facing many bad situations and we noticed about global warming and importance of trees and balancing the nature. Indian Prime Minister Mr. Narendra Modi requests at International seminars regarding global warming. Our Puranas/myths are also clearly stated that trees are the life for humans and Earth. Save Earth by planting trees.
Is there any solution for this Vastu and Trees problem?. Yes there is a quick fix explanation key for this complication. See this image. In this image the house has more space provided towards South and West directions than the above image, when compare with this image and above image then we may find more space towards South and West directions, this place may be suitable for planting trees and with this idea North and East also not disturbed. In this image home constructed towards Nairuthi (Southwest) part and trees are also planted at West and South directions. With this minor thought residents got trees and vastu wise also this property has more space towards North and East than South and West directions. One should not forget a note that "Trees are the hidden attraction for heavenly elements". We should not forget one thing, that East and North should have more open space than the West and South directions. Now it was clear that South and West direction open space was occupied by trees and North and East has more open space, so the argument point was solved.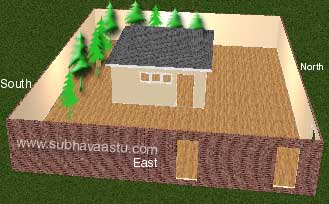 In the above image the trees are at south and west directions only, but now see this below picture, here the trees are covered almost all at house, except Northeast corner.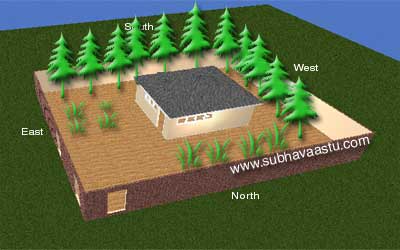 Provide space only at Northeast corner and cover all the entire place with trees. Don't trust the words that "trees shadow should not touch to the house". You can cover the house with full of trees, just left some small portion at Northeast side as vacant or open place, this is enough to minimize the bad effects if there is any that you found. In any case one house is having trees at Northeast corner, no problem just dig one sump at Northeast corner, then the problem will solve. We will discuss it with one image.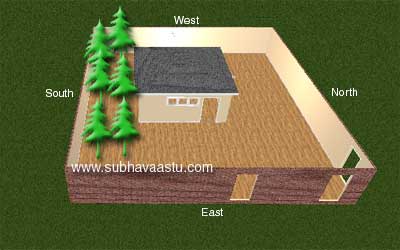 If you plant more trees at south side and west side then you will have more benefits, see this below picture, here the south side is full of trees, it gives you more money and good health, financially sound, peace and standard life etc. In this image the trees are fully occupied at South direction, like wise you can plant number of trees at West direction also. It may provides help residents a secured life, good health, financially sound etc, confidence, loosing enemies power etc.
Treat the trees like your children, they save you definitely. In Sanskrit there is a word on trees "Vrukshadevatha". If you have any query trees vastu kindly write to me, we will definitely reply to your email. Any of your friends or relatives houses, if there is big trees or heavy ( number of) trees, please inform them regarding this link, if they planned to cut trees in the name of vastu shastra, suggest them don't cut trees. If the land is cool then good vastu will work immediately, if the land is hot bad vastu will starts its work. Here is the link of my contact details, at any time i am ready to serve my services for the trees, plants.., love trees, its nothing but Love on God. God bless our planet. Without consulting any vastu expert you can directly plant trees at Southeast and Northwest places.
Broadly says a tree may not provide auspicious results if it is exactly in front of main door that to particularly towards North and East directions. Here you may observe a tree is exactly in front of main entrance door, commonly says this could not be good, if a tree is like this way at any home, its better to change the door from exact North direction to Northeast direction, requesting don't chop the tree. North direction tree is not at all bad, further you may plan to plant another tree towards Northwest, this is good idea to have more exceptional results. One or more trees towards Northwest may not damage your results. Try to plant more trees at your home compound territory, more trees means more peace and happiness. We clearly observed some homes which has very bigger trees towards Northeast also brings luck to them. One home which has worthy Northeast has complete trees towards Northwest, North and Northeast also. They are enjoying their lives there, they never thought to cut down the trees there. Their home is in Mysore, Karnataka, while they got number of recommendations to cut of trees, we said don't cut them, further we suggest them plant some trees if they got plenty of space. They never complained about their profession development and other activities.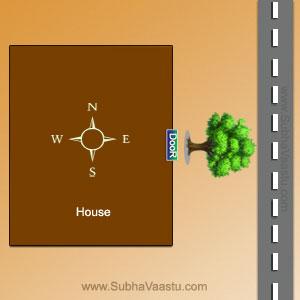 This image shows us there is a tree in front of the main door which falls into East direction. Generally this kind of plantation may not be good. But in some countries this system of planting trees in front of door is mandatory. If there is no rule in your respected area, then don't plan to plant tree in front of East facing door. In any case if your property may has tree like such a way, then you may plan to plant a line of trees upto Southeast-south. This could manage the damage if any thing were created by this tree in front of the East main door.
Directions wise we will discuss on planting the trees.
Please note that trees is different and shrubs are different and plants are different.
1. Best place for the biggest, huge, tallest, very big trees are suitably fit at Southwest direction areas.
2. The same above very big trees are perfectly suitable to plant at West direction.
3. Very big trees are excellent to plant at South direction.
4. Trees/plants are conveniently plant at Northwest direction areas.
5. Plants/trees are planned to plant at Southeast direction area.
6. Plants are suitable to plant at Southeast-east location.
7. Plants are good to plant at Northeast-north direction area.
8. Plants/Grass is recommended at North direction.
9. Green carpet grass/plants are suitable at East direction.
10. Grass is perfectly fits at Northeast direction areas.
11. Tree Well construction towards Southwest is excellent and the same may be good at South, West. Medium at Southeast and Northwest direction areas.
Topiary shrubs are best suitable towards Northwest to North and Southeast to East directions. If you have any unused timber, it may be best suitable to keep them at Southwest corner, but save them from direct sun heat and rains. Bushes are also good to have only at Northwest to North and Southeast to East.
---
SubhaVaastu vastu website requesting all Governments to pass a rule to planting the trees is compulsory otherwise residents never get permissions to built their homes. To save our planet, environment is most important to secure our future. Please pass a rule if any one commits to cut the trees in the name of vastu shastra, please punish them with severe fines or imprisonment or with both. SubhVastu website requesting all countries Governments and Officers please pass a rule that if any person wants to construct a house, he must plant atleast two trees at his house. He must show the space or provide space for plants and without trees don't allow them for construction. Hope every body knows about a rule in USA, any builder or promoter requires to obtain permission for community layout for homes construction they should sign on a conditional agreement that they will plant trees in front of the main home. How good is this rule. Thanks to USA government policy.
---
We planned to develop this link with latest developments in our planet, this link may inform which tree is better to which land etc information and how to protect trees, Tree types, route causes any damage to houses or bedrock or foundation etc. Nature/Trees lovers are requested to write email to us with good information on trees. If any of your friend is tree lover, kindly inform this website link to him, he may guide us for more content to be published here. You may click this link contact us for more suggestions on plantation on our earth. Help our environment by planting trees.
---
"From the day we are after killing non speaking animals and plants - our every morning is welcome with a fresh and miserable new problem. The day we love trees, world would be a paradise.". You may write your experiences on Trees plantation and you are welcome to send photos and videos on trees, we will publish all files. (If you require we will publish your name also). Observe the below images, how impressed these houses with trees. Trees are the main attraction for Godly Elements. Plant trees at your homes. Do you like trees, do you know any trees lover, what is your opinion on trees vanishing in the name of Vastu shastra. Write your opinion, review, suggestion, ideas, if your review or suggestions are good to public, we will publish them in our website, your name stands life long here.
---
"Dear readers, you may please check the people how they are accepting the humans mistakes openly. This is highly appreciated. Come and share your thoughts and mistakes of our neighborhoods, Governments, society, our friends, relatives, ourselves. Should not cut the trees in what ever the reason it has. We should protect trees, it means, we are protecting our globe. This globe is not our's this is our new born next generations. Atleast save some thing natural properties for them, otherwise you will be always blamed by our new born in this world. The people here in Europe try to shift the responsibility to the GOD, Vastu, Jyotish .... They do not want take own responsibility ... fear of responsibility. But i believe also, that we need to research all aspects of the upcoming before affair started using Shastras as instruments and helpers. After this year trip to India we realized that we need to believe and trust more to internal God, who is always with us :), and do not search for external manifestation of God, not run/follow for the false manifestation of God. We need to trust more to ourselves. You said: Don't cut the trees in the name of Vaastu Shastra. Here people is ready to cut all trees to open space in the name of "money and spirituality", if you allow me, I will publish some of your conclusions on my page in Facebook time to time for the people - Alexey - Jurmala - Latvia."
---

Which Tree you are falling down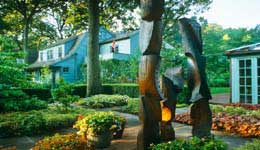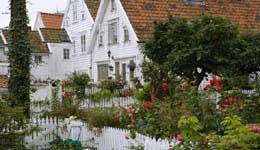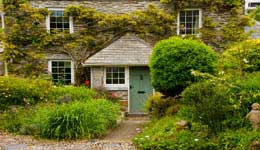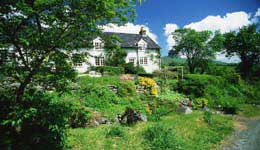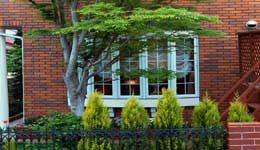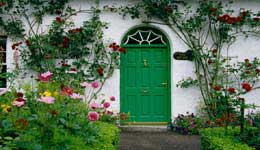 ---
Is Southeast Street focus property is good to buy or not?
We are from USA, Rajesh choose a plot, Is vastu is USA works?
How to find a good site for a Factory construction as per Vaasthu?
We are planning to start house, which website provides best House vastu plans?
We seen one house which has North and West roads, is it good to take for rent?
Require to know more info on Vastu for House, where can I get more information?
Reviews on Vastu Consultant Services Website SubhaVaastu.com
Dear Suresh, I am pleased to inform you that like the way you provided Vaastu consultation for my home and explained to me all the changes required inside and outside home. I really appreciate the diagrams that you prepared for my home with pictures and arrows showing the changes need to be done. Above all, you explained very well the reasons behind changes you recommended for my home with great clarity and sense of humor. No doubt in my mind, you are the best Vaastu expert, I really appreciate your dedication by building and maintaining a very informative Vaastu website that is helping thousands of people across the globe. Also, I sensed when I talk to you and when I was dealing with you, you follow honesty and integrity and you have a sincere desire to help others - Kotesware Rao - Dallas - USA
The website Subhavaastu.com is very informative.Sureshji, the founder of this website is according to me a great ¨human who has vast knowledge in vastushastra and his kindness to his clients are appreciated. He listens to his clients problems patiently and gives the appropriate remedies. His main motto is good service and he responses as quick as possible. I spoke to Sureshji as a stranger only, but after one phone call itself , I started feeling that he is a caring well wisher for whoever asks his help. He is a genuine person. He doesn't force you to spend money in the name of vasthushastra, he explains clearly where the problem is and tries to give very easy changes to have a peaceful life. Sathya Priya - Switzerland
We are tech professionals and working in USA. After a year long search we brought the house. After buying the house I started looking into vaastu consultant who can help me evaluating the house. I came across Subhavaastu website which has lot of vaastu information. I contacted Mr.Suresh and requested him to help with our house vastu. It has been a great pleasure working with him. He is very detailed oriented person and never compromises with his work. I am typically not interested to deliver the reviews. But after working with Mr. Suresh I decided to share my experience. Mr. Suresh has great expertise in providing vaastu consultation to USA property. He is always available through email and phone l to answer questions. I am writing this review hoping it will help other people like me who lives in abroad. Please take vaastu advise before buying the house. I highly recommend Mr. Suresh as he has great experience with structure of USA properties and also he provides genuine consultation. I really appreciate Mr. Suresh's help in evaluating our house vaastu - Padma - Boston - USA
I have consulted SubhaVaastu (Suresh Gaaru) during December 2014 during the process of buying a house in Texas, USA. I have occupied the house for one year now, and feel like dropping a review regarding my experience during the entire process. I am very much satisfied with the kind of service I received from Subhavaastu. He is very knowledgeable about vaastu and I was often stunned by his detailed analysis during the course of my interaction with him. He was very much accessible over phone (perhaps more than 10 times for one house plan!) and the price is very much reasonable especially compared with the cost of the house. I noticed his burning desire to help me in making informed decisions on certain things. I have seen some people pretending to know Vaastu and misguiding those who come for help by saying only what we want to hear. SubhaVaastu is definitely not that one. Finally, I am strong believer of leaving certain things to experts in those subjects. I have been in US for more than 13 years and have seen people doing their own vaastu (by reading website articles) trying to save few dollars. Please don't do that. You would end up in causing more damage. I highly recommend you to engage SubhaVaastu in your next project - Satish - Dallas - TX - USA
Announcement
In India, today there is a large population and apparently not much opportunities for livelihood. Infact this is true and applicable to most of the developing economies. The country is large and the population is larger. The population of United States which is more than twice that of our country is less than half of our population infact a third of our population or even less. Inspite of low population they have created huge demand and supply gap and thus employment opportunities are far greater there. Come to our own environment it is a fact that greater population means more opportunities for earning livelihood. However constraints in the resources due to factors beyond our control have compelled us to go slow in fulfilling the needs of a huge population, thus unemployment has taken an agree proportion. The present day youth realizing this are finding of offering to meet the demand by alternate means. In this process new enterprises are coming up to fulfill the needs and aspirations of expanding population. These new entrepreneurs are full of intellect energy and dynamism perhaps their enthusiasm is far greater than the resources available to them, this they have taken as an opportunity and not disappointment. This is welcome sign and extremely desirable considering our state of affairs. While their intellectual acumen will help them a large extent the pitfalls in the process are far too many for them to handle perhaps these pitfalls are also unknown. There are inherently unseen forces which are contradicting the efforts of these young technocrats. We would call these contradicting forces to a large extent because of non compliance of vastu principles. Even though every body knows that the combination of hydrogen and oxygen produces water and the technology for the same is well known how is it, that many of the new enterprises are not succeeding ? The verve and enthusiasm of the youth is no doubt very high. But still they are not hitting the mark appropriately. The reason may be not complying to the vastu principles when this new enterprise is coming into being. Most of the youth are not aware of this Vastu consultation. Keeping this in view and looking for the prosperity of the youth and thus the country we at SubhaVaastu have decided to render free vastu services to such of these youth who are venturing into apparently known fields, but full of uncertainties. You may avail our free Vastu Consultation for a period of 15 days from 23rd May 2017 to 8th June 2017. We are greatful if visitors to our vastu website to give appropriate publicity to this heart of ours. So that the future entrepreneurs are profited by the Free Vastu Services, finally youth will become prosperous and thus India too. Its what our ambition. Thanking you. Team – SubhaVaastu.com. More details available at Free Vastu Services page.
Spiritual Wallpapers
Days are changing, most of us sitting before FaceBook, WhatsAPP, Twitter, YouTube and paying attention to foreign websites, may be this would be the reason people does not have patience, Most of them forgotten our/their cultures, traditions, methods, systems and TIME. Just passing days by observing videos, after observing all these worst scenario in our society we thought to introduce some attractive devotional wallpapers. Let us experience our ancient and traditional Devotional Wallpapers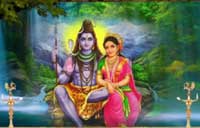 Inspirational Quotations
"When there is no enemy within, the enemies outside cannot hurt you" - African Proverb
---
"Great minds discuss ideas. Average minds discuss events. Small minds discuss other people." ― Sherrilyn Kenyon . . . Let you question yourself, "Who You Are"?
Joke Of the Day
Husband : I lost my wife, she went shopping & hasn't come back yet.
Inspector : What is her height?
Husband : I never checked.
Inspector : Slim or healthy?.
Husband : Not slim, can be healthy.
Inspector : Colour of eyes?
Husband : Sorry, Never noticed.
Inspector : Colour of hair?
Husband : Changes according to season.
Inspector : What was she wearing?
Husband : Not sure whether it was a dress or a suit.
Inspector : Was she driving?
Husband yes.
Inspector : colour of the car?
Husband : Black Audi A8 with supercharged 3.0 litre V6 engine generating 333 horse power teamed with an eight-speed tiptronic automatic transmission with manual mode. And it has full LED headlights, which use light emitting diodes for all light functions and has a very thin scratch on the front left door and then the husband started crying...
Inspector: Don't worry sir, we will find your car.