Vastu Shastra for Doors | Gates | Placements | Number Of Doors Counting
Vaasthu Shastra for Doors: In Vastu Shastra, the Doors always plays a pivotal role, by having crucial importance for this subject, the residents, mason, vastu consultants are providing a particular date to fix up the door to the property at the time of construction. The placement of the door is an decisive and deciding factor in terms of results. Doors are called with different names at different regions. Undoubtedly vastu for doors is too important in vastu shastra. These are classified into two types like "Zenith" and "Vile". Out of these two, only 'zenith' place is to be taken always for placing of doors for the house. The reason is that 'Vile place' always ruins the life of the members living in the house where as 'Zenith place' taken the persons living in the house to the highest level in their respective fields. This is the general discussion, in some cases the vile placed doors also providing very good results, its only because of powerful neighborhood vastu support.
In olden days, most of the vastu pandits took to visit two times before completion of the property. The first one is selecting the land and doing bedrock work, the second visit will be at this doors placement. By knowing this we may understand how importance has to be given to this section. The ancient Saints/ Rushis opinioned that doors should be placed at the right zenith place. Because this placement provides the residents countless benefits like health, wealth, family, business etc. The question as to the correct number of doors that house should have always remained an enigma our ancient saints/ Rushis advised that doors can be placed according to region and convenience by all considerations it is advisable to have the doors to a house in even numbers like 4,8,10,12, etc and further they stated better to avoid doors in odd numbers. It is perhaps because these doors must have been placed in 'Zenith position'. As per the oriental science of Vaasthu, a house can possess a single door or doors of even number excepting the numbers ending with zero. The development happens in all fields only because of every subject was gradually researched by the scientists. By the way this vastu shastra also researched by many expert vastu specialists, they opinioned that the modern science of Vaasthu and our investigations conclude that doors can be either of even number or of odd number, or even numbers ending with zero. Same is the case with windows and toilet ventilators too. The most important thing is that if a house has a main entrance in the west it should have a corresponding door way in the east also. In the same way if a door way is there in the South there should be one corresponding door in the North direction also. The fruits of the latest researches now reaching to the residents with just by observing the websites or reading books, but we should all know that how pains all we got by researching the subject. Anyway the time was came for the betterment of the human beings.
Almost every vastu experts accepts that this doors section has peak stage level in vasthu shastra and if doors are placed in right place, residents enjoyed peace in their dream home. Logical thinking may also attain a good level of destiny reaches in Vaasthu Shastra. From starting we recommend each and every body that at the time of house construction or buying a plot it is better to consult one expert vastu consultant. He will guide the best recommendations after visiting the property. By having some bookish vastu knowledge one should not take any decision. Finally this may leads to pains. One can be free from the clutches of suffering atleast to the minimum level by placing the doors in 'Zenith Place'. It will ward off all the evil influences on your properties.
These are the kinds in this section:
1. East facing house door.
2. North Facing home door.
3. South facing house door.
4. West facing house door.
5. Northeast facing house door.
6. Southeast facing house door.
7. Southwest facing house door.
8. Northwest facing house door.
DOORS VAASTU ADVISES – RICH and ROYALNESS.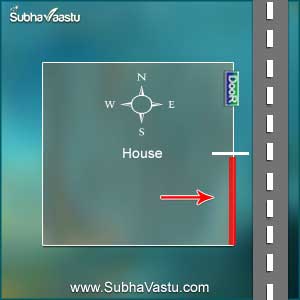 East Wall has been divided into two parts with one middle vertical line shown with white color, now it was shown with one red portion that is South portion and the remaining is North portion, generally the red portion should not be left for the main gate or door, the remaining portion we may plan for the door, already there is one door shows at East wall it represents Northeast-east, this blesses with more benefits to the residents with good name and fame, works go smooth, education, development in all fields, money, etc are common. What happens if the door is at red marked wall (a arrow is also shown the red mark wall), the residents may generally gets easily angryness, bad name, works cannot go smooth, quarrels, education spoils, thefts, fire accidents, road accidents, loss of fame and name, poverty, debts, arrests, court cases, womanizing, bad habits, cruelty, cheated by others or cheating nature etc. The doorways should not be very closely attached to the corner point. One should provide padding area, it was also shown in this link. What is the pad, how to provide the pad etc was also clearly mentioned below. Using the pad benefited not to breakage the walls, if there is no pad then it may called as wall breakage. This may not be the good sign. Things will be clear by reading the paras in this link.
This is South facing home, The front wall i.e., South side was wall shown with two partitions like red part area (West portion) and remaining East portion with white part area. A small white line was shown in center of the South wall. If the door is at red marked portion i.e., Southern Southwest then it may generally causing or attracts diseases to the residents and loss of money, and there is a chances of death may also occurs. Heavy medical bills, tensions regarding health etc, financial collapses may be common. This could encourage the people to go up with super mountain heights in their fields and one day it may collapse entire institution, why this acts like such a way, there is no miracle but is some times same this door may bless with high income, but that would not be the permanent.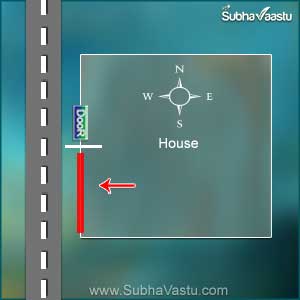 The house is having a main Door towards Southwest ( Nairuthi ) towards West side. It may be the bad one. Due to this, residents will suffer with lot, like insecure feelings, financial losses, sudden financial collapses, chances may be with deaths, ill-health, Interest on masala (spicy) Foods, Elders will suffers with health problems, mainly targets cannot reach successfully, bad name, sometimes heavy expenditures, accidents etc may happens, slave to bad habits, defeats etc may be appears. If your property has such Western Southwest door, then it may be a good idea to show that property with one expert vastu consultant and take his guidance, if no body is available then better to close this door and open the main gate or door towards Western Northwest door. Please note that door is different and gate is different, if you have gate and door then don't follow this principle, there is other system is there to follow to set it right.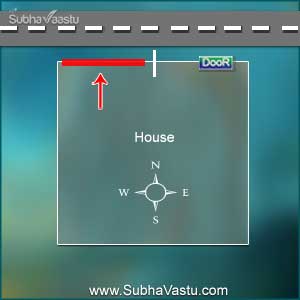 With this red marked area entrance door may gives lots of troubles to the residents like financial instability, debts, mental tensions, problem with ladies or ladies has to face all the tortures, bankruptcy, sanyasa (rushi / sage), loss of properties, lonely life, enemies, court cases, quarrels, misunderstandings etc may happen.
As we discussed earlier the Science of Vaasthu attaches lot of importance to the door ways. The designing of an ideal house not only requires providing for doorways in exalted positions, but also providing vacant space on all the sides of a house. The vacant space in East and North must be more, when comparing with the vacant space in West direction and South direction. As per the oriental science of Vaasthu, a house can possess a single door or doors of even number excepting the numbers ending with zero. However modern science of Vaasthu and our investigations conclude that doors can be either of even number or of odd number, or even numbers ending with zero. Same is the case with
windows
and ventilators.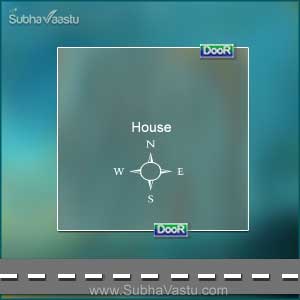 Here the house is West facing and the road is towards West direction to this house. The main entrance door is towards Northwest-west, it is stated as number "1" in a green color circle. In respect of a house possessing main entrance in West direction, a door in East direction, is compulsory as shown with number "2" covered with green circle.
Now we are discussing about the South entrance door.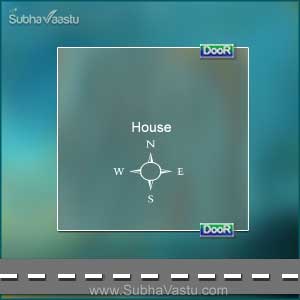 Here the house is South facing and the road is towards South direction to this house. The main entrance door is towards Southeast, it is stated as number "1" in a green color circle. In respect of a house possessing main entrance in South direction, a door in North direction, is compulsory as shown with number "2" covered with green circle here. These principles are good to adopt if these are the residential properties, for commercial properties maximum try to follow these principles otherwise leave it. Because we may not get the back door for the commercial properties. If available then power will be double, on the same way security problems may also be arises.
When a west direction house is there, there must be one door towards West to the house, so that it falls in the Northern half of that direction, it contributes the rich and prosperity to the inhabitants of the property.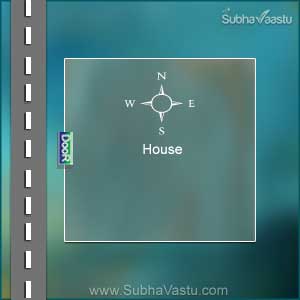 When a house faces West direction, the entrance should fixed towards West, so that if falls in the northern half of that side. The door would be in exalted position and contribute to the prosperity of the residents. The main entrance door should not be fixed towards Southwest-west side. Either it should be in middle or near to North wall, then it called as Northwest-west door.
North Door: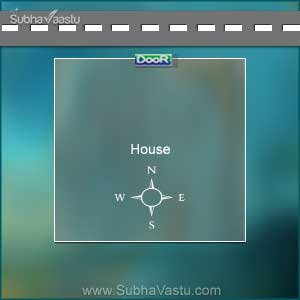 The plot is towards North facing and the road is towards North, and the house faces North, the entrance should be fixed towards North, so that it falls in the Eastern half of that side. Such a phenomenon augurs very well. The main entrance door should not be nearer to the West direction, it is better to nearer to the East direction. That is why the naveena (new) vastu shastra says that the Northeast-North door is good.
South Door :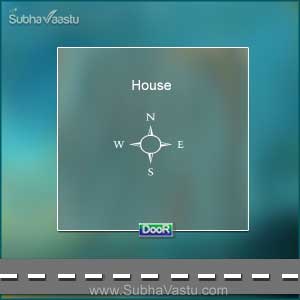 When a house faces South, the entrance should be fixed towards South, so that the door falls in the Eastern half of that side. This will bring auspicious results to the inhabitants.
East Door :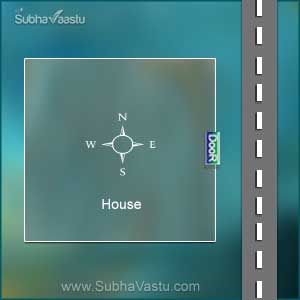 When a house faces East, the entrance should be fixed towards East, so that the door falls in the Northern half of that side. This brings auspicious results to the inhabitants. This has been revealed and established after experiment and experiences. In olden days we see only the center doors. Even in villages, residents likes to construct the house with center doors.
Naveena vastu shastra system of fixing the doors :
This is the important aspect in doors, the fixation is little bit confused in many areas. Here the clarificaiton is available. While fixing the doors the continuity of the wall is important, we should not brake it in the name of doors. Atleast a minimum of 9 inches or atleast 4 inches corner pad may be provided. If so the wall will be continued, otherwise it may be discontinued in the name of door. Make sure the continuity in construction of the wall.
Northeast-east Door :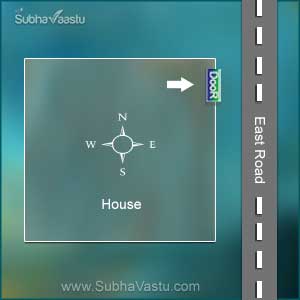 Now latest system arrives and many residents are not interested to fix the main entrance doors exactly towards East, West, North or South, instead of they are willing to fix the main entrance doors Northeast-east, Northwest-west, Southeast-south, Northeast-north and the like. Here observe the main entrance door fixed towards Northeast-east. There must be gap or pad in between the North wall and this door. Observe the below image for more information.
Northwest-west Door :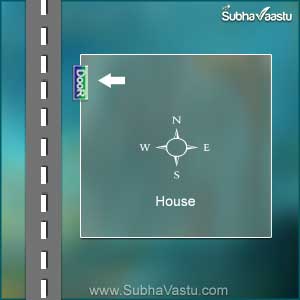 Observe the Northwest-west door to a house. Now you may observe many houses in India following this principle
Southeast-South Door :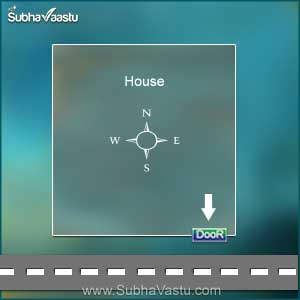 Here the Southeast-south door for South facing houses.
Northeast-North Door :
Northeast-north door. This is the present system which the residents following. Many vastu consultants are also recommending this type of doors fixing placements.
The doors without having the pads, check the below door :
The doors and the windows are may be fixed opposite to each other or face to face is good. Many asked us that the grill door is also countable as a door or not, if the grill door is having same height of our home ordinary door then it is also counted as door or a grill door touching the ceiling can also be counted as a door. No importance is given to the number of doors or windows. Air curtains or mosquito mesh doors etc, are not to be treated as doors.
When a house faces towards East direction, then the entrance should be fixed towards East direction only, so that the door falls in the northern half of that side, and remaining half is towards South. Such a door yields good results, as it would be in exalted position. Be sure that the door at any cost may not fall towards Southeast direction, a bit of inch occupies the South side may cause some problems.
Observe the pad or gap in between the North wall and the door, also observe the below images for more understanding on pad.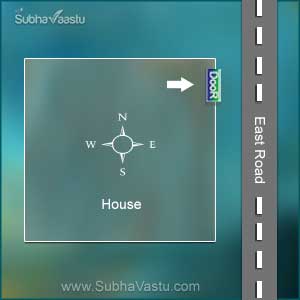 There is no pad / gap in between the North wall and door, due to this the wall will not be in continuation. The door is directly attached to the North wall.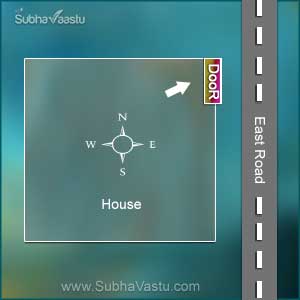 Check the pad, if not possible to leave 2 feet better to leave atleast 9 inches or a minimum of 4 inches is good, without pad, placing the door is not recommended, if it is possible then provide 2 feet also based on the length of the entire wall. Due to this wall pad it is ensured that the wall is continued.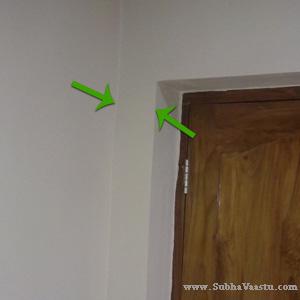 In this door area the residents may not provided the pad for the door. Door is direct to wall. It is clear that door was placed without pad, this method is wrong. Due to this the wall was not continued. In the name of door we should not cut the walls. Walls always continued to the both ends, doors and windows will be common on walls, at this time, placing the door or window should have atleast 9 inches pad. You may observe the same wall pad system in above image.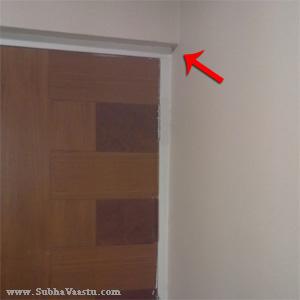 Doors in exiguous positions make the inhabitants prone to subtle habits like smoking or drinking etc. The main entrance of a house is compared with the mouth of a human countenance. This is what we judge the importance of a door of the house. Just as the face has a pair of eyes, a nose and a mouth, the main entrance of a house is supposed to possess windows on either side, and sill or threshold below the doorway, to give it the shape of a human face.
The utility of door-sill is compared with that of lower lip too a mouth. It is said that the threshold \protects the household from perils, diseases and paves way for prosperity. The inner significance of a door sill can be appreciated better, if one looks at it as an obstacle for the insects, which stealthily crawl or creep into the house in its absence. The practice of applying turmeric powder to the door sill is also backed by the scientific reason of restraining the insects from entering the house. Even many are practicing like in villages and in towns and even in cities also using turmeric powder applying to door sill. With the introduction of paints many residents using the paints Instead of turmeric powder.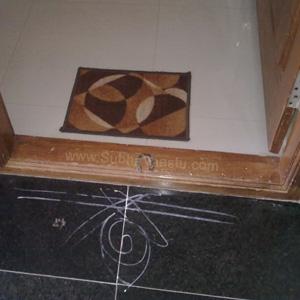 But the usage of turmeric, an age old practice in India, even today by beauticians in skin care and by physicians as an antiseptic, and by housewives in cooking. Turmeric is also used as a curative, in treating certain skin diseases of animals and coughs of many kinds in rural India, in long past and now, too. The door frames serving as entry and exit ways into the front yard or back yard of the house must invariably possess threshold. The shrinking of the foundation under the door frame sometimes results in breaking of the slab or flooring under the main door frame. Modern Vaasthu says that such a phenomenon need not be considered as a bad omen, as it may, at the most, cause an injury to the feet, if not crossed cautiously. To avoid all this, now-a-days, cement slabs are used under the threshold.
The internal doorways leading to kitchen, bedroom, deity room etc., are exempted from possessing door-sills. These doors are the inner doors and there is no compulsory for the door sills (gadapa)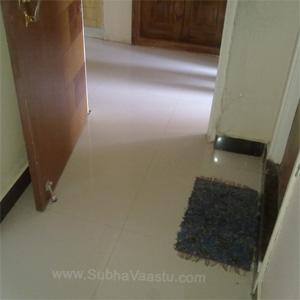 Turmeric powder door sill :
Turmeric powder apply to the door sill. This is good and try to practice for good health. Our elders are strictly recommending us to follow this system to avoid of restrain the insects entering into the house. This is main entrance door to the house. Applying the turmeric powder to inner door sills are not compulsory. If one house is having two doors leading to the outside, i.e., one is main entrance door and another one is back door, then please apply the turmeric powder to that back door also. It is must for your good health.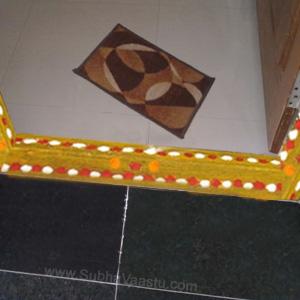 Decoration of Doors :
Is the decoration of doors is important or skeleton door is OK. In our experiences the decoration of doors are important. It will have some attraction, the positive powers will be directed to this door properties, still our researches are continuing and finding many things which leads to happy human living.
Observe the decoration and these may bring auspicious results to the residents. There are many other attractions available in the markets. Simple decoration is enough. If you likes to have more decoration to the main entrance door, then do it. No objection. Over attraction may not looks good, so plan for making nice attraction to the main entrance door.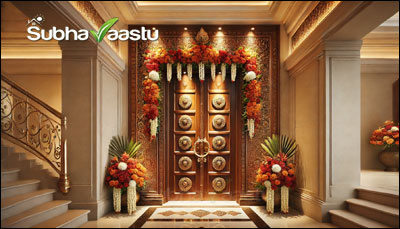 Hinges :
When open the doors, the hinges should not create noise. The doors should be noiseless and smooth opening. If it creates noise, then the hinges may be greased periodically, or apply oil to smooth opening without noise.
In some places there is a frame without door, is that frame is also counting as a door, check the below image:
See this image, there is a door frame without door, there is adjacent one room attached to this bedroom, where we taken the photo, this is a door frame, which is not counted as door. This room is used by one old lady returned from Japan. This property is in New Delhi. Small partition Aluminum plank is there which obstructs the Pomeranian dogs not to enter inside bedroom. When there is no door, then the frame is not counted as door. Already we have clearly discussed that no need of counting doors in the house.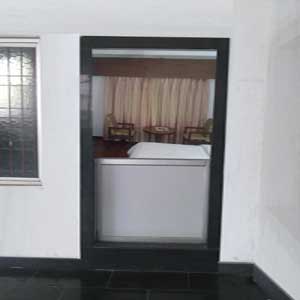 Cloth Hangers to the main entrance door :
Don't fix the cloth hangers to the main entrance door. It looks odd and dirty.
Hanging the cloths to the main entrance
door
is not good. Don't fix any hangers to the main entrance door. Inside doors like bedroom doors etc, its OK, no problem.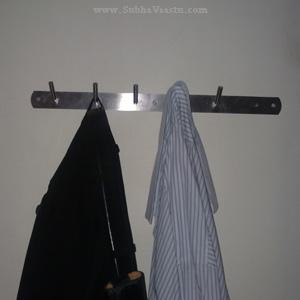 Lock to the main door :
Security is too
important
for the doors. Make sure double locking system is too good and bolt is also recommended at top and bottom sides. Check the below image.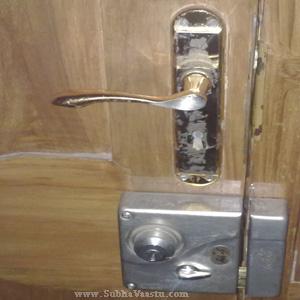 Security is too important for the main entrance door :
Strong security means you will feel secured. That is important. In many foreign countries there may not be any such securities for their doors, they will lock the doors, that's all, but where as in some other countries the residents fixed many bolts and locks to the doors.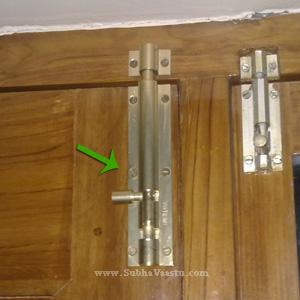 This matter may not be important here, but security is also important for a property, that is why we informed these small things. Not the security, but security feeling is important. If there is security to a property then we will experience the security feeling. Vaastu always say about security feeling. Then we will concentrate on other development business, or having more concentration on our regular duties, i.e., no need to worry on our properties.
Question : Namasthe sir I from Karimnagar one of my friend suggested that instead of going for two saprate frames for window and door go for one frame my doubt is whether that count comes under door or window or individual - Neelima.
Answer : The extra frames are not coming under separate counting for window or door, already we have mentioned above.
Question : dear sir, this is Prasad from Vijayawada. recently i construct a house in my village.i want fix a wood come glass door in bedroom.so many members saying its not correct method in Telugu vastu...what i do...if i fix r not? - Prasad - Vijayawada - Andhra Pradesh - India.
Answer : What they said is correct, this saying may be in view of joint families, not for single families. If your house is having only you and your wife, then you may plan for the glass having with wood door, otherwise better to have only wood door, it may said to be privacy concerns.
Sir Goodmorning, This is Pratap, We are construction a small House, In that we have not planned for Balcony, But we are now putting the balcony. Now the main door and pooja room have kadapa's (sill or threshold) , It is 2 Nos only, But Now we are requiring the one more for balcony, Vastu purpose it is Good are Bad Sir, While calculating it is coming 3 Kadapa's. Please give to us your valuable suggestion - PRATAP - Vijayawada - Andhra Pradesh - India.
---
Which direction rooms are best for guest rooms in a house?
Is Southwest portion of my house is good for the living room?
Which area is the good for constructing septic tank in my house?
Is backyard doors should come exactly opposite to the main entrance door?
Many friends says that Northeast Street Focus plot is good to buy, is it correct?
How to arrange entrance door, which rules we have to follow while doing fix the door?
My sister register a property which has Southwest-west Road thrust, is it good to buy?
Just now I seen a plot which has Northeast-north Street thrust, can I buy it for hospital construction?
Reviews on Vastu Consultant Services Website SubhaVaastu.com
Dear Suresh, I am pleased to inform you that like the way you provided Vaastu consultation for my home and explained to me all the changes required inside and outside home. I really appreciate the diagrams that you prepared for my home with pictures and arrows showing the changes need to be done. Above all, you explained very well the reasons behind changes you recommended for my home with great clarity and sense of humor. No doubt in my mind, you are the best Vaastu expert, I really appreciate your dedication by building and maintaining a very informative Vaastu website that is helping thousands of people across the globe. Also, I sensed when I talk to you and when I was dealing with you, you follow honesty and integrity and you have a sincere desire to help others - Kotesware Rao - Dallas - USA
The website Subhavaastu.com is very informative.Sureshji, the founder of this website is according to me a great ¨human who has vast knowledge in vastushastra and his kindness to his clients are appreciated. He listens to his clients problems patiently and gives the appropriate remedies. His main motto is good service and he responses as quick as possible. I spoke to Sureshji as a stranger only, but after one phone call itself , I started feeling that he is a caring well wisher for whoever asks his help. He is a genuine person. He doesn't force you to spend money in the name of vasthushastra, he explains clearly where the problem is and tries to give very easy changes to have a peaceful life. Sathya Priya - Switzerland
We are tech professionals and working in USA. After a year long search we brought the house. After buying the house I started looking into vaastu consultant who can help me evaluating the house. I came across Subhavaastu website which has lot of vaastu information. I contacted Mr.Suresh and requested him to help with our house vastu. It has been a great pleasure working with him. He is very detailed oriented person and never compromises with his work. I am typically not interested to deliver the reviews. But after working with Mr. Suresh I decided to share my experience. Mr. Suresh has great expertise in providing vaastu consultation to USA property. He is always available through email and phone l to answer questions. I am writing this review hoping it will help other people like me who lives in abroad. Please take vaastu advise before buying the house. I highly recommend Mr. Suresh as he has great experience with structure of USA properties and also he provides genuine consultation. I really appreciate Mr. Suresh's help in evaluating our house vaastu - Padma - Boston - USA
I have consulted SubhaVaastu (Suresh Gaaru) during December 2014 during the process of buying a house in Texas, USA. I have occupied the house for one year now, and feel like dropping a review regarding my experience during the entire process. I am very much satisfied with the kind of service I received from Subhavaastu. He is very knowledgeable about vaastu and I was often stunned by his detailed analysis during the course of my interaction with him. He was very much accessible over phone (perhaps more than 10 times for one house plan!) and the price is very much reasonable especially compared with the cost of the house. I noticed his burning desire to help me in making informed decisions on certain things. I have seen some people pretending to know Vaastu and misguiding those who come for help by saying only what we want to hear. SubhaVaastu is definitely not that one. Finally, I am strong believer of leaving certain things to experts in those subjects. I have been in US for more than 13 years and have seen people doing their own vaastu (by reading website articles) trying to save few dollars. Please don't do that. You would end up in causing more damage. I highly recommend you to engage SubhaVaastu in your next project - Satish - Dallas - TX - USA
Announcement
When population grows employment opportunities diminish. It is inversily proportional to growth in population. We are all aware of this phenomenon. Several of our youth are suffering due to lack of employment opportunities. In such a situation several highly qualified youth are often compelled to do jobs far below their potential. This is a sad situation. In a scenario like this the fate of illiterates is pathetic. In a sense the whole country is suffering. The parents would have made huge sacrifices in bringing up the children so that they may have a better life than themselves. Alas! what a tragedy has fallen on them ! In these harsh times their natural hopes are dashed to the ground. Fortunately vastu shastra has a hopeful solution for this situation. Keeping the plight of our youth in view we at SubhaVaastu decided to help mitigate this parody. We have decided to offer FREE vastu consultancy for our youth till the end of this February, 2017. For all related services kindly follow the link.. More details available at Free Vastu Services page.
Spiritual Wallpapers
Days are changing, people does not have patience, many were sitting before FaceBook, WhatsAPP , Twitter and paying attention to foreign websites. Most of them forgotten our/their cultures, traditions, methods, systems and TIME. Just passing days by observing videos, after observing all these many changes in our society we thought to introduce some attractive devotional wallpapers. Let us check Devotional Wallpapers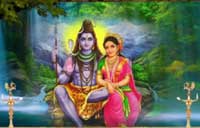 Inspirational Quotations
"Keep on going and the chances are you will stumble on something, perhaps when you are least expecting it. I have never heard of anyone stumbling on something sitting down" - Charles F. Kettering.
---
"Great minds discuss ideas. Average minds discuss events. Small minds discuss other people." ― Sherrilyn Kenyon . . . Let you question yourself, "Who You Are"?
Joke Of the Day
"Late one night a robber wearing a mask stopped a well-dressed man and stuck a gun in his ribs. "Give me your money," he demanded. Scandalized, the man replied, "You can't do this – I'm a US Congressman!" "Oh! In that case," smiled the robber, "Give me MY money!"