Details

This Page Hits:164284
26 Images On Vastu for Septic Tank | Cesspool | Cell pit
Septic tank has to be constructed or located as per vastu shastra, septic tank is also called as Cesspool or Cesspit an underground reservoir of wastage and an underground constructed container for the temporary storage of liquid sewage or waste pit conservancy tank or covered cistern which can be used to dispose of urine and feces or poop and more generally of all sewage, discharges and refuse.
It is a more antiquated solution that a sewer system. Traditionally, it was a deep cylindrical chamber dug into the earth, having approximate dimensions of 1 meter and 2-3 meters depth.
Their appearance was similar to that of hand-dug water well. Many residents in previous days have constructed the septic tank at South, West, Southwest, Vayavya (Northwest) corners, and the septic tank should be constructed in the Paishacha area, the open area all around the building.
It should not be exactly in the Northeast, Southeast, Southwest, Northwest and Brahamsthana.
Any faulty construction of septic tank in the northeast may spoil the ground water sources.
Its foul smell, mixed with benefit solar and magnetic radiations will enter the house. In the Southeast, the kitchen is considered best. The activities of creation in the kitchen don't match with the activities of destruction in the septic tank.
In olden days there was no septic tank for toilets. Today they have become necessary. For modern septic tanks a pit has to be dug.
Location is to be in the North or East. In no other direction should it be sunk. If latrine is planned for in the east, away from eastern compound wall in line with the house, without touching its wall. The pit has to be sunk in the east measuring half the area.
South west is the most suitable place for toilets. This is recorded in our ancient texts. Modern writers have transported the same in their book, because they lack experience. Septic tank should be arranged in the north without touching compound or house, in the middle of the open area.
Similarly in the East also. Latrines without pits can be there in the south west. No harm, but they should be in height position than the ground level of the house flooring.
First preference has to be placed to constructed the septic tank is middle East or middle north only. The remaining parts are not yet suggested.
But today a pit is required for septic tanks, but then a pit in the south west is wrong as per vaastu. Not only wrong but very harmful. If latrine is planned in the south west it should be on a higher level without pit and pit can be arranged in one half of the north.
Or in one half of the east. If latrine is planned for northwest it should not touch north wall and compound wall. A room should be built alongside the house and also septic tank can be in one half of the north.
Toilets can be arranged as shown in the models here. The latrine can face any direction but W.C. should be invariable to north and south. It is the best direction. It should never be towards east. It is not proper nor it is auspicious. Perfection vastu for home is always advisable
There is a legend in the Ramayana which is worth mentioning here. Rama went in exile into forests along with Sita and Laxmana at the command of Dasaratha. Bharata returns from his grandfather's place. He was pained to know that people suspected him for the exile of Rama. Then he swore "I"d fall into the worst place where people relieve themselves against the sun defiling the Lord, go". So east is sacred. Evidence in Ayurveda also supports this. Latrines (WC or Western Commode) and bathrooms can be arranged inside the house as shown in this diagram.
Now let us see where the toilet septic tanks has to be placed in our house.
Once we visited one Collector Bungalow, there we found that the septic tank has placed at southwest part of the compound. The effect of this septic tank at that place turned to instability to the Officer, that is why no one has completed at least 2 years in that Collector Bungalow. If the same septic tank has came at southwest part of general public property, what happens ? ..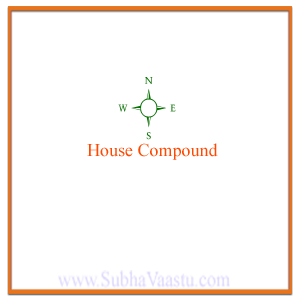 Now check the septic tank placements: -

In some places people called this sewage water as waste water. Anyway placement is the important for us now.

Now observe the house, here directions shown. Please keep it in mind, it helps in further images, anyway we have cleary mentioned the directions in every image.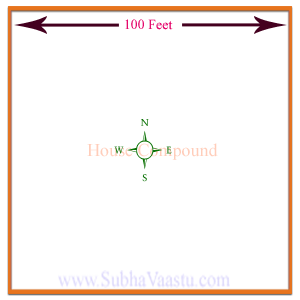 For your information only we have taken the North direction with an example dimensions like 100 feet or more than 30 meters. Generally in India most of the properties does not have more than 100 feet dimensions, but in several other countries it is very common that having more than 100 feet dimension plots.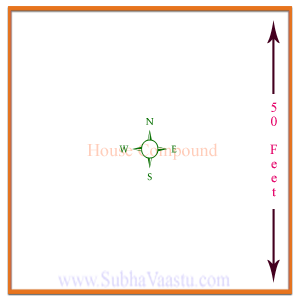 For our understanding purpose we have taken the East direction dimension as 50 feet say about approximately 16 meters. Please note that the dimensions are only for your kind understanding purpose. The dimensions are not for scale.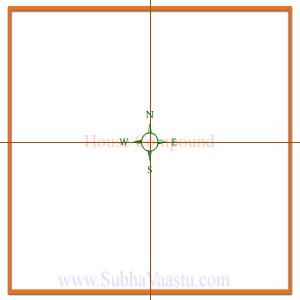 Divide the property in four equal parts, (here we done the same, but it may not correct as per scale, and the image equal parts are approximately divided)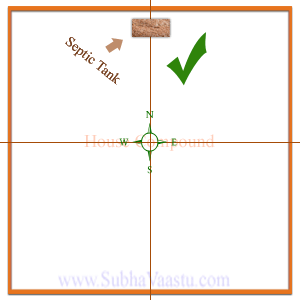 In North direction the septic tank has placed or constructed, near to the North wall. and very far to the center of the plot. Please keep it in mind.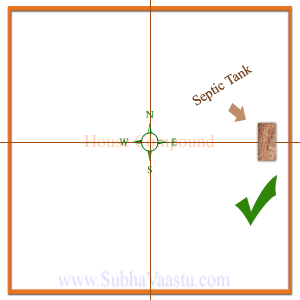 Here the Septic Tank has placed near to the East and far from the center of the plot. Have you observe the East division center mark and septic tank center mark, may be the equal. This is the perfection of placement of septic tanks, like wise in North direction plot also the septic tank has placed, for more info, please observe the above image once.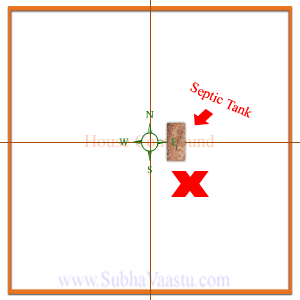 The septic tank has near to the center point and far from the East direction. This is the wrong placement. Please note that septic tank always near to the East or North directions only. Regarding the dimensions residents are advice to consult one expert vastu consultant and procure the right information.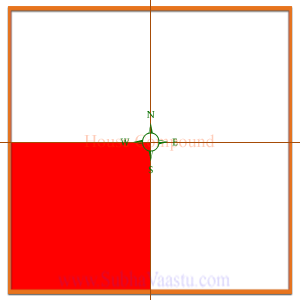 The red mark shown at the Southwest part of the property. At any cost the septic Tank should not be placed in Southwest part of the property, it leads to several bad effects to the residents or to the properties. In commercial properties also septic Tank (ST) should not be placed at Southwest portions. It may leads to financial crisis, accidents, bad habits, some times it causes to death, insecure feelings and much more.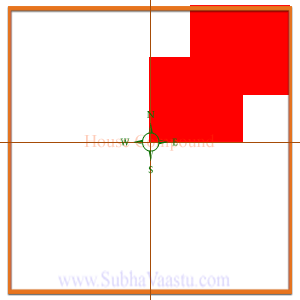 Now we are traveling into the subject depth. The images shown in the website are approximate and for your kind information purpose only, it is not according to the scale. Please remind the same for further below study.

Here one red mark has shown in Northeast portion of the property and the same has not marked in two sides, those are the northwest and southeast parts of the northeast portion.

We should not place or construct the ST at northeast portion of the property.
Here Northwest portion shown with red mark and northeast portion of the northwest portion is not covered with red colour, it means the place is good for septic tank.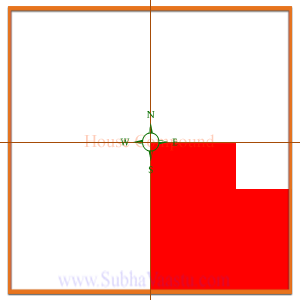 Here Southeast portion shown with red mark and northeast portion of the Southeast portion is not covered with red color, it means the place is good for septic tank.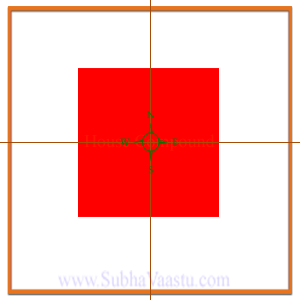 Center place in a plot is not good for septic tank construction. Please avoid in constructing the ST at center place or Brahmasthan.
Approximate exact portion of the Septic Tank at North portion. We shown ST with the help of some lines, in which the exact portion for constructing the ST. The place here is called as North portion of the Plot.

Please note that before taking any decision, it is suggested that better to approach one expert vaastu consultant for secured future.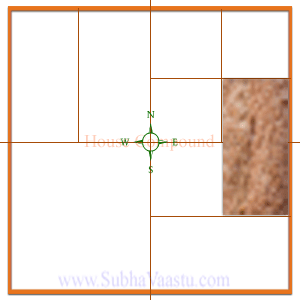 Approximate exact portion of the Septic Tank at East portion. We shown ST with the help of some lines, in which the exact portion for constructing the ST. The place here is called as East portion of the Plot.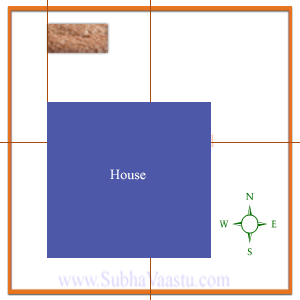 Think that a house is constructed at Southwest portion of a plot and the ST has to be constructed at north or east portion as mentioned in the above images, some times it is not possible to construct the Septic Tank at north or east portions. Then we have to find out the second placement of portion which is best suitable for ST. Please observe the line which parallel to the house and Septic tank. This is the second best placement or constructing of the ST.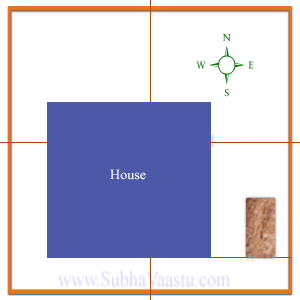 Here also at East side, the second best opt for constructing the Septic Tank. Observe the line parallel to the house and ST. The Septic tank has not crossed the House South wall.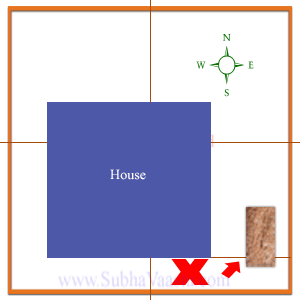 The wrong placement of the Septic Tank at East direction. The ST crossed the line of South wall of the house. It is wrong.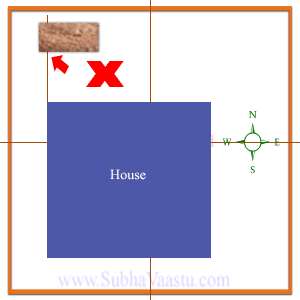 Here the Septic tank has crossed the West wall of the house. This is wrong placement of Septic Tank at north direction.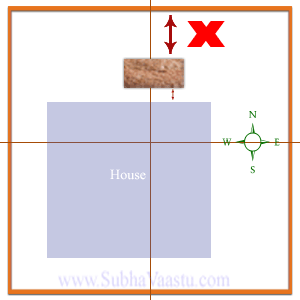 Please observe the wrong placement of the Septic tank at North direction. Observe the space which we provide for the ST at north, lesser space in between House and ST and more space in between the ST and North wall. This is wrong placement of ST.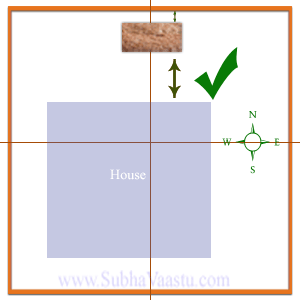 Here right placement of the Septic tank at North direction. Observe the space which we provide for the ST at north, more space in between House and ST and lesser space in between the ST and North wall. This is right placement of ST.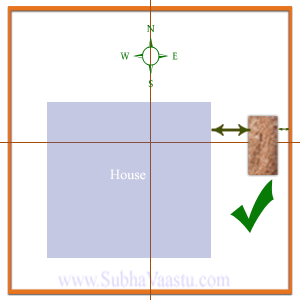 Same as above, here in East direction, more space in between House and Septic Tank and lesser space at ST and East boundary wall.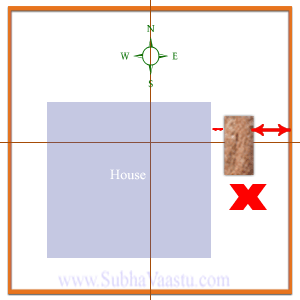 The wrong placement or construction of Septic Tank at East direction. We should not provide more space in between the ST and East wall. It is wrong.

Please note that these images are not according to the scale. So don't follow these same principles as per your property dimensions, because dimensions are too important while constructing the ST.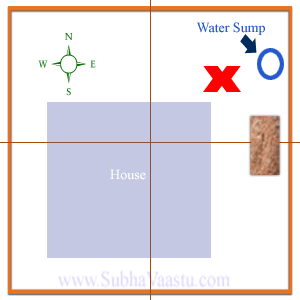 The depth secret here works with Septic tank and water storage sump. The water storage sump at Northeast portion of the property is very good. But we must calculate each and every thing before constructing several facilitation in our property. The septic tank and water sump should not be constructed very near to each other, we must provide more distance between them. So what we do now, please observe the below image. It will clarify this doubt. If the water sump and Septic tank are very near then there is a possibility of mixing the dung with water, it is too danger for humans. So be careful before constructing the septic tank and water storage sumps.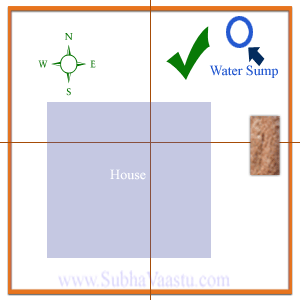 Here the Septic tank placed at same East direction and the water sump has changed to northeast north side. In above image the Water sump is at northeast east side. Provide more space in between ST and water sump.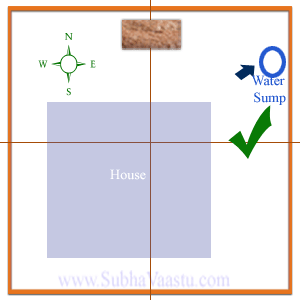 The same principle applies at North direction. ST here constructed at North direction and water sump placed towards northeast East direction it is not at northeast north direction.
There are several secrets in placement of the Septic Tank in the properties, before constructing the ST, we must calculate the dimensions of the property, in some properties the dimensions may be 100 meters or 200 meters at north direction and 100 or 200 meters at East direction, at that moment or in those cases how to construct the ST, shall we consider the entire site dimension or only house dimensions, so it is better to consult one expert before taking the decision. Vastu shastra provides several house construction tips if we follow them we enjoy security and happiness. The exact Septic Tank position or location is too important and it will be managed by an Expert or very well known mason (Mestri). A small Vasthu Shastra Tip may change your life.
Toilet/bathroom construction on top of the Septic Tank:
Why we should not construct the toilet on top of the Septic tank, any construction either it may be septic tank or any other structure should not construct on sump or septic tank, because the structure may damage in the future and the gases farmed in the septic tank will reach easily to the structure if there is any holes etc. If the structure is good, like the structure is constructed with RCC, then there is no need of worry on this issue, we should remind one thing here, that the structure should be strong and there should not be any leakage and it should not be damaged at any cost, then no issues at all. You may construct the structure on septic tank. Please note that this structure should only be toilet, it should not be any other room. If there is any other rooms, what shall we do then, same principles applies, that there should not be any leakage and recommending for only strong structures. Thanks to Saravanan - Tiruvallur - Tamilnadu - India.
Closing Northeast Septic Tank:
Respected sir, we used old septic tank situated at northeast side. One vasthu experts visited in our land and advised me to remove the septic tank from here to North West corner side. As per his advise, I have built new one in Northwest corner. Old one is still northeast side without usage. Please advise me whether correct or not and your valuable advise me sir, please sir. - Antony - Kerala.
Dear Mr. Antony, if you changed the Septic Tank from Northeast to Northwest then first ask labour to cleanup entire NE quadrant, ask them to remove the entire tank mud and clean it. Leave it for 11 days minimum with having secured lid or grill on it. Later fill it with water and clean it and make one water storage sump and use that water to your garden trees. Anyway the exact Northwest corner ST is not suggested, we hope you have taken complete precaution in constructing the new ST. Wish you all the best sir.
---
On a small South facing plot where is a little gap between the house wall and the compound wall is it ok to have water sump under the house in North East direction and septic tank in West North West? Due to lack of space elsewhere both would come under the house. Some people say having under the house is not good. But in modern days since these are covered I assume it is okay. Could you please confirm Thanks - Pradeep - Chennai.
Vastu Testimonials Delivered By Respected Residents
Dear Suresh, I am pleased to inform you that like the way you provided consultation for my home and explained to me all the changes required inside and outside home. I really appreciate the diagrams that you prepared for my home with pictures and arrows showing the changes need to be done. Above all, you explained very well the reasons behind changes you recommended for my home with great clarity and sense of humor. No doubt in my mind, you are the best Vastu expert, I really appreciate your dedication by building and maintaining a very informative website that is helping thousands of people across the globe. Also, I sensed when I talk to you and when I was dealing with you, you follow honesty and integrity and you have a sincere desire to help others - Kotesware Rao - Dallas - USA
We are tech professionals and working in USA. After a year long search we brought the house. After buying the house I started looking for consultant who can help me evaluating the house. I came across Subhavaastu website which has lot of information. I contacted Mr.Suresh and requested him to help with our house vastu. It has been a great pleasure working with him. He is very detailed oriented person and never compromises with his work. I am typically not interested to deliver the reviews. But after working with Mr. Suresh I decided to share my experience. Mr. Suresh has great expertise in providing vastu consultation to USA property. He is always available through email and phone l to answer questions. I am writing this review hoping it will help other people like me who lives in abroad. Please take advise before buying the house. I highly recommend Mr. Suresh as he has great experience with structure of USA properties and also he provides genuine consultation. I really appreciate Mr. Suresh's help in evaluating our house - Padma - Boston - USA
Hello Sir, My name is Bharathi. Me and my husband have been reading your articles closely. We really appreciate the effort put by you to share your knowledge about vastu and it's effects - Bharathi - USA.
I have consulted Suresh Garu during December 2014 during the process of buying a house in Texas, USA. I have occupied the house for one year now, and feel like dropping a review regarding my experience during the entire process. I am very much satisfied with the kind of service I received from him. He is very knowledgeable and I was often stunned by his detailed analysis during the course of my interaction with him. He was very much accessible over phone (perhaps more than 10 times for one house plan!) and the price is very much reasonable especially compared with the cost of the house. I noticed his burning desire to help me in making informed decisions on certain things. I have seen some people pretending to know this subject and misguiding those who come for help by saying only what we want to hear. SubhaVaastu is definitely not that one. Finally, I am strong believer of leaving certain things to experts in those subjects. I have been in US for more than 13 years and have seen people doing their own corrections (by reading website articles) trying to save few dollars. Please don't do that. You would end up in causing more damage. I highly recommend you to engage SubhaVaastu in your next project - Satish - Dallas - TX - USA
Announcement
Excessive Drinking
We are seeing families becoming victims of excessive drinking habits of the males/head of the family. Basically, starting with social habits drinking has taken proportions beyond the social mandate. This is because of weakness of mind. People become slaves of such habits very often. Mental weaknesses . . . . For more details Free Vastu Services page.
Inspirational Quotations
"Great Thoughts speak only to the thoughtful mind, but great actions speak to all mankind" - "Theodore Roosevelt".
---
---
"Great minds discuss ideas. Average minds discuss events. Small minds discuss other people." ― Eleanor Roosevelt . . . Let you question yourself, "Who You Are"?
Joke Of the Day
"An old grandma brings a bus driver a bag of peanuts every day."
At beginning the bus driver enjoyed the peanuts but after a week of eating them he asked: "Please granny, don't bring me peanuts anymore. Have them yourself."
"The granny answers: "You know, I don't have teeth anymore. I just prefer to suck the chocolate around them".
Follow us on Social Media