Details

This Page Hits:217169
What Are Ideal Locations of Septic Tank as Per Vastu | Cesspool | Cell pit
Table of Content
Questions and Answers
Notes
Image on Septic Tank Procedural Mechanism
Septic Tank Locations in the Home
Users Doubts and Questions
General Questions
Comments
Can we construct the septic tank in Southwest direction?
No, we should not construct the Septic tank at Southwest direction.
What Happens if I Construct the Septic Tank at Southwest Direction?
Generally, constructing the septic tank at Southwest spoils the standard of living of the residents. This could destroy the pleasantness of the positivity in the home. This may harm the health and wealth of the residents.
Can I Construct Toilets at Southwest Including a Septic Tank?
In case there is no chance of constructing toilets other than Southwest then residents can do only on elevated land level. But the septic tank should not be planned at Southwest. ST should be constructed either in East or North directions. (Meticulous analysis published below)
Is Northeast is Good Place for Constructing Septic Tank?
In Vastu Northeast is treated as God's keeping place, hence residents should not construct the Septic tank at Northeast.
Why we should not construct the septic tank in the Northeast direction
Vastu always seeks the betterment of the residents. Vastu says Lord Shiva stays in the Northeast direction, hence it is not recommended to have a septic tank to be constructed at the Northeast direction.
Can We Construct the Septic Tank at West Direction?
Certainely NO, don't construct the septic tank at West direction. It spoils many things.
Study complete precautions of West facing houses, we provided several experiences of the residents in this article.
Can We Construct the Septic Tank at South Direction?
Residents should not construct the septic tank in the South direction, this is not a safe and suitable place for a septic tank.
Know more about South facing houses and their results through this weblink.
Can I construct the Septic tank at East direction?
East direction is the perfect and suitable location for the septic tank.
Can we construct the Septic tank at North direction?
Yes, North direction is perfectly suitable for the septic tank.
Notes on Septic Tank
Septic tank has to be constructed or located as per Vastu, the septic tank is also called as Cesspool or Cesspit an underground reservoir of wastage and an underground constructed container for the temporary storage of liquid sewage or waste pit conservancy tank or covered cistern which can be used to dispose of urine and feces or poop and more generally of all sewage, discharges and refuse.
It is a more antiquated solution than a sewer system. Traditionally, it was a deep cylindrical chamber dug into the earth, having approximate dimensions of 1 meter and 2-3 meters depth.
Their appearance was similar to that of hand-dug water well. Many residents in previous days have constructed the septic tank at South, West, Southwest, Vayavya (Northwest) corner, and the septic tank should be constructed in the Paishacha area, the open area all around the building.
It should not be exactly in the Northeast, Southeast, Southwest, Northwest, and Brahamsthana.
Any faulty construction of a septic tank in the northeast may spoil the groundwater sources.
Its foul smell, mixed with benefit solar and magnetic radiations will enter the house. In the Southeast, the kitchen is considered best. The activities of creation in the kitchen don't match with the activities of destruction in the septic tank.
In the olden days there was no septic tank for toilets. Today they have become necessary. For modern septic tanks a pit has to be dug.
Location is to be in the North direction (read step by step guidance of North facing homes) or East. In no other direction should it be sunk. If latrine is planned for in the east, away from eastern compound wall in line with the house, without touching its wall. The pit has to be sunk in the east measuring half the area.
South west is the most suitable place for toilets. This is recorded in our ancient texts. Modern writers have transported the same in their books because they lack experience. The Septic tank should be arranged in the north without touching the boundary or house, in the middle of the open area.
Similarly in the East also. Latrines without pits can be there in the southwest. No harm, but they should be in height position than the ground level of the house flooring.
First preference has to be placed to construct the septic tank in the middle East or middle north only. The remaining parts are not yet suggested.
But today a pit is required for septic tanks, but then a pit in the southwest is wrong as per vaastu. Not only wrong but very harmful. If latrine is planned in the southwest it should be on a higher level without pit and pit can be arranged in one half of the north.
Or in one half of the east. If latrine is planned for Northwest (study about Homes built at Northwest Direction ) it should not touch the North wall and compound wall. A room should be built alongside the house and also septic tank can be in one half of the north.
Toilets can be arranged as shown in the models here. The latrine can face any direction but W.C. should be invariable to north and south. It is the best direction. It should never be towards the east. It is not proper nor it is auspicious. Perfection vastu for home is always advisable
Septic Tank Procedural Mechanism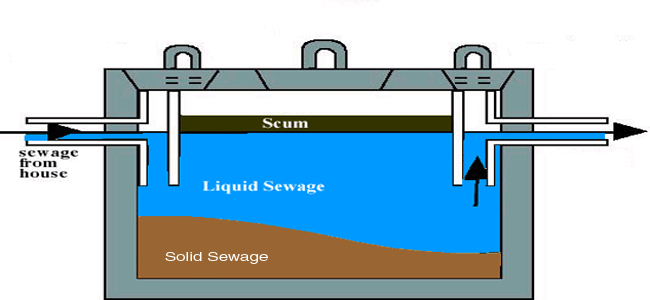 There is a legend in the Ramayana which is worth mentioning here. Rama went in exile into forests along with Sita and Laxmana at the command of Dasaratha. Bharata returns from his grandfather's place.
He was pained to know that people suspected him for the exile of Rama. Then he swore "I"d fall into the worst place where people relieve themselves against the sun defiling the Lord, go". So east is sacred.
Evidence in Ayurveda also supports this. Latrines (WC or Western Commode) and bathrooms can be arranged inside the house as shown in this diagram.
Now let us see where the toilet septic tanks has to be placed in our house.
Once we visited one Collector Bungalow, there we found that the septic tank has placed at southwest part of the compound. The effect of this septic tank at that place turned to instability to the Officer, that is why no one has completed at least 2 years in that Collector Bungalow. If the same septic tank has come at the southwest part of general public property, what happens? ..
Showing Plain Home For Septic Tank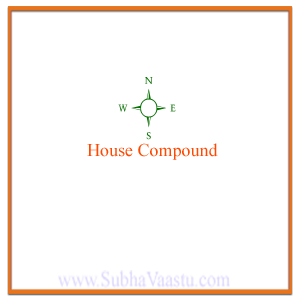 Now check the septic tank placements: In some places people called this sewage water as waste water. Anyway placement is the important for us now. Now observe the house, here directions shown. Please keep it in mind, it helps in further images, anyway we have cleary mentioned the directions in every image.
Step By Step Guidelines For Septic Tank Pit Placement As Per Vastu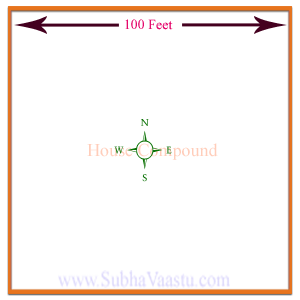 For your information only we have taken the North direction with an example dimensions like 100 feet or more than 30 meters. Generally in India most of the properties does not have more than 100 feet dimensions, but in several other countries it is very common that having more than 100 feet dimension plots.
What Measurements Are Recommended For Septic Tank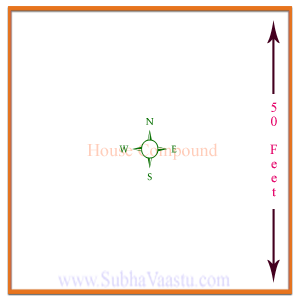 For our understanding purpose we have taken the East direction dimension as 50 feet say about approximately 16 meters. Please note that the dimensions are only for your kind understanding purpose. These image dimensions are not for scale.
Divide The House Plot For Septic Tank Exact Location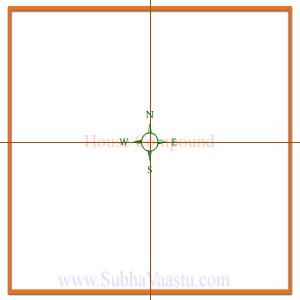 Divide the property in four equal parts, (here we done the same, but it may not correct as per scale, and the image equal parts are approximately divided)
Septic Tank Vastu For North Facing House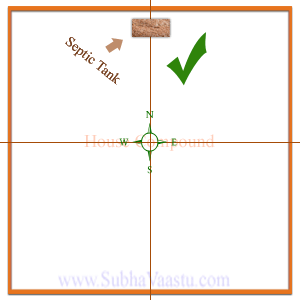 In North direction the septic tank has placed or constructed, near to the North wall. and very far to the center of the plot. Please keep it in mind.
Septic Tank Vastu For East Facing House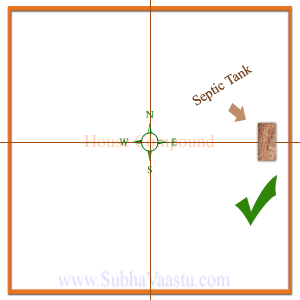 Here the Septic Tank placed near to the East and far from the center of the plot. Please observe the East division center mark and septic tank center mark, may be the equal. This is the perfection of placement of septic tanks, like wise in North direction plot also the septic tank has placed, for more info, please observe the above image once.
Septic Tank Near to Brahmasthan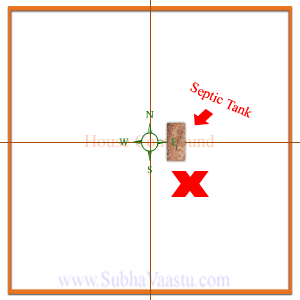 Some thought that planning the septic tank immediately next to the home which is either East direction home or North facing. Observe this image ST (Septic Tank), this is also towards the East, but very far from the East compound wall (Boundary wall). This ST may be near to the Brahmasthan. It won't give good results. Please note that the septic tank always near to the East or North directions only. Remember, the ST should be very far from the home and very next to the boundary wall. Before fixing the place, get expert advice.
Is Southwest Direction is Suitable for Septic Tank?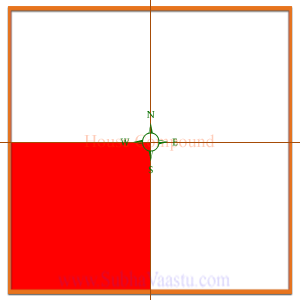 In this image the Southwest part of the property marked with red color. Avoid constructing Septic tank in the Southwest direction part of the property, it may cause several bad effects to the residents. In commercial properties also septic Tank (ST) should not be placed at Southwest portions. This may be reason for financial crisis, accidents, bad habits, sometimes it causes to chronic health disorders, insecure feelings and much more.
Is Northeast Location is Suitable To Fix Septic Tank?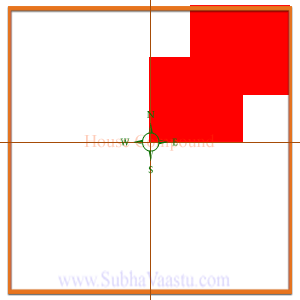 Now we are traveling into the subject depth. The images shown on the website are approximate understanding and for readers kind information purpose only, it is not according to the scale. Please remind the same for further below study. Here one red mark is shown in the Northeast (learn benefits of Northeast facing house) portion of the property and left some small areas at Northwest and Southeast areas of Northeast quadrant. This red-colored area is not suitable for the Septic tank.
Can we Arrange The Septic Tank at Northwest?
Here Northwest portion shown with red mark and northeast portion of the northwest quadrant is not covered with red colour, it means the white marked place is good for septic tank, reamining area is not. Some exemption for the ST at Northwest of North, read further assistance to know NW portion for ST.
Can we Arrange The Septic Tank at Southeast?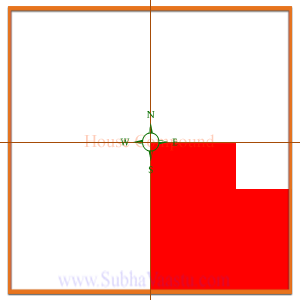 Here Southeast quadrant shown with red mark and northeast portion of the Southeast quadrant (Know all about Southeast facing homes and their remedies through this article) is not covered with red color, it means the white marked place is good for septic tank.
Can we Arrange Septic Tank at Brahmasthan?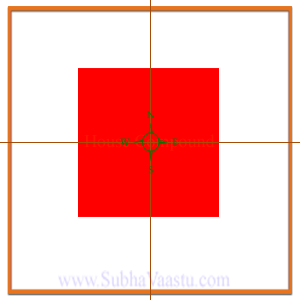 Center place in a plot is not good for septic tank construction. Please avoid constructing the ST at center place or Brahmasthan of a plot.
Septic Tank Vastu Placements At North Direction?
Approximate exact portion of the Septic Tank at North portion. We showed ST with the help of some lines, in which the exact portion for constructing the ST. The place here is called as North portion of the Plot. Please note that before taking any decision, it is suggested that it better to approach one expert Vastu consultant for secured future placements. When the ST is continued from North then it can be touch little towards Northeast of North, we should not consider the Northeast is good for ST by seeing this image.
Septic Tank Vastu Placements At East Direction?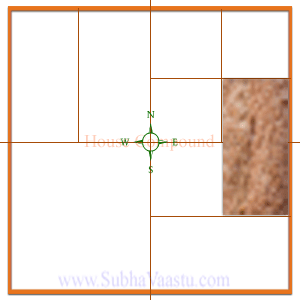 Approximate exact portion of the Septic Tank at East portion. We shown ST with the help of some lines, in which the exact portion for constructing the ST. The place here is called as East portion of the Plot.
Second Best Placement of Septic Tank towards Northwest Of The Home?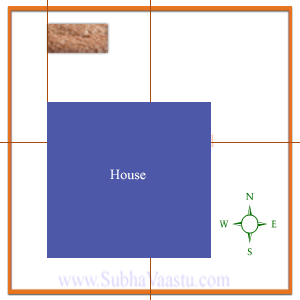 Think that a house is constructed at Southwest portion of a plot and the ST has to be constructed at north or east portion as mentioned in the above images, some times it is not possible to construct the Septic Tank at north or east portions. Then we have to find out the second best placement which is best suitable for ST. Please observe the line which parallels to the house and Septic tank. This is the second best placement for constructing a Septic tank.
Second Best Southeast ST Placement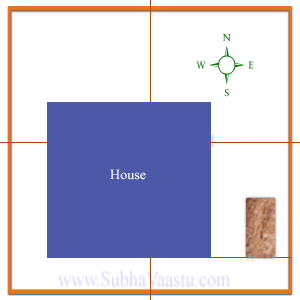 When there are no possibilities of arranging septic tank either at North or East direction, then residents can plan the ST at Southeast area shown in this image, this is second best after the exact East direction. It is clearly showing a line about South wall and Septic south portion are in the same line.
Is Exact Southeast Direction is Acceptable for Septic Tank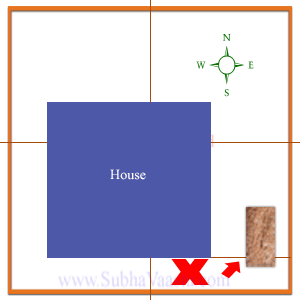 Septic Tank crossed the line of South wall of the house. This is wrong method. It should not cross the South line of the Home.
Is Exact Northwest Direction is Acceptable for Septic Tank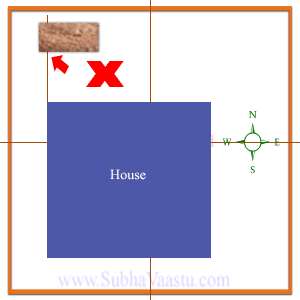 Here the Septic tank has crossed the West wall of the house. This is wrong placement of Septic Tank at north direction. Don't cross the West wall of the home.
How Much Distance We Should Maintain From Septic Tank and Home?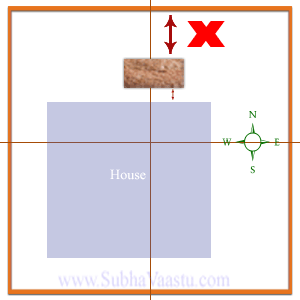 Please observe the wrong placement of the Septic tank at North direction. Observe the space which we provide for the ST at north, lesser space in between House and ST and more space in between the ST and North wall. This is wrong placement.
Measurement in Between Septic Tank and The House?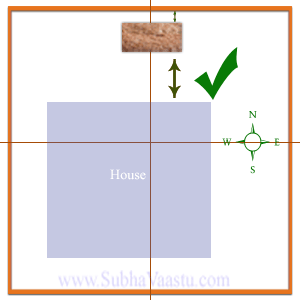 More extensive place should be provided from house to the Septic tank and lesser space to be planned in between Septic tank and the North wall. This is the correct procedure.
How Much Space Should be Left From Septic Tank To the Boundary Wall?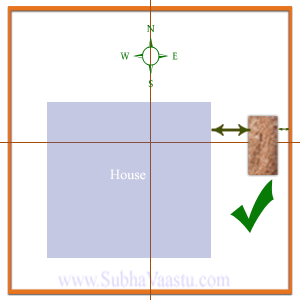 Same as above, here in East direction, more space should be provided in between House and Septic Tank and lesser space at ST and East boundary wall.
Wrong Placement Of Septic Tank At East Direction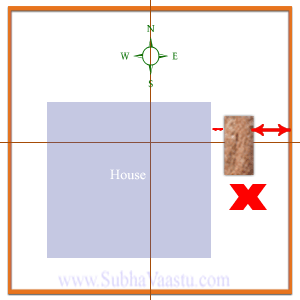 The wrong placement or construction of Septic Tank at East direction. We should not provide more space in between the ST and East wall of the home. This is wrong. Please note that these images are not according to the scale. So don't follow these same principles as per your property dimensions, because dimensions are too important while constructing the ST.
Is Water Sump and Septic Tank Can Be Constructed in Same Line?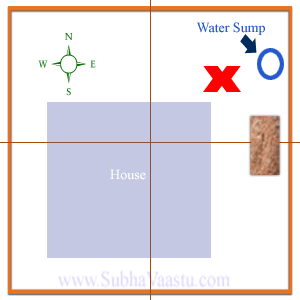 Generally, homes has water sump (water sump tips) and septic tank. Arranging the water storage sump towards the Northeast quadrant of the property is a good idea. The septic tank and water storage sump should not be constructed very near to each other, sufficient distance has to be provided to the water storage sump and septic tank. If the water sump and Septic tank are very near then there is a possibility of mixing the dung with water, it is too dangerous for humans. So be careful before constructing the septic tank and water storage sump at home.
Distance Between Septic Tank And Water Storage Sump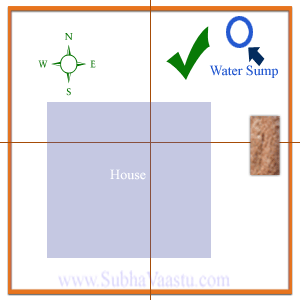 Here the Septic tank placed at same East direction and the water sump has changed to northeast north side. Sufficient space should be provided in between these two. Health is most important for humans. It should not be spoiled at any cost.
Sufficient Space Given In Between Water Sump And Septic Tank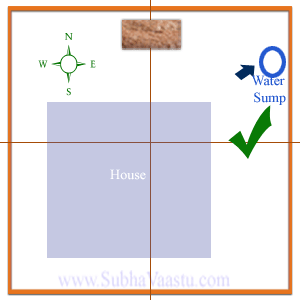 The same principle applies at North direction. ST here constructed at North direction and water sump placed towards the northeast of east direction. Safe and good idea.
There are several secrets in the placement of the Septic Tank in the properties, before constructing the ST, we must calculate the dimensions of the property, in some properties the dimensions maybe 100 meters or 200 meters in the North direction and 100 or 200 meters at East direction, at that moment or in those cases how to construct the ST, shall we consider the entire site dimension or only house dimensions, so it is better to consult one expert before taking the decision.
Vastu shastra provides several house construction tips if we follow them we enjoy security and happiness. The exact Septic Tank position or location is too important and it will be managed by an Expert or very well-known mason (Mestri). A small Vastu Tip may change your life.
Toilet/bathroom construction on top of the Septic Tank:
Why we should not construct the toilet on top of the Septic tank, any construction either it may be a septic tank or any other structure should not construct on the sump or septic tank, because the structure may damage in the future and the gases formed in the septic tank will reach easily to the structure if there is any holes, etc.
If the structure is good like the structure is constructed with RCC, then there is no need of worry about this issue, we should remind one thing here, that the structure should be strong and there should not be any leakage and it should not be damaged at any cost, then no issues at all. You may construct the structure on the septic tank.
Please note that this structure should only be toilet, it should not be any other room. If there is any other rooms, what shall we do then, same principles apply, that there should not be any leakage and recommending for only strong structures. Thanks to Saravanan - Tiruvallur - Tamilnadu - India.
Closing Northeast Septic Tank
Respected sir, we used an old septic tank situated on the Northeast side. One Vastu expert visited in our land and advised me to remove the septic tank from here to North West corner side. As per his advice, I have built a new one in Northwest corner. The old one is still northeast side without usage. Please advise me whether correct or not and your valuable advice me sir, please sir. - Antony - Kochi - Kerala.
Dear Mr. Antony, if you changed the Septic Tank from Northeast to Northwest then first ask workers to clean up the entire NE quadrant, ask them to remove the entire tank mud, and clean it. Leave it for 11 days minimum having a secured lid or grill on it. Later fill it with water and clean it and make one water storage sump and use that water to your garden trees. Anyway, the exact Northwest corner septic tank is not recommended, we hope you have taken complete precaution in constructing the new ST. Wish you all the best.
On a small South facing plot where is a little gap between the house wall and the compound wall is it ok to have a water sump under the house in the Northeast direction and a septic tank in West North West? Due to lack of space elsewhere both would come under the house. Some people say having under the house is not good. But in modern days since these are covered I assume it is okay. Could you please confirm Thanks - Pradeep - Chennai.
Can I Have Septic Tank Under My Garage and Connecting Bedroom? Lavanya
Dear Lavanya Ji, you forget to mention the direction of the garage. If the garage is in the East direction then you can plan for the septic tank at East direction.
What are best places to have Septic Tank in the basement?
In few countries the basement is inevitable. Particularly in New Jersey, New York, Illinois, etc areas the basement is mandatory. If there is a open space around the home then we can arrange the septic tank in the open area. In some cities like in New Delhi, Mumbai, etc, some homes does not have open space around the home. In such case, the Septic should be arranged in the basement at either North or East directions. If the entire area is occupied with construction then this question of Septic tank in the basement vastu arises.
What Are All Negative Impacts of Septic Tank at West Direction
Dear Acharya, pranams, we have a gate in the West direction ( west side road ) Septic tank is in between the gate and the building on the west side. Now either to come inside or to go outside the building, we have to walk over septic tank slab. Is this wrong? if so, do you advise the remedy (lies) without moving the gate or newly constructing the septic tank in another location? What are the doshas faced if maintained the same. Thanks & Regards, Narayana Murthy
Vastu Testimonials Delivered By Respected Residents
Dear Suresh, I am pleased to inform you that like the way you provided consultation for my home and explained to me all the changes required inside and outside home. I really appreciate the diagrams that you prepared for my home with pictures and arrows showing the changes need to be done. Above all, you explained very well the reasons behind changes you recommended for my home with great clarity and sense of humor. No doubt in my mind, you are the best Vastu expert, I really appreciate your dedication by building and maintaining a very informative website that is helping thousands of people across the globe. Also, I sensed when I talk to you and when I was dealing with you, you follow honesty and integrity and you have a sincere desire to help others - Kotesware Rao - Dallas - USA
We are tech professionals and working in USA. After a year long search we brought the house. After buying the house I started looking for consultant who can help me evaluating the house. I came across Subhavaastu website which has lot of information. I contacted Mr.Suresh and requested him to help with our house vastu. It has been an incredible delight working with him.. He is very detailed oriented person and never compromises with his work. I am typically not interested to deliver the reviews. But after working with Mr. Suresh I decided to share my experience. Mr. Suresh has great expertise in providing vastu consultation to USA property. He is always available through email and phone l to answer questions. I am writing this review hoping it will help other people like me who lives in abroad. Please take advise before buying the house. I highly recommend Mr. Suresh as he has great experience with structure of USA properties and also he provides genuine consultation. I really appreciate Mr. Suresh's help in evaluating our house - Padma - Boston - USA
"I contacted Sureshji to consult on our current home. He was spot on in identifying vastu dosha in regards to the problems we were having. He suggested remedies but we are still looking for a new house. Since then I have been in touch with him for finding a right home for us. He is very sincere and truly wishes better lives for everyone. He doesn't compromise with quality and is always responsive to queries. He recommends solutions as per location as Vastu rules differ for each country. He is greatly contributing to the society with his knowledge of Vastu and dedication towards his work. Keep up the good work Sureshji and wish you success and happiness!" - Megha - Virginia - USA
I have consulted Suresh Garu during December 2014 during the process of buying a house in Texas, USA. I have occupied the house for one year now, and feel like dropping a review regarding my experience during the entire process. I am very much satisfied with the kind of service I received from him. He is very knowledgeable and I was often stunned by his detailed analysis during the course of my interaction with him. He was very much accessible over phone (perhaps more than 10 times for one house plan!) and the price is very much reasonable especially compared with the cost of the house. I noticed his burning desire to help me in making informed decisions on certain things. I have seen some people pretending to know this subject and misguiding those who come for help by saying only what we want to hear. SubhaVaastu is definitely not that one. Finally, I am strong believer of leaving certain things to experts in those subjects. I have been in US for more than 13 years and have seen people doing their own corrections (by reading website articles) trying to save few dollars. Please don't do that. You would end up in causing more damage. I highly recommend you to engage SubhaVaastu in your next project - Satish - Dallas - TX - USA
Inspirational Quotations
"There are three things in the make-up of man. There is a Body, there is the mind and there is the soul." - Swami Vivekananda.
---
---
"Great Personalities speak about thoughts. 'Average Person' talk about occassions. 'Narrow Minded' gossip about others." ― Eleanor Roosevelt . . . Let you question yourself, "Who You Are, either 'Great Personality', 'Average Person' or 'Narrow Minded' ?
Joke Of the Day
"A book was released and the cover name is "How to change your WIFE", and within ONE week, "25 MILLION" copies were sold. The publishers found a mistake in the title, actually, it should be "How to change your LIFE", when publishers corrected and released the new book into the market. The first month's sales were 3 copies".
Follow us on Social Media