Details

This Page Hits:270955
Northeast Facing House Vastu Remedies | Dosh Nivaran Techniques And Tips
In this link we learn about:
Northeast Facing Home Vastu
Northeast Block plot/site
Northeast Block House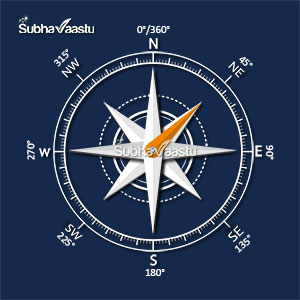 The Northeast Direction (NE) is also called as "Eshan", "Ishan", "Eesan", "Ishanya", "Eshanya", Vastu Pooja Corner, God's corner, Devara mula, Daiva Moola, Dyva Mula, Puja Corner, NE Corner, Northeast corner, NE Quadrant etc. Northeast has 45° as per directional compass.
Northeast direction is called in different Languages:
| | |
| --- | --- |
| In Telugu = ఈశాన్యం | Gujarati = ઉત્તરપૂર્વ |
| Kannada = ಈಶಾನ್ಯ | Hindi = ईशान कोण |
| Kerala Malayalam = വടക്ക് കിഴക്ക് | Maharashtra Marathi = उत्तरपूर्व |
| Punjabi = ਉੱਤਰ ਪੂਰਬ | Sindhi = اتر اوڀر |
| Tamilnadu Tamil = வடகிழக்கு | Urdu = شمال مشرقی |
| Bengali (Bangla) = উত্তরপূর্বকোণ | German = Nordost- |
| French = au nord-est | Latvian = ziemeļaustrumiem |
| Arabic = شمالي شرقي | Filipino = hilagang-silangan |
| Malay/Indonesian = timur laut | Italian = nord-est |
| Japanese = 北東 | Mandarin Chinese = 東北 |
| Russian = к северо-востоку | Sinhala= ඊසානදිගට |
| Norwegian= nordøst | Assamese= Update Soon |
| Bodo = Update Soon | Dogri = Update Soon |
| Kashmiri= Update Soon | Konkani= Update Soon |
| Maithili = Update Soon | Meitei = Update Soon |
| Nepali = उत्तर पूर्व | Odia/Oriya = ଐଶାନ୍ୟ |
| Afrikaans = noordoos | Sanskrit = Update Soon |
Northeast (Eshan) corner is the very most important corner that provides firm development to the inhabitants.
We thought this link helps to know more about house vastu which is important to know about house vastu before reading this NE facing homes. This link home vastu is also associated with the above link.
If NE corner seems to be cut or loss or truncated then the family members may suffer with many problems.
If Northeast corner is clean, extended then the family members position will gradually develop. This extension provides excellent support to the residents in terms of development, peace, education, satisfaction life etc.
Many thought that Vastu for Northeast Facing Home is the ultimate in giving results. But after knowing unbelievable facts one may think twice before buying this facing home, if this Northeast facing home has too open space towards Southwest then this Northeast facing home may not provide expected results, sometimes it may deliver bad results too.
This direction also has good Sunlight and getting positive powers into the home. Constructing Kitchen at Northeast corner may not be a good idea. We tried our level best to provide good remedies for the Kitchen at Northeast corner.
Some thought that Northeast facing house vastu good or bad, for them we published lot of information below.
Eshan or Eswar is the lord of this direction. This is the holiest direction among 8 (Eight) directions in Vastu Shastra. This direction should be open and less loaded when compared to all other directions. (this matter if from www.subhavaastu.com). About Lord Shiva, he is white textured.
He has one face and four hands. Out of the two right hands, one hand shows the blessing symbol and the other hand has a TRISHUL. Out of the two left hands, one hand has beads mala and the other hand shows the blessing symbol. His wife is called GOWRI. He is an avatar of Eshwar or Shiva.
Sites possessing roads towards East and North fall under the category of Northeastern block. The sites falling under Northeastern block have a bearing on the male head of the household and on the male progeny. Based on experience the vastu science construes this block as the best block or property among all the blocks.
This Northeast block is almost compared with Alkapuri, the magnificent city of Kubera, the god of wealth, who owns and holding money. He brings happiness and riches to human beings. He is also called 'SAMBO' and 'ISWARAYA LORD'. As he is also called 'MRITHUNJAYAN' he can bless the humans with longer life.
He is responsible for the 'OFFSPRING'S' of the family. He is also called 'BALA' which shows that this direction is responsible for children's education and their improvement. As he is called Gangadhar, the Ganga or water should be kept in this direction in underground structures. There will be danger of evil spirits, if this direction has less space or no space. The children's development will also be ruined.
This direction acts as the Antenna for receiving the cosmic energy, from the universe. The VAASTU PURUSHA takes breath from this direction goes to the South-west corner and because of the interaction of the forces, the entire house gets energized. So this direction should be at a lower level and have more openings than the other 7 directions, thereby the house will get maximum benefits.
Those who live in this direction houses, will be more educative and law abiding. They will have interest in meditation, occult sciences and involvement in fine arts and research activities. They will have vigor and zeal in their tasks. They will earn good income by right means.
They will decorate their houses beautifully and they will be frugal in their expenses. They will have more desires/requirements to have everything in their life. But, they may get angry easily. However, they will lead a happy and prosperous life with good Health.
Let us discuss on this subject. Northeast facing home means, this home is looking the Northeast, that is why these were called as above. Please observe the difference in the above note.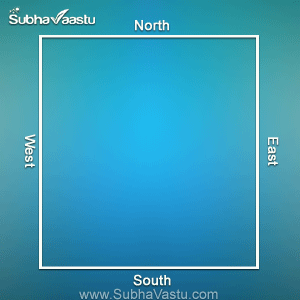 How to find the Northeast Block House: Here the NE corner is in between the East and North directions where these two were met at a joint, the word "Northeast" is appearing at corner of the house where two lines met at a junction, that edge intersection is called Northeast. If we take one square plot, it has 4 directions and 4 corners. This is natural and everywhere observed. If the site is 90° then the Northeast will be shown as mentioned here in this image. Where North direction and East direction were met in a corner i.e., Northeast corner.
North + East = Northeast. For viewers kind information we made one animation image, which two lines were met at a corner area, once the both lines were touched thereafter the word "Northeast" appears and some stars were blinked at Northeast junction, it shows the importance of Northeast.
We should not forget about this direction, these stars are representing the importance of this NE direction. Somebody has opinioned that Northeast block house and Northeast facing house are the same. But its 100% wrong idea. Below information may clear off such doubts.
Northeast Corner House
Northeast Corner Site
Northeast Corner Plot
Northeast Corner Flat
Northeast Corner Factory
Now check the difference:
Northeast facing house
Northeast facing Site
Northeast facing Plot
Northeast facing Flat
Northeast Facing Factory
"Northeast Corner" is different and "Northeast Facing is different". We should all study this first, for more information we shown the same with images, please go through below. Many residents are asking about vastu for Northeast facing house and vastu for Northeast house and Vastu for Northeast block, for them the below images may help and clear their doubts.
Generally, facing means inclination may have appeared there, we may found so many properties in Delhi, most of the areas in USA, UK, Australia, Guntur, some parts in Mumbai and many more places.
Residents asking some questions link Vastu for Northeast facing house in USA, this is very natural in America, there is lots of tilt or sway properties, some are saying them as lurch properties, bend homes. That may be their wording. Please read articles in Desktop or laptop computers only. Reading in mobile may not be giving good idea on this below images.
Difference Between "Northeast Block House" and "Northeast Facing House"
Northeast Block Home
Northeast Facing Home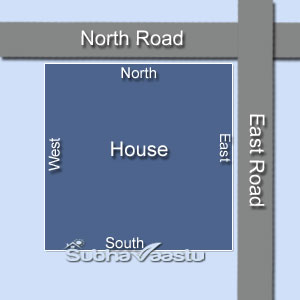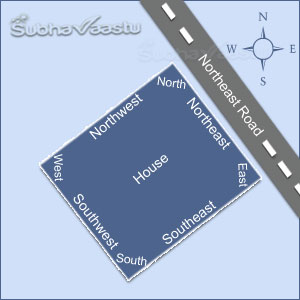 Northeast Block: -
Generally many people thought that NE corner plot, House, Factory, Flat means it has "one North road" and "one East road", now check the below description with images, how many varieties are there in Northeast block.
We are showing only some NE blocks or bits, we are planning to extend this link with more information in future. Since the NE occupies a prominent place among the Eight Directions, the builder has to bestow special attention in ensuring proper NE, right from the beginning of the construction process.
If the NE is cut, however make perfect the other directions might be, the prosperity gets affected and leads to adversity. One cannot afford to compromise with a site possessing exiguous NE, as it leads to adversity and frustration inspite of substantial earnings.
Is This Northeast Block House Giving Good Results:
This is one Northeast Block house (From here onwards we use House means House, Plot, Home, Residence, Flat, Apartment, Factory or Industry, Farm House etc) . This plot is having North road and East road, these two roads are passing, not stopped at this plot area. We used "stop" here, which have more meaning, that you will learn in this page.
No doubt, this plot is said to be Northeast corner plot. Regarding the corrections and other alterations we will discuss later. Due to the road formations, the plot have Northwest-north extension due to North road tilted towards the Southeast. This is not good. We can easily alter it, but plot is said to be naturally not good. Due to East road tilting, the plot/property is extended towards Southeast-east. This is not good.
Another Northeast Bit:-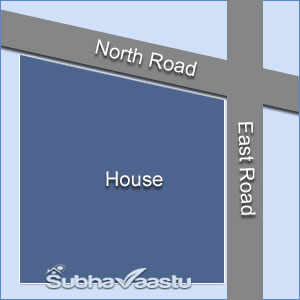 Already we discussed that we there are so many NE blocks, now we are discussing only few of them.
This is also one Northeast Block plot, here the North road is tilted towards Southeast, due to this the Northwest-north is extended, basically, this is not good. We can alter it by cutting the extended part, but natural power is missed for some time. After some years or months, the plot may get its natural power and it will recover its natural powers after the corrections done to Northwest-north extension.
East Road tilted towards Northwest-north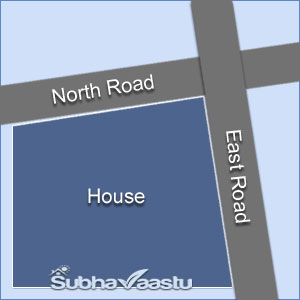 Here the house plot is extended towards Southeast-east, it happens to due to East road is run towards Northwest-north. It creates Northeast cut to the plot and extension towards Southeast-east, which is not auspicious to the plot. One good thing here is North is tilted towards Northeast, due to this, plot have NE extension. This is good. In this image one good and one bad. Now the residents are doing alterations to this issue without getting experts advise, it is not advisable. If expert came to this property he will find out the degrees of the plot and inform how to cut the extension part and from which place to which place the cut is necessary to get secured future results.
Check the Round shaped Northeast corner Plot: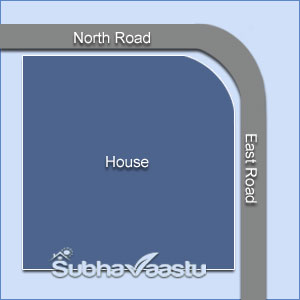 The Northeastern corner of the compound wall should not be rounded. Generally, such rounding off can be observed in case of plots located at the confluence of two roads. As per the science of Vaasthu, especially in case of sites belonging to North-eastern block, such practice of doing construction is not advisable neither of the corner of the house nor the plot. The corner should be in perfect angle. You may examine the same properties heavily in number in USA or UK. We are discussing the Vastu in India not in USA, please note that the same corner or cut off homes does not impact badly on residents in Western countries. The reason is simple, Spreading the same issue may dilute its negative power and distribute among all the homes and it will become normal from negative.
Northeast truncation: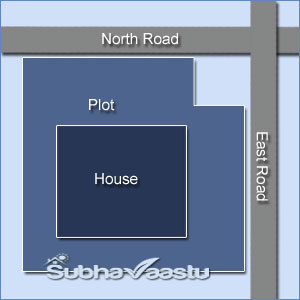 It may be the bitter fact that if the northeastern portion of the house of the plot is truncated the residents would not have male progeny or if at all there is, the progeny would suffer physically or mentally and would meet premature death. Even though the northeastern part of the compound is proper, if the northeastern part of the house is improper, there may every likelihood that the elders of the family may have to conduct the funeral rites of the younger ones. Please note that in all cases it may not happen, but there may be a chance like that., before reading this article, you must calculate that the area, land, surroundings, nation, construction style, up and downs etc of such plot.
One Example of Northeast Cut
Sir, my house is Eastward facing and the house is North to South as a rectangular shape, plot area of compound wall is cutting in northeast corners please help me and advised me what to do. I have no career lost a job, financially problem, week illness - Abhishek - Howrah - West Bengal.
This property is almost same but little changes in the house:
Observe the northeast truncation of the house. The compound wall is good here, but there is a cut observed in the house itself. This is not good. Please read the above narration once again.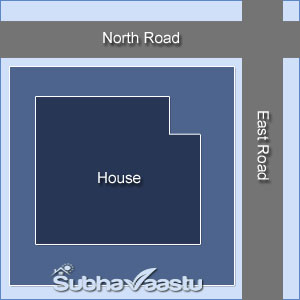 Please note that this cut towards Northeast is very common in Western countries like USA, if many constructions are like this the pressure of the rule will be distributed and the main and foremost important point in this section is COMPOUND WALL/ BOUNDARY WALL, observe if there is a compound wall or not, based on this we should calculate the results/predictions. We should cross-check with below points with all properties with surroundings pressures or effects, compound wall, property located in which country, swimming pool ( and car garage if the property does not belong to India), etc.
North Road straight and East road tilted: -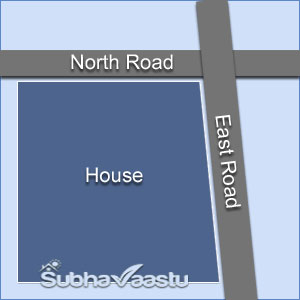 Here the North road represents 90 degrees and East road is tilted due to this the Southeast of this plot is extended towards Southeast-east. This is not good. We can do alterations by cutting the Southeast-east extension, but it should be done only in the presence of expert vastu adviser. He can easily understand the situations and will tell you the best recommendations. From starting we are advising you consult only the best vastu consultant to get good predictions.
Very common Northeast Block Plot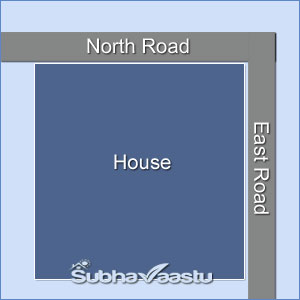 This is also said to be Northeast block plot or house, but the East road is not running towards North and North road is not running towards East, both roads are stopped at this plot. This is also said to be NE corner block. But results are not equal to the Northeast block plot which we are discussing below. Road running is important, road stop means the results may also stop or minimized. Such streets do not offer completely the positive effects of a northeastern block
If you found this type of property or you wish to buy this block plot, without experts opinion, don't buy the property, because the opposite sides may be heavy constructions. It may be negative to this plot. Anyway this plot is better than North plot or East Plot.
East road running towards North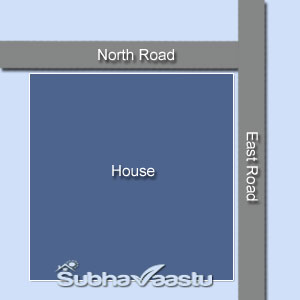 This NE plot is having two roads, East and North road, here the East road is running towards North direction. Which is auspicious than the above block. Think twice before buying this property, please note that this is not a bad property, indeed it is good one, but here the East road is run towards North direction. You may try to get another good property, check the below image. Before buying this plot, if possible try to find out another plot which the North road is run towards East direction which is good for future. If you did not get such below image plot then you may buy this. We recommend you try to get the plot with West and South roads are elevated and passing towards East and North simultaneously which is lower than West and South directions.
North road running towards East Direction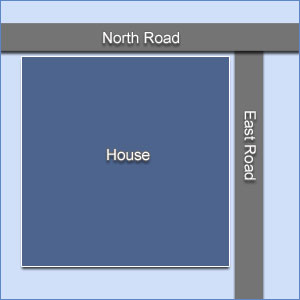 Here the Northeast block plot or House, which have two roads, North and East roads, here the North road is running towards East, this is auspicious. You may try to buy this property. East is just like air, without air we cannot live, likewise without good name we cannot live in society. This road brings to the residents good name and fame. But there are so many other aspects that we have to observe. Please note that this is only a sample model, actually, the original position is too different, for example, the North road which runs towards East has to see this plot, then only the residents will get all good quality results.
Blind buying of properties are not suggested. Generally, residents are counting Vastu consultants fee, that is the drawback for not getting secured future. You are intelligent, avoid this decrease.
Perfect Northeast Block House
This is said to be exact Northeast block plot or House. This property is having East road and North road, both roads are running towards North and East. So there is no road stop applicable here. This is perfect Northeast block plot or house.
The plot or house should not be back, it has focus of these two roads, then it will have 100% Northeast block qualities. Good property to buy.
Auspicious North road running towards Northeast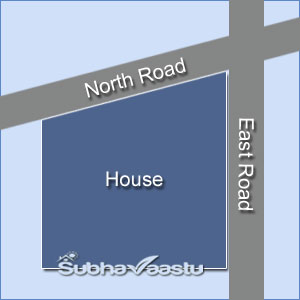 This is said to be auspicious Northeast block plot or house. Here both roads appear and North road is running towards Northeast direction, so this plot residents will get NE direction blessings. Here the East road is also not disturbed and straight it runs to North direction. If you found any kind of such plots, you may buy, with proper guidance from Expert Vastu consultant.
East road running towards Northeast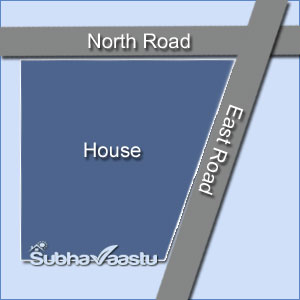 This is one of the auspicious Northeast block plot. East road is running towards Northeast, this plot is blessed by Northeast direction. Good and excellent for the residents. You may buy this plot or house. Generally, we may not find this type of plots. If you found then immediately approach one expert and show this property and buy it.
North and East roads running towards Northeast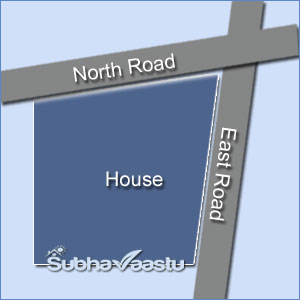 In case of northeastern block, if the roads in east and north are laid in such a way, that the northeastern tip of the plot is projected, the residents of such plot lead a fabulous life and their progeny would prove to be highly intellectual and possess moral and sacrificial values. Excellent plot / House. If you are the owner of this plot, then don't dig Sump towards NE, it is done only with proper guidance from Expert Vaastu consultant.
Please note that excessive Northeast extension may leads to sage mentality. Samsaari may become Sanyasi. Everything should be in control, so too much excess extension may not be advisable. Not only in Vastu Shastra, in all aspects "too much' is not advisable.
If the heavy / cumbersome quantity of a favorite sweet may also produces bitter taste or may become awkward taste or blandness. Everything should be under control of limited quantity, then that taste multiplies. Aptly NE extension ensures loyal or stalwart and trustworthy results.
Vastu shastra websites and Vastu books are spreading the vastu knowledge, there are many other techniques, tips, and depth secrets. If you are a resident and wish to buy a property then first consult one vastu expert and show your interested property, without experts opinion don't buy any property.
Let us inform something here, in the above images the last one image matter we said that residents may go for buy this property, if this property is having heavy structures towards Northeast side, then results may be anti to this plot. Or any depression towards South, West, Southwest parts then residents may see the anti results.
The extensions towards Northeast and North and east roads benefits may be gradually decreased. From the starting, we are clearly informing to our respected visitors that self-decision may be a path of harm in the future. Consult one expert Vastu consultant and finalize the decision of consideration.
---
Northeast Plots / Houses:
While in our purchases in any departmental stores, if the cost of any article exceeds more than 1000 rupees, we search for others to get enquired about that product whether it is good or bad to buy.
Nowadays many residents missing to get authenticated consultancy from one expert in buying the home. Just by reading some vastu books or some articles on some websites and they dare to take a challenge decision without proper consultation.
Please look at this., if the eastern road of a northeastern site is less elevated than the northern road, the main entrance of the house must face towards east direction only.
However, if the site is inclined towards eastern southeast for more than 11 degrees as per compass, the main entrance of the house must face north, and the gate should be placed in eastern NE besides placing an additional entrance in the east. The movements should be done through the main entrance in north.
A door in northeast-east is essential. Similarly, if the northern road is less elevated than the eastern road, the main entrance of the house should face north.
However, if the site is inclined towards northern northwest for more than 10 degrees as per compass, the main entrance of the house must face east and gate should be placed in northern northeast besides providing an additional door in the north.
The movements should be done through the main entrance facing east. A door in north should also be provided. Right from the beginning of the construction, it has to be ensured that the NE is not truncated, or elevated or covered.
The same principle applies to all the rooms in a house. i.e., the northeastern portion of every room should not be truncated or elevated or increased.
Each and everything the residents may not get clarified from books or websites. This is only an example of vastu secrets. There are several other hidden things in vastu shastra that only explained by one Vastu shastra pandit. Select only a reputed Vastu Expert for your property purchases.
For a northeastern block main entrance of the house can face either north or east as per the inclination of the compass. However, the main entrance of the house should invariably be placed in NE and must be kept open for common use, as far as possible.
Some people construct houses facing NE deliberately, thinking that it augurs well. But such construction has serious consequences in the sense that northeast gets reduced while southeast gets extended.
The fundamental issue here is that neither of the eastern or northern northeast should be truncated and not the house facing northeast. The northeast should not be increased while constructing the house. The projection of northeast to the site, as a whole, to some extent i.e. one or two inches, is admissible.
One should not keep any weights in the northeastern corner of any room-even a small featherweight. No plants should be grown in the northeastern corner of the plot/compound, too. If the plants are daily growing it may little harm to the residents.
Please note that even trees weights also too bad, but it should be overlapped when we had a sump towards Northeast. The Northeast sump will increases the positive of such land even there may be a big tree.
Please note that trees welcoming the positive powers to the property, if you are cutting the trees in the name of Vastu Shastra, it means you are doing a mistake and negativity may increase in such property.
Buy the NE sites or land or property of your present house. One should never dispose off houses or vacant sites located to the northeast of the main house. If the northeastern part of the plot is improper as described above, against the tenets of Vaasthu, the southwestern part would also be improper and vice versa.
Manmade Mistake By Losing Northeast Focus To North Homes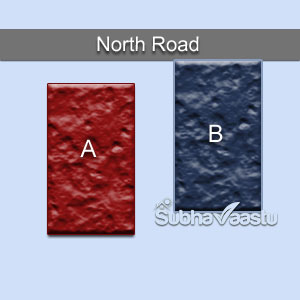 Some houses may have some defects that we cannot find them in their houses, but the residents facing some issues. Even some vastu consultants may not have idea of such vastu defect of such property. Please read this and observe the image here. It has to be ensured that the northeastern portions of the neighboring houses located towards east and north should not have projection beyond our house in the NE. "A" house is not getting expected results as the "B" house is obstructing. Before coming to this decision, we must observe the exact extended projection of the neighboring properties. Anyway in such cases the inner vastu alterations may minimize the bad effects of this neighbor projections.
Have you observed the above image, it is North facing property. This property may not be concerned with Northeast property, but look at this for your kind information that a property may expand the results to the residents in all ways or means, whether they are good or bad.
Even a small bit of information may be very much important in vastu consultancy, that is why the expert vastu consultants are always saying that personal visit is must to get right vastu evaluation of a property.
Somebody asking about Electricity Switch boards fixing at Northeast corner. Further, they asked about switch-boards are fire, so Northeast should not have fire elements.
Just forget about this fire and switch-boards method. You may happily fix switch-boards at Northeast corner. Fire is different and electricity switches are different. There is no comparison.
Electricity transformer is different and House electricity switches are different, so one may plan for electricity transformer at Southeast corner, not at the Northeast corner.
While we are discussing about this electrical poles and had one meeting with one engineer in Malabar Hills in Mumbai, one foreigner asking a doubt with one trainy assistant engineer "What do we call Vastu in English", for that his answer is Vastu shastra means Chinese fengshui.
Mr. Kumar, Indian vastu shastra is not called as Chinese Feng Shui, we should not deliver wrong statements. India's science is very different from the feng shui of China, which has nothing to do relation with Indian architecture traditional system. Collins dictionary website also published the wrong information. After our objection, they "marked" it as "under investigation". Thank You, Collins.
1. Water lakes, water wells, rivers, ponds, torrent, and stream at Northeast direction is good or bad?
Ans: Excellent.
2. Can we plant Trees in Northeast direction?
Ans: NO, greenery is acceptable, residents may plan for landscaping with grass at northeast instead of planting trees.
3. Buildings or Apartments in Northeast direction is good or bad?
Ans: Generally, not giving good results, this rule is not applicable to many cities.
4. Planning to buy one Northeast facing plot, opposite there are many open vacant sites, is this good?
Ans: Very good.
5. Found one huge water tank opposite to our plot, (large storage structure on 8 pillars), is this good?
Ans: Generally, this feature is not giving good results. If a house has such water tank on pillars, contact one vastu expert, he can guide with easy remedies.
6. Mountains and hillocks at Northeast direction is good or bad?
Ans: Not good.
7. Can we plan septic tank at Northeast direction?
Ans: ST is not good place at NE. For further assistance please read some info at septic tank vastu link.
8. Having electricity power polls and transformers are good?
Ans: Power polls is not giving any problem. Northeast transformer is not generally not giving any good results.
9. Northeast extended plot is good to buy?
Ans: Good.
10. Having water storage sump (below ground level) at northeast is good or bad?
Ans: Good.
11. Can we plan basement/cellar for North east facing house?
Ans: Accepted. But please approach one expert before taking this decision.
12. Can we construct car shed or car garage, can we keep vehicles for parking?
Ans: Detached car garage is not good. Attached car garage is not a big deal. Residents can park their vehicles at Northeast for temporary time span.
13. Having an entry door or entrance gate or window at Northeast is good?
Ans: Excellent.
14. Can we have a home office in this direction?
Ans: Accepted, but this home office should not be blocked from main home with permanent door closing etc.
15. Northeast pooja room is good?
Ans: Good
16. Can we have a garden?
Ans: Perfectly Good.
17. Can we plan a lift/elevator?
Ans: No, lift guidelines are available at this vastu for elevators link. For some structures, this could not harm the residents.
18. Having an internal or external staircase/steps is acceptable?
Ans: Not good.
19. Keeping treadmill at Northeast is good?
Ans: If the room is very big, then one can place the treadmill.
20. Keeping rocks in this direction is good?
Ans: No.
21. Having sewage line at NE direction makes any damage?
Ans: Not accepted. East and North are good for sewage lines.
22. Is constructing a store room or stocks at this location is OK?
Ans: Vastu shastra is not accepting storeroom in Northeast.
23. Northeast toilet is good?
Ans: No.
24. Can we construct porticos?
Ans: OK.
25. Master bedroom at Northeast is good?
Ans: Not good, but this point is not considered to be bad in USA, UK, Australia, New Zealand, Norway, South Africa, etc.
26. Can we plan for a water fountain?
Ans: Accepted. Please make sure that the floor level of this fountain should not be elevated than the floor level of the main home.
27. Is balcony at north east direction create any problem?
Ans: No problem.
28. Pergola or cabana is acceptable?
Ans: No.
29. Can we have a kitchen in Northeast direction?
Ans: Northeast kitchen is not good as per vastu shastra.
30. Planning Lanai is a good idea?
Ans: Accepted.
31. Is Breezeway is acceptable?
Ans: Yes.
32. Our Northeast floor is height/land elevation, road height, is this good feature or bad?
Ans: Not good.
33. Northeast lower levels, depression or lower roads, is this good?
Ans: Good.
34. Keeping furniture, sofa sets is bad or good?
Ans: Good.
35. Can we plan for servant maid room or labor quarters?
Ans: Not good.
36. Is Northeast street focus is good, can we buy this NE Road thrust house?
Ans: Generally, this Northeast street focus is giving good results. Anyway best to check this Northeast Street focus link before taking the decision.
37. Computer table is acceptable to keep at NE?
Ans: OK.
38. Northeast cut or NE truncation is good or bad?
Ans: Not good, please note that this point is not considered to many homes in USA, UK, Australia, New Zealand, South Africa, Germany, etc countries.
39. Can we extend Northeast in our home?
Ans: Yes.
40. Is Northeast "facing" home is good for rent?
Ans: More often than not, Northeast facing homes are giving good results.
41. Can we close the Northeast with any construction?
Ans: This should be decided by the vastu expert, for few properties this rule can be accepted.
42. Mountain rock constructed platforms to sit at Northeast is good?
Ans: Usually, this is not giving good results, sometimes when this feature is below the ground level of the inside flooring then it won't hurt the residents.
43. Northeast entrance gate is good as per vastu shastra?
Ans: Good.
44. Can we construct the house right away at Northeast?
Ans: Not good.
45. Northeast swimming pool is good?
Ans: Northeast swimming pool is auspicious. Proper pool planning provides perfect life.
46. Can we construct cattle shed at Northeast?
Ans: No.
47. Which color is suitable for Northeast direction?
Ans: Many experts stated different statements. Commonly, shades of yellow, shades of orange, shades of blue is acceptable, but whatever the color it should not be dark, use only the light shaded colors.
48. Northeast direction is suitable for which person in our house?
Ans: Kids.
49. What are the best usages of Northeast direction?
Ans: Below ground water storage tanks, kids room, reading room, hall, family room, pooja room, dining room, Dyan mandir, study area, living room, etc.
50. I heard that all Northeast homes are good, is this correct?
Ans: As a general rule, most of the Northeast facing homes are giving good results. By knowing this many residents in USA, UK, Australia, and some other countries run to buy Northeast homes by paying extra payments. Finally, they hunt for vastu experts consultation because of losing many things by buying Northeast facing homes. All Northeast facing homes are not considered to be good.
51. Where should we plan bed, cot and master bedroom?
Ans: In most cases, the master bedroom is not recommended to Northeast corner room, but this principle is not considered for USA, UK, Australia, New Zealand, etc country homes.
52. Can we construct the shop at Northeast corner?
Ans: Detached shop from the main home is dangerous. The interconnected shop is acceptable, anyway, bet to get vastu experts advice for major decisions.
54. Can we plan conservatory at Northeast?
Ans: Good.
Some Vastu Shastra Questions:
Vastu Testimonials From Respected Residents
Dear Suresh, I am pleased to inform you that like the way you provided consultation for my home and explained to me all the changes required inside and outside home. I really appreciate the diagrams that you prepared for my home with pictures and arrows showing the changes need to be done. Above all, you explained very well the reasons behind changes you recommended for my home with great clarity and sense of humor. No doubt in my mind, you are the best Vastu expert, I really appreciate your dedication by building and maintaining a very informative website that is helping thousands of people across the globe. Also, I sensed when I talk to you and when I was dealing with you, you follow honesty and integrity and you have a sincere desire to help others - Kotesware Rao - Dallas - USA
We are tech professionals and working in USA. After a year long search we brought the house. After buying the house I started looking for consultant who can help me evaluating the house. I came across Subhavaastu website which has lot of information. I contacted Mr.Suresh and requested him to help with our house vastu. It has been a great pleasure working with him. He is very detailed oriented person and never compromises with his work. I am typically not interested to deliver the reviews. But after working with Mr. Suresh I decided to share my experience. Mr. Suresh has great expertise in providing vastu consultation to USA property. He is always available through email and phone l to answer questions. I am writing this review hoping it will help other people like me who lives in abroad. Please take advise before buying the house. I highly recommend Mr. Suresh as he has great experience with structure of USA properties and also he provides genuine consultation. I really appreciate Mr. Suresh's help in evaluating our house - Padma - Boston - USA
Hello Sir, My name is Bharathi. Me and my husband have been reading your articles closely. We really appreciate the effort put by you to share your knowledge about vastu and it's effects - Bharathi - USA.
I have consulted Suresh Garu during December 2014 during the process of buying a house in Texas, USA. I have occupied the house for one year now, and feel like dropping a review regarding my experience during the entire process. I am very much satisfied with the kind of service I received from him. He is very knowledgeable and I was often stunned by his detailed analysis during the course of my interaction with him. He was very much accessible over phone (perhaps more than 10 times for one house plan!) and the price is very much reasonable especially compared with the cost of the house. I noticed his burning desire to help me in making informed decisions on certain things. I have seen some people pretending to know this subject and misguiding those who come for help by saying only what we want to hear. SubhaVaastu is definitely not that one. Finally, I am strong believer of leaving certain things to experts in those subjects. I have been in US for more than 13 years and have seen people doing their own corrections (by reading website articles) trying to save few dollars. Please don't do that. You would end up in causing more damage. I highly recommend you to engage SubhaVaastu in your next project - Satish - Dallas - TX - USA
Announcement
Free Personal Visit
There are very many people though keenly wish to avail vastu services are unable to do so, only due to financial limitations. In case if you have in your town/village a group of people . . . . For more details Free Vastu Services page.
Inspirational Quotations
"I don't like to talk about my dreams, I like to make them happen, I prefer to talk about them when they're done" - "Diane Von Furstenberg".
---
"Great minds discuss ideas. Average minds discuss events. Small minds discuss other people." ― Eleanor Roosevelt . . . Let you question yourself, "Who You Are"?
Joke Of the Day
A 3 years old boy sits near a pregnant woman.
Boy: "Why do you look so fat?"
Pregnant woman: "I have a baby inside me".
Boy: "Is it a good baby?".
Pregnant woman: Yes, it is a very good baby.
Boy: Then why did you eat that baby? ! ! !
Follow us on Social Media