Details

This Page Hits:63855
Northeast Street Focus Vastu Details | Ishan Veedhi Soola | NE Road Thrust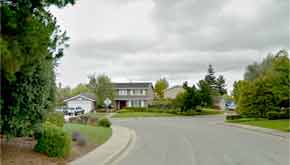 Northeast Street focus | Ishan Road Thrust: Now we are discussing about the Northeast Street focus. We had also observed that whenever a new thing is thus revealed several people jump up and corroborate the same.
About 3 decades ago, perhaps not many people would have even heard the term "vastu shastra".
First, one writer brought a volume on this subject almost 30 years back and soon several people came on the scene publishing several books professing over forty years of experience in Vastu even though they are just fifty years old. Great.
In this scenario genuine Vaastu scholars have not ventured openly.
There are several features in Neighborhood vastu and this is already embellished earlier. Of course this street thrust is altruistic benevolent.
A generous street thrust may turn a pauper to an aristocrat and a malevolent vice versa. These street thrusts are visible and sometimes invisible too. Some are even called stealthy.
Coming with street focus subject only the best vastu expert can find it out, other ordinary vastu pandit cannot find their nature and outcome.
One may believe it or not, but we never accept phone consultation or email consultation for all street focus homes or properties. It's only because of we are always looking for our patron's protection and well-being.
For your understanding purpose herewith we are publishing the short codes
NE : Northeast
NNE : Northern Northeast
ENE : Eastern Northeast
SE : Southeast
ESE : Eastern Southeast
SSE : Southern Southeast
How This Northeast Street Focus Touching The Home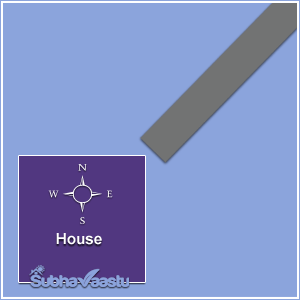 We published one animated image here to know how the Northeast focus generating power to a property, it may be either Home, Factory, Shopping complex etc. This image is only for your kind information purpose. A road is hitting a property and afterward, some stars are blinking in the home. It means the Northeast street focus releasing admirable positive results to the property.
The virtual understanding purpose we have prepared this image. Viewers can enjoy this animation and can find out the benefits of "NE focus".
Is All Northeast Street Focus Homes Are Good
In general, the Northeast street focus plot bestows with auspicious results. But we cannot say, it is 100%. Some NE focuses may curse the residents based on other concerns, based on many aspects only we have to finalize whether NE plot is giving good results or repugnance results. Broadly speaking, majority of NE focus plots are acceptable to buy.
On What Factors NE Focus Is Giving Results, Based On What Situations It Is Working?
Formation wise of NE focus, the vastu results may also differ in size of amount of outcomes. Results will be diverge based on these points are the considerable depending factors, they are:
1. "Street Formation" either from exact direction or mixed with other direction.
2. "Degrees of the house plot", is the plot is 90° or 70° or 120°.
3. "Width of the property",
4. "Focus of the street on the home",
5. "Depth of the street" which is focusing on the home.
6. "Obstructions in between street thrust and property",
7. "Trees in between both focus and house",
8. "Is this property is an apartment flat or independent home",
9. "Comparison of floor levels of both road and house",
10. Is this the skewed house or regular house,
11. "Is there others homes are there at the backyard of this street focus home or the backyard is totally vacant",
12. "Is this road focus is exactly Northeast or it bent down towards North",
like such there are many other circumstances to be considered when checking with street focus outcome/reaction.
Road focus observations and explanation cannot be explained in a lucid form, it requires personal attention and needs eyesight of the property.
Majority cases this NE focus would bring whizzo outcome.
What Are All Visible Street Thrusts:
Below are all visible street thrusts. In this case remedial measures where ever are to implemented are indeed possible, these street thrusts are, because road thrusts are visible.
1. Northeast street focus (NE)
2. East Northeast street focus (ENE)
3. East street focus.
4. East southeast street focus (ESE)
5. Southeast street focus (SE)
6. South southeast street focus (SSE)
7. South street focus
8. South southwest street focus (SSW)
9. Southwest street focus (SW)
10. West southwest street focus(WSW)
11. West street focus.
12. West northwest street focus (WNW)
13. Northwest street focus (NW)
14. North northwest street focus (NNW)
15. North street focus.
16. North northeast street focus (NNE)
Some Benevolent Road Thrusts
1. Northeast street focus (NE)
2. East Northeast street focus (ENE)
3. East street focus (E)
4. South southeast street focus (SSE)
5. Southeast street focus (SE)
6. West street focus
7. West northwest street focus (WNW)
8. North street focus (N)
9. North northeast street focus (NNE)
Malevolent Street Focuses
1. South southeast street focus (SSE)
2. Southeast street focus (SE)
3. South southwest street focus (SSW)
4. Southwest street focus (SW)
5. West southwest street focus(WSW)
6. North northwest street focus (NNW)
7. North northeast street focus (NNE)
Caution: With a little carelessness even South and west street thrusts which otherwise could be benevolent may turn malevolent, only a competent vastu scholar can identify it.
What Are All Advantages Of Northeast Street Focus
Northeast street focus presents with countless benefits to the residents. Most auspicious vaasthu results of this Northeast street focus is
Male posterity consistently on the go.
Quite possible of quality life existence with continued serenity.
Total satisfactory life with full of enjoyment.
Polish Intelligence. (Residents lives more than 25 years in this home, their kids will become genius in their fields. More stay, more good results.)
Improving knowledge.
Enhancing human skills.
Pleasant tours and trips to several long-distance locations.
Leadership qualities.
Supremacy.
Success rate is increasing year after year.
Jackpots in terms of gaining wisdom or even money too.
Fun with friends & relatives.
Foreign trips.
Easy & happy life.
Works go smooth.
Good education.
Qualified people for many sectors.
Developing fame and name in the society.
Noble life.
Enormous funds.
Bank deposits, heavy flow of good means of sources in funding.
Good character.
Royal life after staying many years in the same home.
Good behavior.
Total family members on pleasant trips.
Good alliance to the daughters.
Right job for the sons.
Far distance jobs available and extracting good name and money from them.
Authority on all aspects.
All amenities in the house.
Successful hand in everywhere.
The head of the family controls all the members of the family and nearby his partners or relatives or friends etc.
All these above maybe truly happen only because of the focus which truly falls on the house from the right direction/area and the inner Vasthu of the house should also be good, otherwise we may not conclude exactly what we discussed above.
Can We Buy Northeast Street Focus Home
These houses are also available for sale, but the owners of that house may migrate too far away for transfers or doing new business or going to Foreign, only these are the reasons for selling of that house, there is no other reason. If you find any other reason than the above, there might be a very strong disturbance at the house as per vastu shastra in regard to NE street focus. Residents find any house of like this Ishan street focus is for sale, don't leave them, just buy them later have your lunch, please don't forget to get experts advice before giving advance payment to the seller.
Let us first find out about NE. When a street thrust is observed whether for a house, plot or factory or any other construction we should first examine the source of such thrusting streets if such source is from the benevolent side this is a good thing. For this purpose, we may assume it to a pipeline as water is transported via a pipeline so are good or evil as the case may be.
Let Us Examine How Northeast ( Ne) Thrust Is: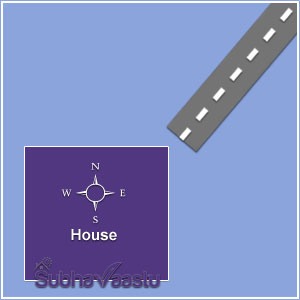 Here the Northeast street thrust is distinctly visible. If a street strikes a corner of East and North directions such a situation is called Northeast street thrust. As told earlier let us first examine as to what northeast is all about. We should recognize the worth of NE to appreciate the same adequately. If north is extended it would mean that our journey to prosperity is started. Northeast denotes prosperity and progress.
This may be in anything such as progeny, economical, name and fame, education or happiness quotient, pleasures of life, health, business, political gains, external journeys, vehicles, increase in prosperity or any such other things. The seeds for such developments are sown by the NE.
We are writing as exhaustively on the subject as it is really helpful to the readers. It is said Lord Shiva himself is the lord of Northeast.
Hence it is best to pay special attention towards this. The whole vastu shastra is partial towards this. Figuratively speaking this corner takes care of all other seven sides (and corners) of the house.
Of the three pantheon of Hindu Gods Shiva is easily appeased.
Just as a mother is indulgent towards her children so is said lord Shiva and northeast is one aspect of His. As such it is nearly impossible to completely evaluate northeast fully. In vastu, it is indeed truly said – even if all the directions are defective not to sleight northeast of the house.
Development and progress starts from the northeast, it attracts the benevolent grace of Goddess of prosperity – Lakshmi. If such a part of the house is defective it would mean that we have discarded the very progress and prosperity of home and every thing that is accompanied with it.
How Can We Find Northeast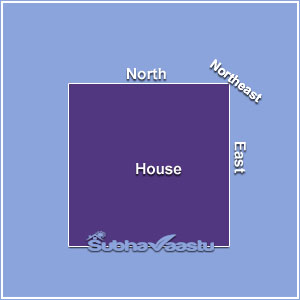 The corner of North and East direction of the house site is called as Northeast corner. This NE is in between the North and East directions. Northeast direction is also called as Auxiliary Direction or Ordinal Direction.
Half Curved Northeast Street Focus: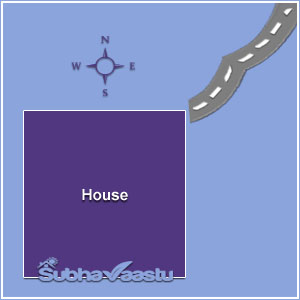 Here even though the NE street is not straight and has bends etc it bestows its full effects on the house. The final destination is towards the Northeast corner of the site and started from the Northeast corner of the house plot. So it bestows the Northeast featured results to the residents. Please note that, this bent has some limitations to express the outcome quality.
"Y" shape Northeast Road Thrust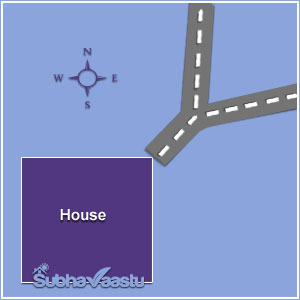 There is "Y" shape street thrust. This is extremely beneficial to the residents as if with one stroke several events are concluded successfully. There are 3 components in this NE street thrust. These are, 1. ENE (East Northeast). 2. NNE (North Northeast), 3. Only NE ( Exactly Northeast)
Two Portions Mixed in Northeast Street Focus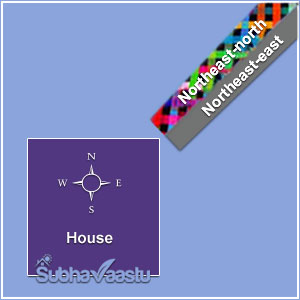 In the Northeast both NNE and ENE are co joined or else it will be either ENE or NNE only. In this image NE street thrust to the house appears. One half of the street thrust is crisscrossed and other half is plain brown color. The crisscrossed portion is NNE and the plain portion is ENE. Both act as excellent to the house. the results on the residents are exceptionally good. In this image every thing was written, the crisscrossed portion is Northeast-north and plain portion is Northeast-east.
Reverse Y Shaped (Catapult) Northeast Street Focus - Is This Good Or Bad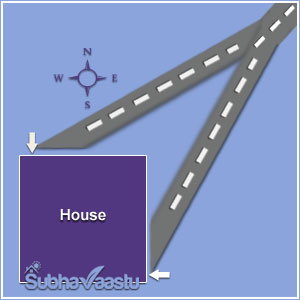 This is yet another type of NE street thrust, reverse Y shaped, this is also seen just like catapult. However, this house would not enjoy its benefits. See the arrow mark on the Southeast and Northwest side of the house causing ESE and NNW street thrust. Far ahead of the home (not adjoining) the house spare formed as traffic island makes the street thrust as ESE and NNW and not NE street thrust, with the results that the house would suffer negative effects of ESE and NNW street thrust.
Some may think that this is the Northeast street focus. Be cautious when selecting the plot/house with street focuses, this catapult street focus is not good.
Perfect Northeast Street Focus House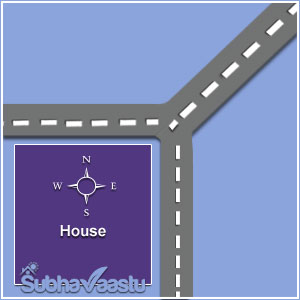 This is exact Northeast street focus house. In this specific case, in addition to Northeast street thrust, there are streets on the northern and eastern sides of the house, these are hugely beneficial. Residents are most lucky people. If one found such type of house for sale, then can consider to buy them with proper guidance from experts.
Please note that there should be houses towards South and West parts, no water ponds should be towards Southwest, South and West parts of this house.
Northeast Road Thrust Touching The Southeast Portion Of The Home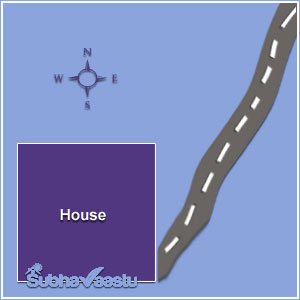 This street is also came from Northeast corner of the house, but it is touching the Southeast corner of the house, so be cautious when buying these type of properties. Better to approach one expert Vasthu consultant and then only take the decision.
Northeast Road Hit But Touching The Northwest Section Of The House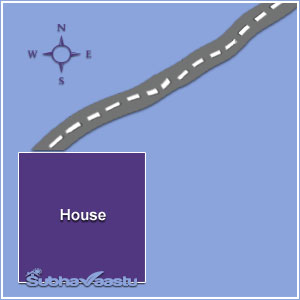 This is seems to be the Northeast street thrust, but it is touching the house Northwest. We strongly urge you to show this kind of property to one Best Vastu pundit before consideration. We have to check many things on these properties. If the thrust is exactly like this then we have to double-check before consideration. Better not to buy this house.
Northeast Street Hit Focusing Entire Home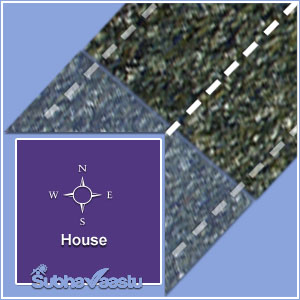 Here one road is hitting the entire house, we showed it with two parts of the road where exactly the road is hitting points of the house. This may also be called Northeast street focus, but we should be very cautious before buying these plots. Generally, many sites may have different kinds of Shula, some times, some may have freak focuses. Buyers should always search for expert vasthu consultant and show the property and then only has to decide.
Many residents are planned to buy properties and asking through phone call like one road is hitting the property, now if they see all the above information, further they never raise any more questions.
Northeast Street Hit Touching The Home North of Northeast, Is This Good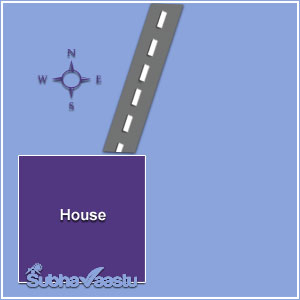 This is also Northeast road thrust, but touching the house North of Northeast. Is this good or bad?. This focus brings luck in terms of money to the residents. This is good street focus.
Northeast Road Thrust Touching The Center North House, Is This Good Or Bad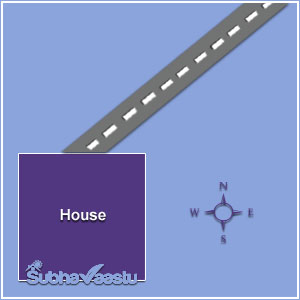 This road from NE is touching the exact North of the house. Many thought that this is good or bad. Most probably this could give good results, based on house construction. The house should be constructed below 50% of the East to West dimension. Best not to come out more than 50% of the measurement, then this road thrust bestows with good results. Anyway, without experts, personal visit, don't take any decision. If this kind of house located in USA, UK or Australia then please get proper guidance from online consultancy.
Northeast Road Thrust Touching House Northwest Portion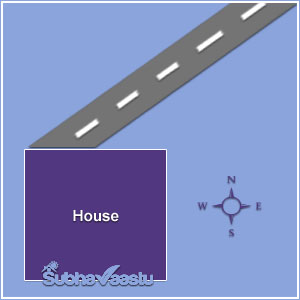 Still many people and including many Vastu consultants has opinioned that this would be the Northeast street thrust, though it was traveled from Northeast, but touching the Northwest of the house, it may never provide good results to the property. Please be cautious.
NE Road Hitting The House Northwest Portion Passing Through North Road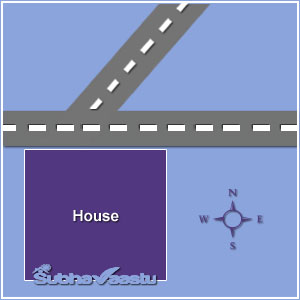 Please observe this image and above image, twice. The change appears here is only North road, this is a "little bit" good "than" the above street thrust house. There are many other sites, impressions, roads, systems, we may not publish everything here, but we tried our level best to inform at least some basic information including some important content with images. We hope this would help to find the "B E S T" house for a happy living.
Curved NE Thrust Touching House Northeast Portion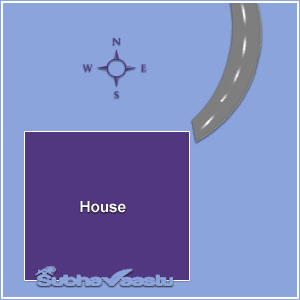 The curved focus to an property, is it called as Northeast street focus or Northern northeast street focus? Some times dilemma creates by observing the roads touching properties on paper or photos, even in videos also. The correct method is personal on site observation is safe, this could only help to decide about the nature of the street. In this case we should observe the street length, how far it is going towards Northeast or North, is it turned to Northeast inclined or is there any diagonal bent is there in between of the road etc information is required, after observing many other things we have to finalize future of this house. As of now, this is good street focus.
Arch Type NE Road Thrust Touching Northeast Home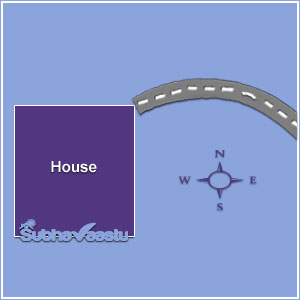 Many residents always hurry, they require to know whether the land / house / villa / site / factory is good or bad by knowing it has some street focus, first we should learn one thing that all focuses may not be commensurate. Anyway, this focus shown in this image is not bad. It gives good results based on the length of the focus.
Northeast Shula Touching The House East Area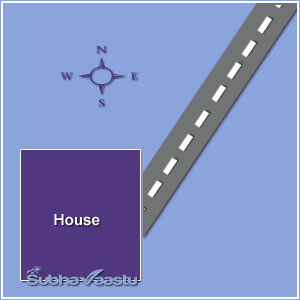 Many have their own opinion that this would be the exact Northeast street focus. This is a Northeast street focus, but it is touching the East part of the house, so we should be very careful in this analyzation. If the structure is below 50% of the site say about from North to South measurements. If it crossed 50% then it gives the adverse results. Experts opinion is highly recommended with this road thrust. Don't take the decision alone. It may hurt in the future.
Northeast Sula Touching House Northwest Portion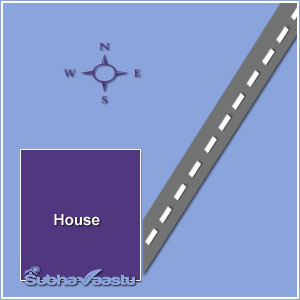 Please note that all NE street focuses are giving same results. Some time NE focus is also acting as a demon and produces absolute counteractive returns. Can we treat this as a Northeast street thrust, just forget about this site/house plot. We may not guarantee if this would provide culmination for good results. There might be lesser chances in cater to good results. But in some conditions, it may contribute good results for a shorter period, not a long time frame.
Northeast Street Focus Joining With North Road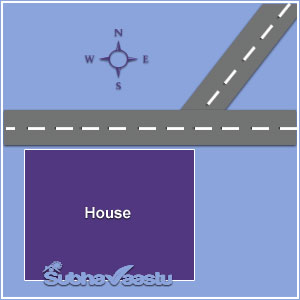 This NE focus touching the home, in addition to this, it is joining with the North road and poke the home. This is more additional benefits to the property shown here. This is good.
NE Road Thrust Connecting With East Road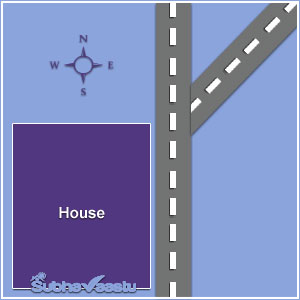 This property is also having additional benefits than the ordinary Northeast road thrust. This house has East road and getting NE road focus, this is auspicious.
Buying North PLot By Northeast Street Focus Owners Is Good?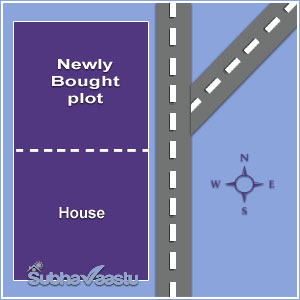 General saying in Vastu Shastra is buying additional plot towards North or East is considered to be good and most of the Vastu consultants recommending to extending the North or East directions. Sometimes this could be more dangerous, see why it is acting like so. Now one person bought the "Newly Bought Plot" land adjacent to his "House" which has NE road focus, i.e., he bought North direction which is adjacent to his existing home. Generally buying North plot is a good idea, but here it won't help. After buying the North extended plot then the entire whole plot/home becomes negative. The existing auspicious street focus may turn with negative results. Care should be taken before finalizing considerations, otherwise, residents has to face challenges.
Purchasing Additional East Plot By NE Road Thrust Owners is Good?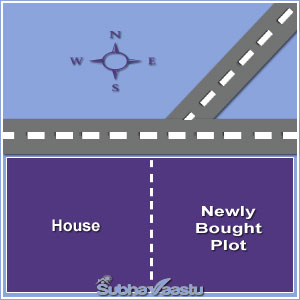 Here residents bought the East plot. No doubt, buying additional East plot is a bright idea. But it may hurt if the actual existing house may has NE road thrust. All medicines never work for every deceases. Subject shown on the book and internet, cannot make residents safe in the future. Before falling into adverse results mud sock better to obtain an expert opinion to safeguard their earnings.
Constructing Round Shaped Structure At Southwest Is Good Idea For NE Road Hit House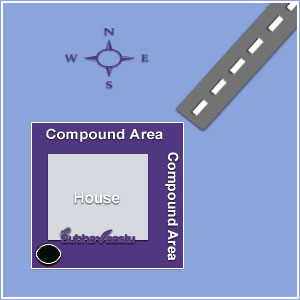 The round structured construction towards Southwest will behave as a most supportive to the main house if the house is having NE street thrust. This could be one of the significant portions in which a property is having NE thrust. Anyway, this may be good for all houses, but here it acts as the best magician to help inhabitants in all means, particularly this may make good things more strength and standard with security.
Water Sump at Northeast portion for NE Focus Home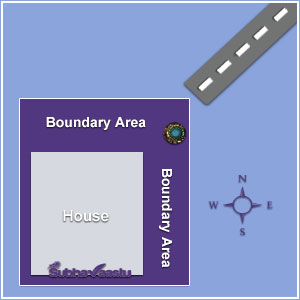 In case of NE road thrust, we are not recommending residents to go with water wells towards Northeast, though this is a good idea to have water storage sumps towards Northeast, but we are not recommending water sumps if there is NE road focus to the home, its only because the house is having NE street thrust, so it may affect negative results on inhabitants. Having water sump is mandatory, then one may have only closed borewell.
When a home has NE street thrust, they should not construct water sump at Southwest, this acts as a speed breaker of NE focus.
Benefits of Northeast Street Thrust
Generally only very fortunate people are favored with such street focus, if such houses come up for sale, purchase the same immediately even if a bit expensive. Generally, such houses do not come up for sale. The residents of such houses (even tenants) shall enjoy benevolent situations. Some people apprehend that they are only tenants and thus may not be subject to vastu consequences. This is a fallacy. The residents of the house whether owners or otherwise shall enjoy or suffer the consequences of vastu effects. In the case of northeast street thrust the results are beyond one's own imagination even. Northeast means progress which can be in any field, such as progeny, finances, name and fame, education, happiness in life, health, business, political gains, external travels, increase in family assets and the like.
Higher education
Travels to distant lands and prospering there.
Foreign Country Visits, Journey to Overseas, Travels, Holiday Trips, Enjoyment.
Mental happiness.
Becoming God-fearing, agnostic.
Increased earnings.
Name and fame in society
Intelligence, knowledge, competence and good disposition of heart.
Exalted status
Employees working under doing the work with devotion
In all endeavors contemplated – successful completion and happiness thereof.
Fair earnings and not knowing or be a victim of earnings of unfair means
Fair mindedness
Proper relation with nobility in the society
Good eating habits
Generally pleasant disposition in life.
Vastu Testimonials Delivered By Respected Residents
Dear Suresh, I am pleased to inform you that like the way you provided consultation for my home and explained to me all the changes required inside and outside home. I really appreciate the diagrams that you prepared for my home with pictures and arrows showing the changes need to be done. Above all, you explained very well the reasons behind changes you recommended for my home with great clarity and sense of humor. No doubt in my mind, you are the best Vastu expert, I really appreciate your dedication by building and maintaining a very informative website that is helping thousands of people across the globe. Also, I sensed when I talk to you and when I was dealing with you, you follow honesty and integrity and you have a sincere desire to help others - Kotesware Rao - Dallas - USA
We are tech professionals and working in USA. After a year long search we brought the house. After buying the house I started looking for consultant who can help me evaluating the house. I came across Subhavaastu website which has lot of information. I contacted Mr.Suresh and requested him to help with our house vastu. It has been an incredible delight working with him.. He is very detailed oriented person and never compromises with his work. I am typically not interested to deliver the reviews. But after working with Mr. Suresh I decided to share my experience. Mr. Suresh has great expertise in providing vastu consultation to USA property. He is always available through email and phone l to answer questions. I am writing this review hoping it will help other people like me who lives in abroad. Please take advise before buying the house. I highly recommend Mr. Suresh as he has great experience with structure of USA properties and also he provides genuine consultation. I really appreciate Mr. Suresh's help in evaluating our house - Padma - Boston - USA
"I contacted Sureshji to consult on our current home. He was spot on in identifying vastu dosha in regards to the problems we were having. He suggested remedies but we are still looking for a new house. Since then I have been in touch with him for finding a right home for us. He is very sincere and truly wishes better lives for everyone. He doesn't compromise with quality and is always responsive to queries. He recommends solutions as per location as Vastu rules differ for each country. He is greatly contributing to the society with his knowledge of Vastu and dedication towards his work. Keep up the good work Sureshji and wish you success and happiness!" - Megha - Virginia - USA
I have consulted Suresh Garu during December 2014 during the process of buying a house in Texas, USA. I have occupied the house for one year now, and feel like dropping a review regarding my experience during the entire process. I am very much satisfied with the kind of service I received from him. He is very knowledgeable and I was often stunned by his detailed analysis during the course of my interaction with him. He was very much accessible over phone (perhaps more than 10 times for one house plan!) and the price is very much reasonable especially compared with the cost of the house. I noticed his burning desire to help me in making informed decisions on certain things. I have seen some people pretending to know this subject and misguiding those who come for help by saying only what we want to hear. SubhaVaastu is definitely not that one. Finally, I am strong believer of leaving certain things to experts in those subjects. I have been in US for more than 13 years and have seen people doing their own corrections (by reading website articles) trying to save few dollars. Please don't do that. You would end up in causing more damage. I highly recommend you to engage SubhaVaastu in your next project - Satish - Dallas - TX - USA
Inspirational Quotations
"There are three things in the make-up of man. There is a Body, there is the mind and there is the soul." - Swami Vivekananda.
---
---
"Great Personalities speak about thoughts. 'Average Person' talk about occassions. 'Narrow Minded' gossip about others." ― Eleanor Roosevelt . . . Let you question yourself, "Who You Are, either 'Great Personality', 'Average Person' or 'Narrow Minded' ?
Joke Of the Day
"A book was released and the cover name is "How to change your WIFE", and within ONE week, "25 MILLION" copies were sold. The publishers found a mistake in the title, actually, it should be "How to change your LIFE", when publishers corrected and released the new book into the market. The first month's sales were 3 copies".
Follow us on Social Media