Details

This Page Hits:38933
Vastu - (Bastu) - Techniques Of Indian Ancient Traditional System Of Dwelling and Resulting with Harmony - SubhaVaastu.com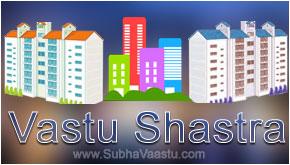 Vastu: In modern era this dwelling system has elaborately spread its branches world wide. Now most of the residents are interested to show their properties to reputed Vastu consultants or evaluate their Houses as per shastra tips. To speak the truth, this traditional dwelling system has emerged to make the life of human kind most fruitful, with the help of Five Elements, i.e., Earth, Water, Fire, Air and Sky.
Through the civilized man has no mind to peep into its utilitarian aspect, throughout the ages, it came along with the motive to make the human living, a better place of peace and prosperity.
The previous science has been updated for the present generation. Nothing emerged in this universe, till today or will emerge without or other than these five elements those are Earth, Water, Fire, Air and Sky. Among them the first three are more essential to make a good heaven, if they are disordered it will become a hell.
Getting good results as per Vasthu select a rectangular or square plot, and construct the house according to shastra principles. Better to approach one Vastu Consultant before selecting the plot, this is always advised method, take his suggestions in selecting the plot and house construction with garden also, if you require.
Some residents are taking their own decision in selecting the Plots / Flat / house / Factory / property with having minimum knowledge on this subject. Their thought is to avoid to pay for the consultant fee and later they suffer with so many losses or disturbances through their erratic modifications or alterations or selection of the properties or constructions and the like.
The observations and corrections made were noted and concluded only after in-depth examination and screening the situations. We should not given any opportunity to fate to became as a fool, be a leader before your friends and relatives.
It may be through only your right and exact right time decisions. If we calculate the consultant fee it will become below one percent of our properties. Then why should we count that one percent. Be a great personality, life is too short, utilize each and every minute with full of useful decisions.
Our birth purpose is not to be stand as a fool before our neighbors nor relatives or friends. Even today the real estate people are also interested to do business when the Property with this natural science compliance, if the property is not compliance most of them are not interested for consideration. If one followed the constructional principles then their business will be automatically improved. If one is looking for home improvement or development, it is better to think on this subject Indian principles for secured future benefits.
Here is a very small incidence: One Karthika (Saree seller) from Hyderabad city (City Name changed to protect privacy) having full of saree stocks, very valuable stuff. Her husband is running a factory (manufacturing plastic materials). They planned to construct one dream home. (This matter is came from www.subhavaastu.com) They purchased half acre (real fact) of land in Hyderabad city (City Name changed) and constructed a beautiful palace.
Before constructing their palace, husband requested Karthika better to approach one expert consultant to show their land for good advises. He instigated her to invite one expert from Delhi or Mumbai. She protest his thought and called one pandit who asked only Rs.516/-. Later that so called great pandit visited the property, then he recommended one Yantra for the main door (Which costs about Rs.21,116/-) and one ritual coconut to hang in living room which costs about Rs.3,116/-, one crystal Shree Yantra which costs about Rs.10,116/-, Dosh Nivaran Yantra costs about Rs.9,999/-, Nara Dristi yantra which costs about Rs.5,116/-, the poor lady seen only his fee of Rs.516/- and accepted all of his recommendations. He given one plan for their dream house which costs only Rs.999/-. Construction completed and poor couple joined into their dream project with many new hopes. Believe it or not within a very shortest period, they are getting rice and domestic items from her brother for daily life. This couple lost every thing. Yes every thing. She stopped running Saree business and her husband is not attending factory regularly and hiding from his creditors. Previously this family was operated money lending business, their position reached to below average after joining into the house. No yantra worked, they are all commercial yantras which never works, but his fee is only 516 Indian rupees. Residents tempted by seeing his fee. That great gentlemen never informed all the yantras information before reaching the site. Afterwords only he revealed the info and stated that without these yantras they never come up in their businesses. They never buy, they lost every thing. Is he Genuine consultant. Please note that genuine consultants activities are purely different. They never wrong guide residents. The fee is only 516 rupee, finally what residents lost, calculate their yantras money, their life, their without sleeping nights, businesses, money particularly reputation and peace. Think twice before dealing with cheaper prices. 100% quality never come with cheap payments.
Here is their selected plot and pandit recommendations.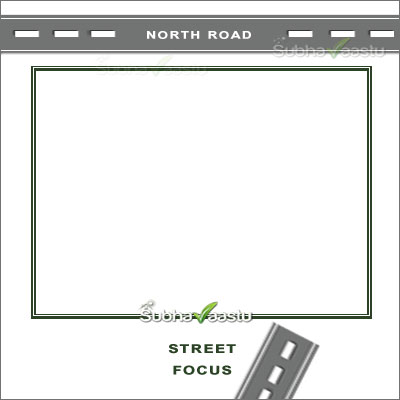 There is a street focus to this plot from Southeast, the pandit thought that this Street Focus is good as it is hitting to the plot on Southeast-east corner, but this street has started from almost Southwest corner. If one street is hitting from southwest part to any property, then the residents position will be gradually downwards, they have to bare all pains with or without known mistakes. Some people thought that a street is hitting the property only at Southwest is called Southwest Street thrust, but this opinion is wrong, you may read More Articles on Street Focus here. Now that pandit recommendations for this House Plan are as under :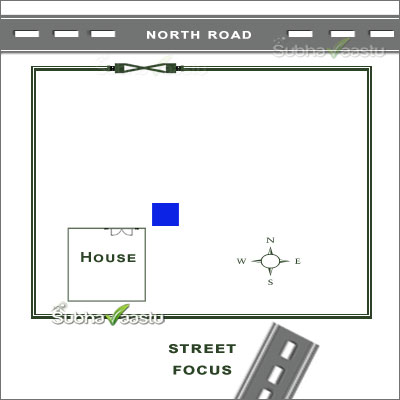 Observe the pandit recommendations to this plot. The sump is exactly Northeast corner of the house. The sump (water storage well typed construction). The gate is exactly Northeast North Street Focus to the house. Is this right ? . Finally crorepathis turned to bikshadipathis. Why this happens, who is the main cause for this mistake or fault. Why residents taken decision to shown their property to one half knowledge pandit, it may be a reason that they were live in a erratic constructed property before start this new venture. Otherwise how it is possible. The entire project costs about 2.3 crore. Shall we call it as a negligence or mistake or fate.

Please note some Important points before constructing the house.
Boundary is important while we are going to calculating the principles to any property.
Here the pandit thought that sump is towards Northeast corner to the house only. But is it totally wrong method, sump should always at Northeast corner of our entire premises, not the Northeast corner of our living area.
The pandit planned the main gate towards northeast-north direction, but here, the main gate gone to northwest-north.
All his recommendations are worthless and against to the nature principles.
Now the house has been corrected according to the shastra secrets. The sump has been moved towards exact northeast corner of the plot and the main entrance has been shifted towards northeast corner of the plot. The present sump has been closed and covered with soil. The gate also closed with wall. New gate opens towards northeast-north. Regarding street focus, constructed one commercial big shop and the main entrance of the shop is towards south. No attachment for the shop and house, bifurcation completed.
That is why Indian elders said a proverb as "donkey should not do dog's job" .
Why should we left a chance to fate. Approach one expert Vaasthu consultant before buying a Plot / Flat / House / Factory or Any property. Before buying or constructing properties, we should not forget about our health. Money is important for living, but health is more than that. (This matter is came from www.subhavaastu.com) Vaasthu Shastra addresses every sphere of your general well being starting from health, to relationships and most importantly finances. Having a well balanced cash flow and investments is crucial to having a good lifestyle and for overall prosperity. Very often it's been noted that professional in different lines of work may have problems regarding shortages, debts and expenses, inspite of a fairly good income. Even people, though quite rich due to ancestral property or family business may experience a vacuum in their lives. These problems could be attributed to improper house constructions.
Any person experiencing obstacles in financial situations should confirm if their home is constructed according to the principles to ensure an unhindered financial flow. This subject primarily focuses on the directions such as northeast, North-west, South-east and South-west. Each of these directions is governed by any one of Five Elements, that is fire, water, air, earth and space which form the basis of ancient traditional science.
Short Focus on this small diagram on one Financial Property:
This subject can help to improve your finances by considering the existing structures in your home, and understand how some structures could aid in positive financial flow, while others could create obstacles, and remedies for the latter. Many are thinking about this science in the house / home or property, but there is an another system is working and balancing on a certain property. Invisible monitoring is also being run without your permission on your prefetched vaasthu construction.
Here one Indian wants to buy this property, it is a commercial property, almost deal is settled and it has to be finalized after completion of discussions with financiers and friends. Later this venture was came to us and found some defects in this entire property. The property is hitting by Southwest open space, actually more open space is advisable for them in point of the nature of their business, if the property is open on road side, it gets more good business. This is natural for business environment, commerce is good and advertisement is not a evil. But consider with vaasthu principles it was been justify, that property is not fit for healthy means of business and later consideration cancelled.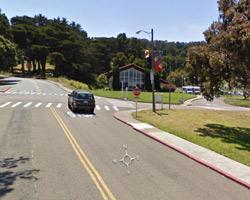 Some body has taken this property, later it was on roads for resale after 18 months. What is wrong with this property. The entire Southwest was vacant and there is Street Thrust hitting. Vision is good, thought is great, but should not forget Shastra principles if we expect secured financial growth. The same property which is shown from South end. Badly hitting from South side, how this construction will bless the property owner with healthy financial support. Below is the near view of this property.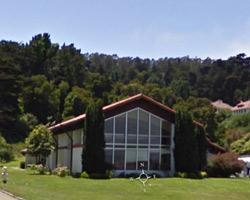 Now the property is very near and close look, the East and North is also elevated. But this is not a bigger issue while considering with West and South damages. All directions should be considered with high priority in case of purchases, but it is not so important in case of taking the same for rents and that to for only short period. The most important point to be remember is Northeast should not be disturbed at any cost. Here Northeast also almost disturbed. One should not buy the Northeast truncated properties. Those properties may not support the inhabitants when compare with other properties which have good Northeast.
For every property we should check all directions, land elevations, surroundings, construction style, strength of the construction, property age, load baring, placement of doors, windows, lofts etc. While in selecting properties we have to evaluate the things with the principles. Directions, conducive to financial prosperity are the North and Northeast directions. The North direction is ruled by the lord of Wealth, Kuber and the North-east direction is governed by the element water, which is regarded as an indication of a person's financial status according to Shastra. Other directions should also be checked to ensure that they are in proper order to avoid any negative influence related to finances, such times of we planned to grow in businesses. Since north is the direction of Lord, Kuber, a blockage in this direction, would imply obstacles in the flow of wealth and prosperity into the house is blocked such direction. However, if the block at that part may cannot be removed or there is no such chances to remove a part or entire wing then, placing an small water body at that part is also serves as a good remedy, but this also been laid only if the outside permits to do so, otherwise it is best to evaluate with an expert in this field.
Every body wants to develop financially, if it is so this subject definitely helps them. North or Northeast is specially good for ensuring financial gains. A single main Door from the South should be avoided, if two doors have to be fixed the combination should be north and east, east and south, east and west, north and south, but should be south to west, west to south. In case of three doors it would be preferable to locate the doors on three sides other than south or west, like north, east and south or east, north and west, but it should not be like south, west and east, or west, south and north like that.
When Can We Expect Results After Corrections Done To The Properties
How long it takes to get results after modifications/alterations to the properties
We completed corrections to our home, still results are not visible, when can we expect results.
Where to stand and check the property:
How to check a property to know about vasthu compliance. First you have to stand outside of the property and has to check the entire property. Later enter into inside and observe the construction, structure style, age, standard, system, attraction, appearance, maintenance and finally feeling. Go inside, enter into all rooms only with the permission of the residents. Don't left any thing in the house in your observations, find each and every corner. One may use compass through out the home if they feel some inconvenience with directions.
1. Doors,
2. Windows.
3. Walls
4. Flooring levels.
5. Mejanine.
6. Water sump.
7. Septic Tank.
8. Compound walls.
9. Boundary area permissible limits and any structures.
10. Out house.
11. Guest House.
12. Swimming Pool.
13. Cellars.
14. First floor.
15. Second floor.
16. Dais.
17. Trees and their positions.
18. Lawns.
19. Measurements in between all walls.
20. Sitting positions.
21. Sleeping Positions.
Further we have to enquire about their business or office or factory etc. This is the only sample information, practically if we followed with one Specialist, you may observe that what exactly he is observing the property, what exactly he found the difference in that property. Many new things will come out if you followed with one expert Vasthu pandit.
Vastu Testimonials From Respected Residents
Dear Suresh, I am pleased to inform you that like the way you provided consultation for my home and explained to me all the changes required inside and outside home. I really appreciate the diagrams that you prepared for my home with pictures and arrows showing the changes need to be done. Above all, you explained very well the reasons behind changes you recommended for my home with great clarity and sense of humor. No doubt in my mind, you are the best Vastu expert, I really appreciate your dedication by building and maintaining a very informative website that is helping thousands of people across the globe. Also, I sensed when I talk to you and when I was dealing with you, you follow honesty and integrity and you have a sincere desire to help others - Kotesware Rao - Dallas - USA
We are tech professionals and working in USA. After a year long search we brought the house. After buying the house I started looking for consultant who can help me evaluating the house. I came across Subhavaastu website which has lot of information. I contacted Mr.Suresh and requested him to help with our house vastu. It has been a great pleasure working with him. He is very detailed oriented person and never compromises with his work. I am typically not interested to deliver the reviews. But after working with Mr. Suresh I decided to share my experience. Mr. Suresh has great expertise in providing vastu consultation to USA property. He is always available through email and phone l to answer questions. I am writing this review hoping it will help other people like me who lives in abroad. Please take advise before buying the house. I highly recommend Mr. Suresh as he has great experience with structure of USA properties and also he provides genuine consultation. I really appreciate Mr. Suresh's help in evaluating our house - Padma - Boston - USA
Hello Sir, My name is Bharathi. Me and my husband have been reading your articles closely. We really appreciate the effort put by you to share your knowledge about vastu and it's effects - Bharathi - USA.
I have consulted Suresh Garu during December 2014 during the process of buying a house in Texas, USA. I have occupied the house for one year now, and feel like dropping a review regarding my experience during the entire process. I am very much satisfied with the kind of service I received from him. He is very knowledgeable and I was often stunned by his detailed analysis during the course of my interaction with him. He was very much accessible over phone (perhaps more than 10 times for one house plan!) and the price is very much reasonable especially compared with the cost of the house. I noticed his burning desire to help me in making informed decisions on certain things. I have seen some people pretending to know this subject and misguiding those who come for help by saying only what we want to hear. SubhaVaastu is definitely not that one. Finally, I am strong believer of leaving certain things to experts in those subjects. I have been in US for more than 13 years and have seen people doing their own corrections (by reading website articles) trying to save few dollars. Please don't do that. You would end up in causing more damage. I highly recommend you to engage SubhaVaastu in your next project - Satish - Dallas - TX - USA
Announcement
Acid Attacks
We are all aware of the evils of eve-teasing and stalking and the fairer gender are physically attacked with acid. The victim . . . . For more details Free Vastu Services page.
Inspirational Quotations
"Work hard, persevere, and have self-belief. More importantly, be true to who you are" - "Peta Searle".
---
"Great minds discuss ideas. Average minds discuss events. Small minds discuss other people." ― Eleanor Roosevelt . . . Let you question yourself, "Who You Are"?
Joke Of the Day
Patient: "Oh doctor, I'm just so nervous. This is my first operation."
Doctor: "Don't worry. Mine too."