Details

This Page Hits:15896
Vastu Consultant in Delhi | Vastu Pandit in New Delhi | NCR | NCT | Indraprastha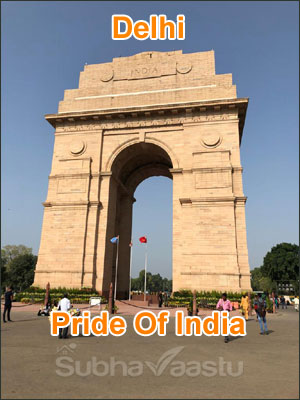 Delhi residents are known for their warmth and respectability, often more so than in other cities. The cost of living in Delhi is also reasonable. While Vastu Shastra consultancy services were once not sought after by Delhi inhabitants, a significant proportion now seek the best Vastu consultant in Delhi. This shift represents a remarkable transformation in India's capital city. Majority residents, industrialists, and multinational corporations in Delhi now prioritize seeking advice from top Vastu Experts for their new structures and Vaastu needs.
Esteemed residents often insist on services from renowned Vastu pandits, marking a welcome societal shift. Interestingly, even smaller inhabitants are keen on securing a reputable Vastu consultant in Delhi for their Vastu needs, disregarding the cost of premier Vastu consultation fees. Kudos to the Delhiites - indeed a smart city with smart people.
Vidisha Homes In Delhi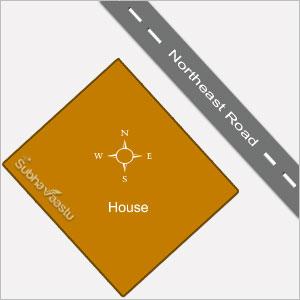 A majority of Delhi properties may be skewed or inclined. It's crucial for residents to approach these Vidisha properties with caution. We've compiled notes on Inclined homes. Understandably, North Facing House Vastu differs from Northwest Facing House Vastu. Prospective buyers must be fully informed before making an advance payment to the builder. Similarly, East facing house vastu varies from Northeast facing house vastu.
For those keen on buying Vastu Books to acquire some Vasthu knowledge before investing in plots, be prepared for potential future challenges.
Inclination Houses In Delhi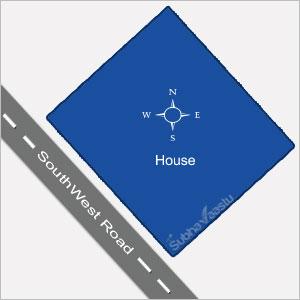 You are aware that if there is a Northeast facing home and obviously the opposite home will be the Southwest facing home. We thought this is the right place to explain one incident on this skewed homes. Very long back we come across two residents' history. Mr. Natraj chooses one Northeast facing home. His friend Manvanth selected the Southwest Facing Home which is exactly opposite to Natraj home, like what we are seeing this blue color image here.
After passing few months Manvanth unknowingly got different business orders in his firm and hugely developed. Natraj position is good and slowly developing, he is not developed as like Manvanth.
One-day Manvanth approached Natraj and taken a big amount as a loan to extend his business. After passing a year Manvanth getting troubles in his business and later on he starts observing that running the business is not possible and finally closed Business shutters and sit before Natraj to settle the loan repayment.
No Money with Manvanth and sold the home to Natraj. After many discussions, Natraj has taken the property and started his home-office in this new home. Several years passed, Natraj doing so good. Manvanth puzzled, why that same home is not giving good results to him and on the same way it is giving auspicious results to Natraj.
What is the logic here?. Why this Southwest facing house vastu is not giving good results to Manvanth and why it's giving good results to Natraj. Think about this logic. If you can't get the answer then write to us. The same house, without doing any corrections but plays a different role with two people.
Smt. Radhika Ji, Natraj's wife feared before taken Manvanth property and particularly she was so angst using the home. Finally, what happens, business improved, getting good results and peace. What logic works in this Vaasthu science, that we can't find in books.
What amount of data is canvassed in Vaastu Books? Everything can't be unveiled in books.
One should first understand, what is their requirement. Is they need to become vastu consultant or wish to know about Vasthu through books for any corrections to their properties. In this case, buying books is merely waste idea.
If any subject is new to us, it's the best idea to follow one Vastu expert in Delhi and thereafter decide to buy the home or search for other homes. Selecting the home by having tiny awareness on this subject may lead to misery in the future.
If residents approached renowned and best vastu consultant in Delhi, he might pick the excellent vastu residence for you. Generally, they never do mistake in selecting the good home.
Apartment Flats culture is alarmingly developed in Delhi now. Some say that vastu is not worked in Flats and Rented Homes. If so please check these two links Vastu for Flats thereafter one cannot ask such questions.
The Most unhappy thing is that some business people bought few vastu books and buying the land for constructing the factory and lost their hardship. It's their Fate.
Intelligent businessmen definitely approach the best vastu expert in Delhi and thereafter takes the decision of buying the property. This is what generally smart people follow.
Neighborhood plays a vital role in Vastu, that one should not forget before taking any decision on their properties.
Remember, if a person going to be sick, first he approaches the doctor for the treatment, he never buys medical books and chooses to start his own treatment. Sick maybe only one or two days or few days, but vastu, it's lifelong and continues generation after generations.
We provided some elaborated information on Vastu for West facing house, check this link when trying to buy West home.
Is really south homes are bad, read the content published here Vastu for South facing house. There is a huge chances of getting good luck with South homes.
Key Points of Delhi
Delhi State Capital: New Delhi
Area 1,484.0 km2 (573.0 sq mi)
Districts 11
Population 16,787,941
Literacy 86.34%
Languages Hindi, English
Main Crops Paddy, Jowar, Bajra, Wheat, Mustard, Vegetables
State Bird House sparrow
State Animal Nilgai
State Flower Alfalfa
State Tree Flamboyant
Popular Rivers Hindon River, Najafgarh drain, Sahibi River, Yamuna
Spiritual Places Lotus Temple, Kalkaji Mandir, Chhattarpur Temple, Gurudwara Bangla Sahib, Gurdwara Sri Nanak Piao Sahib, Ramakrishna Mission, Sri Digambar Jain Lal Mandir, Sri Aurobindo Ashram,
Important Cities The oldest city near the site of the Siri, Tughlqabad, Jahanpanah, Firozobad, The city around Purana Qila, Shahjahanabad, New Delhi
Border States Haryana on the north, west and south and Uttar Pradesh (UP) to the east.
Tourist Attractions Akshardham Temple, The grand 'Red Fort', The glorious 'India Gate', Rashtrapati Bhawan, Jantar Mantar, Chattarpur Temple, ISKON Temple, Lotus (Bahai) Temple, Old Fort (Purana Quila), Bangla Sahib Gurudwara, Raj Ghat, Hauz Khas Fort, Agrasen Ki Baoli, Crafts Museum, National Rail Museum, The unique 'Shankar's International Dolls Museum', Janpath Market, Sarojini Nagar Market.
Delhi Location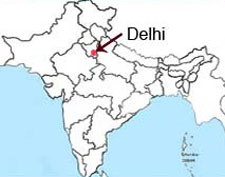 Delhi Map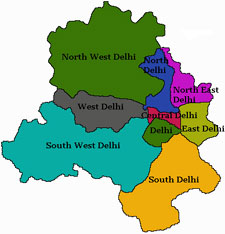 Desktop Wallpaper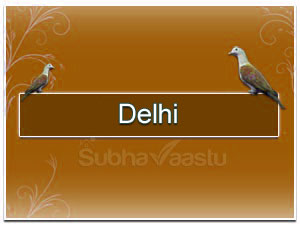 Mobile Wallpaper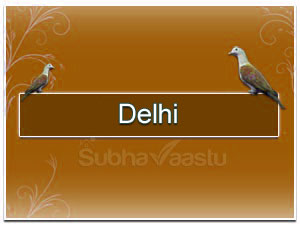 List of Delhi Destinations
New Delhi
Gurugram
Karol Bagh
Mehrauli
Dwarka
Rohini
Janakpuri
Pitam Pura
Chanakyapuri
Bahadurgarh
Nangloi Jat
Lotus Temple
Akshardham
National Gallery of Modern Arts
Tughlaqabad Fort
Tomb of Safdarjang
Agrasen ki Baoli
Garden of Five Senses
Hauz Khas Village and Deer Park
Iskcon Temple
India Gate
Paharganj
Lodhi Garden
Locations in Delhi
Adarsh Nagar
Adchini
AIIMS
Ajmeri Gate
Akshar Dham
Alaknanda
Alipur
Anand Parbat
Anand Vihar
Arjun Nagar
Ashok Nagar
Ashok Vihar
Ashram
Asian Games Village Complex
Aya Nagar
Azad Nagar
Azadpur
Babarpur
Badarpur
Badli
Bahapur
Bakhtawarpur
Bakkar Wala
Balbir Nagar
Bali Nagar
Bapa Nagar
Barakhamba Road
Batla house
Bawana
Begumpur
Ber Sarai
Bhagwan Das Road
Bhajanpura
Bhalswa
Bharat Nagar
Bhikaji Cama Place
Bhogal
Bijwasan
Bindapur
Brahmpuri
Budh Vihar
Burari
C R Park
Chaman Vihar
Chanakyapuri
Chandni Chowk
Chawri Bazar
Chhatarpur
Chhawla
Chirag Delhi
Chittaranjan Park
Chokhandi
Civil Lines
Connaught Place
Dabri
Dakshinpuri
Daryaganj
Dashrath Puri
Daya Basti
Deenpur
Defence Colony
Delhi Cantoment
Dera Mandi
Devli
Dhaula Kuan
Dilshad Garden
Dummy
Dwarka
East Of Kailash
Fateh Nagar
Fatehpur Beri
Freedom Fighter Enclave
G T B Nagar
Gagan Vihar
Gandhi Nagar
Ganesh Nagar
Gautam Nagar
Geeta Colony
Ghazipur
Ghitorni
Gokalpur
Gole Market
Golf Links
Gopalpur Village
Govindpuri
Govindpuri Extension
Goyla Village
Greater Kailash I
Greater Kailash II
Greater Kailash III
Green Park
Green Park Extension
GTB Enclave
Gujranwala Town
Gulabi Bagh
Gulmohar Park
Haibutpur
Hari Nagar
Harsh Vihar
Hastsal
Hauz Khas
Hauz Khas Enclave
Inder Enclave
Inderlok
Inderpuri
Indraprastha Estate
Indraprastha Extension
Jahangir Puri
Jaitpur
Jamia Nagar
Janakpuri
Jangpura
Jasola
Jhandewalan
Jharoda Majra Burari
Jhilmil Colony
Johripur
Jor Bagh
Kailash Colony
Kair
Kakrola
Kalindi Kunj
Kalkaji
Kalu Sarai
Kalyan Vihar
Kamla Nagar
Kanjhawala
Kapashera
Karala
Karampura
Karawal Nagar
Karkardooma
Karol Bagh
Kashmiri Gate
Katwaria Sarai
Keshavpuram
Khajoori Khas
Khan Market
Khanpur
Khera Kalan
Khirki Extension
Khureji
Kidwai Nagar
Kirti Nagar
Kondli
Krishna Nagar
L Zone
Lado Sarai
Lajpat Nagar
Lakshmi Bai Nagar
Lal Kuan
Lawrence Road
Laxmi Nagar
Lodi Colony
Loknayakpuram
Madangir
Madanpur Khadar
Maharani Bagh
Mahavir Enclave
Mahipalpur
Maidangarhi
Malka Ganj
Malviya Nagar
Mandawali
Mandi Hills
Mandi House
Manglapuri
Mangolpuri
Mansarover Garden
Matiala
Mayapuri
Mayur Vihar
Mayur Vihar
Mehrauli
Mithapur
Model Town
Mohan Garden
Moti Bagh
Moti Nagar
Mukherjee Nagar
Mukundpur
Mundka
Munirka
Mustafabad
Najafgarh
Nangal Raya
Nangloi
Naraina
Narela
Navjeevan Vihar
Nawada
Neb Sarai
Neeti Bagh
Nehru Place
New Ashok Nagar
New Friends Colony
Nilothi
Nirman Vihar
Nizamuddin
Okhla
Pahar Ganj
Palam
Panchsheel Enclave
Panchsheel Park
Pandav Nagar
Paschim Vihar
Patel Nagar
Patparganj
Pira Garhi
Pitampura
Pragati Maidan
Preet Vihar
Prem Nagar
Pulpahladpur
Punjabi Bagh
Pushp Vihar
Arbindo Marg
R K Puram
Raj Nagar
Raja Garden
Rajender Nagar
Rajouri Garden
Ramesh Nagar
Ranaji Enclave
Rangpuri
Ranhola
Rani Bagh
Ranjeet Nagar
Razapur Khurd
Rithala
Rohini
Rohini Extension
Rohini
Roop Nagar
Sadar bazar
Sadiq Nagar
Safdarjung Development Area
Safdarjung Enclave
Sagar Pur
Sainik Farm
Saket
Sangam Vihar
Sant Nagar
Sarai Kale Khan
Sarai Rohilla
Sarita Vihar
Sarojini Nagar
Satbari
Savita Vihar
Savitri Nagar
Sawda
Seelampur
Seemapuri
Shadipur
Shahdara
Shakarpur
Shakti Nagar
Shakurpur
Shalimar Bagh
Shanti Niketan
Shastri Nagar
Shastri Park
Sheikh Sarai
Sidhartha Nagar
Singhu
Siraspur
Siri Fort
Soami Nagar
Sonia Vihar
South Extension Part 1
South Extension Part 2
Sri Niwaspuri
Subhash Nagar
Sukhdev Vihar
Sultanpur
Sultanpuri
Sundar Nagar
Sunlight Colony
Tagore Garden
Tilak Marg
Tilak nagar
Tilangpur Kotla
Timarpur
Tis hazari
Tri Nagar
Trilokpuri
Tughlakabad
Uday Park
Uttam Nagar
Vaishali
Vasant Kunj
Vasant Vihar
Vasundhara Enclave
Vigyan Vihar
Vijay Nagar
Vijay Vihar
Vikas Kunj
Vikas Puri
Village Mandoli
Vinod Nagar East
Vinod Nagar West
Vishal Enclave
Vishnu Garden
Vivek Vihar
Wazirabad
Wazirpur
West Enclave
Yamuna Vihar
Yojana Vihar
Yusuf Sarai
Zone P II
History of Delhi:
Pinpointing when Delhi emerged as a distinct settlement is challenging. Legend suggests it was Indraprastha, the capital of the Pandavas, and also the meeting place of Bhima and Lord Hanuman. Despite the mystery surrounding Delhi's 5000+ year history, its ancient heritage is certain.
During medieval periods, Delhi was a part of various Rajput Kingdoms. Perhaps, this place must have served as the last fort of the erstwhile empires and hence it had an important role to play in all their security and defense matters.
Delhi was an important trading center. All the manufactured products in the then India used to be shipped to Delhi and from here sent to all middle east, and from middle East traders used to visit Delhi for their trading activities.
From about 10th or 11th Century onwards this place was ruled by Muslims. There were series of dynasties that ruled Delhi, the Tughlaks, the Khiljies, and others. They built huge forts and established themselves firmly at this place. Several of their constructions are now tourist attractions in Delhi.
When the Mughals started invaded Delhi, their first choice of the capital was Agra, though Delhi was not neglected.
In the political uncertainty that was after the 6th descendent Aurangazeb (Cruel Moghal Ruler) the political power gradually left the hands of Mughals. It took nearly a century for the British to have a firm grip on the political history of India.
Infact when the British were consolidating their hold on India, the seat of their activity was not Delhi. It was Kolkata. Even after the first war of Independence in 1857, the British wished to stay in Kolkata and rule the country.
But the restive North West and Punjab did give them a lot of trouble. They could not neglect these regions (it became difficult to handle the situations from Kolkata due to the geographic distance of Kolkata from the scenes of troubles). Finally the British decided to move their capital to Delhi.
King George V, in fact, laid the foundation for the modern Delhi – New Delhi in 1911.
In a really regal manner foundation was laid by him for the Rashtrapati Bhawan, the Vice Roy's residence then, the north & south blocks – the administrative headquarters of the Raj, the Parliament House – for the meeting of the council of states, Teen Murti House – the commander-in-chiefs residence and the like. The present-day Connaught Place saw it's birth thanks to the British.
The construction of these premises was truly in a grand scale – by any standard. These massive constructions were commissioned to satisfy the vanity of the rulers.
When India became free in 1947, Delhi was a small city. Kolkata, Mumbai (then Bombay), Madras, and even Hyderabad were larger cities, both in terms of population and area. This was the scene till about 1965-70.
The independence that India got had changed the fate of the country. Delhi is the typical face of the change.
Several institutions of importance in free India are located in Delhi. This became a creed. Agricultural, Scientific, and other areas of development aimed at the transportation of the country to a modern state came up in Delhi. It is truly representative of the whole of India.
People from all corners of the country started showcasing their cultural and ethnic beauties and styles in Delhi. They felt that Delhi is the best place to market their skills and opportunities. Each state has their representative office for liaising with the Central Govt. became a necessity so that the center may bestow their largesse on their state.
(The resources were limited and the needs were many for all states. ) This was similar to the old princely states having their listening posts in Delhi- However, in the modern scenario, the reasons are different. They are growth-oriented.
The developmental activity had taken several shapes. There were lots of institutional activities for various department of the Govt.
Lots of refugees, consequent to the partition of the country landed in Delhi. Coupled to this the pressure of housing the continuous flow of people from all parts of the country was also there. Several centers of marketing grew out of the old roots.
Chandni Chowk retained its dominance and charm. Karol Bagh developed as a huge wholesale and retail marketing center for Delhi.
The city has the distinct character for its various parts.
Sadar Bazar area adjoining New Delhi Railway Station is an important wholesale and even retail market with its own old world charm intact. It also has a huge residential area.
The Chawari Bazar area is still a favorite area for the procurement of modern engineering tools and precision instruments. In fact, this is catered to small-scale industries for all the North India.
At one time Karol Bagh used to be called Mini Madras (nee mini Chennai) what with a large population residing in this area being of Tamil and Kerala origins.
The New Delhi area starts almost at the New Delhi Railway Station itself.
Some of the site seeing areas for a tourist having no time are:-
Connaught Place, Birla Mandir, Hazarat Nizamuddin Dargah, Humayun Tomb, The Lotus Temple, Kalkaji Mandir, Rashtrapati Bhawan, and Secretariat and Parliament House, Red Fort, Chandni Chowk Area, where you will also see the Sahib Shish Ganj Gurdwara where the 9th Sikh Guru Sh.
Tej Bahadur was martyred by Aurangazeb, The Jama Masjid – built by emperor Shahjahan.
Jhandewala Kali Mandir, Chattarpur were developed.
Raj Ghat where Gandhi Ji was cremated, Besides these there are innumerable places of interest which are spread all over Delhi.
Of late Chattarpur in south Delhi has become an important place of visit for one and all. Besides these, there is a host of interesting places of historic interest such as Kashmiri Gate (right in the middle of a hugely popular ring road, Ajmeri Gate, Turkman Gate, Khooni Darwaza etc. spread all over Delhi.)
With population, and Construction activity going apace you can find very many good vastu specialists in Delhi.
Yet, we can say Vastu in Delhi is not as one would expect. Its reach is not as much as in South of India.
The cultural milieux of Delhi is unique. In one aspect it is mini India. People from all parts of the Country have owned Delhi and have become a part of it. Nay. Delhi indeed is a part of them forever. Even the street food of every corner of the country can be seen all over Delhi signifying its evolving unique character.
Of late Delhi has evolved into a modern metropolis catering to the tastes across the globe – thanks to the importance of this city on the world atlas.
In all this milieux Delhi –Vastu – popularly known as Vastu only – for there are no regional variations in basic science is slowly coming to it own. Several – mostly affluent people are seeking Vastu remedies to get over their nagging living problems and are recommending the same to others too.
Delhi also boasts of a camping site for tourists. Low budget travelers from USA, Canada, and Europe flock to India in hordes. They have rather discovered a new class of living on the shoestring budget in a host of hotels around New Delhi Railway Station & Connaught Place area called Pahar Ganj.
Yes, Delhi is an interesting megapolis. Apart from huge malls and star hotels of all denominations, it houses several guest houses and small hotels all over Delhi to cater to the footloose of all taste and moods.
The residential areas of Delhi are well spread out.
The Lutyens Area Houses the rich and famous and the bureaucrats of modern India. Areas such as Lodhi estates, Golf links, Kalkaji, Nizamuddin, Kailash, and Greater Kailash areas, Sarita Vihar, Vasant Vihar, Vasant Kunj, Anand lok, Jor Bagh, Safdarjung Enclave, etc., Sunder Vihar on Mathura Road are some of the posh areas of Delhi.
Daryagang is a prominent area that connects the old Delhi with New Delhi. Infact Shahjahanabad is the prominent area conceived by the Mughal emperor Shahjahan as an important residential area. This is part of Daryagang. You will find rare books and manuscripts and second-hand books being sold on the footpath on every Sunday. It is a book worm's paradise.
Delhi is famously known for health and medical services, infact the Government hospitals in Delhi cater to a large population of North India. The first multispeciality hospital in the country known as All India Institute of Medical Sciences (AIIMS) (gifted by New Zealand) is situated in Delhi only.
The later corporate hospitals or otherwise called star hospitals all over the country are later additions to this composite health culture.
Delhi is built now for people of all social classes to live. It has gobbled into its fold many villages into itself, where the life of the village co-exists with that of the modern. The Delhi Development Authority, DDA, was tasked to build affordable houses and settlements to middle and lower middle class of the society. They are spread all over Delhi.
The population needs apart from shelter, educational opportunities also. There are three central universities – Delhi University, Jamia Milia Islamia, and Jawahar Lal Nehru University. IIT Delhi is one of the premier technical institutes in the country.
The Schools and Colleges for children from elementary to graduation level are spread all over the place. Infact some of the best educational institutes places in the country are in Delhi now. Several Delhi Schools have their branches in all over Delhi and even in other parts of the country.
With a large population, the traffic has grown to chaotic to not so chaotic proportions, and now the metro transport has taken a huge burden off the road.
Delhi is a foodie's paradise. The Street food of Delhi is hugely popular. The Parathawala Gali in Chandni Chowk area is a famous place. Infact the authentic food from all over India is available virtually in every locality of Delhi, thus reducing home sickness of the residents and also introducing them to other cuisines too.
This city has grown astronomically huge. Unfortunately in this growth period as also in the medieval period when Delhi saw its place in Indian history Vastu Science was not in vogue. Consequences are instead of them being historical they have disintegrated into history.
This is tragic.
If bulk of the city were vastu compliant Delhi would have been and perhaps the rest of the country also be dictating history instead of having become a victim of the same. Now people are waking up. Pray they wake up early become wise and profit by this science.
Where as Delhi is NCT (National Capital Territory) the national capital region called NCR is much larger both insides and population. Cities like Ghaziabad, Noida and Greater Noida from Uttar Pradesh, Panipat, Bahadurgarh, Gurgaon from Haryana form the national capital region.
Infact the population of NCT is more than 50% of Delhi itself. Besides the Government is planning super-fast communications from Meerut in UP and Alwar from Rajasthan as a large number of people from these areas come out daily for work to Delhi. Truly Delhi is mini India.
Another version on NCR and NCT: (By Mr.RamaKrishna of Paschim Vihar) National capital territory is the political region of the union territory of Delhi. Members of Delhi Assembly are elected from this territory.
National capital region includes in its fold other regions from other states such as UP, Haryana, Rajasthan. Areas such as Meerut city of UP, Noida, Ghaziabad fall in this region. Many people live in this regions and work in Delhi and vice versa. Similar regions from Haryana are Gurugram, Panipat and Bahadurgarh. From Rajasthan, Alwar falls in this region.
Vastu Questions:
Vastu Testimonials Delivered By Respected Residents
Dear Suresh, I am pleased to inform you that like the way you provided consultation for my home and explained to me all the changes required inside and outside home. I really appreciate the diagrams that you prepared for my home with pictures and arrows showing the changes need to be done. Above all, you explained very well the reasons behind changes you recommended for my home with great clarity and sense of humor. No doubt in my mind, you are the best Vastu expert, I really appreciate your dedication by building and maintaining a very informative website that is helping thousands of people across the globe. Also, I sensed when I talk to you and when I was dealing with you, you follow honesty and integrity and you have a sincere desire to help others - Kotesware Rao - Dallas - USA
We are tech professionals and working in USA. After a year long search we brought the house. After buying the house I started looking for consultant who can help me evaluating the house. I came across Subhavaastu website which has lot of information. I contacted Mr.Suresh and requested him to help with our house vastu. It has been an incredible delight working with him.. He is very detailed oriented person and never compromises with his work. I am typically not interested to deliver the reviews. But after working with Mr. Suresh I decided to share my experience. Mr. Suresh has great expertise in providing vastu consultation to USA property. He is always available through email and phone l to answer questions. I am writing this review hoping it will help other people like me who lives in abroad. Please take advise before buying the house. I highly recommend Mr. Suresh as he has great experience with structure of USA properties and also he provides genuine consultation. I really appreciate Mr. Suresh's help in evaluating our house - Padma - Boston - USA
"I contacted Sureshji to consult on our current home. He was spot on in identifying vastu dosha in regards to the problems we were having. He suggested remedies but we are still looking for a new house. Since then I have been in touch with him for finding a right home for us. He is very sincere and truly wishes better lives for everyone. He doesn't compromise with quality and is always responsive to queries. He recommends solutions as per location as Vastu rules differ for each country. He is greatly contributing to the society with his knowledge of Vastu and dedication towards his work. Keep up the good work Sureshji and wish you success and happiness!" - Megha - Virginia - USA
I have consulted Suresh Garu during December 2014 during the process of buying a house in Texas, USA. I have occupied the house for one year now, and feel like dropping a review regarding my experience during the entire process. I am very much satisfied with the kind of service I received from him. He is very knowledgeable and I was often stunned by his detailed analysis during the course of my interaction with him. He was very much accessible over phone (perhaps more than 10 times for one house plan!) and the price is very much reasonable especially compared with the cost of the house. I noticed his burning desire to help me in making informed decisions on certain things. I have seen some people pretending to know this subject and misguiding those who come for help by saying only what we want to hear. SubhaVaastu is definitely not that one. Finally, I am strong believer of leaving certain things to experts in those subjects. I have been in US for more than 13 years and have seen people doing their own corrections (by reading website articles) trying to save few dollars. Please don't do that. You would end up in causing more damage. I highly recommend you to engage SubhaVaastu in your next project - Satish - Dallas - TX - USA
Inspirational Quotations
"There are three things in the make-up of man. There is a Body, there is the mind and there is the soul." - Swami Vivekananda.
---
---
"Great Personalities speak about thoughts. 'Average Person' talk about occassions. 'Narrow Minded' gossip about others." ― Eleanor Roosevelt . . . Let you question yourself, "Who You Are, either 'Great Personality', 'Average Person' or 'Narrow Minded' ?
Joke Of the Day
"A book was released and the cover name is "How to change your WIFE", and within ONE week, "25 MILLION" copies were sold. The publishers found a mistake in the title, actually, it should be "How to change your LIFE", when publishers corrected and released the new book into the market. The first month's sales were 3 copies".
Follow us on Social Media