Vastu for East Facing Homes | Vaastu Shastra for East Direction Houses | Factories | SubhaVaastu.com: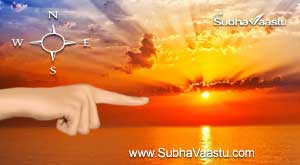 Vastu for East direction: When coming to the directions subject "East" (Poorva, purva, thoorpu, suryodhaya disha, surya disa, Ravi disha) direction is having priority influence in vastu shastra. Sun raises from 'East' direction, generally light means it through away the devil, dark, fear, ill-health. It welcomes confidence, light, strength, health, courage, happiness etc. By knowing many more hidden powers of East our elders said East is having such a huge concern healthy effects to humans. Just by reading vastu notes most of the vastu consultants continuously recommending only East direction plots or homes to the residents. Once we go through our articles on West and South, then interest may be increases to buy West or South facing Flats only. Sun is nothing but visible 'God'. Indian cultures and customs always linked with morning Sun rays. The East which is the Pitrusthana (fathers place) should have more open space and should be low in flooring and should not be filled or covered and if done so, resulting in the lessening of male progeny and it becomes a house without a male child. This direction should be broad, and at a lower level / depressed state than the other directions except Northeast corner. For better results East direction should not be blocked by any structure or building. Sun raises from this East direction and getting warm waves, those waves has directly hit the homes, those homes may become rich in health, fame and many other benefits. The important point of this direction is, it affects on the male or male progeny. Those homes who does has more sun light at mornings on East direction or the properties has more East direction, it states that the progeny born with knowledge, or knowledgeable people resides in those homes. Wisdom is their wealth.
How to find the East direction: -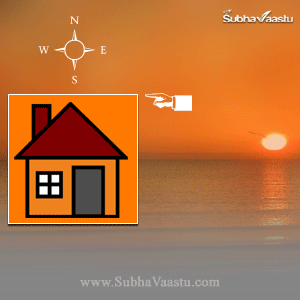 This image has sufficient information on East direction finding. A hand is showing the East direction of the home. This is the East direction or East part of the home. This showing hand starts from Northeast to Southeast. In between the entire area become East. As we discussed earlier in this page that the East Direction is the key direction for the males. It blesses with name and fame. Residents would be getting success and prosperous and further their lineage or next male generations be continue by having male progeny. Negligence of this direction may affect on many important things. If this direction at your house is elevated the residents of the house will always been in troubles and this direction area is less than West direction enemies power will increases and inhabitants will regularly get over power by the enemies. If this elevation is higher than the West no issue may be favorable to the residents. Small mistake towards East may affect heavily. Care has to be taken when deal with this East direction.
Actually the resident's duty is not observing the Vastu, or not doing corrections after reading some vastu books or content from some websites. They have their own tasks and should be busy with such targets to be complete, one should not start correcting the properties after reading the vastu knowledge from different sources. It may definitely disturbs their peace, they never has good sleep, they lost confidence, further there is a high chances in doing committing mistakes(definitely). Now a days somebody is doing a new job by observing vastu shastra by reading one or two books and doing corrections as published on those books, the practical knowledge and theoretical knowledge is very different. No comparison.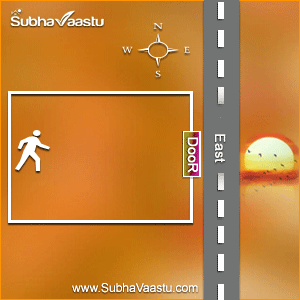 To know more about how to find out the East direction homes, then this image may helps you, in this image foot marks are moving towards sun way, the house is facing towards Sun, then the house is called as "East facing direction house" or "East house". It is easy to observe the house directions by seeing this house. The foot steps are moving towards Sun, the road is towards this direction, so the house is called as "East Facing House". Please ensure that the Northeast does not truncated or it was disturbed. Many residents asking doubt that their home has trees towards Northeast, generally vastu consultants recommends to cut the trees, no need to cut trees. Trees never harm humans in any manner. If there are trees at Northeast its simple to get out form this problem. dig one sump at Northeast and construct one solid dais at Southwest, South, West parts, or Elevate your Southwest room floor. These are the good balancing methods to minimize the negativity if you think so.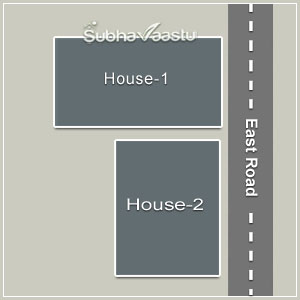 Here two houses are towards East facing, these two homes are called East facing houses only, both two homes are rectangular, but length of House-1 is different and House-2 length is different towards road side. The house-1 is little bit good for males. It may bless with good name, please note that both houses are good, but house-1 is little bit upper hand or more good than house-2. If you have house-2, don't cry. Nothing bad happens, and this is also a good property. In House-1, there is a high chances to provide more open space towards East direction, in House-2 its lesser chances to provide more open space towards East direction, that is the difference in between these two homes. If both homes does not have the compound premises and entire plinth area is constructed then both homes will be the same. No upper hand and no lower hand. Observation is too important, some times rules and regulations may has little variations when coming with vastu shastra, for example: A house does has compound wall and a house does not has the compound wall may not be providing same results though they constructed with same vastu principles. We may observe little variations in terms of results. The good or bad effects of neighborhood may be different when coming with the home with boundary wall and without boundary walls. Our elders says constructing the compound wall is auspicious to the property. But this rule may not applies to all countries. Based on many local rules we should change the construction system.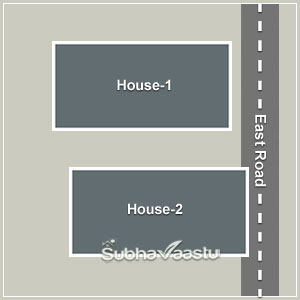 Please observe the two houses for atleast 10 seconds, have found any difference in these two images. . . No . . Both houses are East facing houses only and almost same measurements and rectangular homes only. There is no difference in the homes, there is a difference in the placement of the homes may be observed here. House-2 is encroached the road, as per Government rules, it may be wrong, but as per vastu shastra is it benevolent when the house encroaches towards this direction. Due to this encroachment this "House-2" gets Northeast-north and Southeast-south street focus. Both street focus are good to this property. Penetration towards East is always good. That is why our elders says, if there is chance to buy or getting an opportunity to buy this direction augurs well. Please remind, we are all respected people and cultured, should follow the laws and rules of the respected land. The House-1 is also good but does not have Northeast-east and Southeast-south street focus effects. While is it so, some body raises question that their neighbor home and their house are same to same and even color also same, but results wise their neighbor gets more luck and gradual development, answer is simple, this could be the difference, see what happens here, its acceptable thing that both homes are same, correct, but what about the placement, House-2 is encroached, they missed to provide such information. Professionals examine is different and layman perception is disparate. Like such a way, there are many other things too, that we have to observe and consider before buying the property or constructing the home. May be the star of a person may also involves in buying the property. This is the suitable place to discuss about one incident. While in our property review, gone to one village near Kadapa district, there is two friends by name Krishna Reddy and Ramana Reddy, both were good friends. Krishna Reddy dependably a decent organizer, and he hunt down for an expert vastu consultant and there after he got up one vastu specialist information and taken the consultancy and constructed the home. But Ramana Reddy does not like such concept and honestly speaking he don't want waste his money in the name of Vastu Shastra. Krishna Reddy started the home and completed successfully. On the same way Ramana Reddy also completed his home and both joined their homes respectively. Later Ramana Reddy observe many negative changes happens in his home and he compared the results with Krishna Reddy home. When the problems were too much he never waste a day and contacted the expert which Krishna Reddy sought consultancy and asked him to visit his property. Krishna Reddy encroached road, Ramana Reddy also encroached the road. Krishna Reddy got Northeast-east and Southeast-south street focuses, while Ramana Reddy got Northwest-north and Southwest-south street focuses. The logical point here is Ramana Reddy home is "West facing" and Krishna Reddy home is "East facing". Let us discuss on this mistake, how to handle this issue. Whose mistake it was. After examining the cruel situations, Ramana Reddy wants to demolish his house even to nullify the negative effects. Anyway the problem was solved with demolish the front room and removed the street focus problems, actually he wish to demolish the entire home, but expert saved his money by just removing only one room. Here who was suffered. Though by knowing the benefits of vastu consultancy Ramana Reddy don't like to have vastu consultancy, actually he requires to save money. Finally what happens. Who got immense misfortune. Let us we all think on this. Following other homes technique's may not be suitable to our home. Vastu for East facing home is exclusively contrasting with West facing. We experienced one Vastu for East facing house in USA, which has a mountain after the road, after buying that home, they went with atrocious outcome consequences. Did you noticed one thing, If residents requires to have vastu consultancy then they should not read books and should not start doing corrections, they has to approach one vastu expert, this is shrewd thought. Intelligent people always practicing a different way that leads to success.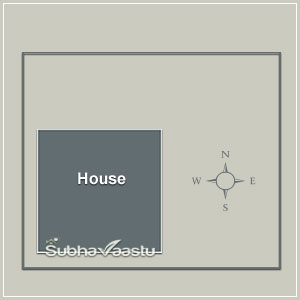 More open space towards East direction brings luck and fame to the residents. Planning to have more East direction open space to the residences may generally brings happiness to the residents and lineage may be intelligent too. For this East direction homes if the doors became towards exactly East or Northeast, it augurs well to the inhabitants. continuation of progeny, name and fame in the society, development etc may be observed. More over providing more open space at North direction than the South may brings more money and good health to females too. Lesser open space towards West and more open space towards East is the right method to bring positive powers to home. For some homes we may construct the compound wall, but it may not be possible to construct to all the homes. If there is no compound wall to other homes in that community or in the same line, then forget about compound wall. Anyway this house shows with compound wall and construction took place at Southwest corner. Let us check below image which the home built at Northwest.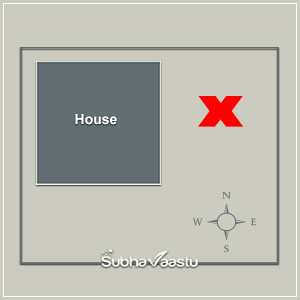 The above image and this image are almost same, only the placement of home construction is different, in the above image, house constructed at Southwest and here it was constructed at Northwest. Small change in construction, but big change in results. This home also get the more open space towards East direction, lesser North space and more South open space, generally this home is said to be not comfortable to the residents. If your property is already constructed towards Northwest then approach one best expert vastu consultant and get his advice for appropriate alterations. You know that we cannot shift entire house from one place to another place. It is not a box. There are some alterations for this property, but it should be verified by an vaastu pandit personally, then he can understand the entire structure and surroundings and may provide the best corrections. If home was constructed towards Northwest, then first we should observe the main entrance gates and home entrance doors. If both are towards Northeast then residents feels some relax.
Sun rays come from this direction. This direction provides vital power to living things. Our sages also doing all the rituals are performed by facing this direction only. Hence, it is called as a holy direction. Lord 'Indra' blesses development in education, status, happiness, vigor, interest in luxuries, professional development and success in business also observed.
Those who live in the east facing house, with the main door in the exact east direction, will receive the sun's energy more. This will fetch the above said riches automatically. This direction of the house is the best suited to Government Employees and for those having Government transactions or dealings.
Moreover those who live in this East faced houses, become good orators and best speakers. They will respect ladies and get maximum co-operation from them. They will have more interest in using cosmetics. This direction gives more strength to gents.
Those who live in a home facing east direction with the main door located towards the North side and the compound wall with the main gate properly constructed, are well assured of a career of profession, development and sudden improvement.. They will more wealth and higher respect in their society. They will be blessed with good children and enjoyment, are assured. This direction is responsible for progress in business, careen industrial development etc.
But, those who construct their residence neglecting this direction either by ignorance or indifference, will definitely lose their wealth and fame. Their career or Trade will be affected. They will have more worries and problems, and also regarding their children's education, profession also be affected.
One Satyanarayana of Mysore (Place Changed), Karnataka state was suffered losses in his factory, his brother-in-law informed him "better to consult one experienced vaastu consultant and get suggestions from him". But Satyanarayana is a different character, he thinks that vastu consultant needs fees to observe the property, why should pay fee to him, immediately he got one speedy idea and bought two vaastu books in the market., overnight he reads those books and known everything in vastu shastra., early morning he met Mason (mestri) and ordered to do some corrections in the factory, wonderful within a very short period his factory seized by the financial institutions, he lost respect in the society, after discussing all the things with his brother-in-law and finally contacted one experienced vastu consultant and done some corrections to his house and factory also(factory is seized, but outside, there is opportunity to visible for observation), he done the alterations as per vastu expert advise, after passing days he got some financial support from one of his best friend settled at NewYork (United States of America), anyhow finally he gained by vastu corrections. If at first he approaches one vastu expert, where is the way for seizing the factory and loose the name in society. Once bad name came, generally it takes years to get erasing that bad name. Generally business people get loans only on by their name and character, once they lost faith or trust or name in the market its very big challenge for them to get loans, some body searching loans from other towns or cities, because of their situation.
Don't neglect "East" direction, as it is a key direction for success, name and fame and good health. If there is a problem in East facing homes, or any obstruction was made of to the East facing homes then residents may face hypnagogic or they may be very lazy in future. Better to search for good east home without any obstacles towards East direction, otherwise buying the East facing home concept may not serves. Before buying the property please approach one vastu pandit, he can guide you the positive and negative impacts of that house, then only you may decide further.
---
Which is the best location for Kitchen in villa?
Where should we keep Pooja Mandir in our office room?
Is two cots bed are good or single cot bed is good for a family?
In my house there are total 12 doors are there, is this create any problem?
Some says that Vastu is not works for the Apartments and flats, is it correct?
What are the things we have to see first, while opening our eyes from bed after sleep?
Would like to download God desktop wallpapers, which link is best to visit for all Gods images?
We just look to buy one Southwest property, any danger to sign the contract for consideration?
I seen one Southeast home, some informed me that it is not good house, can I leave it or buy it?
Shall I go for buying the Northwest block property, is this Northwest block homes are good or bad?
I would like to learn some thing on Vastu shastra in Telugu Language, is this site serves with Telugu also?
My cousin Nagaraju bought one flat, which is having Northeast Kitchen, is it bad and not to buy this apartment flat?
Reviews on Vastu Consultant Services Website SubhaVaastu.com
Dear Suresh, I am pleased to inform you that like the way you provided Vaastu consultation for my home and explained to me all the changes required inside and outside home. I really appreciate the diagrams that you prepared for my home with pictures and arrows showing the changes need to be done. Above all, you explained very well the reasons behind changes you recommended for my home with great clarity and sense of humor. No doubt in my mind, you are the best Vaastu expert, I really appreciate your dedication by building and maintaining a very informative Vaastu website that is helping thousands of people across the globe. Also, I sensed when I talk to you and when I was dealing with you, you follow honesty and integrity and you have a sincere desire to help others - Kotesware Rao - Dallas - USA
The website Subhavaastu.com is very informative.Sureshji, the founder of this website is according to me a great ¨human who has vast knowledge in vastushastra and his kindness to his clients are appreciated. He listens to his clients problems patiently and gives the appropriate remedies. His main motto is good service and he responses as quick as possible. I spoke to Sureshji as a stranger only, but after one phone call itself , I started feeling that he is a caring well wisher for whoever asks his help. He is a genuine person. He doesn't force you to spend money in the name of vasthushastra, he explains clearly where the problem is and tries to give very easy changes to have a peaceful life. Sathya Priya - Switzerland
We are tech professionals and working in USA. After a year long search we brought the house. After buying the house I started looking into vaastu consultant who can help me evaluating the house. I came across Subhavaastu website which has lot of vaastu information. I contacted Mr.Suresh and requested him to help with our house vastu. It has been a great pleasure working with him. He is very detailed oriented person and never compromises with his work. I am typically not interested to deliver the reviews. But after working with Mr. Suresh I decided to share my experience. Mr. Suresh has great expertise in providing vaastu consultation to USA property. He is always available through email and phone l to answer questions. I am writing this review hoping it will help other people like me who lives in abroad. Please take vaastu advise before buying the house. I highly recommend Mr. Suresh as he has great experience with structure of USA properties and also he provides genuine consultation. I really appreciate Mr. Suresh's help in evaluating our house vaastu - Padma - Boston - USA
I have consulted SubhaVaastu (Suresh Gaaru) during December 2014 during the process of buying a house in Texas, USA. I have occupied the house for one year now, and feel like dropping a review regarding my experience during the entire process. I am very much satisfied with the kind of service I received from Subhavaastu. He is very knowledgeable about vaastu and I was often stunned by his detailed analysis during the course of my interaction with him. He was very much accessible over phone (perhaps more than 10 times for one house plan!) and the price is very much reasonable especially compared with the cost of the house. I noticed his burning desire to help me in making informed decisions on certain things. I have seen some people pretending to know Vaastu and misguiding those who come for help by saying only what we want to hear. SubhaVaastu is definitely not that one. Finally, I am strong believer of leaving certain things to experts in those subjects. I have been in US for more than 13 years and have seen people doing their own vaastu (by reading website articles) trying to save few dollars. Please don't do that. You would end up in causing more damage. I highly recommend you to engage SubhaVaastu in your next project - Satish - Dallas - TX - USA
Announcement
These days sudden deaths particularly in road accidents has become very common causing many mothers, wife's, sisters loosing their bread winner. As is common in our country women are not economically independent. They are either dependent on father or husband or son. Consequently they incur a great psychological shock of prosecuting life on the demise of the bread winner. The shock is unbearable. To mitigate this situation as a first step we have decided to render free vastu consultancy services for such category of females till the end of this month November 2016. This is irrespective of any other compensation these people might get from Insurance and other sources. We do hope that this would help the women in distress when they loose the bread winner. The bread winner may be husband or son or brother. We pray that visitors to our website would popularize this FACILITY so that people in need are not deprived of Free Vastu Services click this link for more info.
---
120 days FREE services to Chennai People Successfully completed Chennai Rains
---
Almost 60 days free vastu services given to 3 Girls families. Free Vastu Services to 3 Girl Families
---
People in Kollam faced a terrible fire accident, by seeing their unexplainable painful sufferings we thought to serve them total free vastu consultation Kollam Fire Accident
---
10 Vastu house Plans were published at this link.
---
India, by nature, is a peace loving country. It, since time immemorial, had no evil eye on any other nation. This land given birth to many great personalities like Vivekananda, Mahatma Gandhi, Abdul Kalam etc. The birth of Rama, Krishna and Buddha are legendary but infact it was proved. This has been the place where Dharma- Virtue - has been well protected and in fact nourished. When in distress great personalities like Hazarath Nizamuddin and in recent years His Holiness Dalai Lama have taken refuge here to serve humanity. In spite of this URI incident (18 soldiers were killed ) has happened the psyche of India is shaken. The country is taking all necessary steps to prevent/pre empt such situations. Huge sums of money are being spent in acquiring modern equipment and weaponry. While constructing new premises or modifying existing one's kindly consult us so that correct scientific principles conducive to the requirements are met with. We from SubhaVaastu urge the Government of India to consult us in this regard. Vaastu is science (not engineering) of construction lives with harmony. It helps harmonising various natural forces that are prevalent in nature so that a conducive environment is available to take appropriate decisions at all times. This science is both for residential as well as office buildings, already many buildings were constructing for Army officers, we are ready to serve with free vastu consultancy to enable officers to get success in their ventures. We request media and other agencies to take up this matter with government to help achieve the objective service to our nation India. For more information on Free Vastu Consultancy Services to Military here is the link.
Spiritual Wallpapers
Days are changing, people does not have patience, many were sitting before FaceBook and Twitter and paying attention to foreign websites. Most of them forgotten our/their cultures, traditions, methods, systems. Just passing time by observing videos, after observing many changes in our society we thought to introduce most attractive devotional wallpapers. Let us check Devotional Wallpapers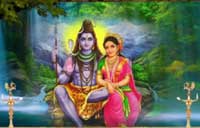 Inspirational Quotations
"Real courage is when you know you're licked beore you begin, but you begin anway and see it through no matter what. - Harper Lee.
---
"Great minds discuss ideas. Average minds discuss events. Small minds discuss other people." ― Sherrilyn Kenyon . . . Let you question yourself, "Who You Are"?
Joke Of the Day
A short memory Husband brings the child home from School and asks his wife, "He's been crying the whole way home. Isn't he sick or something?"
"No," replies the wife, "he was just trying to tell you he isn't our Kittu."