Details

This Page Hits:544338
Vastu for House {How To Find A Good House With Vastu} Gruha Vastu | Home Vastu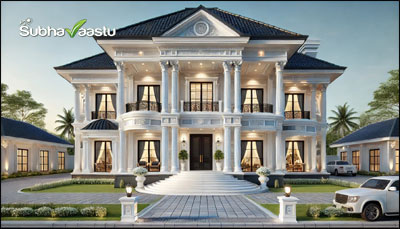 House Vastu: Gruha Vastu is a very important for all the effects of our day to day life activities. Browse through the links provided on this page "MENU" (which may be bottom if you browse through mobile) for more details about house structures and other parts of the house like the dining room, puja room, living room, guest room, backyard, front yard, swimming pool, kids room, storeroom etc.
Some thought that, all the rooms are not important in Vastu Shastra. But this is not true thinking. Each and every room has it's own caliber in providing the Vastu results.
Some residents may get feeling that if changes made to only one room may bring all prosperity and happiness, etc, but it's not true, we have to do complete alterations to Gruham (House) as per Vaastu Shastra, then residents enjoy the fruits of Vasthu in extensive. In this link, we will discuss vastu suggestions for house.
Vastu for House means first we should check the placement of the house on a plot and after that only we have to check the placement of the rooms and doors position, once everything will be carefully integrated then vastu for home will be successfully completed.
Very soon we are introducing house vastu in Telugu, Hindi, Kannada, Tamil, Gujarati, Marathi, Bengali, Malayalam, Rajasthani, etc. Already Vastu in Gujarati is available.
Nowadays many residents just reading some Vastu books or reading some content in vastu websites and check Vastu for House and doing alterations.
This is not the right way of doing corrections to the property. People should be careful when they are doing renovation works as per Vastu for House.
If any mistake was done at the time of renovation work, again residents should repeat the alterations, expenditure will be multiplied, waste of money, time, and peace too.
We understand that the various energy fields are intersecting and interacting with each other at all place on the earth. This is applicable to our small plot also. The cosmic energies are geo-energies, magnetic energy, etc., which are also acting in full on the earth.
The scholars who knew astrology were aware of the fact that there are exaltation or debilitation for planets. The planets will give their results accordingly.
In a similar way, there are exaltation and debilitation for each direction also mentioned in vastu shastra. The exaltation and debilitation depend on the paths of solar energy of the earth planet and the magnetic energy.
The morning sun rays have abundant positive energy which is quite useful to our body.
But, the afternoon sun rays have negative energy which is not so useful to the body and we get easily tired when compared to the morning sun rays.
Vastu Purusha takes his breath from Northeast direction.
The energy received from Northeast direction is carried to Southwest direction and are to be stored. The northeast serves as the positive pole ( + ) and Southwest as the negative pole ( - ) of the earth's magnetism.
Most Important Vastu Questions
Therefore, we should construct a building such that the Northeast sides have more wide openings and Southwest sides have less or small openings only.
Vaasthu shastra says the Northeast corner as an Exalted and Southwest corner as debilitated. The sides through which the energy travels is called as exalted direction. The receiving side or opposite side of the energy path is called a debilitating side.
The divine idea behind this is to get the positive energy to the maximum and to store (Storeroom Vastu) the same as far as possible. This will serve as a positive force to development.
Such type of research or findings is not available in the old literature. But, so many vastu books in present days clearly explains about good or bad plots and their impacts on the house residents.
This is more practical and results can be seen in any gruha, everyone requires to build castle, but most of the practical people wish to have a mansion, some may be thought to have at least one crib in the cities like Mumbai, Dubai, etc, the abode should be peaceful, residents should enjoy the peace in the residence, this is said to be Vastu.
The Magnitude and concentration of the Earth's magnetic forces or field decide the life of all living things on the Earth. We saw earlier that AIR, FIRE, WATER, EARTH, AND AKASH are the FIVE ELEMENTS OR PANCHABHOOTHAS which control our lives.
The change of the magnetic energy will automatically change the functions of the five bhoothas and our mental attitude, emotions, way of living, etc., will be changed accordingly. This could be easily seen, at the time of full moon or new moon.
The mental strength of mad people are highly disturbed and they react very badly during these periods. If we open the Uchcha (Uchchasthan) by means of windows doors etc. and close the Neecha (Neechasthan/Nichastan) sides by providing small openings, we could receive and keep the energies within our building for a longer period.
These openings facilitate the presence of various positive energies always in the house. These energies are very important for our happy domestic life. So the main entrance and the resident's movements should be always in the Uchcha or exalted side. We can easily get success in our business and trade and have a happy family etc. we will have a happy mood when we are entering our house itself.
It is otherwise, there will be quarrels, family problems worries, etc. One will be reluctant or have aversion to entering his own property.
Is Vastu for USA Homes and Indian Gruha Vastu is different? The number of NRI's settled in America and now most of them are searching for vastu consultant USA, day by day enquiries are more. Our answer is Vaastu is working everywhere, from East to West and North to South. We have clients all over the world except Green Land, Arctic, and Antarctic Continents.
If you know anyone how resides in Greenland, Antarctic or Arctic, ask them to send their house plan and their experiences in those houses. We will definitely remunerate for this contribution. It helps the society.
Guidelines on Vastu for Home
Check below for construction of the house with 90 degrees, many properties seem to be maintained 90 degrees but there is some difference, what are they, observe the below images to understand on these issues.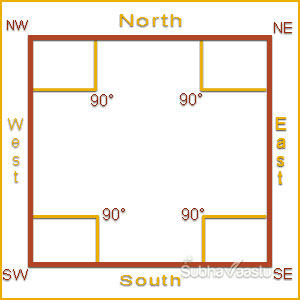 The eight directions help us to control the five elements and make them bring fortunes. This link tells us how to construct or from the eight directions of our plot/house. After cleaning the entire plot, we should first lay the pegs at the four boundaries with correct measurements. This is our actual plot which may be regular.
We should keep the first peg/pole at the southwest (SW) corner of the plot, then place a rope or thread firmly and extend the same to the South-east (SE) corner and put another peg. Then place another rope at the SW pole and extend to Northwest (NW) corner and place the third peg pole at NW corner, now measure the angle between the northwest - southwest - southeast ropes, it should be made exactly 90 degrees.
The southwest - Southeast, Southwest - Northwest lines should be exactly perpendicular to each other. This process is very crucial for any construction. The below images teaches you the exact positions of the perpendicular system.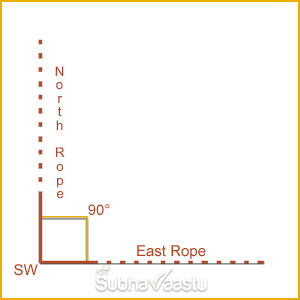 Here step-by-step information provided on home vastu. First observe the southwest (SW) point, first keep a peg or pole at this point and later start towards Southeast corner, so that will make a line from Southwest corner to Southeast corner. Then from Southwest corner to Northwest (NW) corner place another rope and peg or pole at Northwest corner.
Now fix a standard rope from Southwest to Northwest and southwest to Southeast corner. Then it looks like this image. 90 degrees has to be observed at this Southwest corner. It is a must and mandatory for any property while in construction. Caution, this process should perform with one expert Vastu Consultant only. He will guide you a technical and systematic manner and the entire project will be successful.
If this process is running in a town, city, the village then you will get 90 degrees perpendicular without much problem, but whereas it is in open land then the problem will arise. You will get the 90 degrees, but there is a chance for a mistake here, what is that?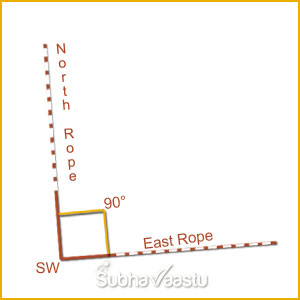 Observe the diagram here. It happens, but only some experts will detect in the inspection. We see some properties constructed accordingly. What is the mistake here, the southwest corner is 90 degrees, but the entire procedure is wrong. The house construction starting line has been a little bit bent, it may lead to many issues in the future. This mistake will generally occur in open lands or out of living areas or constructions.
While you are constructing your dream projects, it is admitted advise to approach one expert vastu consultant and show the land before starting the construction.
He will guide you with the best way for happy living. If this mistake continues up to the completion of the domicile, then the entire Home inside walls will also bend. Ordinary layman never detects this mistake. Below is another link which bent to the opposite direction.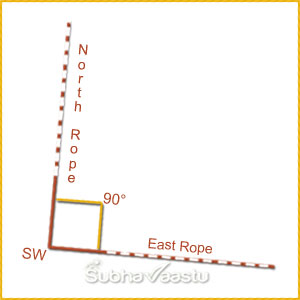 Here the construction also disturbed in the starting process. Please caution while in construction. Generally, people never find out this mistake while in construction, if residents have not found earlier, then they have to pay much for this known or unknown mistake. Now we are investigating the loss, done by our less knowledge on constructions.

After construction completion, it looks like:- observe the below images to know more information on our mistakes.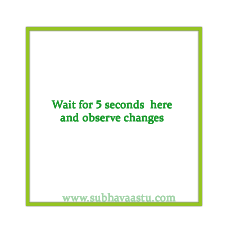 First, observe the image with four walls, the entire house is 90 degrees. Now check this image, here wait for 5 seconds for changes in the image and notice the general known or unknown mistakes. Observe carefully while in your constructions or approach one expert Vastu Consultant for better living. Shortly we will publish how to extend the Northeast portion of the property. In the above image, there is a house image which has 90 degrees on four corners, later we will describe how to extend Northeast, if the Northeast extends, then it is not possible to fix 90 degrees at Northeast, Southeast, Northwest corners, but 90° is possible towards Southwest corner.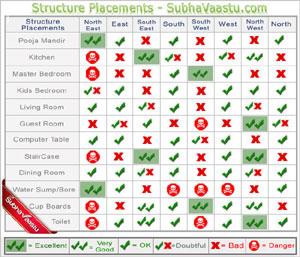 This VASTU CHART helps us to know about the location of the rooms and other structural placements in our property. This is an uncomplicated and very smooth to understand different locations and rooms positions. This chart is easy to reference reckoner to find out rooms position and other structural constructions in our residence.
This may be very useful for the residents who wish to know things immediately and inhabitants who don't have time to read all the content on this website.
Magnetic Fields covers at House
Every plot or property or flat is filled with micromagnetic fields. All the external and the internal divine forces are continuously acting upon the plot or house. If we cut a big magnet into tiny pieces. Then every tiny magnet will have a separate "N" pole and "S" pole. Likewise, any small tiny plot will also have all the characteristics of the earth's magnetic zone. The density or intensity of the forces/energies will be decided by the size and the shape of the plots. Positive Cosmic Energy will be more shaded and shadowed to the house vastu principled house.
How Does A Layman Know Whether His House Is As Per Vastu Or Not
Suppose one's life is going smooth, peaceful and their business/profession/office is good, then no need to have vastu consultation. Otherwise, if there is any issues faced continuously then the doubt may be arises on horoscope or Vastu Shastra. Then they will improve knowledge on vastu by reading books, knowing things on the internet, getting information through friends and comparing their property vastu principles. If they found anything wrong as per their newly developed knowledge then they will start doing corrections, some intelligent's will first approach only expert vastu consultant.
If everything is OK, nobody approaches either Vastu Consultant or Astrologer. Who is suffering from health problems they only approach doctor, otherwise they never heard anything about doctors and their diagnosis.
Believable or Unbelievable Things in Our Life - This is Not Belongs to Vastu for Home
Some of the funny or believable or unbelievable things which happen in our life, we cannot express with others with a smile or cry on these situations, read those small happenings in our life, these may be called as law of nature. But these below points not related to Vastu Shastra.
1. LAW OF QUEUE: If you change queues, the one you have left will start to move faster than the one you are in now.
2. LAW OF TELEPHONE: When you dial a wrong number, you may never get an engaged Sound.
3. LAW OF MECHANICAL REPAIR: After your hands become coated with grease, your nose will begin to itch.
4. LAW OF THE WORKSHOP: Any tool, when dropped, will roll to the least accessible corner.
5. LAW OF THE ALIBI: If you tell the boss you were late for work because you had a flat (Puncture) tire, the next morning you will have a flat tire.
6. BATH THEOREM: When the body is immersed in water, then your telephone rings.
7. LAW OF ENCOUNTERS: The probability of meeting someone you know increases when you are with someone you don't want to be seen with.
8. LAW OF THE RESULT: When you try to prove to someone that a machine won't work, at that moment it will definitely work!
9. LAW OF BIO-MECHANICS The severity of the itch is inversely proportional to the reach.
10. LAW OF COFFEE: As soon as you sit down for a cup of hot coffee, your boss will ask you to do something which will last until the coffee becomes cold.
How This Resident Lost With Wrong Vastu House Selection With An Impostor Guidance
Due to wide range of internet spreading, browsers got acquaintance with a lot of information from different websites. Most of them were confused which one is perfect and which is not right to believe. Many residents first choose the cheap price quote persons in regard with vastu consultancy. Let us see how this person Mr. Krishnamurthy lost his entire lifetime earnings with one hoaxer guidance.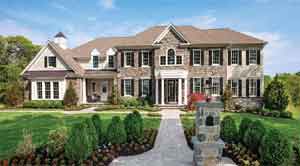 This home is in Kansas and Krishnamurthy likes this home and searched for cheap price vastu consultant and found one cozener who collects only 10 USD for selection of this home. Actually this home is skewed home, that the great defrauder doesn't know about this Vastu methodology
But he collected a huge amount in the name of yantras and tantras. To collect yantras Mr. Krishnamurthy knows how much he spent money. For some limitations, the real facts are being hidden in this case.
Is really 10 USD is worth for Vastu consultancy services for 1.5 million USD price home vastu, how can Mr. Krishnamurthy thought to get the right guidance with only 10 USD. We never believe such instances, though we come across such instances with proper honest persons. 1.5 million USD means its almost 10 crores of INR. 10 USD means its almost 700 Rupees. Disgraceful decision.
Can we ever imagine that such things will happen in one's life.
Don't fall by seeing cheap prices in society. No one work for a cheap price in this commercial world. Further, we never get a good home with dead cheap price, if so we will definitely and thoroughly enquired about the owners and price quoted by them, why they are selling such cheap price.
For example, if a house, worth of Rs.75,00,000/- is coming to market with a sale price for only Rs.3,00,000/-. By knowing this every buyer first gets surprised and completely enquired why the owners selling the home for that cheap price, and most of them never came forward to buy that property until their doubts were totally cleared.
This is correct procedure.
Then why residents never check a consultant is charging only 10 or 25 USD for a home worth about crores of rupees. The wise and educated residents never wish to approach such cheap priced Vastu consultancy services. Because they are giving significance to their family member's life, their future, safety, and happiness, they won't compromise on the quality life.
We found some vaastu consultants honestly doing free services to the residents. If you come across such people, please provide their information, we are ready to publish their names here.
Many people asking how to make a house according to vastu shastra principles, for them we have prepared many tips and vastu information, you are pleased to see the left side menu which has many house inner portions or rooms, shortly we are going to release vastu shastra information in the Hindi language. We request all visitors to help us to prepare vastu shastra in the Hindi language.
Interesting Other Vastu Questions and Links To Visit
Vastu Testimonials Delivered By Respected Residents
Dear Suresh, I am pleased to inform you that like the way you provided consultation for my home and explained to me all the changes required inside and outside home. I really appreciate the diagrams that you prepared for my home with pictures and arrows showing the changes need to be done. Above all, you explained very well the reasons behind changes you recommended for my home with great clarity and sense of humor. No doubt in my mind, you are the best Vastu expert, I really appreciate your dedication by building and maintaining a very informative website that is helping thousands of people across the globe. Also, I sensed when I talk to you and when I was dealing with you, you follow honesty and integrity and you have a sincere desire to help others - Kotesware Rao - Dallas - USA
We are tech professionals and working in USA. After a year long search we brought the house. After buying the house I started looking for consultant who can help me evaluating the house. I came across Subhavaastu website which has lot of information. I contacted Mr.Suresh and requested him to help with our house vastu. It has been a great pleasure working with him. He is very detailed oriented person and never compromises with his work. I am typically not interested to deliver the reviews. But after working with Mr. Suresh I decided to share my experience. Mr. Suresh has great expertise in providing vastu consultation to USA property. He is always available through email and phone l to answer questions. I am writing this review hoping it will help other people like me who lives in abroad. Please take advise before buying the house. I highly recommend Mr. Suresh as he has great experience with structure of USA properties and also he provides genuine consultation. I really appreciate Mr. Suresh's help in evaluating our house - Padma - Boston - USA
Hello Sir, My name is Bharathi. Me and my husband have been reading your articles closely. We really appreciate the effort put by you to share your knowledge about vastu and it's effects - Bharathi - USA.
I have consulted Suresh Garu during December 2014 during the process of buying a house in Texas, USA. I have occupied the house for one year now, and feel like dropping a review regarding my experience during the entire process. I am very much satisfied with the kind of service I received from him. He is very knowledgeable and I was often stunned by his detailed analysis during the course of my interaction with him. He was very much accessible over phone (perhaps more than 10 times for one house plan!) and the price is very much reasonable especially compared with the cost of the house. I noticed his burning desire to help me in making informed decisions on certain things. I have seen some people pretending to know this subject and misguiding those who come for help by saying only what we want to hear. SubhaVaastu is definitely not that one. Finally, I am strong believer of leaving certain things to experts in those subjects. I have been in US for more than 13 years and have seen people doing their own corrections (by reading website articles) trying to save few dollars. Please don't do that. You would end up in causing more damage. I highly recommend you to engage SubhaVaastu in your next project - Satish - Dallas - TX - USA
Announcement
Excessive Drinking
We are seeing families becoming victims of excessive drinking habits of the males/head of the family. Basically, starting with social habits drinking has taken proportions beyond the social mandate. This is because of weakness of mind. People become slaves of such habits very often. Mental weaknesses . . . . For more details Free Vastu Services page.
Inspirational Quotations
"Strength is life, weakness is death. Strength is felicity, life eternal, immortal . . . Weakness is constant strain and misery, weakness is nothing but death." - "Swamy Vivekananda".
---
---
"Great minds discuss ideas. Average minds discuss events. Small minds discuss other people." ― Eleanor Roosevelt . . . Let you question yourself, "Who You Are"?
Joke Of the Day
"Two men talking on a bus:"
"I've been riding this bus to work for 15 years now.""
"Oh My God, where did you get on?!"
Follow us on Social Media