Details

This Page Hits:96758
Vastu For Hospital | Nursing Homes | Clinic | Dispensary | Infirmary | Sick Room | Hospice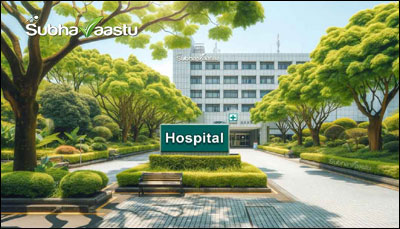 Vastu For Hospitals: In olden days Doctor is treated as visible God, that is why this proverb was saying by many elders "Vaidyo Narayano Hari", nowadays Nursing homes and hospitals are getting popular and many hospitals/Nursing Homes are coming up daily in the cities.
The fame and success of nursing homes or dispensary or hospitals may decide by the dedication of Doctors and vaasthu strength of its building.
Even today also some of our elders say that some doctor touches their hand, immediately their fever will come down and turning their health to be good, it is nothing but trust, faith, hand power of such doctor, still it is observing in many towns, villages and even cities too. Some doctors are maintaining such heavenly techniques. Salutes to such personalities.
Many doctors in our society may never accept to follow Vastu shastra principles., to be frank, the educated people may not believe these subjects like Vastu, astrology, etc, but astonishingly nowadays doctors are following Vastu, and construct their houses/hospitals/nursing homes/clinic according to principles, most of the hospitals, nursing homes in these days built according to Vastu. Heartily welcome to this change in our society.
Is It Beneficial if Following Vastu Tips To Hospitals?
When Hospitals or Nursing homes are constructed as per principles, they will flourish well and acquire popularity within the expected time. Particularly doctor will get peace. As everyone knows, Peace is the ultimate in any profession. Patients will also be cured very quickly and effectively. Patients themself doing oral advertising about doctor caliber and healthy treatment.
Normally, What Happens if Vastu Not Followed to Hospitals?
Most of the famous and skilled doctors are getting tensed maintaining hospitals that have not followed Vastu. We found some hospitals always experiencing problems in the maintenance and non-availability of staff and infrastructure failure, patients are not interested to visit, issues came through treatment, Melee, disproportion protests, impassioned noise or disturbance or Galata, troubles facing in the name of many known and unknown issues and finally shifted their hospital/clinic or closing down gradually, unhealthy competition, and maybe finally went their properties with a dilapidated stage. Vastu is a science, whether believe or not, it works well with all properties.
As we have seen more hospitals, so many medical centers facing untold competition, today the doctors moving against time, many doctors are working nearly 16 to 18 hours at hospitals, but most of them are not getting what they are expecting including peace.
Why all these happen, because of bad Vastu of that building or Nursing Home, particularly they need to check their home with experts. Once their home and hospitals are corrected as per Vastu, then they will gently experience peace.
In most of the cases, vaastu of hospitals is not according to vastu principles, those hospitals, nursing homes, super specialty hospitals are at the stage of closing, forcibly some of the doctor's group or managing partner of the hospice is getting loans and running hospitals, but its only a very short period process, (this matter is from www.subhavaastu.com) how can the hospice ran with loans for a long period, never. One day they should give answer for the committed mistakes.
But after passing days the managing partner or head of the institution opens their eyes and showing their building to the Vastu Pandits, what is the benefit if they show the hospital building at that stage, heavy financial losses, strain, bad name in the society. Best to check vastu fo the building when at the time of opening clinic/hospital.
If the financial position is weak, generally, ill feelings arise in between management, sometimes it leads to quarrels, groups, court cases, panchayats, manhandling, divisions, overpowering may happens.
Its always better to show the site to one experienced vastu expert before constructing a hospital or nursing home, get one good plan from engineer and don't compromise to show that plan to the Vastu Pandit and get appropriat vastu suggestions and do necessary precautions as directed by and competent scholar.
This system will always enlighten the hospital history in the society, if everything is done according to vastu then that hospital or nursing home get good name and fame in the society, have a gentle talk in between the surrounding area and it brings lots of money to the proprietor i.e., head of the doctor.
Some Important Vastu Suggestions and Hospital Vastu Tips
The doctor's consulting room should be located at Southwest (Southwest facing house vastu). The duty doctor room may be arranged at South direction or West or East or North directions even. Glossary of term here for duty doctor is, an additional expert doctor serving in the hospital, he is also called as co-doctor, subordinate, etc.
If there is no Southwest available room, then the doctor can do his practice by sitting at West direction room (West facing house vastu). Please note that this room door should not be located at Southeast diretion of east direction.
South direction room is also beneficial for doctor to sit. Please note that this room entrance door should not be towards Northwest of North.
Southwest portion doctor sitting chamber may be elevated floor than all the other building to improve domination on everything in the hospital.
Generally, Northwest (Northwest Facing House Vastu) room consultancy for main doctor may create irritating situations, if the building is constructed without vastu guidance, then main doctor may do one simple thing, take white paper and draw the hospital plan and find out the Southwest portion of that property and he should occupy the Southwest room by sitting facing towards East direction.
Diagnose the patients by facing Northeast (Northeast facing house vastu) or East (East facing house vastu) or the last option is North (North Facing House Vastu) direction.
Doctor Consultancy Chamber Position As Per Vastu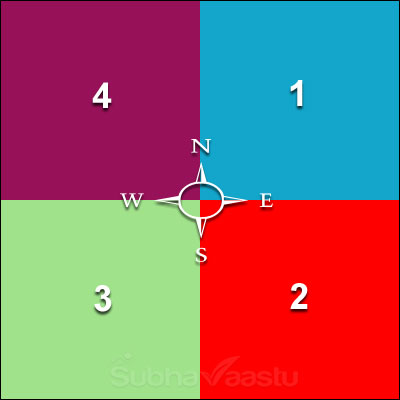 If the property is built according to principles then, in this image numbers shown with 1, 2, 3 and 4. The number 4 will be the Northwest portion of the hospital. Main doctor has to occupy Southwest quadrant like the number 3. Generally, number 1 is not recommended. Number 2 is Southeast, so doctor should not occupy Southeast quadrant locations.
At consultation room Doctor should sit at Southwest or south or west locations only, and the patients sit before him, 'L' shape is more important at Nursing home head doctors consultation room, this 'L' shape should be raised only to the northeast direction. It should not generate to any other direction, other than NE.
Extending Northeast "L" shape consultation room generally brings prosperity to the head of the institution or Doctor.
Where Should Be The Medical Equipment Room At Hospital As Per Vastu?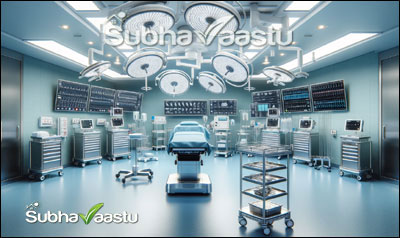 Normally, medical equipment room should be located in the South-west. If there is no such facility then arrange it at West direction. If West is also engaged with other required portion then think on South direction to allot this medical equipment room. Normally, this equipment room contains, X-ray film processor tabletop. X-ray film viewer (Radiology), Ultrasound scanning machines, Gastroscope with hologen light source, electrocardiograph, Trauma, multi-function electric-hydraulic driven, anesthesia trolley, syringe pump, electrosurgical unit, operating instrument set etc.
Vastu for Hospital Reception Counter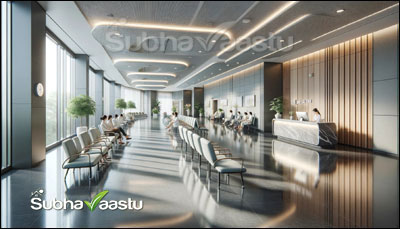 Reception counter is best towards Northeast quadrant of the hospital if the hospital has Northern Northeast main entrance or Eastern Northeast entrance. If Northeast reception floor has lower (floor) levels, then management will be benefited. Many patients came for enquiry about hospital services and doctors, receptionist facing towards East or North is preferable to get relax from gnawed inquiries. Better to have surveillance cameras at reception counter. Based on the patient traffic estimation, casualty can be arranged as per vastu.
Store room for Medical apparatus: This room should be in the South West, West or South directions only, store room should always be in a height or elevated floor than the common flooring of the main hospital.
How can we arrange the Storeroom and doctor chamber in Southwest room. Is it really possible? For this, we need to prioritize its importance. First Storeroom should be located at Southwest and in continuation main doctor consulting room has to be assigned.
Bright lighting should be provided at reception counter.
Receptionist should maintain polite for each patient and visitor. They should respect everyone who visits the hospital.
If the reception counter is at Northeast location, then the floor should not be upper level than the remaining portion of the hospital.
Door to the reception counter should be planned only after arranging the reception. Please note that sometimes, the Northeast door may confer negative results. Based on the area allocated to reception counter and measurement then only door should be organized accordingly.
Try not to rush in arranging facility provisions at the hospital. Hurry leads to mistake botches that may not be easily handled in the future. Consider experts opinion for each and everything while planning the hospital.
Which is the best place for ICU?
The intensive care unit may be arranged at Southwest location. Best to organize emergency patients location at South-west room for early healing. ICU is also best suitable at West and South directions too. Please note that, when ICU arranged at West direction, better not to arrange Southeast-east door. Either East direction door or Northeast direction door is safe to incorporate.
ICU constructed at South direction should not have Northern Northwest door. Best to have either North or Northeast door. If the entire property has East to west heavy measurement then the North to South then North door is also preferred.
Where Should Medicines Be Kept as Per Vastu?
Normally, medicines should not stay more time at hospitals or medical stores. If so, then investment loss will be the result. Best to arrange Medicines at Northwest room for North facing buildings or West facing hospital.
Which Locations Are Best for Medical Patient Wards?
Patient wards can be arranged in the North direction or East direction or even arranged in any direction except Southwest. As we discussed earlier Southwest, it should be occupied by a storeroom or main consulting doctor.
The beds should be arranged in correct places according to Vastu so that the patients keep their head in the South direction and legs in the North direction.
Always head should be placed in the south direction, to get good vibrations and easy treatment process, immediate relief, if the patient recovered in the hospital from their ill-health and suffering, they will be the main asset for the oral advertisement in future for the said hospital.
The unit should be located in the South-west, South, and West rooms only.
Placed fixing the pooja room at Northeast corner & it should not disturb Vastu at the main building.
Electrical Equipment: Generator, Heaters, etc., should be located in the South-east rooms.
It is better to ask one expert before doing any alterations or modifications to your Nursing Homes for staff quarters, operation theater, clinical lab, X-ray machine placement, etc.
Which Direction Operation Theater Vouchsafe Expected Results?
Operation Theater should be placed except Northeast (Ishan). Try to avoid it at Agneya (Southeast), and Vayavya (Northwest) corners.
While doing operations at operation theaters the doctors should face East or North directions. Then operations will be quite easier and more successful.
The rate of success is more important to the hospital for the next visiting/coming patients, and further it's free of cost in the mode of advertisement.
South direction operation theater is good.
West direction operation theater also recommended.
If the hospital has many floors, then Southwest operation theater is also recommended.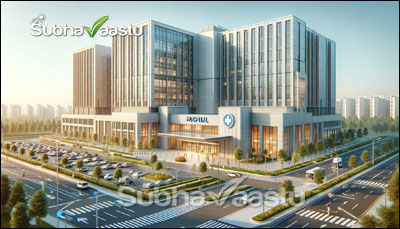 In Southwest room the machinery or equipment should be placed at the South or West directions. The patient's head should be at the South direction at the time of operation inside the operation theater. The necessary apparatus should be kept in the South or South-west or west side of the patient's bed. Many times we hear the news that after operations are even under treatment a patient dies and the relatives of the patient accuse the doctor or the hospital of medical negligence and resort to physical assault on the hospital staff including the hospital premises and furniture and equipment.
Maybe there is negligence and equally may not be. It cannot conclusively establish that in any case, it is only due to medical negligence.
The assault on the hospital or the staff need not be only damage to the furniture equipment furniture etc, a public nuisance is created causing obstruction to other patients and staff by way of agitations, Dharna etc. In many cases group is gathered outside the hospital causing a public nuisance on the roads too.
Causing such disturbances many times the doctors though genuine and helpful are put to loss of reputation and shame, is this not unfortunate?. What would be the cause for the patient's relatives to get agitated and takes to such extreme measures? It is quite possible that non-compliance of principles could be a cause.
In fact often it is so. Most of doctors are dedicated professionals they consider their profession as service to humanity, we are not referring to those situations where medical profession has become a commercial entity.
Even when the doctor is an atheist in hospital his performance and his service are the highest moral standards.
What was wrong with hospital constructions, why patients were so angry, doing agitations, assaulting hospital staff?, what exact mistake needs to be discovered here, is Doctor incapable, is a doctor wantonly doing such failed operations, is a doctor not a Government certified, is a doctor is not expert in doing operations or any other thing which is creating of such negativity to the hospitals and doctors, other than that there may be a possibility of Vastu DOSH.
Which is the Best Hospital Entrance Direction as Per Vastu
For east facing hospitals, either East direction or Northeast direction entrances are most recommended. Eastern Southeast direction is "not" suggested auspicious entrance.
For South facing hospitals, South direction or Southern Southeast direction entrances are highly recommended. Southern Southwest direction is "not" the proposed entrance.
For West facing hospitals, West direction or Western Northwest direction entrances are quality and suggested. Western Southwest direction is "not" recommended direction to have the main entrance or main gate.
For North facing hospitals, either North direction or Northern Northeast direction entrances are favorably recommended. Northern Northwest direction entrance is "not" recommended.
For Northeast facing hospitals, either Northeast or Northeast of East is highly recommended.
For Southeast facing hospitals, based on the measurement of the property and road width and other concerns considering to finalize the main entrance door. Without an expert's opinion, things may not move favorably.
For Northwest facing hospitals, without experts personal visiting, don't plan the main entrance.
For Southwest facing hospitals, an expert's personal visit is highly important to mark the main entrance door.
When hospital management is ready to take specialist personal consultation, then give him proper time to make a standard decision. Don't make him hurry. Pressure may spoil the untroubled future. If leisure time is provided to him, then his Vastu tips to increase patient flow in the clinic. This would beneficial to the management.
Purpose is most important to finalize the door. Based on requirements hospital management can have a sliding door, double door or single door. No conditions applied on door style. For more information please do check placement of doors as per Vastu link.
These above main entrance principles are applicable to Allopathy, Homeopathy, Ayurveda, and Naturopathy hospitals too.
Medical Shop Placement at Hospitals: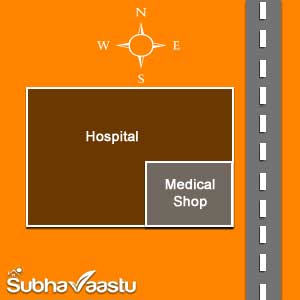 This is "East facing hospital", in this hospital the medical shop has to be came towards Southeast. Some may raise the doubt that the Southeast is not good to have any concerns, but here, the main source of doing services/business is Hospital, not the medical store. Hospital management should not plan Medical shops or Pharmacies towards the Northeast corner. Constructing the Pharmacy at Northeast corner is not a good idea.
Instead of constructing a medical shop in the Northeast, best to construct at the Southeast. If management requires to set up a pharmacy at inside the hospital then they may use the Southeast.
In some hospitals the medical store is run by hospital management only and they arrange the pharmacy in the Northeast and there is no walls or wooden partition between the medical store and hospital, at that moment they may plan it toward the Northeast otherwise don't plan the Medical store at Northeast corner. Separating the Northeast area of the hospital may create several troubles.
Before planning the medical store area at hospitals please get a proper guidance from one of the best Vastu consultant.
Forget things may not compensate your efforts in getting profits/peace. Management should be very careful before planning the hospital construction or placing the partition in the name of Medical Store.
South Facing Hospital & Arranging Medical Shop and Doctor Chamber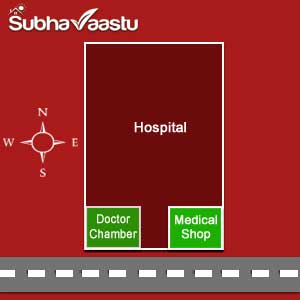 This is "South facing Hospital", here Medical store may be planned towards Southeast, doctor main chamber has to be planned towards Southwest. In between the doctor's chamber which was placed towards the Southwest and the medical store which was planned at the Southeast the main entrance door to the hospital has to be placed, with this placement the main entrance to this property has to come towards the South direction.
Please note that to do all these things, we should count the measurement of the entire building and thereafter only decide the placement of the door. Blind decisions may spoil the entire enterprise. There are many ideas to follow as per Vastu, here we may plan like this way too, the doctor chamber at Southwest and thereafter medical shop will come immediately towards the East direction to the doctor chamber and the main entrance door will follow.
But this plan should not be suitable to every property, it has to be perfectly planned with one expert who has to visit the property and has to take the measurements, and then implement the ideas there.
Medical Shop & Doctor Chamber For South Facing Hospital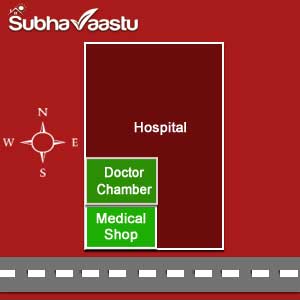 If there is no chance to plan as shown above (Doctor chamber at Southwest and medical store at Southeast) then here is another idea to think on it. The medical store has to come to Southwest and immediately the doctor's chamber be placed inside the hospital. This is also an idea, but it has to be clearly verified and then only fix to one thought to amend. One should not take a blind decision without experts' advice. Again we are clearly mentioning here, that these images are not as per scale, these shown images are only for the understanding purpose.
West Facing Hospital and Pharmacy Location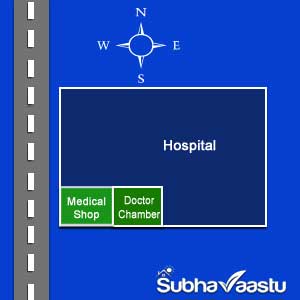 This is "West facing hospital". Medical Pharmacy was planned at Southwest and thereafter immediately the doctor chamber came, with this, doctor chamber will have more East open space or accessible area and North also will have good accessibility to reach hospice. The main entrance to the hospital will be planned towards either West or Northwest-west based on space availability and convenience. These images are shown here only for the understanding purpose, these are not prepared as per scale.
Pharmacy & Doctor Consulting Room For West Facing Hospital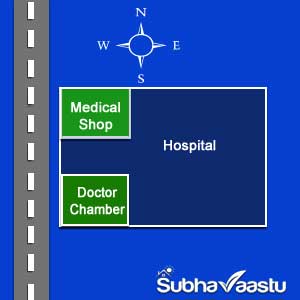 If its not possible to plan as said above, it may be another way to plan as shown in this image. Here the doctor's chamber was placed towards the Southwest and the medical store came towards the Southeast corner. In between these two, the main entrance will be fixed in the West direction. No doubt the construction of the hospital is to serve society for health disorders and livelihood for the doctors. If Vastu is good then the sanatorium of the patients will also be good. Once "good talk" arises to the hospital, automatically income improves, and finally management enjoys peace.
Health of the patients has to be improved then the public will discuss sanitarium as one of the best.
North Facing Hospital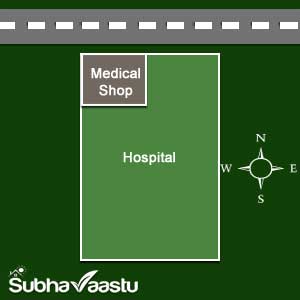 This is "North Facing Hospital", the medical shop came towards Northwest and the main entrance door will come towards Northeast or North based on convenience of the hospital and other things. Northeast medical store is not recommended for this property. If already Northeast medical store is built then management has to do some corrections to nullify the negativity. Please note that all the above images are useful for hospital management. For the medical shop, the shopkeeper has to arrange the door to his chamber as per Vastu. Otherwise, he may be in trouble with the doctor or suffering from a lack of business.
Bad Street Focus To Hospital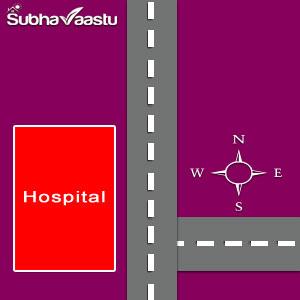 This property has the Southeast-east street focus, which leads many troubles to this property. Don't ask us where is the location of this hospital, it is in South India. Every year almost 3 or 4 major awful occurrences happen in this hospital. This hospice came into newspapers and news channels many times, finally, this property got a name as a fraudulent Hospital.
Before commencing this construction one expert visited and obviously warn them don't design any hospital, however, nobody listens what did that person wishes to express his views.
No doubt this property cruelly spoiled the genuine & hard-working doctors with awful name, unfortunately, due to various reasons, doctors still running this hospital. One of the partners who is remotely organizing from Australia, never visited this place once his share fund unpleasantly evaporated.
Some directors accepted some were conflicting to vacate this property. The structure was designed like such, that no one relieved freely. This is a very huge property, and the infrastructure is excellently aligned, due to the eastern Southeast focus it is always in news.
Surroundings vastu is too important for the hospital property. If this neighborhood vastu supports then hospitals will get succeeded and doctors will also enjoy their professional career. Doctor, a royal professional, they should not interested to meet in any quarrels, arguments, or bickering with patients. Every doctor likes to enjoy real fruits of their profession and peaceful life. No one can't change Destiny.
Surprise information is, within 14 years of period, they did a number of corrections and spent almost 2 crore rupees to see some changes. Alas! no way to get placidity. Indian ancient elders literature that, except God, no one alters one's fate. We always remember this property and the fate of the grouped doctors for a cause.
All this chain of events happened only because of one political background partner who is also one shareholder in this firm. Simply to say it is bad luck.
Is It Good to Start Hospital Construction When the Plot Has Street Focus?
Many experiences say, don't walk by closing eyes. Everyone know what will happen. Please at any cost, don't plan a hospital without experts' opinion. If a doctor is asked by an expert to visit the property, devote for leisurely screen out the facts of the plot. Experts never compromise on the work. They always woo the most secured praxis to safeguard their clients.
Regarding super-specialty hospitals without observing the surroundings vastu don't start constructing the hospital. We observed some properties without having neighborhood Vastu support, they lost reputation in society, some hospitals do not have a site with good measurements, either corners or directions will increase and it requires to do the corrections for the properties, but the management never approaches though they have knowledge on Vastu.
After getting losses or other negative effects spoiled the entire system, then only they are interested to approach vastu consultants. This trend has to be changed first, otherwise, the expert may also not do anything. Because of the time in getting vastu results.
Which Direction Door is Good for an Hospital?
If vastu is good for the property then every direction is good (we are not stating of the skewed properties) for keeping the main entrance door. Somebody asking doubt that only Northeast-east door is must for the East facing Hospital.
No, not at all, one may plan to provide East main entrance door for the East Facing Hospital, this East main entrance door also auspicious to these kinds of properties.
If there is any other external problems, for example, if there is heavy tree exactly in front of the East exactly then move the main door towards Northeast. Otherwise one may plan for East Facing main entrance door.
But don't plan the door towards Southeast place instead of Northeast, Southeast door creates lots of problems to these kind of Clinics.
Doctor will be restless and can't be happy in such properties and bickering with patients and their relatives, disputes and brawl may also happening in such properties, that is why we are not recommending door towards Southeast-east. Vociferous situations in the premises is awful and atrocious.
Doctor profession is a royal profession, every doctor wishes to have good name in the society and on the same way they are looking for financial growth.
Vastu properties fulfill their wishes. Non Compliance vastu properties may leads to dreadful and unacceptable situations.
For North facing properties the main entrance door may be suitably fix at North direction.
Please note that this would be suitably fit only if the property is 90°, otherwise best to place the main entrance door at Northeast-north and further if there is any other external objectionable exact trees or transformers at North direction then plan to move that main entrance door to Northeast areas.
At any cost don't plan the main entrance door towards Northwest-north, this may leads to unhappy, litigation, income may slowly decreases, bank loans or debts may not be cleared easily, issues with accounts also observed in with such main Northern Northwest door.
For West facing hospitals, doctors may plan to keep the main entrance door towards West direction, if there is any other problems then they may move the door towards Northwest. But don't plan the main entrance door towards Western Southwest location.
If the main entrance door came towards Southwest-west then doctor cannot get good name, defame, patients never get well soon in such properties. In such properties, if the doctor is sitting at North direction and there is no any open space towards North direction then he may always trouble with many problems.
For happy leading hospital & attraction in terms of Vastu, the main entrance would be towards West and doctor has to occupy the Southwest room as his clinic and Northeast room has to be keep for pooja room or meditation room or it should not be occupied by any other things. If there is no spacious rooms available then patients also can be sit at Northeast room.
For South facing hospitals, plan the main entrance door towards South direction, if there is any problem then door may be moved towards Southeast, but don't move the main entrance door towards Southwest direction, this may leads to financial problems or health issues in terms of patients never be treated easily and the doctor won't get a name in such properties.
Step-by-step Vastu Guidelines for Hospitals
Please note that, sometimes anti placement of doors vest in unbelievable & extraordinary results and finally it may damage the reputation of the management and finally heading to financial losses.
As per vastu, in a big compound premises the nursing home is constructed at North direction and huge open space came into South direction, the main entrance gate is towards Southwest-south. Any vastu consultant can easily said that the property is worse and cannot make management happier.
But surprisingly this property got a wonderful name to the management and given 100% financial support in terms of huge patients queues. How it is possible, its very simple technique, standard gazebo was built at Southwest corner. Except this, the place owner never accept for any change to the property.
Sometimes very simple tips enhances the opportunities to the management.
Unfortunately, many doctors/management never approaches expert vastu consultants, they themselves trying to solve the issues by reading some vastu books or vastu websites. Its their fate, nothing else.
Lucky people never do like such practices, they will first call an expert and trying to solve the problems.
Doctor tries to solve the health problems, he cannot give guarantee. Is it right?, the same way vastu consultant also tries to solve the issues there, he cannot give guarantee. Both may be a coincidence but its true.
Color Peel off walls indicates the future losses.
Chief Doctor chamber should not be built at Northwest or Southeast portion of the building.
Main Doctor or Hospital Chairman (Active Chairman, not sleeping partner) chamber should be planned at Southwest corner or West or South quadrant.
Generally Chief Doctor chamber should not be planned at Northeast, North or East placements, but some times this may also giving very good results if this building is West facing or South facing and having very huge backyard space.
Maintaining the nursing home outside with greenery brings good luck to the property.
Bright light and crosswind is most required feature for any hospital.
Well ventilation is most healthy to the property and patients even doctors and staff too.
Where ever the trees are there in the compound premises don't cut them in the name of Vastu. Trees are originally most helpful here.
Don't try to avail online vastu consultation, it may finally harm to the consultancy. Doctors also never accept online treatment, why... same principle also applies with vastu consultancy.
We came across many incidences, later we will publish such experiences here. We never disclose such HOSPITAL NAME OR DOCTOR NAME HERE. We respect their privacy and bagged respects in society. Surely we secure their name.
Where Should Be the Canteen in the Hospital?
Restaurant or canteen means, cooking, so try to arrange it at Southeast, if it is not possible then try to incorporate at Northwest. Most hospitals never accept restaurant within their hospital's structure. Canteen contractor wishes to commence his restaurant business out of the hospital, then management picks some vastu secured places for him like Southeast or Northwest, etc. Don't plan the restaurant at Northeast direction.
Can We Have Basement at the Hospital?
Due to space constraint we need to utilize as much as a possible available area for the usage in this commercial concrete jungle. Day by day space becomes iota.
To park vehicles like cars, bikes (scooters), ambulance, stretcher, trolleys, 3 wheelchairs, 2 wheelchairs, emergency equipment, etc should require immediately space to park. Due to heavy demand, management planning for basement in the hospital, it is just like a cellar or underground.
Read this Is the basement is good as per vastu link for more information on cellars at hospital. Most of the cases, basements are not suitable for East, North, and Northeast facing hospitals.
Basement plays a palatial role in delivering results, Getting advice from well-experienced people can definitely help.
Where Should be the Conference Room?
Based on the regular requirement, meeting room can be allotted at hospitals to assemble specialists. Generally, meetings will be conducted by Lady doctors, physicians, nurse, radiology tech, ultrasound tech, surgical tech, physical therapist, radiation therapist, medical assistants, pharmacists, medical laboratory technologists, and dietitians, to take some decisions for patients' good health and improving hospital reputation.
Anteroom is required at Hospitals?
Due to heavy stress and combat with poisonous cases, fighting with virus and bacteria, diseases outbreak doctors need some rest at the hospital. An isolated anteroom is needed for them, they need relax. This anteroom can be arranged by attaching to their consulting room towards South or West directions or even Southwest too. In some cases, the Northwest and Southeast also suitable, but without experts advise don't spot them at NW or SE.
Which City has Highest Number of Hospitals in India?
We found Jalandhar bagged the highest hospital record in India, it has almost 425 hospitals. We visited one super specialty hospital in Jalandhar in the year 2012.
Vastu Testimonials Delivered By Respected Residents
Dear Suresh, I am pleased to inform you that like the way you provided consultation for my home and explained to me all the changes required inside and outside home. I really appreciate the diagrams that you prepared for my home with pictures and arrows showing the changes need to be done. Above all, you explained very well the reasons behind changes you recommended for my home with great clarity and sense of humor. No doubt in my mind, you are the best Vastu expert, I really appreciate your dedication by building and maintaining a very informative website that is helping thousands of people across the globe. Also, I sensed when I talk to you and when I was dealing with you, you follow honesty and integrity and you have a sincere desire to help others - Kotesware Rao - Dallas - USA
We are tech professionals and working in USA. After a year long search we brought the house. After buying the house I started looking for consultant who can help me evaluating the house. I came across Subhavaastu website which has lot of information. I contacted Mr.Suresh and requested him to help with our house vastu. It has been an incredible delight working with him.. He is very detailed oriented person and never compromises with his work. I am typically not interested to deliver the reviews. But after working with Mr. Suresh I decided to share my experience. Mr. Suresh has great expertise in providing vastu consultation to USA property. He is always available through email and phone l to answer questions. I am writing this review hoping it will help other people like me who lives in abroad. Please take advise before buying the house. I highly recommend Mr. Suresh as he has great experience with structure of USA properties and also he provides genuine consultation. I really appreciate Mr. Suresh's help in evaluating our house - Padma - Boston - USA
"I contacted Sureshji to consult on our current home. He was spot on in identifying vastu dosha in regards to the problems we were having. He suggested remedies but we are still looking for a new house. Since then I have been in touch with him for finding a right home for us. He is very sincere and truly wishes better lives for everyone. He doesn't compromise with quality and is always responsive to queries. He recommends solutions as per location as Vastu rules differ for each country. He is greatly contributing to the society with his knowledge of Vastu and dedication towards his work. Keep up the good work Sureshji and wish you success and happiness!" - Megha - Virginia - USA
I have consulted Suresh Garu during December 2014 during the process of buying a house in Texas, USA. I have occupied the house for one year now, and feel like dropping a review regarding my experience during the entire process. I am very much satisfied with the kind of service I received from him. He is very knowledgeable and I was often stunned by his detailed analysis during the course of my interaction with him. He was very much accessible over phone (perhaps more than 10 times for one house plan!) and the price is very much reasonable especially compared with the cost of the house. I noticed his burning desire to help me in making informed decisions on certain things. I have seen some people pretending to know this subject and misguiding those who come for help by saying only what we want to hear. SubhaVaastu is definitely not that one. Finally, I am strong believer of leaving certain things to experts in those subjects. I have been in US for more than 13 years and have seen people doing their own corrections (by reading website articles) trying to save few dollars. Please don't do that. You would end up in causing more damage. I highly recommend you to engage SubhaVaastu in your next project - Satish - Dallas - TX - USA
Inspirational Quotations
"There are three things in the make-up of man. There is a Body, there is the mind and there is the soul." - Swami Vivekananda.
---
---
"Great Personalities speak about thoughts. 'Average Person' talk about occassions. 'Narrow Minded' gossip about others." ― Eleanor Roosevelt . . . Let you question yourself, "Who You Are, either 'Great Personality', 'Average Person' or 'Narrow Minded' ?
Joke Of the Day
"A book was released and the cover name is "How to change your WIFE", and within ONE week, "25 MILLION" copies were sold. The publishers found a mistake in the title, actually, it should be "How to change your LIFE", when publishers corrected and released the new book into the market. The first month's sales were 3 copies".
Follow us on Social Media