Details

This Page Hits:101602
Vastu For Hotels | Restaurant Vastu | How To Get Good Hotel Business With The Help Of Vastu
In this section we will deeply discuss everything about Hotels.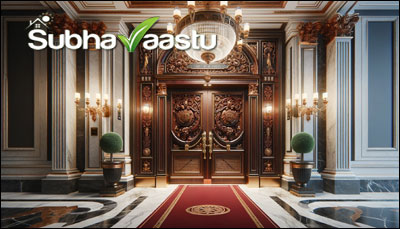 These structures are also said to be Paying Guest Houses and in somewhere these are called as PG Homes, Hotels Lodges, Inn, Tavern, Restaurants, Service Apartments, Accommodation, Tourist Guest Homes, Ala Carte and Rest Rooms (this could not be the right word for the hotel, but in some places, we heard Rest Rooms for the hotel) are also called refreshment houses or homes.
Read a few articles published here, the below content may be useful for good business. If it helps, please do write your suggestions, others may also benefit, service to humans is service to God. Thanks in Advance.
It's a construction/establishment to provide with such facilities like meal, breakfast, dinner, chats and other services for travelers or tourists, in many hotels they say that tariff per night.
It may be like one night and a day. Some accommodation providers are maintaining checkout time for 24 hours, and some are said to be by 12 noon and some say 9 a.m, etc. If you are a tourist first enquire about the checkout time, otherwise your purse may become lose some more weight.
People of all classes including VIPs visit to stay here and like to relax and make their stay a pleasant one quite often big hotels create fine ambiance.
On the other hand certain other hotels don't do good business and finally they fail. They are forced to close or some other hotels are caught in the grip of a financial crisis. Perhaps, it may be due to bad Vastu.
So it is always important to follow Vastu while constructing a hotel.Today, the hotel industry is in a risen position. To make a venture successful, we should take at least a little care of different aspects.
Vastu gives us many tips for the successful functioning of this vital industry. Atrium Lobby should always be planned properly.
If a hotel becomes bad, many say that it is because of managerial dysfunction or lack of Supervision i.e. management. But they may fail to understand that it is because of bad Vastu.
So, before undertaking the project, it is important to see the procedure in designing rooms, corridors, open places, Swimming Pool, function hall, reception, and Seminar hall.
Uniformly all the constructions must be at the Zenith place only. If all such instructions are scrupulously followed the hotel is bound to thrive and turns out to be a Paradise.
So vastu is to be followed while constructing hotels in general and rooms and bathrooms in particular. If a hotel becomes red many say that it is because of managerial dysfunction or lack of scientific management. Alas, but they don't recognize that it is a lack of vastu.
So without any compromise, one should approach an experienced Vastu consultant and construct the hotels by following all the norms prescribed for rooms, corridors, open places, stock rooms, swimming pool, function hall, reception and seminar halls, etc these constructions must be at zenith places.
So that the hotels/lodges will have name, fame, and profits without any unwanted problems throughout their age.

Proper Vasthu suggestions and guidance from the experienced Vaasthu person will have talk of the city for your Hotel projects, Restaurants, Lodges etc. Generally we observed several class hotels are concentrating at Dubai, Singapore, Malaysia, USA cities to expect fancy benefits.
How many classes in Hotel star rating? Read star rating information from the Star Hotel rating.
Is Vastu shastra principles can easily implemented at commercial properties. Many properties may not have those options.
So some people followed the next best system to get positive effective moments to those properties.
For example, if there is a restaurant, generally Kitchen is good at Southeast corner, this is basic principle as per Vastu.
For every property it is not so easy to arrange the Kitchen in the Southeast direction, the next best placement is Northwest for Kitchen, if the Northwest is also not possible to place for the kitchen, then which is the best place for Kitchen? let's discuss.
House or home is different, the commercial properties are different. Many people are asking about Vaastu for Hotel Kitchen, Always we are looking for the best Vastu for hotel business tips, in this page we tried our level best to provide impressive information with images.
Please note that we are discussing the Kitchen in the restaurants, we are not discussing the direction of the property.
Here are Some Model Hotel Kitchens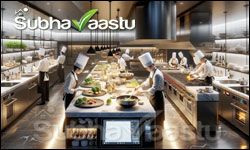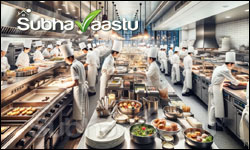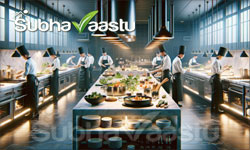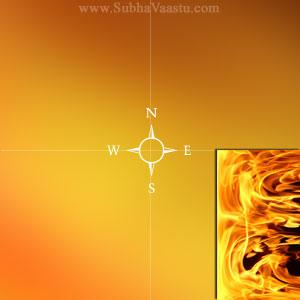 Here the kitchen is towards the Southeast corner of the entire property. This is the basic principle of this subject. In many properties, it may not possible to construct the kitchen towards the southeast corner. Here we have to think on which direction the property is, if the property is East facing property, some owners may not interested to place the kitchen towards the Southeast. It may be exhibiting the entire kitchen to the visitors, that some may not interested. Second best option is :
Northwest Kitchen for Restaurant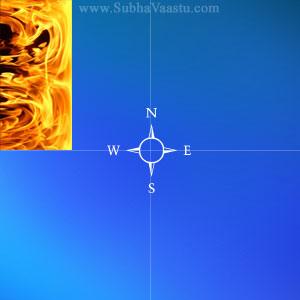 Now the kitchen came towards the Northwest portion. This is the second best part to have the Kitchen. In some properties it may not possible to place the kitchen towards Northwest, then we have to choose the 3 option.
West Direction Kitchen for Restaurant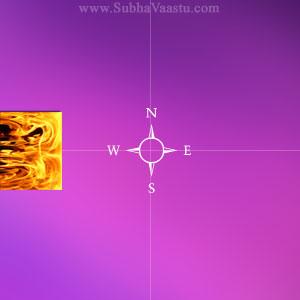 When we don't have the option to place the kitchen towards Southeast or Northwest then the other option to have the kitchen at the restaurant is West (Know about West direction homes). If the kitchen is coming to west the door to this kitchen should be the Northeast corner or exact center of East of this kitchen. At any cost, the door (Doors positions as per vastu) should not come towards the Southeast corner to this kitchen.
South Direction Kitchen in The Restaurant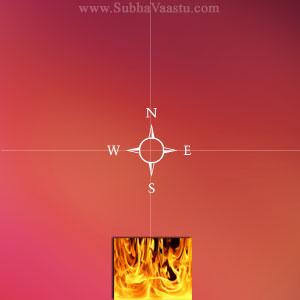 When we don't have option to place the kitchen towards Southeast or Northwest and west then the other option to have the kitchen at the restaurant is South . If the kitchen is coming to South the door to this kitchen should be Northeast-north corner or exact center of North of this kitchen. At any cost, the door should not come towards the Northwest corner to this kitchen.
Other Suitable Kitchen Placements in Restaurants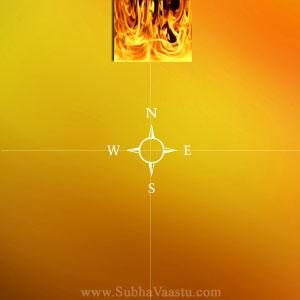 Now the kitchen came into North direction. Honestly speaking the Kitchen towards North direction is wrong. We should not construct the Kitchen towards North direction. But in some cases, it may be placed here only. Then what to do. First, remove from this place and construct it at Southeast or Northwest corners. If it may not be possible to remove from North then concentrate on the door to access this kitchen. The first best place for kitchen door is Northeast-east or exact East. A bigger window is recommended towards Northeast-north or North. This may minimize the bad effects of north kitchen placement.
Other Kitchen Options In Restaurant: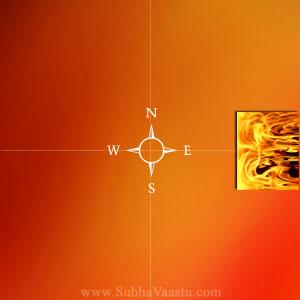 Now the kitchen came into East direction. Truly addressing the Kitchen in the East direction is incorrect. We should not build the Kitchen in the East direction. But in some cases, the kitchen may be located here for convenience purposes. Then what to do, first separate from this place and construct it at the Southeast or Northwest corners. If it may not be possible to transfer from East then concentrate on the door to access this kitchen. The first best place for the kitchen door is Northeast-north or exact North. A bigger window is recommended towards Northeast-East or East. This reduces the adverse effects of the East kitchen position.
Arranging Southwest Kitchen at Restaurant Is Recommended?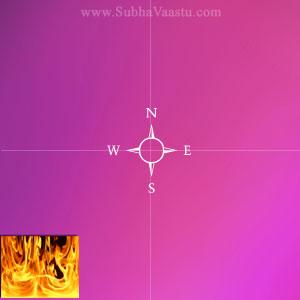 Here the kitchen placed towards Southwest corner. This is not the best place for Kitchen. It is not the right place for the kitchen, the owner may lose many things if the kitchen came towards the Southwest corner. Maximum try to avoid this corner for Kitchen. If your property does have the kitchen towards Southwest and not possible to change what to do then.

Raise the floor height to normal floor level at the remaining parts of the property. The door is compulsory and it may be closed properly. 2 or 3 Steps to get into this kitchen is good. The round-shaped sump is required at the Northeast corner. it may minimize the bad effects of this Southwest kitchen.
Is Northeast Kitchen For Restaurant Giving Good Results or Bad Results?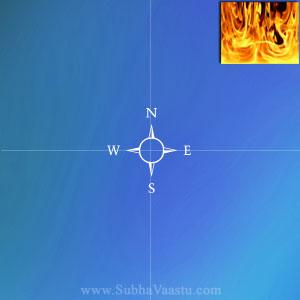 Here the kitchen is placed towards Northeast corner. At any cost, the Kitchen should not come towards the Northeast corner. The financial status may be disturbed if the kitchen is towards the Northeast corner. This place is too sensitive and should be weightless and fire should not ignite at this place. Waterbody is best suitable. Anyway if your property is having a kitchen towards the Northeast, and it is not possible to remove then ... what to do .. Remove the entire walls except the North and East walls. If you require then use curtains instead of constructing walls, i.e., south and west walls for this northeast kitchen.
With curtains kitchen is not looking good, then use fiber walls or light partitions made with plywood or some other material. Very bigger windows are suggested for North and East walls.
Some more techniques has to be followed but it should be visited by one Vastu expert and then only take the decision of corrections. Please note that don't do any practicals without proper guidance from an expert.
Generally, in Vastu specialist visit he examines the owners sitting or Office room immediately where it has to come. If the property may be the biggest one say about one acre of land then chairman office or private room placement towards Southwest or West or South parts.
The storeroom is best fitted towards Southwest parts. If the hotel is run in a small area of land say about one or two cents, then at that plot fixing the owner's placement towards Southwest may not be possible. He has to specially construct one room at the terrace, otherwise, space will become an inconvenience.
Nowadays space is the biggest problem in cities, each and every bit is utilized for commercial purposes if we are looking for owners office room, there is no other way except to disturb the Guest Rooms.
Losing income in the name of the owner's office room. Instead of an office room, the owner may Plan for the office chamber, due to this space may not disturb and purpose will be served.
Hotel Properties main entrances:
You are well aware that the Entrance door to a property is just like the heart of the body. Be cautious while fixing the main entrance door. Many guests first check the main entrance of a hotel and later they may decide to join with that hotel or not, based on this hotel management is trying to decorate the main entrance door and make it into rich look.
If the main entrance door is placed towards Southwest corner, then the business will gradually down year by year and many bad happenings also appeared there.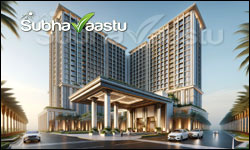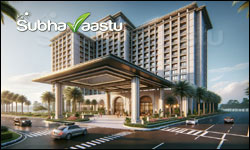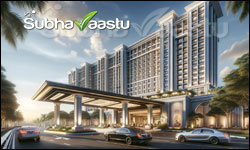 The subject Vastu is an ocean, we cannot say in two or three words. There are four directions viz East, West, North and South and 4 corners viz, Northeast, Northwest, Southeast and Southwest. Corner Main Entrance is not at all good for the Hotels, don't plan accordingly.
Northern Northwest Main entrance door: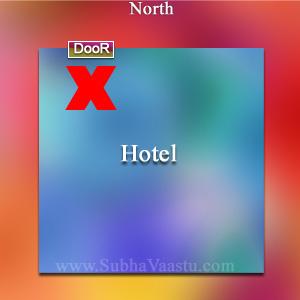 Check this image, this hotel have main entrance at Northern Northwest, this is not good. Instead of the Northern Northwest door, it is better to go for the Northern Northeast door or North door for peaceful business.
Eastern Southeast main entrance door: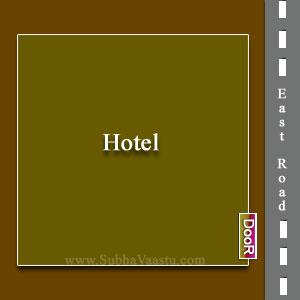 Here the entrance came towards Southeast-east or Eastern Southeast. This entrance leads to many quarrels and litigation and year after year the property may lose its auspicious powers and may lead to getting losses. Sometimes this type of hotel may be sound in business, but finally, they lose their good name in the market. Some hotels with this type of same gates may stand for bad name.
Southern Southwest main entrance door: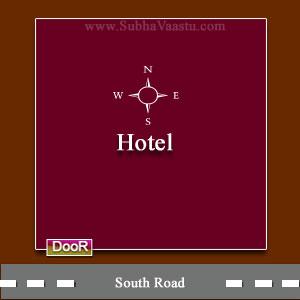 Now the main entrance door (door Vastu tips) came towards Southern Southwest, this is not auspicious. This door may leads to financial losses to the property. Something against may occur here. Hotel means money, so Southwest-south zone is not recommended.
Western Southwest main entrance Door: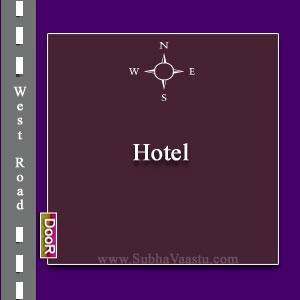 The main entrance door came towards Western side of the property, this is also not good door.
Some hotels may have main entrance Doors at corners:
Please note that the corner doors are not giving good results. Except for Northeast corner door all the other corner doors are not good. But some times these properties may also get good results based on surroundings support to the main property.
For example, if there is a mountain in the South direction and the main entrance of the hotel may be towards the Northwest (corner door) may get good business. But all the good results may be time being only. If there is a river towards the East side and the main entrance is towards the Southeast (corner) door, these properties may have good business.
Southwest corner Main entrance door: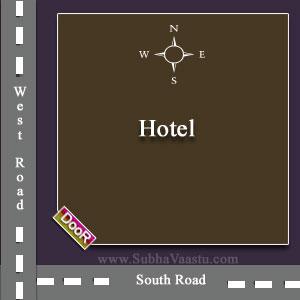 Please note that this Southwest corner main entrance door is not at all good for the hotel business. Many new issues may arises that may leads to headache to the management. One after another problems may also arise here. Some times the management cannot bare the pressure of the problems created by this door and it may leads to change the management.
Northwest corner Main Entrance Door: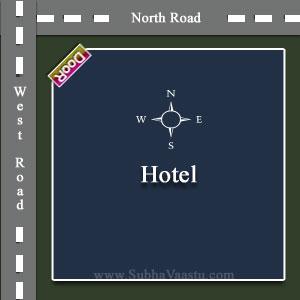 This is the Northwest corner main entrance door, which may leads to litigation to the management. Partnership firms may not be successful here. Financial institution pressures may be common or appears here.
Southwest corner Main entrance Door: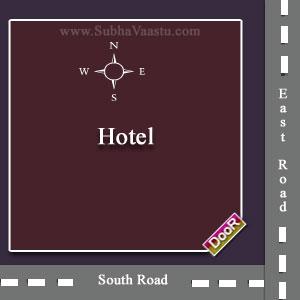 This is the Southeast corner main entrance door which may leads to quarrels, litigation, police station attendances etc. Unhappy with business. All may be not happen within one year or months, year after year pressurized new issues disturbs the management and it effects on the business and progress.
Northeast corner main entrance door: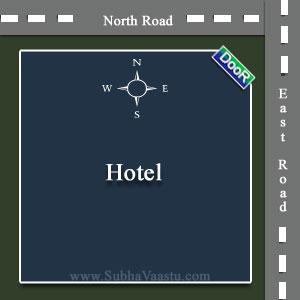 The main entrance door came towards Northeast corner. Please note that this door is not such dangerous as mentioned above all the other corner main entrance doors. It may be the fact that due to this door the Northeast may be cut to the property. You are well aware that Northeast cut is not good.
If this property may have good open space towards Northeast, East and North directions then it may be little balanced. In such cases the basement structure may not be permitted here.
Main Entrance at the middle of the directions:
The middle entrance doors like East, West, North and South are good. It is always preferred to have right suggestion with one competent vastu scholar before planning for hotel construction. You are Well aware that where is the center point of a particular Direction. Anyway here with we are giving certain information. Please check once.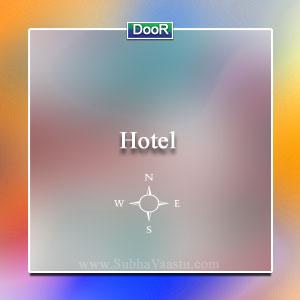 Now we are viewing the hotel property having North main entrance door. This is good entrance door to this hotel.

Check the below images how to know the information that the setting of the main entrance door exactly. We have published one by one with images help.
Center Point of a property: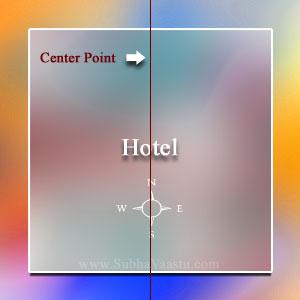 Check the center point of the hotel property. Now we will discuss on door.
Door and property center points: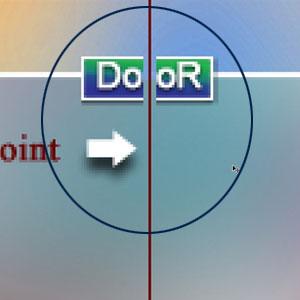 For your kind information, we have showed the center point of the property and door. Now check the below images.
Wrong Door Placement: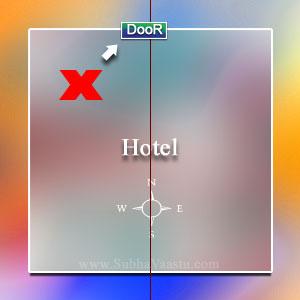 In this image the door has came towards Northern North side, this door is said to be wrong door, this placement is not good.
Good placement of door: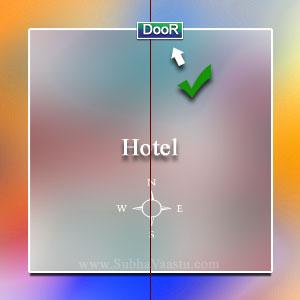 As discussed earlier the center door is good, here the door moved towards little bit Northeast at North direction. This door is an auspicious door. Moving towards the Northwest direction is not good. Moving towards Northeast is good.
Hotel East middle entrance Door: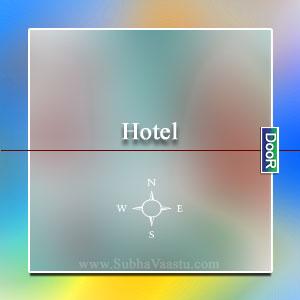 Now the hotel door came towards East direction. This is the auspicious door. Please note that if other buildings are occupied towards Northeast exactly towards this property and no properties built towards Southeast then the exact position of this East door may not give expected results to the management. At that time better to have a Swimming pool towards the Northeast corner to minimize this effect.
Hotel South middle entrance door: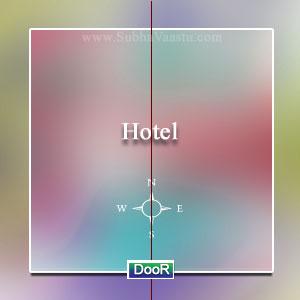 This is South middle part door to the hotel building. Please check that if there are properties towards Southwest to this property then this door brings good results to the management.
Hotel West middle main entrance Door: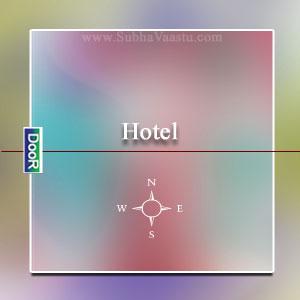 This is West middle part entrance door to the hotel building. Please check that if there are properties towards Southwest to this property then this door brings good results to the management. If there is no properties developed and buildings are Constructed towards Northwest then getting the expected results may not be possible.
Wrong placement of Hotel Reception Desk: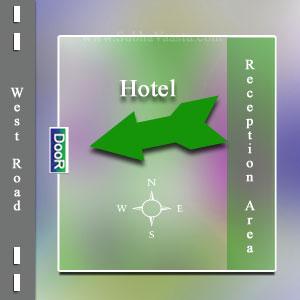 Please read carefully, this image shows that the reception area and door with one big arrow. It means its having a door facing towards main road, the reception should be good towards West side only. Guests never round the building to enter into the property. Planning the reception towards East side if the main road is towards West, guests may not round the building and not interested to visit this hotel building again and again. Reception is best suitable facing towards main road to the building.
Restaurants, Hotels, Motels, Banquet halls, Resorts, Family Club house etc have today become an common part of the urban lifestyle.
Due to more facilitation in travel sources, now people are more interested to travel either in business line or pleasure trips is a common and more increased. For get-together functions either in business line or social line the hotels and restaurants are the best suitable address.
Ambiance is more important. Hotel industry (Industry vastu rules) is facing a high amount of competition. This is the service industry, creating the bright ambiance flourish for restaurants and Hotels.
If this hotel is decorated with glamorous interiors, exclusive and aesthetic furniture may also be recommended and may beat the competitors. (This matter is from www.SubhaVaastu.com) Price may also be one of the important point for getting customer attraction. Affordable prices may easily attract customers/guests.
The interiors and other parts should be clean and clutter-free. Out of all these things, the marvelous taste food is the key for success in hotel industry. Dim light is best suitable for Bars and pubs. Most usage of blue colour and black mixed at Bar rooms may be recommended. Heavy bright lighting is not important in Bars and Pubs.
---
Best placement and some important points for Hotels :
The first and foremost important point is please ensure the site quality with one competent vastu scholar after that only buy that plot for Hotel business. (This matter is from www.SubhaVaastu.com) If you did not find any expert nearby you then you may find out experts online and check their websites and may contact them for good hotel business. Anyway, for your kind information, we have given some hints or tips for good business development in the hotel industry.
1. The hotel main building should be constructed at Southwest area leaving more open space towards East and North directions.
2. Storing heavy-weight items is best suitable at the Southwest part of the Hotel.
3. You are well aware that Kitchen is the key role of a restaurant. The kitchen is best fitted towards the Southeast (Agneya or Agni corner).
4. Constructing of heavy buildings or structures are banned at Northeast corner of the entire site. Maintaining lawns, flowerbeds, swimming pools, water body or water future or water pond, water fountain or water fall is best suitable towards Northeast or East or North direction. Please note that all these should not cross the center line as shown in the above figures.
5. The big and heavy trees may be planted towards entire Southwest parts and South and West areas of the boundary premises. After checking the surroundings we may plan for the trees towards the Northwest and Southeast corners. More green more attraction. Lime green is also looks fantastic and attracts more customers. That is why in many 5 star rated hotels they are maintained separate staff to proper vigilance on greenery.
6. The entrance of the rooms should be according to vastu principles for example, East, North, South and West doors are good for the rooms. Better placement of the doors are Northeast-east, Northeast-north, Southeast-south, Northwest-west are said to be excellent doors to the rooms.
7. Maintain good looking of the interiors like rooms wall colors, floor mats, floor velvet carpets etc, if the interior of the rooms are attractive then guests will visit again and again to the same property.
They will be more accustomed to the property. (This matter is from www.subhavaastu.com) The interior look should be tasteful and welcoming the guests. The posters or wallpapers should be creative and inviting ambiance and finally guests will be more accustomed to the property.
Receiving is also more important in Hotel industry. Though it is a commercial property but it should strictly maintain the respects to the guests. Instead of giving common discounts to the guests, special discounts may be created to the regular guests attach them to the property, they will inform to their friends to visit.
8. The best suitable place for swimming pool is Northeast, North or East. This is hotel industry, it requires name and fame, so don't mistake in the name of swimming pool, at any cost swimming pool should not come towards West and South parts and particularly towards Southwest parts. (Brahmastan) The central part of the property should avoid for swimming pool. (This matter is from www.subhavaastu.com) We have already clearly mentioned in our website that swimming pool at central part ruin or it may lead to bankruptcy.
Overall prosperity, name and fame, business, growth, occupancy ratio and other good things, the swimming pool is best suitable towards East or Northeast, North is also suitable for swimming pool.
9. For common public usage the toilets may be good towards Northwest.
10. Generally the guests first observe the reservation lobby or reception counter and its interior decoration and seating arrangements etc. (This matter is from www.subhavaastu.com) So concentration should be more on seating arrangements and color scheme and wall papers or wall decoration coloring effects and reception area.
11. Now a days generator is must for the Hotels. The generators, electrical infrastructure, hotel building main switch board, air conditioning plants, or A/C system maintenance, Electrical fittings like grinder are best suitable towards Southeast parts of the building. Dish washer is good towards Northwest area or very near to the Kitchen is also recommended.
12. Maintaining sufficient water is a challenge in many cities. Water storage sumps are best suitable towards Northeast, North and East parts of the sector. The overhead water tanks are good towards Southwest, South and West parts of the Southwest building.
13. Chairman, MD, key post person, owner or director of management may have their sitting / administrative offices or cabin are best towards Southwest portion of the entire land.
14. In our website we have clearly mentioned that continuous music playing and lights should be maintained in the hotel premises, particularly at reception areas and guest lounge brings excellent results.
15. Pooja placement or God Idol placement or place of worship is good towards Northeast. You may hand the photos of your interested God's are good towards Northeast-east wall, your face is towards East and God face is towards West direction.
16. Cash box and safe should open towards North is good, cashier or accounts head may be faces towards North is good, facing towards North direction is not possible then East direction is the second best.
17. Some restaurants are particularly maintaining family rooms with partitions of the entire hall. Be cautious when making the partition of the hall or premises.
18. Spa / Health Club may be good towards Northwest or West parts. Upstairs East is also plays good part for Health club.
19. The verandahs or Balconies are best suitable towards Northeast, North or East directions.
20. Big windows are recommended towards North and East directions.
21. In some hotels they are maintaining mezzanine floors, (for example:Fortune Inn Haveli Hotel in Gandhinagar, Gujarat etc) should be towards Western or Southern parts of the hall and it may not be planned towards North or East directions. The staircase to the mezzanine should not touch the North or East walls, leaving some gap is recommended. In staircase section in our subhavaastu.com website we have clearly mentioned that stairs starts from North to South and East to West directions only. The stairs should not from South to North direction or West to East direction etc.
22. Please ensure that the bed should be placed towards Southwest part of the rooms. The guest head should not be placed towards North direction. Keeping head towards South is auspicious and East direction is also recommended.
23. Basement is common for the hotels, if there is heavy North, Northeast and East open space for the main building then basement towards Northeast to that building may not provide expected results, though the Northeast basement is excellent for the commercial buildings.
---
Success is not so easy, vastu is not the exact weapon for success in restaurant. The simple reason for success of a restaurant is taste and hospitality.
If you followed vastu principles then you may get a easy way to reach to your destiny. Some attraction may raise in that said property and customers may regularly selecting to visit this property. Atmosphere is also too important.
The main important point to get success in the restaurant is a passage entrance gate, to reach to the hotel i.e, way to reach to the main property and the main entrance door.
The main entrance door plays a vital role. Main entrance door should be fixed as per vastu principles. It should be finalized by one expert only. Please approach only one expert nearby you. Trees play an excellent role with hotels and their establishments.
Above we shown some options for the kitchen, but this is only a general view. Don't do any practical without pandit advice.
Continuation music playing is important in the restaurant. Mild music is recommended.
Color selection is also important. Colors in the restaurant attract customers/guests. The main restaurant board should be attractive and proper cleaning may be done to the board regularly. Daily clean the floor with dettol (anti septic lotions) two times per day is suggested.
Dress code is good for the staff.
Staff room placement is important. Don't miss to ask about staff room placement with a guru when he visited your property.
Restrooms In the Hotel towards Northeast Portion: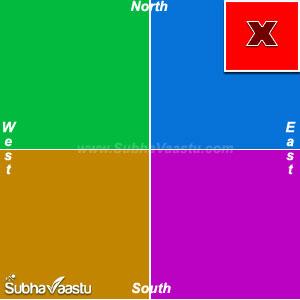 Some are planning to build the toilets at these properties at many places. Here is the guidance for toilets. If your property is a bigger one avoid placing toilets at these places. Observe the Northeast corner red mark area and cross mark in meroon color. Avoid this place. The red mark covered 25% of the Northeast part as shown with Blue color.
Southwest Toilets In The Hotel: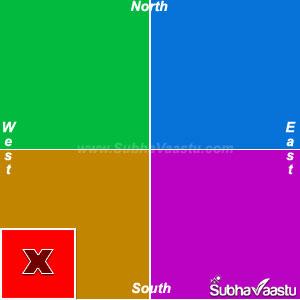 Planning Restrooms or toilets or bathrooms are not advisable at Southwest corner of the property. Better to avoid this place and plan at some where as shown by the expert vastu consultant visited your property. Remaining these two parts the other parts for restrooms may not give bad results. Attention towards planning toilets at Brahmasthan when there is empty space at Brahmasthan location.
Do We Have To Follow Vastu To Build A Restaurant
If the restaurant is built according to Vastu the number of customers repeatedly visits again and again. The management will get more profit. The food prepared at the restaurant "may" be tasty but the management will get a good name. If the restaurant is not built according to Vastu the sales will go down. The food prepared at that restaurant will affect the health of the people who eat there. Therefore the restaurant built according to Vastu will become famous and the people who go there to eat will be healthy. Generally speaking when we built the hotel, better to follow the ancient principles, its cost nothing except service charges of an advisor.
I Have A Small Restaurant Of Size 10*15, Want To Know Vastu For Kitchen In It - Saxena - Bhopal
Whatever the facing of the restaurant, the best location for the kitchen is Southeast or Northwest. Don't plan kitchen towards either Northeast or Southwest. If the place does not have any facilitation to install kitchen either at Southeast or Northwest then other than NE or SW, one may plan kitchen at any other locations.
Vastu Testimonials Delivered By Respected Residents
Dear Suresh, I am pleased to inform you that like the way you provided consultation for my home and explained to me all the changes required inside and outside home. I really appreciate the diagrams that you prepared for my home with pictures and arrows showing the changes need to be done. Above all, you explained very well the reasons behind changes you recommended for my home with great clarity and sense of humor. No doubt in my mind, you are the best Vastu expert, I really appreciate your dedication by building and maintaining a very informative website that is helping thousands of people across the globe. Also, I sensed when I talk to you and when I was dealing with you, you follow honesty and integrity and you have a sincere desire to help others - Kotesware Rao - Dallas - USA
We are tech professionals and working in USA. After a year long search we brought the house. After buying the house I started looking for consultant who can help me evaluating the house. I came across Subhavaastu website which has lot of information. I contacted Mr.Suresh and requested him to help with our house vastu. It has been an incredible delight working with him.. He is very detailed oriented person and never compromises with his work. I am typically not interested to deliver the reviews. But after working with Mr. Suresh I decided to share my experience. Mr. Suresh has great expertise in providing vastu consultation to USA property. He is always available through email and phone l to answer questions. I am writing this review hoping it will help other people like me who lives in abroad. Please take advise before buying the house. I highly recommend Mr. Suresh as he has great experience with structure of USA properties and also he provides genuine consultation. I really appreciate Mr. Suresh's help in evaluating our house - Padma - Boston - USA
"I contacted Sureshji to consult on our current home. He was spot on in identifying vastu dosha in regards to the problems we were having. He suggested remedies but we are still looking for a new house. Since then I have been in touch with him for finding a right home for us. He is very sincere and truly wishes better lives for everyone. He doesn't compromise with quality and is always responsive to queries. He recommends solutions as per location as Vastu rules differ for each country. He is greatly contributing to the society with his knowledge of Vastu and dedication towards his work. Keep up the good work Sureshji and wish you success and happiness!" - Megha - Virginia - USA
I have consulted Suresh Garu during December 2014 during the process of buying a house in Texas, USA. I have occupied the house for one year now, and feel like dropping a review regarding my experience during the entire process. I am very much satisfied with the kind of service I received from him. He is very knowledgeable and I was often stunned by his detailed analysis during the course of my interaction with him. He was very much accessible over phone (perhaps more than 10 times for one house plan!) and the price is very much reasonable especially compared with the cost of the house. I noticed his burning desire to help me in making informed decisions on certain things. I have seen some people pretending to know this subject and misguiding those who come for help by saying only what we want to hear. SubhaVaastu is definitely not that one. Finally, I am strong believer of leaving certain things to experts in those subjects. I have been in US for more than 13 years and have seen people doing their own corrections (by reading website articles) trying to save few dollars. Please don't do that. You would end up in causing more damage. I highly recommend you to engage SubhaVaastu in your next project - Satish - Dallas - TX - USA
Inspirational Quotations
"There are three things in the make-up of man. There is a Body, there is the mind and there is the soul." - Swami Vivekananda.
---
---
"Great Personalities speak about thoughts. 'Average Person' talk about occassions. 'Narrow Minded' gossip about others." ― Eleanor Roosevelt . . . Let you question yourself, "Who You Are, either 'Great Personality', 'Average Person' or 'Narrow Minded' ?
Joke Of the Day
"A book was released and the cover name is "How to change your WIFE", and within ONE week, "25 MILLION" copies were sold. The publishers found a mistake in the title, actually, it should be "How to change your LIFE", when publishers corrected and released the new book into the market. The first month's sales were 3 copies".
Follow us on Social Media