Details

This Page Hits:173619
Vastu For Villa | Fountain Vastu | Vastu Tips for House Construction
25 Useful Key Points for Villa Vastu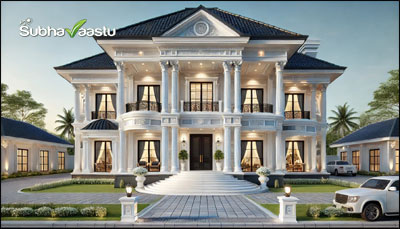 We can say that Vill culture came from Western countries. The Villa, silent slabs, nature natural beauty, greenery fields, Trees, etc. Life is so beautiful in Villas. The good idea is following Vastu for Villa then it may help like anything. In advanced countries, they are not constructing boundary fencing for the villas.
Likewise in India many gated communities do not have boundary walls to the Villas. An appropriate big open place will be allocated to the particular owner and the builder will construct it. Just pay money and occupy it. That's it.
Is Vastu Accepts to Live In Villas?
Vastu never says people should not live in Villas. Residents have their own discretion to buy either villas or apartment flats or independent homes. Surely Vastu accepts to live in villas.
Guidelines On Villa Vastu
1. Before buying, check Vastu for villas. If buyers have any vastu doubts, then contact one best Vastu consultant, after visiting the area, expert will recommend the most suitable villa with perfect Vastu principles. This is a safe method in terms of villa Vastu. Don't see experts payments, they are always dead cheap when compare with the villa price.
2. Villas are not easily accessible at cheaper prices, villas are generally expensive. Spending money is worth it for someone for several reasons.
3. Some residents may not like this villa culture and system. Because some villas may not construct in cities/towns. Most of the villas constructed out of the city or town. Accessing from the remote area to the inside city may be a problem, hence, some people don't like considering Villas to buy. But when we start residing at Villas, they never leave.
4. Some landlords used villas as their vacation homes or summer holiday vacation or break. People lived in opaque homes, they know the value of this structure which has very good bright lighting and airflow. Women averse to villa life, but once they experienced life in villas then they won't go back to a cubbyhole.
5. Follow simple techniques for villa Vastu, then life will be happier. Once residents plan to stay here, then they feel it like a village atmosphere.
6. They feel it is an edifice. Life will be most peaceful here, but we may not have more interaction with neighbors than we have already experienced in the apartment flats. Again repeating here for your future safety, please show the "Villa Vastu" with one of the best Vastu Pandit and afterward decide to buy it or search for other Villas.
7. Coming with Vastu for villas, check some of the important things. Where is the swimming pool, where is the maid room, where is the garden? Where should be the car parking or garage?. We visited one villa located at Panvel, there Vastu villa builders and developers arranged pools at the backyard for some villas. For east facing villa, the backyard pool will come at West, then it is not good.
8. If the pool located at the East direction (Read several inputs on East face houses vastu) or North direction then no problem. If it is located at West direction (Study great ideas on West houses) or South direction (Learn 40 key points about South direction homes) then it may trouble the residents, based on the counting of the same structures in that community.
9. Please note that if any resident buying this culture construction, and staying there for only 2/3 days in 6 months or in a year, then no need to be fear if this property does not have Vastu expert guidance. If residents bought it for their own living purpose, then getting advice from experts is highly advisable.
10. We have one client in South Africa, he asked our vastu consultancy services in South Africa and we visited his bungalow and his factories in Botswana. As per his request before leaving for South Africa, we visited his Villa that is under construction almost 14 KMS from Secunderabad.
11. He bought that Villa only for the sake of his stay when he visiting India. Usually, he stays in Taj Krishna Hotel when he visited Hyderabad. We checked Villa Vastu and noticed the extremely repugnant impressions, and we recommended canceling it. He saved around 3 crore rupees. We appreciate his idea of showing this property before leaving for South Africa, otherwise, he has to choose vastu online remedies. What will be his fate thereafter?
12. There should not be a pool in the South direction.
13. West direction swimming pool is not good.
Southwest direction pool is not recommended.
14. Before buying it, please observe where is the open space. If there is huge open space at East direction then this brings luck to the buyers.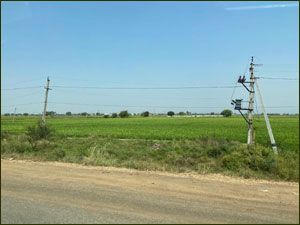 15. Huge open space towards the West direction may not bring luck in the life of the residents, further, the life may be filled with sorrows.
16. The western culture is, there should be heavy backyard open space. Some builders in India following this same principle. This point is most important while buying the villas. Get proper guidance from Vastu specialists.
As Per Vastu Is It Good to Buy Southwest Villa?
Generally, the Southwest direction represents a standard of living, good health, and attractive finances. If the Villa has South and West roads, then it is called as Southwest villa. If both South and West opposite directions have other homes, then buying this Southwest villa is a good idea. If there are no constructions in the South and West directions then avoid buying a Southwest villa.
What Are All Recommended Norms to Find a Good Villa?
The best possible norms to follow to find a good villa is, Southwest master bedroom, Northeast swimming pool, Southeast kitchen. Avoid villas if there it has Southwest pool, Northeast external garage, etc.
Is There Any Reason To Stay Away From Villas
What we have experience with residents who lived in villas, they never like to move to any other place except to live in villas only. The culture will surely maintain serenity in and around the villa. The environment is fabulous and residents experience happiness and peace. It's the life in villas. Due to heavy traffic and pollution in cities, people like to live in villas which are far from cities. Hence there is no reason to stay away from villas.
Few Ideas on Fountain Vastu
Some residents looking for guidance on fountain vastu. Where should be the fountain in our home. It has to be decided based on the direction of the home and sufficient space availability in the home. This is outdoor fountain, this could be placed at South, Southwest (Know, is we should avoid buying Southwest direction homes) or West directions.
Some experts thought that these kind of fountains can be arranged at Northeast direction (Read 50 guidelines on Northeast facing homes). As we discussed here below, if there is huge open space at Northeast then only resident plan, otherwise, best to avoid to plan to construct this outdoor fountain at Northeast areas.
Fountains are of different types.
1. Indoor Fountains
2. Garden Fountains
3. Spouting Fountains
4. Waterfall Fountain
5. Birdbath Fountain
6. Endless Fountains/Disappearing Fountains
7. Cascading Fountains
8. Wall Fountains
9. Self-Contained Fountains
10. Japanese Fountains
11. Swimming Pool Fountain
12. Tabletop Fountain
13. LED Fountains
14. Decorative Statue Fountains
15. Solar Fountains
16. Classic Greek Statue Fountains
17. Cast Stone
18. Metal
19. Ceramic
20. Fiberglass
21. Plastic/Lightweight Resin
22. Tiered Fountain
23. Disappearing Fountain
24. Gozo Sphere cast stone.
25. Cavalli outdoor fountains.
Need to observe one thing. When the fountain is heavy and structured then need to alert on it. For example, if a house has Tiered Fountain, then it is better not to plan the exact Northeast, if the house has very good open space towards the Northeast then one can arrange this Tiered Fountain at the Northeast too. Likewise, the same principle is applicable to the Self-Contained Fountain.
If a resident is planning for a wall fountain, then he can arrange to any wall, no need to worry. Anyway, best to get one piece of advice from the Vastu expert then only plan for the fountain in the home.
Cascading fountains are excellent in Southwest, West, and South directions. Cast stone fountains are also good to keep at South, West and Southwest directions.
House Construction Vastu Tips:
After finding the good site or plot as per surroundings support then the first and foremost important point of house construction of Vastu Shastra is dug a well in the N-E (Northeast) corner and use this groundwater for construction for quick completion of house construction and prosperity, due to this small tip the House construction may also go smoothly without hurdles.
Compound wall is too necessary to get more strengthen Results. Please concentrate on the boundary wall for the entire site. In India, it's possible to construct the periphery wall to the entire plot, but in other countries like USA, UK, Australia, etc may not have such a system, partly constructed that to like fencing, etc is very common in those countries. So this rule may be ruled out in some countries.
Open space should be kept all around the building, that is four sides of the house., it gives us luck to the house and full of lighting, flowing of air. If you have a spacious plot, then plan for at least good setbacks to the entire house to have more light and air.
Flowing air into the house is too important in terms of health and peace. Here open space means the more open place has to be kept towards East direction, Northeast (Ishan), and North Facing House Vastu. Lesser open space is planned towards the South, West and Southwest corners. This is the ideal plan.
Open space at Agneya (What are all Signifiant vastu rules of Southeast direction) and Vayavya (Get 47 quality ideas about Northwest direction houses) should be equal.
Some Vastu people have opinioned that trees should not be planted in house premises and shadow of the trees should not have the impression at any part of the house, this is not the right idea.
In the olden days our houses were built with mud etc, on those days people don't have such knowledge of cement and concrete pillar system, etc. Now we are constructing homes with concrete cement supports with iron rods, so no need to worry about trees and cracks in the homes.
But please note that planting trees very near to the walls are not advisable, even engineers also stated that some heavy trees should not be very near to the house walls only because of damaging the homes, it's simple, their roots are very strong and they may or may not damage walls if they are very very near to walls.
In our observation, we did not find such instances if the trees kept far at least 4 feet from the house walls. No need to trust our words on this tree plantation at villas, residents may get the suggestion from their architect/engineer regarding standard guidelines of the building after planting the trees, with respect to standard rules of the structure in the wake of planting the trees, then only inhabitants may take the decision, generally, greenery is extremely significant in the house premises. It pulls positive forces, heavenly elements, and so on.
Before planting the trees read below note.
Heavy trees should be towards South, West and Southwest directions and medium heavier trees or plants towards Agneya ((Southeast)), Vayavya (Northwest) sides, small plants may be towards North or East based on the availability of more open space. Concentrating on landscaping is extremely favorable to the residents. Floor grass may be best suitable for the entire area, and you may go with even at Northeast also.
Plenty of Air flowing should be to the house from Northeast, East and North directions to avail this facility we should provide doors or very bigger windows at these sides/directions. Based on these, bigger windows are suitable towards North, East, and Northeast direction walls of the house.
Construction of the building at South, West, Southwest directions/sides are elevated/height (higher) than North, East, Northeast directions/sides.
No peace and quarrels at the house if there is a well at Northwest or Southeast. If there is a well is located towards South, West, Southwest corners, then residents may face the financial crisis, heavy burdens, Health problems, sometimes it may be dangerous to life also.
Regarding Vastu Pooja at house: Vaastu is science, and it's not a deity, Vasthu pooja means you are giving respect to the area/land/plot/site/house/home etc. We should give respect to the property before starting the construction, which is called Vastu Pooja. Still, there are some people who are going to say only the VASTU HOMA. You may do it. We never obstruct these rituals. Giving respect to Nature is always auspicious.
If a new (or old) house may be purchased, clean everything, clear the dust and bad odors, and secondly go with good and attractive paints to the Home. Maximum try to fill the dents or something holes in the walls with wall care. This is a good idea. Don't compromise on cleaning. This is the essential point in getting good results.
If West portion is height/elevated than East portion, that plot is auspicious and construct home without disturbing this natural power i.e., height/elevation towards West direction/side.
If South portion is elevated/height than the Northern portion, that plot is good and construct the house without disturbing this natural positive power i.e., elevation/height towards Southside/direction.
Actually, there should not be 5 corners in a house, but it's auspicious if the 5th corner is towards Ishan (Northeast) direction. This means the Northeast was increased in this plot or site.
Don't plan doors towards Southwest corner, the same may be applicable to the windows also at this direction. As per your convenience or any other reason and its compulsory for you then do one thing, make a very smaller window and most of the time close it with strong wooden plank.
Planning to dig foundation then starts from Ishan (Northeast) corner, then go to East and North, thereafter go to Southeast and Northwest and later reach to South, West and last towards Southwest direction.
Filling the foundation digs with concrete (pillars) then start from Southwest corner, later South, West, Southeast, Northwest and next to East, North and finally at Eshan (Northeast) corner.
Plan to fix the doors to open inside only, not outside, inside an opening of the doors is luck to the inhabitants and it welcomes the natural power or energy directly enters into a house. The outside opening may not be recommended, but it may be the common thing for the mosquito mat doors, don't think more about mosquito doors, if you are serious on Vaasthu then remove this mosquito net door.
Flooring heights/levels should be like this way, North to South (North should be lower and South should be elevated).
Floor levels at East to West, Northeast direction / Ishan to Southwest/Nairuthi corners.
A Vastu home has to be aligned with the cardinal directions thereby reflecting the Vedic concept of the universe. Don't place disturbing works of art such as those depicting war and misery as they may bring about negative energy.
Collect more attractive collections to your house walls, particularly in the living room and family rooms.
As human beings, we should always try to get more auspicious powers as much as possible with our intelligence to live peacefully, in this scenario we tried our level best to get success and peace based on one ancient traditional Indian science with the latest trends application amendment.
If you would like to have any more points to publish here, let us know, we will be happier to publish your thoughts or suggestions or even tips. Serve to our society. God loves people who serving human beings.
How Do We Start A Construction Work According To Vastu
First clear the dust, muck, Junk, offscourings, and waste mud on the land. Clean everything, it looks like a clear vision of all directions hassle-free.
Nothing muck should be there. The second process is borewell, it has to come at Northeast or North or East, both this North and East directions better to move maximum as much as possible towards Northeast.
The third process is for a many-storied building or a lengthy building or a small size building or any home, the foundation pit must be made at the Northeast or East or North directional part of the plot. Start constructing the pillars from Southwest and finally towards Northeast. Thereafter walls and other remaining things.
Whatever the work you are doing at this stage, it has to be recommended by an expert vastu consultant. He should carefully observe the land and construction. The best process here is the resident should take his contract up to construction completes.
Vastu Testimonials Delivered By Respected Residents
Dear Suresh, I am pleased to inform you that like the way you provided consultation for my home and explained to me all the changes required inside and outside home. I really appreciate the diagrams that you prepared for my home with pictures and arrows showing the changes need to be done. Above all, you explained very well the reasons behind changes you recommended for my home with great clarity and sense of humor. No doubt in my mind, you are the best Vastu expert, I really appreciate your dedication by building and maintaining a very informative website that is helping thousands of people across the globe. Also, I sensed when I talk to you and when I was dealing with you, you follow honesty and integrity and you have a sincere desire to help others - Kotesware Rao - Dallas - USA
We are tech professionals and working in USA. After a year long search we brought the house. After buying the house I started looking for consultant who can help me evaluating the house. I came across Subhavaastu website which has lot of information. I contacted Mr.Suresh and requested him to help with our house vastu. It has been an incredible delight working with him.. He is very detailed oriented person and never compromises with his work. I am typically not interested to deliver the reviews. But after working with Mr. Suresh I decided to share my experience. Mr. Suresh has great expertise in providing vastu consultation to USA property. He is always available through email and phone l to answer questions. I am writing this review hoping it will help other people like me who lives in abroad. Please take advise before buying the house. I highly recommend Mr. Suresh as he has great experience with structure of USA properties and also he provides genuine consultation. I really appreciate Mr. Suresh's help in evaluating our house - Padma - Boston - USA
"I contacted Sureshji to consult on our current home. He was spot on in identifying vastu dosha in regards to the problems we were having. He suggested remedies but we are still looking for a new house. Since then I have been in touch with him for finding a right home for us. He is very sincere and truly wishes better lives for everyone. He doesn't compromise with quality and is always responsive to queries. He recommends solutions as per location as Vastu rules differ for each country. He is greatly contributing to the society with his knowledge of Vastu and dedication towards his work. Keep up the good work Sureshji and wish you success and happiness!" - Megha - Virginia - USA
I have consulted Suresh Garu during December 2014 during the process of buying a house in Texas, USA. I have occupied the house for one year now, and feel like dropping a review regarding my experience during the entire process. I am very much satisfied with the kind of service I received from him. He is very knowledgeable and I was often stunned by his detailed analysis during the course of my interaction with him. He was very much accessible over phone (perhaps more than 10 times for one house plan!) and the price is very much reasonable especially compared with the cost of the house. I noticed his burning desire to help me in making informed decisions on certain things. I have seen some people pretending to know this subject and misguiding those who come for help by saying only what we want to hear. SubhaVaastu is definitely not that one. Finally, I am strong believer of leaving certain things to experts in those subjects. I have been in US for more than 13 years and have seen people doing their own corrections (by reading website articles) trying to save few dollars. Please don't do that. You would end up in causing more damage. I highly recommend you to engage SubhaVaastu in your next project - Satish - Dallas - TX - USA
Inspirational Quotations
"There are three things in the make-up of man. There is a Body, there is the mind and there is the soul." - Swami Vivekananda.
---
---
"Great Personalities speak about thoughts. 'Average Person' talk about occassions. 'Narrow Minded' gossip about others." ― Eleanor Roosevelt . . . Let you question yourself, "Who You Are, either 'Great Personality', 'Average Person' or 'Narrow Minded' ?
Joke Of the Day
"A book was released and the cover name is "How to change your WIFE", and within ONE week, "25 MILLION" copies were sold. The publishers found a mistake in the title, actually, it should be "How to change your LIFE", when publishers corrected and released the new book into the market. The first month's sales were 3 copies".
Follow us on Social Media