Details

This Page Hits:240830
Vastu For Southwest Facing House | Southwest Facing Home Vastu | Is Southwest Facing Factory Is Good | SubhaVaastu.com: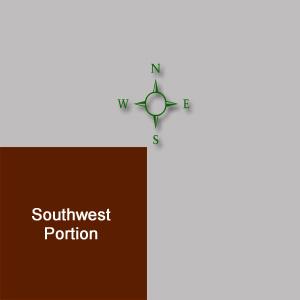 Southwest Corner Homes: Southwest is also called as Nairuthi, Nirruthi, Niruthi, rakshasa moola and in some parts of India it was called as Kubera moola, in their region this may be right, but overall its not called as Kubera mula. It has 225° as per directional Compass. There are two things first we should know about, is it "Southwest facing home" or "Southwest block home", lots of difference is there in these two words. If you are looking for Vastu Shastra for Southwest Houses, Plots, Homes, Sites, Hotels, Factory then the first thing we always remember is that, is this "Southwest facing" or "Southwest block".
More cautious has to be concentrated when buying such directional Homes (Southwest facing), plots, Apartment Flats, please note that it should not be neglected because this small mistake may change entire life that to within a very short period. This image shows a portion/plot/ house situated at Southwest part of a lot (House vastu).
If a site has West and South roads then this Site is called as Southwest site or Southwest block. There are some images below to help in understanding of this Southwest block home or plot. Our sincere advise is without proper guidance of Vastu Pandit one should not buy SW properties. Don't forget our Vastu Tips.
This is the most important and powerful Direction. It is to be observed that while the DEVAS are made as the lords of the other 7 directions, RAKSHASA or DEMON is made as the lord of this direction by our <ahref="vaastu.html">Vaastu. This shows the importance and greatness of the direction. The affliction of this direction will bring the most unwanted Results very rapidly when compared to the other directions.
Nairuthi Bhagawan, a demon is the owner of this direction. He is the lord of ASURAS (devils) also. He is more powerful than the other lords and bring good or bad results immediately to the occupants.
As he is an asura, he gets angry or become made easily and destroys the enemies instantly. He is highly tempered. He will give bold results whether it is good or bad which have great influences in one's life.
His characters are greediness, stubbornness, domination, cruelty etc., we should be more cautious while handling this direction.
The shastra says that he has one face and two hands. There is a big SWORD in his right hand and a big SHIELD in his left hand. That shows he is ever ready for fighting and slaughtering the enemies.
His Devi or wife is called as KALIKA. He rides on a MAN for his movements. He eats raw meat and drinks blood of living things. He harms the occupants happily if this direction is afflicted.
Hence, this direction should not be extended or have more open space. There should not be any well, pit or pond in this direction. This will give disastrous effects on the occupants of the house.
This will affect the dignity, wealth and may lead to suicide also. Drug addiction, drunkenness, gambling, etc., the destruction of families is due to the afflictions of SW direction. The characters of males will be ruined. They are susceptible to Karma diseases like Cancer, T.B., AIDS/HIV etc.
Those who live in these houses (South-west facing houses) will have more enemies. Enemies will be always very active and powerful. If this direction is extended, the girls will cross limits and leave the house. Their chastity will be affected. The males may have concubines. Bad people's association becomes unavoidable.
This direction should not be lowered or extended in any way. There should not be Septic Tanks or Water storage tanks etc., in this direction. This will also give the same bad results as told earlier.
The wind from this direction will bring many diseases to the occupants. Hence, this direction should be shortened and closed to maximum extent. Hence, this direction should be closed by construction of structures.
This level should be elevated than all other directions. Proper utilization or usage of this direction will bring success over enemies, the sudden growth of Wealth, fame etc., in a very short time. This is also called DEMON'S CORNER as the character of girls is decided by this direction. The building should be constructed at the SW corner perpendicular with Northwest and Southeast. This corner should be heavily loaded. This will fetch more riches and Health, like Kamadhenu, the Divine Cow.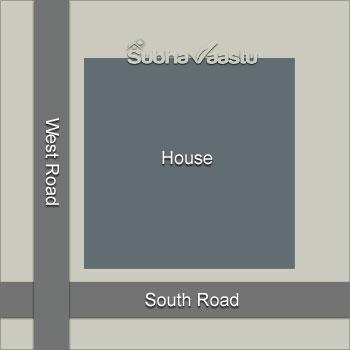 If there is a South road and West roads, then it is said to be called as Southwest Plot / House / Home / Factory / Site / corner bit. A site possessing roads on Western and Southern lateral sides is termed as Southwestern block. It is said that while proper Northeast gives rise to birth, improper Southwest leads to death. The Southwestern block has a bearing on the head of the family, his better-half and the eldest male issue. In this image the South road runs towards West direction and the West road runs towards South direction.
Here the South road stop at corner and the West road runs towards South direction, this is also one benefit site. To know the benefits we must discuss many things here, anyway if the site / plot is in correct position, or it is not encroached towards South, then no problem, otherwise many new issues may be happen. But here if the house is encroached towards South side, there may not be new issues arises from Southwest-west.
Almira at Southwest :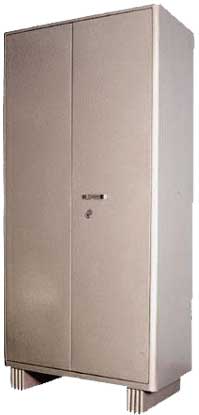 Many vastu consultants and Vaasthu itself recommends to keep the iron shelf Almira towards Southwest part of a room and that to in Southwest portion of the house. This is an advisable and correct system. Keep the Almira towards Southwest and open towards North or East. But beware it should not have the mirror. Otherwise, it is nothing but Southwest mirror. Check the below images.

Here the iron Almira facing towards East direction at Southwest part of a house. This is only for your kind information. If the same Almira is standing on one dais made with mountain rock base, then it is perfectly good. The almirah facing towards North is first preference and facing towards East is second preference. Some may have the Almira with glass. Below is one of that. It should not keep towards Southwest part of the house.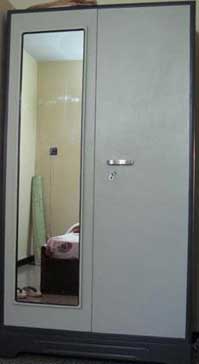 Here the Almira is having one mirror which is not good to keep towards Southwest direction of the room, which is towards Southwest master bedroom. It may be considered as a door. The Door towards Southwest direction is not auspicious one. Please note that we have tested at some where and getting reviews and noted points and informing to our website visitors. Somebody may get immediate results and somebody may not get immediate results, based on reviews from our customers, we have decided to practically done the experiments and noted the points, some health problems are created and financially some issues are coming if the Almira is having the mirror. Better keep the Almira without mirror at Southwest part. If you never faces any problem, then continue, we don't have any objection, what we published here is what we tested. The heavy furniture like Almirah and Sofa sets and heavy tables etc should be arranged towards Southern southwest corner. It is better than this furniture be placed along with the walls in the South and the West. Generally Southwest defects increases exacerbation of the deceases.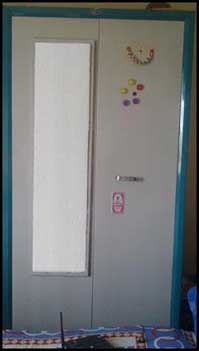 How to do the correction for this mirror to the Almira, here is the small tip, one resident used thermocol. No need to remove the mirror from the almira, if you remove the mirror, it shows very ugly and entire room atmosphere may disturbs.

We also recommends to go for another tip, use the portrait wallpaper which is easily available in the market. Affix the same wallpaper to this thermocol if you needed, or you may directly affix the wallpaper to the mirror with transparent cellophane tape.

I have a almirah with mirror in Southwest of the house which I have covered with paper. I have placed two mirrors facing each other inside the almirah in front of some real money. Please confirm this is ok or not - Veera Raagavan - Bangalore - Karnataka - India.
In our observations mirrors towards Southwest are not auspicious and recommending our clients to close them with paper or any other material.
Your question is different like a magic box to double the money, we appreciate for your practical, you may try with same for some time say about 6 months, if you found any difference then please inform us, we will share the same to our visitors, our main aim is happy and peaceful life, come with us to serve society in a better manner. Our thought is that your idea of affixing mirrors inside the almira may not provide any results. Let us see, what happen. Team - SubhaVaastu.com
There is no place like a home, we would like to made your house a dream Palace with small corrections, we always try to publish many latest, research inventions here, What are the advantages and disadvantages of this block/house/plot/flat etc and Shortly this page will be more updated. Be in touch with us.
Southwest part is the best location for keeping or preparing cabinets, ward robes, cup boards.
In general the Southwest part should be strong in a home, if it is debilitated then results will also be the same.
Southwest Quadrant has any of such water features like water body, huge water channels, then the institution may become financially weaken/futile.
By knowing tiny Vasthu knowledge some tried to incorporate store room at Southwest quadrant if the storeroom is segregated the results will be strong.
Some times the small alley also making trouble the residents when they are at Southwest. If so the floor level should be elevated.
The attribute results of the Southwest may also shown if residents make any minor mistakes in their homes, it always extends the negativity in the home.
The Bay windows are not suggested to have at Southwest quadrant or Southwest bedrooms. These bay windows are best suitable at Northeast, North or east or finally any where except exactly Southwest. If there is South or West good support then one may plan for Bay windows if they feels it is compulsory to have it.
Some residents planning to have full size windows towards South walls or West walls at their bedrooms which are located at Southwest Quadrant, generally this is not good idea to amend. Please note that if there is quality support from South or West then only they may plan for full size windows (Full glass instead of Wall)
Residents should subjugate the Southwest then the chances of their victories may double. If Southwest is enervated then they may experience the adverse results.
Make Southwest as much as super strong then residents will become doable / capable to succeeded in their activities.
If the Southwest is delicate the results will also be shadowed on residents.
The best suitable placement for the Almira is at Southwest, door of the Almirah opening towards North or East
The Second best placement for the Almirah is towards South at Southwest room, door opening towards South direction.
The Third best placement for the Almirah is towards West at Southwest room, door opening towards East.
The Third best placement for the Almirah is towards West at Southwest room, door opening towards East.
If there is no availability of placement for the Almirah or Iron Rack or cup board at Southwest then try to place them at South or West, if its also not available then keep at Southeast or Northwest. When you place at this position, maximum try to avoid keeping cash in such Almirah.
At any cost don't keep the Almirah or Iron shelve/shelf or Cup Boards at Northeast corner.
Keeping almirah at East is not good idea, if in the house its only the available place then the mirror to the almirah is a great idea.
Keeping almirah in North location is not good idea, if its only the available place then keeping mirror to the almirah is best idea.
Questions And Answers On Southwest Direction:
1. Can we have water lakes, water wells, rivers, ponds, torrent, and stream at Southwest direction?
Ans: No. Water bodies at Southwest damage the finances and health of the residents.
2. Can we plant Trees at South west direction?
Ans: Perfectly good idea.
3. Buildings or Apartments at South west direction is good or bad?
Ans: Excellent.
4. Planning to buy one Southwest facing plot, opposite there are many open vacant sites, is this good?
Ans: No, don't buy, if buying is mandatory, then get experts advice without delay.
5. Found one huge water tank opposite to our plot, (large storage structure on 8 pillars), is this good?
Ans: Excellent.
6. Mountains and hillocks at South west direction is bad or good?
Ans: Surprisingly Marvelous.
7. Can we plan septic tank at south west direction?
Ans: Please don't plan for Septic tank at Southwest corners. For further assistance please study more information at septic tank vastu link.
8. Having electricity power polls and transformers are good?
Ans: Power polls is no problem. Regarding Southwest transformer is not a big deal, rarely it creates some minor problems.
9. Cross extended southwest plot is good to buy?
Ans: No, but you can do alteration by cutting such extended part, can plant big trees there.
10. Having water storage sump is good or bad?
Ans: Not at all good.
11. Can we plan basement/cellar for South west facing house?
Ans: Not recommended.
12. Can we construct car shed or car garage, can we keep vehicles for parking,?
Ans: Accepted, but the car garage should not touch the main home, or get experts advice.
13. Having an entry door or entrance gate or window is harm to us?
Ans: Door is not at all good exactly at Southwest corner. If there is compulsory then plan for a very small window, otherwise window is also should be abandoned.
14. Can we have a home office at this direction?
Ans: If master bedroom is Southwest direction in another floor then office room can be suitable at Southwest direction. Office desk can be placed near to Southwest.
15. Southwest pooja room is acceptable or not good?
Ans: Not good
16. Can we have a garden?
Ans: Very very small garden is accepted, but there should be heavy garden at Northeast direction, otherwise cancel this SW garden. Please plan heavy trees.
17. Can we plan a lift/elevator?
Ans: No, for further help read some guidelines at elevator vastu link.
18. Having an internal or external staircase/steps is acceptable?
Ans: Not recommended.
19. Can we keep a treadmill?
Ans: Heavy furniture or cot coupled with treadmill is accepted.
20. Keeping rocks in this direction is good?
Ans: Absolutely perfect and auspicious.
21. Having sewage line at Southwest direction makes any damage?
Ans: Don't plan at SW, best to plan at Northwest.
22. Is constructing store room or stocks at this location is OK?
Ans: Very good idea, please carry on.
23. Southwest toilet is good?
Ans: No.
24. Can we construct porticos?
Ans: Not suitable direction for porticos.
25. Master bedroom at Southwest is good?
Ans: Excellent idea.
26. Can we plan for water fountain?
Ans: Not a serious matter. But the floor level should be heigher than the inside home floor level.
27. Is balcony at South west direction creates any problem?
Ans: Not recommended, in such conditions where residents compulsory need it, then get experts advice.
28. Pergola or cabana is acceptable?
Ans: Sure.
29. Can we have kitchen at Southwest direction?
Ans: No.
30. Planning Lanai is good idea?
Ans: Not recommended..
31. Is Breezeway is acceptable?
Ans: No, if it is not touching the main home, then acceptable, please get experts advice before taking any decision.
32. Our Southwest floor is height / land elevation, road height, is this good feature or bad?
Ans: Wonderful.
33. Lower levels, depression or lower roads, is this acceptable?
Ans: Not good, if so immorality, vices, wickedness, prolonged illness, protracted ill health issues, or premature demise.
34. Keepting furniture, sofa sets is bad or good?
Ans: Accepted.
35. Can we plan for servant maid room or labor quarters?
Ans: Not good.
36. South west street focus is good, can we buy this property?
Ans: Dangerious. Don't buy this property. For more info read suitable matter at Southwest Street Focus link.
37. Computer table is acceptable?
Ans: Yes.
38. South west cut or truncation is acceptable?
Ans: Not good feature.
39. Can we extend Southwest in our home?
Ans: No.
40. Is South west "facing" home is good for rent?
Ans: If it is SW FACING then try to get advice from experts, otherwise please search for other home. If it is Southwest corner house then can take for rent.
41. Can we close the Southwest with any construction?
Ans: OK.
42. Can we have mountain rock constructed platforms to sit at SW?
Ans: Wonderful thought. Please proceed.
43. Southwest entrance gate is good?
Ans: Not good.
44. Can we construct the house right away at Southwest?
Ans: Accepted.
45. Southwest swimming pool is good?
Ans: No, no and NO. Inground pools are danger. Onground pools or above-ground pools are accepted.
46. Can we construct cattle shed at Southwest?
Ans: In the general run of things, it may not giving good results.
47. Which color is suitable for Southwest direction?
Ans: Brown, but don't use this color for your master bedroom which may be at SW, it not make sense, so you may use Blue or purple instead of brown.
48. Southwest direction is suitable for which person in our house?
Ans: Elderly persons, bread winners, income generators, head of the family and their better-half or the eldest males etc.
49. What are best usages of this direction?
Ans: Master bedroom, store room, overhead water tank, above ground water storage cans/tanks, out-house, substantial hefty or tall and heavy trees.
50. I heard that all Southwest homes are bad, is it true?
Ans: Normally, Southwest homes are giving good results, before buying the homes it is highly suggested to have experts advice, SW homes in India is different and SW homes in USA, UK, Australia is different, keeping of this point, one should get proper guidelines and instructions from adept.
51. Where should we plan bed, cot and master bedroom?
Ans: Southwest is more convenient for Master bedroom as per vastu. While sleeping head should be kept at South direction and legs will be towards North direction.
52. Would like to construct a shop, which is the good location?
Ans: If residents plans to construct a shop for their own or rented purpose, then can plan shop at Southwest direction, please ensure that this shop should not have any doors to the main home.
54. Can we plan conservatory at Southwest?
Ans: Not good.
Vastu Testimonials From Respected Residents
Dear Suresh, I am pleased to inform you that like the way you provided consultation for my home and explained to me all the changes required inside and outside home. I really appreciate the diagrams that you prepared for my home with pictures and arrows showing the changes need to be done. Above all, you explained very well the reasons behind changes you recommended for my home with great clarity and sense of humor. No doubt in my mind, you are the best Vastu expert, I really appreciate your dedication by building and maintaining a very informative website that is helping thousands of people across the globe. Also, I sensed when I talk to you and when I was dealing with you, you follow honesty and integrity and you have a sincere desire to help others - Kotesware Rao - Dallas - USA
We are tech professionals and working in USA. After a year long search we brought the house. After buying the house I started looking for consultant who can help me evaluating the house. I came across Subhavaastu website which has lot of information. I contacted Mr.Suresh and requested him to help with our house vastu. It has been a great pleasure working with him. He is very detailed oriented person and never compromises with his work. I am typically not interested to deliver the reviews. But after working with Mr. Suresh I decided to share my experience. Mr. Suresh has great expertise in providing vastu consultation to USA property. He is always available through email and phone l to answer questions. I am writing this review hoping it will help other people like me who lives in abroad. Please take advise before buying the house. I highly recommend Mr. Suresh as he has great experience with structure of USA properties and also he provides genuine consultation. I really appreciate Mr. Suresh's help in evaluating our house - Padma - Boston - USA
Hello Sir, My name is Bharathi. Me and my husband have been reading your articles closely. We really appreciate the effort put by you to share your knowledge about vastu and it's effects - Bharathi - USA.
I have consulted Suresh Garu during December 2014 during the process of buying a house in Texas, USA. I have occupied the house for one year now, and feel like dropping a review regarding my experience during the entire process. I am very much satisfied with the kind of service I received from him. He is very knowledgeable and I was often stunned by his detailed analysis during the course of my interaction with him. He was very much accessible over phone (perhaps more than 10 times for one house plan!) and the price is very much reasonable especially compared with the cost of the house. I noticed his burning desire to help me in making informed decisions on certain things. I have seen some people pretending to know this subject and misguiding those who come for help by saying only what we want to hear. SubhaVaastu is definitely not that one. Finally, I am strong believer of leaving certain things to experts in those subjects. I have been in US for more than 13 years and have seen people doing their own corrections (by reading website articles) trying to save few dollars. Please don't do that. You would end up in causing more damage. I highly recommend you to engage SubhaVaastu in your next project - Satish - Dallas - TX - USA
Announcement
Free Personal Visit
There are very many people though keenly wish to avail vastu services are unable to do so, only due to financial limitations. In case if you have in your town/village a group of people . . . . For more details Free Vastu Services page.
Inspirational Quotations
"There is a fine line between perseverance and madness" - "Lynda Obst".
---
"Great minds discuss ideas. Average minds discuss events. Small minds discuss other people." ― Eleanor Roosevelt . . . Let you question yourself, "Who You Are"?
Joke Of the Day
A man was complaining to a railroad engineer.
What's the use of having a train schedule if the trains are always late.
The railroad engineer replied.
How would we know they were late, if we didn't have a schedule?