Details

This Page Hits:6828
Georgia | Atlanta
Vastu in Georgia State | GA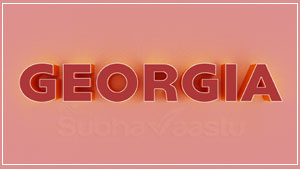 Following Vastu Shastra principles when buying the home is a good thought. When residents planning to buy a Plots or House, then generally they will buy as per their requirement and convenient and near to their kids' schools. We never point out their idea, certainly, their's is an immeasurable sense for all the conveniences.
8 Directions and Their Importance in Vastu
Follow Up Content For Georgia State Residents
Here, the simple technique is best to follow Vastu Tips to pick a right plot or Home, which brings peace to residents life. It's not a big task to find good vastu property.
Here, the residents' duty is, should get advise from one best vastu consultant. Finding a Vastu expert may be a little hard. But once the resident got their proper information, thereafter residents will experience perpetual harmony and development in their homes.
Choose only the best Vaastu property. This brings many auspicious changes in one's life. The genuine Vastu Specialist will definitely help you to find a good vastu house.
Follow Vastu tips from expert Vastu Pandit. Generally, Vastu Guru will be more cautious about their client's properties. Though their services may be expensive, when compared with resident's daily expenditures, it won't cross even two or three days' expenses.
If the resident experienced any harsh problems in their life, they may be ready to spend any amount to repair problems, to be corrected, why should one has to face such difficulties in their life and has to face untold happenings in their life and further why they need to spend a lot of money, instead of taking one vastu expert advice.
Vastu Expert advice saves residents in many ways.
Don't start any software office, without vastu consultation.
Get vastu expert advice before buying a home
Expert vastu specialist recommendation saves residents before buying the plot/site in a community.
If a resident requires Vastu consultancy services then approach only the right person. If a resident has any vastu questions then they may raise here SubhaVaastu Contact Details.
For some properties like Northwest facing house and Southeast facing house the vastu consultancy is mandatory. One should not be neglected before buying such a facing plot or house.
We are repeating again here for your secured life. Selection of plot in a community layout is the most important to have a peaceful life. When buying a wrong plot, thereafter setting the good vastu home in that plot is not so easy to handle. Only vastu specialist can try to handle it.
Many residents thought, the stove in the kitchen, facing while cooking is most important. This point is not that important here. Before discussing this point, need to observe many changes in Indian Vastu and USA Vastu. Some variations are there, it should be noted first.
If there is no research then there should not be development.
Many known facts that a lot of international companies are maintaining R&D departments in their factories. R&D means, research, and development. All companies know how important, that research in their product. This research is applicable to all fields, including vastu also.
Our first client in the USA is from Georgia state only. He belongs to Atlanta. Still, he is with us. A few months ago he bought another property in Atlanta. He is NRI and settled in Atlanta in the year 1990, he contacted us in the year 1993, in-person while on his visit to India. He recommended many of NRI's in the USA and directing them to us for the vastu consultancy services. Thank you, sir.
The genuine vastu guru constantly assists people to live happily with their family members. Don't approach the quacks in the market, their payments will be cheap and attractive.
Now this is the right place where we have to discuss one client in Georgia state.
Residents Experience in Georgia State
One Mr. Kaushal who hails from Karol Bagh New Delhi moved to the USA in the year 2009. He is working in Miami and further move to Atlanta, while in home searching he requires vastu consultant in Atlanta and got acquainted with him. That vastu consultant asked only 50 USD for the personal visit. After seeing this 50 USD, Mr. Kaushal was tempted and requested him to visit the property, immediately.
Due to some other reasons, we do not disclose the facts, but that consultancy makes sorrows in Kaushal family, he paid a lot of money in the name of Yantras. We don't want to unveil that figure, because readers may not imagine how much that figure is.
The honest Vastu consultant fee may be expensive but will not leave the client alone, he fights for the client's prosperity. He always searches for ways to make the client more successful in their life.
Approaching charlatan means life may become discontented in the future.
We should understand one thing here, what is the price of the home, is really 50 USD is the worth for a personal visit. Can anyone come from another state for only 50 USD, whose mistake it is? Mr. Kaushal later accepted his fault and finally changed the home, its a devils den for him. Cheap price may makes humans restless.
One can imagine, the tardy priorities and values we assigned to our various duties and actions. To having an evening out and spending with family in dinner and movie etc, we are prepared to spend nearly 300 USD. But for lifelong solutions for the living premises, we are not prepared to spend even 300 USD by consulting a competent vastu scholar.
This is the tragedy of an average intelligent being today.
We seek instant happiness and pay heavily for that but not prepared to pay a similar sum for lasting happiness in life. Over the whole lifetime. Fortunately, the educated people might select only the way that open doors for happiness. Its the power of education.
Construction Style Houses in Georgia
Atlanta is the capital of Georgia – the most populous city in the US.
Atlanta has a rich history and, it was created as the inception point of the state-sponsored railroad. As it expanded, it turned into a convergence point for multiple railroads.
Even the name Atlanta is derived from the local depot of Western and Atlantic Railroad.
The name signifies the town's rich reputation as a transportation hub.
It has a dense forest coverage as well and people also call it "the city in a forest".
In case you are interested in transporting to this city, here are the common house types that you can find:
1. Bungalow Style Houses
Bungalows are the small houses that started to gain popularity from the early 1900s to the 1940s.
They commonly exhibit a single story and in exceptional cases, they have a second story, which is built upon the sloping roof having dormer windows.
The façade is covered with a large front veranda or a porch.
The Bungalow style is extremely popular in Atlanta, and you can commonly find them in the older localities like East Atlanta, Kirkwood, Candler Park, Grant Park, etc.
Many people prefer renovating the architecture, but this style still manages to preserve its classic character!
2. Cabin Style Houses
The cabin-style houses are more popular in rural areas than in urban areas.
This marvelous architectural style was crafted while focusing on simplicity and the environment.
This makes it ideal for a rental property or as a second home.
It is primarily constructed through the wood, which can be found in the interior as well as the exterior parts of the house.
They compliment nature, especially when they are located in the woods or constructed against the mountains.
Cabin houses are also available for rentals if you are touring.
3. Cape Cod Houses
The cape cod style was originated in New England and it is more than 400 years old. This style reflects one of the oldest and durable architectural design that is found in America.
This style has a symmetrical appearance along with the steep roofs having side gables and an overhang.
Centralized chimneys can also be found in the architecture.
Unlike classical styles like Victorian, this style does not focus on heavy ornamentation.
It has a simple design.
Since its inception, no major changes have been performed in terms of the design.
The box-shaped floor plan usually contains one or two stories and the living quarters are approximately 1000 to 1350 sq./ft
4. Colonial Style House
This style was designed in the early 1600s and it can be commonly found in Metro Atlanta.
It evolved from European Architectural style and the design has improved over the years, encompassing plenty of sub-styles and the floor plan exceeds two stories as well (which was not found in earlier designs).
The style has pitched roofs, chimneys, decorative entryways, and asymmetrical architecture style that amplifies the attractiveness of this minimalist architecture.
The modern colonial style homes offer plenty of room, to accommodate an entire family.
5. Duplex Style Houses
The duplex style is often called a "Multi-family property".
It is a single structure containing two units under one roof.
As the land area in Urban areas is scarce and expensive, Duplexes are extremely popular as they fit the requirement.
Identifying a duplex house is easy, an astonishing feature of this style is that it contains two private entrances and the living quarters are segregated through a common firewall.
This style is extremely popular among investors.
6. Townhouse Style Houses
The townhouse architecture style blends the characteristics of Houses and Condominiums.
The townhouse-style gives the best of both styles.
Townhouses are multi-story homes and it shares at least one common wall with its adjoining units.
They also contain separate fenced-in backyards.
The townhouses can have multiple levels to accommodate larger families, and this makes them appear tall and skinny.
You can get access to amenities like clubrooms, pools which are commonly offered in the condominiums.
Also, fewer shared walls empower your privacy, just like a traditional house.
Townhouse styles also offer multilevel private parking.
7. Southern Style Houses
This style was created by keeping the southeast demographics in mind.
This was crafted to adapt to the weather such that it keeps the inhabitants cool in the warm seasons.
Southern Style houses commonly contain large front and back porches, along with sunrooms.
The exterior is made through a mix of brick, wood, and stone.
Their steeped pitched roofs and dormers give them a timeless look.
8. Ranches in Atlanta
Ranches is a popular architecture style, and it can be commonly found throughout the US.
They are single-story homes and grew in popularity in the mid-1900.
The architecture is simple – contains attached garages and renovations can be done with ease.
This is suitable for aged people who have trouble with climbing stairs.
Despite its prevalence in the entire US, this style is losing its momentum in Atlanta, due to the uptrend of the multi-story homes like the townhouse.
9. Victorian Style Houses
Victorian style is inspired by Queen Victoria's regime in Britain. Atlanta contains both – the original Victorian-style homes as well as the renovated styles.
The Victorian-style houses are multi-storied and offer steeply pitched rooflines.
They also offer fireplaces to keep the premises warm in cold temperatures.
The majority of the Victorian houses do not offer an open layout.
The style is lauded for its ornamentation, you can find stained glass, hardwood floors as well as decorative mantles inside.
In the exterior front most, houses have bay windows along with full-width porches.
The façade is commonly asymmetrical.
10. Split Level Houses
The split-level houses are exactly what the name implies.
It is a traditional one level house, in which half of the floor plan is divided into two separate levels.
The bedroom is located on the upper level whereas the family room is placed on the lower level.
This design offers greater privacy than commonly found ranches.
The main level of the architecture contains the kitchen, living room as well as a formal dining room.
Georgia State Overview:
Georgia is a US state located in the Southeastern part of the country. The state is known for its beautiful environment, beaches, farmhouses, golf courses, colonial-era architect and most notably for the US rights activists "Martin Luther King".
The country was initially a British colony and the name "Georgia" comes after the Riyal king "George II". Georgia is bordered by other US states of Alabama towards the West, Florida towards the South, Tennessee and North Carolina towards the North, South Carolina towards the East. The state has also the honor of being one of the earliest states to accept the US constitution.
Before the arrival of European colonists, the regions of Georgia were home to several Native American tribes and culture. They were living peacefully, following their cultures and living a routine life. Spanish were the first to explore the region in the 15th century. At the time of their arrival, tribes like Hitchiti, Yamasee, Cherokee, etc, were present.
Due to diseases carried by the Europeans, a large amount of the native population died. Similarly, later due to conflicts and forced removals, thousands of other natives also died.
Although the region was explored precisely by the Spanish in the 15th century, their main desire "gold" was not found and they didn't maintain an active establishment.
In the 18th century, the British annexed the region and made a permanent colony and were first to do so. Afterward, plantations of cotton, indigo, etc were started and a large number of slaves were imported from Africa.
As the time passed, conflicts started between the British and the Spanish for a colony of Georgia and remained for a brief period of time. By the end of the 18th century, independent struggle amongst the colonies in America started and was demanding independence from the British.
Georgia was amongst the original thirteen colonies that revolted against the British and afterward Georgia has the honor to be one of the earliest states to accept the US constitution.
After the independence, Native Americans were forced into reserves that resulted in the deaths of thousands of Natives. At the of "American Civil War", Georgia aligned with the Confederacy and saw some of the major battles of the theater. Also, a significant number of Georgians died serving for the cause.
Majority of the coverage area of Georgia is mountainous and hilly. Some of the main mountain ranges include Blue Ridge mountains and Ridge and Valley Appalachians.
Other features include grassy lands, islands, rivers, and forests. Forests also cover approx. 60% of the total state's area. Flora and fauna of the state are also rich, having countless animal and plant species.
The economy of Georgia has been dependent on several sectors, the majority of which includes Industries, Finance, agriculture, services, mining, and manufacturing. 17 of the "Fortune 500" companies have made or located their headquarters in Georgia.
The airport "Hartsfield-Jackson Atlanta International Airport" and seaport "Port of Savannah" of Georgia are one of the busiest in the world and also plays a great role in the economy.
Agriculture also plays a significant role by producing some of the quality products such as cotton (since colonial times), peanuts, corn, blueberries, and soybeans.
The largest ancestry groups of Georgia are English, Irish and German. Spanish is the majority spoken a language other than English in the state. Christianity is the largest single religion in the country while non-religious people are the second largest group. Minority religions include Hindus, Jews, Muslims, etc.
Key Points of Georgia State in USA
New Jersey State Capital City: Atlanta
Area 153,910 km²
Congressional Districts14
Population 10.43 million(2017 est)
Language English, Spanish, French
Main Cropsbluberries, corn, rice, hay, wheat, soybeans, fruits, vegetables
State Bird Brown Thrasher
State Animal NA
State Flower Rosa laevigata
State Tree Live Oak
Popular Rivers St. Mary's River, Coosa River, Chattooga River, Suwannee River, Conasauga River
Spiritual Places Lord Shiva Temple, Lord Venkateswara temple of Atlanta (Riverdale city near to Atlanta). Shri Swaminarayan Mandir of Atlanta (BAPS) is the most famous Hindu spiritual places. Church of God State Office, North Georgia Church of God, Faith Baptist Church, South GA Church of God State Office, Grace Midtown Church Offices, Parkway Baptist Church, Calvary Baptist Church
Important Cities Georgia, Atlanta city, Columbus city, Savannah city, Sandy Springs city, Macon city, Roswell city, Albany city, Johns Creek city Warner Robins city, Alpharetta city, Marietta city
Border States: Florida, South Carolina, Alabama, Tennessee and North Carolina
Tourist Attractions Georgia Aquarium, World of Coca-Cola, Stone Mountain, Rock City Gardens, Stone Mountain Park, Lookout Mountain, Centennial Olympic Park, CNN Studio Tours, Amicalola Falls State Park, Forsyth Park, Lake Lanier, Savannah Historic District, Six Flags Over Georgia, Chattahoochee National Forest, High Museum of Art
Georgia Flag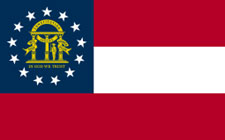 Georgia Location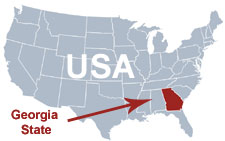 Desktop Wallpaper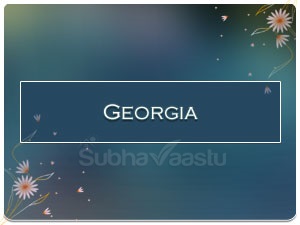 Mobile Wallpaper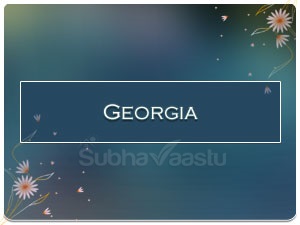 Vastu Testimonials Delivered By Respected Residents
Dear Suresh, I am pleased to inform you that like the way you provided consultation for my home and explained to me all the changes required inside and outside home. I really appreciate the diagrams that you prepared for my home with pictures and arrows showing the changes need to be done. Above all, you explained very well the reasons behind changes you recommended for my home with great clarity and sense of humor. No doubt in my mind, you are the best Vastu expert, I really appreciate your dedication by building and maintaining a very informative website that is helping thousands of people across the globe. Also, I sensed when I talk to you and when I was dealing with you, you follow honesty and integrity and you have a sincere desire to help others - Kotesware Rao - Dallas - USA
We are tech professionals and working in USA. After a year long search we brought the house. After buying the house I started looking for consultant who can help me evaluating the house. I came across Subhavaastu website which has lot of information. I contacted Mr.Suresh and requested him to help with our house vastu. It has been an incredible delight working with him.. He is very detailed oriented person and never compromises with his work. I am typically not interested to deliver the reviews. But after working with Mr. Suresh I decided to share my experience. Mr. Suresh has great expertise in providing vastu consultation to USA property. He is always available through email and phone l to answer questions. I am writing this review hoping it will help other people like me who lives in abroad. Please take advise before buying the house. I highly recommend Mr. Suresh as he has great experience with structure of USA properties and also he provides genuine consultation. I really appreciate Mr. Suresh's help in evaluating our house - Padma - Boston - USA
"I contacted Sureshji to consult on our current home. He was spot on in identifying vastu dosha in regards to the problems we were having. He suggested remedies but we are still looking for a new house. Since then I have been in touch with him for finding a right home for us. He is very sincere and truly wishes better lives for everyone. He doesn't compromise with quality and is always responsive to queries. He recommends solutions as per location as Vastu rules differ for each country. He is greatly contributing to the society with his knowledge of Vastu and dedication towards his work. Keep up the good work Sureshji and wish you success and happiness!" - Megha - Virginia - USA
I have consulted Suresh Garu during December 2014 during the process of buying a house in Texas, USA. I have occupied the house for one year now, and feel like dropping a review regarding my experience during the entire process. I am very much satisfied with the kind of service I received from him. He is very knowledgeable and I was often stunned by his detailed analysis during the course of my interaction with him. He was very much accessible over phone (perhaps more than 10 times for one house plan!) and the price is very much reasonable especially compared with the cost of the house. I noticed his burning desire to help me in making informed decisions on certain things. I have seen some people pretending to know this subject and misguiding those who come for help by saying only what we want to hear. SubhaVaastu is definitely not that one. Finally, I am strong believer of leaving certain things to experts in those subjects. I have been in US for more than 13 years and have seen people doing their own corrections (by reading website articles) trying to save few dollars. Please don't do that. You would end up in causing more damage. I highly recommend you to engage SubhaVaastu in your next project - Satish - Dallas - TX - USA
Inspirational Quotations
"There are three things in the make-up of man. There is a Body, there is the mind and there is the soul." - Swami Vivekananda.
---
---
"Great Personalities speak about thoughts. 'Average Person' talk about occassions. 'Narrow Minded' gossip about others." ― Eleanor Roosevelt . . . Let you question yourself, "Who You Are, either 'Great Personality', 'Average Person' or 'Narrow Minded' ?
Joke Of the Day
"A book was released and the cover name is "How to change your WIFE", and within ONE week, "25 MILLION" copies were sold. The publishers found a mistake in the title, actually, it should be "How to change your LIFE", when publishers corrected and released the new book into the market. The first month's sales were 3 copies".
Follow us on Social Media