Details

This Page Hits:4805
Columbia | South Carolina (SC)| Charleston
Vastu in South Carolina
Maybe the reason is unconventional, but most of our NRI's are not having much interest to settle in South Carolina. SC is one of the good and ideal locations for visit seashores, but work-wise it may not be a sufficient route line provider.
Coming with Indian vastu shastra, this is an ancient and traditional science which works on every structure, which is convenient for humans' happy living.
There is an enormous possibility to find good homes by following simple vastu tips. Only the basic thing is that one should first contact a best vastu consultant and get advice from them to buy a property.
Selecting the good vastu plot is most important. The second important point is the observation of the house floor plan. Both were consequently suitable and co-ordinate then residents will get peace and development in that home.
We understand the concern, finding honest vastu expert in South Carolina is not an easy task. But residents can get online vastu consultation services and can able to find the good property.
If residents searching for a single floor home, then make sure that the kitchen should not be at Southwest direction, if it is a North facing home or East facing home.
If the home got large open backyard then the Southwest kitchen and Northeast master bedroom may not be that much disavowal.
Anyway, get recommendations from Vastu pandit before entering into the contract or finalizing the home.
When a resident finds a very big plot and needs to buy that plot, then don't plan home construction at Northeast corner, for more info read content from this all about Northeast direction in vastu link. The best placement for house construction in that big plot is Southwest quadrant. If residents have interest then they visit complete details of Southwest direction in vastu post.
When trying to buy a West facing homes with vastu principles then visit this page to know details on West.
Trying to look for South homes then best to all about South facing homes vastu. It has comprehensive details. Leave feedback to improve the page.
Types of Houses in South Carolina
1. Coastal Style Beach House
The coastal style beach architecture in South Carolina bear semblance to apartments, but they are independent dwellings. These houses are usually extended upto two to 3 stories in height, with the ground floor left wide open for parking and recreational purpose. These residences are popular and native only to coastal regions, especially near beaches. With mimced features from the plantation and charleston-style houses, these residences have broad balconies in front of the main entrance and the backside. However, they do not have green plush exteriors since they are constructed near beaches. The interiors remind one of contemporary architecture. Both the exteriors and interiors are stark and blunt, with many practical and functional architectural elements. The staircase is built in the interior with an abundance of glass windows to facilitate beach views from every house corner.
2. Colonial Style Homes
Symmetrical fronts and saltbox roofs characterize the colonial architectural style. With single front-facing gables, the ceilings are embellished with multiple paned windowed turrets with side gables to beautify the upper section of the house contrastingly. These residences generally use a combination of contrasting colours to accentuate the symmetrical facades. Colonial style residences in South Carolina are vertically as extensive as one or two floors with equally rambling exteriors. Some colonial-style homes have exterior embellishments like ancient statues in the middle of the undivided front yard. Tall multi-paned rectangular windows are overwhelmingly embedded in the front side of the house with equal distance between them. Heavy textured circular columns undeservingly run across the path of the walls in front of the house. These dwellings mostly do not have porches or balconies, but some incorporate a building fortification at the end of the front yard.
3. Low Country Cottage Style Houses
The cottage architecture inspires the low country cottage style residences of South Carolina, but they barely mimic any of the features. The house is situated at an elevation with a basement. A small stairway with unvarnished chaste wooden railings guide to the main entrance. A single front-facing gable with a protraction covering the staircase makes the home look even broader. These homes come with an attached garage and are primarily white and brown. However, the interior style mimics the cozy and comfortable feeling of cottage architecture. With raised construction and wrap-around porches, low country cottage-style homes' architectural elements include hipped roofs, french doors, and a broad entryway with a parlour. Besides turrets, chimneys pierce through the canopies.
4. Cape Cod Style
The locale of South Carolina widely yearns cape cod housing style. Cape cod houses are practical, functional, and aesthetic with direct and guileless exterior appeal. With front-facing gables and gabled dormers, the roofs of cape cod houses look heavy on the wispy house style. Although these houses cannot extend beyond one or one and a half stories, they look and feel spacious enough to accommodate two large families. While centralized chimneys and shingle sidings varnish the top section, side hung doors, and symmetrical essentials like doors and windows distinguish cape cod homes from other residential styles. Cape cod houses in South Carolina leave many exterior spaces with additional festooned decorations on the outer surfaces.
5. Plantation Style Homes
The plantation architectural style in South Carolina draws its inspiration from French and neoclassical architectural styles. With ginormously elaborate porches and balconies, this residential style is the most coveted house for many here. These residences are primarily rectangular with expansive exteriors and porches and balconies adorned by subtle yet gracefully geometrical wooden designs in railings and square shape columns. Heft chimneys cut through the corners of the roof with gabled and multiple paned windowed turrets that are heavier and large than usual, you could find for any house style.
6. Contemporary
The contemporary architecture looks untouched despite embracing several architectural features over the years, including sculptural forms and sophisticated high-end technologies that evolved over the period. Yet, modern houses look sheer and unpretentious. But they are sophisticated high-rise houses with all modern features, practical and functional interior and exterior elements. High-rise glasses embedded as a wall on one adjacent side are standard features. These houses do not espouse traditional praxis. Asymmetrical curves, roofs, windows, doors, and free-form shapes constitute contemporary style homes. These high-rise buildings are generally as tall as two to three stories with chic staircases and metal finishing.
7. Charleston Single House In SC
The first residential-style you will notice in South Carolina is the Charleston single house. This residential-style is native to South Carolina because it is not any distinguished architectural style but an experimentation of various types' different architectural features. These houses are generally two to three bays wide but narrower front space. Charleston singles houses are as extensive as two to three stories in height, with a triangular front gable and broadside balconies on the adjacent side. These houses are fortified with metal railings, and exteriors are exiguous within the confines of the fortifications. The front side of the home features mid-sized multi-paned windows with wooden frames arranged symmetrically to the top floor. Contrary to most of the architectural styles, the porches of these houses are located in the adjacent sides with flimsy sharp shaped columns symmetrically and equidistantly arranged across the length of the porches. The balcony mimics the ground floor porch. Although the exteriors are immuned, the terrace is broad and comprehensive.
8. Duplex House Construction in South Carolina
Duplex and triplex houses are a dominant choice in South Carolina, with the unvarnished and spiral staircase located at one corner of the house in the interior. The outside of these houses looks like bungalows with plantation-style gardens and a spacious backyard. These houses have swimming pools, seating areas, an exterior lounge, and a kitchen in the backyard, in addition to palatial space for outdoor partying. However, unlike other duplex houses, these residences use glass windows very limitedly. Front gabled roofs with an additional gable for the entranceway are added to these houses. These houses are rectangular with wide front covered porches. The terraces of these houses are sometimes designed according to personal requirements with terrace gardens or swimming pools. Square shaped windows are divided into four equal parts, with each piece further divided into multiple panes that make up the dominant feature of these houses.
9. Low Country Cottage Style
Low country cottage style homes are a voguish architectural style in the rural hinterlands of South Carolina. These dwellings are most sought after for their cozy and gracious interior and exterior appeal. These houses are mostly restricted to one or one and a half floor height. While the roof of the first floor is flat and bald, the top floor's ceilings are low and side-gabled with a tall and sizeable middle chimney. The entire construction is fortified on all sides with palatial exterior space that almost looks like a forest. Tall trees across the whole of exterior dimensions make you feel like you are in a forest away from the hustle and bustle of the city. Turrets with multipaned windows titivate the roofs. Broad covered front porch with circular columns symmetrically spread across the porch is the most envied feature for a leisurely evening recreational activity. A wide roadway leading to the main building with plantations on both sides of the front yard is another attractive architectural feature.
10. I-House
I-House is a vernacular architectural style rife on the streets of South Carolina. These dwellings resemble duplex houses in South Carolina. With front-facing low roofs and a large tall chimney on the side, ceilings are painted with contrasting colours. These houses are on a high-rise with wide front covered porches but have no fortifications—tall rectangular glass windows with wispy columns spread across the length of the porch. The exteriors wrapping around the house are plain and bald with no embellishments. They cannot extend beyond two stories' height. Bricks, concrete, and wood are dominantly used raw materials in these constructions.
11. Shotgun
These constructions are built with heavy wooden planks or metal bases. They are straight and long with no horizontal expansion. With zero outdoor space and terraces, balconies, or porches, these houses are instant shelters for the poor and workers. Although they are limitedly functional, they are not as practical as other residential styles in South Carolina in the USA. People with humble lifestyles can occupy these houses, but they are not resilient to extreme weather conditions. No special architectural features or elements or opulence features in these houses. However, the houses are narrow in interior spaces with tall entrance doors and very few windows across the houses. Some homes use concrete and are built with a bit of extra space. These alternate accommodations are decent for optimal living.
12. Art Deco
Art deco architecture is an embodiment of luxury, grace, and glitz. These buildings look like Dubai's top erections with a legion of glass windows and colour lights. They are square in shape with soft corners, and the dimensions grow to confine as they grow up. They are mostly sky scrapes with domes and arches on their roofs. Some art deco structures are purely square in shape with sharp corners and bald roofs, but arches are a standard feature. Art deco architecture is mainly used for religious and government building constructions or particular purposes. Very few people own these residential-style houses. The walls are mostly engrossed with tiny glass windows, which reflect with lights a zillion times to shine as bright as a diamond during nights. The remaining space on the walls is filled away with geometrical designs that are as shiny as the windows in the building. This architectural style first appeared in France and has been famously used for recreational spots, theatres, and other fun spots for wealthy and affluent people.
South Carolina Information:
South Carolina is a US state located in the Southeastern part of the country. The state is known for its beautiful shorelines, civil war museums and remains, forts, museums, gardens and much more. The state only borders two other US states, North Carolina towards the North, while Georgia lies toward its South. The state is named after the Royal King "Charles I". In terms of area, South Carolina is 40th largest and 23rd most populous US state. The state has a progressive economy and has been developed in all sectors.
It is predicted that the regions of the modern state of South Carolina are inhabited for 40,000 years ago. The earliest people arrived in the region were hunters and food gatherers. They also hunted gigantic mammals that are extinct today.
At the time of the European arrival in the region, Native American tribes of Yamasee, Cherokee, Yuchi, Catawba, Apalachee, etc. were present in the region. Upon their arrival, conflicts between the Europeans e.g. Spanish, etc. started which resulted in the deaths of thousands. Spanish were the first to explore the region and maintain permanent colonies.
Their main mission was to found gold and other precious minerals. Gradually, French and British interests in the region increased followed by their arrival. Finally, South Carolina became a permanent British colony and settlers of British origin started to settle in the region and started plantations. Soon, the state became one of the richest colonies.
By 1775, the American Revolution started and the state declared itself to be part of the newly created United States. Similarly, during the times of "American Civil War", South Carolina aligned with Union and participated directly in War. This resulted in the loss of thousands of lives and infrastructure destroyed.
The geography of South Carolina features beautiful and green plains, coastal belts, lakes, mountains, forests, and swamps. Some of the regions are also protected by the government as National Parks or reservoirs.
Economic sectors of South Carolina include Industries, agriculture, services, and finance. Industries play a major role in having an output like aerospace, engineering, electronics, automobiles, recycling, and biotechnology. While agricultural products are rice, cotton, tobacco, corn, hay, swine, soybeans and poultry. Some of the largest US companies e.g. Boeing and BMW have their production facilities in the state.
Christianity is the largest single religion in the country which is further divided into several sects.
If you want to visit the state, it is recommended that you must visit and explore the historic city of "Charleston" which is famous for old streets, museums, parks and beautiful colored houses. It is also ranked as one of the best cites not only in the US but also worldwide. Furthermore, the beaches and the islands of the state are one of the most peaceful and unique in the US.
South Carolina State Capital City: Columbia
Area 82,931 km²
Congressional Districts7
Population 5.024 million(2017 est)
Language English, Spanish, Italian
Main Cropsrice, cotton, tobacco, corn, hay, cotton, soybeans
State Bird Carolina wren
State Animal white-tailed deer
State Flower Yellow jessamine
State Tree Sabal Palm
Popular Rivers Pee Dee River, Saluda River, Catawba River, Congaree River, Chattooga River, Littler Pee Dee River, Edisto River, Broad River, Pacolet River
Spiritual Places Hindu Temple & Cultural Center Of SC, 5704 Bush River Rd Columbia. Columbia Zen Buddhist Priory, Arrowwood. Hindu Temple And Cultural Center Of Orangeburg. Baps Shari Swaminarayan, Magnolia. Swaminarayan Temple, Furys Ferry. Masonic Temple, Crawford, Hindu Temple Society, Luke. Santidham Temple Of Augusta. Emanuel African Methodist Episcopal Church, The Diocese of South Carolina, Grace Church-Pelham, New Spring Church, First Baptist Church (Columbia), First Presbyterian Church, Seacoast Church
Important Cities Columbia city, Charleston city, North Charleston city, Mount Pleasant town, Rock Hill city, Greenville city, Summerville town Sumter city, Hilton Head Island town, Florence city, Spartanburg city
Border States North Carolina, Georgia
Tourist Attractions Broadway at the Beach, Fort Sumter, Magnolia Plantations and Gardens, Congaree National Park, Historic Charleston City Market, Waterfront Park, Rainbow Row, Patriots Point, Brookgreen Gardens, Barefoot Landing, Boone Hall Plantation and Gardens, Middleton Place, The Sea Pines Resort
South Carolina Flag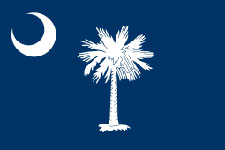 South Carolina Location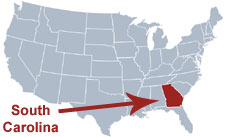 Desktop Wallpaper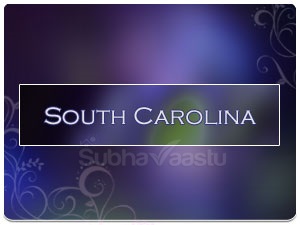 Mobile Wallpaper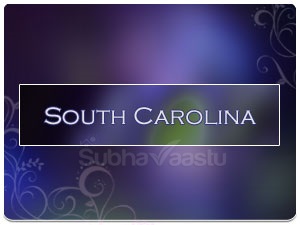 Vastu Testimonials Delivered By Respected Residents
Dear Suresh, I am pleased to inform you that like the way you provided consultation for my home and explained to me all the changes required inside and outside home. I really appreciate the diagrams that you prepared for my home with pictures and arrows showing the changes need to be done. Above all, you explained very well the reasons behind changes you recommended for my home with great clarity and sense of humor. No doubt in my mind, you are the best Vastu expert, I really appreciate your dedication by building and maintaining a very informative website that is helping thousands of people across the globe. Also, I sensed when I talk to you and when I was dealing with you, you follow honesty and integrity and you have a sincere desire to help others - Kotesware Rao - Dallas - USA
We are tech professionals and working in USA. After a year long search we brought the house. After buying the house I started looking for consultant who can help me evaluating the house. I came across Subhavaastu website which has lot of information. I contacted Mr.Suresh and requested him to help with our house vastu. It has been an incredible delight working with him.. He is very detailed oriented person and never compromises with his work. I am typically not interested to deliver the reviews. But after working with Mr. Suresh I decided to share my experience. Mr. Suresh has great expertise in providing vastu consultation to USA property. He is always available through email and phone l to answer questions. I am writing this review hoping it will help other people like me who lives in abroad. Please take advise before buying the house. I highly recommend Mr. Suresh as he has great experience with structure of USA properties and also he provides genuine consultation. I really appreciate Mr. Suresh's help in evaluating our house - Padma - Boston - USA
"I contacted Sureshji to consult on our current home. He was spot on in identifying vastu dosha in regards to the problems we were having. He suggested remedies but we are still looking for a new house. Since then I have been in touch with him for finding a right home for us. He is very sincere and truly wishes better lives for everyone. He doesn't compromise with quality and is always responsive to queries. He recommends solutions as per location as Vastu rules differ for each country. He is greatly contributing to the society with his knowledge of Vastu and dedication towards his work. Keep up the good work Sureshji and wish you success and happiness!" - Megha - Virginia - USA
I have consulted Suresh Garu during December 2014 during the process of buying a house in Texas, USA. I have occupied the house for one year now, and feel like dropping a review regarding my experience during the entire process. I am very much satisfied with the kind of service I received from him. He is very knowledgeable and I was often stunned by his detailed analysis during the course of my interaction with him. He was very much accessible over phone (perhaps more than 10 times for one house plan!) and the price is very much reasonable especially compared with the cost of the house. I noticed his burning desire to help me in making informed decisions on certain things. I have seen some people pretending to know this subject and misguiding those who come for help by saying only what we want to hear. SubhaVaastu is definitely not that one. Finally, I am strong believer of leaving certain things to experts in those subjects. I have been in US for more than 13 years and have seen people doing their own corrections (by reading website articles) trying to save few dollars. Please don't do that. You would end up in causing more damage. I highly recommend you to engage SubhaVaastu in your next project - Satish - Dallas - TX - USA
Inspirational Quotations
"There are three things in the make-up of man. There is a Body, there is the mind and there is the soul." - Swami Vivekananda.
---
---
"Great Personalities speak about thoughts. 'Average Person' talk about occassions. 'Narrow Minded' gossip about others." ― Eleanor Roosevelt . . . Let you question yourself, "Who You Are, either 'Great Personality', 'Average Person' or 'Narrow Minded' ?
Joke Of the Day
"A book was released and the cover name is "How to change your WIFE", and within ONE week, "25 MILLION" copies were sold. The publishers found a mistake in the title, actually, it should be "How to change your LIFE", when publishers corrected and released the new book into the market. The first month's sales were 3 copies".
Follow us on Social Media