Details

This Page Hits:11519
Vastu Consultant in Goa | Panaji
Vastu in Goa: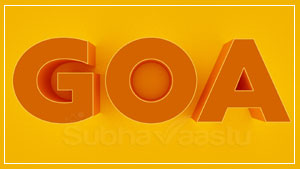 Once upon a time, residents of Goa do not have any idea on Vastu Shastra and many of them were not interested on Vastu, now most of them looking for Top Vastu Consultant services. Now, most of the people including non-hindus are also very much interested to follow Vastu Shastra consultancy in Goa. It happens only because of vastu shastra principles working calibre and quality skills.
Science, won't belong to one religion, region, caste, creed, location etc. Science is always universal. Our Indian Vastu is also universal and unique. Anyone can follow Vaastu principles without any condition.
Only important thing is that one should be careful when selecting the Vastu Pandit for vastu consultation services, otherwise will be lost their hardship. Vasthu self-practice makes sorrows. Please remind the same.
We have designed our website to use it completely on free of cost, entire website browsing is free of cost, no condition on entire site browsing and there is no any advertisements in this Vaasthu site. We are not demanding to register here to browse. We never ask you or force you for the registration. Discretion is purely yours. No conditions apply.
Very long back, when residents require Vastu Consultant in Goa, then they are looking for vastu consultant in Bangalore or Vastu consultant in Mumbai only because they did not find any Vastu Pandit in Goa on those days. Now many vastu pandits settled in Goa.
Due to continuous religion conversion, many residents do not show interest on Vastu Shastra. Later all the residents realized and most interested for the best Vaasthu consultancy services. For them still, some vastu gurus are continuing their Vastu consultation in Goa.
Useful Vastu Tips For Goa State Residents
Northeast facing house vastu, some says that buying the Northeast facing plot or house is excellent, is it true. This link has some facts on NE homes.
East facing house vastu what is the value of east direction in Vastu Shastra, this link has some information. Drive into the vastu library, SubhaVaastu.com to know more facts of this tremendous science.
Some thought that West facing house vastu is not good. When we look into this link, then we can understand what precautions we need to take when buying the West facing homes.
We can find many trees in Goa, very huge trees also very common in Goa. God blessed the land. Trees are extremely very good for humans. Trees provide us peace, standard life etc. Please read more information on Trees and Vastu link.
Where there is more greenery, there should be positive forces stays more time. Trees mean living objects, every living object has its own power to make the land more positive to live. Particularly greenery makes the land more positive. Keep it in mind. Kept some space of your land to plant trees and greenery. If you are rich then please contact landscaping companies to make the land more attractive with greenery.
If trees are totally occupied at East direction, then don't cut them. Please plant more trees ta West direction including Southwest too.
If there is more trees at East direction then dig one water storage sump at Northeast corner. Swimming Pool at east direction is also an excellent idea.
Villas are common in Goa. When buying the Villa, please make sure that it should not have bad Street Focus, for example, Eastern Southeast Street Focus or Northwest Street Focus etc. Bad street focus ruins inhabitants peaceful life.
Water bodies towards West may not be giving good results.
Lakes or water storage sumps at South may damage health and wealth.
After having excellent experiences with Goa people and their kind heart, we would like to provide total free online vastu services from 10th of April to 25th of April 2018.
Anyone from Goa can utilize these free vastu services, but they should provide this promo code at their email subject, otherwise, we never entertain their emails. Promo code is: "Good People", please note that if anybody needs free vastu consultation then they should provide this promo code.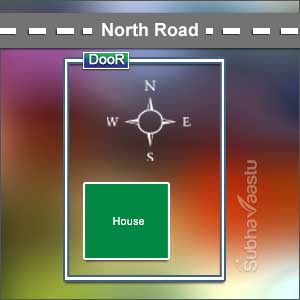 "Some residents asking a question like "we followed all vastu principles to our home, but we are not getting any expected results further we are facing some problems." Please observe this image, the house is constructed in very good position.
It has very good North opening area, having good East opening space. But the main entrance gate is at Northwest of North. This could damage all the efforts of the residents, they has to fight for the good and peaceful life.
When they change the main entrance gate from Northwest North to Northeast then their problems will solve and they will see many changes in their life. It's simple process indeed.
When the property costs crossed 75 lac rupees, then residents should not check the vastu pandits fee. They should go with one of the top famous vastu guru only. We thought that this is the right place where Mr. John troubled in his family while he was in Bahrain.
Mr. John is a very systematic and came from a reputed family. His mother is so lovable women and always wish to help others who are in need. Mr. John joined in a company in the year 20011. He married a girl in the year 2015 August 1st. After his vacation, he wish to join the office on 27th August 2015.
Mother likes to extend their home, it is in the process of thinking. Mr. John left home on 27th August 2015. He has a lot of worries about how wife treats his mother because mother is the only one to be saved. His wife is moderate. She likes to stay alone with her husband.
Mr. John observed and left Bahrain thinking about his wife's thoughts. Actually, he is worried and daily calling to his mother and asking about his wife's moments in the home.
Already troubles started in the home. Wife ill-treating mother, she never cares mother, she treated mother like a worm in the home. But mother never told anything to Mr. John.
Mr. John asked one of his friend David who is a civil Engineer in Goa. They planned for the house extension. John returned to India in the month of January 2016. He contacted one vastu consultant in Delhi, and later contacted another top vastu consultant in kolkata, and discussed a lot with one famous vastu consultant in Chennai.
Actually Mr. John never cares about Vastu fee, because he likes his mother, he needs his mother should live happily. He thought that only top vastu consultants are available in metropolitan cities. He spent a lot of money on this vastu and finally prepared the Vastu House Plan with one vastu pandit which he came from a long distance.
He arranged Consultant stay at Grand Hyatt hotel for total 3 days. Not compromised on anything. Started house construction and he wish everything should be 100% successful. He installed 3 cameras, one in the family room, kitchen and entrance only, both family members don't know about this, he needs to keep it secret. Later he back to job in the month of March 2016.
Wife went to her parents home for 10 days and came back.
Things going on, Mr. John is not feel convenient in his job. He got smell some thing going wrong in his home, he feels that his mother is not happy in that home. But mother never say anything wrong with his wife nature.
When wife came back, Mr. John carefully observing how his wife moments are. Mother only serving wife, she is sitting in the family room, watching TV and enjoying the time. Mother serving food, and beverages. Wife never enters into the kitchen. Exactly at that time he called his wife to check, while in the discussion, she is serving food to mother. He observed everything, fact was came out. He wish to settle this matter.
After one hour, wife went to her bedroom, he called mother and asked about, how is daughter-in-law. She said all is OK, she is very good, he asked what about her servings, she says every thing is perfectly OK. He understands that mother never wish to say anything wrong about daughter-in-law.
He understood the entire situation. Within one week, all things were clear to him. He tried to bring his wife to his place. She postponed. On next Friday which is holiday to Mr. John, he observed some thing fishy in his home. He was so worried and calling his mother and wife several times. At about 3 p.m, his mother sleeping at family room sofa.
Slowly wife came and thrown mother onto the floor. The scene was clearly seen in the camera. Mother hospitalized for 30 days, her back was damaged. But she never complained on her daughter-in-law, though she knows what happened. She needs her son should live happily. That is the nature of a real Mother.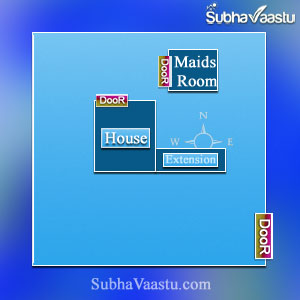 The house extension shown in this image, the maids room is also shown in the image. The main entrance gate, maids room and Southeast extensions are the new developments in this home.
Previuosly the main gate is towards Northeast-east and there is no any Southeast extension and maids room is at Northwest corner. Though the maids room is smaller one, for understand purpose we shown it as big here. There is no any mistake of Mr. John here, because he searched only for the best out of availability in the market. But he selected the wrong person. It makes him sleepless nights.
Southeast extension to a property makes the residents taking the wrong decisions, quarrels, evil thoughts, criminal mentality, decision against the authority (here mother).
Southeast-east main entrance always giving the sorrows in the home, it make residents tensions, wrong thoughts etc.
Northeast outhouse creates overall troubles to the residents.
Door towards Northern Northwest makes ladies into troubles and other troubles.
Further, there are some more mistakes in the home which makes the residents to act like such. After correcting the home, things were so better. Wife also went with John and both were visiting Goa for every 4 weeks. Staying 4 weeks in Goa and again joining the duty. They are happy now.
Goa Information:
Goa is an Indian state located in the Southwestern part of the country. It is the smallest state of India in terms of area. Having cultural heritage, beautiful shorelines, historical buildings, and rich biodiversity, Goa attracts a number of local and foreign tourists.
The state is bordered by the other Indian states of Maharashtra towards the North and Karnataka towards the East. The state has also highest GDP among all the other Indian states. Goa remained Portuguese overseas territory for over 450 years but was reclaimed and taken by India in 1961. Vasco da Gama is the largest city in the state while Panaji is the capital.
Goa is one of the place which traces of the earliest humans can be found. Rock engravings and other un-earthed tools show that one the earliest human cycle was started here. Later, it was also home to many ancient civilizations and empires.
The area was under the reign of local dynasties for thousands of years until it came under the rule of Delhi Sultanate. But the Delhi Sultanate failed to maintain permanent rule and was later forced out of the area. In 1510, the local ruler of the area was defeated by Portuguese and maintained permanent settlement which lasted for over 450 years.
After the Sub-continent got its independence from British, India requested Portuguese to handover Goa to India but was turned down. But the India government used the power of Army and took Goa from Portuguese hands. From then Goa is an Indian state.
Goa has an extensive coastline and has beautiful beaches, tourist resorts, and colonial architecture. Homes are visible everywhere after leaving the city or town too. We can see Farm Houses and Villas in many places in this state.
There are number of old churches built by the Portuguese during their reign. The state also features a number of rivers, hills, and forests. The state has also number of islands. The area falls under the tropical zone and has a tropical climate.
There are also number of wildlife parks and sanctuaries. Number of wildlife animals like wild boars, foxes, bird species, etc. can be found in the forests.
Goa has the highest GDP and has the richest economy among all the Indian States. The main backbone of the economy is tourism. A number of tourists from all over the world visit the state annually. Some of our clients from Assam, Bengal, Gujarat and Rajasthan also visiting Goa, yearly.
In addition, there are also number of Agricultural and Industrial products. As the area is rich in soil, it is suitable for growth of number of crops. Rice plantation is also common in the rural areas of Goa. Other agricultural products include coconut, cashew, mango, jackfruit, pineapple, and fishing. Industrial products include fertilizers, footwear, chemicals, etc.
According to census conducted in 2011, Hinduism accounts for 66% of the total population followed by Christianity (25%) and Islam (8.33%).
Minority religions include Sikhism, Buddhism, and Jainism. Konkani is most widely spoken language and is also declared the official language of the state. Konkani is spoken by about 61% of the total population. Other languages include Marathi (23%), Kannada, Hindi, and Urdu.
Due to Portuguese rule for more than 450 years, the culture of Goa is a hybrid of Eastern and Western cultures.
A number of western architect designs like Churches, Bungalows and Office building can be seen throughout the state. Famous festivals are Diwali, Christmas, Eid, Easter, Dasara, etc.
Important Key Points of Goa State
Goa State Capital: Panaji
Area 3,702 km²
Districts 2
Population 31,205,576 (2011 census)
Literacy 92.65
Language Konkani, Marathi, Kannada, Hindi
Main Crops Rice, Mangoes, Jackfruit, Fruits, Cashew, Pineapple, Coconut
State Bird Yellow-throated bulbul
State Animal Gaur
State Tree Terminalia elliptica
Popular Rivers Mandovi River, Zuari River, Sal River, Chapora River, Terekhol River, Mapusa River
Spiritual Places Basilica Of Bom Jesus, Shantadurga Temple, Rachel Seminary, Safa Shahouri Masjid, Shree Mangueshi Temple, The Mahalsa Temple, SE Cathedral, Mahadeva Temple, Brahma Temple
Important Cities Panaji, Margao, Vasco da Gama, Mapusa, Ponda, Old Goa, Mormugao, Calangute, Anjuna, Canacona, Baga, Candolim, Benaulim, Colva, Bardez, Salcete, Dabolim, Arambol, Bambolim, Varca, Cavelossim
Border States Maharashtra, Karnataka
Tourist Attractions Dudhsagar Falls, Fort Aguada, Bondla Wildlife Sanctuary, Museum of Christian Art, Big Foot Goa, Ancestral Goa, Wax World Museum, Kerkar Art Complex, Church of St Cajetan
Goa Location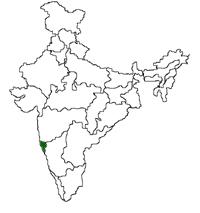 Goa Map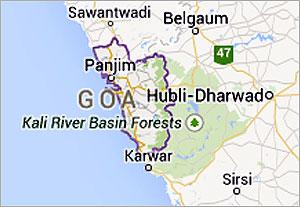 Desktop Wallpaper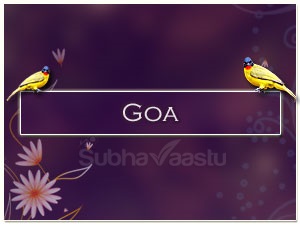 Mobile Wallpaper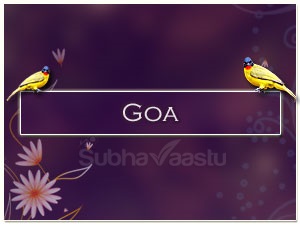 List of Goa Districts
Important Beaches in Goa State :
Beaches in Northern Goa
Anjuna

Arambol

Baga

Bambolim

Calangute

Candolim

Chapora

Dona Paula

Miramar

Morjim

Sinquerim

Vagator
Beaches in Southern Goa
Agonda

Benaulim

Bogmalo

Canaguinim

Cavelossim

Colva

Majorda

Mobor

Palolem
Towns and places in Goa
Agacaim

Anmod

Aquem

Arambol

Baga

Bambolim

Bandora

Batim

Benaulim

Betul

Bicholim

Borda

Borim

Calapor

Campal

Canacona

Candolim

Carapur

Cavelossim

Chaudi

Chimbel

Colvale

Comba

Cumbarjua

Cuncolim

Curchorem

Curdi

Curti

Curtorim

Davorlim

Dramapur

Farmagudi

Fatorda

Goa Velha

Gogol

Guirim

Kasarpal

Khandepar

Khandola

Loutolim

Madkai

Mapusa

Mardol

Margao

Mashel

Mobor

Mormugao

Netravali

Nuvem

Old Goa

Pale

Panaji

Parcem

Patradevi

Penha de Franca

Pernem

Ponda

Porvorim

Quepem

Queula

Raia

Reis Magos

Ribandar

Rivona

Saligao

Sancoale

Sanguem

Sanquelim

Sanvordem

Sao Jose de Areal

Savoi Verem

Socorro

Taleigao

Valpoi

Varca

Vasco da Gama

Verna
Major cities in Goa:
Panaji : Its the state capital city and headquarters of North Goa District, only 33 kms from Margoa and its also called "Land that never floods" located on southern bank of the Mandovi river, it has major constructions or mansions which are from remnants of Portuguese era.
Mapusa: Only 13 kms from Panaji, this city is famous for weekly market running every Friday, on this day many villagers visiting city and buying or selling things.
Margao: Headquarters of South Goa, Margao is an important commercial hub in Goa state. It has one of the famous railway station Madgaon and located outskirts of the Margoa.
Vasco: This is only 30 kms far from state capital city Panaji. Vasco city is a port city that occupies around Mormugao harbor, this city has beautiful and extensive mansions and avenues.
Ponda: Its located only 29 kms from Panaji the state capital city. It's a small town and famous for temples such as the Shanta Durga, Mahalaxmi, Mangueshi, Nageshi, Ramnathi, Navadurga temple and has one of the oldest mosques here.
Vastu Testimonials Delivered By Respected Residents
Dear Suresh, I am pleased to inform you that like the way you provided consultation for my home and explained to me all the changes required inside and outside home. I really appreciate the diagrams that you prepared for my home with pictures and arrows showing the changes need to be done. Above all, you explained very well the reasons behind changes you recommended for my home with great clarity and sense of humor. No doubt in my mind, you are the best Vastu expert, I really appreciate your dedication by building and maintaining a very informative website that is helping thousands of people across the globe. Also, I sensed when I talk to you and when I was dealing with you, you follow honesty and integrity and you have a sincere desire to help others - Kotesware Rao - Dallas - USA
We are tech professionals and working in USA. After a year long search we brought the house. After buying the house I started looking for consultant who can help me evaluating the house. I came across Subhavaastu website which has lot of information. I contacted Mr.Suresh and requested him to help with our house vastu. It has been an incredible delight working with him.. He is very detailed oriented person and never compromises with his work. I am typically not interested to deliver the reviews. But after working with Mr. Suresh I decided to share my experience. Mr. Suresh has great expertise in providing vastu consultation to USA property. He is always available through email and phone l to answer questions. I am writing this review hoping it will help other people like me who lives in abroad. Please take advise before buying the house. I highly recommend Mr. Suresh as he has great experience with structure of USA properties and also he provides genuine consultation. I really appreciate Mr. Suresh's help in evaluating our house - Padma - Boston - USA
"I contacted Sureshji to consult on our current home. He was spot on in identifying vastu dosha in regards to the problems we were having. He suggested remedies but we are still looking for a new house. Since then I have been in touch with him for finding a right home for us. He is very sincere and truly wishes better lives for everyone. He doesn't compromise with quality and is always responsive to queries. He recommends solutions as per location as Vastu rules differ for each country. He is greatly contributing to the society with his knowledge of Vastu and dedication towards his work. Keep up the good work Sureshji and wish you success and happiness!" - Megha - Virginia - USA
I have consulted Suresh Garu during December 2014 during the process of buying a house in Texas, USA. I have occupied the house for one year now, and feel like dropping a review regarding my experience during the entire process. I am very much satisfied with the kind of service I received from him. He is very knowledgeable and I was often stunned by his detailed analysis during the course of my interaction with him. He was very much accessible over phone (perhaps more than 10 times for one house plan!) and the price is very much reasonable especially compared with the cost of the house. I noticed his burning desire to help me in making informed decisions on certain things. I have seen some people pretending to know this subject and misguiding those who come for help by saying only what we want to hear. SubhaVaastu is definitely not that one. Finally, I am strong believer of leaving certain things to experts in those subjects. I have been in US for more than 13 years and have seen people doing their own corrections (by reading website articles) trying to save few dollars. Please don't do that. You would end up in causing more damage. I highly recommend you to engage SubhaVaastu in your next project - Satish - Dallas - TX - USA
Inspirational Quotations
"There are three things in the make-up of man. There is a Body, there is the mind and there is the soul." - Swami Vivekananda.
---
---
"Great Personalities speak about thoughts. 'Average Person' talk about occassions. 'Narrow Minded' gossip about others." ― Eleanor Roosevelt . . . Let you question yourself, "Who You Are, either 'Great Personality', 'Average Person' or 'Narrow Minded' ?
Joke Of the Day
"A book was released and the cover name is "How to change your WIFE", and within ONE week, "25 MILLION" copies were sold. The publishers found a mistake in the title, actually, it should be "How to change your LIFE", when publishers corrected and released the new book into the market. The first month's sales were 3 copies".
Follow us on Social Media