Details

This Page Hits:64817
Quarrel and Vastu Help to Prevent Clashes
Quarrels | Disputes | Rivalry | Enmity at House and Vastu Help to Prevent: Why quarrels raise at house or outside, because of ones idea may not be suitable to others or needs of other one;s things. If the house is not suitable according to Vastu Shastra then quarrels may arise easily and disputes never stop.
Some times unsolved problems may also rise, so be cautious while taking a home and check its complete House vastu. If the Agneya (Read more info through Southeast homes vastu explanation) or Vayavya (learn complete guidance on Northwest faced homes) are projected at house or doors at agneya corners then problems and quarrels are almost continued. Another point is Truncation of Northeast is also creating several problems, hence check the NE cut while taking a home.
Some residents making a severe mistake that they alone taking the decision and buying the Homes with their limited Vastu knowledge. They know some Vaasthu principles, they thought such Vastu Tips helps them to complete the purchase consideration.
They even lost 1% of their investment in the name of Vastu, hence approaching an Vastu expert is highly recommended and and obtaining Vaastu guidance from themonly. Please note that all Vasthu people are genuine and honest in their work.
Residents have to find only genuine people. Don't see Vastu Pandits payments, choose only the best out of available, don't choose by comparing their charges. It is not easy to find the facts of the properties and providing the complete vastu remedies. It is hard to find the facts of the properties, only genuine people can able to find.
Southeast Extension Causing Disputes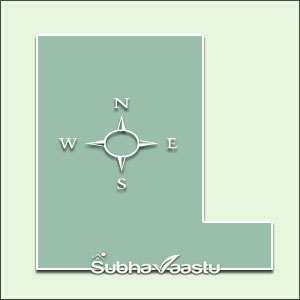 Some of our elders say the negative forces may create disputes in relations. In this image the Eastern Southeast is extended, this ESE extension may create disturbances in between the family members in the homes. Rarely this may also possible to happen like, loss of progeny with this ESE extension and this property may become "Sthreedhan". This means the loss of males. This may happen based on other combination effects in the home including this extension.
Northwest Road Thrust May Create Disputes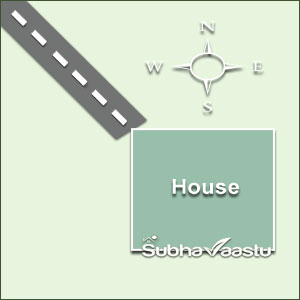 This home has a Northwest street thrust and this Northwest street focus may create disputes in the home or property. Normally, this road focus may trouble the residents with unnecessary quarrels and disputes with outsiders or family members too. There may be a possibility of visiting the police station or courts, etc.
Eastern Southeast Main Door Causing Disputes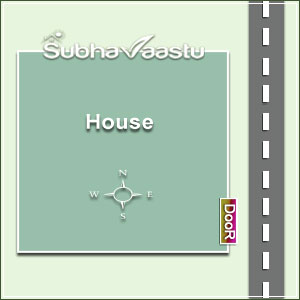 In this image the main entrance door located at Easetrn Southeast direction, this may also create many disputes in the housemates or outsiders, it results in loss due to gullibility, attitude may be fraudulent, mutual bickering between the couple in the family and unnecessary clamor for silly and frivolous things. Maintaining peace is difficult in the house, but differences, it's effortless to start.
Northwest Water Sump May Create Arguments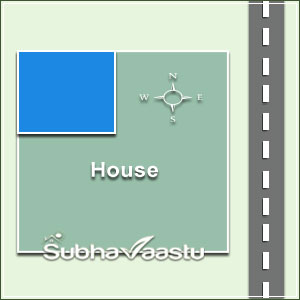 Rarely the Northwest deep water Sump may also create arguments in the home or with outsiders. Generally, the Northwest water sump may affect on financial matters, so disputes with financial institutions or agents or unrest may create arguments in the home. In some houses there are water sumps, wells, storage tanks, or underground rooms that may be allocated towards Northwest areas, in those areas, there is are chances for unnecessary arguments or disputes.
Lack of Open Spce Towards North Direction May Create Arguments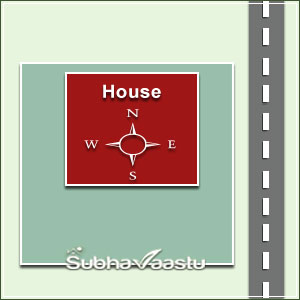 If there is heavy open space towards South direction than the open space at North direction, then there is a possibility of getting litigation with arguments. This feature may also create money losses and sometimes there is a possibility of constant Health disorders in the home. In some properties, it is clear that disputes arise and losing money with many family internal quarrels. If this property may have a door towards Southwest then the problems will become extensive and financial losses and severe health disorders may also be possible.
Eastern Southeast Street Thrust May Create Disputes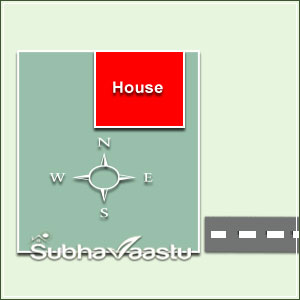 House that constructed right on the North direction boundary wall and having Eastern Southeast road thrust and entrance door may be towards Eastern Southeast, then litigations may common and no satisfactory work for males and maybe some of their properties are in judicial proceedings. Money maybe very tight for these property residents, most of the money will go immediately from the house when compared with savings.
Close relations may become rivals in this house. In several cases the financial institutions may send notices to these inhabitants, and unnecessary disputes with friends or relations may also be common. For outsiders, the family members seem to be very close and had affection, but inside they may be like enemies. For silly reasons, wife and husband may start arguing with each other in this type of home.
Entire House Construction Right Away on East Direction May Raise Disputes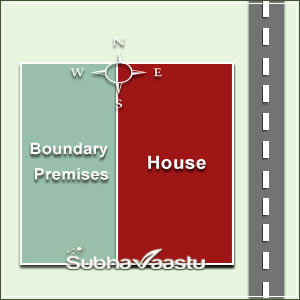 Male become female in some properties, i.e., the males may always degraded for simple reasons. A house constructed right from East direction boundary wall and heavy open space towards West direction, this feature may degrade the males in the home and may create unnecessary arguments for silly reasons. A few times the males have struggled for their livelihood in such homes. They got unseen enemies and may have a bad name in their friend's circle also. The enemies may act as friends.
Entire House Construction Right Away on North Direction May Raise Arguments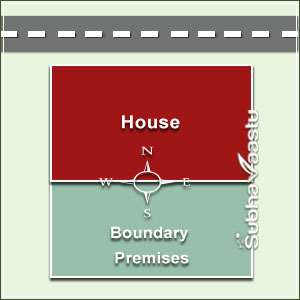 The home atmosphere may suddenly changes with simple and easy go things. For silly reasons the males may get angry on females and may raise their voice on female members and that lead to unsolved disputes and always quarrel with each other and the continuation of arguments may also be possible. In addition with if there is an ESE door then disputes may common and female dominance is generally possible at home and male members will be avoided to come to the house regularly, the husband may use to visit their friend's properties or temples or bars, etc to avoid hearing of bad words by his wife.
In addition, if there may be a water sump or water well towards Southwest or west and having a Southeast Street Focus to the home, then daily a movie runs in this house and neighborhood residents may hear bad happenings from this home, sometimes severe bad news may also be ready to the relations of the male residents, some times all relation may also attend for the . . . funer. . . ?
Having Both Northwest Door and Southeast Door May Create Disputes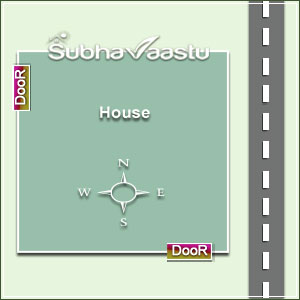 What is wrong with this house, everything seems to be alright. But this home has a Western Northwest door and a Southern Southeast door, normally both doors are auspicious and provide quality results to the residents. If a home has both doors then issues may arise. With this both doors rivalries among the inhabitants may common and some times it may become theft or robberies in the house if the main entrance door is towards eastern Southeast.
House Extension Towards Southeast May Also Create Disputes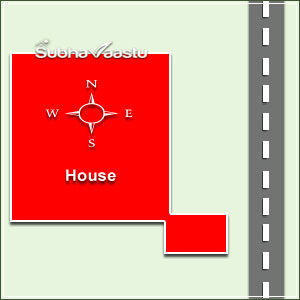 If a property is directly or angularly extended towards Southeast it may became always rivalries, disputes (strife, altercation, wrangle, contention, bicker, brawl), litigation, court cases, fire accidents, thefts, loss of peace, loss of money, arguments with friends, bad name, education disturb, character loss, etc may be possible to happen. Normally the male members of the family may get angry on other family members or shout at laborers, etc. Angular Southeast extension is not a good symptom for healthy living.
House Construction Right Away on Northeast Corner May Create Unrest
House constructed right away from Northeast corner by leaving huge space towards Southwest, West, and South may create arguments in between the family members. This could be a cause for the unrest in the home for several reasons. Sometimes the spouse may also become archrivals and kids may become sick and vile. Normally, the inhabitants of this home may most likely be self-pity and always look for others' pity words or may depend on others for moral support.
For silly reasons the family members may argue with each other and wantonly raise their voices and like to leave the home. Normally, this home may create arguments in between wife and husband. Sometimes there may be arguments in between father and son.
Southeast Water Well May Also Cause for Disputes
If there is any water well or water sump towards the Southeast direction of a property then there is a chance for disputes among family members or with outsiders and it may also create health disorders. Residents may engage in a disagreeable argument, usually over a trivial matter or wrangle or squabble. The remedy to solve this issue is to close this water well or create a huge water sump in the Northeast direction and divert water to this NE sump first and then only use this water to nullify the SE water well.
Depression Towards Southeast May Also Create Disputes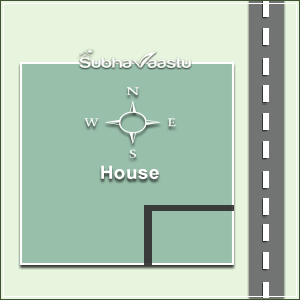 The Southeast part of the house should be lower than the Southwest and elevated than the Northeast and equal floor level with Northwest or little heighten than it, is a healthy feature for a property. If the Southeast quadrant floor is lower than all the other directions then there maybe a chance for the origin of disputes. It may also create many other irregularities like fire accidents, enmity, sudden angriness for silly things, etc.
Southwest Floor Depression May Also Create Irregularities in the Home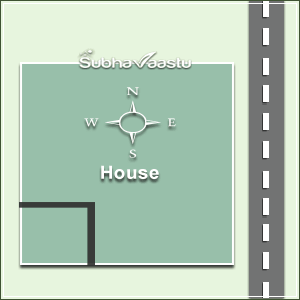 A water sump towards Southwest or less elevated than the Northeast and water flowing from Northeast to Southwest that means the ground is sloppy towards Southwest may become stubborn attitude and enmity in between members of the property. Finally, they lost most of the valuables including time. Water sumps towards Southwest also bring many other disorders into the house, that our subject is only disputes or quarrels. This Southwest floor depression may also create noise in the house.
Southwest Extension May Create Unnecessary Litigations and Arguments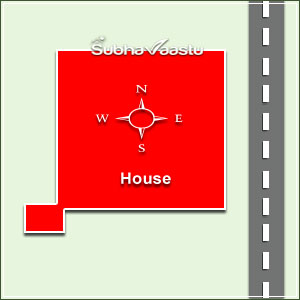 If there is projection or extension towards Southwest direction, then there is a possibility of increasing enmity, disputes etc, but there is also a chance to raise debts and court litigation etc. Normally, the Southwest extension is not a quality feature. Approaching one expert in this regard may solve the issues. Residents should maintain calm when uncertainty house Vastu positions. The elder son may be blamed in such kinds of homes.
Southeast Master Bedroom May Create Arguments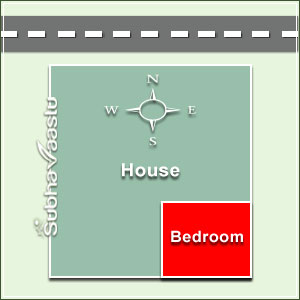 Maybe a few times the Southeast master bedroom may create arguments in between the family members or arguments in between the wife and husband. Or it may create disturbances in the peaceful climate in between son and father, etc, if the home has a Northern Northwest entrance or does not have a good east open space. Our subject is quarrels or arguments with ill effects of Vastu not the exact results with MBR at SE.
Is All Northwest Master Bedrooms Create Quarrels?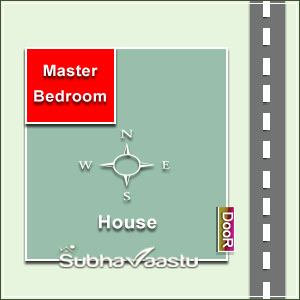 No, not all the Northwest master bedrooms causing quarrels or arguments in the home. Only a few homes that have a Northwest master bedroom and having Eastern Southeast main entrance door may create some arguments between the family members in the home. Or it may create some disturbances with others. If the master bedroom has an Eastern Northeast door, then ascertain easy go in the home.
Is All Northeast Cornered Rooms Create Arguments in the Home?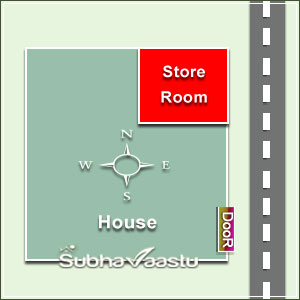 Some homes may have Northeast cornered storerooms that the inhabitants never open for regular usage, it means this room is almost locked 24X7 and along with, the Eastern Southeast door combination then there may be chances of quarrels in the home. Most of the time the residents are unrest and lase night sleeping or sudden wake up at 2 or 3 a.m and may not get sleep later and the entire day they may feel drowsy. Several residents may feel fatigued all day time.
What Are The Possible Vastu Remedies to Stop Quarrels
1. Usually, Northeast doors may stop the arguments in the home. It woke up the common sense or discriminatory knowledge and the inhabitants may be aware of what they are doing and they themselves stop the arguments.
2. Normally, the Northeast doors may stop the arguments in the home. It woke up the common sense or discriminatory knowledge and the inhabitants may be aware what they are doing and they themselves stop the arguments.
3. Use the Southwest master bedroom to full stop the fighting.
4. Minimise frequent usage of Northwest and Southeast walks, this may also stop fightings.
5. Playing Hanuman Chalisa in the home may also create peace. The negativity went away if there is loop chanting.
6. Keeping drinking water in a small bowl at Northeast may also cease arguments.
7. Invite one expert, he will find the actual facts and will guide you further what are the best remedies. This is a good & safe idea.
Dear visitors, we have tried our level best to submit information in this page, in this link we are discussing about rivalry, enmity, disputes, quarrels, etc. On the same way some other disorders may also arise in the property with ill Vastu effects, maximum we tried our level best to publish such information here, if something is missing here, let us know we will publish the same. "Manava Seve Madhava Seva". Serve humanity, God Loves You.
Ramaraju Experience - Vijayawada - Andhra Pradesh
Subhavaastu team, recently I visited your website, found useful information here. 2 years back I bought one house in Vijayawada city, Before buying the property my uncle who is working in a shipyard in Visakhapatnam requested me to take a recommendation from one of the best Vastu expert in Visakhapatnam, due to financial constraints, I did not afford their charges on those days. Via media, I got some suggestions from one of the top Vastu consultant in Vijayawada. Two years back I stepped into the house, and within a very short period of stay, I have seen untold miserable regular issues in this premises, particularly suffered a lot with health disorders, financial struggles, unnecessary quarrels with others, heavy arguments within wife and husband and finally lost peace of mind. After showing to another expert, he said that the house got heavy Naradrushti and need to install Masthya yantra. Let me know please, is Masthya yantra solve all the inner Vasthu defects in the home as said by the Vastu pandit. can I get relief from these problems with Masthya Yantra. I searched your website, I did not find anywhere about yantras, your guidance is highly appreciated.
Vastu Testimonials Delivered By Respected Residents
Dear Suresh, I am pleased to inform you that like the way you provided consultation for my home and explained to me all the changes required inside and outside home. I really appreciate the diagrams that you prepared for my home with pictures and arrows showing the changes need to be done. Above all, you explained very well the reasons behind changes you recommended for my home with great clarity and sense of humor. No doubt in my mind, you are the best Vastu expert, I really appreciate your dedication by building and maintaining a very informative website that is helping thousands of people across the globe. Also, I sensed when I talk to you and when I was dealing with you, you follow honesty and integrity and you have a sincere desire to help others - Kotesware Rao - Dallas - USA
We are tech professionals and working in USA. After a year long search we brought the house. After buying the house I started looking for consultant who can help me evaluating the house. I came across Subhavaastu website which has lot of information. I contacted Mr.Suresh and requested him to help with our house vastu. It has been an incredible delight working with him.. He is very detailed oriented person and never compromises with his work. I am typically not interested to deliver the reviews. But after working with Mr. Suresh I decided to share my experience. Mr. Suresh has great expertise in providing vastu consultation to USA property. He is always available through email and phone l to answer questions. I am writing this review hoping it will help other people like me who lives in abroad. Please take advise before buying the house. I highly recommend Mr. Suresh as he has great experience with structure of USA properties and also he provides genuine consultation. I really appreciate Mr. Suresh's help in evaluating our house - Padma - Boston - USA
"I contacted Sureshji to consult on our current home. He was spot on in identifying vastu dosha in regards to the problems we were having. He suggested remedies but we are still looking for a new house. Since then I have been in touch with him for finding a right home for us. He is very sincere and truly wishes better lives for everyone. He doesn't compromise with quality and is always responsive to queries. He recommends solutions as per location as Vastu rules differ for each country. He is greatly contributing to the society with his knowledge of Vastu and dedication towards his work. Keep up the good work Sureshji and wish you success and happiness!" - Megha - Virginia - USA
I have consulted Suresh Garu during December 2014 during the process of buying a house in Texas, USA. I have occupied the house for one year now, and feel like dropping a review regarding my experience during the entire process. I am very much satisfied with the kind of service I received from him. He is very knowledgeable and I was often stunned by his detailed analysis during the course of my interaction with him. He was very much accessible over phone (perhaps more than 10 times for one house plan!) and the price is very much reasonable especially compared with the cost of the house. I noticed his burning desire to help me in making informed decisions on certain things. I have seen some people pretending to know this subject and misguiding those who come for help by saying only what we want to hear. SubhaVaastu is definitely not that one. Finally, I am strong believer of leaving certain things to experts in those subjects. I have been in US for more than 13 years and have seen people doing their own corrections (by reading website articles) trying to save few dollars. Please don't do that. You would end up in causing more damage. I highly recommend you to engage SubhaVaastu in your next project - Satish - Dallas - TX - USA
Inspirational Quotations
"There are three things in the make-up of man. There is a Body, there is the mind and there is the soul." - Swami Vivekananda.
---
---
"Great Personalities speak about thoughts. 'Average Person' talk about occassions. 'Narrow Minded' gossip about others." ― Eleanor Roosevelt . . . Let you question yourself, "Who You Are, either 'Great Personality', 'Average Person' or 'Narrow Minded' ?
Joke Of the Day
"A book was released and the cover name is "How to change your WIFE", and within ONE week, "25 MILLION" copies were sold. The publishers found a mistake in the title, actually, it should be "How to change your LIFE", when publishers corrected and released the new book into the market. The first month's sales were 3 copies".
Follow us on Social Media