Details

This Page Hits:13413
Vastu Shastra for Divorce, Legal dissolution of marriage | SubhaVaastu.com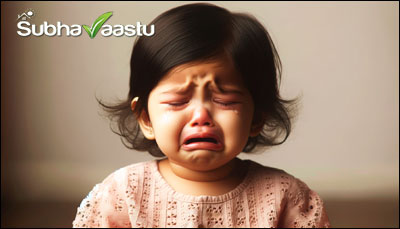 Vastu Shastra for Divorce Cases | How to Protect your Children : Before taking the divorce or dissolution of a legal marriage or marriage termination think about kids. It may cause your children golden future in dilemma. Your children may feel insecure in the future, please note that insecure is nothing but killing of your boy/girl life. Insecurity is a very dangerous feeling, that no body has to face such worst experience. Don't make insecurity feelings to your dearest child. Your child doesn't know any thing about elders games, but your child lost a lots of sweet memories only because of due to your decisions.
For your kind information, this image is for your understanding purpose. Please see this crying baby image again and again, might your child may be in this image position in future if you take divorce or dissolute your legal wedding marriage. Stop thinking on taking divorce. Understanding, the adjustment is the only key for the life to have your kids future safe. You might not know that most of the families in the world may suffers with many differences, but we never know of such instances.
We surprised about the below questions asked by many couples. Previously people asking about how to buy the good plot, which plot is good, can we buy this home, can we buy that home etc. But now, we are getting huge calls for the divorce problems, misunderstandings in the family life, extra marital contacts of their husband etc. How shameful it is.
vastu tips for lost love
vastu shastra for romance
vastu for better relationship
vastu shastra to attract love
remedies for extra marital affairs
how to overcome extramarital affairs
mantra to stop husband from cheating
remedies for husband extramarital affairs
remedies for husband extra marital affairs
Vaastu Tips to avoid Extra Marital contacts
Vaastu Tips to avoid Extra Marital contacts
remedies to stop extra-marital affairs of wife
mantra to stop extra marital affairs of husband
how to get rid of extra marital affairs of husband
astrological remedies for extra marital problems
astrological remedies for extra marital problems
vashikaran for husband to leave extramarital affairs
astro remedies for how end the husband illegal affairs
In every family life there may be some differences in between wife and husband, is everybody is taking divorce. No, not at all, they are adjusting with their spouse. Why because they are human beings. Hope this word is max enough for your shameful decision. If you love your kids then don't take divorce. Another thing if you don't have kids, then that is your interest to live with your spouse or to take a divorce.
If you have children there is no materialistic moral right to take divorce. Here www.subhavaastu.com vision is everybody has to enjoy with their families, that is the reason we publish bundles of articles on free of cost. We spent lacs of Indian Rupees to develop this website for social/people safety cause. We never asked any donations from the visitors or from any other, to develop this website we are saving every rupee/dollar. We are doing social service.
If you are happy, your family will be happy. All of your family members will be happy and there is a great chance to have good ideas for the development. Improvement never came if there is no happy. Don't fight in the home, if there is a necessity to fight or argument, then go outside, very long distance areas and fight there. Don't fight before your kids. Some families may take divorce by having silly reasons, some body may take amorous reasons or amative cause, some thing that we may not come out with facts, every family may has many problems, no body is taking divorce, if so who will enjoy family life, first develop adjustability with your partner. Shortly we are planning to publish some interesting facts of some families here. By reading such facts you may not believe, it was happens in our society. For example: In Mumbai we observed one family divorce, the reason is restaurant, yes only selecting the restaurant, the argument was reached to peak stages and it leads to divorce, shortly we will elaborate the instance, we never expose anybody name here.
Before taking any decision on your family life, better to wait for one or two months and discuss every thing with your very close and dearest friend and then only take the decision. Its a common fact that there should be differences in all families, but no body is coming out with their ill feelings, they are adjusting with each other and continue their duties. It is appreciated.
Due to some lack of Vastu support then Divorce may be happens, below are few examples. Not sure these are the only cause but these are the reasons for divorce.
1. If the house is having Southeast (Agneya) / Southeast Street Focus that may also be a reason for divorce.
2. If the house is facing towards Southeast that may also a reason for divorce and measurements are wrong as per Vastu skewed properties then divorce also happens in that home.
3. The entrance from Northwest towards North may also a reason for divorce.
4. The house projection / expansion towards Northwest may also a reason for divorce.
5. The Water Sump towards Agneya / Southeast part may also a reason for divorce.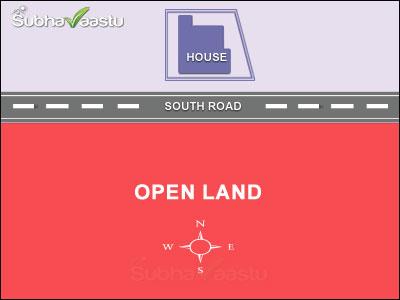 A property which is located near to Mangalore city, where there is a heavy open space towards South direction side and this House entire plot Southeast was extended and the house plinth area of Northwest and Southeast was extended or we may say like this as the Northeast was truncated, in this property there is total three brothers and out of them two brothers were married and they applied divorce and the younger brother was in love affair and he was in total confusion state, whether to go with marriage or not, in our visit we found many facts of the property. It was built in the year 2008 only, within 5 years they seen all bad results of the negative effects of that property.
Observe this below image, which was also discussed in "Love affairs" and vastu shastra help web link and how to prevent our children from this love devil.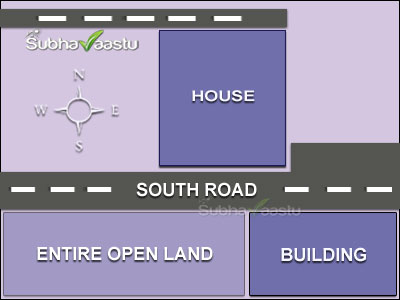 We found one house in Guntur District, this house East wall is not exactly straight, little bent/tilted towards West direction, due to this Northeast was slightly truncated, one road is hitting the house from Southeast-east, one small passage is towards North side to reach to one another road towards West side, total entire South and Southwest direction is totally vacant, nearly half kilometer there is no constructions, there is only one building towards Southeast after the road. In this house the kitchen was towards East. The living room which is at Southeast and Southwest were joined, there is no any wall in between these two Direction points. The resident is having total 4 daughters all were faced love affairs and run away from the house with their lovers, one after another girl within 3 years. The owner faced heavy problems in this house in the name of daughters love affairs, money matters, quarrels, defame and many more etc, he spent nearly 20 lac rupees for yantras, where ever we go in this house we found every where the yantras.
Many times we found issues were came from South and West directions, if there is buildings or some protection towards from South and West directions then the residents feel security and enjoying their life, otherwise they are loosing so many.
We found some thing doubt from the South direction vacancy areas causing heavily to the residents and more over the property should have Southwest and Northwest attachments. In this image, the Southwest and Northwest is continuously having walks, or both these two directions were touching simultaneously with residents act of traveling by foot. Here is no wall in between Southwest and Northwest, both directions are toughing together. By observing some factors we found that the Southwest and Northwest should not be touch each other, so residents may construct a wall in between these two directions or they may arrange one wooden partition with door at zenith place to prevent negative impacts.
If the house is having Southwest and Northwest touching/linking/continuously using, and further this property may have any South vacancy or too much open place, then residents lost so much of their loved one's or things. Particularly it may affect on money matters and confidence or it may damage marriage life too, most of the residents in such properties may get argued with each other, no peace in the home.
Some other factors may also damaging the family life in the house, below is also one of the shadow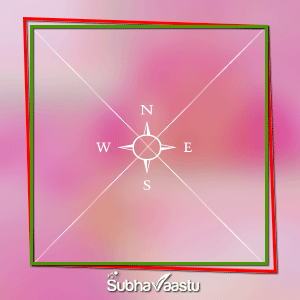 Please wait for 6 seconds here for the changes in this image. Red mark is the constructed house as the Northwest and Southeast extended, this extension may not found in general vastu consultancy, it may be found by only the experts who has accumulation of knowledge or skill that Vastu Results from direct participation in events or activities from many years in this same field. The green mark is the 90 degrees Construction. This may also a favorable combination of circumstances for the divorce. If the South including the Southwest is filled with any other properties then we may not say that this property may intentionally cause divorce. If the South or Southwest is vacant then there is a possibility.
Please note that some structure intentions may not be compulsory leads to the exact results but, chances are more for the negative consequence Influence may be magnitude increases.
Dear parents, we urge everybody that don't give money to your children, some parents are giving 100, 500, 1000 rupees for their children when they are asking only for 10 rupees.
You may remember that your parents were very rigid on those days and you want to be bold on your kids, please note that our elders are always right. We should not give more money to the children, in the future it may curse them with debts and defame in the society, they don't know the value when they got unexpected money from elders.
Please observe all of their activities, works, friends, where they are going, to whom they are talking, with whom they are going outside every thing should be carefully pursued, keen observation is required on your children.
They should compulsorily know the value of money and time. If you are not generous to your kids in terms of pocket money, then they will understand the value, please note that this experiment may be only upto 10th standard.
After 10th standard, if you are very rigid in sanctioning pocket money, there is a high chances of theft money from your pocket without your knowledge or they may ask money for the unnecessary cause or they search for the duplicate reasons to drag money.
Please share this para with your friends who are in touch with you. This is a off topic here, but why we raise this matter here is, just one month back i.e., March 2013, we heard a very sad news from one family, living in Mumbai. Mr. Shankar (name changed) fixed his daughter marriage in the month of 16th March, 2013 (date changed), on 15th his daughter ran away, all of the sudden shock, entire relation were searched and completely spending the time to locate for the bride. She was not available upto 8 p.m, at about 8:30 p.m she was found at Airport and forcibly shifted to the house.
The reason is nothing, she don't like marriage at an early age (at that moment her age is 21 years). While it is so at that time all the relation continuous indistinct sounds making judgement that
"she ran away with boy friend",
"she was already married",
"she was pregnant",
"this is second time",
"she was killed",
"she was no more",
"she escaped to Goa",
"fallen into well",
"forcible marriage with an instinct that to hide already married",
people showed cynicism, this is the life in the concrete jungle.
The honest fact is that, she does not have any boy friend, she never ran away with any body, just she left home only because she doesn't like marriage. Actually, she has to express everything to her parents. But she was not. This is all of childhood actions. She should not do such thing at this age of 21 years.
On that same day at about 10 p.m Mr. Shankar got heart attack. Finally, they left city and changed another town later. Now he told to one of our client about his entire history and particularly and personally insisting all of his friends and close relations not to pay a single rupee to kids. This is a very bad experience to the begets. Within one month after this incident, her mother was committed suicide and died after 20 hours fight in the hospital.
Most of the cases this is because of parents mistakes, here father giving her lots of money for her shopping, where ever she is going she has almost above Rs. 50,000/- in her pocket, is this necessary to provide such huge amount as Expenditure, how Kids knows the value of money and parents.
To make you alert, we published this information here.
Generally, South direction empty areas causing heavily to the residents and more over the property should have Southwest and Southeast attachments. In this image, the Southwest and Southeast is continuously having walks, or both these two Directions were touching gradual intimate by residents. This may also creates lots of Mother-in-law and daughter-in-law disputes may appears for a silly things and disagreed over some thing. Male has to suffer from these two giants. He may lost good impression from his mother and at the same time from his dulcinea.
Silly reasons spoiled the entire life.

Southeast and Northeast continuous walks, for example if there is a kitchen towards Southeast corner and Dining Room towards Northwest or Kitchen store room placement may also causing disturbance in family. In addition to this if there is a South vacancy then there is a chances for divorce, or high pitch of shouting, vociferous, vehement outcry in between family members, either it may be in between wife and husband or in between ladies of the family etc for example daughter-in-law and mother-in-law.
Vastu Testimonials From Respected Residents
Dear Suresh, I am pleased to inform you that like the way you provided consultation for my home and explained to me all the changes required inside and outside home. I really appreciate the diagrams that you prepared for my home with pictures and arrows showing the changes need to be done. Above all, you explained very well the reasons behind changes you recommended for my home with great clarity and sense of humor. No doubt in my mind, you are the best Vastu expert, I really appreciate your dedication by building and maintaining a very informative website that is helping thousands of people across the globe. Also, I sensed when I talk to you and when I was dealing with you, you follow honesty and integrity and you have a sincere desire to help others - Kotesware Rao - Dallas - USA
We are tech professionals and working in USA. After a year long search we brought the house. After buying the house I started looking for consultant who can help me evaluating the house. I came across Subhavaastu website which has lot of information. I contacted Mr.Suresh and requested him to help with our house vastu. It has been a great pleasure working with him. He is very detailed oriented person and never compromises with his work. I am typically not interested to deliver the reviews. But after working with Mr. Suresh I decided to share my experience. Mr. Suresh has great expertise in providing vastu consultation to USA property. He is always available through email and phone l to answer questions. I am writing this review hoping it will help other people like me who lives in abroad. Please take advise before buying the house. I highly recommend Mr. Suresh as he has great experience with structure of USA properties and also he provides genuine consultation. I really appreciate Mr. Suresh's help in evaluating our house - Padma - Boston - USA
Hello Sir, My name is Bharathi. Me and my husband have been reading your articles closely. We really appreciate the effort put by you to share your knowledge about vastu and it's effects - Bharathi - USA.
I have consulted Suresh Garu during December 2014 during the process of buying a house in Texas, USA. I have occupied the house for one year now, and feel like dropping a review regarding my experience during the entire process. I am very much satisfied with the kind of service I received from him. He is very knowledgeable and I was often stunned by his detailed analysis during the course of my interaction with him. He was very much accessible over phone (perhaps more than 10 times for one house plan!) and the price is very much reasonable especially compared with the cost of the house. I noticed his burning desire to help me in making informed decisions on certain things. I have seen some people pretending to know this subject and misguiding those who come for help by saying only what we want to hear. SubhaVaastu is definitely not that one. Finally, I am strong believer of leaving certain things to experts in those subjects. I have been in US for more than 13 years and have seen people doing their own corrections (by reading website articles) trying to save few dollars. Please don't do that. You would end up in causing more damage. I highly recommend you to engage SubhaVaastu in your next project - Satish - Dallas - TX - USA
Announcement
Free Personal Visit
There are very many people though keenly wish to avail vastu services are unable to do so, only due to financial limitations. In case if you have in your town/village a group of people . . . . For more details Free Vastu Services page.
Inspirational Quotations
"There is a fine line between perseverance and madness" - "Lynda Obst".
---
"Great minds discuss ideas. Average minds discuss events. Small minds discuss other people." ― Eleanor Roosevelt . . . Let you question yourself, "Who You Are"?
Joke Of the Day
A man was complaining to a railroad engineer.
What's the use of having a train schedule if the trains are always late.
The railroad engineer replied.
How would we know they were late, if we didn't have a schedule?