Details

This Link Hits: 232412
Vastu Shastra For Kitchen, placement of stove, sink and number of burners:
Vastu Shastra for Kitchen | Hearth | Stove : Placing of kitchen (Hearth, Oven, cuisine, cooking room, culinary, cookery area) forms an important factor in Vastu. Kitchen should always be at South East corner of the house or atleast to the North West corner of the house as a second best suitable place. Avoid placing the kitchen at the North East corner of the house which may lead to lost of unrest, quarrels, misunderstanding between the members of the house, unnecessary expenditure,(matter is from www.subhavaastu.com) Worries and tensions. It is also better to avoid kitchen at Southwest side. Otherwise, it is also likely to cause many difficulties and worries to the owner. To get the best out of Vaastu, it is always advisable to consult a Vaastu Expert before placing the kitchen or planning for the kitchen. Whichever direction the site might face, it is best to have the kitchen in the Southeast. (matter is from www.subhavaastu.com) The cooking stove should be placed in the Southeast and it should be lit facing the East. By doing so, the house owner's health and peace of mind increases. Give some importance to the kitchen in house construction, better to place an exhaust fan compulsory at kitchen. If your kitchen is having wide range of windows or heavy air flow, then exhaust fan may not be required. Sink also better to fitted towards Northeast corner of the kitchen. Several visitors raising so many questions on this sink. Some of the vaastu consultants says that if the sink has came towards any other direction except Northeast corner. In some rich houses there are gourmet, a fine connoisseur of good food and well drink, residents pleasure with epicure.
At no cost should the stove be lit facing the South or North. In a South facing house, it might be difficult to have the kitchen in the Southeast hence the kitchen maybe set up in the Northwest room. In a Northwest kitchen, the stove has to be placed in the South-East, facing the West and the person lighting it should always face the East. In North-West kitchen, (matter is from www.subhavaastu.com) the stove can be placed in the North-West in West, only when it is inevitable. By doing so, the stove faces the East and the person lighting the stove faces the West. As a result, the guests coming to the house increase and the women have to frequently light up the stove more often for coffee and other refreshments for the guests.
At no cost should the kitchen be situated in the Northeast or in East or at North and it is very bad if already done so. If done so, the house hold money gets spent fast, there are always tensions and quarrels going on and any kind of accident may befall the people of the house hold. It is not that the kitchen should not be set up in the South, West or South-West rooms. If already done (matter is from www.subhavaastu.com) so try to shift it to the South-East room. If unavoidable, then the stove has to be placed in the south-East in East, facing the West and the stove should be lit facing the East. People newly constructing houses should see that the kitchen should not be set up in the South-West, West or South rooms, as they make good bedroom for the house owner and his children to sleep in. Some body says that "in a kitchen the Eastern slab should not touch the Eastern wall", but its not easy to follow this principle, because the platform towards Southeast including the East may not touch the Eastern wall then the dust or used items, food particles may fall into that gap and it creates lots of double work and bad odor or sensation. The plat form may not be solid one, it should have space to provide to kept household kitchen utensils including Gas calendar.
Attics should not be put up to store articles in the East and North. In a kitchen, the storage shelves and attics should be in the south and West. (matter is from www.subhavaastu.com) The kitchen should have its heavier articles placed in the South and West like the fridge, grinding machine, heavy vessels, and water storage drums.The slab is put up in the East, away from the Eastern wall, by a gap of 1 Inch care should be taken that the slab should not be reaching the Northeast. The shelves, slabs and attics are in the South and West. The stove is in the Southeast-east.
Here observe the entrance to kitchen, it is towards Northwest-west. Observe the stove placements. The good and bad one. Please note that if the entire house is according to
vastu
principles if only this kitchen may be some sort of placement wrong, then it is not a biggest issue. If the house is not according to
vaastu
, then we have to think on each and every thing.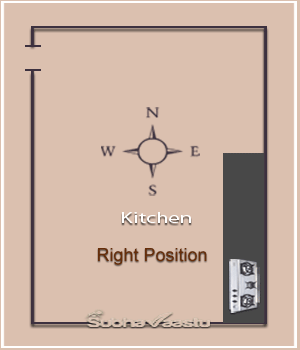 In the above image the entrance is at North East towards North side, this entrance is also very good, you have to provide some space towards East and there after fix the door, it is easy for access the kitchen and not touching the platform when we enter into kitchen. Any how its better to approach one expert vaastu consultant before setting the kitchen.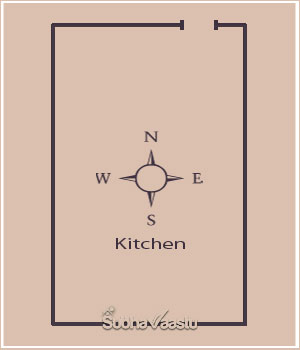 Placement of Kitchen :
In previous days our elders says that we have to maintain only one stove, on those days they are using only firewood burning for food making. On those days they are very cautious on every part of life, they planned to construct the kitchen / scullery / canteen / cookhouse at outside the house, in many villages still villagers require to construct the kitchen outside only. We may observe the kitchen at outside of the house still in many villages. What is it mean, those days our elders don't have fire fighting engines, fire fighters etc. So for each and every part they are taking it as a serious thing and planning for strict proof of health and safety purposes. Now a days we are not using the firewood for cooking the food, we are modern people with all variety of deceases and we plan every thing in western country styles. We are using only gas stoves, that to the stove is compulsory stable stand at on open dais at kitchen. Our elders are so gentlemen and more cautious on our security. Kitchen means fire, those days they are using the firewood for cooking and the top is also made with bamboo's , there is a right possibility of fire of the house, so they planned to through it out from the house, that is the main reason our elders are put the kitchen out of our homes. Now a days there is no such accidents.
In the above image, who requires to construct the kitchen at outside then they will construct the kitchen like this way. But they has to provide some space towards South wall. The distance between main house and kitchen should be less than the distance between the kitchen and the East wall. Please observe the below image for more understanding of the construction type of outer kitchen. (Generally villagers do construct like this types). Now a days very few Villa owners also planned to construct Kitchen at outside only, but its very less in their number. Still villagers requires to construct kitchen towards outside only. Recently we were gone through with the same in a village in Karnataka.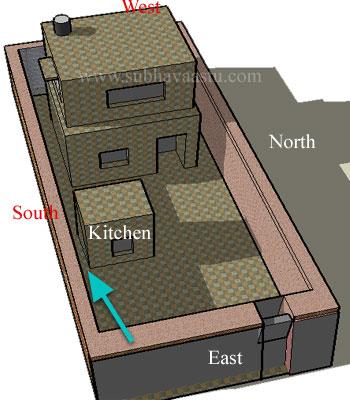 In the above image please observe the arrow mark it shows that the gap in between the south compound wall and the kitchen.
Placement of Kitchen in the house :
The best placement of kitchen in the house is Southeast. This is agni moola (mula). Best suitable for kitchen or fire.
Southeast is Agni Bhagavan placement, and Northwest is Vayu Bhagavan place, without vayu, agni cannot lit. So, Southwest and Northwest are the best places for Agni (Kitchen).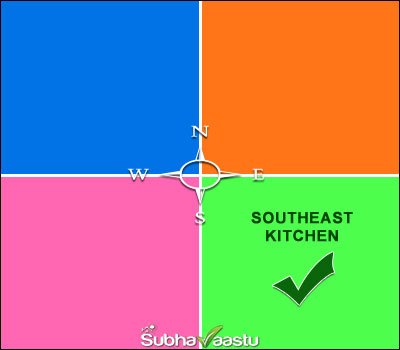 Northwest Kitchen :
The second best option for kitchen is towards Northwest corner of the house or Northwest room. But here the residents are so cautious in placement of door to this kitchen, any thing wrong leads to quarrel and expenditures, mental agony etc. The measurement place a vital role here. This room dimension may be good if East and West are more than the North and South if the door has came towards Southeast for this kitchen. If the door has came towards Northeast for this Northwest kitchen and North to South high measure may not give such troubles.
Have you read the above image and content. Northwest is Vayu bhagavan place, due to this Northwest also good for Agni (Kitchen).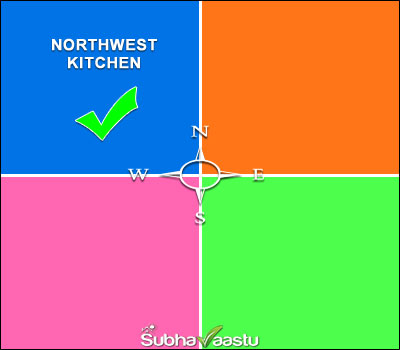 Southwest Kitchen :
Agni and Vaayu are best suitable in Southeast and Northwest, so residents has to follow this principle. If the Agni (Kitchen or Hearth) came towards Southeast and Northwest then residents will have good health and strength and it brings positive energy to the place. If Kitchen constructed in other parts, it may damage health and strength or negative energy may be develops in that property. We are not recommending our clients for Southwest kitchen. In our observation we found that owner / resident looses money and control on the house. Moderate kitchens are not suitable towards Southwest parts.
If already your kitchen is placed towards Southwest corner, then elevate the floor level. Try to always close the door of that room, keep heavy weight items in that room. More weight more good results.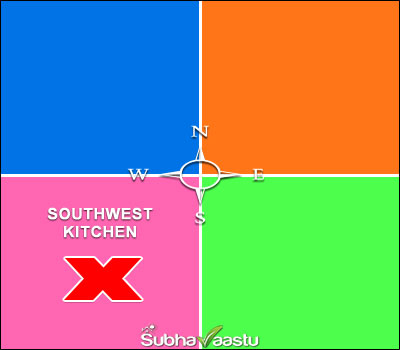 Northeast Kitchen :
Northeast kitchen spoils the flow of positive energy into house., this place is for water and particularly water and fire does not tie up and they cannot together, they have anti chemical actions. If hearth came towards Northeast corner then heavy expenditure appears and there is a chance of more damage may be to males. Northeast Oven exhausts all the riches like vapor, renders the male residents impotent and reduces them to the stage of destitute. Hearth towards Northeast means self immolation. In some cases it may affect loss or absence of male progeny. It may also effected on children development. Expert Vastu Consultant can recommend the solutions after visiting the property.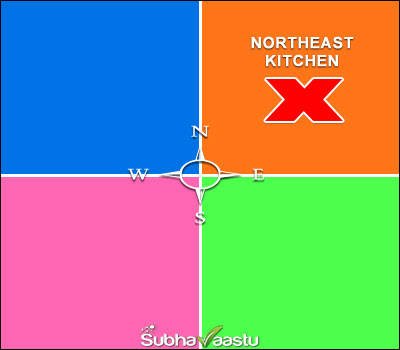 How many burners for the stove in Kitchen :
Many residents asking about how many burners for the stove at Kitchen
Regarding Burners in the kitchen, there is no count on this burners, you can plan for 3 burners or 2 burners or 4 burners stove to be placed in kitchen. Even one burner is also not a problem. Faith is different and vastu shastra is different. Don't see the odd burners of stove burners. Our thanks to Vineet Dewan, Hyderabad.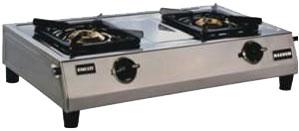 Three Burner Models :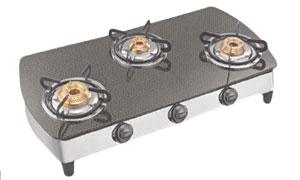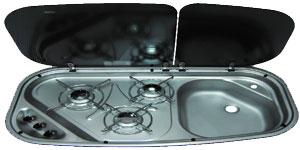 Another three burner stove in Kitchen :
Some one asks about three burners and some asks about questions and sent this image for verification purpose, please note that no problem when you are using three burners or two burners or four burners in your kitchen.
In South Africa, we observed the Barbecue very near to the Kitchen. If you have capacity to bare the smell then no problem. But barbeque is not suitable towards Southwest parts of the property.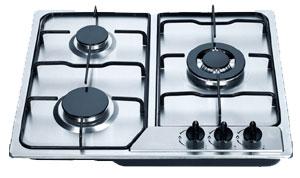 Where to Wash the Utensils (dishes) in the Kitchen ?
Generally in villages the residents are used to clean the dishes at outside only, because they have such space and provision, whereas in cities it is not so easy to get more space for all things, that is why residents after have the food, generally keeping the dishes at sink only. For the city people there is no need to say about this answer, but for the villagers or town living people those have the provision to clean the dishes at outside, then Southwest, Southeast and Northwest the water should not be sprinkled. It is better to wash the plates in East, North and half part of the Northeast, don't wash exactly towards Northeast, keep at least some space towards Northeast and do ask your servants to clean the dishes. Now coming to the point that, we are recommending the kitchen towards Southeast and when coming to the point of cleaning the utensils it is not so easy to carry all the dishes to Northeast, North or East directions, for them, arrange one small part towards Southeast and ask your servants to clean there only, the used water has to move towards East or North or Northeast.
Constructing Island in Kitchen is good or bad :
Honestly speaking constructing island in cookery area is too facilitates to the ladies who are doing dishes in Kitchen. It is best facilitator for preparations of many things. If one has habituate to the island, they can't do work without island in Kitchen. It may not disturbs kitchenette. But in some measurements this may little harm as per vastu shastra. If the North and South has lesser measurements than East and West and having entrance from Northwest-west, then it may disturbs as per vastu shastra. So better to have one best expert vaasthu consultant suggestion after showing the property to him. He will suggest you the best recommendation after visiting the property.
Another Island in Kitchen Model: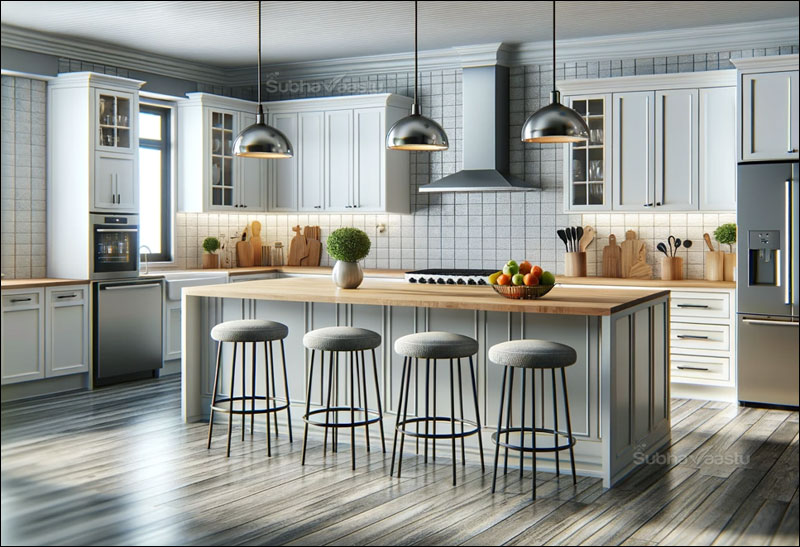 Stove placement at Kitchen
:
Here is a small narration on stove placement or location at kitchen, we observed several rich people house kitchens, some kitchen (stove) are towards facing to south and some are towards facing to north also, its not a serious problem, they never informed any serious issues by putting the stove towards South and North sides, but only thing is the placement or location of kitchen in the house is the important. For example placement of Kitchen in northeast is not good, so from olden days our elders are planned to place the kitchen at southeast only, its called as "Agni" corner. Kitchen means "Fire" so fire can be sit and fit at fire (Agni) place. The northeast kitchens are giving much trouble to the residents, so its always better to place and construct the cuisine at southeast or next best place is northwest parts. Maximum try to place the stove towards east side, i.e., while we cook, our face is towards East side. This is the advisable suggestion.
Can we place the Pooja room in Kitchen :
Yes, now a days it is very common due to lack of availability of space or place. If your puja room is at your kitchen then it is advised to fix a door to it. Open puja room at kitchen is not suggested, because ladies may have 3 days monthly problem, if not possible to fix up the door to puja room, then atleast maintain a curtain to Pooja room at kitchen.
Stove is towards Southeast and sink is towards South or Southeast or Southwest, is it OK :
Many residents are planned the stove towards Southeast part at Southeast eat-in, it is good. No doubt, what about water sink, it is good at Northeast or North or East directions, but in many houses it may not be suitable as per the adjacent structures or not possible to place in such directions because of many reasons. Water outlet may not reach to certain areas for free flow or some other reasons, many residents are not fix the sink towards Northeast corner. In such cases, some residents planned to fix the sink towards South or Southeast or Southwest parts of the platform. Please note that the sink is towards South or Southwest corner to the PLATFORM not on the ground level. Even it is a small mistake but it may not hurt heavily to the residents, unnecessarily don't get worried. I clearly checked these issues, no one has complained when they have the sink towards South or Southwest or Southeast, even it is towards West or Northwest (Sink towards West or Northwest are rare). In such cases keep water source at Northeast corner of the kitchen to balance it. Now we accustomed for apartment life, many residents doesn't have the independent houses. If you feels any negative results due to only this sink, or if you are inconvenient with this sink in the name of vaastu shastra, then do one simple thing, just close the sink with one wood or plastic plank after use. Generally we cannot remove it or shift it from one place to another place, because of water outlet pipes issue, so closing it with lid or plank is the best idea. Many residents are asking about this question many times, that is why we are planning to prepare with images.
We already explained you that the placement of Kitchen in the house is important, if the Kitchen was planned towards Southeast then don't worry about the stove, sink and platform, if you are more interested to know the depth of this kitchen area portion, below explanation may be useful for you. Below is the hearth in the house.
Here the kitchen platform has came towards East wall and stove was placed towards Southeast and sink was came towards almost Northeast part. There is another platform which was constructed towards West direction, door came towards almost Northeast to this kitchen. This is the perfect method. We will discuss more about all things positions below. Please go through below.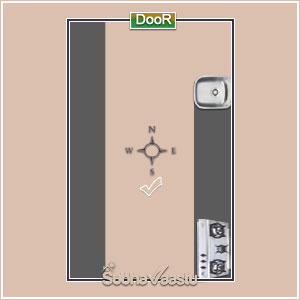 Here, sink only changed. Observe the above image for the changes. This sink is exactly fixed towards Northeast. Observe the "right" mark at center of the image. Yes, this is also right, but if possible its always better to leave little space towards Northeast. Leaving atleast two feet is good. But now we don't have such spacious properties, most of the properties available for us may be congested. At this moment we cannot leave more space in certain areas, so max try to leave some space at Northeast corner, if its not possible then plan the sink as shown here. Based on this rule, some residents are leaving 2 to 3 inches gap in Northeast corner after the sink, this is wrong, WHY? , if we left only 2 inches, then there is no possibility to clean that space regularly because of lesser accessibility, our hands never go there to cleanup the area. If dust forms then generally bacteria will develops, automatically health disorders occurs, becareful with such ideas. Based on the space availability, you may plan the sink shown in this image.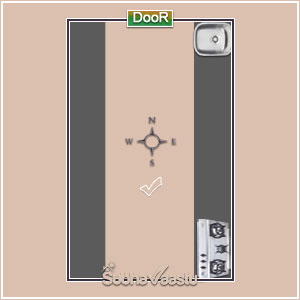 Now observe changes sink placement below:
In some houses sink places towards Southeast corner. Due to some limitations or piping system, sink may be placed towards this place. Is this right or wrong?
Please note that we already discussed on this issue that, sink is just like dig / hole / sump / depression / pit / pond / cavity / cylindrical depression/sunk into the earth. But here it is not like that, what ever the sink was placed here was not proper placed on earth/floor, you are well aware that this sink was placed only on a platform, its not done on earth. So don't consider it as a hole on ground or floor or earth. If your kitchen was already done like this, don't worry at all, if there is no platform and sink and you are planning to fix this system then better to follow the above. We have taken reviews from many people who are having this type of Southeast sink, there is no new issues were generated. After changing this sink they may not get huge results. A little / very small changes appears, that may not be count. Peace in the family is important. If you found this Southeast sink at your property, unnecessarily dont get afraid. Just leave this issue and appear your regular works. There are major and minor issues in the house as per vastu, this is not the major, hope you are relaxed now.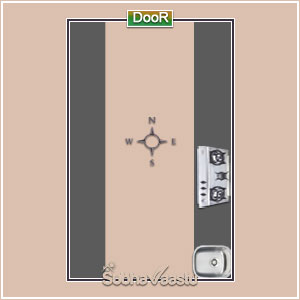 Sink came towards South part of the kitchen, what happens, same as above . . . please read the above paras.
If you are planning for the kitchen now, then don't plan the sink towards Southeast, South, Southwest, West, Northwest etc.
Particularly Northwest is not at all good if the stove is exactly placed towards Southeast.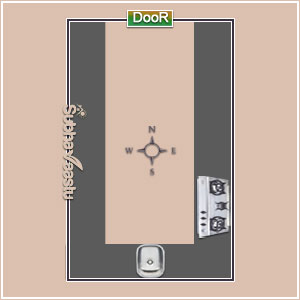 Now its position is towards Southwest, this is wrong method, coming to this decision, please read the above paras carefully.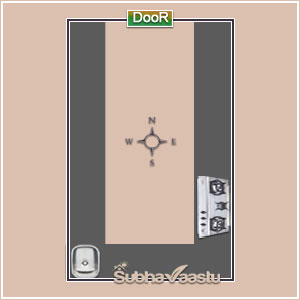 To know more on this issue, please read the above paras, then you may understand this issue. . . . . some writers have written that this may cruelly damage ladies health in the house, don't get afraid of such words. No cruelty damages found when the sink was placed towards West part, if the kitchen was exactly placed towards Southeast at residence.
If the measurement of this room is North to South is double than the East to West then this placing of sink at middle of West is wrong.
There are some in depth secrets are there in Vastu Shastra, placing of Sink towards Northwest is wrong, if the measurements of this room from North to South is double than the East and West measurements. Don't plan if the measurements are like such a way.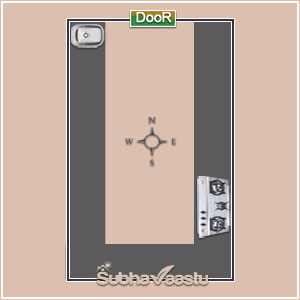 In many books the sink towards North is good at kitchen, it may be but we are not giving the plans like this, why ? if the measurements of this room was more from East to West than the North to South then this placement may not give such a good results. If the North and South is more than the East and West then this placement is good.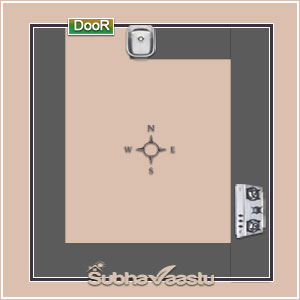 Have you observe the measurements in this room, if not please observe the above room measurements and this room measurements. This measurement is not good if the cuisine is planned at Southeast. If your cookery section was planned like this, then Northeast-north door is excellent. Northwest-west door may not be the right one. Little bit problems may arises here.
If your property is having this way of construction and it has only Northwest-west entrance, then compulsory plan to fix the door, arch and open entrance may be wrong methods.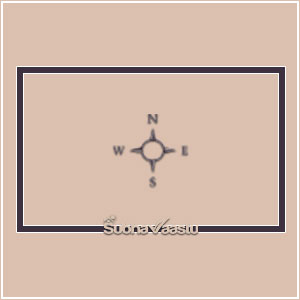 Observe the different measurements of this room. Now this is North to South heavier than the East to West, this is excellent when it was planned towards Southeast.
There are many secrets in this science, if you contact one expert vastu consultant, he will guide you many more secrets. Reading the vastu books and constructing house may be the wrong thought. Think twice before taking the decision.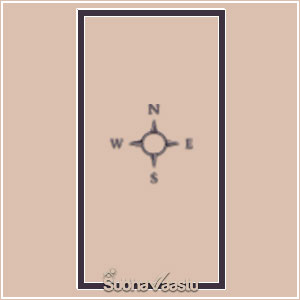 In Northwest Kitchen, where is the best place for Stove :
In South facing houses or in some houses, some residents may plan their kitchen towards Northwest area, instead of Southeast. If so stove may not fit towards Southeast, instead of Southeast they may plan at Northwest. The kitchen or hearth platform may be constructing towards the West wall not touching the Northern wall. So the dish may be prepared by facing towards West. At this moment the sink may plan towards Northwest and not touching the North wall, the best position for sink is towards East or North. But it may not possible to fix at these directions. The next best place is Northwest corner without touching the North wall. The best and suitable place for stove or hearth position at Northwest room is Southeast corner, cook food faces towards East and stove is faces west, this is the ideal placement, if it is not possible then construct the stove platform to West wall.
Southeast-east extending in the name of Kitchen :
Some times some inhabitants may raise the Southeast-east part in the name of Kitchen, they thought that extending the Southeast is good. But this extension leads to Southeast-east extension and such an arrangement increases Eastern Southeast, which is bad.
Pray God Agni Maharaj before cooking :
In a Kitchen the stove should be kept on a seat or platform, but not on the floor, it is our duty to invite Agni Maharaj the fire God, with due respect to our House. It is preferable for the one who cooks, to light the stove after taking bath with a Namaskar to Agni Dev. The first part of the food should be offered to Agni Dev and get his blessings.
Electric Stove Placements :
Some residents (particularly students, bachelor, employees, singles, paying guest houses, single women at rented properties etc) are using only Electrical stoves like Induction cook top or induction bottom cookware etc, where we have to keep it at Kitchen, if there is no Gas stove at kitchen then please place this cook top at Southeast corner. If there is gas stove then place this cook top at East, adjacent to gas stove. Fire element best place is Southeast.
Question from Balaji, Hyderabad :
My kitchen is of size 10ft by 7ft . from east to west it is 10ft and from south to north it is 7ft in that platform of granite is of 2ft .It is of L shaped . The Problem i am facing is the gap between the sink and gas stove is just 1ft .So if i place the gas stove in south east direction i get more space.But if i keep the stove in east direction i get only 1ft gap for sink and stove ?.

Answer: Placing the stove towards Southeast is good. Hope this suits your question, in addition here is our some more clarification. Due to place problem, most of the residents are now placing the stove very near to the sink. If the sink may come towards Northeast then its good, but in many houses the sink was placed towards South direction, this is not a biggest issue. Because the sink was planned in the platform only, it was not placed in the ground, the logic is there is no any depression towards South floor, the depression is only on platform, so nothing problem arises when the sink was placed towards South or West side, but always plan the sink placed towards Northeast direction. If your platform is L shape then there might be a problem may occurs in the name of standing when the stove is placed towards Southeast, there may not be any facilitation to cook, because the L shape may disturbs you, if there is a space if the stove is towards Southeast then no issues at all. In addition here is a tip of measurement for kitchen. If the kitchen is towards Southeast then North to South measurement than that of East to West is more good. If the Kitchen is towards Northwest then East to West measurement than the North to South is more good.
My friend Sathyam planned a toilet above the kitchen, is this any problem as per vastu?
If we ask this question to elders they will be Gurrrrr on us, because elders never accepts this method of construction, actually elders never accepts toilets to be placed at homes, but days were changed and many things were also changed in our society. Why elders never accepts toilets above kitchen. In olden days there is such facilitation of guard the water leakage, when we visit many homes we found water leakage may be common in the homes. Toilet means the dust water, WOK, etc may be flow, if there is a leakage we can't stay in that property. In some places people are adjusted with any structures or any construction alterations and doing their jobs. Finding the very good property with exact conditional homes may not be so simple to get. We have to adjust in certain cases, this is the life now a days for some people. If there is no leakage means there is no any harm or wak, if you have any other options then you may try to find another property. Here logic is working. In future if there is effluence observed, then what shall we do?, so keep it in your mind and then only take the decision. You are aware that the standards of builders and constructions. Still you have doubts let us know.
---
---
Which direction property is good as per my name in Vastu Shastra?
If toll-stones appears in a home, what are their effects to the residents?
Some body says that is Birds Flying Into A Home or property Equate To Death, is it right?
How many floors should a building has, some says that three storey may harm, is it correct?
My back yard is very bigger, after seeing this my friend told me that front yard should be double, is it?
One of my father close friend told me that we should sale the land, only because of ant hill, is it correct?
---
Reviews on Vastu Consultant Services Website SubhaVaastu.com
We are Software Professionals in USA, Initially to buy a home we searched internet, sent floor plans to India, then one of my friend suggested subhavaastu.com site, I was very impressed going through the site ,lot of information was provided, I contacted immediately Suresh garu for consultation. Being so busy he always responds to my emails and phone calls, clarified my doubts, He is so expert in giving consultation to USA properties. I feel him like a family member very frank, genuine and most of all patience. He do have immense knowledge in abroad properties, Indian properties by default. Anyone can give guidance, but he gives consultation with practicality not just some text book guidelines. He knows in and out how the structure, layout works and will give simple alterations, genuine Consultation. I have to salute to the tremendous work and efforts he puts in subhavaastu.com site - Sangeetha - New Jersey - USA
The website Subhavaastu.com is very informative.Sureshji, the founder of this website is according to me a great ¨human who has vast knowledge in vastushastra and his kindness to his clients are appreciated. He listens to his clients problems patiently and gives the appropriate remedies. His main motto is good service and he responses as quick as possible. I spoke to Sureshji as a stranger only, but after one phone call itself , I started feeling that he is a caring well wisher for whoever asks his help. He is a genuine person. He doesn't force you to spend money in the name of vasthushastra, he explains clearly where the problem is and tries to give very easy changes to have a peaceful life. Sathya Priya - Switzerland.
We stay in USA, I was initially Searching Google for some vastu help,one of my friend recommended subhavaastu.com website. Very useful information indeed, I found lot of good and valuable information, as got more motivated I contacted Suresh garu through phone. First I would like to mention he is a such a wonderful person, talking to him is like reading different knowledgeable books, he is a mobile Library always with a patience, a kind heart. He being so busy attended my each and every call immediate response to emails and clarified all my doubts. Especially I am amazed with his knowledge in vasthu with USA properties,its easy for some vastu specialist to tell vasthu with standard guides, but Suresh garu tells vasthu according to the place and country. My sincere suggestion for all the people who are wandering for a good Vaastu person or site, www.subhavaastu.com contact Suresh garu take his consultancy - Sarvani - Massachusetts - USA.
Our recent interactions with SubhaVaastu and Sureshji have not only been insightful but also extremely educational. Having a home is a matter of great virtue - having the home Vaastu compliant ensures that the investment and the future of the family in the home is secure and ensures progress. Having gone through the website gave us a tremendous amount of insights on bring about improvements to enhance positive energy and ultimately ring in progress. In the US, most home builders do not consider Vaastu and hence most occupants/ home owners are unaware of the benefits. In my dealings with Sureshji and the website, I have found insights and resources that can be helpful for almost everyone in the US. I highly recommend Subhavaastu and Sureshji to the broader NRI community. I wish SubhaVaastu and Sureshji the very best. Regards - Sneha - Florida - USA.
Announcement
This is the right time for us to spread the knowledge to our sweet society, come and share your thoughts to serve better for our next generations. Your services are highly required to make our society more stronger. Let us know what you are looking here, we will do our best to respond immediately
---
Kollam people faced many troubles with fire mishap, here is our free services to Kollam District Kollam Fire Accident
---
120 days FREE services to Chennai People Successfully completedChennai Rains
---
Spiritual Wallpapers
---
Hindu Desktop Wallpapers
Hindu MOBILE Wallpapers
Islam Wallpapers
Christian Wallpapers
Inspirational Quotations
In any situation, the best thing you can do is the right thing; the next best thing you can do is worst thing; the most worst thing you can do is nothing; don't sleep, always try for the best to acheive targets - Theordore Roosevelt.
---
"Great minds discuss ideas. Average minds discuss events. Small minds discuss other people." ― Sherrilyn Kenyon . . . Let you question yourself, "Who You Are"?
Joke Of the Day
Three guys are stranded in a desert. By a stroke of luck, they find a magic genie lamp. The genie grants each of them ONLY one wish. The first guy wishes to be back to home. Genie granted his Wish. The second guy wishes the same to go home, his wish also granted. The third guy says, "It feels very lonely here now, I wish my two friends were with me…" genie granted his wish also.