Details

This Link Hits: 120110
Vastu Shastra Tips for Planting Trees: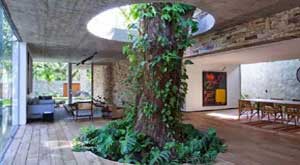 Vastu for Trees here the meaning is supporting the heavenly Element creations. Don't cut trees in the name of Vastu Shastra. Trees bless us with all power related to our peaceful living. Who plant trees are said to be assistants to Almighty. God Love Trees. For happy future, continue on this planet human beings and other all creatures hugely require trees. The home with full of trees will enjoy peace of mind. There should some attraction which may attracts positive forces and further land will become cool. If the respected climate is cool, the negative power strength decreases. If the atmosphere (land, area, place) is hot the bad power (negative) increases its power.
Now a days Vastu is the most powerful and that spreads all over the country. Some vastu slyboots also recommending residents to "cut the trees" and further stated that "trees should not be in the homes", "Trees shadow should not fall on the house". In the name of vastu shastra many residents blindly lacerating trees and in some parts of the areas trees were almost vanished, unpleasant things were happens in this world and having passed out of existence of many creatures. We have to take care of this unlawful mad nature of some bad humans decisions or evil thoughts. The vastu consultants who don't have much knowledge on vastu shastra says that "trees shadow should not fall on homes". Actually Trees blesses home with attraction, eye lash spreads when huge trees occupied and further they makes the land cooling, good looking, smart in that area, royal touch, peace, cool shadows, particularly security feeling, education, good relations, life satisfaction, money, good name with smart fame, leadership or leadership qualities. To be frank if there is no trees, house lost its fancy looking. It may be clear that if a home has more trees resale value hugely extends.
What is the reason behind that the trees shadows should not fall on houses:
In olden days the houses are too big and they have proper space for planting trees. In those days our elders planted trees at available space in their premises compound open areas. Those houses are constructed with mud and related materials, they don't have knowledge on Cement, (Cement is invented only in the year 1824), if we construct the house with mud, then structure may not have more strength and may not be stronger. If we plant trees near to the houses, then the roots may damage the house structure. If the house structure disturbs then life become miserable. Construction/walls disturbance means the entire property is in a way to fail. So our elders feel that if the trees are near to the properties this may lead damage homes construction, this may be the reason that they created one point that "Trees shadow should not fall on house". Now cement came into existence, due to this cement pillar construction methods our constructions are very strong, and there is no need to worry about the structures and cracks. Anyway we must maintain some distance in between trees from house construction. There are many trees which spreads its roots to more distance and less distance, ask with your forest department people which tree is good for your home and not damaging the foundations or roots more spreader areas. We are also collecting wide information to publish here about which trees are recommended to plant in our homes. Trees are heavy weight, so many vastu consultants may inform you that Trees should plant only towards West, South, Southwest parts of the property. Please read the below narration.
Generally more open space towards North and East and lesser open space towards South and West directions is good. While it is so, the trees needs some spacious space to grow and they cover some area. If we don't have certain space at West and South directions, then how it is possible to plant trees at West and South directions. Its absolutely impossible. Again these people say that we should not plant trees at North and East directions. Well, then where we have to plant trees at our house premises. If the argument is such a way then where have to plant trees in our boundary premises. Its almost tough to plant trees and residents has to forget about trees. Humans vanished the forests, no trees were planted and secured at outside of the towns, or cities. Some vastu people says we should not plant trees at homes, then where is the place for trees. And further home should be built towards Southwest. If in such case there is no way to plant trees in the home premises. We find solutions here to have the home to be planned towards Southwest and place for trees too. Finally some vastu people drag one point that there is no space for planting trees and trees shadow should not be fallen on house. So vastu is the main cause for vanishing trees, most of the residents has interest to plant trees in their boundary, due to some vastu people most of the residents unable to plant trees or fear to planting trees. Vastu Shastra curses on Trees. Here we should brake these principles and maintain feasibility and plantation and on the same way respect vastu shastra principles. Let us come to one amicable solution.
In Matsyapurana it is said that :
Ten Water wells are equal to one water tank
Ten water tanks are equal to one lake
Ten lakes are equal to one Son
Ten Sons are equal to one Tree.
The day was came, it has to be understood the importance of the trees on our planet, if humans goes on cutting trees then the day will come which has more worse in our life with natural calamities, hud hud like disastrous incidents, floods, famine, no rains etc, already we are facing many bad situations and we noticed about global warming and importance of trees and balancing the nature. Indian Prime Minister Mr. Narendra Modi requests at International seminars regarding global warming. Our Puranas/myths are also clearly stated that trees are the life for humans and Earth. Save Earth by planting trees.
Is there any solution for this Vastu and Trees problem?. Yes there is a quick fix explanation key for this complication. See this image. In this image the house has more space provided towards South and West directions than the above image, when compare with this image and above image then we may find more space towards South and West directions, this place may be suitable for planting trees and with this idea North and East also not disturbed. In this image home constructed towards Nairuthi (Southwest) part and trees are also planted at West and South directions. With this minor thought residents got trees and vastu wise also this property has more space towards North and East than South and West directions. One should not forget a note that "Trees are the hidden attraction for heavenly elements". We should not forget one thing, that East and North should have more open space than the West and South directions. Now it was clear that South and West direction open space was occupied by trees and North and East has more open space, so the argument point was solved.
In the above image the trees are at south and west directions only, but now see this below picture, here the trees are covered almost all at house, except Northeast corner.
Provide space only at Northeast corner and cover all the entire place with trees. Don't trust the words that "trees shadow should not touch to the house". You can cover the house with full of trees, just left some small portion at Northeast side as vacant or open place, this is enough to minimize the bad effects if there is any that you found. In any case one house is having trees at Northeast corner, no problem just dig one sump at Northeast corner, then the problem will solve. We will discuss it with one image.
If you plant more trees at south side and west side then you will have more benefits, see this below picture, here the south side is full of trees, it gives you more money and good health, financially sound, peace and standard life etc. In this image the trees are fully occupied at South direction, like wise you can plant number of trees at West direction also. It may provides help residents a secured life, good health, financially sound etc, confidence, loosing enemies power etc.
Treat the trees like your children, they save you definitely. In Sanskrit there is a word on trees "Vrukshadevatha". If you have any query trees vastu kindly write to me, we will definitely reply to your email. Any of your friends or relatives houses, if there is big trees or heavy ( number of) trees, please inform them regarding this link, if they planned to cut trees in the name of vastu shastra, suggest them don't cut trees. If the land is cool then good vastu will work immediately, if the land is hot bad vastu will starts its work. Here is the link of my contact details, at any time i am ready to serve my services for the trees, plants.., love trees, its nothing but Love on God. God bless our planet. Without consulting any vastu expert you can directly plant trees at Southeast and Northwest places.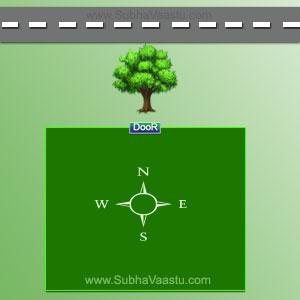 Broadly says a tree may not provide auspicious results if it is exactly in front of main door that to particularly towards North and East directions. Here you may observe a tree is exactly in front of main entrance door, commonly says this could not be good, if a tree is like this way at any home, its better to change the door from exact North direction to Northeast direction, requesting don't chop the tree. North direction tree is not at all bad, further you may plan to plant another tree towards Northwest, this is good idea to have more exceptional results. One or more trees towards Northwest may not damage your results. Try to plant more trees at your home compound territory, more trees means more peace and happiness. We clearly observed some homes which has very bigger trees towards Northeast also brings luck to them. One home which has worthy Northeast has complete trees towards Northwest, North and Northeast also. They are enjoying their lives there, they never thought to cut down the trees there. Their home is in Mysore, Karnataka, while they got number of recommendations to cut of trees, we said don't cut them, further we suggest them plant some trees if they got plenty of space. They never complained about their profession development and other activities.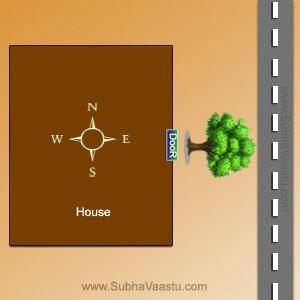 This image shows us there is a tree in front of the main door which falls into East direction. Generally this kind of plantation may not be good. But in some countries this system of planting trees in front of door is mandatory. If there is no rule in your respected area, then don't plan to plant tree in front of East facing door. In any case if your property may has tree like such a way, then you may plan to plant a line of trees upto Southeast-south. This could manage the damage if any thing were created by this tree in front of the East main door.
---
SubhaVaastu vastu website requesting all Governments to pass a rule to planting the trees is compulsory otherwise residents never get permissions to built their homes. To save our planet, environment is most important to secure our future. Please pass a rule if any one commits to cut the trees in the name of vastu shastra, please punish them with severe fines or imprisonment or with both. SubhVastu website requesting all countries Governments and Officers please pass a rule that if any person wants to construct a house, he must plant atleast two trees at his house. He must show the space or provide space for plants and without trees don't allow them for construction. Hope every body knows about a rule in USA, any builder or promoter requires to obtain permission for community layout for homes construction they should sign on a conditional agreement that they will plant trees in front of the main home. How good is this rule. Thanks to USA government policy.
---
We planned to develop this link with latest developments in our planet, this link may inform which tree is better to which land etc information and how to protect trees, Tree types, route causes any damage to houses or bedrock or foundation etc. Nature/Trees lovers are requested to write email to us with good information on trees. If any of your friend is tree lover, kindly inform this website link to him, he may guide us for more content to be published here. You may click this link contact us for more suggestions on plantation on our earth. Help our environment by planting trees.
---
"From the day we are after killing non speaking animals and plants - our every morning is welcome with a fresh and miserable new problem. The day we love trees, world would be a paradise.". You may write your experiences on Trees plantation and you are welcome to send photos and videos on trees, we will publish all files. (If you require we will publish your name also). Observe the below images, how impressed these houses with trees. Trees are the main attraction for Godly Elements. Plant trees at your homes. Do you like trees, do you know any trees lover, what is your opinion on trees vanishing in the name of Vastu shastra. Write your opinion, review, suggestion, ideas, if your review or suggestions are good to public, we will publish them in our website, your name stands life long here.
---
"Dear readers, you may please check the people how they are accepting the humans mistakes openly. This is highly appreciated. Come and share your thoughts and mistakes of our neighborhoods, Governments, society, our friends, relatives, ourselves. Should not cut the trees in what ever the reason it has. We should protect trees, it means, we are protecting our globe. This globe is not our's this is our new born next generations. Atleast save some thing natural properties for them, otherwise you will be always blamed by our new born in this world. The people here in Europe try to shift the responsibility to the GOD, Vastu, Jyotish .... They do not want take own responsibility ... fear of responsibility. But i believe also, that we need to research all aspects of the upcoming before affair started using Shastras as instruments and helpers. After this year trip to India we realized that we need to believe and trust more to internal God, who is always with us :), and do not search for external manifestation of God, not run/follow for the false manifestation of God. We need to trust more to ourselves. You said: Don't cut the trees in the name of Vaastu Shastra. Here people is ready to cut all trees to open space in the name of "money and spirituality", if you allow me, I will publish some of your conclusions on my page in Facebook time to time for the people - Alexey - Jurmala - Latvia."
---

Which Tree you are falling down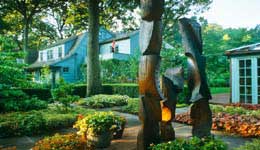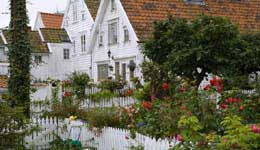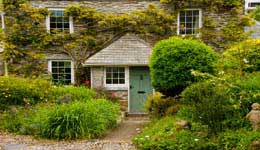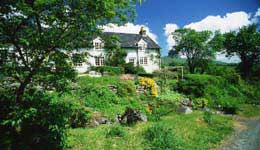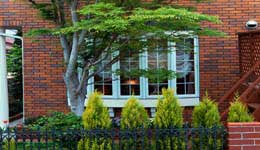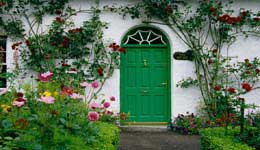 ---
Reviews on Vastu Consultant Services Website SubhaVaastu.com
We are Software Professionals in USA, Initially to buy a home we searched internet, sent floor plans to India, then one of my friend suggested subhavaastu.com site, I was very impressed going through the site ,lot of information was provided, I contacted immediately Suresh garu for consultation. Being so busy he always responds to my emails and phone calls, clarified my doubts, He is so expert in giving consultation to USA properties. I feel him like a family member very frank, genuine and most of all patience. He do have immense knowledge in abroad properties, Indian properties by default. Anyone can give guidance, but he gives consultation with practicality not just some text book guidelines. He knows in and out how the structure, layout works and will give simple alterations, genuine Consultation. I have to salute to the tremendous work and efforts he puts in subhavaastu.com site - Sangeetha - New Jersey - USA
The website Subhavaastu.com is very informative.Sureshji, the founder of this website is according to me a great ¨human who has vast knowledge in vastushastra and his kindness to his clients are appreciated. He listens to his clients problems patiently and gives the appropriate remedies. His main motto is good service and he responses as quick as possible. I spoke to Sureshji as a stranger only, but after one phone call itself , I started feeling that he is a caring well wisher for whoever asks his help. He is a genuine person. He doesn't force you to spend money in the name of vasthushastra, he explains clearly where the problem is and tries to give very easy changes to have a peaceful life. Sathya Priya - Switzerland.
We stay in USA, I was initially Searching Google for some vastu help,one of my friend recommended subhavaastu.com website. Very useful information indeed, I found lot of good and valuable information, as got more motivated I contacted Suresh garu through phone. First I would like to mention he is a such a wonderful person, talking to him is like reading different knowledgeable books, he is a mobile Library always with a patience, a kind heart. He being so busy attended my each and every call immediate response to emails and clarified all my doubts. Especially I am amazed with his knowledge in vasthu with USA properties,its easy for some vastu specialist to tell vasthu with standard guides, but Suresh garu tells vasthu according to the place and country. My sincere suggestion for all the people who are wandering for a good Vaastu person or site, www.subhavaastu.com contact Suresh garu take his consultancy - Sarvani - Massachusetts - USA.
Our recent interactions with SubhaVaastu and Sureshji have not only been insightful but also extremely educational. Having a home is a matter of great virtue - having the home Vaastu compliant ensures that the investment and the future of the family in the home is secure and ensures progress. Having gone through the website gave us a tremendous amount of insights on bring about improvements to enhance positive energy and ultimately ring in progress. In the US, most home builders do not consider Vaastu and hence most occupants/ home owners are unaware of the benefits. In my dealings with Sureshji and the website, I have found insights and resources that can be helpful for almost everyone in the US. I highly recommend Subhavaastu and Sureshji to the broader NRI community. I wish SubhaVaastu and Sureshji the very best. Regards - Sneha - Florida - USA.
Announcement
Every body come and go from this world, but one should left a message to the society before leaving this place. Leave love on your body, then you will achieve your targets in your planning time. Sharing the knowledge to society is nothing but doing a great help to our next generations. Come and help us to make this site more informative to browsers without registration and login, would like to stay this site alive for some more years. Your co-operation is highly appreciated. Shortly we are going to publish Vastu Corrections page, your support is highly appreciated.
---
Kollam people faced lots of troubles with fire mishap, here is our free services to Kollam District Kollam Fire Accident
---
120 days FREE services to Chennai People Successfully completed Chennai Rains
Spiritual Wallpapers
Hindu Desktop Wallpapers
Hindu MOBILE Wallpapers
Islam Wallpapers
Christian Wallpapers
Inspirational Quotations
Many of life's failures are experienced by people who did not reaslize how close they were to success when they gave up - Thomas Edison
---
"Great minds discuss ideas. Average minds discuss events. Small minds discuss other people." ― Sherrilyn Kenyon . . . Let you question yourself, "Who You Are"?
Joke Of the Day
Little Johnny asks his father:
Little Johnny: "Where does the wind come from?"
Father: "I don't know."
"Why do dogs bark?"
"I don't know."
"Why is the earth round?"
"I don't know."
"Does it disturb you that I ask so much?"
"No son. Please ask. Otherwise you will never learn anything."