Details

This Link Hits: 143850
Vastu Shastra Tips for Kitchen | Fire | Agni | Agneya :
Vastu Shastra Tips for Kitchen, Hearth, Fire, Vantillu : A place of ladies personal world, experiments, tastes, happy to ladies, some times sorrow to gents. There is no ambiance in the home more loved and lived in by all the members of the family, the best of the family, the best place to savor the pleasure of being together with all the wonderful tastes, memories and daily habits of the family. Keep your ladies always smile, otherwise they may pour high pitch of salt or spice in the curries. Ladies/sthree are just like home minister in this property, its their own world.
Some expert vastu consultants are keenly observing the kitchen as the first one in their vastu consultancy. Southeast portion brings good health.
1. Southeast room is the ideal place for the Kitchen of all direction properties.
2. Kitchen should always placed at Southeast (Agneya) corner of the house. So you may plan Southeast kitchen in Southeast room of the residence.
3. The second best place for the kitchen is Northwest (Vayavya) corner of the house, if Southeast is not possible to plan for the kitchen then the next best place for kitchen is Northwest part.
3.Observe this plan where the kitchen has to be placed in the house.
Here the kitchen came towards Southeast part of the house. This would be the high ranked place for the kitchen. Kitchen towards Southeast is the basic point. There are lots of other inner points to be observed that we will discuss below as much as possible. In some houses like South facing then there may not be possible to keep kitchen towards Southeast portion, at this point inhabitants may plan kitchen towards Northwest portion. We have done some houses to get Kitchen towards Southeast for the South facing houses, it depends on measurements of the property. If there is good measurements of plinth area say about 15 meters (From East to West towards South direction) then one may plan kitchen came towards Southeast for the South facing homes.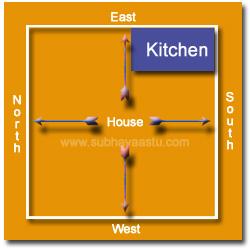 4. Hob in the kitchen has a central position with a canopy formed by its hood which destroys/crashes odors and fills the ambiance with light at the same time. The electrical appliances/apparatuses are carefully concealed beneath the worktop, the expert corpentor or home designer can easily handle this matter.
5. In olden days our elders constructed two or three houses, some may have many houses, coming to our generation constructing a single home is a challenge, those days our elders has time to verify the construction, but we don't have time to observe the construction or we may not easily find out the labor, its almost a venture for us now to find out good labour in our nearby areas. Built the house with all amenities like the marked personalities of those modern and innovative kitchen brings into the home the soothing atmosphere of colorful (colorful) and lively activity. There are as many as four colours which gladden the eye and communicate a note of joyful serenity of the ambiance which they furnish, creating together a happy system.
6. Feel king at your house, you are maharaja of your house a kitchen layout should be customized to the specific requirements and needs of the users. Hence, it is important to ascertain the individual preferences overall lifestyle and eating habits of the direct users, built the kitchen with your own style and requirements. You may go with your own style of living in your dream house.
7.The kitchen should be in the Southeast portion of the house. The door of the kitchen should be in the North, East or North-east direction opening clockwise. The women/lady should face East direction while cooking it may brings good health to family members. If the lady faces West while cooking it may lead to small health problems, while cooking with the face towards South may lead to little financial problems in the family. Overall the basic point is that the kitchen has to be constructed towards Southeast, this would be the basic point, other small things share only small problems.
You may place the dining table at this place shown in this image. Observe the water sink at kitchen, Gas stove, marble platform. Door is came towards Northeast-north direction. This is almost good setting/position Kitchen. If you have good measurement of the length and bridth then you may plan accordingly, now a days find out good measurement home is not a small deal, first related with huge money and later place of our interest. If all is OK then you may plan a bigger kitchen say about North to South is smaller and East to West is bigger like that, in this case there should be Northeast-north door is highly recommended. If the kitchen is having North to South as bigger measurement and East to West is small then it may suits if there is a Northwest-west door also.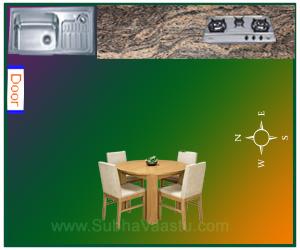 This image is the layout of kitchen at house.You can place the dining table as shown above.
8. You may place all food articles at west direction side of the kitchen.
9. The flooring level of the kitchen is equal to the remaining house flooring, it may be below the Southwest floor level, but at any cost it should not be lower than the Northeast room floor level.
10. The best preferable place for the sink is towards Northeast corner of the Southeast kitchen.
11. Make sure that leave some atleast 6 inches space towards North wall for this kitchen platform, its best if you provide more than one feet at this North wall. Here we are saying about the platform of the kitchen.
12. The paltform may touch the East wall.
13. Kitchen stove should be keep in the platform, not in the shelf which is erected towards East wall, what happens if you keep the stove at East wall erected space, it may be like Southeast-east extension, so better plan to keep stove at kitchen platform only.
14. The platform may has border, its not a mistake, but its little trouble to clean the platform with washing cloth, with this high border at edges you may use to clean the platform with water also. In only very few houses we observe the edge border at platform.
15. The platform has to come like this way, not to touch the North wall it starts from Northeast (without touching North wall) and full East upto Southeast and turn to South also and may cover even West direction also, this is all if you requires, other wise you may plan ony towards East direction.
16. You may plan shelves under this platform, at any cost it should not have solid closure with rocks, cement bricks, or mud bricks etc.
17. If you planning to keep rice as store for 6 months or one year then you may plan to keep rice at Southwest of this kitchen or West or even South also.
18. The women folk should be facing the East while doing their cooking. This is good for health.
19. There should be abundant use of green in the kitchen. For example green granite for flooring or green pictures. This helps improve the appetite of the family members and also promotes peace and harmony in the house, this point is not a compulsory to follow. Instead of green you may go with your color of choice.
20. If possible, the cooking gas and the washing sink should not be kept very close to each other. The logic being fire and water are not comfortable close to each other, if you have such kind, then no need to worry, its not a worth point to worry at all.
21. The cooking stove should not be visible to the naked eyes from the outside. Hence always shield the kitchen from the outsiders. Our elders said that our cooked food should not be visible to outsiders. But your guest may happily see it. Our eldersa says that Disti or dristi, it means bad eyes i.e., jealous. Not only in terms of kitchen in all terms the jealous people is dangerious one which they should be keep very long from us. They may do any thing behind us. In front of us they may smile but inner they may plan for many other bad thoughts, be careful on such characters.
22. There should be no leaking taps in the kitchen. This may affects on the money flow, and actually water should not be waste at any place in the home including kitchen room.
23. Shelves for the storage for grains at South, West and Southwest directions are prefered areas. Some body may have storage cup boards towards East also, its not a big mistake.
24. In Vastu Shastra its strictly prohibited that do not construct toilets and pooja-room next to each another. Even some vastu experts are also said that kitchen walls should not touch the toilet walls, its true, but now a days we don't have good enough place to construct our homes, many are living in apartment flats for them, implementing all rules its highly problematic to follow. So follow the basic vastu principles.
25. The kitchen should not be directly in front of the main door, try max for this tip, if not maintain one curtain always hanging to the kitchen door. You understand why we again telling this point here, already we discussed about jealous, so this point is almost same above.
26. Kitchen should not be planned at Northeast corner of the house, if kitchen is at the Northeast direction, it would curtail peace and mutual love in the family, and heavy expenditure occurs, might quarrels at home, including potency etc. Northeast kitchen homes some times may bring unluck to the females. Some of the home may get bad name. Some times males may be dummy in this home. Female domination may also appears in this homes.
27. Vastu for kitchen takes into consideration on various things, which where properly placed, pave way for safety in the kitchen. Some of the essential determinants considered are: proper location of the kitchen, direction and placement of doors and windows, placement of cooking gas, gas cylinder, sink, refrigerator and other electronic gadgets etc, if everything is according to vastu, the residents live happily and enjoy the peace at home.
28. Better no shelf should be placed above the cooking platform or above the gas stove.
29. Refrigerator can be placed on the Northwest corner in the kitchen or Southwest corner, maximum try to not to keep towards North or Northeast corner.
30. While constructing the kitchen, make adequate provision for cross ventilation for good health, and fresh breeze . While cooking items smoke will be automatically go away and we will safe by this cross ventilation.
How to get cross ventilation and good air : Cross ventilation is an opportunity to have good air into the home. If there is only one door or window you may not get good air flow into house. If there is two windows or two doors, then you may expect good air, if you have 3 doors or three windows then cross air will move to your part of the room. Even four doors or four windows also get more than sufficient air flow. But we should not put 4 doors in Southeast corner room. Kitchen is a burning things portion, so plan for good air flow and high ventilation at this room. This is good idea. (Require science professors advice regarding cross ventilation here )
31. Kitchen (or dining room) is the best place to have your daily meal; but never face South while having your meal it creates stomach disorders, indigestion and other related problems, please note that if your property is not fit as per vastu then only you may expect all these indigestion troubles, otherwise you may not feel such drastic health problems if you have food facing towards South direction, you may observe the symptom only. Always sit facing towards East or North while taking food, offer South facing seats to the guests. We are not looking for your guest harm here, guest means he/she may stay at your property for while not so much days, that is why we suggest this place. Don't take it as a wrong meaning here.
32. In some places we found even South or West kitchens are not giving wrong results, but we are observing the Southwest kitchens most of the times looking the house from the owner. After observing this judgment, we never suggest any resident to have kitchen at their Southwest. We are talking about closed kitchens only, not about open kitchens.
33. Cooking Gas/Range should be in the Southeast part of the kitchen.
34. Exhaust fan may be installed on the Eastern wall in the Southeast corner. If its not feasible then you may plan it towards South wall also. The fan should not go above half of the South wall towards Southwest, so it should be in South or Southeast-south.
35. Drinking water may be placed in the Northeast, water filter will be installed in the Northeast, if required, or it may be placed at Northwest corner.
36. Better to get suggestions from an vastu expert while constructing the house. The theoretical matter cannot renders satisfied vastu experiment in our house. By reading books of vastu we know only the important things that may be the essential factors, but general folks cannot find the serious things (vastu defects). Many residents are doing a great mistake that following some vastu principles after reading vastu books or vastu websites, its totally wrong method, this may leads to losing peace. Its always advisable only getting right suggestions from a best vastu specialist pandit.
37. Keep the mixer grinder at Southwest plat form or South or West is also good to keep.
38. Elecricity stove or induction stove may be keep in almost Southeast if it used for many times. Otherwise you may place other than the Northeast, East and North directions.
39. Water purifier (RO system) may be placed near to the East and may be near to the Northeast parts.
We suggested some vastu tips based on some certain thoughts and views, if your kitchen is having a very large measurement you may change some items as discussed above. For example drinking water etc.
Please observe the Stove (Burners) and sink at this image, black colour is the stove platform at kitchen and regarding stove you may easily catch the item shown here also you may find the water sink here, if you wait for 2 minutes here then the stove and sink changes their places here,. every step is not a wrong, but maximum try to avoid the sink to place to reach the Southeast position. In this moving gif file the sink finally came and occupied the southeast corner,this is not good. Try to place the water sink at Northeast corner of the kitchen. In kitchen we have to cook by facing towards East direction, this would be auspicious, at this moment the sink should always been keep to the left hand side, it should not crossed to right hand side i.e, sink is towards South wall and the stove after to the water sink. Have any doubts please clarify by sending email to us. Contact by clicking
here
..Hope you understand this concept.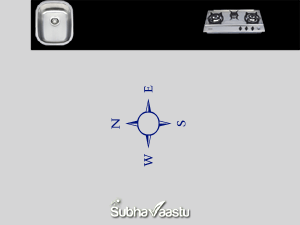 ---
---
Exactly how vastu shastra helps to develop forever company?
Will it be vastu shastra applicable for flats in an Apartment buildings?
My Uncle told me that Backyard is too important in an house, is it true?
Is bathroom granted/permitted/constructed at Northeast corner of the home?
What's Northwest, need to understand more info about this area within Vaastu?
Looking to have a wonderful and good business, how vastu helps us to get more fascination of it?
Can we all use up alcohol within residences, is there any problem if we consume inside the homes?
Could it be Northern dealing with stores tend to be great to possess superb queues to our concerns?
What is up and downs in a home, it mean there should be depression and elevated of the land in home?
I seen that individuals might have to find The lord's wonderful things data in this site, can it be legitimate?
---
---
Reviews on Vastu Consultant Services Website SubhaVaastu.com
We are Software Professionals in USA, Initially to buy a home we searched internet, sent floor plans to India, then one of my friend suggested subhavaastu.com site, I was very impressed going through the site ,lot of information was provided, I contacted immediately Suresh garu for consultation. Being so busy he always responds to my emails and phone calls, clarified my doubts, He is so expert in giving consultation to USA properties. I feel him like a family member very frank, genuine and most of all patience. He do have immense knowledge in abroad properties, Indian properties by default. Anyone can give guidance, but he gives consultation with practicality not just some text book guidelines. He knows in and out how the structure, layout works and will give simple alterations, genuine Consultation. I have to salute to the tremendous work and efforts he puts in subhavaastu.com site - Sangeetha - New Jersey - USA
The website Subhavaastu.com is very informative.Sureshji, the founder of this website is according to me a great ¨human who has vast knowledge in vastushastra and his kindness to his clients are appreciated. He listens to his clients problems patiently and gives the appropriate remedies. His main motto is good service and he responses as quick as possible. I spoke to Sureshji as a stranger only, but after one phone call itself , I started feeling that he is a caring well wisher for whoever asks his help. He is a genuine person. He doesn't force you to spend money in the name of vasthushastra, he explains clearly where the problem is and tries to give very easy changes to have a peaceful life. Sathya Priya - Switzerland.
We stay in USA, I was initially Searching Google for some vastu help,one of my friend recommended subhavaastu.com website. Very useful information indeed, I found lot of good and valuable information, as got more motivated I contacted Suresh garu through phone. First I would like to mention he is a such a wonderful person, talking to him is like reading different knowledgeable books, he is a mobile Library always with a patience, a kind heart. He being so busy attended my each and every call immediate response to emails and clarified all my doubts. Especially I am amazed with his knowledge in vasthu with USA properties,its easy for some vastu specialist to tell vasthu with standard guides, but Suresh garu tells vasthu according to the place and country. My sincere suggestion for all the people who are wandering for a good Vaastu person or site, www.subhavaastu.com contact Suresh garu take his consultancy - Sarvani - Massachusetts - USA.
Our recent interactions with SubhaVaastu and Sureshji have not only been insightful but also extremely educational. Having a home is a matter of great virtue - having the home Vaastu compliant ensures that the investment and the future of the family in the home is secure and ensures progress. Having gone through the website gave us a tremendous amount of insights on bring about improvements to enhance positive energy and ultimately ring in progress. In the US, most home builders do not consider Vaastu and hence most occupants/ home owners are unaware of the benefits. In my dealings with Sureshji and the website, I have found insights and resources that can be helpful for almost everyone in the US. I highly recommend Subhavaastu and Sureshji to the broader NRI community. I wish SubhaVaastu and Sureshji the very best. Regards - Sneha - Florida - USA.
Announcement
This is the right time for us to spread the knowledge to our sweet society, come and share your thoughts to serve better for our next generations. Your services are highly required to make our society more stronger. Let us know what you are looking here, we will do our best to respond immediately
---
Kollam people faced many troubles with fire mishap, here is our free services to Kollam District Kollam Fire Accident
---
120 days FREE services to Chennai People Successfully completedChennai Rains
---
Spiritual Wallpapers
---
Hindu Desktop Wallpapers
Hindu MOBILE Wallpapers
Islam Wallpapers
Christian Wallpapers
Inspirational Quotations
In any situation, the best thing you can do is the right thing; the next best thing you can do is worst thing; the most worst thing you can do is nothing; don't sleep, always try for the best to acheive targets - Theordore Roosevelt.
---
"Great minds discuss ideas. Average minds discuss events. Small minds discuss other people." ― Sherrilyn Kenyon . . . Let you question yourself, "Who You Are"?
Joke Of the Day
Three guys are stranded in a desert. By a stroke of luck, they find a magic genie lamp. The genie grants each of them ONLY one wish. The first guy wishes to be back to home. Genie granted his Wish. The second guy wishes the same to go home, his wish also granted. The third guy says, "It feels very lonely here now, I wish my two friends were with me…" genie granted his wish also.