Details

This Link Hits: 15309
Vastu Shastra Northwest (Vayavya) Street Focus | Road Thrust | Corner | Road Shula :-
If a street strikes a house from Northwest corner or direction that street is called as Northwest street focus or that property is called as Northwest street focus property, either it may house, factory, site, plot, hospital, function hall, college what ever it may be, results may be almost same. This road shula came from corner from a road and hitting the property.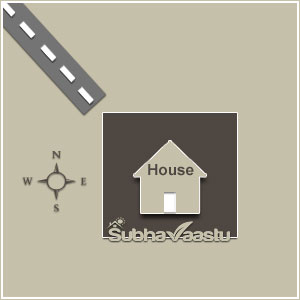 Observe this image :
A street is hitting from Northwest corner or direction to the house, this street is called as Northwest street focus and this street is passing through West road to the house. Results will also vary from this formation. The residents may be getting some more pains due to this West road. Corrections are there to do for this problem, but it should be done only before one Expert vaastu consultant only, one should not done the alterations by knowing some thing from Books or websites, it may turn to creating some new issues, beware of surroundings and its effects.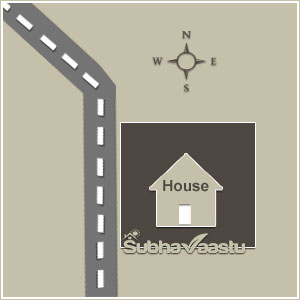 Observe this flash file, this is for your kind information only, this file may not visible in Table pcs or in cellphones.
This is one of the malevolent street thrust, no beneficial effects what so ever. However several bad effects are prominent. This street thrust influences, the state of mind and financial conditions of the residents. The residents of such house would face several hardships. If, even remotely some thing good befalls it would be purely temporary. Some intelligent people shift from such residences soon after enjoying any positive gains. However such people far few in number. One thing this street thrust gives is rather peculiar. This causes death to the sons in laws of the house. In all such cases, as I have repeated often, kindly do consult a competent vastu scholar for any possible remedial measures. In any case best to avoid such houses. Often in such cases there are situations of some or other good happening to the residents. But when evil befalls it will indeed be catastrophe. We should not be fatalists. Indeed, as mentioned earlier vastu is an excellent weapon to turn the fate in our favor, yes. This is a fact.
Man can prosper only with a healthy mind, in its absence its rather difficult to achieve any thing in life.
The malignant effects of such street thrust are
1. mental worries
2. financial losses
3. insolvency
4. disputes, fights etc and loosing in bargain
5. one must be attentive to the life and the activities of daughters of the house
6. accidents, losses
7. a life full of difficulties at all steps, insults
8. standing surety to others and loosing in the bargain
9. ladies dominance in the house, male members becoming helpless.
10. Jail punishment etc.
11. tendencies of becoming ascetic, recluse, and the like.
Effects of same streets on two different Houses :
One street giving two different results to the houses. This is nothing but Vayavya-Agneya veedhi or Northwest-Southeast road hitting two properties and giving bad results to both the houses. This is malevolent Street. Both houses are suffer lot from this street focus. One road is makeup like a Northwest street focus to one house and Southeast street focus to another house. Residents should be more cautious when they are going to buy the properties.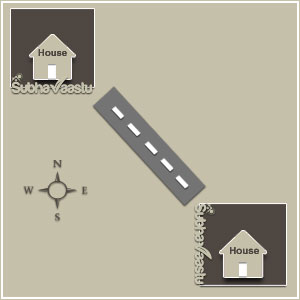 The same above effect street may also be visible in several places. If the road looks to be normal one but giving Northwest and Southeast street focus results, how ? , its only because of Skewed lands.
---
---
How the seating arrangement should be in an business establishment ?
What reasons creating mental tensions to humans as per vasthu shastra ?
Where can I get more information on Southwest portions ?
I would like to buy a plot which is adjacent to my house South area, can I buy it or not ?
Vaastu for east facing houses, require more info on this subject ?
---
---
Review on our Vasthu Shastra website :
"My name is Rama Moorthy Prasad working as a Supervisor in one American corporation situated in Nigeria country, for my vastu shastra requirements I contacted Mr. Suresh Vastu consultancy for my home vastu consultancy., more than 20 months ago when I was making my new home at my native place (Chittoor Dist) and contacted him for best of vaastu suggestion's and guidance , as per my request he came to our place when construction work was going on and given all his recommendations. One of my cousin is practicing as a Civil Engineer, he was also presented on Mr.Sureshji visit and my cousin noted all of his recommendations and we implemented without any second thought, Sureshji observation on all the civil works and surroundings are greatly appreciated, he never compromises on vastu shastra, he never left even a small bit of work and reaching to all corners of the property for verification, he rounded the property twice for double check of any corrections. Now after staying in our new home for nearly 20 months I can say confidently that we are getting all desired results, I was noticed most of the guests when they enter in to our home expressing that they feel calm and pleasant climate and good vibrations. Now again I am contacting him for my second purchase in Tirupati. All of my family members are fully happy and thankful to his services - Rama Moorthy Prasad - Nigeria - (Kuppam) Chittoor District - India.
Reviews on Vastu Consultant Services Website SubhaVaastu.com
We are Software Professionals in USA, Initially to buy a home we searched internet, sent floor plans to India, then one of my friend suggested subhavaastu.com site, I was very impressed going through the site ,lot of information was provided, I contacted immediately Suresh garu for consultation. Being so busy he always responds to my emails and phone calls, clarified my doubts, He is so expert in giving consultation to USA properties. I feel him like a family member very frank, genuine and most of all patience. He do have immense knowledge in abroad properties, Indian properties by default. Anyone can give guidance, but he gives consultation with practicality not just some text book guidelines. He knows in and out how the structure, layout works and will give simple alterations, genuine Consultation. I have to salute to the tremendous work and efforts he puts in subhavaastu.com site - Sangeetha - New Jersey - USA
The website Subhavaastu.com is very informative.Sureshji, the founder of this website is according to me a great ¨human who has vast knowledge in vastushastra and his kindness to his clients are appreciated. He listens to his clients problems patiently and gives the appropriate remedies. His main motto is good service and he responses as quick as possible. I spoke to Sureshji as a stranger only, but after one phone call itself , I started feeling that he is a caring well wisher for whoever asks his help. He is a genuine person. He doesn't force you to spend money in the name of vasthushastra, he explains clearly where the problem is and tries to give very easy changes to have a peaceful life. Sathya Priya - Switzerland.
We stay in USA, I was initially Searching Google for some vastu help,one of my friend recommended subhavaastu.com website. Very useful information indeed, I found lot of good and valuable information, as got more motivated I contacted Suresh garu through phone. First I would like to mention he is a such a wonderful person, talking to him is like reading different knowledgeable books, he is a mobile Library always with a patience, a kind heart. He being so busy attended my each and every call immediate response to emails and clarified all my doubts. Especially I am amazed with his knowledge in vasthu with USA properties,its easy for some vastu specialist to tell vasthu with standard guides, but Suresh garu tells vasthu according to the place and country. My sincere suggestion for all the people who are wandering for a good Vaastu person or site, www.subhavaastu.com contact Suresh garu take his consultancy - Sarvani - Massachusetts - USA.
Our recent interactions with SubhaVaastu and Sureshji have not only been insightful but also extremely educational. Having a home is a matter of great virtue - having the home Vaastu compliant ensures that the investment and the future of the family in the home is secure and ensures progress. Having gone through the website gave us a tremendous amount of insights on bring about improvements to enhance positive energy and ultimately ring in progress. In the US, most home builders do not consider Vaastu and hence most occupants/ home owners are unaware of the benefits. In my dealings with Sureshji and the website, I have found insights and resources that can be helpful for almost everyone in the US. I highly recommend Subhavaastu and Sureshji to the broader NRI community. I wish SubhaVaastu and Sureshji the very best. Regards - Sneha - Florida - USA.
Announcement
This is the right time for us to spread the knowledge to our sweet society, come and share your thoughts to serve better for our next generations. Your services are highly required to make our society more stronger. Let us know what you are looking here, we will do our best to respond immediately
---
Kollam people faced many troubles with fire mishap, here is our free services to Kollam District Kollam Fire Accident
---
120 days FREE services to Chennai People Successfully completedChennai Rains
---
Spiritual Wallpapers
---
Hindu Desktop Wallpapers
Hindu MOBILE Wallpapers
Islam Wallpapers
Christian Wallpapers
Inspirational Quotations
In any situation, the best thing you can do is the right thing; the next best thing you can do is worst thing; the most worst thing you can do is nothing; don't sleep, always try for the best to acheive targets - Theordore Roosevelt.
---
"Great minds discuss ideas. Average minds discuss events. Small minds discuss other people." ― Sherrilyn Kenyon . . . Let you question yourself, "Who You Are"?
Joke Of the Day
Three guys are stranded in a desert. By a stroke of luck, they find a magic genie lamp. The genie grants each of them ONLY one wish. The first guy wishes to be back to home. Genie granted his Wish. The second guy wishes the same to go home, his wish also granted. The third guy says, "It feels very lonely here now, I wish my two friends were with me…" genie granted his wish also.