Vastu Shastra Street Focus Southeast | Agneya | Road Thrust
Vastu East Agneya | Southeast towards East Street Focus :-
Southeast-east Street Focus : If one street hits house from Southeast-east (Poorva agneya), it is called as Eastern Southeast or Southeast-east or eastagneya street focus, or if a street thrust strikes on the ESE side of the house / plot / Factory, this should be construed as ESE street thrust. When you deal with Southeast-east houses please be make sure that it should be under the surveilence of expert Vastu Consultant only.
Southeast-east Street Focus Property :
A street is hitting the house from Eastern-Southeast or Southeast-east, such street is called as poorva agneya veedhi Shula or east-southeast street thrust. There are many types of Southeast-east street focuses.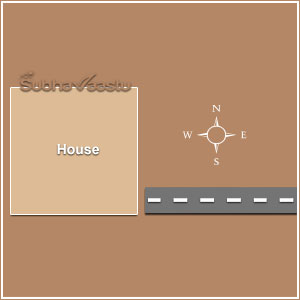 Northeast Street focus or Southeast-east Street Focus :
From which ever side such street thrust strikes on the ESE (viz from Northeast, East, South etc) it is malignant only. From this you may notice that in case of street thrust striking on malignant sides / plot irrespective of the origin of the street viz East, Northeast etc it is still malignant in every case. Taking due precautions during the construction stage such malignant effects could be arrested.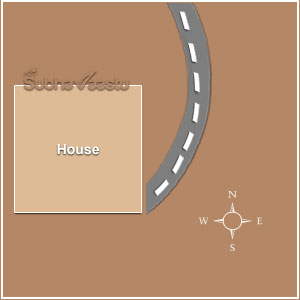 Southeast area of the house / plot is governed by the element of fire. If this is not properly handled, catastrophic situations are sure to befall. It is best to consult a competent vaastu scholar in all such matters.
If there are other non vastu compliance in the construction of the house, the consequences (along with the ESE street thrust) are indeed disastrous. Several houses where I have studied have confirmed this statement.
This ESE street thrust affects elders in an oblique manner. However it is very direct on youngsters, in particular. However one should note that the ill effects would not start from day one. No doubt all ill effects start much earlier where as benevolent situations take much longer time to occur, this could be consequent to other neighbourhood vastu situation.
If Agneya disturbs wrongly constructed it will manage our daily life or day to day works, it dominates our peaceful life and we have to search for the peace.
If one house is having East agneya street focus, the residents of the house will continuously worried for the daily day to day life, all the matters are disturbed, this East agneya street focus is a very bad and dangerous street focus, it causes poverty, theft, gives untraceable diseases to the residents of the family, especially damage to the ladies and 2nd child of the house, this street focus is the witness for daily problems, quarrel, cruelty, power madness.
This street focus cannot give positive results, results said to be bad results only. This sort of street focus brings in problems to the head of the family and the other members of the family, southwest street focus and northern Northwest street focus push the person into deep depression and frustration. He does not dare to starts any work or project.
But this street focus sometimes pushes the man to a patch of hope; however, all this hopes and proposals vanish out in vein. Like an oasis in a desert, all matters tempt the person positively but put him finally in frustration. This result to be tensions and ill health and ultimately the person falls sick. One should understand that a person need to live in a marble stoned bungalow to enjoy peaceful and prosperous life but a vaastu perfect house can give him colorful and fruitful life.
All the necessary precautions regarding the fixation and placement of roofs etc,. for the house have to be taken before go in for construction of a house. Building an improper and imperfect vaastu house and regretting after wards is not a wise act. If we take care at first step or first stage then everything will be happy and we need not to bare the future bad effects or un bareble problems. Our life is so important and our children life is very much important for us., so don't do any mistake in the terms of agneya and street focuses.
Please note that east agneya street focus is very dangerous, dont buy a plot or house or a factory which have east agneya street focus. If at present you are living at east agneya street focus house then think once again of my research thing and decide yourself. I think this subject will helps you lot. Actually there is so many other problems occurs but in view of place and some other reason we are not informed all the things here.
Consequence of ESE street thrust:
1. getting entangled in situations having no escape
2. mental disturbances
3. hasty decisions and regretting later over the same
4. disputes, disturbances fights etc.
5. at times circumstances leading to loss of life
6. residents suffering friction from various situations
7. loss of name fame and consequences thereof
8. indulging in activities against establishments
9. illiteracy and trying to fabricate fake certificates
10. economical losses
11. short temper and illogical action
12. becoming victims of extreme temper
13. inviting troubles unnecessarily
14. trying for extra marital relations
15. denying oneself an easy and steady life
16. having no peace of mind becoming a routine affair
17. extreme passion, adultery etc
18. suffering punishment in Jail
19. visiting police stations for wrong reasons
20. distress due to sudden events
21. girls of the home returning to parental home from their in-laws home for one or other reason
22. Daughters of the house becoming divorcees or loosing their husband and becoming widows
23. fire and other accidents
24. Fear of thefts, and loss of property etc
25. loosing one's balance of mind and consequently having a disturbed state
26. even reluctantly becoming victims of bad habits.
27. enemies becoming strong and taking revenges
28. even while exercising due caution making wrong statements and suffering consequences of the same
29. loss of mental peace at home
30. failures in life and other matters
31. standing tall in wrong situations and braving insults
32. thinking of speculations in financial matters, and loosing heavily in the bargain
33. facing dubious situations, disputes etc in all house hold matters
34. working against the establishment or government
35. poor health conditions
36. going against to what is correct and facing consequences there of
37. trying to lead an artificial life and suffering the after effects of the same
38. indebtedness
39. hunger, lust for spicy food
40. looking pleasant and thinking ill all the same
41. apparently problems getting solved but surfacing of yet new ones
41. This matter is from www.SubhaVaastu.com website
42. acquiring company of vagabonds
43. dim future for the children
44. looking for others pity
45. even when not working feeling a great load on head and feeling good about it
Its best to avoid residing in a house having ESE street thrust. If one lives in such a house for long one may have to suffer unsolvable situations in life, even when apparently, things are good, best to leave such premises.
I wrote this volume originally in south Indian regional language TELUGU in July 2004, when an instance occurred, I was invited to study a plot in Kolathur in Chennai, I went there and in under three minutes evaluated the plot and gave my opinion. One Sri Venkatachala Raju purchased a plot close to his rented residence. This plot was suffering East Southeast street thrust. He could have easily built the house taking appropriate precautions. However this plot was afflicted with other defects too. These were open area towards south and west of the plot. Seeing all this I suggested to Mr. Venkatachalaraju not to build his residence here. Without blinking an eye, he accepted my suggestion and did not even bother for the expenditure he has incurred consequent to his consulting me. (Such as flight traveling expenditures, accommodation and consultation charges. I observed that he has taken such precautions earlier and saved his family from a possible disaster. This was possible because his present rented accommodation has the benevolent effects of NNE street thrust.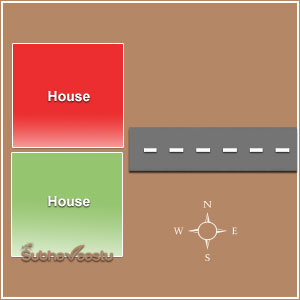 If there is no way expert to buy the East-southeast property then make sure that there should be more open space towards North side and construct one room exact opposite to the Street focus, that room should be utilized by others, not your family members. There are some more parihara to this thrust or shula or sula. If you invite one Vastu Expert to this shoola property, he may handle this issue, but surroundings should be co-operative to do the alterations.
Cheating Street Focus (Invisible Street Focus) : -
Have you heard about this, may be no, but we have seen many such kind of street thrusts on a property. Without inhabitant knowledge this is happening to their properties, this is to be originally said to be bad luck. Due to the Southeast-east vacant site the main house gets road thrust, this is none of the issue made by the resident here. But he will be the victim with this thrust. (The same may be happens in Northwest-north road also, See this link ). Please approach one expert vastu consultant before buying the plot, site, flat or house etc, he knows the entire position there and will guide you the best recommendation after visiting the property. With naked eyes it seems to be there is nothing Street focuses for this property, but this main house has to open the vault to face the new challenges, finally residents has to search for the God who saves them or may search for astrologer for their daily readings. Beware of these cheating street focuses.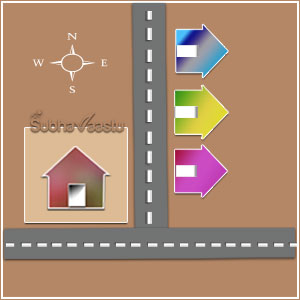 When the West road is there if there is no house towards South side then almost Southwest-south attraction will raises on the house. When the South road is there if there is no West house then the Southwest-west attraction will increases or generates.
---
---
I have one office at Bahrain, which direction is better to sit, and MD room etc, I require full info ?
What is Fate, what is its effects on Human beings ?
I have one East facing site , can I get a house plan ?
How vastu helps to get good occupancy in Hotels. ?
---
---
Back to
East Street Focus


Take me to
Southeast Street Focus
---
---
Reviews on Vastu Consultant Services Website SubhaVaastu.com
Aditya, who was just came to USA from India working as a software Engineer, he belongs to a traditional family and their forefathers are working in astro services only, I kept first floor bedroom3 is his living room. From starting I kept that 3rd bedroom for guests, any way he came from India and his brother is very close to me and that's the reason I hosted him in my house. He was very simple and honest guy, all of our family members likes him. He is very calm and more interested on education, he is always reading books. Most of the time he was in my library. Once we are searching for best vastu consultant in India, to show our new home in Hyderabad for evaluation, immediately Aditya showed www.subhavaastu.com website and informed me that his father likes this site very much and recommends to many residents who requires genuine vastu consultancy services. I stepped into this site and seen the hard work done by the team, wonderful website, I appreciate the entire team members for making such a beautiful website with useful stuff, specially images attracted me. Shortly I will share this vastu website information with my friends - Narayan Srivastava - Dallas - USA.
The website Subhavaastu.com is very informative.Sureshji, the founder of this website is according to me a great ¨human who has vast knowledge in vastushastra and his kindness to his clients are appreciated. He listens to his clients problems patiently and gives the appropriate remedies. His main motto is good service and he responses as quick as possible. I spoke to Sureshji as a stranger only, but after one phone call itself , I started feeling that he is a caring well wisher for whoever asks his help. He is a genuine person. He doesn't force you to spend money in the name of vasthushastra, he explains clearly where the problem is and tries to give very easy changes to have a peaceful life. Sathya Priya - Switzerland - (Chennai - India ).
Suresh gaaru, Please accept my namaskaarams, I am a software engineer, I am very impressed by your website and the service you are doing for the public. It is commendable that you are giving free vasthu services to armed forces, government offices etc. Nori Venkata Narasimham - Hyderabad - Andhra Pradesh - India.
I would like to share my experience working on our house plan and the expert assistance provided by Suresh garu. About our first house in USA, it is a Vidisha plot / tilted site (houses facing NE / SE/ NW/SW are called Videsha plot ). Most of the plots in the USA are of this kind for which getting the design as per our Vaastu is difficult. I believe the Science in the Vaastu rather than superstitions & believes associated with these. Since land is same, I believed Vaastu will still hold good in USA. I believe that Science in Vaastu tells us the importance of Sunlight and flow of air in the house and design the house such that our daily lives are harmonious & prosperous. A very simple theory, if the house gets good Sunlight in the morning (more Vitamin D) and get good natural air, you would be brighter and healthier, once your health/spirits are high you progress well in the life. Anyway to design a house on the Vidisha house it was a challenge and Suresh garu helped me in picking the land correctly and helped me in designing it to the principles of Science & Vaastu and most importantly adhering to the building codes of my community. Once getting the exterior load bearing walls & foundation correctly done, our biggest challenge was deciding the dimension of rooms in the house especially master bedroom, kids bedrooms & family rooms. I had long discussions with him and he was so patient in explaining the impacts of the changes clearly. I was impressed by his suggestions and truly appreciate his help & guidance. I have been the ardent reader of different Vaastu books from last 7 yrs and it seems Suresh garu has covered most of the points in his book and website (www.subhavaastu.com) with respect to Science in Vaastu. These are a wealth of knowledge and speaking to him is also kind of big help in coming up with a perfect design for our first house. We are going to get our house in next 4-5 months and in 2 years time I will definitely come back and share my life experience being in that house. About Suresh garu, he has a wealth of knowledge in terms of explaining science in Vaastu. I hope his suggestions and guidance will help many more for their better living - Shyam Vaddadi - California - USA.
---
Announcements
---
Good News to all spiritual thought lovers, we started Spiritual Wallpapers section here.
---
Sarvejanaa Sukhinobhavanthu
---
We are trying to publish complete vastu shastra information in our website, without your co-operation nothing will be happen here. Please support us by sending emails like what exactly you are looking here, based on your emails, we will plan to publish accordingly. With your only co-operation we will make this website as one of the best portal in our Indian vastu shastra websites history. In other countries once people get request invitation from any website or news papers people will come voluntarily and supported to make it as one of the best service oriented in their society. Indians are more than good when compare with other country people. Please come and share your thoughts, ideas, reviews, doubts, knowledge, opinions here. Dhanyavaad. Please write us by clicking this link Contact page.
---