Details

This Link Hits: 16705
Vastu Shastra North West (Vayavya) Street Focus : -
When a road hits the property from Northwest-west direction that road is called as Northwest-west street focus or that property is called as Northwest-west property, that property may be a house or factory or a choultry or even a plot.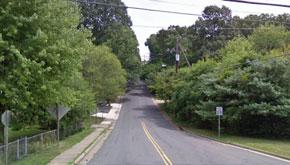 Observe this image :
In this image the street is hitting one house, this street is called as Northwest-west Street focus or that house is called as Northwest-west street focus house. In some areas it is also called as Paschim vayavya ghar.
This street thrust belongs to the benevolent category. In such a case having the house vastu compliant would greatly benefit
A unique feature of this street thrust is being successful in all situations, problems, litigations etc. These houses are very special to personal in the following fields – politics, legal, real estate business, law enforcing police officials, religious leaders and the like. As often said it is essential that the house be vastu compliant. For even though the benevolent street thrust does bestow its influence, when the house is not vaastu compliant that also gives out its own malignant component too, with the result the residents would feel good at times and miserable at other times. Further there is every possibility of a situation where even when success is a natural phenomena in a given situation it may even elude.
This is also said to be paschim vayavya ghar, but there is lots of difference when compare with genuine Western Northwest road thrust. The end point for this street focus is towards Western Northwest part of the house, but the origin is not came from Western-northwest direction, it collecting the results from the Northwest part, so we cannot believe this street focus. In terms of 45 to 135 degrees also we should be very careful.
Only when the land or plot or site is according to 90 degrees and having western northwest street focus then we may show interest to show that property with one expert vastu consultant and later decides for settle it.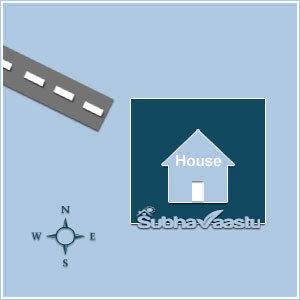 Another Image :
Here the Street focus is hitting to the house towards Northwest-west part, but it starts from West, so there is a difference in results from this road thrust. Careful observation is too important when we deal with street focus properties.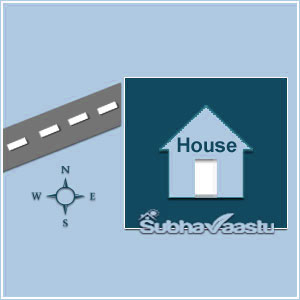 Another Image:
Observe the house in this image, the house is having good East open space, such open space will be greatly beneficial to people in political field and the like. If there be open space in the North to (in addition to that in East ) it would result in unimaginable good things happening. You may observe in this image, there is good enough open space towards North direction here. Residents of such houses will succeed in their respective ventures or activities.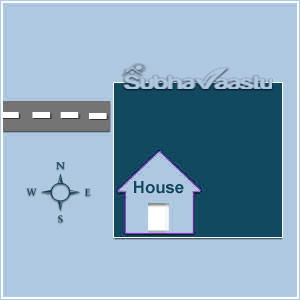 Observe this flash file, this is for your kind information only, this file may not visible in Table pcs or in cellphones. Please note that in this flash file there is a mistake occurs that is Northwest-North Street focus, please read it as Northwest-west street focus. Kindly excuse for this mistake. We can do this alteration directly to that file, but the staff who knows the Flash work was in long leave, so at present we cannot do the alterations to this file. Sorry for the inconvenience caused.
WNW street thrust are of two kinds :
1. Naturally occurring
2. Street thrust happening consequent to encroachment.
Encroachment situations would invariably occur in northwest blocks, (here we shown only encroachment, not in a Northwest block) If in such cases West direction side is at higher level and East receding the benevolent effects would be far more than otherwise. In all such cases small modifications in the house construction would be greatly helpful for happy future.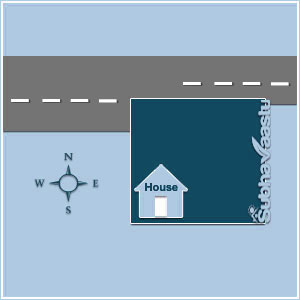 Another Image :
Please observe the above image and this image, there is slight difference in between these two images, the above image property is more good than this property, in this image the West road passed towards North direction, so there is a slight difference in getting good results. But both houses are same as above one and this house. Same measurements and same quality and same structure, but there is a slight difference in surroundings in the name of West road. So think on the depth of the subject. That is why we are requesting all the visitors to approach only the expert vastu consultant before buying the property. If you are looking for lesser payment and contacting the half knowledge vastu pandit, you may loose your hardship. Ball is in your court, take the right decision and change your way of life.
West encroachment is always wrong. That you will know in coming pages.
---
---
In which direction the walls should be higher ?
How to fill the well, when it exists in prohibited place ?
How to arrange the Almira inside the house ?
How to construct a staircase in or outside of the house ?
Can a deity room be provided in northeast ?
---
---
Back to
Vastu West Street Focus


Take me to
NorthWest Street Focus
---
---
Review on our Vaastu Shastra Website :
I first came to know about this website in 2009 while I was casually searching about bastu consultants in Google search engine. Since then I have very good relation with Suresh garu not only on vaastu matters and in personal as well. For the first time when I asked about consultation fee I thought it will be high. But to my surprise the charges were very less and the services are of class in nature. I realized many vaastu consultants who give solution but hesitant to answer in detail for questions and or clarify the doubts on the discussed plan/house. But Suresh garu was kind enough to answer all my queries in detail and patiently. I amazed about his clarity & command on the subject. I also realized that the major portion of his service charges is reinvested in developing the website (subhavaastu) which is useful for the persons like me. After going through this web site in detail, it gives me a confidence that the other vaastu sites neither this exhaustive nor the consultant is co-operative as I noticed there will be only contact details. Suresh garu gives free services to government offices and Army personnel. This approach from him impressed me a lot. Occasionally we feel to get the services in cheaper rates, but it could be catastrophic if the changes made (to the plan/house) could be wrong as we do not have the right information/clarification. Based on my experience with Suresh garu, his services are excellent and the prices are affordable. It is always better to approach a professional doctor when we are in need of a treatment for disease. As mentioned earlier his service charges are very less, for comparison I can say we pay $1 USD for $10 USD worth of services. I do not have any hesitation in recommending him for (y)our needs based on my experience - T. Bharath Kumar Reddy - Rayachoti - Kadapa Dist - Andhra Pradesh - India.
Reviews on Vastu Consultant Services Website SubhaVaastu.com
We are Software Professionals in USA, Initially to buy a home we searched internet, sent floor plans to India, then one of my friend suggested subhavaastu.com site, I was very impressed going through the site ,lot of information was provided, I contacted immediately Suresh garu for consultation. Being so busy he always responds to my emails and phone calls, clarified my doubts, He is so expert in giving consultation to USA properties. I feel him like a family member very frank, genuine and most of all patience. He do have immense knowledge in abroad properties, Indian properties by default. Anyone can give guidance, but he gives consultation with practicality not just some text book guidelines. He knows in and out how the structure, layout works and will give simple alterations, genuine Consultation. I have to salute to the tremendous work and efforts he puts in subhavaastu.com site - Sangeetha - New Jersey - USA
The website Subhavaastu.com is very informative.Sureshji, the founder of this website is according to me a great ¨human who has vast knowledge in vastushastra and his kindness to his clients are appreciated. He listens to his clients problems patiently and gives the appropriate remedies. His main motto is good service and he responses as quick as possible. I spoke to Sureshji as a stranger only, but after one phone call itself , I started feeling that he is a caring well wisher for whoever asks his help. He is a genuine person. He doesn't force you to spend money in the name of vasthushastra, he explains clearly where the problem is and tries to give very easy changes to have a peaceful life. Sathya Priya - Switzerland.
We stay in USA, I was initially Searching Google for some vastu help,one of my friend recommended subhavaastu.com website. Very useful information indeed, I found lot of good and valuable information, as got more motivated I contacted Suresh garu through phone. First I would like to mention he is a such a wonderful person, talking to him is like reading different knowledgeable books, he is a mobile Library always with a patience, a kind heart. He being so busy attended my each and every call immediate response to emails and clarified all my doubts. Especially I am amazed with his knowledge in vasthu with USA properties,its easy for some vastu specialist to tell vasthu with standard guides, but Suresh garu tells vasthu according to the place and country. My sincere suggestion for all the people who are wandering for a good Vaastu person or site, www.subhavaastu.com contact Suresh garu take his consultancy - Sarvani - Massachusetts - USA.
Our recent interactions with SubhaVaastu and Sureshji have not only been insightful but also extremely educational. Having a home is a matter of great virtue - having the home Vaastu compliant ensures that the investment and the future of the family in the home is secure and ensures progress. Having gone through the website gave us a tremendous amount of insights on bring about improvements to enhance positive energy and ultimately ring in progress. In the US, most home builders do not consider Vaastu and hence most occupants/ home owners are unaware of the benefits. In my dealings with Sureshji and the website, I have found insights and resources that can be helpful for almost everyone in the US. I highly recommend Subhavaastu and Sureshji to the broader NRI community. I wish SubhaVaastu and Sureshji the very best. Regards - Sneha - Florida - USA.
Announcement
This is the right time for us to spread the knowledge to our sweet society, come and share your thoughts to serve better for our next generations. Your services are highly required to make our society more stronger. Let us know what you are looking here, we will do our best to respond immediately
---
Kollam people faced many troubles with fire mishap, here is our free services to Kollam District Kollam Fire Accident
---
120 days FREE services to Chennai People Successfully completedChennai Rains
---
Spiritual Wallpapers
---
Hindu Desktop Wallpapers
Hindu MOBILE Wallpapers
Islam Wallpapers
Christian Wallpapers
Inspirational Quotations
In any situation, the best thing you can do is the right thing; the next best thing you can do is worst thing; the most worst thing you can do is nothing; don't sleep, always try for the best to acheive targets - Theordore Roosevelt.
---
"Great minds discuss ideas. Average minds discuss events. Small minds discuss other people." ― Sherrilyn Kenyon . . . Let you question yourself, "Who You Are"?
Joke Of the Day
Three guys are stranded in a desert. By a stroke of luck, they find a magic genie lamp. The genie grants each of them ONLY one wish. The first guy wishes to be back to home. Genie granted his Wish. The second guy wishes the same to go home, his wish also granted. The third guy says, "It feels very lonely here now, I wish my two friends were with me…" genie granted his wish also.