Details

This Link Hits: 28545
Vastu Shastra South Street Focus :-
If a street strikes on the Southern side of the residence it is called, Southern street thrust. In many places this street focus is rendering bad results to the inhabitants, its because of tiny neighboring effects on that respected area. We have given the information at East street focus link is also applicable to this link. You are well aware that East is different and South is different, we should treat this South as a small kid.
Observe this South street focus image :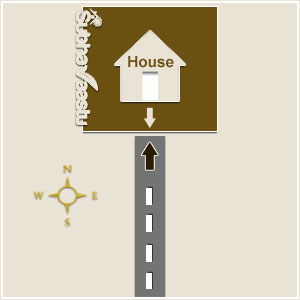 Observe the below image and find out the difference :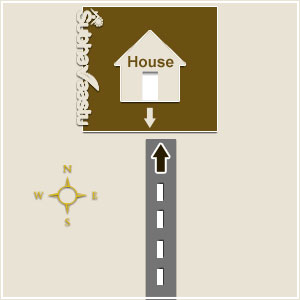 Observe this below image to find out the difference :
Hope you have found the difference in between these three images. If not, please check the entire three images again and again then you can easily observe the difference here. This is simple logic.
That is why most of the best expert vastu consultants never accepts to give answers to the callers, asking on vastu questions. Some residents may thought that vaastu expert is not giving answer to their questions, but the truth is, the facts of the property is different and residents description may be different, now you may understand by seeing these images. Can any resident may fulfill their question exactly on their properties like above, its almost impossible.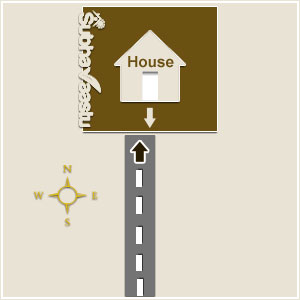 Click this link : Please check this link, how many streets are there and their formation on the properties etc, read the content and observe the images in this link.
Now coming to the point, first of all we may discuss on this street focus, is it good or bad one. Before discussing this point, we may question our self that, is South main door is good or bad to the house, if this question raises by any body the suitable answer is South main door is not bad one, more over this bestows good results to the inhabitants, some South door properties are giving good results the inhabitants and the same doors are giving bad results to some houses, why ?. Lots of things we should discuss on this issue to understand well.
If the door is blesses with good results then the street should also blesses with good results to the residents, but there is some terms and conditions on South and West properties when compare with North and East directions, that is why many vasthu consultants says that don't buy South and West properties and most of them says to the residents to buy only North or East properties.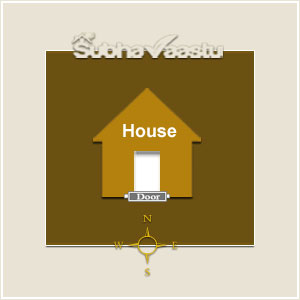 South Street focus (Bend) :
There are many types of street focuses to the properties. Some are bend, curved, tilted, angular, not straight, bent or not in a proper shape. Many are taking wrong steps with these types of street thrusts. Beware of such focuses, generally these curved one's may not claimed to be the original one's or may not producing such results to the property. If once one may taken wrong step, his entire life may be dependent on others or he has to bend his head before others or some times he may compromise on challenging issues.
Now coming to the point that, if one property is having Southwest street focus then it may be a reason for miseries and misbehavior to the residents some times said to be to the ladies, some times it may be a threat to the life of the occupants.
Another type :
Some of the South streets focuses may be like this, this is as per 90 degrees plot, if the degrees as per compass has changed then the results may also changed.
Based on neighborhood vastu, some times this focus may produces very small benefits but more troubles to the occupants of the property, there are some parihara to these types of properties but it should be thoroughly checked by the expert vastu consultant only.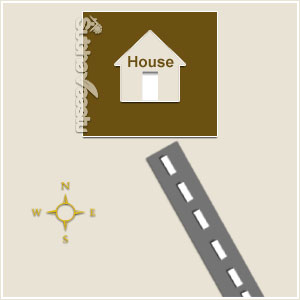 The below are the flash files, through which you may understand the surroundings information. These files are prepared in Flash, except in desktop, it may not be visible in Tablet pcs or cellphones.
If there is properties constructed towards Southwest corner to our house then, the South street focus bestows good results, otherwise occupants has to pay mere penalties. There are different calculations, we cannot discuss every thing here, but we will do needful asap, care should be taken on this street focuses, otherwise more bad things happen like ill health, monetary loss, financial loss, heavy strain, and premature deaths etc.
The subject street focus is not an easy thing to understand, it requires good enough experience to know the effects of street focuses. First we have to find out the skeleton moments of the street focuses and later examine the shadows of it and finally touch the conclusion. Please observe this below flash file to know some thing about back screen effects of street focus effects.
In the above flash file there is no houses at Southwest corner of the home, the houses are constructed on Southeast side to the house, so the Southwest corner is vacant, then the same street focus will makeup as bad street focus and through very bad results like Ill health, financial loss, some times deaths, instability, insecure feeling, collapse in all fields etc may happens. Vaastu south street focus or veedhi shoola or sula is some times bestows with good results and some times very bad results.
Hope you have noticed the above two flash files effects, There is southern street thrust to the east of the street thrust SSE area is packed with construction leaving SSW area free, this is greatly harmful and bodes ill to the residents. Construction activity is towards SSW of the house leaving Southeast area vacant and thus this house faces SE street thrust. With due precautions during construction this house would not face all the ill effects.
Effects of southern street thrust:
1. this street thrust bestows all the SSE street thrust benefits though at a reduced scale.
2. such houses should have to be carefully planned to derive maximum benefits for even small mistakes could lead to bad effects.
3. If this street thrust is shifted even slightly towards SW it would result in the ill effects of the SSW. If however suitable remedial measures are undertaken while constructing we may be able to avoid ill effects and on the contrary enjoy better results.
4. in the same manner if the same is slightly shifted towards East good effects of SSE will be felt.
5. with southern street thrust it is best to leave open space towards the north area of the house as also on the eastern side.
6 If the house is vastu compliant female folk in the house would have harmonious life, compatibility in the family, good health, prosperity and increased earnings too.
The benefits of southern street thrust will be a mixed bag. All will be in even proportion and not on a spectacular scale. However if the house is not vasthu compliant it may as well cause disasters leading to accidents, ill health, loosing one's own self confidence and consequently family suffering. It is for this reason proper precaution be taken in right earnest even in the beginning so as to derive maximum benefits.
---
---
How to fix the Western Commode in our toilet as per vaasthu shastra rules ?
I would like to learn some thing on Back yard vasthu, where can I get info ?
Is any site offers free Vaasthu Shastra PDF files ?
---
---
Reviews on Vastu Consultant Services Website SubhaVaastu.com
We are Software Professionals in USA, Initially to buy a home we searched internet, sent floor plans to India, then one of my friend suggested subhavaastu.com site, I was very impressed going through the site ,lot of information was provided, I contacted immediately Suresh garu for consultation. Being so busy he always responds to my emails and phone calls, clarified my doubts, He is so expert in giving consultation to USA properties. I feel him like a family member very frank, genuine and most of all patience. He do have immense knowledge in abroad properties, Indian properties by default. Anyone can give guidance, but he gives consultation with practicality not just some text book guidelines. He knows in and out how the structure, layout works and will give simple alterations, genuine Consultation. I have to salute to the tremendous work and efforts he puts in subhavaastu.com site - Sangeetha - New Jersey - USA
The website Subhavaastu.com is very informative.Sureshji, the founder of this website is according to me a great ¨human who has vast knowledge in vastushastra and his kindness to his clients are appreciated. He listens to his clients problems patiently and gives the appropriate remedies. His main motto is good service and he responses as quick as possible. I spoke to Sureshji as a stranger only, but after one phone call itself , I started feeling that he is a caring well wisher for whoever asks his help. He is a genuine person. He doesn't force you to spend money in the name of vasthushastra, he explains clearly where the problem is and tries to give very easy changes to have a peaceful life. Sathya Priya - Switzerland.
We stay in USA, I was initially Searching Google for some vastu help,one of my friend recommended subhavaastu.com website. Very useful information indeed, I found lot of good and valuable information, as got more motivated I contacted Suresh garu through phone. First I would like to mention he is a such a wonderful person, talking to him is like reading different knowledgeable books, he is a mobile Library always with a patience, a kind heart. He being so busy attended my each and every call immediate response to emails and clarified all my doubts. Especially I am amazed with his knowledge in vasthu with USA properties,its easy for some vastu specialist to tell vasthu with standard guides, but Suresh garu tells vasthu according to the place and country. My sincere suggestion for all the people who are wandering for a good Vaastu person or site, www.subhavaastu.com contact Suresh garu take his consultancy - Sarvani - Massachusetts - USA.
Our recent interactions with SubhaVaastu and Sureshji have not only been insightful but also extremely educational. Having a home is a matter of great virtue - having the home Vaastu compliant ensures that the investment and the future of the family in the home is secure and ensures progress. Having gone through the website gave us a tremendous amount of insights on bring about improvements to enhance positive energy and ultimately ring in progress. In the US, most home builders do not consider Vaastu and hence most occupants/ home owners are unaware of the benefits. In my dealings with Sureshji and the website, I have found insights and resources that can be helpful for almost everyone in the US. I highly recommend Subhavaastu and Sureshji to the broader NRI community. I wish SubhaVaastu and Sureshji the very best. Regards - Sneha - Florida - USA.
Announcement
This is the right time for us to spread the knowledge to our sweet society, come and share your thoughts to serve better for our next generations. Your services are highly required to make our society more stronger. Let us know what you are looking here, we will do our best to respond immediately
---
Kollam people faced many troubles with fire mishap, here is our free services to Kollam District Kollam Fire Accident
---
120 days FREE services to Chennai People Successfully completedChennai Rains
---
Spiritual Wallpapers
---
Hindu Desktop Wallpapers
Hindu MOBILE Wallpapers
Islam Wallpapers
Christian Wallpapers
Inspirational Quotations
In any situation, the best thing you can do is the right thing; the next best thing you can do is worst thing; the most worst thing you can do is nothing; don't sleep, always try for the best to acheive targets - Theordore Roosevelt.
---
"Great minds discuss ideas. Average minds discuss events. Small minds discuss other people." ― Sherrilyn Kenyon . . . Let you question yourself, "Who You Are"?
Joke Of the Day
Three guys are stranded in a desert. By a stroke of luck, they find a magic genie lamp. The genie grants each of them ONLY one wish. The first guy wishes to be back to home. Genie granted his Wish. The second guy wishes the same to go home, his wish also granted. The third guy says, "It feels very lonely here now, I wish my two friends were with me…" genie granted his wish also.