Vastu for Plots | Land | Sites - SubhaVaastu.com
Vastu Shastra for Plots | Sites | Land :
Vastu Shastra for Plots | sites | Extensions : The major factors to be kept in mind while selecting the plots are : Geographical surroundings, Level of the land and Roads around the plot. You have carefully observe that, is there any street focus to the plot or not. No problem with some street focuses, but care should be taken on some bad street focuses. We earn money and spend it, but we cannot earn our good life back. So be cautious before buying, then only buy the plot. Square and rectangular sites are the preferred sites. As our Saints and Rushis expressed that Vastu Purusha fits in perfectly in a square and the body parts of Vastu Purusha fit in well in a square or rectangular structures or plots. Vastu Shastra advocates balance, symmetry and harmony in construction.
Please read this small article on 'plot cuts', "Any reductions in the plot affects the people residing in that structure. In commercial Vastu Shastra, especially for big layouts or for industrial plots, it has been seen that reclaimed land or agricultural land or site is developed and allotted. More often than not there plots are of irregular shapes with inauspicious reductions and extensions. Any cut in any of the corners is inauspicious as some or the other body part of Vastu Purush gets chopped off. Although Northeast has been given the most important position by all classical and modern scholars of vaastu, all the other angles are of equal importance.
We know that each small nerve, smallest of body parts and minute cells are essential for proper functioning of human body and a disorder in any of them cause great discomfort, unease and trauma. Imagine cutting off of a portion of Vaastu Purush's body. There is no doubt that any cuts will lead to distress and trauma for the owner. Any cuts or reductions point towards an inherent weakness and imbalance of elements in the site or structure. The exceptions are any cuts or reductions in vaastu which lead to an extension in the North-East or Eashanya (Northeast) Kona. Northeast is considered to be the most important direction in vaastu. The cuts in East or southeast and north of North West are auspicious as they augment or extend the north-east of the site. Plots which have natural extensions towards the northeast are very auspicious leading to all round prosperity and health. No rectifications are needed in these cases. A Cut or reduction in the northeast is worst. It adversely affects prosperity, growth and happiness of the owners. For a detailed understanding of the effects of reductions refer to a comprehensive study – vastu for homes by the same author and publication. As far as possible, rectify any irregular shapes or cuts in the corners of the plot and make the site of land square or rectangular. To minimize the bad effects it is recommended to rectify the site by constructing a wall of 3 feet height so that the site has a square or rectangular shape. The cut-off portion can be utilized for a separate shop, showroom or godown depending on the direction and requirements".
Please note that some of the scholars expressed their own views, now we have a look on the plots which are the good and which are giving bad results. According to Vastu Shastra square or rectangular sites are considered best for residential or commercial purposes. But in actual practice we find the plot shapes to be irregular more often than not. The effects of plots extended in different directions or reductions in some corners is of prime concern. Care should also be undertaken while carrying out extensions in an already constructed property. It has been observed that very bad results accrue to the owner after purchase of additional plot of land in the south, west or south-west of the existing property. As a general rule, avoid buying land or carrying out extensions in the south, west, south-west, south-east or north-west of your site. Buy any land which is on the north, east, or north-east of your property. Only sites which have extensions / growth towards north-east are auspicious. This rule is valid for any naturally extended plots buying additional adjacent land and extensions carried out in existing built-up structures.
Acquisition of neighboring sites : Some times there is need to buy the neighbor properties. Before acquiring such properties one should be very careful or aware of some principles of vasthu shastra. One should not buy the West of South properties existing towards his own properties. As per tenets of vasthu it is always laudable to acquire plot or house existing in North or East or Northeast. Any way it is better to approach one best expert vasthu consultant before taking any such decision of extension purchases. If there is North site is for sale for your existing property, if your site is having Northeast street focus, at that time you should not buy the North site. Logical point. Beware of acquisition neighborhood properties. Becareful.
Here we will discuss the extension of plots or adding the plots to our already built house sites by a image
Here the existing plot owner has purchased the red marked plot, this will be called as extension of plot. The
direction
for this extension is to be called as almost southwest extension. This extension is not at all good. Don't go for this type of Extensions.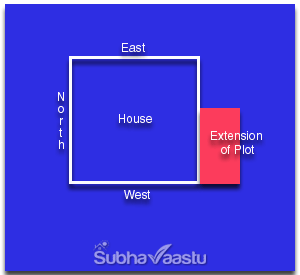 This type of Extension is also not good. The red mark shows that
southwest
direction
towards west side is extended. This is not good. Please contact us what if happens if this part extends.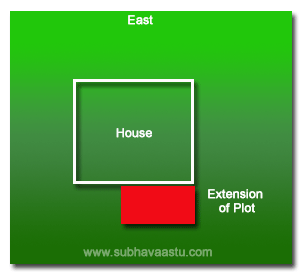 Now in this picture, exactly southwest corner has been raised. This is very bad, not bad its serious thing. Don't do like this "
Nairuthi Extension
" (Southwest)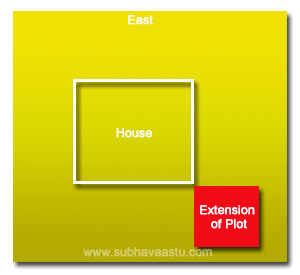 Here Entire
south
side extended. One should not buy the south side plot for his existing
house
. This will give very bad results. This may ruin the money and health. Please becareful when deal with extensions of properties.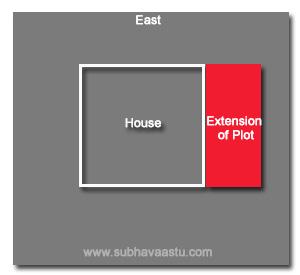 Here the west side
plot
has been extended or the existing house owner has purchased the
west
side plot, it should not be mixed with existing
house
, this is very bad result oriented direction.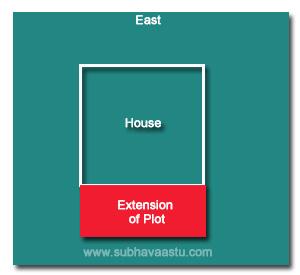 ---
---
Can we have expert vastu consultants in India, if so what may be their charges?
In some homes some sparrows and squirrels are entering, is there any mistake or inauspicious?
My friend written some review on this vastu shastra website, which link may has his review?
Which side balcony construction is good and which side is bad, show me some images for understanding?
I have seen one home with Swimming pool towards Northwest direction, is it good to buy?
Is there any results may be occurs if home is having any up and downs in floor levels?
Is all Southwest properties are good to buy, my friend suggests that all are good to bought, is it right?
Would like to know some thing latest information on testimonials?
We are more interested if vastu helps to improve our health, we are facing lots of health disorders?
How to do the alterations to the properties/house even for the commercial properties?
---
---
Back to
Horoscopes Selecting Plots


More info on
Vaastu for Plots
---
---
Reviews on Vastu Consultant Services Website SubhaVaastu.com
Aditya, who was just came to USA from India working as a software Engineer, he belongs to a traditional family and their forefathers are working in astro services only, I kept first floor bedroom3 is his living room. From starting I kept that 3rd bedroom for guests, any way he came from India and his brother is very close to me and that's the reason I hosted him in my house. He was very simple and honest guy, all of our family members likes him. He is very calm and more interested on education, he is always reading books. Most of the time he was in my library. Once we are searching for best vastu consultant in India, to show our new home in Hyderabad for evaluation, immediately Aditya showed www.subhavaastu.com website and informed me that his father likes this site very much and recommends to many residents who requires genuine vastu consultancy services. I stepped into this site and seen the hard work done by the team, wonderful website, I appreciate the entire team members for making such a beautiful website with useful stuff, specially images attracted me. Shortly I will share this vastu website information with my friends - Narayan Srivastava - Dallas - USA.
The website Subhavaastu.com is very informative.Sureshji, the founder of this website is according to me a great ¨human who has vast knowledge in vastushastra and his kindness to his clients are appreciated. He listens to his clients problems patiently and gives the appropriate remedies. His main motto is good service and he responses as quick as possible. I spoke to Sureshji as a stranger only, but after one phone call itself , I started feeling that he is a caring well wisher for whoever asks his help. He is a genuine person. He doesn't force you to spend money in the name of vasthushastra, he explains clearly where the problem is and tries to give very easy changes to have a peaceful life. Sathya Priya - Switzerland - (Chennai - India ).
Suresh gaaru, Please accept my namaskaarams, I am a software engineer, I am very impressed by your website and the service you are doing for the public. It is commendable that you are giving free vasthu services to armed forces, government offices etc. Nori Venkata Narasimham - Hyderabad - Andhra Pradesh - India.
I would like to share my experience working on our house plan and the expert assistance provided by Suresh garu. About our first house in USA, it is a Vidisha plot / tilted site (houses facing NE / SE/ NW/SW are called Videsha plot ). Most of the plots in the USA are of this kind for which getting the design as per our Vaastu is difficult. I believe the Science in the Vaastu rather than superstitions & believes associated with these. Since land is same, I believed Vaastu will still hold good in USA. I believe that Science in Vaastu tells us the importance of Sunlight and flow of air in the house and design the house such that our daily lives are harmonious & prosperous. A very simple theory, if the house gets good Sunlight in the morning (more Vitamin D) and get good natural air, you would be brighter and healthier, once your health/spirits are high you progress well in the life. Anyway to design a house on the Vidisha house it was a challenge and Suresh garu helped me in picking the land correctly and helped me in designing it to the principles of Science & Vaastu and most importantly adhering to the building codes of my community. Once getting the exterior load bearing walls & foundation correctly done, our biggest challenge was deciding the dimension of rooms in the house especially master bedroom, kids bedrooms & family rooms. I had long discussions with him and he was so patient in explaining the impacts of the changes clearly. I was impressed by his suggestions and truly appreciate his help & guidance. I have been the ardent reader of different Vaastu books from last 7 yrs and it seems Suresh garu has covered most of the points in his book and website (www.subhavaastu.com) with respect to Science in Vaastu. These are a wealth of knowledge and speaking to him is also kind of big help in coming up with a perfect design for our first house. We are going to get our house in next 4-5 months and in 2 years time I will definitely come back and share my life experience being in that house. About Suresh garu, he has a wealth of knowledge in terms of explaining science in Vaastu. I hope his suggestions and guidance will help many more for their better living - Shyam Vaddadi - California - USA.
---
Announcements
---
Sarvejanaa Sukhinobhavanthu
---
We are trying to publish complete vastu shastra information in our website, without your co-operation nothing will be happen here. Please support us by sending emails like what exactly you are looking here, based on your emails, we will plan to publish accordingly. With your only co-operation we will make this website as one of the best portal in our Indian vastu shastra websites history. In other countries once people get request invitation from any website or news papers people will come voluntarily and supported to make it as one of the best service oriented in their society. Indians are more than good when compare with other country people. Please come and share your thoughts, ideas, reviews, doubts, knowledge, opinions here. Dhanyavaad. Please write us by clicking this link Contact page.
---