Vastu for Master Bedroom and Sleeping Position Guidelines
Vastu for Master Bedroom :
Vastu Shastra for Master Bedroom : Vastu Shastra says that it is best to have the Master bedrooms in the South, Southwest (Nairuthi) and West directions. Northeast ( Ishan ) corner Bedroom may not be used by the elder of the house. Honestly speaking the Northeast cornered bedroom is not good, so don't plan the Northeast bedroom at your home, and it may not be used as a master bedroom, maximum try to avoid placing the bed rooms at East or North Directions . If the elder of the house is using the Northeast corner bedroom it may affect on his health and on his financial matters.
People sleeping in Southeast (Agneya) towards East side bedrooms suffer from sleeplessness, anxiety and short temper. The owner sleeping in Northwest (Vayavya) bed rooms suffers instability, financial losses, unnecessary headaches from his working areas i.e., his office, shop, lodge or hotels , factories etc.
It is best for the house owner to sleep in the Southwest room and in case not possible in the South bed room or West bed room, if the owner has occupied at these southwest corner bedroom, or south bedroom, or at west bedroom then his position will raise day by day, his works will go smooth, his words has some attraction, he has capability in maintaining his family members or his staff. His financial position will also be raisen at peak level. vaasthu for bedroom Vastu Shastra is most important for us, as because we spare max time in a day at this bedroom. While at house construction its better to consult one experienced vasthu consultant then every thing will go smooth. Please remind one thing vaastu consultants can cheat you, but vaasthu shastra cannot. (Sleeping positions are discussed in detail in next pages, don't miss to visit learn more pages). Master bedroom is best suitable at Southwest. The owner has to occupy the Master bed room.
Which is the best place for Bedroom and Master bedroom in a house : -
Prior to know this information, first we have to learn that how many directions in a house.
1. East Direction
2. Southeast Direction
3. South Direction
4. Southwest Direction
6. Northwest Direction
7. North Direction
8. Northeast Direction
Shortly we will discuss about Master Bedroom in Southwest, Northwest, Northeast, Southeast corners or directions.
in every house, home, residence, flat, villa, there must be these eight directions. Apart that there is a place at center or Brahmasthan (we should not construct the bedroom at Brahmasthan).
Bedroom is different and master bedroom is different, generally the owner of the property or head of the house may occupied the master bedroom. Others may occupied remaining bedrooms. Here first we will learn where is the best place for bedroom in a house.
After wake up from the bed some opens their eyes and looking their hands first and chanting mantra. Some will look on their particular interested God, Some look at the mirror, some look at their family members, some looks others photos and feels that the entire day will runs with all good things. Some elders says that after wake up from bed, we have to see Lord Balaji, who is Kaliyuga Daivam, Smiling children face, green natural scenaries or water falls. First observe with some practicals and settle with the one which gives you more good on the entire day. Please note that one is settled in a good vastu house, he will get all good things generally. Anyway we respect people thoughts, but putting some facts may change their life style.
---
---
Master Bedroom in Southwest Direction : -
In this image there are 4 colours and four parts., each portion represents a part of the house. Here the Southwest portion place is best suitable for master bedroom.
Please note that in some cases the master bedroom at Southwest portion is giving bad results, how ?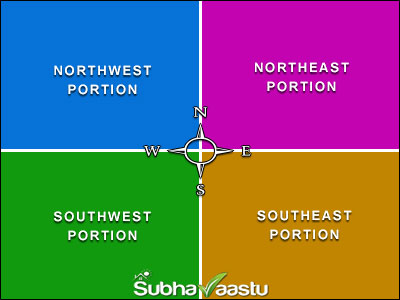 Vaastu Shastra is a ocean, no body is a master in this science, except God., we are the human beings and searching for several key answers for some problems. Still there are some expert vastu consultants researching on this Indian Vaasthu Shastra science. We respect them. We are also researching several parts of Indian Vaastu Shastra science.
---
---
Master Bedroom in West Direction : -
Apart from Southwest portion in a house, there is also another good direction for master bedroom. West portion or direction is good for master bedroom.
Some times the west portion master bedroom may gives bad results to the residents. How it is possible ?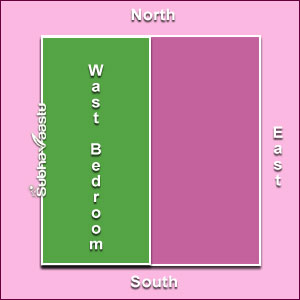 ---
---
Master Bedroom in South Direction :
Apart from Southwest portion in a house, there is also another good direction for master bedroom. South portion or direction is good for master bedroom.
Some times the South portion master bedroom may render bad results to the residents. How it is possible ?
---
---
Master Bedroom in North Direction : -
North bedroom is not good for bread winner of the family, but it may be not bad for other family members, like younger children etc. If one house is having bedroom at North portion, don't take it as serious, but that house must have Southwest bedroom or South bedroom, without Southwest bedroom or South bedroom, the bread winner may not occupy the North portion bedroom.
Some times the North portion master bedroom may render good results to the residents. How it is possible ?
---
---
Master Bedroom in South Direction : -
East bedroom is not good for bread winner of the family, but it may be not bad for other family members, like younger children or kids etc. If one house is having bedroom at East portion, don't take it as serious, but that house must have Southwest bedroom or West bedroom, without Southwest bedroom or West bedroom, the bread winner may not occupy the East portion bedroom.
Some times the East portion master bedroom may render good results to the residents. How it is possible ?
---
---
Master Bedroom in South Direction : -
Northeast bedroom is not good for bread winner of the family, but it may be not bad for other family members, like younger children or kids etc. If one house is having bedroom at northeast portion, don't take it as serious, but that house must have Southwest bedroom, without Southwest bedroom, the bread winner may not occupy the Northeast portion bedroom.
Some times the Northeast portion master bedroom may render good results to the residents. How it is possible ?
Please note that this Northeast direction bedrooms are appearing heavily in West entrance houses or secondly South facing houses.
---
---
Direction for the head to be placed while sleeping (Bed Cot Positions) : -
1. If the head is towards the South then, Sound sleep and lesser tensions, health improves.
2. If the head is towards the East, then improvement in knowledge, good for kids or children or employees.
3. If the head is towards the West, it may create ill health.
4. If the head is towards the North, then bad dreams, ill health and disturbed sleep.
5. The cupboard in the room's to be placed at West direction.
6. The bed in the room is at Southwest corner.
7. The dressing table in the room's Southeast or Northwest corner (with some conditions)
8. The cupboard in the room may be at South or west or southwest portions.
9. Place the bed or bed cot at South, West or Southwest.
10. The cooler at the room is towards southeast or northwest direction, if not possible then place it at north or east directions but it should not touch the wall at these directions.
11.The flooring should be higher than the remaining house flooring (if the bedroom is at southwest portion)
12.Bath room should be at southeast corner or northwest corner, with some care (with some conditions) it may be placed at Nairuthi (Southwest) also.
---
---
Many visitors desired greater clarity with examples for bedroom and position of bed and the like in several situations. Here is shown at tripical bedroom in a regular plot with bed in the southeast corner. The points to be observed here are :

1. Greater load on the Southeast side of the bedroom when compare to Southwest
2. One has to bare the consequences of this anomaly, these are :
A. Incompatibility among the household members. B.Quarrels and troublesome relations with neighbors leading to poor reputation in the community.
C. Getting unnecessarily bad name for no fault of residents.
D. Slow financial death or financially ruined. E. Huge possibility of developing tendencies towards short cuts in life in matters of law, finances and the like leading to further downfall in the society.
E. Developing illegitimate relations either in financial matters or sensual relations.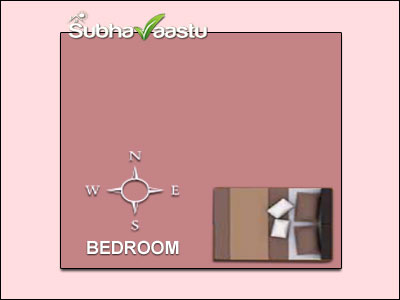 Here the bed is towards to Ishan (Northeast) corner, this is not at all good. Don't sleep in this position. This position called to be the worst bed position, we should not sleep at
Northeast
corners. Every thing is against to the residents in this placement.
Observe some other bed positions at next page, click the below next page button "Get more info Bedroom Vastu"
Which is the best place for wall clock at Bedroom.
Wall Clock at Bedroom :
In a bedroom hanging of wall clock may be suitable towards East side. If its not possible then choose the North direction. Why this East and North directions are good and recommended for wall clock hanging, that means, at mornings generally residents requires to know the timings then they will first check the wall clock area, if the wall clock is towards East side, then they will first seen the EAST direction, this is simple logic. Some says that hanging of wall clock towards East and North are not recommended as its having some weight and better to hang towards South or West directions. Here the results are important not the weight measurement. How much weight the wall clock does have, if we thought/compare about this simple thing then we will get the solution easily. When you get up from bed first see the East direction, this is good.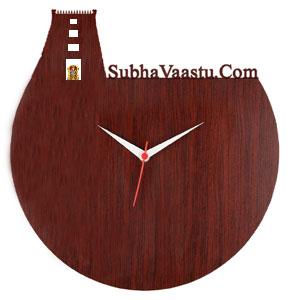 Which wall shall I hang the Air conditioner / AC in my master bedroom ?
Air Condition Placement :
For the Air condition (A/C) machine particularly for the split machine its better to have West or South direction. If its window A/C, then we should have to think on it. Because we have to check where exactly the window was placed and this window AC is fixed etc things has to be decided then only we have finalize the placement of window AC. Please note that this wall clock and AC machines are very simple fixtures, if the property is according to Vastu then these are not plays any important role. Otherwise we should check every thing about their placements.
Dear visitors, if you have any doubts, raise here, we will answer with images, it helps every body inclues you.
Some body are looking how to arrange the TV, Fridge, AC machine, Washing machine, iron safe etc, unfortunately they are not looking about the house structure. Observe the house here, it has Northwest-north increased and main entrance door is also there. If the property is like this way, then first residents has to correct the major mistakes in the house, but some body are looking only very small things in the house and forgetted about the major mistakes in the house, finally these people are commenting that vastu is not works.
Arranging the movable properties as per vastu is good, but first we should check the home vastu then we have to come for this small things.
Hope you understand this small logic. Follow the exact principles and stand as a leader in the society. Don't approach quacks in the market.
Question from our website Visitor: I have a one storey house, first floor has four bedrooms(two of these are in Northeast and Southeast of house and other two are Northwest and Southwest. The bathroom is in the West of house. The stairs start from East and leads to West of house. The kitchen on the ground floor is Northwest and my living room on ground floor Southeast. Additional to this is the varrandah which is in the West wall direction of whole house. My question is that my husband and myself sleep in the Southeast  bedroom as its a large bedroom. My son and his wife sleeps in the Northeast bedroom as this is another large bedroom. My unmarried/student daughter who sleeps in Southwest bedroom as this is a small bedroom. Also an extra room in the Northwest is a small bedroom. Please advise me of who should sleep where and how we can make vastu style adjustments. The sun can be view from the front of the house in the summer but in the winter the sun has moved towards the Southeast direction of house. Lots of arguments and problems are being faced in house with people and partners! I am concerned about health, happiness and education/job prospects - Thank you - Kavitha - Coventry - United Kingdom ?
Constructions in India is different and other countries are purely different. In India now a days most of the people are looking for vastu principles or vasthu constructions, but in other countries, people generally may not looking for the vastu principled house or other properties. They are looking only for the facilitation, air, light and look. Generally Indians who knows vastu may not accepts Western style or Eastern countries styles, now a days most of the Indians are looking for Vastu structures. 
You have total four bedrooms at 4 corners. Southwest, Northwest, Northeast, Southeast. Here the Southwest and Northwest bedrooms are smaller and Southeast and Northeast bedrooms are bigger. Based on the space availability you have occupied the Southeast and your son occupied the Northeast b/r. Here we did not get one point from you, that who is the bread winner in your family. Elder is different and bread winner is different. If you are the bread winner, it is better to occupy the Southwest b/r, and your son will occupy the Southeast and your daughter has to occupy the Northwest b/r. The Northeast b/r has to be kept always open, or has to provide only for the guests who are visiting your property a while in a year. If all these is not possible then ask your daughter to change b/r from Southwest to Northwest. You may use the Southwest b/r as your sitting room for reading or some other works. Southwest room is  most recommended for the elders in the home.
In your ground floor, Kitchen is the Northwest part and you kept the Southeast as your living room or it may be your house living room, the whole West is the verandah, is it possible to make a small partition at Southwest part at ground floor, if so, better to occupy that room as your personal living room. What about Northeast part of ground floor. It was not mentioned in your email. The second best option (may not be possible for you, but we are publishing here for your kind information purpose) is that you may make another b/r at Southwest Ground floor for your son and you may use the Southwest first floor b/r as yours. Then every thing will be under control and all will feel happy in that house, it is better to show your property with one expert vastu pandit, he will recommend you the best solutions.
---
---
Which side we have to keep our head while sleeping ?
Where should we keep the mirror in bedroom ?
Where exactly we have to place the beds in our bedroom ?
How much space we have to provide in each direction in bedroom ?
In bedroom where should we keep the Iron Almira ?
---
---
Back to
Store Room

Vastu Tips for Bedroom

Get more info
Bedroom Vaastu
---
---
Reviews on our Vasthu Shastra Website :
Dear Suresh bhai, u came to us like an angel who has given us the new direction to live. By my heart I say that u are one of the messengers of god who has come to flourish the world with God's golden light. Not only the vastu, even in astrology u r the master. We went to so many places before meeting you spent around thousand of RIALS however the satisfaction we got from ur suggestion we didnt get any where else. I pray to god to send us love and light. Thank u. With Regards - ZainabAbdullah Al kaabi - Muscat - Oman Country.
Reviews on Vastu Consultant Services Website SubhaVaastu.com
Aditya, who was just came to USA from India working as a software Engineer, he belongs to a traditional family and their forefathers are working in astro services only, I kept first floor bedroom3 is his living room. From starting I kept that 3rd bedroom for guests, any way he came from India and his brother is very close to me and that's the reason I hosted him in my house. He was very simple and honest guy, all of our family members likes him. He is very calm and more interested on education, he is always reading books. Most of the time he was in my library. Once we are searching for best vastu consultant in India, to show our new home in Hyderabad for evaluation, immediately Aditya showed www.subhavaastu.com website and informed me that his father likes this site very much and recommends to many residents who requires genuine vastu consultancy services. I stepped into this site and seen the hard work done by the team, wonderful website, I appreciate the entire team members for making such a beautiful website with useful stuff, specially images attracted me. Shortly I will share this vastu website information with my friends - Narayan Srivastava - Dallas - USA.
The website Subhavaastu.com is very informative.Sureshji, the founder of this website is according to me a great ¨human who has vast knowledge in vastushastra and his kindness to his clients are appreciated. He listens to his clients problems patiently and gives the appropriate remedies. His main motto is good service and he responses as quick as possible. I spoke to Sureshji as a stranger only, but after one phone call itself , I started feeling that he is a caring well wisher for whoever asks his help. He is a genuine person. He doesn't force you to spend money in the name of vasthushastra, he explains clearly where the problem is and tries to give very easy changes to have a peaceful life. Sathya Priya - Switzerland - (Chennai - India ).
Suresh gaaru, Please accept my namaskaarams, I am a software engineer, I am very impressed by your website and the service you are doing for the public. It is commendable that you are giving free vasthu services to armed forces, government offices etc. Nori Venkata Narasimham - Hyderabad - Andhra Pradesh - India.
I would like to share my experience working on our house plan and the expert assistance provided by Suresh garu. About our first house in USA, it is a Vidisha plot / tilted site (houses facing NE / SE/ NW/SW are called Videsha plot ). Most of the plots in the USA are of this kind for which getting the design as per our Vaastu is difficult. I believe the Science in the Vaastu rather than superstitions & believes associated with these. Since land is same, I believed Vaastu will still hold good in USA. I believe that Science in Vaastu tells us the importance of Sunlight and flow of air in the house and design the house such that our daily lives are harmonious & prosperous. A very simple theory, if the house gets good Sunlight in the morning (more Vitamin D) and get good natural air, you would be brighter and healthier, once your health/spirits are high you progress well in the life. Anyway to design a house on the Vidisha house it was a challenge and Suresh garu helped me in picking the land correctly and helped me in designing it to the principles of Science & Vaastu and most importantly adhering to the building codes of my community. Once getting the exterior load bearing walls & foundation correctly done, our biggest challenge was deciding the dimension of rooms in the house especially master bedroom, kids bedrooms & family rooms. I had long discussions with him and he was so patient in explaining the impacts of the changes clearly. I was impressed by his suggestions and truly appreciate his help & guidance. I have been the ardent reader of different Vaastu books from last 7 yrs and it seems Suresh garu has covered most of the points in his book and website (www.subhavaastu.com) with respect to Science in Vaastu. These are a wealth of knowledge and speaking to him is also kind of big help in coming up with a perfect design for our first house. We are going to get our house in next 4-5 months and in 2 years time I will definitely come back and share my life experience being in that house. About Suresh garu, he has a wealth of knowledge in terms of explaining science in Vaastu. I hope his suggestions and guidance will help many more for their better living - Shyam Vaddadi - California - USA.
---
Announcements
---
Good News to all spiritual thought lovers, we started Spiritual Wallpapers section here.
---
Sarvejanaa Sukhinobhavanthu
---
We are trying to publish complete vastu shastra information in our website, without your co-operation nothing will be happen here. Please support us by sending emails like what exactly you are looking here, based on your emails, we will plan to publish accordingly. With your only co-operation we will make this website as one of the best portal in our Indian vastu shastra websites history. In other countries once people get request invitation from any website or news papers people will come voluntarily and supported to make it as one of the best service oriented in their society. Indians are more than good when compare with other country people. Please come and share your thoughts, ideas, reviews, doubts, knowledge, opinions here. Dhanyavaad. Please write us by clicking this link Contact page.
---