About Vastu Shastra - SubhaVaastu.com Website
Vastu Shastra Information | About Vastu Shastra:
Vastu Shastra : Generally we build homes for our living purpose. If the property was constructed with proportional manner of five elements, the same structure may became a house of filled with peace and prosperity. Five elements are Sky/Space, Air/Atmosphere, Fire/Agni, Water/Jal and Earth/Bhoomi. Most of the people in our society accepting that there is a power/shakthi which was controlled every thing of this universe, which is not shown. That may be of Lord either lord Shiva or lord Vishnu or may be Five Elements. These panchabhootas which resides in the nature in a specific predetermined proportion and may be governed by an supreme creation, which may beyond our human evaluated comprehension. Study of these elements may be necessary before entering into Vastu Shastra Subject.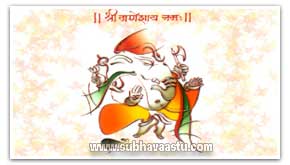 People can be developed when they about follow the vastu shastra of land & vastu construction of a building has prosperity in their life, it is certain, when they neglect the vaastu. Here we should know what vastu is….? For instance the meaning of sorrow is either pain of difficult similarly we have to define what vaasthu means. Here the purpose of the meaning of vasthu is "The facilitation of dependent" In addition the peace of mind to the family the inhabitance will acquire the peace & prosperity for the house holders during their life time. Though they have all rounded developments & richness is no letter than the people without mental peace, who is greater than the man with full of peace. Wealth does not give mental peace. We can't buy everything with money we can't buy many things like…. Mother's love.As per our old literature "Vastu" means "Vasathi" or "Vaasa" it means living under one roof. Later this word has been changed as Vaastu, in some areas the spelling is also been changes as "Vastu" (Bastu Shastra in Bengal area) or "Vaastu" or "Vasthu" or "Vaasthu" Many people of this kind had not following the vaastu advice of right person. Because of that there was much criticism of vasthu. We can have incredible benefits, if you follow a right vasthu expert. Apart from earning crores of rupees in this matter, the house holders can obtain peace of life. From the very beginning I have been in touch with so called rich people & noticed lack of peace of mind, so the importance of peace of mind is unlimited.The influence of vaasthu is no doubt the peace of mind for the house holders. Those who are suffering from in health, wealth, debts, quarrels, court cases, property loss, misunderstandings, facing troubles at family life, disputes, frustration and tension and they look forward towards peace. The people who have frustration & negative outlook will crave for present vastu …… The ultimate answer is vaasthu. Those who follow "vastu" on basis of construction will attain their desired goals & perfect happiness.There are several rushis and elders wrote Vastu shastra out of them the following are familiar :
Manasara Silpa Shastra (by Manasara),
Mayamatam (by Maya),
Viswakarma Vaastushastra (by Viswakarma),
Samarangana Sutradara (by Raja Bhoja),
Aparajita Priccha (a dialogue between Viswakarma and his son Aparajita, written by Bhuvanadevacharya)
Silparatna.Other treatises such as Agni Purana and works by Kautilya and Sukracharya are not popular even though they preceded the previously mentioned documents. Distinction of style exists due to each document's place of origin. (This matter is from www.subhavaastu.com) Mayamata and Mansara Silpa Shastra are considered Dravidian because they are from south India whereas Viswaskarama Vaastu Shastra is considered Aryan due to its north Indian origin. Out of all the above Viswakarma Vasthu shastra is familiar.But over-expectation is not advisable for example: if you want to be a prime minister it is nothing but over ambition. These kinds of wants will never be fulfilled. The vasthu in the matter of house construction will remove all obstacles, worries so and so forth of the owners and further developed suitable life. In this connection we can understand "morale" over expectation & ambition will leads to sorrow. If you follow the vaasthu there will not be a place of these kind situations.In simple words Vaasthu means a system of construction that renders peace, satisfactory life to the residents of that house build according to Vaastu Shastra. Vasthu shastra in fact, is a very old science of our great country India. Its knowledge can enable us to get benefits of mental peace, health, wealth etc, and make our lives happy.This science, after propounding the rules of construction, goes to prove that by constructing properly our buildings, villages, towns, cities, shops, offices, factories and industries, we can make ourselves prosperous. On the contrary, the residents of such buildings, as are at variance with the rules of this science, several calamities, shortages, diseases and financial insecurity throughout their lives. Our ancient sages and Rushis created vaastu shastra for the welfare of entire humanity.Sloka: When Vaasthu is learnt and followed, wealth blossoms in their life and it provides them with grace after their death also. Before buying any property it is always advisable to have one expert vastu shastra consultant guidance to enjoy peaceful and secured future.
OM VAASTU DEVAM MAHAKAYAPANCHA BOOTHA ASHTA DHISHIM INDHRAE SARVA NAYAKA AAGNEYE USHANA KAARANAMDHAKSHINE KAALA RUPINAMNAIRUTHE VISARJANATHAMPASCHIME AAPA NAATHAMVAAYAVYE PRANA KAARANAMUTHTHARE AISHWARYAANTHUEESHANYE LOKA KAARANAMMADHYAME PEEDINAM BHOOMIMMAHADEVAM MAHODHBHAVAMSARVA LOKA MAYAM DEVAMVAASTU DEVAM NAMOSTHUTHE.
Commentary:- Sri Vastu Bhagavan is the God of Earth and has a giant body of eternal earth. He has got the centre place surrounded by the lords of eight directions.
Lord Sri Indra is ruling the east side.Sri Agnideva rules Agneya(Southeast) Sri Yama rules South.Sri Niruthi rules Southwest.(Nairuthi)Sri Varuna rules West. Sri Vaayu rules Northwest.(Vayavya)Sri Kubera rules North.Sri Eshana rules Northeast (Eshan) corner.
Vaastu Bhagwan or Vaasthu Purusha is the energy of all growth and manifestation that lies dormant in Earth. We pray to vaastu bhagavan and he blesses us with peach and success.Read the below for your more information of eight directions and their lords:-
1. East - Indra 2. Southeast (agneya) - Agni 3. South - Yama 4. Southwest ( Nairuthi ) - Nirruthi (rakshasa-demon) 5. West - Varuna or Rain Lord 6. Northwest ( Vayavya) - Vayu or Lord of Air 7. North - Kubera or Lord of Money. 8. Northeast ( Eshan ) - Eshan or Lord Shiva ( Eswar )
Commentary:- Sri Vastu Bhagavan is the God of Earth and has a giant body of eternal earth. He has got the centre place surrounded by the lords of eight directions. Lord Sri Indra is ruling the east side. Sri Agnideva rules Agneya(Southeast) Sri Yama rules South. Sri Niruthi rules Southwest.(Nairuthi) Sri Varuna rules West. Sri Vaayu rules Northwest.(Vayavya) Sri Kubera rules North. Sri Eshana rules Northeast (Eshan) corner. Vastu Bhagwan or Vaastu Purusha is the energy of all growth and manifestation that lies dormant in Earth. We pray to vaastu bhagavan and he blesses us with peach and success. Read the below for your more information of eight directions and their lords:- 1. East - Indra 2. Southeast (agneya) - Agni 3. South - Yama 4. Southwest ( Nairuthi ) - Nirruthi(rakshasa-demon) 5. West - Varuna or Rain Lord 6. Northwest ( Vayavya) - Vayu or Lord of Air 7. North - Kubera or Lord of Money. 8. Northeast ( Eshan ) - Eshan or Lord Shiva ( Eswar )
We are trying to publish complete vastu shastra information in our website, without your co-operation nothing will be happen here. Please support us, by sending emails, what exactly you are looking here, based on your emails, we will plan to publish accordingly. With your only co-operation we will make this website as one of the best one in our Indian vastu shastra websites history. In other countries once people get request information from any website or news papers, then they will come volunterily and supports them to make it as one of the best service oriented in their society. Indians are more than good when compare with other country people. Come and share your doubts, thoughts, knowledge, opinions, reviews. Thanks in Advance.
---
---
Is vastu shastra works on rented houses or leased properties also?
How to fill or close the water well, when it exists at some prohibited places?
In which direction of the compound wall the walls should be higher and lower?
In my bedroom, which direction the head should be placed while we aer sleeping?
My neighbor is always met with accidents, what was the reason behind this cause?
We are sleeping at Exactly Northeast in our bedroom, is this makes any problems for us?
How to arrange iron Almirah at our house, how to make them arrange to bring some benefit?
We are planning to place dining room towards South part of our house, is this the right place?
In my uncle home, store room was constructed at Northeast, many says its wrong positioned?
How to construct staircase and which is the best when it was planned in or outside of the house?
---
---
Take me back to
Vastu for House


Take me to
What is Vastu Shastra
---
---
Reviews on Vastu Consultant Services Website SubhaVaastu.com
We are Software Professionals in USA, Initially to buy a home we searched internet, sent floor plans to India, then one of my friend suggested subhavaastu.com site, I was very impressed going through the site ,lot of information was provided, I contacted immediately Suresh garu for consultation. Being so busy he always responds to my emails and phone calls, clarified my doubts, He is so expert in giving consultation to USA properties. I feel him like a family member very frank, genuine and most of all patience. He do have immense knowledge in abroad properties, Indian properties by default. Anyone can give guidance, but he gives consultation with practicality not just some text book guidelines. He knows in and out how the structure, layout works and will give simple alterations, genuine Consultation. I have to salute to the tremendous work and efforts he puts in subhavaastu.com site - Sangeetha - New Jersey - USA
The website Subhavaastu.com is very informative.Sureshji, the founder of this website is according to me a great ¨human who has vast knowledge in vastushastra and his kindness to his clients are appreciated. He listens to his clients problems patiently and gives the appropriate remedies. His main motto is good service and he responses as quick as possible. I spoke to Sureshji as a stranger only, but after one phone call itself , I started feeling that he is a caring well wisher for whoever asks his help. He is a genuine person. He doesn't force you to spend money in the name of vasthushastra, he explains clearly where the problem is and tries to give very easy changes to have a peaceful life. Sathya Priya - Switzerland.
We stay in USA, I was initially Searching Google for some vastu help,one of my friend recommended subhavaastu.com website. Very useful information indeed, I found lot of good and valuable information, as got more motivated I contacted Suresh garu through phone. First I would like to mention he is a such a wonderful person, talking to him is like reading different knowledgeable books, he is a mobile Library always with a patience, a kind heart. He being so busy attended my each and every call immediate response to emails and clarified all my doubts. Especially I am amazed with his knowledge in vasthu with USA properties,its easy for some vastu specialist to tell vasthu with standard guides, but Suresh garu tells vasthu according to the place and country. My sincere suggestion for all the people who are wandering for a good Vaastu person or site, www.subhavaastu.com contact Suresh garu take his consultancy - Sarvani - Massachusetts - USA.
Our recent interactions with SubhaVaastu and Sureshji have not only been insightful but also extremely educational. Having a home is a matter of great virtue - having the home Vaastu compliant ensures that the investment and the future of the family in the home is secure and ensures progress. Having gone through the website gave us a tremendous amount of insights on bring about improvements to enhance positive energy and ultimately ring in progress. In the US, most home builders do not consider Vaastu and hence most occupants/ home owners are unaware of the benefits. In my dealings with Sureshji and the website, I have found insights and resources that can be helpful for almost everyone in the US. I highly recommend Subhavaastu and Sureshji to the broader NRI community. I wish SubhaVaastu and Sureshji the very best. Regards - Sneha - Florida - USA.
Announcements
100 Days Free Services to properties in Chennai : People who have properties in Chennai faced lots of troubles by nature disturbances, they seen nightmare almost for one week. After seeing all the natural disastrous situations we thought to do some thing to Chennai property owners as a humanitarian grounds. Total online vastu consultation is free to properties which are situated in Chennai. From today onwards (Vaikunta Ekadasi) upto March 31st, almost 100 days this facilitation is on live. If your properties belongs to Chennai, then you may utilise this opportunity. Chennai Rains
---
Whether it may be true or not, but it was rounding in FaceBook and WhatsApp. What we feel that it may be useful for our people and travellers. Beware of new techniques in crimes. THIS COULD HAPPEN ANYWHERE IN INDIA. PLEASE BE AWARE WHILE TRAVELING. Now read it: While driving on a rural end of the roadway on Thursday morning, we saw an infant car seat on the side of the road with a blanket draped over it. For whatever reason, we did not stop, even though I had all kinds of thoughts running through my head. But when I got to my destination, I called the Police and they were going to check it out. But, this is what the Police advised even before they went out there to check.... "There are several things to be aware of ... gangs and thieves are now plotting different ways to get a person (mostly women) to stop their vehicle "There is a gang initiation reported by the local Police where gangs are placing a car seat by the road...with a fake baby in it...waiting for a woman, of course, to stop and check on the abandoned baby. " Note that the location of this car seat is usually beside a wooded or grassy (field) area and the person -- woman -- will be dragged into the woods, beaten or rap . . . , and usually left for dead. If it's a man, they're usually beaten and robbed and maybe left for dead, too. Do not stop for any reason!!! Dial 1011 and report what you saw, but don't even slow down. "if you are driving at night and eggs are thrown at your windscreen, do not stop to check the car , do not operate the wiper and do not spray any water, because eggs mixed with water become milky and block your vision up to 92.5%, and you are then forced to stop beside the road and become a victim of these criminals. This is a new technique used by gangs, so please inform your friends and relatives. These are desperate times and these are unsavory individuals who will take desperate measures to get what they want." please talk to your loved ones about this. This is a new tactic used. Please be safe!!.
Important message for every girl who are going to college or office alone. If you find any child crying on road showing his/her address and asking you to take him/her to that address, if you wish then you may take that child to the police station and please don't take them to the address which they are showing. It may be a new way of a gangs to steal or rap... and kidnap girls. You may forward this message to your beloved ones.
---
Good News to all spiritual thought lovers, we started Spiritual Wallpapers section here.
Submit Your Mobile
Sayings
Great minds discuss ideas; Average minds discuss events; Small minds discuss people . . . Let you question yourself, "WHO you are"?
Joke
Teacher: "Which book has helped you the most in your life?"
Student: "My father's cheque book!"