Vastu for Corporate Hospitals | Nursing Homes | Clinic
VASTU FOR NURSING HOMES AND HOSPITALS :
In olden days Doctor is nothing but visible God, "Vaidyo Narayano Hari", now a days Nursing homes and hospitals are getting popular and many nursing homes are coming up daily in the cities. The fame and success of nursing homes and hospitals are decided by the dedication of Doctors and vaastu strength of its buildings. Even today also some of our elders says that if their favorite doctor touches their hand, immediately their fever will come down and getting good health,it is nothing but trust, faith, hand power of such doctor.
Many doctors in our society may never accepts following the Vastu Shastra., to be frank the educated people may not believe these subjects like Vastu, astrology etc, but astonishingly now a days doctors are following vaastu, and construct their houses / hospitals / nursing homes / clinic according to vastu shastra principles, most of the hospitals, nursing homes in these days built according to vaastu shastra. Even many famous and skilled doctors have closed their hospitals as their buildings were against the vaasthu. So they faced a lot of problems in the maintenance and non-availability of staff and infrastructure failure, patients are not interested visiting, issues came through treatment, galata, troubles facing in the name of many known and unknown issues and finally closed their hospital/clinic down gradually. When Hospitals or Nursing homes are constructed as per Vasthu Shastra, they will flourish well and get the popularity very soon.
The patients will also be cured very quickly and effectively. As we have seen more hospitals, so many now facing strict competition, now a days doctors are moving against time, that means they are working nearly 16 to 18 hours at hospitals, but many of them are not getting what they are expecting. why all these happens, because of bad vastu of that building or hospital. In most of the cases, vaastu at hospitals is not according to vastu principles, those hospitals, nursing homes, super speciality hospitals are at the stage of closing scene, forcibly some of the doctors group or managing partner of the hospital is getting loans and running hospitals, but its only a very short period process, (this matter is from www.subhavaastu.com) how can the hospital ran with loans for a long period, never. But after passing days the managing partner or head of the institution opens their eyes and showing their building to the vastu consultants, what is the benefit if they show the hospital building at that stage, heavy loss of finance, strain, bad name in the society. If the finance position is weak, generally ill feelings arise in between management, some times it leads to quarrels, groups, court cases, panchayats, man handling, divisions, over powering etc happens. (this matter is from www.subhavaastu.com) Its always better to show the site to one experienced vaastu consultant before constructing a hospital or nursing home, get one good plan from engineer and don't compromise to show that plan to the Vaasthu consultant and get appropriated vastu suggestions and do necessary precautions as directed by the vastu consultant, this system will always enlightens the hospital history in the society, if everything is done according to vastu shastra then that hospital or nursing home get good name and fame in the society, have a gentle talk in between the surrounding area and it brings lots of money to the proprietor i.e., head of the doctor.
SOME IMPORTANT VAASTU SUGGESTIONS AND HOSPITAL VAASTHU TIPS :
Consultation or Consulting Room or Chamber : The doctor's consulting room is best when it is located in the South-West or South or West . Generally North-west side sitting may create some irritating situations, if the building is constructed without vastu guidance, then you may do one thing, take white paper and draw your hospital plan and find out the Southwest portion of that property and sit there facing towards East. Diagnose the patients by facing North-east or East or the last option is North direction.
If the property is built according to vaasthu principles then, in this image we have shown with 1,2,3 and 4, the last 4 will be the Northwest part of the hospital, so doctor may sit in this part if the Hospital is facing towards North direction. Northeast will be the entrance for all, and doctor will sits towards Northwest part or West part. No doubt Southwest part is also good for doctor special consulting room.
At consultation room Doctor should sit at Southwest or south or west side only, and the patients sit before him, 'L' shape is more important at hospital head doctors consultation room, this 'L' shape should be raisen only to the northeast direction. This may generally or sometimes definitely brings prosperity to the head of the Institution or Doctor.
Medical Equipments Room : This should be located in the South-west, West or South side of the building on elevated floor place. Then the entire remaining hospital building will be lower than this place.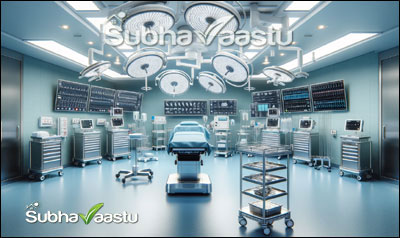 Reception Counter :
Reception counter is best towards Northeast corner of the hospital. Counters has to be placed towards Southwest corner or West or South directions. If Northeast reception could be in lower (floor) place, then management will be benefited.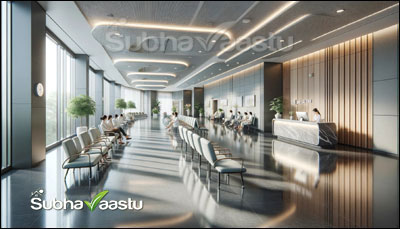 Store room for Medical apparatus : This room should be in the South West, West or South side only, store room should always be in a height or elevated than the common flooring of the main hospital.
ICU / Medical Ward :
The emergency patients should be located in the South-west room for immediate healing.
The beds should be arranged at correct places according to vastu shastra so that the patients place their heads in the South direction. Always head should be placed at south direction, to get good vibrations and easy treatment process, immediate relief, if the patient get relax at hospital from their health sufferings then they will be the main asset for the oral advertisement.
The unit should be located in the South-west, South, west rooms only.
Placed fixing the pooja room at eshan (Northeast) corner & it should not disturb vastu at main building.
Electrical Equipments: Generator, Heaters etc., should be located in the South-east rooms. It is better to ask the vastu expert consultant before doing any alterations or modifications to your Nursing Homes for staff quarters, operation theater, clinical lab, X-ray machine placement etc.
Operation Theaters :
Operation Theater should be placed except Ishan, Agneya (Southeast), Vayavya (Northwest) corners. At operation theaters the doctors should face East or North direction while doing the operations. Then operations will be quite easier and highly successful. The rate of success is more important to the hospital for the next coming patients, and its free of cost in the mode of advertisement.
In Southwest room the machinery or equipments should be placed at the South or West directions. The patients head should be at the South direction at the time of operation inside the operation theater. The necessary apparatus should be kept in the South or South-west or west side of the patients' bed.
Surroundings vastu is too important for the hospitals. If it supports almost the hospital will get succeded. Regarding super speciality hospitals without observing the surroundings vastu don't start constructing the property. We observed some properties without having surroundings vastu, they lost reputation in the society, some hospitals does not have site with good measurements, either corners or directions will increases and it requires to do the corrections for the properties, but the management never approaches though they have knowledge on consultation with one vaastu shastra expert. After getting losses or other negative effects then only they are interested to approach vastu consultants.
---
---
North Street Focus houses are good to buy ?
According to Horoscope which facing house is good as per Vastu Shastra ?
My cousin told me that North Street Focus property is good to have excellent business, is it right ?
Northeast-north Street Focus to our home means can we expect good results ?
Is Street Focuse properties are good to buy ?
I would like to learn some thing on Vastu shastra in Telugu Language ?
We just find a site which have Northeast-north Street Focus, can we buy it for hospital construction ?
How vastu shastra works in USA ?
Does vastu corrections compulsory in UK ?
Where should we keep pooja mandir in our office room ?
---
---
Back to
Vastu For Hotels


Take me to
Frequently Asked Questions
---
---
Click this link to read reviews on our website : Click Here
Reviews on Vastu Consultant Services Website SubhaVaastu.com
Aditya, who was just came to USA from India working as a software Engineer, he belongs to a traditional family and their forefathers are working in astro services only, I kept first floor bedroom3 is his living room. From starting I kept that 3rd bedroom for guests, any way he came from India and his brother is very close to me and that's the reason I hosted him in my house. He was very simple and honest guy, all of our family members likes him. He is very calm and more interested on education, he is always reading books. Most of the time he was in my library. Once we are searching for best vastu consultant in India, to show our new home in Hyderabad for evaluation, immediately Aditya showed www.subhavaastu.com website and informed me that his father likes this site very much and recommends to many residents who requires genuine vastu consultancy services. I stepped into this site and seen the hard work done by the team, wonderful website, I appreciate the entire team members for making such a beautiful website with useful stuff, specially images attracted me. Shortly I will share this vastu website information with my friends - Narayan Srivastava - Dallas - USA.
The website Subhavaastu.com is very informative.Sureshji, the founder of this website is according to me a great ¨human who has vast knowledge in vastushastra and his kindness to his clients are appreciated. He listens to his clients problems patiently and gives the appropriate remedies. His main motto is good service and he responses as quick as possible. I spoke to Sureshji as a stranger only, but after one phone call itself , I started feeling that he is a caring well wisher for whoever asks his help. He is a genuine person. He doesn't force you to spend money in the name of vasthushastra, he explains clearly where the problem is and tries to give very easy changes to have a peaceful life. Sathya Priya - Switzerland - (Chennai - India ).
Suresh gaaru, Please accept my namaskaarams, I am a software engineer, I am very impressed by your website and the service you are doing for the public. It is commendable that you are giving free vasthu services to armed forces, government offices etc. Nori Venkata Narasimham - Hyderabad - Andhra Pradesh - India.
I would like to share my experience working on our house plan and the expert assistance provided by Suresh garu. About our first house in USA, it is a Vidisha plot / tilted site (houses facing NE / SE/ NW/SW are called Videsha plot ). Most of the plots in the USA are of this kind for which getting the design as per our Vaastu is difficult. I believe the Science in the Vaastu rather than superstitions & believes associated with these. Since land is same, I believed Vaastu will still hold good in USA. I believe that Science in Vaastu tells us the importance of Sunlight and flow of air in the house and design the house such that our daily lives are harmonious & prosperous. A very simple theory, if the house gets good Sunlight in the morning (more Vitamin D) and get good natural air, you would be brighter and healthier, once your health/spirits are high you progress well in the life. Anyway to design a house on the Vidisha house it was a challenge and Suresh garu helped me in picking the land correctly and helped me in designing it to the principles of Science & Vaastu and most importantly adhering to the building codes of my community. Once getting the exterior load bearing walls & foundation correctly done, our biggest challenge was deciding the dimension of rooms in the house especially master bedroom, kids bedrooms & family rooms. I had long discussions with him and he was so patient in explaining the impacts of the changes clearly. I was impressed by his suggestions and truly appreciate his help & guidance. I have been the ardent reader of different Vaastu books from last 7 yrs and it seems Suresh garu has covered most of the points in his book and website (www.subhavaastu.com) with respect to Science in Vaastu. These are a wealth of knowledge and speaking to him is also kind of big help in coming up with a perfect design for our first house. We are going to get our house in next 4-5 months and in 2 years time I will definitely come back and share my life experience being in that house. About Suresh garu, he has a wealth of knowledge in terms of explaining science in Vaastu. I hope his suggestions and guidance will help many more for their better living - Shyam Vaddadi - California - USA.
---
Announcements
---
Good News to all spiritual thought lovers, we started Spiritual Wallpapers section here.
---
Sarvejanaa Sukhinobhavanthu
---
We are trying to publish complete vastu shastra information in our website, without your co-operation nothing will be happen here. Please support us by sending emails like what exactly you are looking here, based on your emails, we will plan to publish accordingly. With your only co-operation we will make this website as one of the best portal in our Indian vastu shastra websites history. In other countries once people get request invitation from any website or news papers people will come voluntarily and supported to make it as one of the best service oriented in their society. Indians are more than good when compare with other country people. Please come and share your thoughts, ideas, reviews, doubts, knowledge, opinions here. Dhanyavaad. Please write us by clicking this link Contact page.
---