Vastu For Water Sump | Tank | Storage Bore Wells | Body
Vastu for Water Storage Sump Bore Well | Vastu Source | Body :
Where exactly we have to dig the Water bore well in our house, Which place is suitable for the source, most of the doubts may have answered here.
A Water Bore Well or water sump or Water Tank or Pit (Water Body or Water source) should be dug (we will also discuss about earth wire pit or earth wire well)after performing proper pooja's. Deep wells are considered good. The water available in a deep well will be pure and rich in minerals. The slow moving water body or fountain in front of the house is very auspicious. It is a vastu principle that well should be in the North east of every house. That may be eastern north east or northern Northeast. Utmost caution should be shown in regard to well or bore well. The shape of the well can be a square or round below the ground, but it should be round on surface. If it is a square, one of the four angles will cause a thrust to the house. The shape of the platform of the well should be less elevated than the plinth level of the house and ground level of the area in Southwest. The platform should not touch the Eastern or Northern compound walls.
The spots for digging (drilling) a well:
A well has to be dug in the area as per vaastu. A well or bore well should not be dug on the diagonal line proceeding from the north eastern corner of a house to the north eastern tip of the plot. It should be located either to the right or to the left of the line as per the availability of space in the east or north of the north eastern portion of the plot under no circumstances should a well or bore well be in the angle of north east. If there is a pump set in the north east, it should have roof. This should not touch north or east walls. If well or bore well or any pit is situated in the northern north east the family will be happy, will prosper, and have sound finances and enjoy these benefits for many generations. The situation of well or bore well in eastern north east will make the master of the house famous along with bestowing the above benefits. Some sink well or bore well near the house adjoining it, thinking that it is in north east anyway. (This matter is came from www.subhavaastu.com) But it is wrong. The well or bore well should be in the north east for the entire plot or area. In some cases there are meager chances of digging or drilling a well or bore well. In such cases they can be had in the east. "A well in the east – all good omens feast". A well in the north is also good. Well in the north all benefits will be brought forth. This will bless womenfolk. See these designs of wells as per vastu. A well or bore well in the south is strictly forbidden. It will lead to the untimely death of women. No well or bore well in the west should be there. Man will become diseased and incurs financial losses. A well or pit in eastern south east will result in the ill health of the matter of the house and children. Further it may cause fire accidents and thefts. By a well in southern south east, women will fall sick, incur financial losses, fall into bad habits and there will be the threat of fire accidents and thefts. If there is a well or pit in the southern south west, the women, folk suffer from terrible ill health. There will be loss of money. There will be indebtedness. They meet premature death. If any well or pit is there in the western south west, the land lord will suffer from chronic diseases and they become bad characters. They may meet untimely death. A well or a pit in western northwest will effect the men. They will be bad characters, they suffer financial losses, court litigation and thefts. They will have no peace of mind. If there is a well or pit in northern northwest enmity will increase, women will have no mental peace or they may leave the house and such undesirable things come up. Some people cite irrelevant matters from ancient books and support the incongruous points as standard in their books. It is a tested and proved point that it is better for the site of construction to be more in the west than in the east and south more elevated than in the north. But some contemporary writes on vaastu suggest that wells or bore wells should be sunk in east, north east or north or even in west by citing old treatises like Kalamrita, Vasishta, Smahita, Sanathakumara vasthu and Vaastuchintamani. It is cited in them the places that the well or bore would be in east, north, northeast and west. But a well in the west does cause a pit there. So suggetsing that a thing is bad in some places and the same thing as good in some places is self contradictory. (This matter is came from www.subhavaastu.com) How should one understand this? We come across such incongruous arguments in some books. The argument that Varuna is the lord of the west and so a well can find place there is meaningless. Suppose a well or a bore well or undesirable pits are there in wrong directions, it is inevitable that they should be closed and covered. But some people cover a cement slab on a well to close it. Some place wooden bars on the well and cover it with earth. But it is wrong to cover the surface without filling the inside with earth or other material. They should be filled with earth or other material and then covered with slabs. But there will be a gap in them with the passage of time. Then again it should be filled and covered.
The Best ideal Place for Water Sump:
| | |
| --- | --- |
| Observe this flash file, here the house is at Nairuthi (Southwest) corner, and the Water sump with round shape has came into East Eshan (Northeast) corner of the Compound corner, results is: good health, richness, name and fame. There is one red line running from house to compound wall corner, that means we should not construct the water sump in that place. We have to left that place and construct the water sump at East Eshan place or North Eshan place. | |
The below is the North Eshan (Northeast) water sump
Here the water sump came into North Eshan place, this is auspicious for

well

, and the results is richness, always money flow, good health etc
There are some other places for water sump, those are Eshan, East and north sides, before constructing water sump at East and North sides please get a right suggestion from one experienced vastu consultant .
Observe the below images, from this you may understand why we should not dig the water sump at Northeast corner exactly, this explanation will you clarification.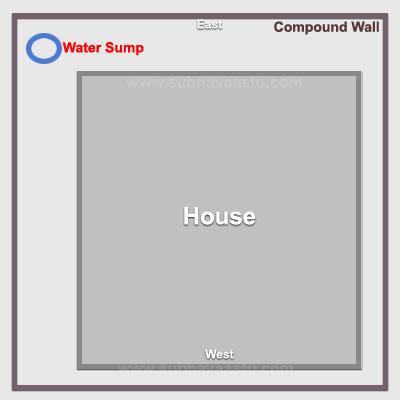 In the above image there is a compound wall and a house is inside the compound wall. There is a very less space in between the compound wall and house. For your understand purpose we write the "Water Sump" in red colour.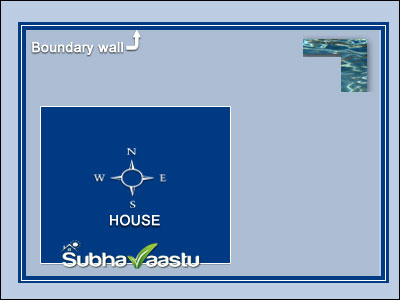 Here the sump shape has changed, actually this shape of sump may be good, but here it is not recommended.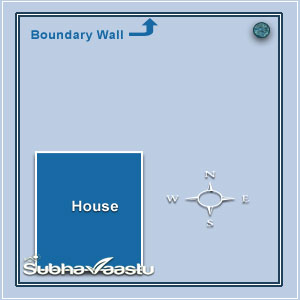 In the above image the distance between house and compound wall has changed, due to this spacious place in compound we may take a decision to dig the water sump at northeast corner. The distance will save the construction.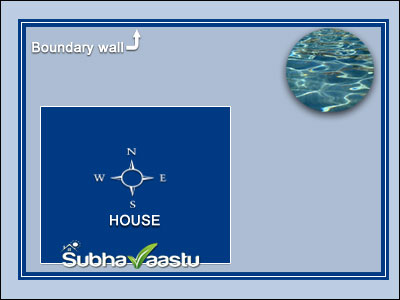 Here the water sump shape has changed, here also you can decide to dig the sump like this, there is a lot of distance in between the house and compound wall.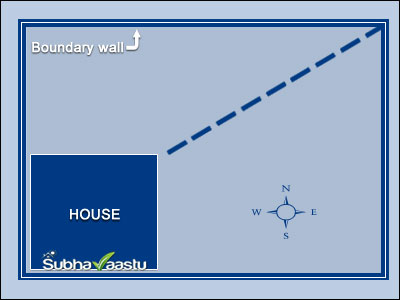 In the above image, we can clearly observe the distance in between the house and compound corner, so there may not be any damage to the construction, due to this idea, we may dig sump at Northeast corner as discussed in above two images.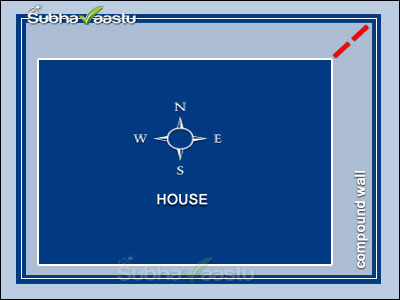 In the above image we can clearly observe a less distance in between the house and compound wall. So it is not recommended to construct or dig any water sumps in northeast corners. That will be damage to the construction. If the construction is not so secured, bad vaasthu power will raises. So consult one expert vastu consultant before ordering to dig your house, it may damage to your pocket also.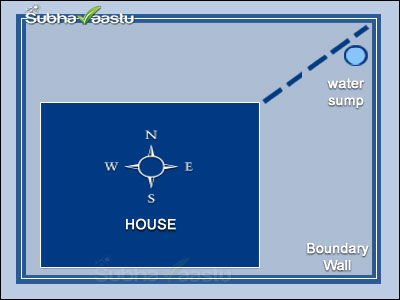 After all observations in the above images, it is suggested that without taking any risks, it is better to have the water sump as shown in the above image. But any how its better to consult a competent vaasthu scholar before doing any job in your sweet home.
There are some more information on this sump's section :
1. Sump within the compound and centering positions :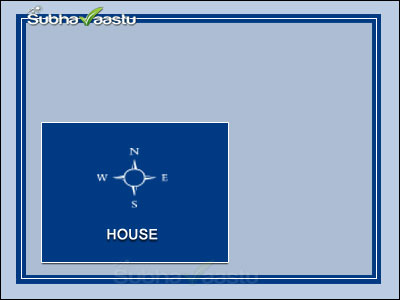 The above image is a one house with compound wall, now we are going to make it 4 parts of this property for water sump purpose, this will helps us to know some more information on this Vastu science. After making 4 parts of the entire property, then we can easily understand where the sump has to come and what the logic to dig a water sump towards northeast corner. Please observe the house sitting position in the compound wall and the empty space inside the compound wall.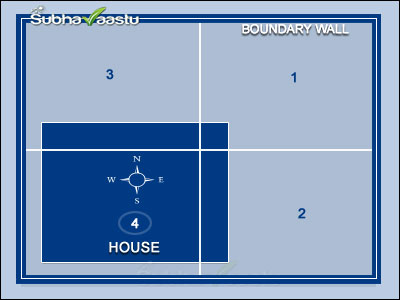 Observe the center point of the compound wall with white marks here. This is the right position to evaluate the center point or four parts of the house. "1" represents Northeast corner of the compound wall. "2" represents Southeast corner of the compound wall. "3" represents Northwest part of the compound wall. "4" represents Southwest part of the Compound wall. This is the exact evaluation of parts of the compound wall. Because the residents of this property have rights on the house and compound wall, and both are under one owner (inmate) only. Now we will check up where the sump has to come and which is the best position here to have or dig the sump here. Now we are going to dig a sump at northeast corner i.e., "1" in the above image. Now again make it 4 parts of the northeast corner.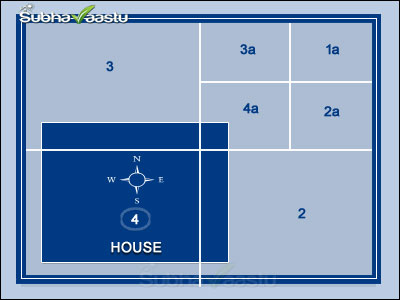 Now we have done again 4 parts of the "1" i.e., northeast corner of the compound wall. Here the northeast part of the northeast corner namely "1a" , Southeast part of the northeast corner i.e., "2a", Northwest part of the northeast corner i.e., "3a", southwest part of the northeast corner i.e., "4a". Now we got the exact corner to have sump here. The "1a" is the exact position to dig the sump in any part of the property, but there are some more relaxation in some other properties that we will discuss later. Here "2a" and "3a" is also suitable to dig the sump. If residents will dig the sump at "1a " here that means the water is at exactly towards northeast corner of the compound wall, an Auspicious alteration done at this house.
Now Water sump or water body has came into northeast part of the northeast corner of the compound. This is the exact water sump placement at house. Still there are certain in-depth rules to have water sump here. We will learn all the things here. Any way we reached the exact position of the water sump in a house with compound wall.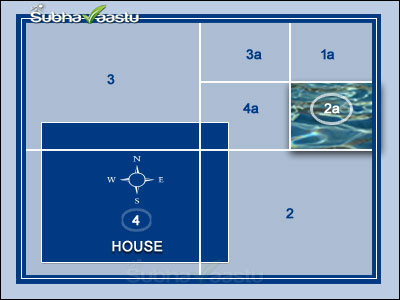 Here the water sump or water body has came into Southeast part of the northeast corner of the compound wall. This is also a good position. There is nothing to worry about placement of water sump or water body here.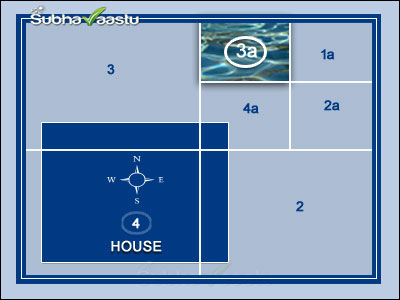 Here the water sump or water body has placed at northwest part of northeast corner of the compound wall. This method is also good, there is nothing to worry about this placement.
Now we will check out what is the position if the water sump has came into southwest part of the northeast corner of a compound wall.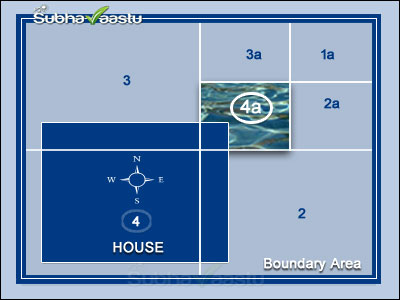 Here water sump placed towards southwest part of the northeast corner of the compound wall. Any way as per the above image, this water sump has came towards northeast corner in the entire compound wall. But here the "Aya" is too important, while constructing the water sump exactly towards Southwest part of the northeast corner of the compound wall. This sump is almost adjacent to Plinth area.
Now observe a small graph type water sump or water storage places in our properties.
The entire northeast is marked as white area and red occupied gradually towards southwest area. It indicates that the southwest parts are not good for water sumps. Along with this direction the south, west, northwest and southeast portions and finally the middle part (
Brahmasthan
) areas we should not construct the water sumps.
Here the entire
North
is clear with white mark or marked with white in colour, so the water sump is suitable at entire North here and gradually red occupied the entire South part, but this method of construction should be finalized by
vaasthu
expert only, residents should not take any decision in the absence of Vastu Expert.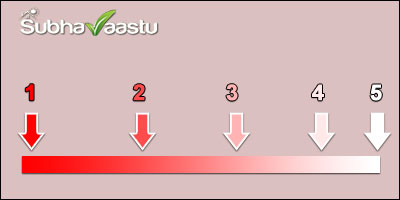 The above graph indicates the Water storage excellent levels or danger levels in a property White areas marked are excellent in results and red areas are dangerous, regarding north and east total white areas, without expert vastu consultant one should not do construct these directions places as entire water sump area. It should be personally verified by the expert vastu consultant and after that only decision has to be taken. Please note that this is approximate levels, it is not prepared according to scale. The water storage comes to up and downs in a property, so before going to do any alteration in a property please approach one expert vastu consultant and obtain his guidance. Once mistake happens in the name of this dig or drill in a property, it may causes to mental tensions and money loss to rectify the same. Regarding the results already we shown it with red mark.
| | |
| --- | --- |
| For your kind information, here is a map showing that the red and blue colors for water tank. Red color area is not suitable for water tank and the blue color area is the water tank area. Some areas both colors are mixed, if you would like to construct the water tank in that area, it is better to approach one expert vaastu consultant and get right recommendation after showing the property. | |
Another image showing the water tank positions :
Blue colour is the right portion for water sump or tank. But it should not reach the Southwest area, or it should not reach the Southwest area. The red area which is Southwest area "NO" to water sump or Water tank. The Northwest areas and Southeast areas are also not recommended for the water sump or water tanks.

Here we are discussing about the water tank or water sump which is water storage in the ground, we are not discussing about the water tanks above ground levels. Please note this point.
One property with having full of water sump at East side. The property is rectangular property, which is having 60 X 100 .. in this property the plinth area is 40X40 with duplex house and having total 5 bedrooms. The residents are more healthy and wealthy, these property owners taken experts opinion after showing this plot.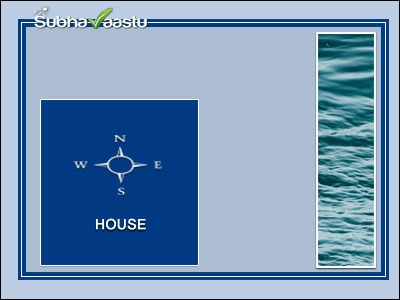 Here you may please observe the water sump at East Direction, almost entire east direction is water storage sump. These residents require heavy water storage sump, it is in Rajasthan. If the property is rectangular then we can try to have a large water storage sump at entire east sides, but it should be done in the presence of expert vastu consultant. Why because if there is any street focus / veedhi drishi / sula is hitting the property that to northeast east or northeast or east focus and here the directions say about North, South, East, West are also taken into consideration for doing these method of constructions, otherwise this entire sump may not be advised. From starting we are requesting every body that, it is better to have experts opinion for all of your thoughts and future security.
I have bore well in NE corner. Can balcony of the house covers over the bore well ? The balcony is projected towards both sides of the north & East with a little margin to compound walls sir. Please suggest me the correct way before casting the slab ?
A bore well is for humans utilization purposes. After digging the earth for water, when water is detected and got good water, then Plumber will covers it with case in pipe with motor provided along with pipes. So it will be covered with full protection. Now coming into the point that, why we should not walk on water wells, bore wells, water sumps etc. In olden days antibiotics are not available easily, and if some thing poured on water, cleaning means not so easy, that is why our elders strictly ruled out a new thing that we should not walk on water, it means we are giving respect to water (water is nothing but God symbol as per Hindu system), on those days cleaning means they clean the water with a cloth or heat the water and consuming. You are well aware that most of the deceases are spread with water. Now a days in a small village and a small street also we can avail of antibiotics, and many new systems came to clean the water and many of us are consuming mineral water and this is very general thing. Based on this we may not be serious on this issue and we can have sump under the portico. But still our elders or Pracheena /Prachin vastu scholars never accepts this system. Now every thing is covered and no way to get that water source spoiled with dust, if so we are drinking only purified water only. This is scientific reason. Another reason also there, water source means depression, so children may fall into that deep routes, that may be another reason for our elders not to walk on this water body. Excellent and grateful thought. Our elders always think on our health and wealth. Salutes to our elders.
Is water sump is good in front of the main door :
I have a East facing 35 * 40 feet plot. And I am constructing house in that plot. Now I am planning to dig a sump in front of the house (in North-east portion the plot). Exact location of sump is between east wall of the house and east wall of the compound. I want to know if Sump can come IN FRONT OF THE MAIN DOOR or not - Nadipalli Bharath - Bangalore City - India.
-> Now a days the sites are very very smaller, in previous days house means one acre or half acre. Now sites become like a match box type size. The principles to the acre land may not be suitable to the 30X40 feet size plots. So for each and every thing we have to broadly alter and adjusted, otherwise people never build the houses. Water body or sump or well is good at Northeast, North or East directions. Water is precious and it is the time to store the water in all the places. Based on some restrictions we should minimize measurements. Water sump should not come at Southeast corner, South, Southwest, West, Northwest. Water sump is good at East, North and Northeast.
| | |
| --- | --- |
| Please observe the center line at this image, right side part is South direction of the site and left side part is North direction of the entire site. Here the water sump came towards Southeast part, it is not good. | |
Water sump is towards East :
| | |
| --- | --- |
| Here the water sump is exactly towards East direction of the site. This is not wrong, many houses have such water sumps and inhabitants saying that it is giving good results. Please note that even one inch also should not move towards South direction. | |
Water sump towards Northeast bordering to East direction :
Now water sump is came towards North direction, it may also called as Northeast-east water sump. The water sump South part is touching the center line of the compound.

Now coming to the point, the water sump is came into the main entrance door. Now we are using the cement and closing the water sump with proper lid with iron or slab or RCC. Now in this position, it may not harm the residents. Dust is not drive into the water sump. Further more now a days we are filtering this water again and again and after that only consuming. So no problem. If any body is serious on this issue, do the construct like this, and observe the below image. Then the problem solved.
Amicable alteration :
See the water sump little bit move towards South direction, now the water sump is called as Northeast-east water sump and it is not obstructing the door and pathway before the main entrance. Your purpose solved and followed the vastu principles.

Please note that without expert vastu consultant don't d any practicals.

Same also applies to the North direction properties. For your kind information we are serving the water sump images towards North direction.
Now observe the North direction water sump and door :
| | |
| --- | --- |
| Please observe the center line at this image, upper side part is East direction of the site and lower side part is West direction of the entire site. Here the water sump came towards Northwest part, it is not good. | |
Water sump towards center towards North :
| | |
| --- | --- |
| Here the water sump is exactly towards North direction of the site. This is not wrong method, many houses have such water sumps. Please note that the water sump even one inch also should not move towards West direction. | |
Northeast-north water sump :
| | |
| --- | --- |
| Now water sump is came towards East direction, it may also called as Northeast-north water sump. The water sump West part is touching the center line of the compound. This system is good. Check the below image. | |
Water storage sump towards Northeast :
See the water sump little bit move towards West direction, now the water sump is called as Northeast-north water sump and it is not obstructing the door and pathway before the main entrance. Your purpose solved, and followed the vaasthu principles.

Please find the best expert vaastu shastra consultant and get recommendations from him.
Observe this image :
| | |
| --- | --- |
| Protection is important for your water bodies, where ever, they are constructed, otherwise it may harm to kids in the house, generally children play games in compound premises, they are not aware of the surroundings when they were concentrated on games, if there is no lid or protection to the sump ... what happens. Check this image, and secure your loved one's. This protection will saves every body, while in my consultation in one village, I was seen an incident. One dog was fell down into the sump at night, through out night it was barked and catches a small piece of iron rod inside and saved her life over night, morning the owner called some people and they tried to pull up dog with rope, anyway finally it was come out and fell down on floor. I immediately gone to one nearby grocery store and bought 6 eggs, bread, milk and biscuits and served it and her eyes were teared saying regards and thanks to me and all of us, it consumes the food hurriedly once it reaches to be feel that safe from her position,  that is also a life, we are all happy when it was saved and secured. | |
Perfect planning is required and too important in vaastu shastra. Based on surroundings, structure, measurements, land elevations, air flow, building age we have to take the decisions in Vasthu shastra. Vastu expert will help you in taking the right decisions. Always approach only one best vastu consultant nearby you.
Question by one Visitor :
Our's is a West facing house, with the back door on the East. On the North-east we already have a bore well. We need to construct an underground sump for water storage. We don't have enough place to construct one, either in the North or in the North-east. We only have place in the East. If we construct a sump in the East, it extends till the edge of the building starting from the compound wall. In that case we would be stepping out of the back door only to walk over the concealed sump. Please guide us in this context, as is this permissible in accordance with Vastu? Thank You - Deepthi Satyamurthy - Hyderabad - Andhra Pradesh - India.
Answer by our Vastu Experts Team :
Dear Deepthi Satyamurthy Ji, thanks for your question. Now a days we don't have such a bigger places to follow all vastu principles. Vastu Shastra says that there should be gap in between Water sump and building/compound wall, it should not touch either building wall/bedrock and compound wall/boundary wall. Please note that this rule was stepped in only thousand years back, it was not framed now a days and after the cement invented period. It was written only before cement invention. Construction with mud/lime stone/sand may not provide strengthen to the property,  based on those days accommodating material, elders written that the water sump should not touch either main building and boundary wall and they framed.
Question from George from Ernakulam : Hello Sir, I am building a house in Tripunithura and have a question. The earth wire pit is located in Kanni Moola (South west corner). Is it OK to go ahead at this place? Or should I move this pit to some other place? I would appreciate your early answer.
Earthing means the connection of the electrical equipments to the ground or earth. The main cause for this earthing is to get protection from electric power shock and bypassing the maximum or heavy load to reach the ground. This is a semi closed pit, it is not open to see the bottom where the earthing wire was placed at least level at ground. If there is no earth wire system to a property, then there is a high chances for the power shocks and accidental issues observed. Earthing is too important for each and every property. The earth wire is connected to a plate or pipe placed inside the pit and was placed at bottom levels and covering with cement slab or wooden structure to make sure that it was properly placed and not disconnected with the pipe. Later we have to add or filled with salt, water and charcoal, you are well known that the coal powder adds a perfect electrode conductivity & also acts as a anti corrosive agent with this pipe. Salt plays like electrical conductor. The good ratio of water has to be added to this earthing pit often to kept the good process always works earthing resistance in good control.

Now coming to the point that all the above process there is no any whole vacancy in the pit. It was already filled with some items and was not kept  open. So you may use this system or place or plan this earth wire pit at East or North, because regularly we are using to add some water to it, though it may not be compulsory but its good if we add water regularly. Northeast is not recommended, because it contains with electricity which is said to be fire in general. You may plan at Northwest or Southeast, if there is no such placement, then plan for South or West, the final one is Southwest. If you already digged the same at Southwest then do one simple thing, close it with one heavy slab or solid rock shown at SubhaVaastu dot com website. Water sump or septic tanks may be dangerous at Southwest as per vastu, but earth wire pit is not such a serious one. Anyway generally we are not recommending at Southwest parts for this purpose. 
---
---
We are planning to start a Star Hotel, is vastu works for Hotels?
My friend is going to start a Five Star Hotel at Singapore, does we have any vastu info available here?
What is Motels, where are they available, what is the vastu importance in Motels business?
My friend is going to start a Dhaba hotel, is he should follow vastu for all construction?
My uncle wants to buy a plot, which is Northeast extended one, does he buy it?
What is Surroundings vastu and what are its effects on Human beings?
Can I have South facing house plans from this website?
What are the vastu effects and how to prevent some issues through corrections?
---
---
---
---
Review on Vasthu Shastra Website SubhaVaastu.com :
I require some clarification about the water sump, I got the answer from your (our) Subhavaastu site. It is really good. Thank you very much, Regards - Keshavan.B - Bangalore - Karnataka - India.
Namaste Sureshji, Season greeting, I have seen your extensive work on position wells and sumps. All the explanation and illustration is really assistive - Shiv Prasad - India.
Write your review on Vaasthu Shastra Website SubhaVaastu.com :
Write a Review on our website. Or you may write your Opinions or suggestions . If your review is useful for the society we will publish it at our website and your name stands life long here. You may modify your review at any time, for example if you would like to change the city, country of living etc, along with this, you may ask us for change of your name, if you don't like to publish your original name. We respect your privacy, many wrote their reviews on our website, you may check at many web pages in our website. Click this linkto read many reviews from our website visitors and clients. Thanks in Advance.
Reviews on Vastu Shastra Consultant Services Website SubhaVaastu.com
Namaskar Sursh Ji, My name is Naga Bhaskara Srinivas, and I am planning to buy an house in USA. I found your site subhavastu.com, very useful for people that live around the world - Naga Bhaskara Srinivas - United States of America.
We are Software Professionals in USA, Initially to buy a home we searched internet, sent floor plans to India, then one of my friend suggested subhavaastu.com site, I was very impressed going through the site, lot of information was provided, I contacted immediately Suresh garu for consultation. Being so busy he always responds to my emails and phone calls, clarified my doubts, He is so expert in giving consultation to USA properties. I feel him like a family member very frank, genuine and most of all patience. He do have immense knowledge in abroad properties, Indian properties by default. Anyone can give guidance, but he gives consultation with practicality not just some text book guidelines. He knows in and out how the structure, layout works and will give simple alterations, genuine Consultation. I have to salute to the tremendous work and efforts he puts in subhavaastu.com site.
- Sangeetha - New Jersey - USA.
It's very generous of you Mr. Suresh that you have placed all the books about vastu on your web page totally free. But they are in Indian Language? Is there possibility that these books will be written in English. Your web site is great. Thank you - Sasa - Zagreb - Croatia.
Hi I am KiranKumar, CEO & Founder of a leading Portal of Andhra Pradesh. I visited subhavaastu.com. I was very excited and surprised while browsing the portal. It contains a huge information about vaastu, which is really essential for mankind to lead a happy livelihood. I strongly feel we can't get this type of information from any consultant or any other source. The basic reason is lack of time with vaastu consultant to explore & express the pros and cons of our property vaastu. To greet for the same I spoke to Mr.Suresh the founder of this portal. I really appreciate Mr. Suresh garu. He is a vastu genius, kind hearted person with a strong passion towards technology and very good helping nature. Keep it up subhavaastu.com - Kirankumar - Hyderabad - Andhra Pradesh - India.
Thank you very much for your response. I have gone through your website. Honestly , not seen a website like this one. Amazingly informational. The one who shares such great deal of information is the one who is the guru and with this hope I am wanting to seek advise from you. Hoping to get in touch with you on your return from Oman Country - Stuti - USA.
Dear Mr Suresh, I have been reading articles from your Website this evening (16th July 2010) and Sir you are a Legend !! What you have disclosed in your Website is nothing short of amazing and it shows what a powerful human being you are to share your knowledge of Vaastu Shastra so openly with the people of this world. God bless you Sir - unfortunately we do not have enough people like you in this world. Best wishes, always - Raveen Bhairo - Australia.
I had gone through several books written by Shri Sureshji on Vastu shastra. I saw the utilitarian information contained in the books. Though not being a computer buff one day I chanced upon the Subhavaastu.com website containing so much information that I was afraid to open and browse even. When I had nothing else to do I opened this website and gone through. From being a vaastu shastra consultant I became an admirer after browsing this website. The information contained is so very exhaustive that I felt that I knew nothing till I surfed this website. I was amazed at the details of such small things as nails and hinges even. I was equally amazed that in the zeal to be exhaustive he might have missed the comprehensiveness of the subject itself. This compelled me to go through further more. The more I read the more I got fascinated. The website has not ignored any detail in vastu. At the same time it has not omitted any topic either. It is both expansive and comprehensive too. I also find that the website is constantly updated. A thing I am not used to. I chanced upon meeting Sureshji once in Bangalore city. I saw him busy updating website. The contents of website were those that we had been discussing the morning before. His logic was that he found the discussion interesting and educative and this should not go away with him, if the same is available in the website many people would benefit by it. Truly admirable way of living. I felt thrilled that our discussions did not degenerate into coffee shop gossip. I was glad to know the discipline to which he had submitted himself. Perhaps I felt this was his tribute to the vasthu science itself.Shorn off commercial interest the website purely deals with vastu subject. A person with elementary knowledge and an interest to know more can easily get what he needs to do or not do in his design/construction venture, so as to derive maximum advantage. A person with average intelligence can come to reasonably sensible conclusions and firm up his mind to the problems facing him with reference to his own house, office etc. While this is true one cannot ignore the knowledge that may be available with him beyond what could be contained in the website upto that point. It is for this reason that every time he advocates consulting a competent vaasthu scholar, even when the answer is simple and apparently visible too. I believe this website makes one a knowledgeable student so that he has got an opportunity to learn more. I have no hesitation in recommending this website to one and all even though I am also practicing vasthu consultant for I believe that spread of knowledge is the foremost duty of any person and that this website does this job admirably. My job would be easier when a knowledgeable person comes to me for solutions - Ram K Chetluru - Vaasthu Consultant - New Delhi.
I am really very much impressed with Suresh garu for his valuable vastu guidance. Generally I never believe any vastu consultant, there are many vastu consultants but most of them are all commercial vaastu consultants. But Suresh garu really a nice person who doesn't think in commercial angle. Also he answers all your questions with patience. Subject wise, he is having very good knowledge on vastu and he doesn't treat it as the religious, he says it is a science, which is true as per my knowledge and experience. To say there are lot of things about the site and Suresh garu. I know no body reads my feedback if it is lengthy. In short he is superb and one stop solution for all your vastu related questions and inquiries - Mannem Janardhan - New York - United States of America.
---
Announcements
Now daily we are updating the website with latest and fresh vastu shastra tips, these tips are not available at any where. These are specially written for you, only for you. See left side, Vastu Tip of The Day in this module vastu tips are scrolling from down to up side.
---
We tried our level best to successfully complete this website pending works, already we fixed many issues, still the work is going on and alter the issues what we found at website, if you picked any problem at this website, kindly inform us. Have a Great Time - SubhaVaastu

---
Latest updations
How to treat Vastu Consultants, how to pay money to them, how to select an expert vastu consultant.
---