Vastu For Industry | Industries Vastu Shastra - SubhaVaastu
Vastu for Industry :
Vastu for Industry : When an industry is facing some intangible problems and appear to be difficult to solve think for once possibility of solutions from a vastu expert. Instances of the industry facing irritations with policies of Government or its employees troubles faced by hooligans and social untouchables and political leaders for in this category.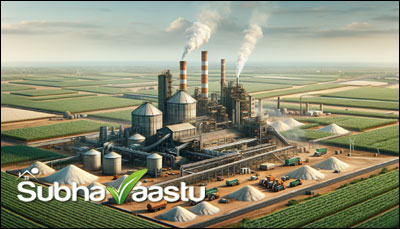 There may be unexplained troubles frequent accidents, thefts, fire hazards, labor strikes in a industry causing constant problems. When the problems are per persistent one way or other inspite of taking all reasonable precautions it indicates that the solution is in applied correct vastu principles.
If an industry which was consistently giving good returns, suddenly starts downward trend its a cause for anxiety, here you cannot question the basic principle that if vastu was not alright how come we made profits then and not now. It is possible that there must have been environmental change not in your premises but in the neighborhood. Which a vastu consultant would immediately observed. For example, you might have open a new gate on South Southwestern direction or a new construction has come up on your Northeast direction. Such things can be corrected by suitable vastu principles.
Industries are living organisms. If they don't grow either horizontally or vertically or both, they will decay. Stagnation is starting point for decay. One should keep in mind and look for growth of the enterprise. A person would look into future only when the present does not demand all his attention. This is possible by applying when vastu principles are not violated in your industrial premises.
Some Tips For The Industries/Factories:
The Southern and Western compound walls are built higher and thicker when compare to Eastern and Northern directions. More open space is left on North and Eastern side including Northeast as compare to South and Western sides.
The deepest point (Bore well) should on the Northeast side. Water sump should be North, Northeast or Eastern directions.
Bulk of the constructions should be towards Southwest, South and West directions.
The external ornamentation of the premises should confirm to vastu principles.
Heavier and shade giving and tall trees should best be towards Southwest, South and West.
Dispatch stores should be towards North or Northwest.
Raw materials store should never be towards Northeast.
Doors within in the factory premises where frequent moment of men and material is observable should always be at exalted point only.
Lawns should be Northeast, East and North directions only.
The street focuses if any should be on the exalted sides of the premises.
If there are basements and cellars these should be sited towards Northeast. When the factory is on the Eastern or Northern road facing there should be no cellars in the industrial premises. If it is acutely inevitable locate it towards Northeast only.
Beams should be concealed by walls so that no personal sit directly under a beam. If inevitable plan for a false ceiling hiding the beam completely it will reduce the negative influence. In all these points though the solution appear to be simple it is not so simple. Consult an expert, don't indulge in self medication.
While laying out the machinery in the plant it is obvious that the factory technical personals view has to be respected. However at this point involve a vastu specialist, so that no negative features appears. This is important. The best location for the heaviest equipment is towards Southwest or South and West.
However both your technical expert and vastu expert should decide on the complete layout.
The direction & placement of the windows should be properly arranged in accordance with the vaastu principles.
---
---
My friend Sampath suggests me that Northeast extension plot is excellent to buy, is it right?
Which location is best for servant rooms or quarters as per Vastu Shastra?
Which is the best location for Lift or elevator in a home as per vastu principles?
How to check the directions of a property with the help of Compass?
What is Vastu Shastra, requires to know more about this science?
What is the significance of Street focuses, how many types of road thrusts are there?
What are the effects of extension of Southwest?
Which is the best way to locate doors for a house or a room?
Where in your premises a beehive is benevolent or malevolent?
---
Reviews on Vastu Consultant Services Website SubhaVaastu.com
We are Software Professionals in USA, Initially to buy a home we searched internet, sent floor plans to India, then one of my friend suggested subhavaastu.com site, I was very impressed going through the site ,lot of information was provided, I contacted immediately Suresh garu for consultation. Being so busy he always responds to my emails and phone calls, clarified my doubts, He is so expert in giving consultation to USA properties. I feel him like a family member very frank, genuine and most of all patience. He do have immense knowledge in abroad properties, Indian properties by default. Anyone can give guidance, but he gives consultation with practicality not just some text book guidelines. He knows in and out how the structure, layout works and will give simple alterations, genuine Consultation. I have to salute to the tremendous work and efforts he puts in subhavaastu.com site - Sangeetha - New Jersey - USA
The website Subhavaastu.com is very informative.Sureshji, the founder of this website is according to me a great ¨human who has vast knowledge in vastushastra and his kindness to his clients are appreciated. He listens to his clients problems patiently and gives the appropriate remedies. His main motto is good service and he responses as quick as possible. I spoke to Sureshji as a stranger only, but after one phone call itself , I started feeling that he is a caring well wisher for whoever asks his help. He is a genuine person. He doesn't force you to spend money in the name of vasthushastra, he explains clearly where the problem is and tries to give very easy changes to have a peaceful life. Sathya Priya - Switzerland.
We stay in USA, I was initially Searching Google for some vastu help,one of my friend recommended subhavaastu.com website. Very useful information indeed, I found lot of good and valuable information, as got more motivated I contacted Suresh garu through phone. First I would like to mention he is a such a wonderful person, talking to him is like reading different knowledgeable books, he is a mobile Library always with a patience, a kind heart. He being so busy attended my each and every call immediate response to emails and clarified all my doubts. Especially I am amazed with his knowledge in vasthu with USA properties,its easy for some vastu specialist to tell vasthu with standard guides, but Suresh garu tells vasthu according to the place and country. My sincere suggestion for all the people who are wandering for a good Vaastu person or site, www.subhavaastu.com contact Suresh garu take his consultancy - Sarvani - Massachusetts - USA.
Our recent interactions with SubhaVaastu and Sureshji have not only been insightful but also extremely educational. Having a home is a matter of great virtue - having the home Vaastu compliant ensures that the investment and the future of the family in the home is secure and ensures progress. Having gone through the website gave us a tremendous amount of insights on bring about improvements to enhance positive energy and ultimately ring in progress. In the US, most home builders do not consider Vaastu and hence most occupants/ home owners are unaware of the benefits. In my dealings with Sureshji and the website, I have found insights and resources that can be helpful for almost everyone in the US. I highly recommend Subhavaastu and Sureshji to the broader NRI community. I wish SubhaVaastu and Sureshji the very best. Regards - Sneha - Florida - USA.
Announcement
( Free offer is ACTIVE now ) Kollam District Puttingal Devi mandir, hope you heard about mishap happend on 10th April 2016, we lost 113 people in fireworks blasts, many families lost their bread winners, many families lost their loved ones. By seeing this unfortunate incident we thought to serve to Kollam district residents. Upto 113 days we would like to do free online vastu consultation to Kollam District homes / plots / flats / factories / shops / hotels etc. For some more information click Free vastu services to Kollam District
---
(FREE Offers to Chennai Properties Successfully Completed - almost 120 days we provided free services to Chennai properties) 120 Days Free Online Vastu Consultancy Services in Chennai: People who have properties in Chennai faced lots of troubles by nature disturbances, they seen nightmare almost for one week. After seeing all the natural disastrous situations we thought to do some thing to Chennai property owners as a humanitarian grounds. Total online vastu consultation is free to properties which are situated in Chennai. Click this link for Free Online Vastu Services in Chennai From today onwards (Vaikunta Ekadasi) upto April 16th, almost 116 days this facilitation is on live. If your properties belongs to Chennai, then you may utilise this opportunity - Dhanyavaad.
---
Devotional Wallpapers
---
Good News to all religious minded and holy thought lovers, we started Spiritual Wallpapers website here. Download desktop wallpapers and Mobile Wallpapers of all Hindu God Wallpapers, Islam God Wallpapers, Christian God Wallpapers.
Inspirational Quotations
"Keep your fears to yourself, but share your courage with others" - Robert Louis Stevenson
---
"Great minds discuss ideas. Average minds discuss events. Small minds discuss other people. Life's too short to worry about what other people do or don't do. Tend your own backyard, not theirs, because yours is the one you have to live in." ― Sherrilyn Kenyon . . . Let you question yourself, "Who You Are"?
Joke Of the Day
There was once a blonde woman on a plane to Detroit. She was in the economy class, but after takeoff, she saw an empty seat in first class and moved there. An attendant saw her and said, "Excuse me, madam, you have a ticket for economy class, not first class. You cannot stay here." The blonde replied, "I can and I will." The attendant told the copilot, who came and talked to the woman. "Ma'am, we really can't have you staying in this seat, your ticket was for economy class only." she replied "You can't make me move." The copilot told the captain, who tried to talk her out of the seat but it didn't work. Finally, a co-passenger by name Venkat who had heard what had been going on told the attendant to let him have a go at getting the woman out of the seat because he was married to a blonde too, so he knew how to deal with her. After a quick chat with her, she moved. The shocked attendant and pilot asked him how he succeded it. Venkat replied, "I told her first class wasn't going to Detroit."