Vastu Shastra from SubhaVaastu.com a Free Vastu Website
Vastu Shastra | SubhaVaastu.com : -

Vastu Shastra is a powerful instrument which guide us to have a peaceful leading life when it was implemented in our premises. This science of Vastu Sastra is useful for all human beings irrespective of Caste, Creed, Religion, Nation, Male of female, Children or Elders, Students, Employees, Businessmen, Factory owners, any body. This is a most valuable treasure of ancient Indian knowledge. The word "Vastu Shastra" means dwelling knowledge portion of an science. Vastu Shastra is a sacred science related to designing and building houses. The classical literature on Vastu Shastra is vast and scattered. Vastu Shastra, if we carefully followed in each and every aspect of the construction portion and all of our structures, bring not only just prosperity into the household but also getting eternal peace, joy, love, happiness, bliss. Vastu Shastra is directed at harmonizing external space with the internal space within man. Vastu aims to restore the balance between the home that is the microcosm and the cosmos that is the macrocosm, bringing health, wealth and happiness. Vaastu buildings have harmonious energies. They promote stability, prosperity, happiness, and mental peace for the residents, it can also be called as an ancient mystic science for designing and building. Vaasthu helps us to make our lives better and also secures us from things going wrong in future.

Vasthu is directional science that combines all the Nature five Elements and balances them with our structures and nature, man and material. It creates agreeable atmosphere to live or work, by taking advantage of the benefits bestowed by the Panchabhoothas of the nature. The Panchabuthas means the five basic and essential elements of the nature (Natural Powers) Vayu (Air), Agni (Fire), Jal (Water), Bhoomi (Earth) and Akash (Space). Almost and every thing on earth is built from these elements, Phanchabuthas. Vasthu is also based on various natural energies, which are available freely in atmosphere like (Energies from Nature) :

Solar Energy from Sun

Earth Energy (Bhumi Shakthi)

Electric Energy (Produces from Nature)

Thermal Energy

Light Energy

Lunar Energy from Moon

Sky Energy

Magnetic Energy

Wind Energy

Cosmic Energy

If we utilizes such energies blesses us with great pleasures, peace, money and prosperity, happiness, satisfaction in our life.
The olden Vastu principles are saying that the positions of the rooms in a property has to be placed like this, but now a days no body is interested on this past principles, any way we have to disclosure of those principles here :
The positions occupied by the gods in the Vastu Purusha Mandala, some guidelines are given for zoning of site and distribution or position of rooms in the House. Some of these are:

Northeast - Prayer room (Has to enter each member of the home)
East - Bathroom (Generally for Children)
Southeast - Kitchen (For ladies of the family)
South - Bedroom (Elder of the family)
Southwest - Armory (More weights , used or non used items kept place)
West - Dining Room (Sitting and eating place)
Northwest - Cowshed (Cows and other animals)
North - Treasury (Money safe or Cash box)
Vastu and Relationships :
Relation, some times it is good and some times it is very hard to hear this word also. In olden days our elders have more relatives, whether they are closure blood relations or long distance relations, now a days we can't dare to maintain relations because of speed life style. It is our fate. Relationship is the one of the most important aspect of person's life. When people have fulfilling relationships in their life, they are mentally balanced, (This matter is came from www.subhavaastu.com) have more focus and concentration on their life style, perform better at their work place and lead happier lives. Good relationships are a source of guidance and comfort during troubled times.
Vastu works a good role in maintaining the relationship. Our Indian ancient science of architecture which lays down rules for better relationships, through proper construction of homes and offices or other constructions, (This matter is came from www.subhavaastu.com) but extend to the construction of cities, countries and even the planet. "Vastu" means "dwelling place" and "Shastra" means "rules", hence vasthu shastra is a set of rules that tell us how to construct our dwelling places in order to positively harness energies from the five elements of nature. The purpose of vastu shastra is to enable man to live in harmony with the environment and with beautiful family and structure of their dream.
A home is not a just a house to live. It is an extension of our mental space and reflection of our personality. Just as our aesthetic taste influences its design, decor and maintenance, similarly it too influences our moods, thoughts, bio-energy, behavior, personal and social life, recognition, professional success, in fact, each part of our life is deeply intertwined with our home. The science of vaasthu helps convert the cosmic energies into material benefits for the residents of the vaastu based home. It helps us to live in harmony with nature. It converts living spaces in a particular order that sets an equation between cosmic energies and the people living in the building to ensure physical, spiritual and material well being. It creates a rhythm and balance in the building to ensure a qualitatively better life for the residents. (This matter is came from www.subhavaastu.com) Vasthu can be adapted to any constructions or places of their own to be constructed. The balancing for the panchaboothas or five elements of nature done by the proper placement of furniture, water bodies, electrical and electronic gadgets, locating doors etc, with the aid of vaastu, helps in the flow of cosmic energies in a regulated manner. (This matter is came from www.subhavaastu.com) This leads to happiness of the people. The science of vasthu re-defines your life and gives you health, happiness and prosperity, finally harmony in life. By applying the ancient science of vastu to our lives, we can create a healthy environment with harmonious living and working conditions. Vaastu is a timeless and universal system, relevant to all people at all times. The principles of vastu shastra are applicable to any sized place or space and can be used on any scale, even for town planning also. When we establish a home, be it a palatial residence or a one room, we are creating an individual universe, a place where we can feel safe and relaxed.
Ancient sages of India laid down several principles for constructing buildings taking advantage of the nature, the panchabhoothas. Gravitational and magnetic effects and rotational influences of sun, moon, earth and other planets on the life in earth with a view to bring balance and harmony between man, nature and his buildings and thereby ensuring peace, prosperity and happiness. These principles, called vastu, simply vastu., were evolved over thousands of years out of experience and foresight of ancient sages of India and are very valuable for the well being of man-kind. According to shastras, if we worship, revere and respect the lords of these directions, they will shower on us their blessings and benefits.
Nature is always great. It protects us if we protects nature. Panchabhutas or Panchaboothas or Five Elements are almost treated as Heavenly Elements in Hindu mythology. Whether it is true or not we are getting so many benefits from nature or Panchaboothas. Vedic science Vasthu is based and working on these panchaboothas or five elements.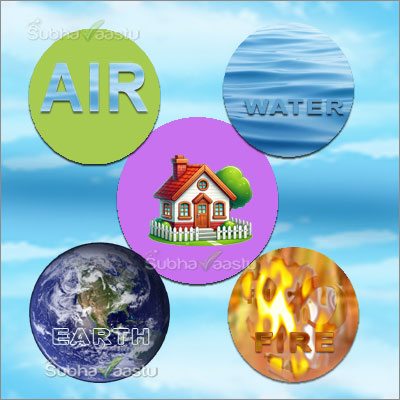 This image is only for your understanding purpose. Here you may observe the Panchaboothas (Click this link to know more about panchaboothas). According to the Yogashastra, the universe is composed of two substances. One is: Akash and another one is: Prana. Everything which has a form or is the results of a combination evolves out of the akash. It is the akash that becomes the air, liquids, solids, the human body, animals, plants, etc. Everything we can touch, all the forms we see, everything that exits can be sourced to the akash. It is so subtle that we cannot perceive it, for it is only visible once it has taken form.The power by which it is transformed into the universe is Prana. Every thing we call energy or force evolves out of prana.
In all forms of life, from the highest to the lowest, the prana is present as a living force. All the forces are based on prana, this is the physical action, movement, magnetism, gravity, the nerve currents and the force of thought. Existence of cosmic energy in a human body is the amalgamation of these five elements with the five pranas. ( What is prana : In Taitariya Upanishad it is said that, the whole existence is based on prana, is part of the prana and it ends in prana. Prana belongs to one of the five elements of Maha panchaboothas or Panch maha boothas, i.e., Vayu, it exists in the human body in five more types..Prana, Apana, vyan, Udan and Saman. These five are correlated with five basic elements., Akash (Universe), Vayu (Air), Tej (Agni), Udak (Water) and Prithvi (Earch). The home, the vasthu which serves as a shield for the human body, is taken care of by vastushastra on the same basic logic that applies to panch-pranas and the five basic elements, basic rules and regulations in Shiv Swarodaya Shastra to preserve and enlighten the Godliness in human body are applicable to vastushastra also. The science of yoga maintains a correlation between existence, reality and truth by the effective flow of panch-prana. (This matter is came from www.SubhaVaastu.com) The rules of vastushastra beneficially applied, attempt to maintain balance with cosmic reality, to illuminate intelligence and to attain peace by following perfect directions, perfect magnetic flux and perfect correlation of the basic five elements. Five elements have an unaccountable values in the vasthu shastra. It is the main source and all are based on this principle. The nature is balanced from it and we are converting the nature principles to our residences or other properties, then the cosmic power or energy will positively flow. So many scholars are still researching vastu shastra and its influence on Human beings. Mystic secret is a super science that systematically attempts to provide guidelines for constructing houses those are environment friendly, the dwellings which are free of destructive radiation and the structures with internal atmosphere in harmony with cosmic forces and conducive to friction less flow of prana through sukshma nadis (minute nerves) and chakras (Prana chakras). The below image is states that the same cosmic energy flows into the houses, positive power to one house and negative power to another house.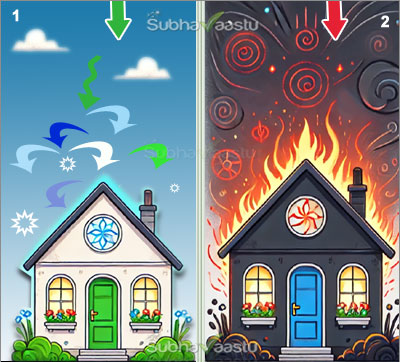 This image is only for your understanding purpose. Cosmic energies are all around the universe, constructions are according to the principles of vastu shastra then cosmic power bless the property, if construction is against the principles, then it may be punished. Residents calculate the neighbourhood vaastu before buying a home plot or construction work started. If neighbourhood vaasthu is according to the principles then residents will be blessed and their work will go smooth without any obstacles. After joining also they smell positiveness in their properties. It may be due to the cosmic energy.
Dikchakra - Dikpalak :
Observe the below dikchakra in directional jurisdiction. Some body in some areas or some territories are following some methods for pointing the directions. The below are some of them. Vastu shastra is an ancient art and science containing principles and practices of constructing buildings which ensures a harmonious balance between man and nature and thereby bring all round happiness, health, wealth and prosperity. Ancient sages of India laid down several principles for constructing buildings taking advantage of the nature, the pancha bhootas namely Earth, Moon, Air, Fire and Water. Gravitational and magnetic effects and rotational influences of Sun, Moon, Earth and other planets on the life in Earth with a view to bring balance and harmony between man, nature and his buildings and thereby ensuring peace, prosperity and happiness. These principles called Vaastu Shastra. The ancients illustrated the activities of cosmic forces with diagrams and symbols. The square represents the Earth. It illustrates the four cardinal point namely East, West , North, South and their conjunctions namely north-east, north-west, south-east, south-west. Orientation and space direction are two vital aspects of Vaastu. According to Vaasthu the square is the ideal shape for a home, as the energy field present in the square structure is the most balanced and beneficial. However, it is recognized that very few structures fit this ideal prototype, yet the square diagram is still used to overlay any shaped structure to map how space directions are affecting the building.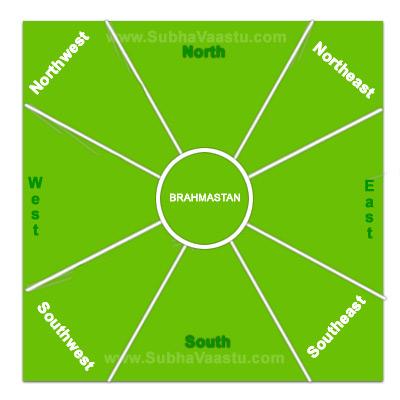 Here the directions and conjunctions are being placed into some parts in the square. These powers (directions) have their own territory and jurisdiction. So entire part of our premises is too important and should be constructed according to the principles. If so the five elements are blessed the construction and residents enjoyed their life in these constructions. Many examples could be cited to show that vastu, if followed in constructing one's house, office or business place, one could be happy and prosperous. A question arises can one achieve everything in life by living in a house built according to vaastu, the answer is no. Nevertheless, if plot is good as per vasthu shastra and is built according to vastu shastra,
one may achieve the health and happiness,their children grow up in life and education, succeed in getting good promotion, if inmate is in service. Getting good money if he is in business, attain power and position if he is in politics. Finally one will satisfied with his construction of vastu principles.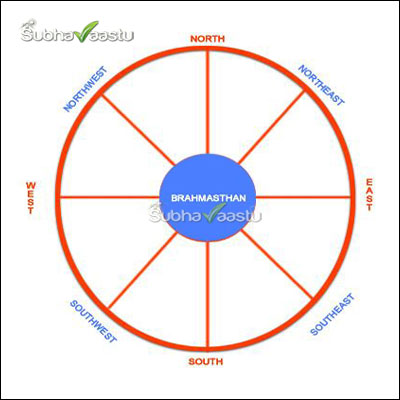 In this image dikchakra the directions and conjunctions are being shown with lines and marks. Now we learn about the parts of which shared to directions and conjunctions. The below image will show approximate of that situation. We shown with some colours for better understand.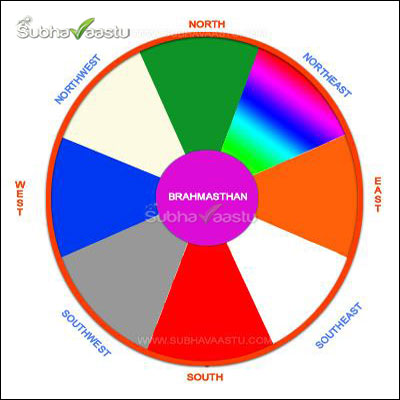 In this image the directions and conjunctions are being placed into some parts in the circle. These powers (directions) have their own territory and jurisdiction. So entire part of our premises is too important and should be constructed according to the principles. If so the five elements are blessed the construction and residents enjoyed their life. Many examples could be cited to show that vasthu, if followed in constructing one's house, office or business place, one could be happy and prosperous. A question arises can one achieve everything in life by living in a house built according to vaasthu, the answer is no.
Nevertheless, if plot is good as per vaastu and is built according to its principles, one may achieve the health and happiness, their children grow up in life and education, succeed in getting good promotion, if inmate is in service., good money if he is in business, attain power and position in politics. Finally one will satisfied with his construction of vastu principles.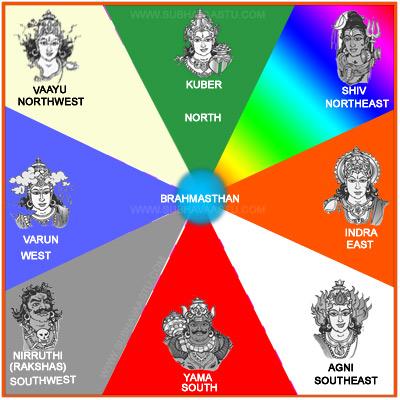 In this image the places of lords are being shown with their names and their territory and jurisdiction. Several scholars have expressed their own ideas on this charts. Out of that, some important are being populated and placed here. If we take the northeast corner, lord shiva occupied that corner, Lord Shiva also named as Eswar, some body says that it later turns to Esa, Eshan, Ishan like that. So for each and every word has one history, all facts will come out if we done some researches. Like that vaasthu shastra also got a hidden power, following vasthu principles are not evil. One decides to construct a property, it is better to do with minimum principles to have peaceful life.
Now we are moving towards lords and attribute and embodiment.
| | | | | |
| --- | --- | --- | --- | --- |
| God | Direction | Attribute | Embodiment | Placements |
| Brahma | Center part | Creator | Balance & Creativity | Central Room, Living Room, Hall, Sit out etc. |
| Indra | East | Renewal & Rebirth | Fertility Wealth and Children | Children Bedroom, Dining Room, Bathroom without toilet |
| Agni | Southeast | Potent internal energy | health | Kitchen, Fire place, electric equipments, Dining area |
| Yama | South | Law and Justice | Life and Death | Bedroom, Bathroom with elevated flooring, Storage |
| Nirruthi | Southwest | Nocturnal Deity | Fame Income Longevity | Bedroom, Officer Cabin, Storage, Heavy vehicle parking. |
| Varuna | West | God of rain | Fate | Bedroom, Living room, |
| Vayu | Northwest | Lord of Wind | Social Life & Business, Moving readied stocks | Dining room, guest room, kitchen, bathroom, Girls bedroom |
| Kubera | North | Lord of Precious Stones and Money | Wealth Career | Study, Library, Dressing Room, Placement of Money |
| Shiv | North-east | Immortal Elixir | Knowledge | Pooja room, Meditation room, Passage doors. |
---
Reviews on Vaastu Website :
I am a regular visitor to so many Indian websites, my interested websites are astrology, vastu, magic. I heard once about this subhavaastu.com website. I step foot by 11 pm night and shutdown computer by early morning 4 am. Later I visited several times, till now I did not completed entire website, it is a biggest and heavy content website. I like this website. I informed this website to so many known. Thanks to the team and a personality behind this website - Krushidas Naik - Missouri - USA.
I have gone through this website many times. The detailed description of each topic with pictures has been so clearly brought out that a layman can also understand the view point. It is amazing that such detailed work is being done on website for people's guidance. I congratulate Sh. Sureshji and their team for their great effort. Thanks - Raman Kumar - RCF - Kapurthala (Punjab) - India
Dear Mr Suresh, I have been reading articles from your Website this evening (16th July 2010) and Sir you are a Legend !! What you have disclosed in your Website is nothing short of amazing and it shows what a powerful human being you are to share your knowledge of Vaastu Shastra so openly with the people of this world. God bless you Sir - unfortunately we do not have enough people like you in this world. Best wishes, always - Raveen Bhairo - Australia
Hey Mr. Suresh, how you are procuring funds to maintain this site. I am unable to find even a single link with advertisement to show it to my colleagues, I challenged them and search for advertisements in this website. No way. I did not find even a single ad here. Really you are great. Loosing your own funds and serving society. Great Noble thought. My wishes are always with you. God will definitely support the people who are serving the society without expectations. . Amazing free service work . Linda Collins - Denton - USA.
Mr.Suresh.,Parnams ., Let me introduce my self I am Rajesh Reddy born and brought from West Godawari Disrict son of Late Venkat Reddy and devotee of Sri Sathya sai,( I hope u can remember me now),i worked for Birla Cements as General Manager Tech (Hyderabad), now settled with my daughter in Italy. With your prediction & with your blessings my daughter & my son got married & doing well,as I am also belongs to satsangan,i decided to give a used vehicle to you for your personal use as respect for you. previously I meet u at your place with my son for vasthu consultation for his company,now he is leading a happy life at Germany with new factory. You are doing a marvelous job in the Vasthu field, giving correct prediction.I pray god to give you Good health to do more to our religion. The details of vehicles are given below 1.Scorpio DLX 2010,cherry red color, with 3yrs extended warranty,7 seated,14000KM Aprx, AP Registered(PARKED AT HYDERABAD). This car is given to me by Birla Cements India in book value for Rs 4,65,000/-,in that i paid Rs 4,00,000/-and 50k has been paid by Mr Sundaram,balance has to be paid. In India there is nobody to use this car also, so i request you to accept this car if u required. I request u to accept this vehicle to serve our religion and our Tradition and it will be comfortable for your services. - Rajesh Reddy - Italy (West Godavari., Andhra Pradesh)
I read your website about vastu and got so much information, I am moving to a new place and all what i learn about kitchen i will try at my new place. I am learning more everyday . I love your website God bless you ! for the knowledge I get. Thank you - Joycee - Canada
Mr.Suresh, I am doing two businesses here in Toronto, I was deeply getting depression in these years, its a common thing, that I am not getting any relaxation with the situations here. All good things turned to astonished negative results. There is no diligent planning due to this situations. All loose and common things are also screened as difficult targets to materialize with utmost efforts to fulfill which are distinct and paranormal. I was terrorised several times with these mysterious and dangerous strategist antagonism situations. I used all resources to fight for ..? But no way to get positive results here. Anyway I am waiting for your visit to Canada. Vastu Shastra in Canada means following vastu principles is not so easy here, because of council permission for alterations, country rules and regulations, authorities permission may not possible to even track also. Your practical approach and observation of my properties here is appreciated. One of my friend told me that you are the rightest person to solve my business and personal life issues. You can tackle Vastu in Canada, its principle possibilities etc. My friend told me and his words impressed me lot, he clearly says that you have great 'Ds', you are dedicated, determined, disciplined Vastu consultant. I am great to hear those words. I am too emotional to see you here in Canada. Welcome to Canada - Bala Subramanyam - Toronto - Ottawa - Winnipeg - Regina - Quebec - Canada.
---
---
.......Visit for more information on About Vastu Shastra
Reviews on Vastu Consultant Services Website SubhaVaastu.com
We are Software Professionals in USA, Initially to buy a home we searched internet, sent floor plans to India, then one of my friend suggested subhavaastu.com site, I was very impressed going through the site ,lot of information was provided, I contacted immediately Suresh garu for consultation. Being so busy he always responds to my emails and phone calls, clarified my doubts, He is so expert in giving consultation to USA properties. I feel him like a family member very frank, genuine and most of all patience. He do have immense knowledge in abroad properties, Indian properties by default. Anyone can give guidance, but he gives consultation with practicality not just some text book guidelines. He knows in and out how the structure, layout works and will give simple alterations, genuine Consultation. I have to salute to the tremendous work and efforts he puts in subhavaastu.com site - Sangeetha - New Jersey - USA
The website Subhavaastu.com is very informative.Sureshji, the founder of this website is according to me a great ¨human who has vast knowledge in vastushastra and his kindness to his clients are appreciated. He listens to his clients problems patiently and gives the appropriate remedies. His main motto is good service and he responses as quick as possible. I spoke to Sureshji as a stranger only, but after one phone call itself , I started feeling that he is a caring well wisher for whoever asks his help. He is a genuine person. He doesn't force you to spend money in the name of vasthushastra, he explains clearly where the problem is and tries to give very easy changes to have a peaceful life. Sathya Priya - Switzerland.
We stay in USA, I was initially Searching Google for some vastu help,one of my friend recommended subhavaastu.com website. Very useful information indeed, I found lot of good and valuable information, as got more motivated I contacted Suresh garu through phone. First I would like to mention he is a such a wonderful person, talking to him is like reading different knowledgeable books, he is a mobile Library always with a patience, a kind heart. He being so busy attended my each and every call immediate response to emails and clarified all my doubts. Especially I am amazed with his knowledge in vasthu with USA properties,its easy for some vastu specialist to tell vasthu with standard guides, but Suresh garu tells vasthu according to the place and country. My sincere suggestion for all the people who are wandering for a good Vaastu person or site, www.subhavaastu.com contact Suresh garu take his consultancy - Sarvani - Massachusetts - USA.
Our recent interactions with SubhaVaastu and Sureshji have not only been insightful but also extremely educational. Having a home is a matter of great virtue - having the home Vaastu compliant ensures that the investment and the future of the family in the home is secure and ensures progress. Having gone through the website gave us a tremendous amount of insights on bring about improvements to enhance positive energy and ultimately ring in progress. In the US, most home builders do not consider Vaastu and hence most occupants/ home owners are unaware of the benefits. In my dealings with Sureshji and the website, I have found insights and resources that can be helpful for almost everyone in the US. I highly recommend Subhavaastu and Sureshji to the broader NRI community. I wish SubhaVaastu and Sureshji the very best. Regards - Sneha - Florida - USA.
Announcements
100 Days Free Services to properties in Chennai: People who have properties in Chennai faced lots of troubles by nature disturbances, they seen nightmare almost for one week. After seeing all the natural disastrous situations we thought to do some thing to Chennai property owners as a humanitarian grounds. Total online vastu consultation is free to properties which are situated in Chennai. From today onwards (Vaikunta Ekadasi) upto March 31st, almost 100 days this facilitation is on live. If your properties belongs to Chennai, then you may utilise this opportunity. Chennai Rains
---
Good News to all spiritual thought lovers, we started Spiritual Wallpapers section here.
---
Submit Your Mobile
Sayings
Great minds discuss ideas; Average minds discuss events; Small minds discuss people . . . Let you question yourself, "WHO you are"?
Joke
Teacher: Maria please point to America on the map.
Maria: This is it.
Teacher: Well done. Now class, who found America?
Class: Maria did.