Details

This Page Hits:4806
27 Significant Guidelines for Petrol Station Vastu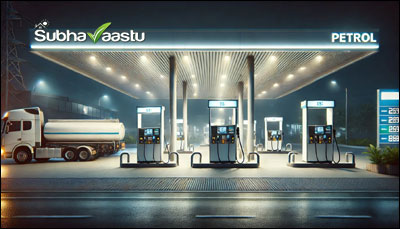 The beauty of Vastu lies in the expansive predictions even though its roots are unclear. To be precise, Vastu has been practiced in India for centuries. Whereas, petrol bunks are nowhere found before a century.
It's worth noting that vehicles running on oil are not more than seventy years old. Yet, inferences are drawn from the ancient Vastu shastra that are applicable to petrol bunks. That's how prominent Vastu has been over the decades.
It has predicted Vastu implications of various kinds of infrastructure, directly or indirectly, on human beings even before they existed. Most of the time, people approach experts for the construction of residential houses.
However, the relevance and significance of Vastu in any kind of construction cannot be ruled out altogether.
While Vastu applies for the entire construction, fuel sump, Vastu for office room, and entrance is essential for petrol bunks.
1. Can We Construct Petrol Pumps Entirely According to Vastu?
No, it is not possible to build a petrol bunk conforming to Vastu norms alone. Especially in the Indian context, all petrol bunks infrastructure should conform to Indian Oil Corporation's (IOCL) statutory rules.
IOCL implements these rules strictly. Every filling station in India must fulfill these regulatory guidelines for operational permits. Hence, it is not possible to establish gas filling bunk only based on Vastu principles.
2. What Direction Should Be Used as an Entrance by the Owner for East-directional Petrol Bunk?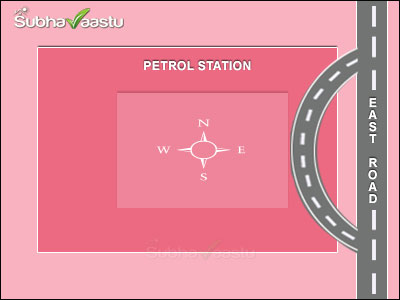 According to IOCL rules, a petrol pump should consist of two entry points, one for entrance and another for the exit. If a petrol bunk is situated in east facing, the entrances automatically become Eastern Northeast and Eastern Southeast respectively. But, according to Vastu scriptures, the Southeast is not a preferred direction for entrance purposes. Here, following IOC rules is mandatory.
However, Northeast is predicted to produce favorable results for the construction owner. To offset the negative repercussions of the southeast entrance, the owner and the employees can be asked to use Northeast dominantly. The owner of the petrol station bunk should "frequently move towards Eastern Northeast" only. He "should not" enter the petrol bunk through the Eastern Southeast entrance/exit.
Southeast entrance may be known to result in unpleasant incidents. Northeast ensures the financial, psychological friendly, and physical well-being of the Owner and petrol pump property too. The customers can use any of the entrances as it doesn't impact the owner. We cannot ask the customers to use only one particular entrance/exit. It is their choice and convenience.
3. Where Should We Construct Petrol Storage Tank in an East Facing Oil Filling Station?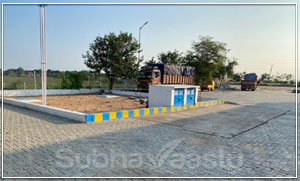 Northeast direction is considered the perfect location for the fuel storage tanks. Northeast direction is dominant to have the fuel storage tanks. East direction is also preferred to have the fuel storage tanks. If North direction has facilitation to have the fuel storage tanks, then plan at North direction.
As mentioned, IOCL is the sole regulatory authority for petrol bunk constructions in India. If the IOCL doesn't agree with your proposal, Southeast can be the second best choice. The first preferred choice for oil storage always remains to be Northeast or East or North directions only.
4. Can Oil Storage Tanks Be Built in the Southwest Direction in an East-faced Petrol Bunk?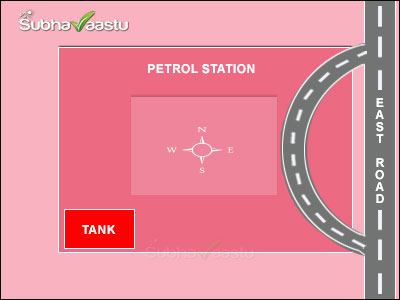 Southwest direction is not at all a right pick for situating petrol storage tank. It is considered inauspicious for storing flammable materials. Hence, it may snowball into unfavorable and troublesome situations for the owner of the filling station.
5. Which Direction Is Best for Office Room for East-directional Diesel Stations?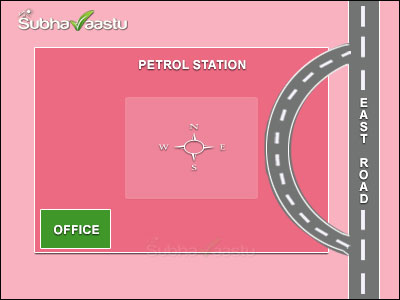 Southwest direction is not at all a right pick for situating petrol storage tank. It is considered inauspicious for storing flammable materials. Hence, it may snowball into unfavorable and troublesome situations for the owner of the filling station.
While planning your petrol filling station, reserve some space for an office room in the Southwest direction. The office room situated in the Southwest corner of the filling station is profitable for the owner of the petrol bunk. Management can maintain billing system, payments, manage swipe machines, currency counting, keep some sofa set for the visitors in the office, etc.
6. Where Should We Plant Trees in the Petrol Stations?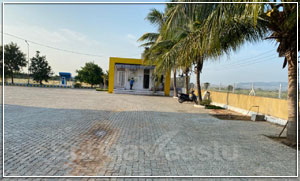 If the petrol station is constructed in a spacious plot then authorities accepting for trees plantation, otherwise, they won't approve for the trees plantation. Normally, trees can be planted in extreme South and West directions only. If the diesel bunk is constructed far away from the town/city, and if possible trees can be planted in all 3 directions except the east direction. Avoid planting in the Northern Northeast too.
7. In Which Direction Should Rest Rooms Be Located in Petrol Stations?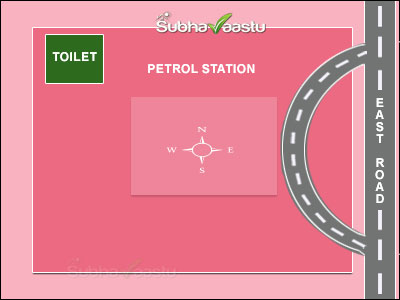 As per updated norms, restrooms are made mandatory in gas stations or petrol stations. Both Northwest and Southeast are suitable directions for building toilets. Northwest, in particular, is more recommended as compared to Southeast. Better to arrange toilets for ladies and gents separately. Regular toilet maintenance makes your business more healthy.
8. Which Direction Entrance Should the Owner Use in Case of South-directional Gas Station?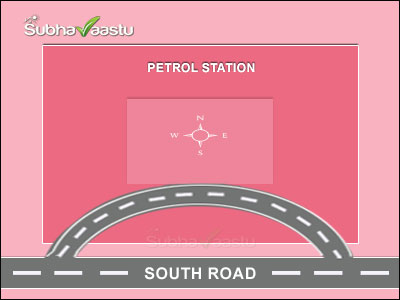 A south- facing gasoline station typically consists of two entrances and exit points. They are Southern Southeast and Southern Southwest. There are no particular restrictions as to which entrance or exit customers should use, management cannot control the customers in this regard.
But, the Southern Southeast entrance point is the only suitable entrance for the owner and staff to enter and exit from the gasoline station. Hence, owners and employees are recommended to make Southern Southeast as their common direction of entry and exit to offset negative Vastu consequences.
Important Point To Be Note For Huge & Small Petrol Station Bunks
a. Please note that the area of the Petrol bunk matters. The petrol station which is too bigger is different and the small is different, few rules may slightly change for big and small areas. A competent Vastu scholar helps in this regard.
b. For example, if the petrol bunk area is smaller then it may not be possible to construct the office room in the Southwest quadrant for South and West facing petrol bunks. If the area is bigger then it is possible to construct an office room at Southwest.
c. Please note that spacious petrol stations (For example petrol stations at national highways or outside town/city) are suitable to follow the majority of Vastu principles. It may not be possible to arrange everything as per Vastu for smaller size Petrol stations (For example Petrol stations within city or town). Few petrol pumps in rural areas have miscellaneous opportunities.
d. Make efforts to incorporate Vastu for petrol pumps as much as possible. It is clear fact that we cannot amend every principle as per vastu for Gas station. As a human, we can try our best to follow Vastu for petrol pumps.
e. The most significant point is owner should first select the site as per vastu. If the site is not good then things may not be favorable in the future.
f. Good idea is first verify the House Plans as per vastu before buying the plot for petrol pump. (Important point)
g. If your selected petrol pump land has any bad street focuses then best to avoid buying it or show that area with one reliable Vastu consultant, he will guide further steps. Every Vastu guru always trying to make the owner happy & peaceful. We can trust the master in vastu, he always provide honest opinion. Try to find only the expert.
h. Southwest should be the best place for Store room, plan accordingly.
i. For this petrol pumps The Staircase can be super fit at either Southeast or Northwest, here get a word from one expert to nullify the SE or NW extensions.
j. It is strongly recommended to show petrol pump owner House as per Vastu with one expert, this is important and has adequate preference.
9. What Direction Is Best Regarded for Office Room For South Facing Diesel Filling Station?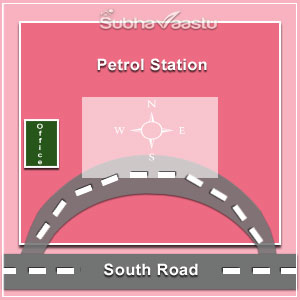 To begin with, Southeast is not an ideal choice for office room location. As the Southwest already acts as an entrance point, it wouldn't be appropriate to plan an office room near the entrance point from an architectural point of view and in this regard, the West direction has some facilitation to have the office room. If permission is granted and possibility then arrange the office room in South direction. In this office regard, care should be taken otherwise there is a possibility of Eastern Southeast Street Focus to the office.
The office room situated in the south direction must face east and northeast directions of the oil station.
10. Which Direction Petrol Tank Conforms to the Vastu Norms in Case of South Directional Pumping Station?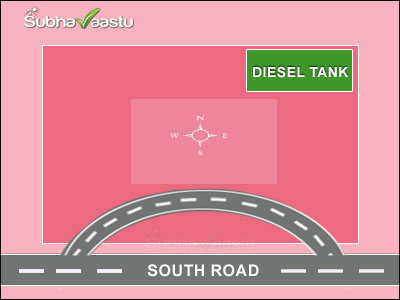 In general, the Southwest is not so welcoming for petrol tanks. In the case of the south-facing pumping station, the Northern Northeast would be an excellent spot for oil storage tanks, or Eastern Northeast is also recommended for the oil storage tanks. If the storage sump doesn't get approved in the Northeast direction and the oil storage tank is constructed in another direction then an alternative like a water storage tank may serve the best purpose if it is located at the Northeast direction.
11. What Is Acceptable Entrance for Oil Station Owner in Case of West Facing Petrol Bunk?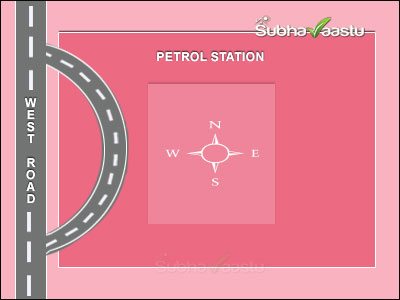 There are two possible entrance points in the case of a west facing oil station. They include Western Northwest and Western Southwest. For both workers and the owner, the Western Northwest entrance direction yields satisfactory results in all aspects. Hence, try to use only the Western Northwest direction entrance point for both entering and exiting purposes.
12. What is the right direction for a petrol tank in a west-directional filling station?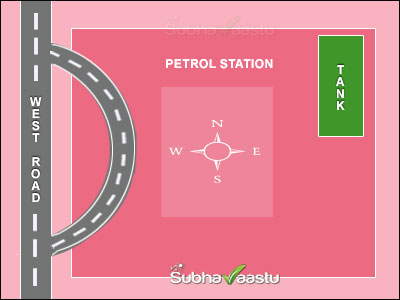 Eastern Northeast is the topmost preferred spot for a petrol tank in a west facing petrol storage bunk. The Eastern Northeast direction is acknowledged as the most beneficial direction for storage tanks. Northern Northeast is also preferred for the petrol filling tank. If the above attempts do not turn out to be fruitful, you can choose to build at least a water storage unit in the northeast direction.
13. Which Direction Is Beneficial to Establish the Office Room in a West-facing Petrol Station?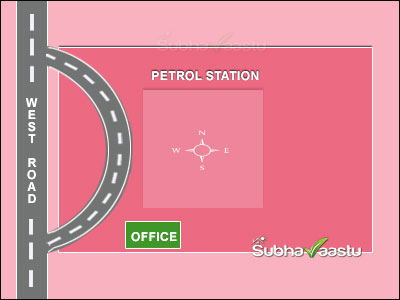 Similar to other directions, planning the office room in the South direction is considered auspicious for the owner. Southwest, however, in contrast to other cases, manifests positive results for the owner. Ensure that the office room faces the northeast direction of the diesel station. In this concern, a small mistake may trouble the management with Northern Northwest Street Focus. Hence get proper advice from an expert.
14. In Which Direction Should Filling Tank Is Suitable For North Facing Petrol Bunk?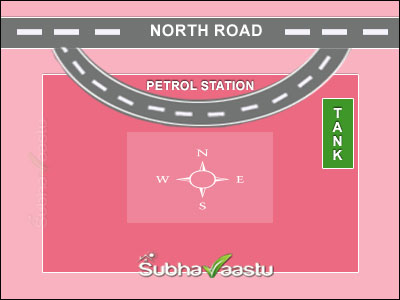 Owner and gasoline staff preferred to use the Northern Northeast entrance/exit for the advantageous outcomes. Northeast direction should be given priority over other directions for establishing filling tanks in a north directional petrol bunk. If there are any regulatory hurdles involved, the second suitable direction would be the North direction or East direction, if all these 3 are not possible then Southeast is available placement. The filling tank is not suitable in the Southwest direction.
Northeast direction is deemed propitious for the purpose of placing filling tanks. North direction is equally favorable but if in any case, both the directions are not possible, choose east as a choice of last resort. But your first priority should always go in the Northeast direction. ​
15. In What Direction Should We Plan Office Room in a North-facing Petrol Bank?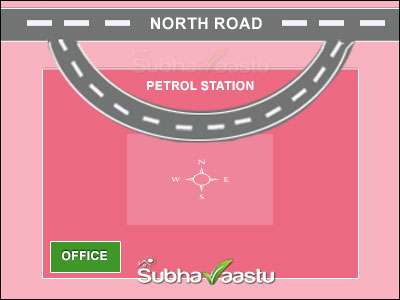 The case of a north-facing diesel station, the southeast direction can produce rosy results. You must also keep one thing in mind that the southeast directional office room should have an entrance in the northeast direction. This combination is believed to bring financial fortune. Northeast direction should be given priority over other directions for establishing filling tanks in a north directional petrol bunk.
If there are any regulatory hurdles involved, the second suitable direction would be the North direction or East direction, if all these 3 are not possible then Southeast is available placement. The filling tank is not suitable in the Southwest direction.
16. Which Direction Is Best for Building an Air Filling Station in a North-facing Gas Station?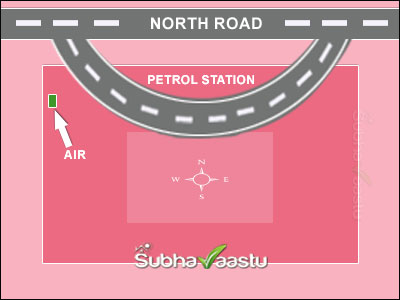 To begin with, the Northern Northeast is not an ideal choice for air filling station room location. As the Northeast already acts as an entrance point, it wouldn't be appropriate to plan the air filling room near the entrance point from an architectural point of view. Plan the air filling stations in the Northwest direction for north directional gas stations. Prioritize NW direction over other directions for air filling stations.
17. Beautification Has Any Significance for a Petrol Station?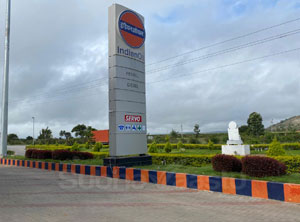 Any transport vehicle like to fill fuel the driver or owner will first attract to a petrol station which has beauty features and facilitations. Even lorry drivers also looking for complete facilitations in diesel stations. Particularly they are looking for toilets, bathrooms, sleeping facilities to take some rest, etc.
Hence, many company petrol stations planning for spacious locations and arranging everything. Greenery attracts several vehicle owners and drivers. Maintain awesome greenery like landscaping, planting trees far from the petrol stock point pit.
18. What Are the Guidelines Mandated by Indian Oil Corporation Limited for Petrol Pumps in India?
Although it is not possible to quote all the guidelines mandated by IOCL, a few of them are mentioned below:
Upon the breach of any of the conditions imposed by either IOCL or NHAI (National Highway Authority of India) in terms of petrol stations, the owner of the filling station will lose the license to own and operate petrol bunk on his name.
Once the proposed parties get permission for petrol bunk, they have to finish the entire construction in six months.
Once the construction is done, authorities from IOCL visit the filling station to inspect if all the norms are adequately met. In case of any discrepancies, the owner of the gas station should get them rectified within a period of 30 days. Non-compliance of these rules will lead to the de-energizing of the petrol bunk. If you want to re-energize and operate the petrol bunk again, you will have to make the necessary changes prescribed by the authorities.
18. What Should Be the Minimum Distance Between Two Petrol Pumps in India According to Iocl?
One of the general conditions imposed by IOCL is that there should not be less than 300 meters distance between any two petrol stations. Non-compliance with this norm will lead to license cancellation and de-energizing the petrol bunks.
19. Does IOCL Specify Land Area Requirements for Opening a Petrol Bunk?
According to IOCL, to obtain a license for the construction of a petrol bunk, concerned parties should possess an area of at least 2.4 acres with a minimum frontage of 90 meters. IOCL also mentions the shape of the area, which should be rectangular.
20. Are the regulatory norms different for petrol, diesel, and gas filling stations?
As of now, the construction requirements for both petrol and diesel stations are similar according to IOCL. There might be changes in the future as per the changing requirements.
21. What Are the Construction Guidelines for Electric Vehicle Charging Stations?
According to government guidelines, below are some of the mandatory norms to be implemented during the construction of the electric vehicle charging stations
>> As per the government norms, Electric charging stations shouldn't be operated until the inspection team gives the clearance for charging station operation.
>> Any entity can set up an electric vehicle charging station as long as the construction meets the technical and norms laid down by the Ministry of Power and Central Electricity Authority.
>> Public amenities as notified by the concerned department from time to time.
Most of the time, vastu is deemed relevant for only residential homes by many people. Various real-life incidents have proven these beliefs wrong time and again. One such incident has happened in Kurnool.
This incident has reiterated that examining vastu of petrol bunk alone doesn't get the job done. A person from Kurnool, who possesses a petrol bunk in partnership with his friends, eventually acquired ownership of the filling station. Everything was just going fine until Vastu started taking a toll on their entire family.
The Kurnool-based person ensured that he made vastu-based corrections for his newly obtained petrol bunk. But had he got his house renovated too according to vastu, he would not have faced the repercussions so soon.
As soon as the entire family thought everything is fine, the person soon went bankrupt with his oil station not performing well.
Both financially and health-wise, the entire family had gone through traumatic times.
The family finally had to sell their house and petrol bunk away. He finally breathed his last in a small village in Karnataka after losing all his financial means, mental peace, familial wellbeing, and health.
Not until he lost everything, had he gotten to know about Vastu mistakes his house has. A small mistake had made him lose everything in life. He could have avoided what was to come if he asked a Vastu guru to check his house too.
His north-facing house had a water tank in the northwest, which was considered ill-omened and disadvantageous for the people residing in it. But, it was too late to even make Vastu corrections to reverse everything.
While this is just one incident, similar incidents have validated how important it is to get your Vastu check for both petrol bunk and residential home at once to avoid future and unforeseen drastic consequences.
Hence, it is important to inspect the Vastu of your residential home along with other properties like petrol bunk to escape such incidents.
Conclusion
Human mobility has rather taken a long road to evolution. What was considered a miracle a century ago turned a reality in the current scenario. Oil engines were far more expensive and rare fifty years back in history. But, they are the most dominant mode of transportation now.
Now the demand is increasing for electric vehicles due to various factors that are concerning environmental well-being. Although this change takes time, you might be skeptical about Vastu's implications that may differ for electric power stations.
Of course, the change cannot be denied. But, the Vastu effects may only alter on a small scale with regards to vehicle recharging stations. Charging stations are less harmful. Almost all of the above-mentioned Vastu guidelines apply to electric power stations as well.
Have any questions on this petrol pump as per vastu or questions on any subject then raise through this Contact SubhaVaastu page, generally, we will reply within 48 hours time.
Vastu Testimonials Delivered By Respected Residents
Dear Suresh, I am pleased to inform you that like the way you provided consultation for my home and explained to me all the changes required inside and outside home. I really appreciate the diagrams that you prepared for my home with pictures and arrows showing the changes need to be done. Above all, you explained very well the reasons behind changes you recommended for my home with great clarity and sense of humor. No doubt in my mind, you are the best Vastu expert, I really appreciate your dedication by building and maintaining a very informative website that is helping thousands of people across the globe. Also, I sensed when I talk to you and when I was dealing with you, you follow honesty and integrity and you have a sincere desire to help others - Kotesware Rao - Dallas - USA
We are tech professionals and working in USA. After a year long search we brought the house. After buying the house I started looking for consultant who can help me evaluating the house. I came across Subhavaastu website which has lot of information. I contacted Mr.Suresh and requested him to help with our house vastu. It has been an incredible delight working with him.. He is very detailed oriented person and never compromises with his work. I am typically not interested to deliver the reviews. But after working with Mr. Suresh I decided to share my experience. Mr. Suresh has great expertise in providing vastu consultation to USA property. He is always available through email and phone l to answer questions. I am writing this review hoping it will help other people like me who lives in abroad. Please take advise before buying the house. I highly recommend Mr. Suresh as he has great experience with structure of USA properties and also he provides genuine consultation. I really appreciate Mr. Suresh's help in evaluating our house - Padma - Boston - USA
"I contacted Sureshji to consult on our current home. He was spot on in identifying vastu dosha in regards to the problems we were having. He suggested remedies but we are still looking for a new house. Since then I have been in touch with him for finding a right home for us. He is very sincere and truly wishes better lives for everyone. He doesn't compromise with quality and is always responsive to queries. He recommends solutions as per location as Vastu rules differ for each country. He is greatly contributing to the society with his knowledge of Vastu and dedication towards his work. Keep up the good work Sureshji and wish you success and happiness!" - Megha - Virginia - USA
I have consulted Suresh Garu during December 2014 during the process of buying a house in Texas, USA. I have occupied the house for one year now, and feel like dropping a review regarding my experience during the entire process. I am very much satisfied with the kind of service I received from him. He is very knowledgeable and I was often stunned by his detailed analysis during the course of my interaction with him. He was very much accessible over phone (perhaps more than 10 times for one house plan!) and the price is very much reasonable especially compared with the cost of the house. I noticed his burning desire to help me in making informed decisions on certain things. I have seen some people pretending to know this subject and misguiding those who come for help by saying only what we want to hear. SubhaVaastu is definitely not that one. Finally, I am strong believer of leaving certain things to experts in those subjects. I have been in US for more than 13 years and have seen people doing their own corrections (by reading website articles) trying to save few dollars. Please don't do that. You would end up in causing more damage. I highly recommend you to engage SubhaVaastu in your next project - Satish - Dallas - TX - USA
Inspirational Quotations
"There are three things in the make-up of man. There is a Body, there is the mind and there is the soul." - Swami Vivekananda.
---
---
"Great Personalities speak about thoughts. 'Average Person' talk about occassions. 'Narrow Minded' gossip about others." ― Eleanor Roosevelt . . . Let you question yourself, "Who You Are, either 'Great Personality', 'Average Person' or 'Narrow Minded' ?
Joke Of the Day
"A book was released and the cover name is "How to change your WIFE", and within ONE week, "25 MILLION" copies were sold. The publishers found a mistake in the title, actually, it should be "How to change your LIFE", when publishers corrected and released the new book into the market. The first month's sales were 3 copies".
Follow us on Social Media